When life gives you lemons, you make Lemon Poppy Seed Energy Balls.
It's a no brainer. Everyone knows that, right?! 😜
I have been recently obsessed with these little guys, not only because they taste like summer, but because they are so mightily nutritious!
One ball and you get your energy fix, nourishment boost and cravings taken care of. No big deal. No, wait…what am I saying, HUGE DEAL.
Treats like these are what makes life sweeter. They are what all busy working girls, school girls, moms and wifeys want in their life. Time is limited, yet we all want need a nutritious (and delicious) snack everyday that gives us alllllll the energy without the hassle.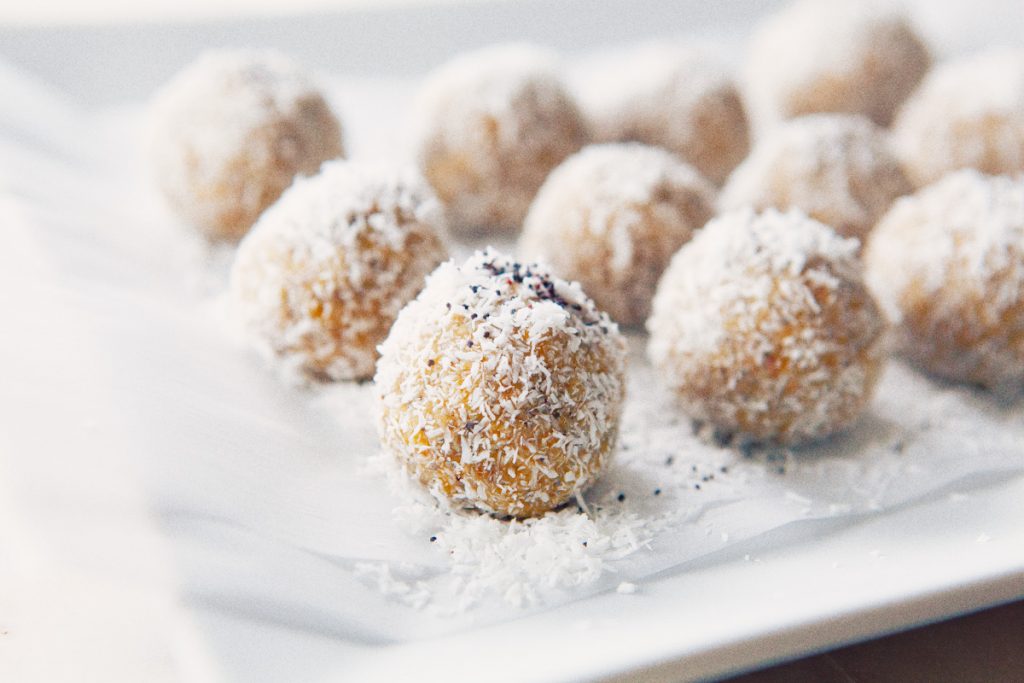 I like to make these ahead of time, pop them in the freezer or refrigerator, pack one or two to bring with me when heading out, and then simply enjoy my snackaroos when I can sense I am getting hungry.
And boom, just like that, hangry situations can always be averted. It's simple and painless, and preparation is the name of the game. All you need is to spend a bit of time planning ahead.
And in this case, you literally need like 10 minutes for an easy and painless future situation. These Lemon Poppy Seed Energy Balls take hardly any time at all to prepare and are super easy to make. So easy, that you can make a fun activity around them with your kids (if you have kids), or with your girlfriends on a fun and exciting girls night in.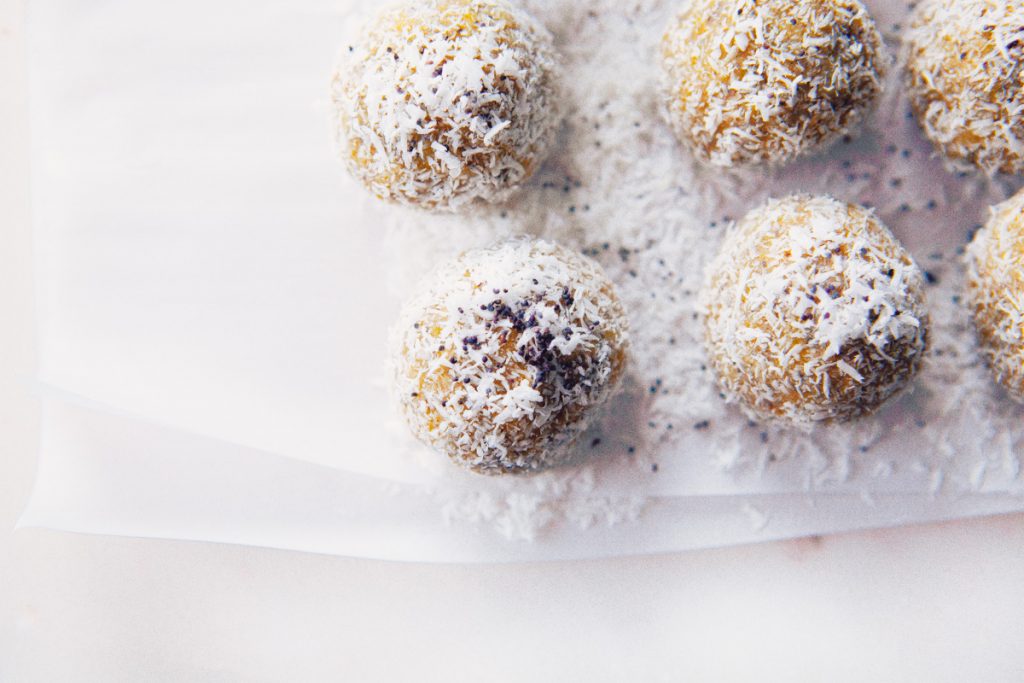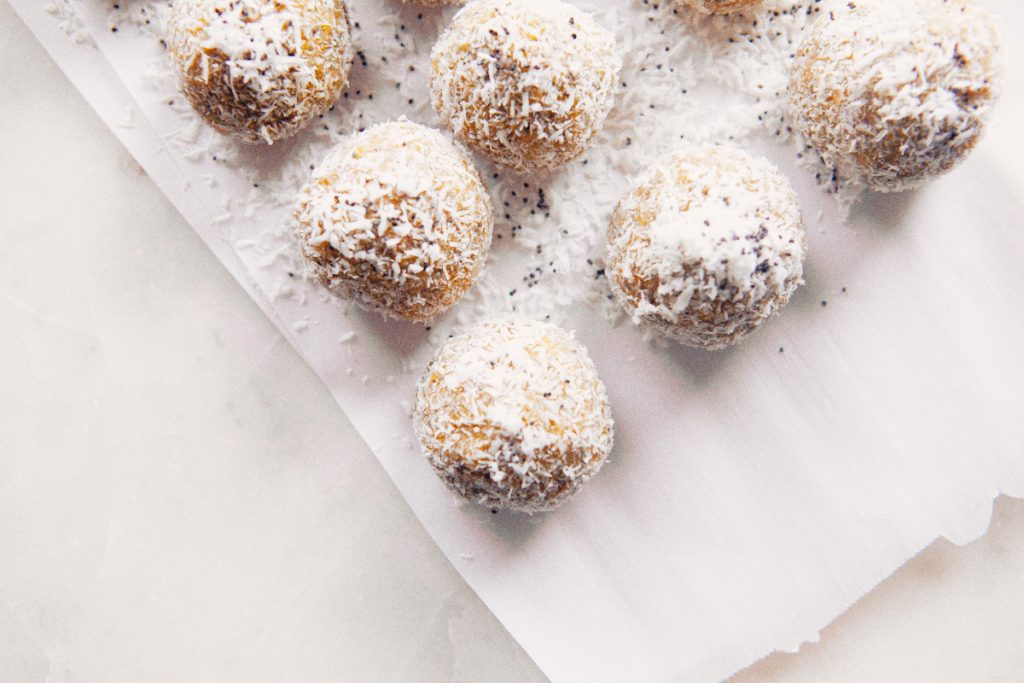 You'll need a few staple ingredients, which you probably have already in your home, and a good food processor to get these going. (Ps: I just recently got a this new food processor and it processed the ingredients in a matter of seconds!) You then press some shredded coconut on them to make the puuurdy, arrange them nicely on a plate and you're good to go.
And then, of course, it's up to you what you do with them. Eat them right away or store them in the freezer so you can have them on demand for road-trips, impromptu visits, etc.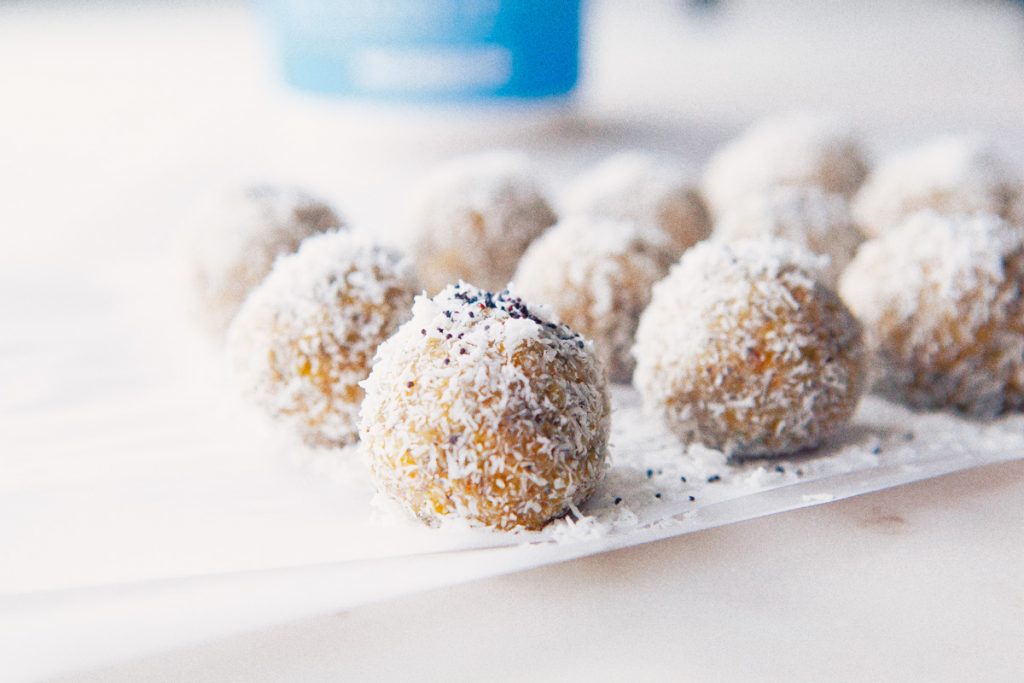 Another thing that I must say about these cute Lemon Poppy Seed Energy Balls is that they have collagen protein in them. So if you're looking for a snack that can help you up your protein consumption and/or up your beauty game (collagen helps strengthen hair, skin and nails), adding those two scoops of collagen peptides is something I definitely recommend.
Now, you don't have to add the collagen peptides in if you don't want to. The recipe will still turn out beautifully without it.
However, if you want that added protein/beauty benefit, then you know what to do. The collagen peptides are tasteless and odorless, so you won't feel them at all in your treat.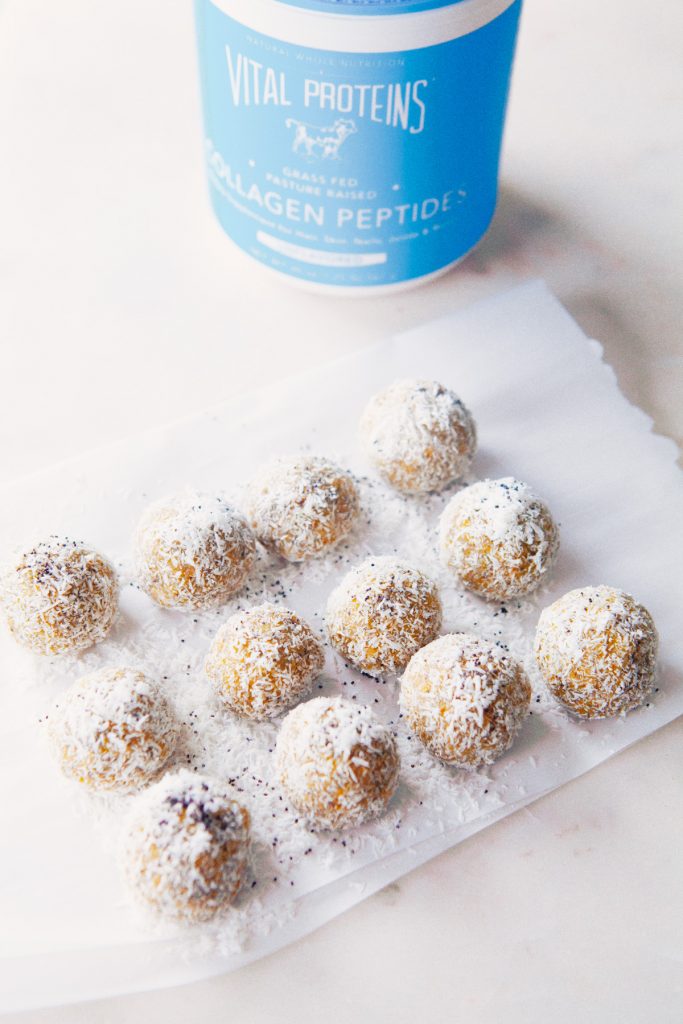 I also decided to sprinkle a few extra poppy seeds on top of the pressed shredded coconut, to give my treats a bit more texture and make them extra cute. This step is not needed, as they treats themselves already have poppy seeds in them, but if you want those poppy seeds to "pop" on the outside, just sprinkle some on top like I did.
And on that same note, you don't have to add the shredded coconut on the outside if you are not a huge coconut fan.
You can dress these energy balls up however you want, with chopped nuts, chopped seeds or even crushed freeze-dried fruits. Now THAT would be super yummy and fun!
Possibilities are endless here, so just channel your creative self and customize your energy balls to whatever you (and yours) feel like enjoying at the moment.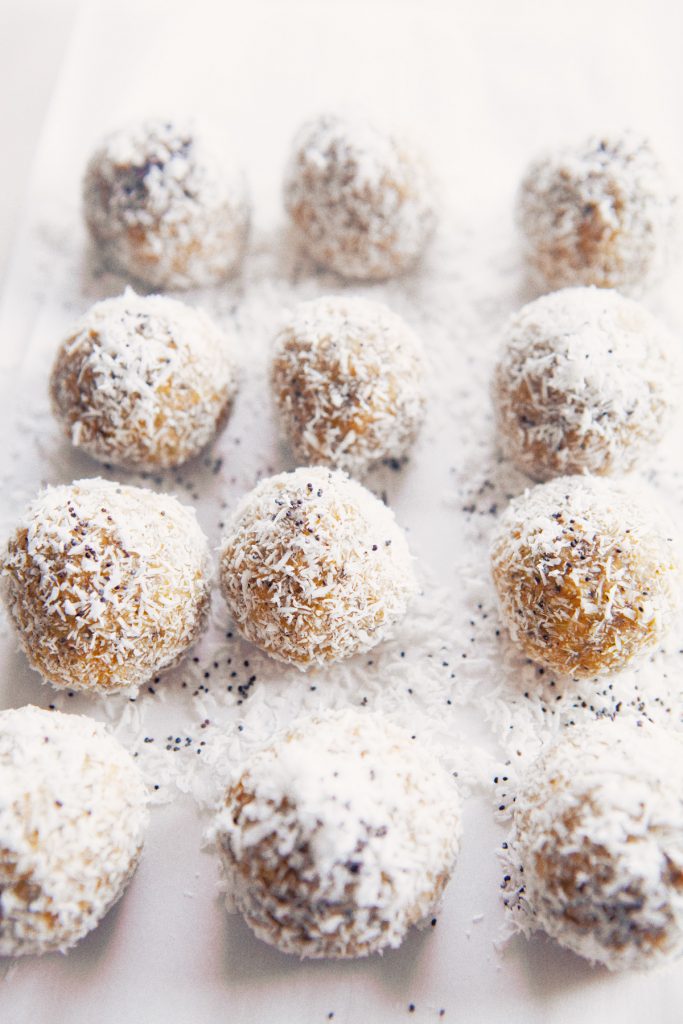 I love these on hot days, when a tangy and sweet treat is just the thing I need to keep me fueled, nourished and energized. So I know I will be making more batches of these as the weather gets warmer and warmer.
Just picture this with me real quick: Lemon Poppy Seed Energy Balls in a picnic basket, bike ride to the park, setting your blanket on a spot surrounded by big green leafy trees, spending some quality time with the family (or with your honey…or friends!), a favorite cold drink on hand, a good book and a fun frisbee.
Ahhh. Doesn't that sound nice?! Yes to all of that, please!
So go ahead and make these to have them ready for when that perfect hot weekend park-perfect day appears out of the blue!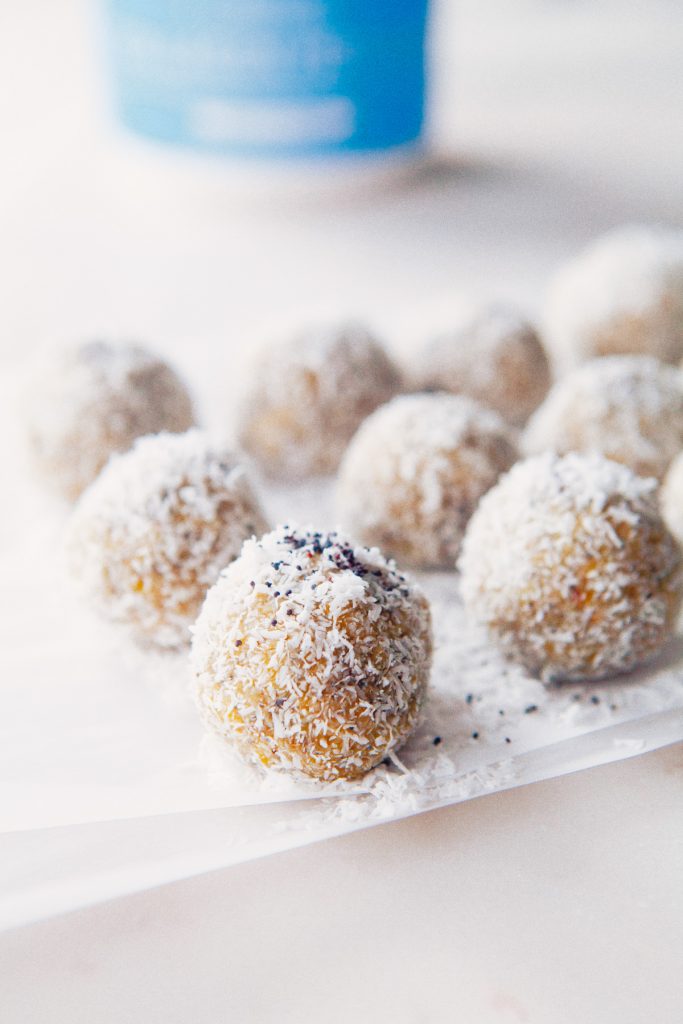 Lemon Poppy Seed Energy Balls
These Lemon Poppy Seed Energy Balls are the perfect on-the go snack that gives you energy and nutrition. A delicious recipe that is easy and quick to make!
Ingredients
1 ¼ cups almond flour
1 ½ cups walnuts
¼ cup poppy seeds
¼ cup  collagen peptides
¼ tsp sea salt
1 cup dried apricots
1 tsp vanilla extract
¼ cup melted coconut butter
¼ cup melted coconut oil
3 tbsp maple syrup
1 tsp lemon zest
Juice of 2 lemons
Shredded coconut, to garnish
Instructions
Add all ingredients (except poppy seeds) to a food processor and process until a doughy consistency is reached. Use a spatula to scrape down the sides as needed. Add in the poppy seeds and pulse a few times to combine.
Wet your hands slightly, and shape dough into ~20 ping-pong sized balls. Place balls on a lined plate as you go. Once done, press shredded coconut on each ball to decorate, re-shaping them as needed. Freeze balls for about 20 minutes to get them firm. Store in the refrigerator or freezer.
Notes
Tools You'll Need:
- Food processor
- Spatula
- Measuring cups
- Measuring spoons
- Large plate
- Parchment paper
PIN ME!

SaveSave
SaveSave
SaveSave
SaveSave
SaveSave
SaveSaveSaveSave
SaveSaveSaveSave
SaveSaveSaveSave
SaveSave
SaveSave
SaveSave