Say hello to my GORGEOUS cauliflower wings and mixed greens salad. I mean, how pretty does this dish look? Those colors.? That texture. ? Those ingredients. ? Wow. And just wait until you taste it. There is no way you cannot eat lick the bowl clean. It's magical.

This salad is so nourishing and comforting. See, it's packed with nutrients (thanks cauliflower), has a ton of vitamins (allllll the greens) and is in no shortage whatsoever of flavor (buffalo wing sauce for the win). After having it for either lunch or dinner, you'll be satiated and happy and invigorated all at the same time. A major win situation for those of us looking for the best of the best from an everyday meal.
One of my favorite additions to this salad, believe it or not, are those bright micro greens you can see popping in the photo below:

They are a very small ingredient in this large salad bowl, but they give the whole dish a slight crunchy texture and earthy twist that I absolutely adored in every bite. Also small but mighty, those black sesame seeds you san see sprinkled on the baked sweet potatoes below: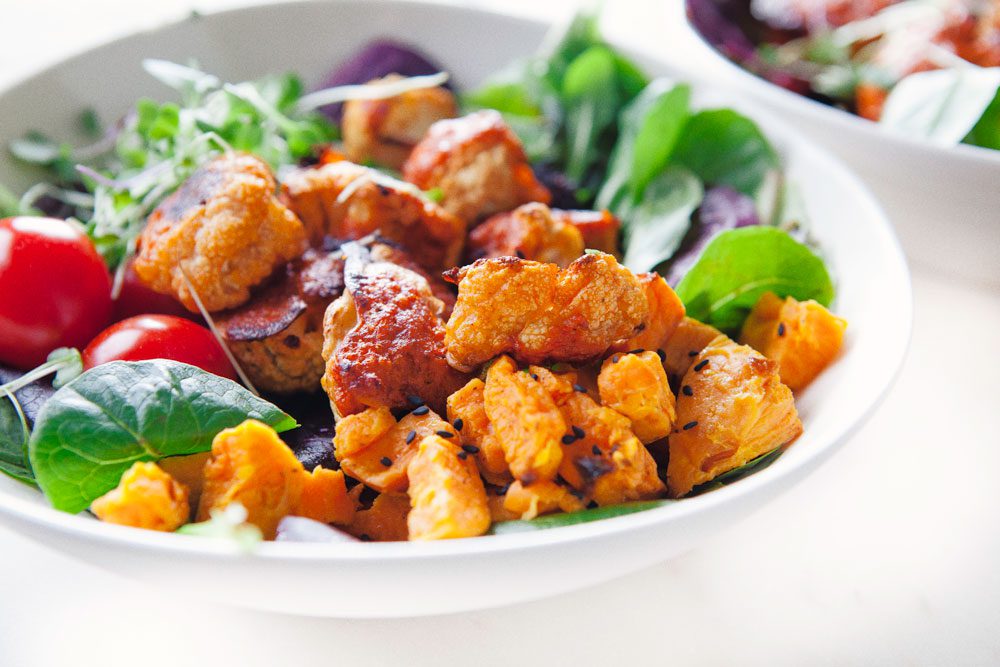 They're a fab addition. Simply fab. If you don't have these in your pantry, I highly recommend you go to your nearest grocery store to get them (or order them online), so that you can have them handy to add on top of salads, pizzas, chicken recipes, etc. They're yummy and make a dish look super cute!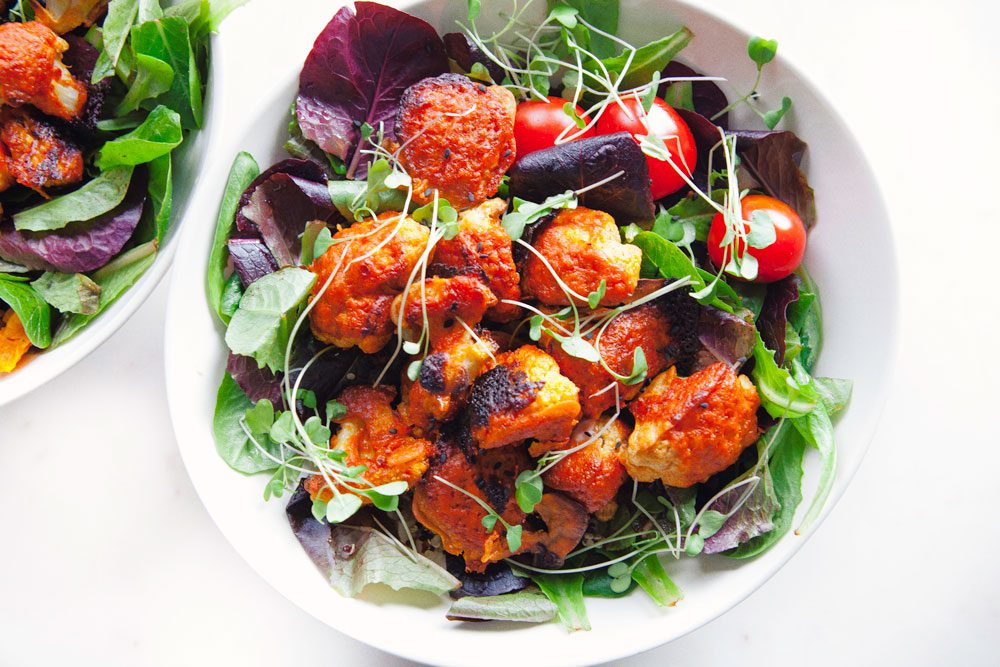 Now, I don't know about you, but I would'v never really thought of adding cauliflower buffalo wings to a salad before. Because who's ever combined the two together before? It is not something you ever hear; it isn't usual. But somehow I ended up doing it, and I was SO HAPPY I DID!
The flavor combination and texture of this salad is superb; so superb, in fact, that both my husband and I inhaled each of our salads in about two minutes max. It was so good. We could not stop saying so as we were eating it too. "Oh my gosh, yum!" was the phrase of the night during dinner that night.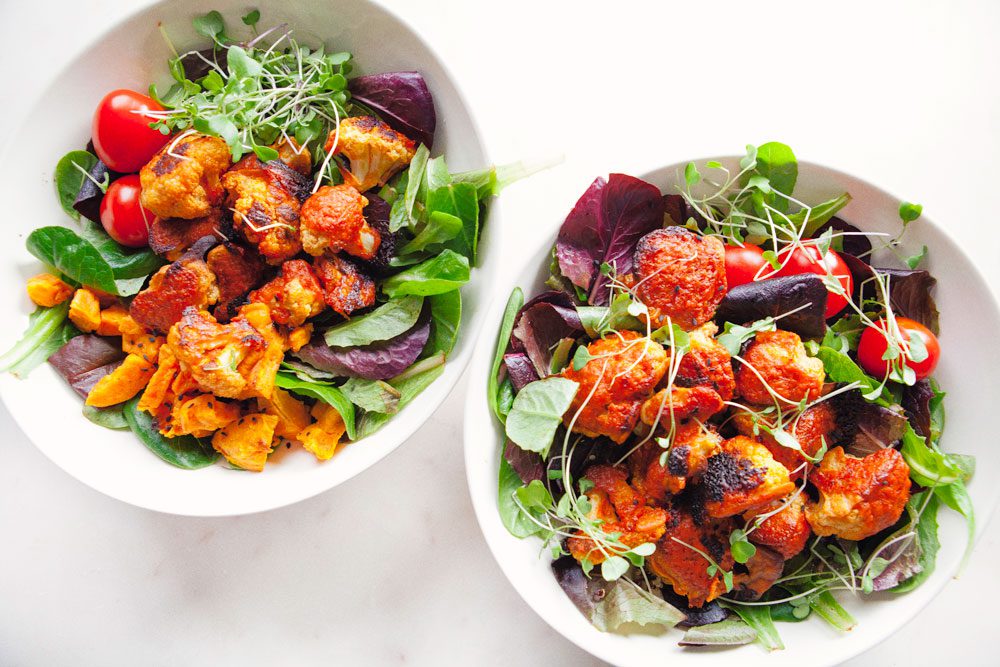 You can see his and hers on the photo above. Mine was the left one and his was the right one. Mine came with sweet potatoes (because I added them there ??‍♀️) and his came with extra cauliflower wings (because he's a man and needs more "beef" to chew on lol).
So there ya go.
But you can customize your bowls however you like. That's the beauty of eating at home. 100% customization and free refills. Heck yeah!

But I will tell you this: the sweet potatoes took this dish from a 10 (already great) to a 14 (simply fantastic), so you should probably decide to add them to your bowl. The sweet potatoes are very easy to make and only call for basic ingredients (sweet potatoes, oil and seasoning), so making them requires hardly any extra effort on your part.
Also easy? The light vinaigrette you add on top of the salad. Balsamic vinegar, olive oil, pink Himalayan salt and freshly cracked black pepper. I know you have all of these ingredients on hand! Things are already getting easy for you today.
Isn't "easy" a great feeling!?

Now, get on it! Get those potatoes roasting, those cauliflower wings prepped, that fancy salad bowl ready, those taste buds going, and brace yourself for a dish to remember!
This Cauliflower Wings and Mixed Greens Salad is:
Flavorful
Colorful
Texture-ful
Healthy
Filling
Comforting
Vegan/Vegetarian
Gluten-free
Dairy-free
Processed sugar-free
AMAZING!

If you make this salad at home, be sure to take a photo (or two) to share on social, and please tag me on either Facebook or Instagram, as I'd absolutely love to see your salad bowl creations!
Enjoy it cuties! I know I did. ??

Cauliflower Wings and Mixed Greens Salad
This Cauliflower Wings and Mixed Greens Salad recipe is dairy-free and gluten-free; a great meal for those with dietary-restrictions. Perfect for lunch and dinner!
Ingredients
For the cauliflower wings:
For the sweet potatoes:
1 sweet potato, peeled and cubed
2 tablespoons coconut oil, melted
½-1 tsp pink Himalayan salt
½ tsp freshly cracked black pepper
For the salad:
4 cups mixed greens
8-10 cherry tomatoes
Handful micro greens
Optional: black sesame seeds
For the light vinaigrette:
2 tbsp extra virgin olive oil
2 tbsp balsamic vinegar
Pink himalayan salt, to taste
Freshly cracked black popper, to taste
Instructions
Preheat oven to 450 F.
Grease baking dish and set aside (for potatoes).
Line baking pan with parchment paper and set aside (for cauliflower wings).
Place sweet potato cubes in baking dish, drizzle coconut oil and season with salt and pepper. Place potatoes in the oven and cook for 30-35 minutes, moving them half-way with a wooden spoon to keep them from burning.
Follow instructions for cauliflower wings and cook them simultaneously with sweet potatoes.
Prep light vinaigrette: add all ingredients to a small bowl and whisk together until combined.
Add mixed greens to a salad bowl and toss with light vinaigrette. Add in sweet potatoes, cauliflower wings, cherry tomatoes, micro greens and sesame seeds. Enjoy!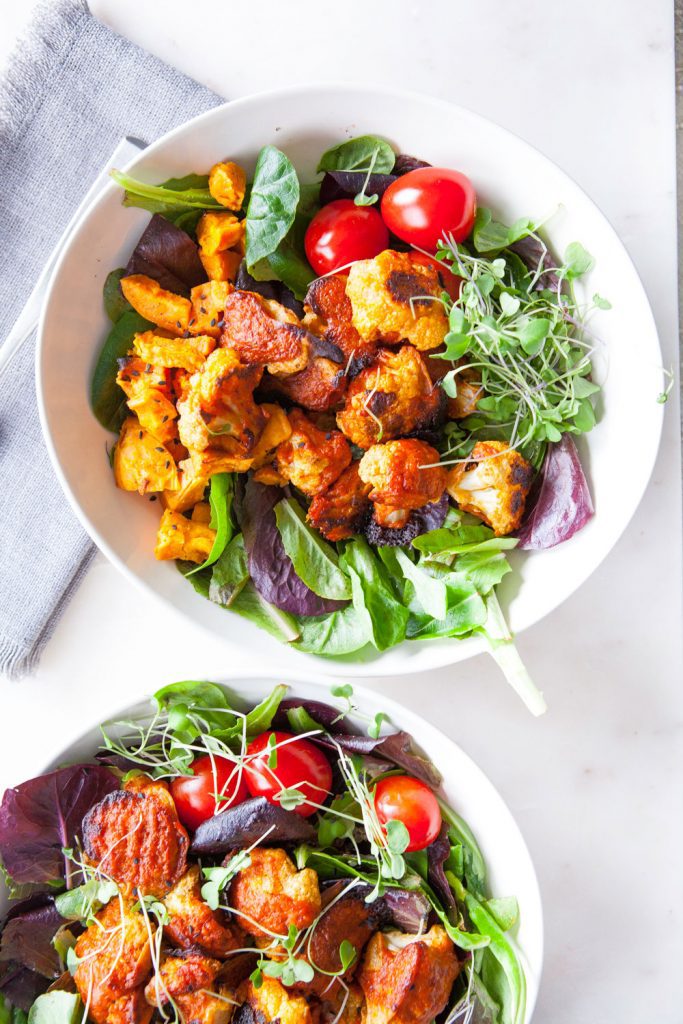 PIN ME!