Spicy Cauliflower Buffalo Wings – I see your crispy edges, your fiery hot sauce, and your soft florets. I see you and I WANT you!
These cauliflower wings are sort of a big deal in our home. First, they taste like a sweet gift from the heavens, and two, they are a super hit whenever we have people over because they are cool and fun to eat!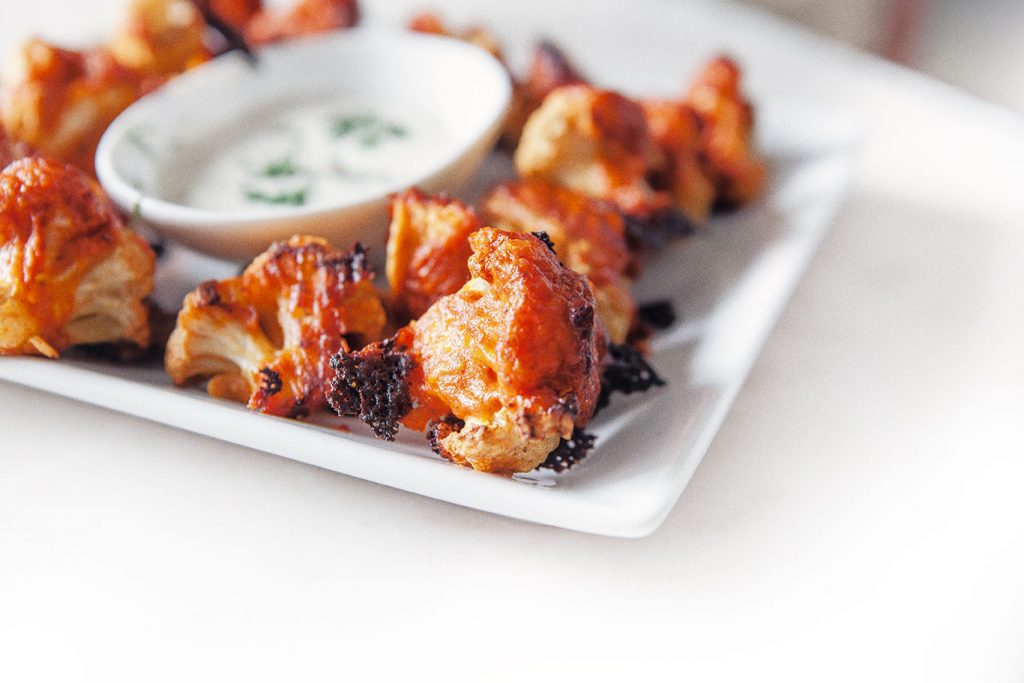 People go crazy when they hear that those delicious wings they have in front of them are actually made with cauliflower instead of chicken. Who knew cauliflower could sub an animal in such a perfect way? Mind blown.
People love finger foods. And wings are definitely high up there on the finger food world. But chicken can sometimes be tricky to handle, and your wing-making game can become more difficult than it needs to be.
Welp, enter cauliflower florets. Because veggies make everything more simple. And healthier. And totes delicious.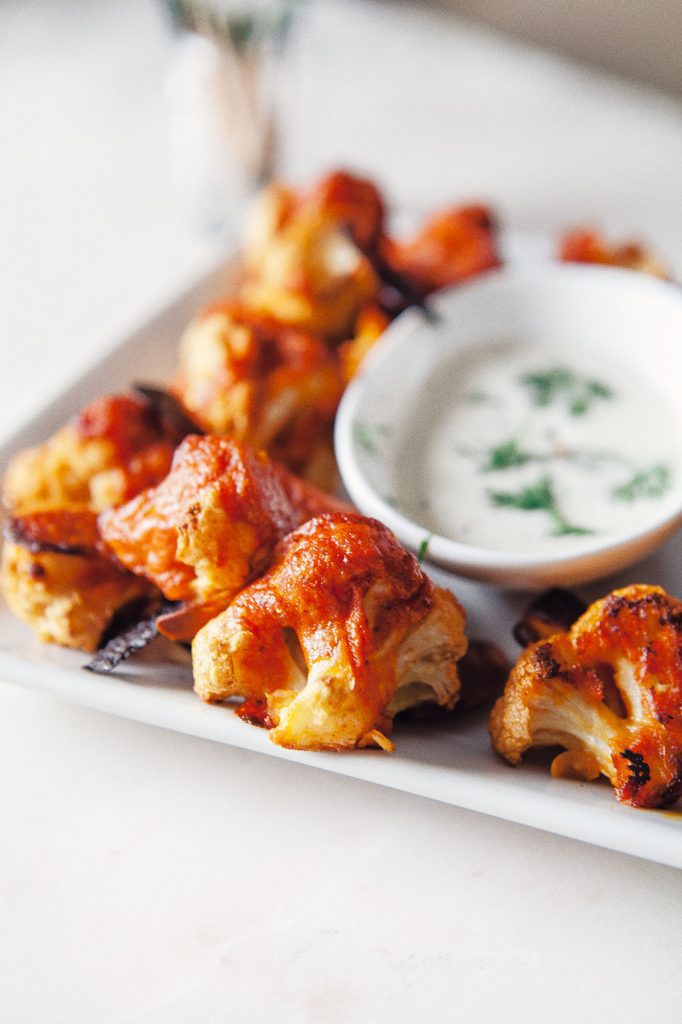 If you are a cauliflower fan, you are going to LOVE THESE!
We put out little dipping sauces around the wings for our guests to dip them in, but people seem to enjoy them just as they are. Plane. They are delicious as they are. No need to get extra fancy here.
These cute little cauliflower wings are not 100% Paleo, but they are gluten free and dairy free. They aren't Paleo because they are made with gluten-free all purpose flour, which is added to the batter to get the florets to bake nice and fluffy and crispy.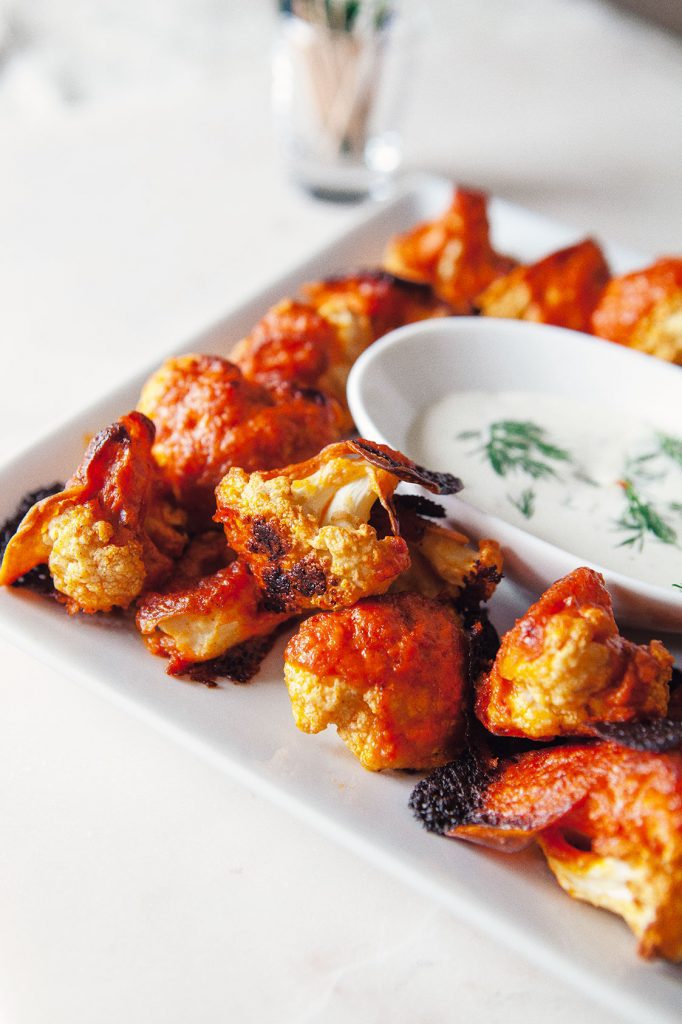 If you're fully Paleo, this recipe might not be for you (wahhh wahhh), but if you don't have a crazy sensitivity to gluten-free flour, I definitely recommend you give this little recipe a try. It's a wonderful appetizer that is very nutritious and fun to eat!
These Spicy Cauliflower Buffalo Wings are:
Baked to perfection
Spicy
Crispy
Vegan
Free of gluten
Crowd pleasers
DELICIOUS
WATCH Spicy Cauliflower Buffalo Wings video (60 sec):
Spicy Cauliflower Buffalo Wings
These Spicy Cauliflower Buffalo Wings are the perfect appetizer for parties; easy to make and dietary restriction friendly. Both vegetarian and gluten-free!
Serves:
~20 cauliflower wings
Instructions
Preheat oven to 450 F.
Line baking sheet with parchment paper and spread a bit of coconut oil for good measure. Set aside.
To a mixing bowl add milk, water, flour and spices and whisk well until combined.
Add florets into batter and gently move them, so florets get coated with batter. Grab florets with tongs, shaking off any excess batter before placing them on the baking sheet. Bake for 10 minutes.
Flip florets over and bake for another 10 minutes. While cauliflower bakes, mix buffalo wing sauce: whisk hot sauce and ghee in a small bowl until well combined.
Once timer is done, remove cauliflower from oven and drizzle hot sauce mixture on top. Bake for another 20 minutes.
Enjoy hot, dipped in Paleo approved ranch sauce or add to salads!
Notes
Tools You'll Need:
- Baking pan
- Parchment paper
- Mixing bowl
- Measuring cups
- Measuring spoons
PIN ME