I am so excited to share this easy chicken and veggie meal prep with you today, because it's ABOUT TIME I DID!
I make this recipe (or versions of this recipe by switching up the veggies), at least once a week for both my husband and I.
It's so simple to prepare, takes literally 50 minutes from beginning to end (hellllllllo uncomplicated dinners!), it's extremely nourishing, super tasty, colorful and one hundred percent comforting (sweet potatoes are life, and this broccolini truly tastes like french fries). We are obsessed with it. For all of these reasons.
I have honestly made this recipe for almost all of my friends and family members who come over for dinner this past year. And guess what? It is loved by EVERY ONE of them.
But hey, it's no wonder. Because, chicken? Sweet potatoes? Broccolini? I feel like these are the most sought out ingredients in the history of grocery shopping, haha. Most people love them. And they are always in stock at the grocery store.
Also, all of the components of this meal prep (chicken, sweet potatoes and broccolini) pair really well with most, if not all, salads. Even the simplest of salads. For example: grab a salad bowl, add greens, raspberries, cashews, olive oil and fresh lemon juice to it, and then add your freshly roasted chicken, sweet potatoes and broccolini on top…and boom! You get a super great meal.
Like so: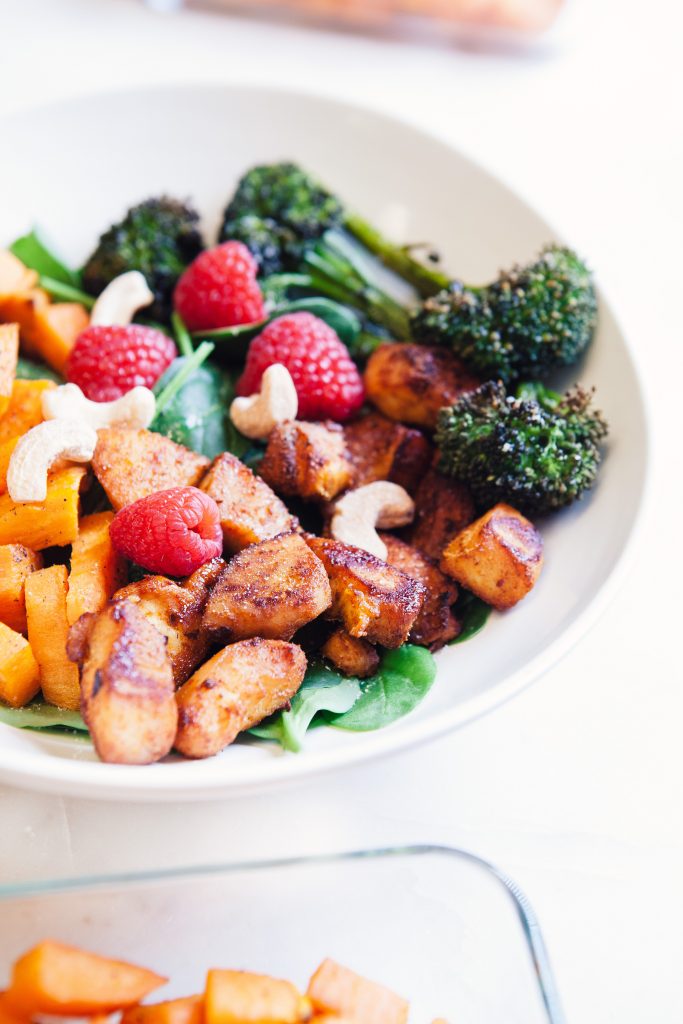 Same goes for other side dishes you may love; for example, your roasted chicken and veggies would pair really, really well with things like: parsnip mash, avocado and cucumber salsa, balsamic mustard roasted brussels sprouts and yuca fries.
However, if you like simple and want to keep this roasted chicken and veggies recipe as is, you can just go ahead divide the recipe into cute little containers and keep them in your fridge for later. Your meal prep will be ready, waiting for you to take it with you to work, class, road-trips, etc. It's such a fabulous to-go option!
Heck, sometimes, I like to keep this recipe divided in these to-go containers for at home use. Even if I am not planning on taking them anywhere.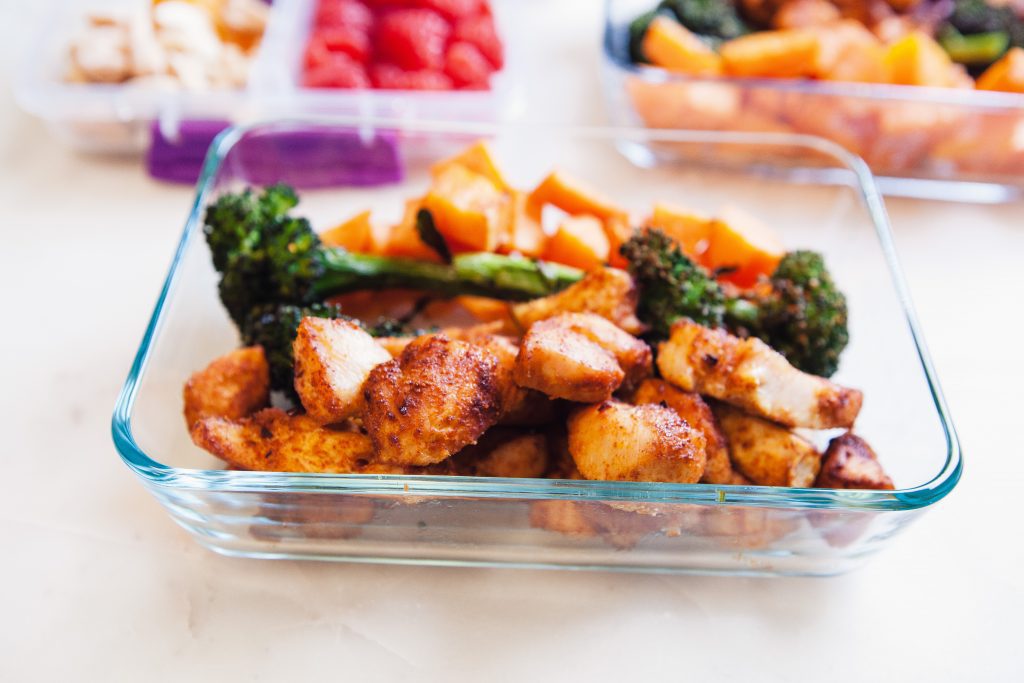 Why? Because they are already divided into the perfect portions, are easy to re-heat (microwave or oven — so make sure you get glass containers, not plastic, unless of course you want to transfer it to one of your ceramic dinner plates) and easy to clean up.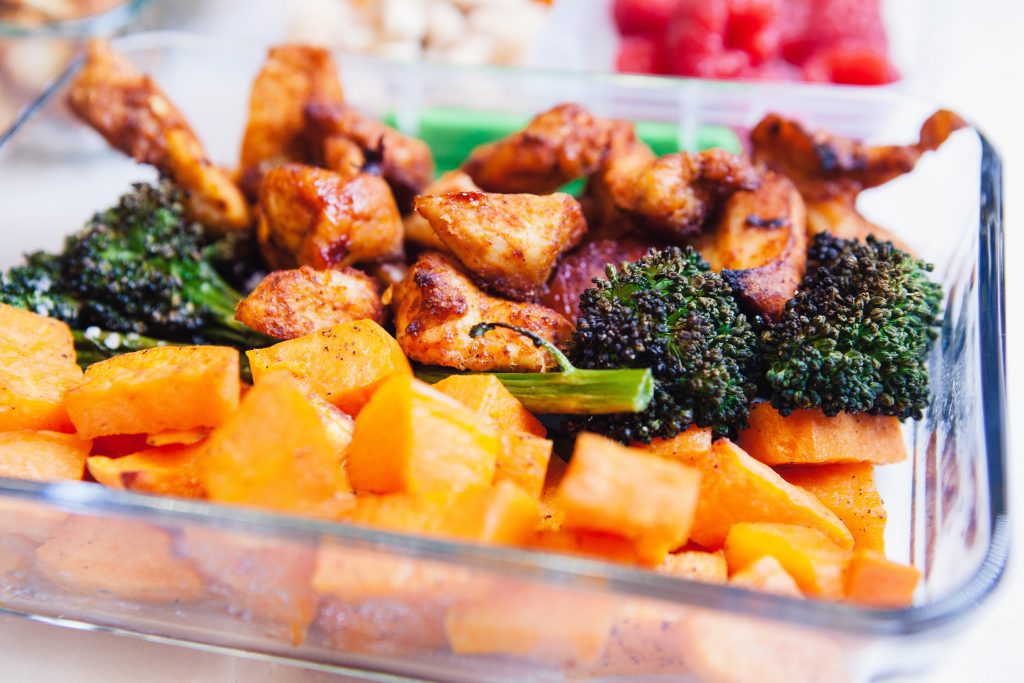 Plus, look how cute the recipe looks in these glass containers! So colorful and welcoming…as if it was begging you to dig in and devour.
I get these glass containers from Amazon, and the below (even smaller) plastic little containers from Whole Foods Market. These plastic ones are great for things like fruit, yogurt, granola and trail mix, which are some of my favorite things to enjoy as a snack in between meals.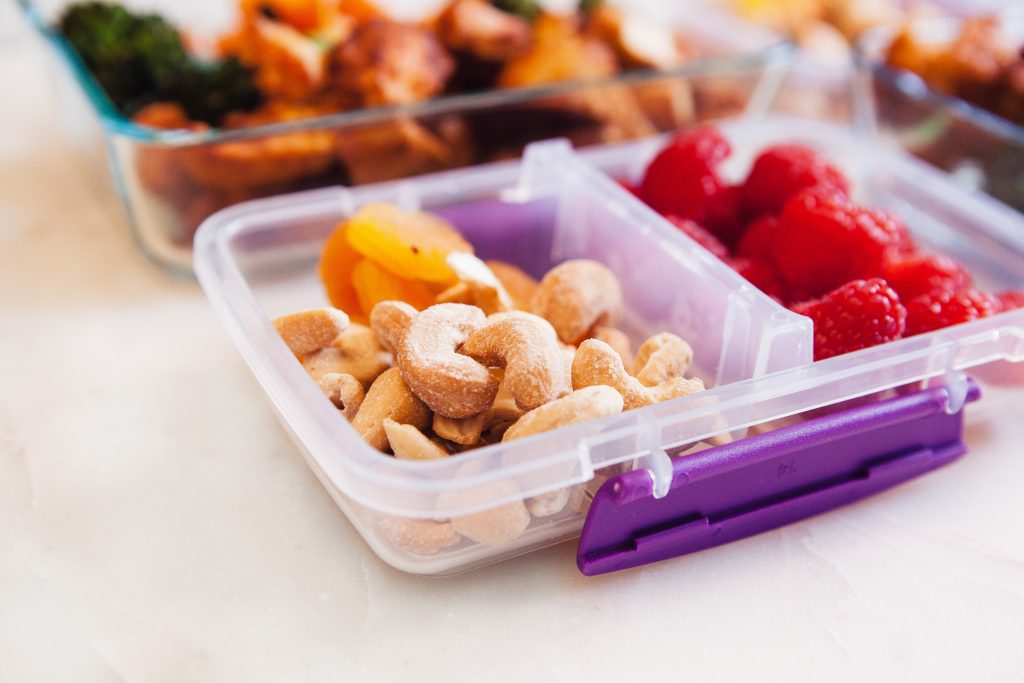 What I usually do when I know I will be out for a while is, bring a glass container with chicken, sweet potatoes and broccolini PLUS a plastic container with trail mix and fruit. These two tend to keep me nourished and satiated for hours. They are small enough to fit in a purse or small backpack, so gals, it's easy peasy for us to eat well while out and about!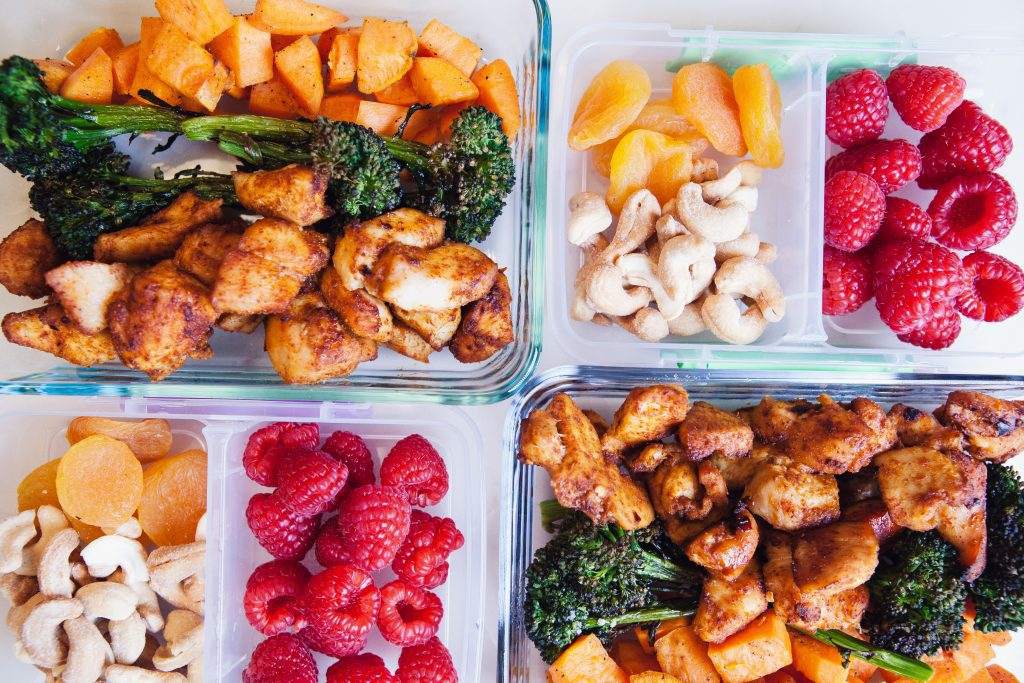 Another thing I want to say about meal prep is that the perfect time to work on it, is truly anytime you have time.
I have found that the key to enjoy cooking is to cook whenever you're not going to be stressed while making your food. It is whenever we are short on time, that cooking sucks. Because who in the world likes to be stressed and feel short on time? No one ever. So pro tip: make sure you work on your meal prep at a time when you don't have a lot going on!
Another tip is to work on your meal prep on a day/night when you're actually going to enjoy the food for lunch/dinner. The reason why this works so well, is because you'll be extra excited about the food your making since you'll be eating it once it's out of the oven(instant gratification). And as a plus, you'll be able to store the "left overs" in containers for the following days.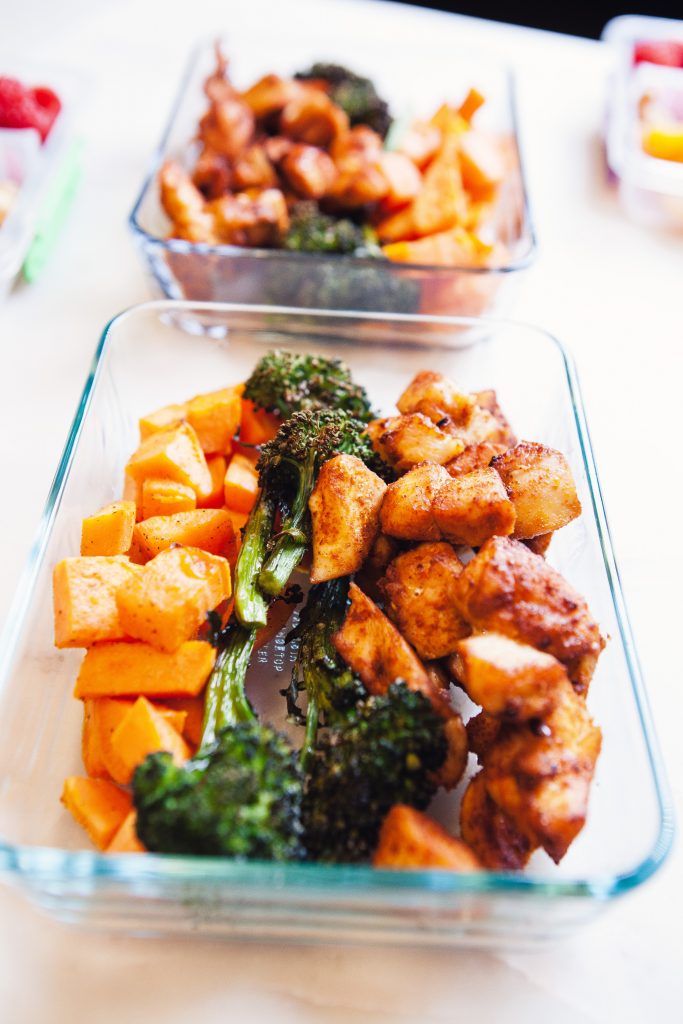 My last tip for you is to make it a habit to buy quality proteins (like chicken), veggies (like broccolini) and starches (like sweet potatoes) EVERY week at the grocery store. That way, whenever you find the time at home to prep your meals for the week, you'll have everything on-hand ready to be worked on. This will avoid you having to start everything from the very beginning: like getting dressed, getting in your car, driving to the grocery store, getting all the ingredients, driving back, putting the ingredients away, and THEN getting to work on your meal prep.
I guess you could always send your significant other to the grocery store for you too. That's definitely another way to save yourself time and not have to start from the very  beginning, haha. However, this trick hardly ever works for me. My hubby and grocery shopping simply do not mix. He hates it. And he is also not as efficient at the grocery store as I am, he takes FOREVER. Hmmm…now that I think about it, perhaps he is not as efficient on purpose. That smart, smart man.
But back to this recipe. It is bomb.com and I cannot wait for you to try at home for your family. If you're not much of a broccolini eater, try subbing it with actual broccoli, or with brussels sprouts, squash, zucchini or carrots…I've tried all of these ingredients and they ALL roast really well! No need to modify the seasoning nor the cooking process.
If you make this recipe at home, make sure you snap a photo of it and tag me on Instagram or on Facebook for me to take a looksy! I'd absolutely love that.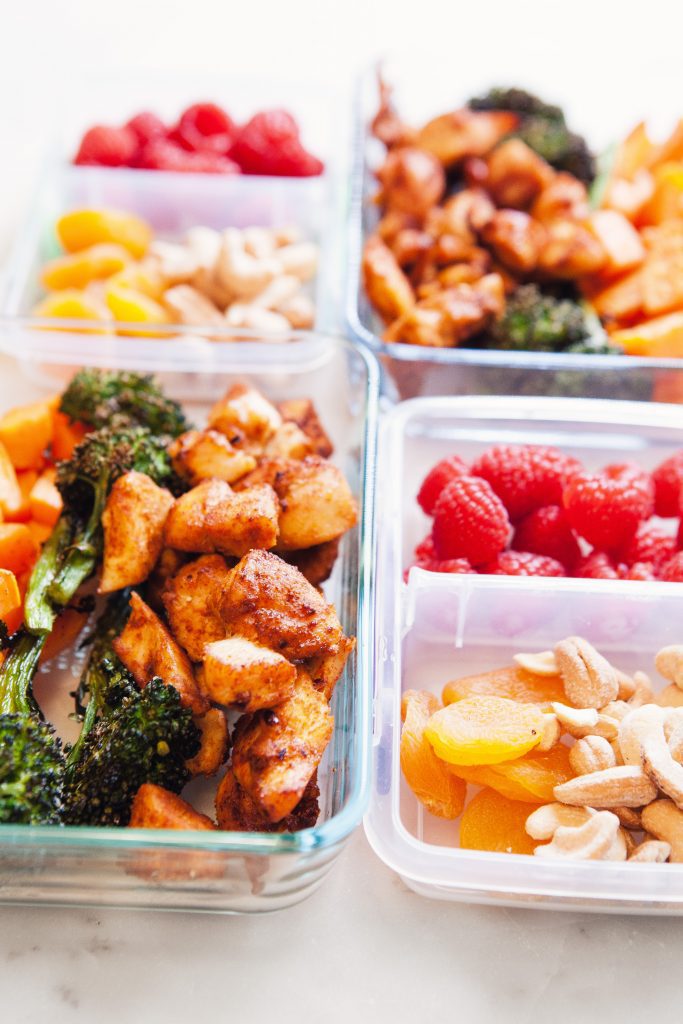 Easy Chicken and Veggie Meal Prep
This Easy Chicken and Veggie Meal Prep is super delicious, so say goodbye to bad chicken and broccoli meals! The recipe is gluten-free, dairy-free & paleo!
Serves:
5 servings (feeds 5 people)
Ingredients
3 lbs. boneless skinless chicken breasts, cut into small pieces
3 sweet potatoes, peeled and diced
5-6 cups broccolini
2 tbsp olive oil
4 tbsp coconut oil, melted
4 tbsp Frontier Co-Op's Mexican Seasoning
2 tsp sea salt, or to taste
Freshly cracked pepper, to taste
Instructions
Preheat the oven to 450 F.
Combine chicken with 2 tbsp of olive oil, Mexican Seasoning and 1 tsp sea salt. Store in refrigerator while you prep other ingredients.
Arrange sweet potatoes and broccolini on their own baking dishes, making sure the veggies don't overlap, so they have space to cook well. Drizzle with coconut oil and sprinkle 1 tsp sea salt + black pepper. Arrange chicken on a separate baking sheet.
Place chicken, broccolini and sweet potatoes in oven and cook for 15 minutes. Remove chicken and broccolini and cook sweet potatoes for another 15 minutes.
Notes
Note 1:
If you want your broccolini to be perfection on a bowl, make sure you don't add too much oil and that you let it stay in the oven until the florets start to get a little charred.

Note 2:
If you want your sweet potatoes to be nice and soft, make sure you add a generous amount of coconut oil and that you keep them in the oven for a good 30-40 minutes; however, keep a close eye so they don't burn.
---
PIN ME!

Thank you Whole Foods for sponsoring this post!