I baked this Double Chocolate Zucchini Bread last weekend to bring to a dinner party. The recipe yielded two mini loafs, so I figured I'd give one to the host as a gift, and bring the other one to share for dessert.
The recipe came together because:
1.) I wanted to bring a treat to my friend's house, and
2.) There was a zucchini in my fridge looking rather sad, begging to be used.
Immediately, zucchini bread came to mind…but I was also craving chocolate, so I decided to marry the two! And just like that, bread magic was born. 🍞✨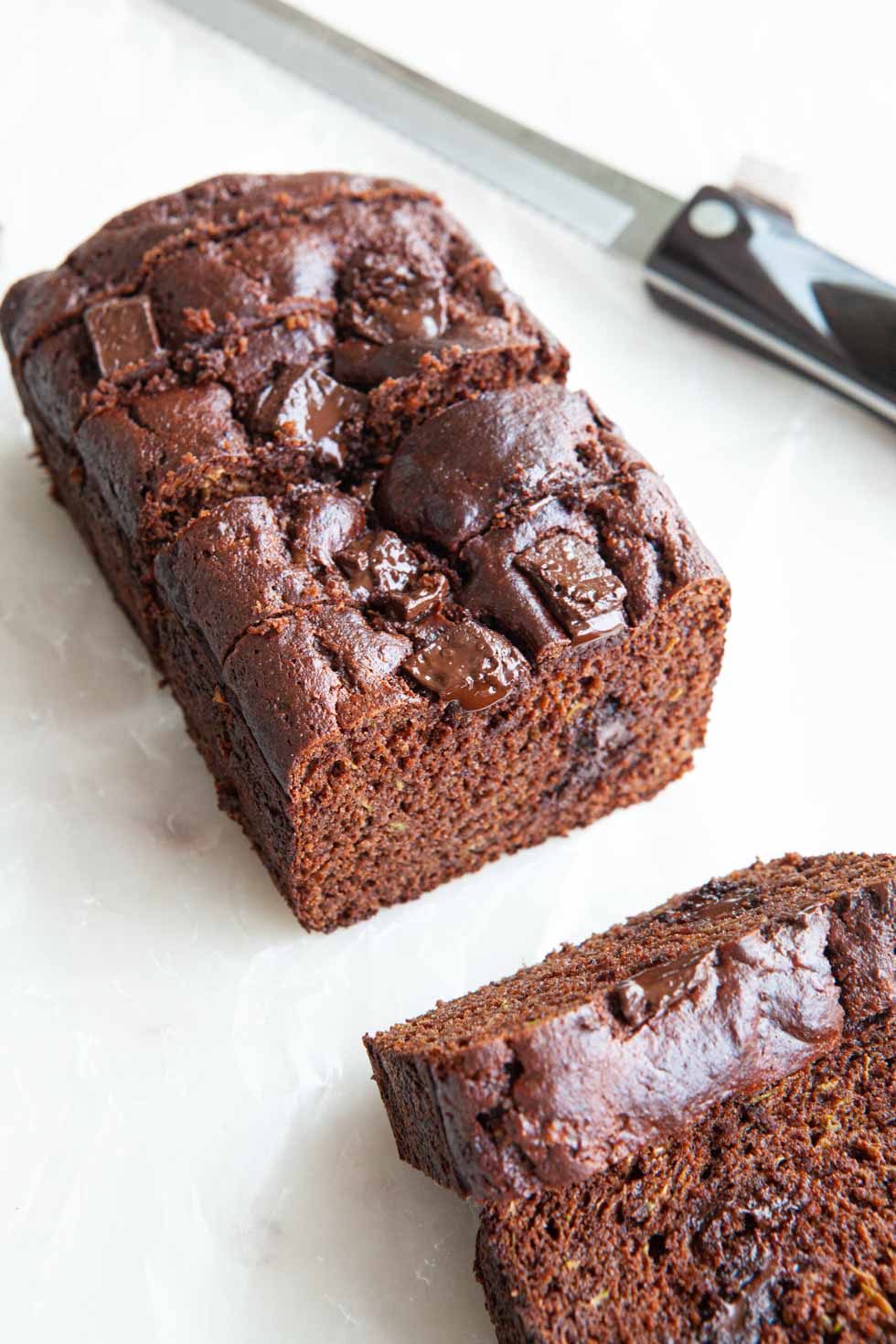 Once the plastic wrap came off the mini loaf we were sharing for dessert, it was gone in seconds. Everyone loved it.
Since it was a hit, I figured I had to bake it again to share it on the blog. So here it is!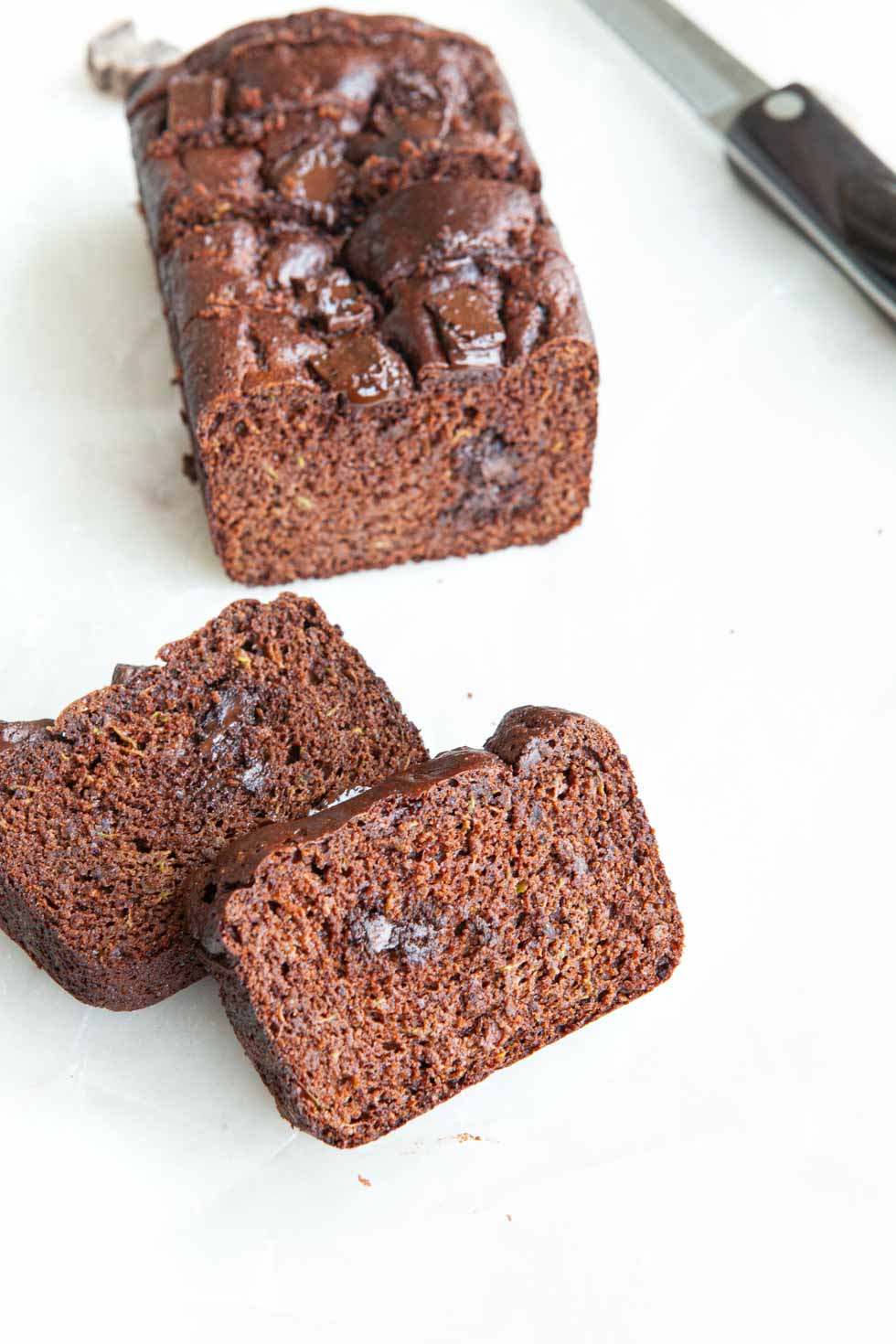 This bread is sweetened by a bit of honey and by the dark chocolate chunks, but by nothing else. Which I love, because the bread doesn't come out too sweet. Sugar in moderation is the name of the game when it comes to staying healthy and strong.
That's what I adore about homemade Paleo treats; you get to determine how much sweetness you want to add, and you use great, clean ingredients that actually nourish you. There's no bad additives or fake sugars here. Only good stuff.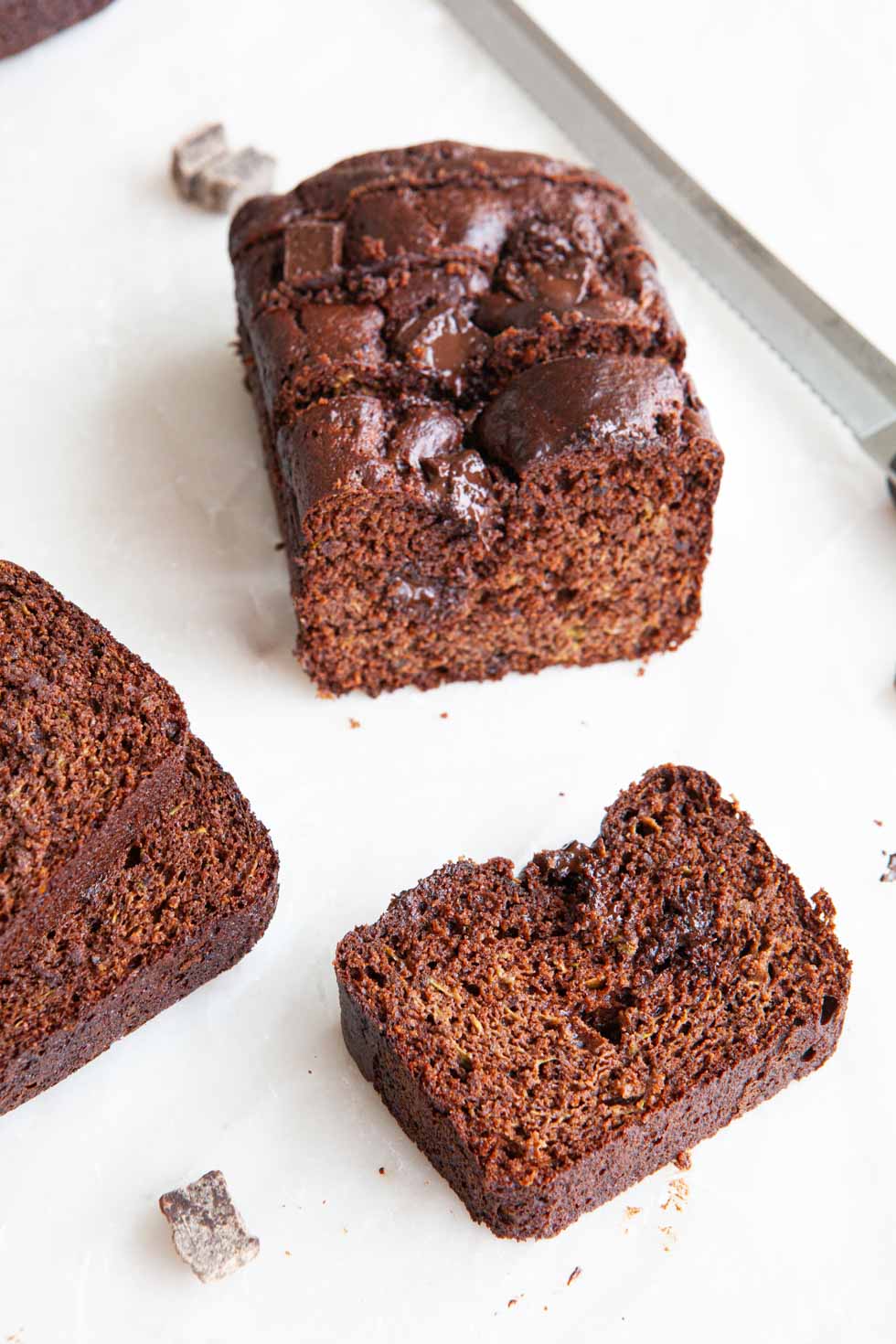 Let's get into the taste and texture of this bread.
TASTE
You cannot really taste the zucchini in this bread; it was mainly an ingredient used to add moisture and texture.
You can taste the nuttiness of the almond butter and the decadency of the chocolate.
As the recipe's name suggests, it was baked using two kinds of chocolate: cacao powder and dark chocolate chunks. Both of course naturally dairy-free and rich enough to add a chocolatey punch to the mix.
TEXTURE
The bread is very moist and rich.
The chocolate chunks added to the actual bread mix, softened and melted while baking, and the chocolate chunks added on the top of the mixture remained a bit solid and crunchy even after baking. Therefore, we get a bit of both worlds, a gooey chocolate experience inside and a more crunchy chocolate experience on the outside.
Note: You can use your chocolate chunks as you prefer; either divide them like I did, add them all as part of the bread mixture, or all "sprinkled" on top of the mixture. You could also add a few chopped raw macadamia nuts; just don't over do the additions, as the texture/moisture might get a bit funky.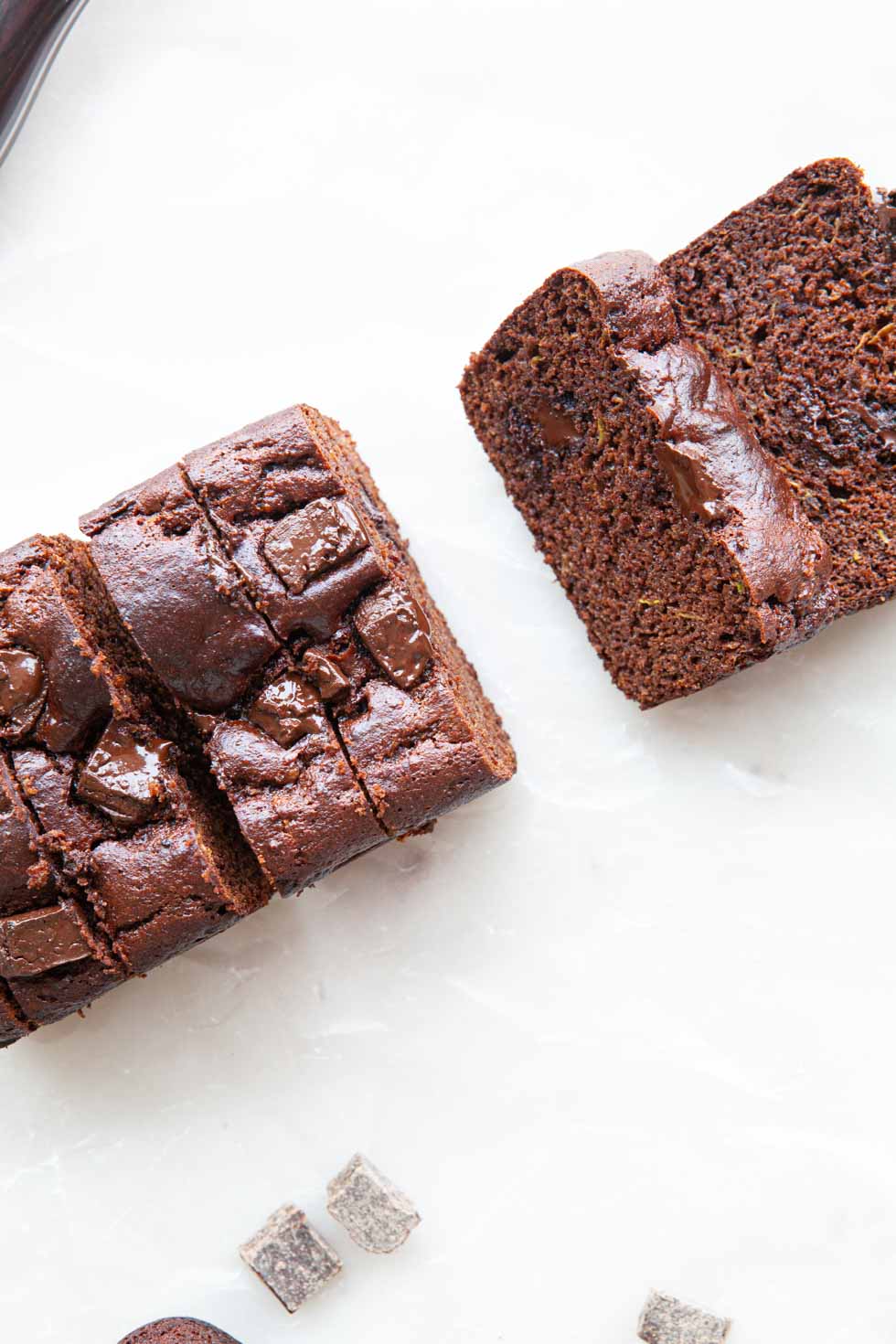 You can enjoy this treat warm or cold.
If warm, perhaps adding a bit of coconut oil or any other spread of choice would be lovely. If cold, enjoy it as it, alongside a warm cup or coffee or tea.
I prefer it cold, after it's been in the fridge for a day or so; love what this does to the texture: solidifies it and makes it more dense. YUM!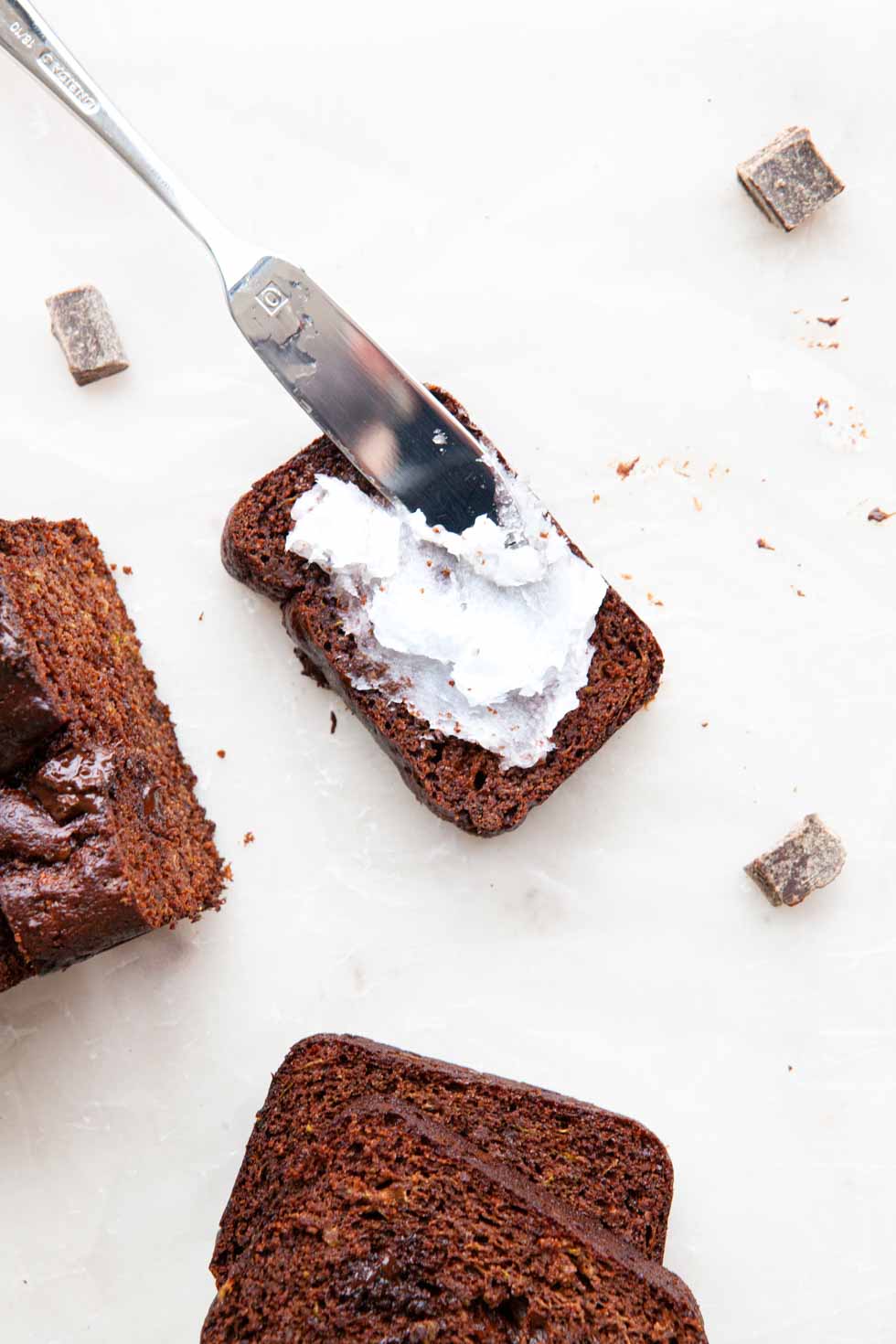 I hope you LOVE this bread! It's:
All Paleo
Dairy-free
Gluten-free
Moist
Nutty
Chocolatey
Rich
DELICIOUS!
It's the perfect treat to keep around in the fridge for when chocolate cravings come, and the perfect treat to gift friends and family.
MORE BREAD RECIPES
If you try this recipe, let me know! Leave a comment, rate it, and don't forget to tag a photo #amazingpaleo on Instagram. Enjoy!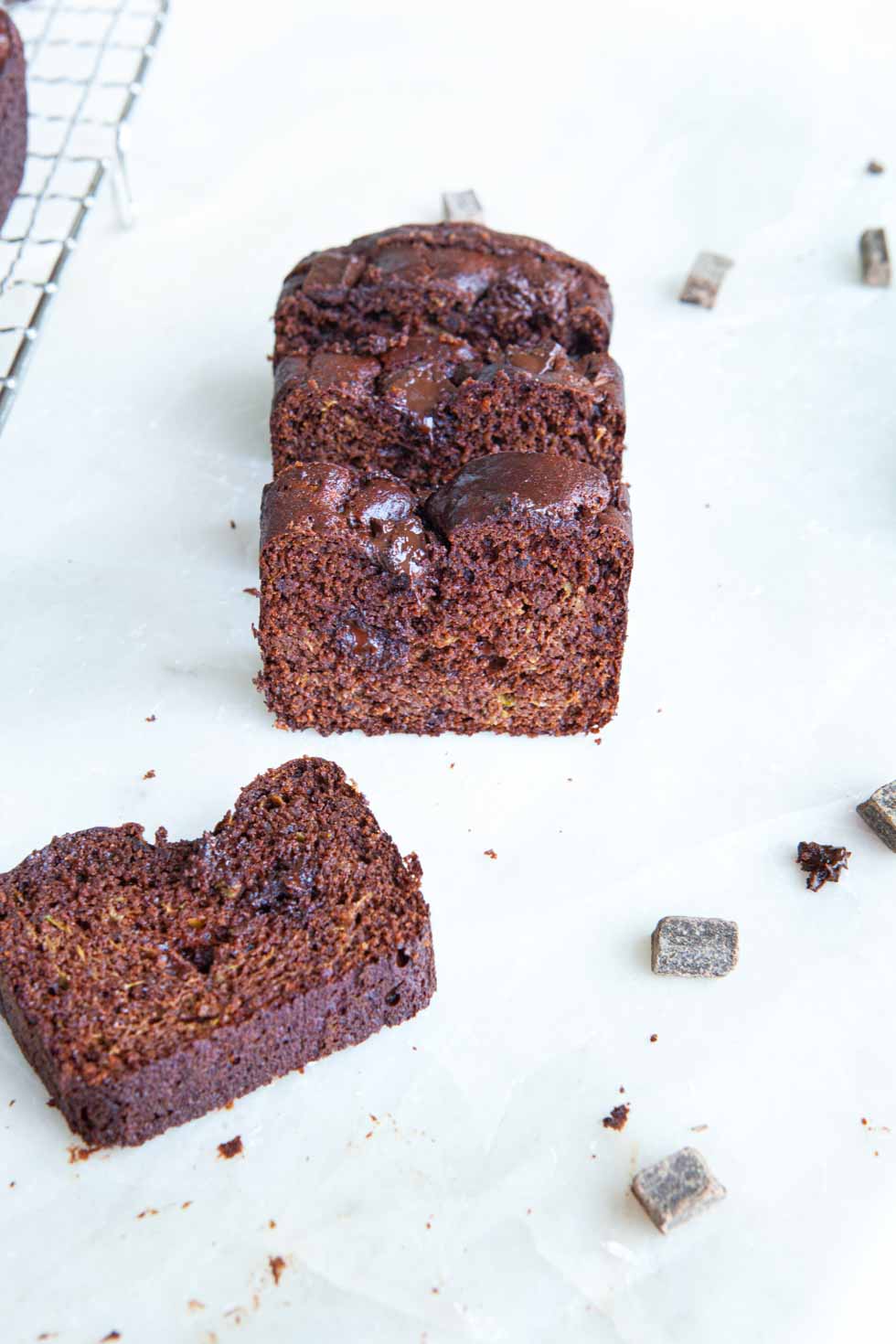 Double Chocolate Zucchini Bread
This Double Chocolate Zucchini Bread is all-paleo, therefore 100% gluten-free and dairy-free. It's made with raw cacao powder and topped with dark chocolate chunks for that decadent taste that hits the spot every time.
Ingredients
1 medium zucchini, peeled and shredded (equal to 1.5 cups shredded zucchini)
2 eggs, whisked
¾ cup creamy almond butter (unsweetened, unsalted and roasted)
¼ cup honey
¼ cup raw cacao powder
2 tbsp coconut flour
1 tsp vanilla extract
1 tsp cinnamon
½ tsp baking powder
½ tsp baking soda
¼ tsp salt
¼ cup dark chocolate chunks, divided
Instructions
Preheat oven to 375 F.
Grease two 5x3 mini bread molds with coconut oil, set aside.
Peel and shred zucchini. Once shredded, squeeze zucchini with paper towels to remove all excess liquid.
Mix all ingredients (except chocolate chunks) together; then fold in half of the chocolate chunks. Divide batter into the two bread molds and sprinkle remaining chocolate chunks on top.
Bake for 30 minutes. Let cool completely before removing bread from pan. Slice and enjoy!
PIN ME!