Can you guess what the best 5-star hotel in Barcelona is for me? Let me give you 2 clues:
The chain is known as a members-only club.
It was first started in London.
I'm not gonna leave you hanging here. 😏 Mainly because I am super excited to share this gem of a spot with you. If you haven't guessed it already, the hotel chain is called SoHo House, and their property in Barcelona is called SoHo House Barcelona.
From the amazing decor and amenities, to the ever changing list of events…this hotel makes for a dreamy experience every single time.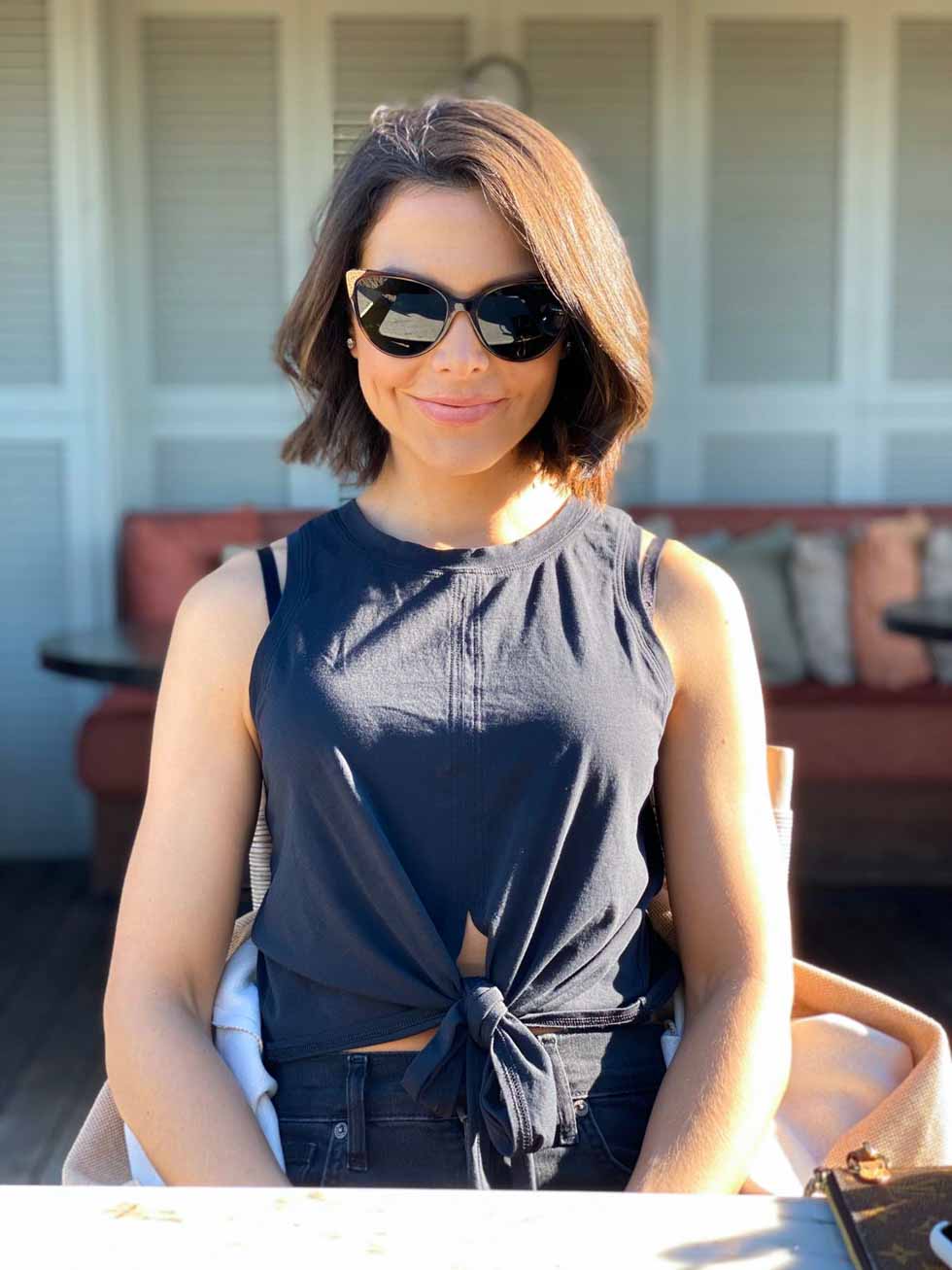 I have stayed with them on three different occasions, twice in the winter and once in the summer, and each new stay has been as exciting as the last.
Let's dive in and talk about why this hotel is so great!
DECOR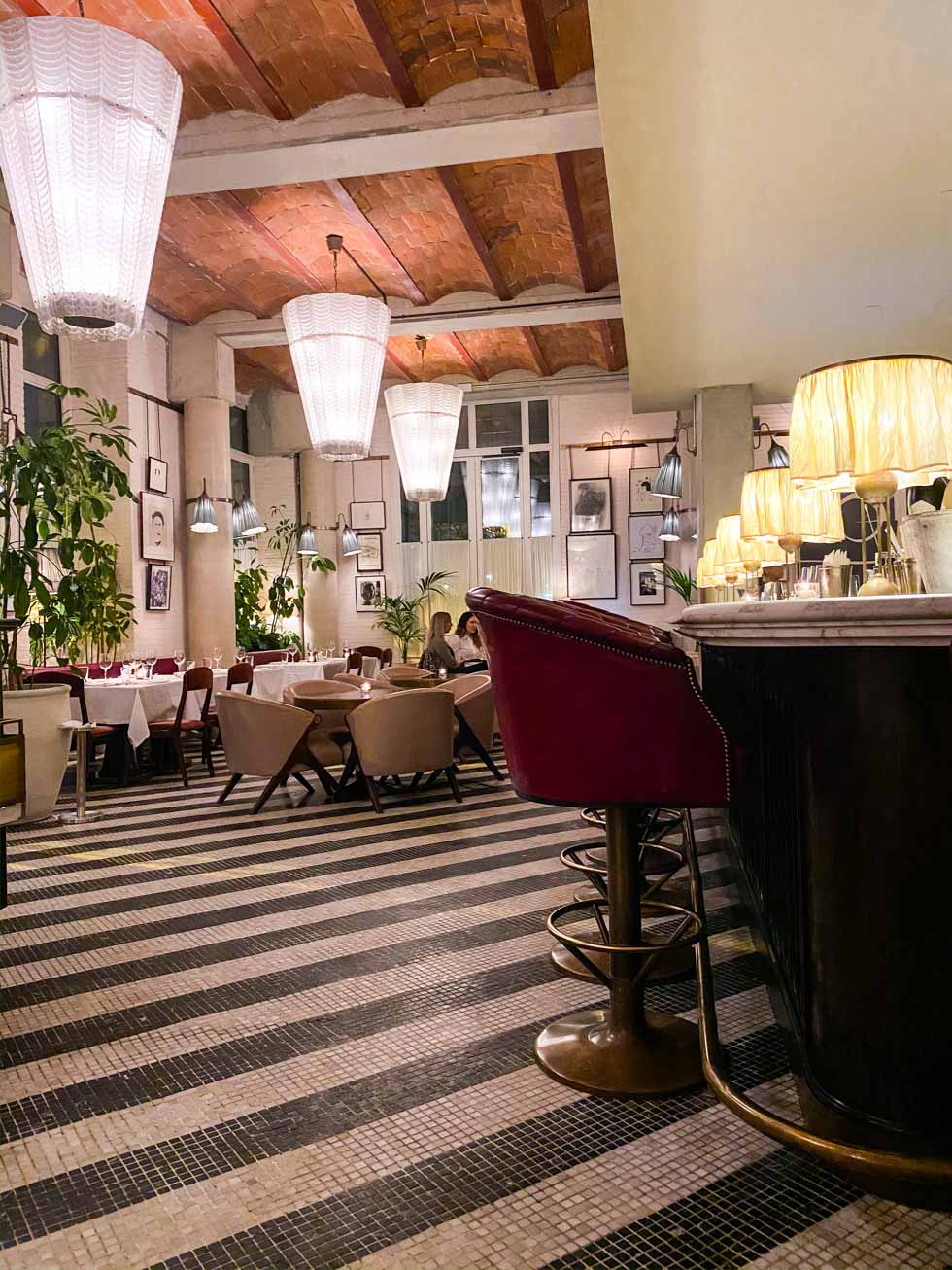 Lazaro Rosa Violán, along with the support of the team of SoHo House designers, were the one who made this gorgeous space happen. Think of the design as classical meets carefree, meets Mediterranean meets Catalan.
A balanced mix that is cozy and chic in the best possible way.
Every single corner of the House has been well thought out, and they spared no expense. Even small things like door/window handles are top notch, each bringing a sweet elegant element to the mix.
ROOMS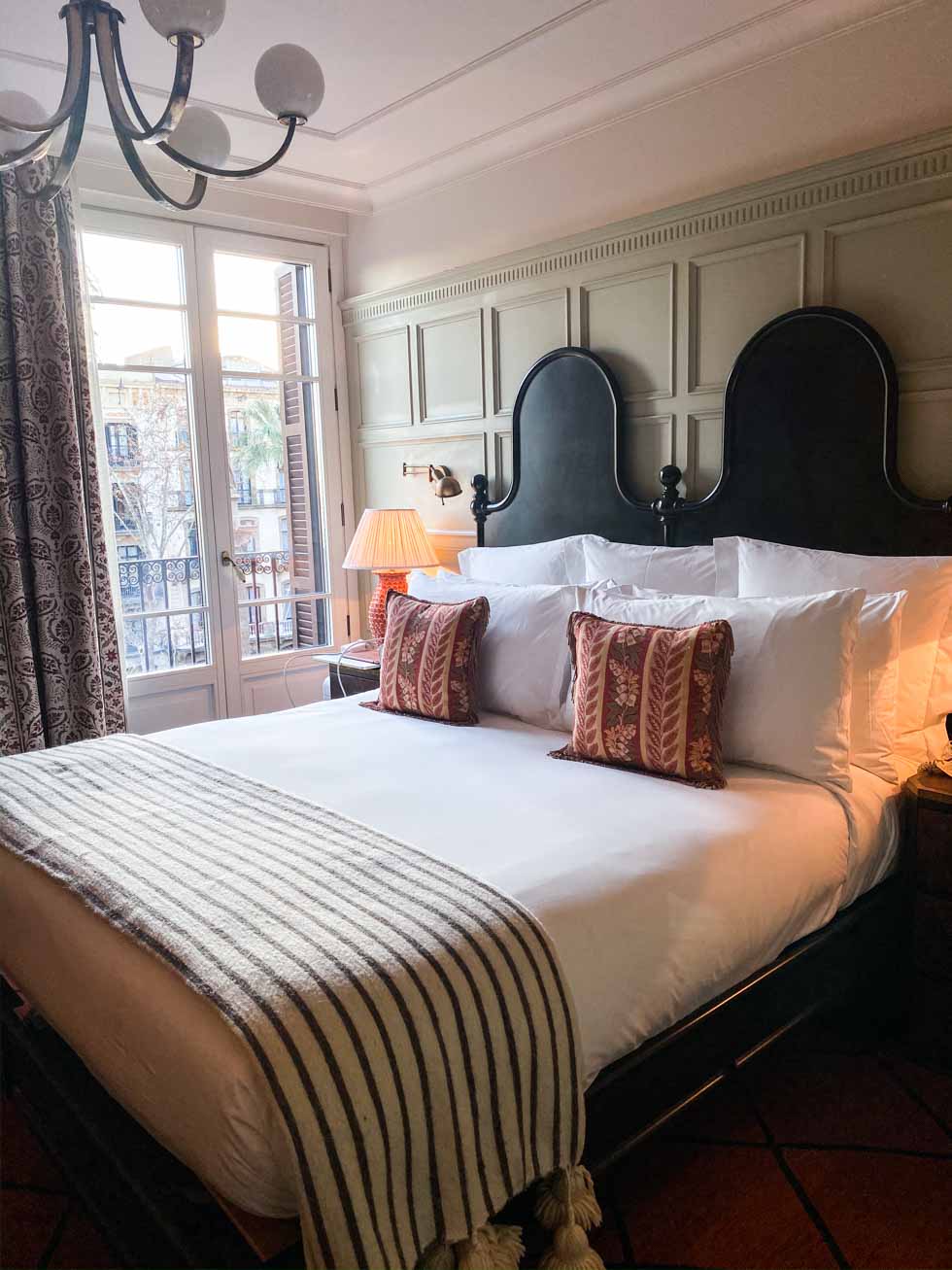 There are 57 rooms, 6 of which are luxury suites; these are located on the 2nd, 3rd and 4th floors.
The beds are some of the most comfortable beds I have ever slept on, and so are their pillows and sheets. The rooms all come with a coffee maker, tea kettle, daily baked cookies, a safe, old school radios, cable TV, robes and slippers, and full size Cowshed bathroom amenities they refill every day. The latter being my favorite part! So fun to try Cowshed products and pamper yourself with them as much as you want after a hot shower.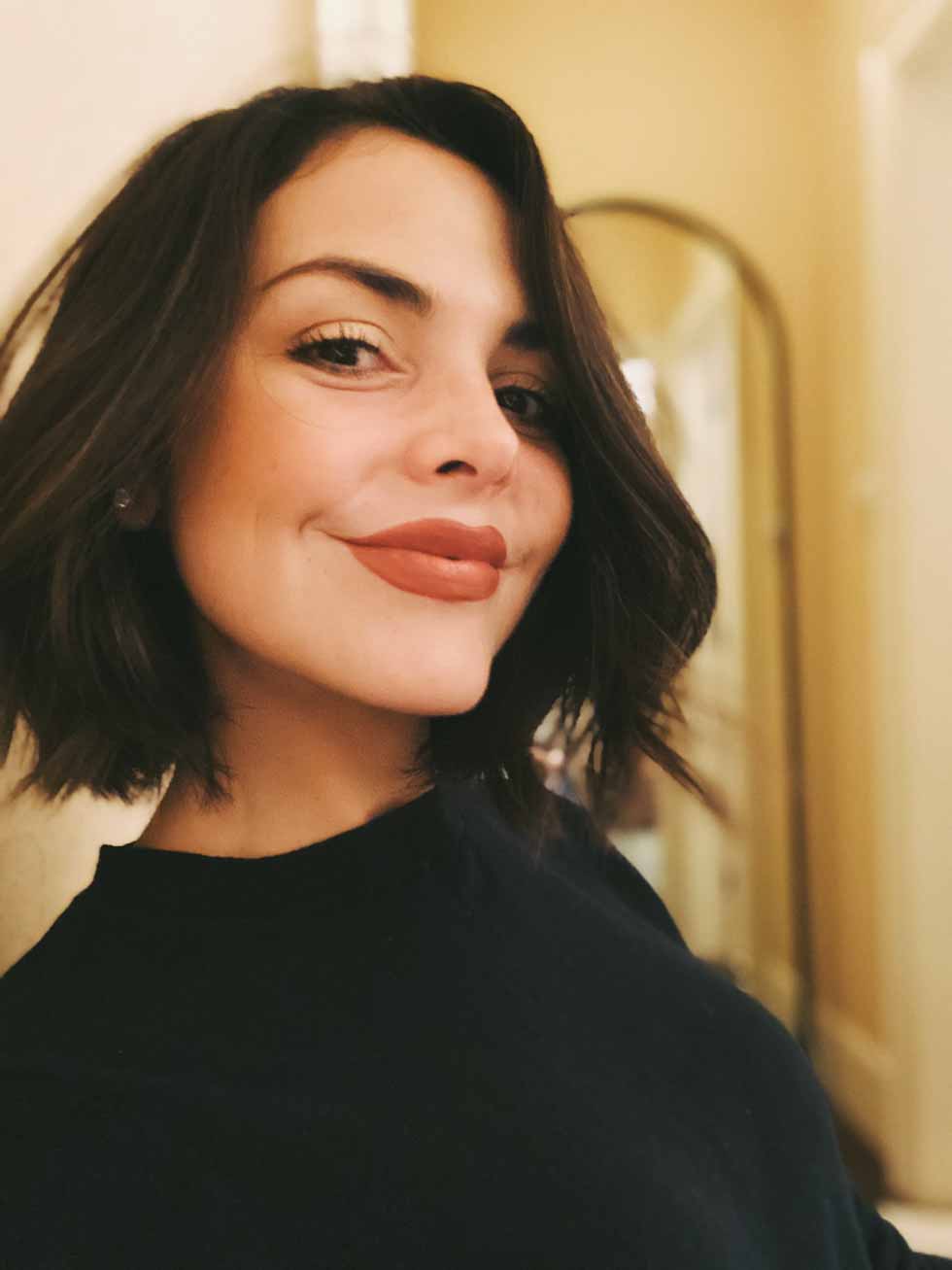 If you're a SoHo House member, you get a special rate for yourself and a special rate for friends/family, which is great, because the rooms can be a bit spendy.
RESTAURANTS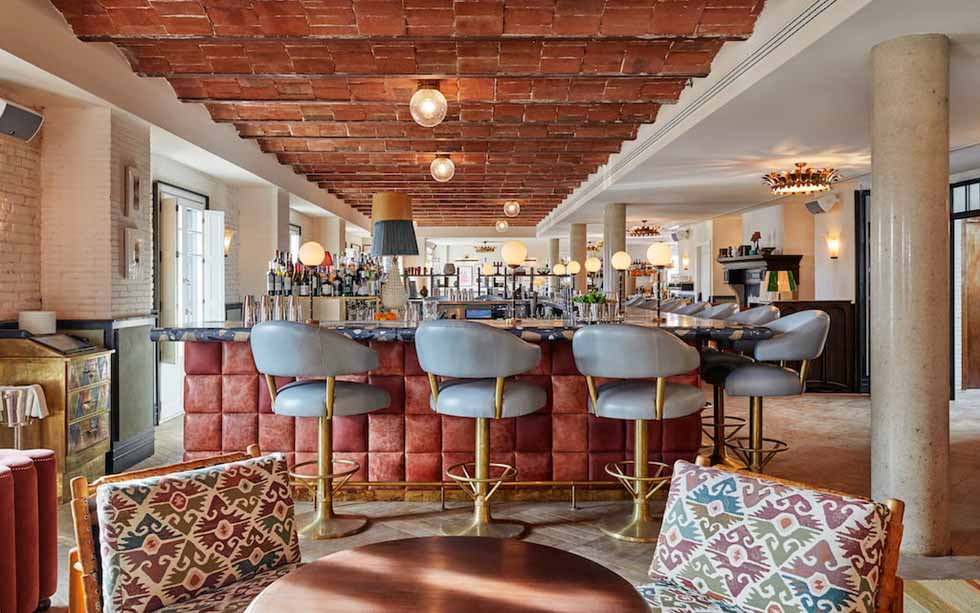 There are 3 places where you can eat in the hotel: Cecconis, the "club" on the 5th floor and the rooftop on the 6th floor.
Cecconis is an Italian-inspired restaurant that at is open to the public (meaning non-members can also access it). The decor is outstanding, just like the rest of the hotel, and their servers are friendly.

They have homemade pastas, oven pizzas, a variety of  Italian appetizers, and a great selection of grilled proteins. I loved their salads, pizzettas, pastas and wine.

Be sure to not miss out on their Sunday brunch and their "menus del dia".

The club on the 5th floor is SoHo House Barcelona's co-working space that also houses a large square bar and a full restaurant. This is probably my favorite spot for lunch and dinner, as it's very laid back and friendly.

The staff is extremely kind and the food never ever disappoints, it comes out quickly and it is consistently good.

I loved their kale salad, patatas bravas, grilled chicken and green bowl (pictured below).

The rooftop on the 6th floor is their terrace, which houses a pool, a bar and an eating space.

This was my go-to for breakfast after the gym every morning. Every item on the menu is delicious, but you cannot beat their eggs and toast. Simple and amazing.

Don't miss out from enjoying a coffee or a drink from their full service bar!

CO-WORKING SPACE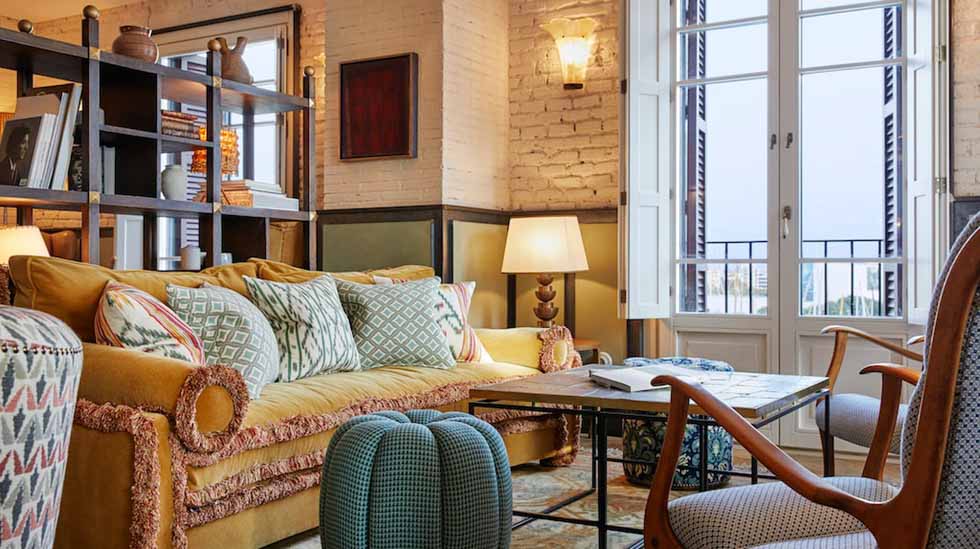 Free gummy tower. Yup, they have free unlimited gummies for all. HOW COOL IS THAT!?
It's definitely one of the awesome and quirky perks of this chic co-working space. They have a photo booth, lots of comfy seating that fosters community, an amazing square bar with talented bar tenders, a delicious restaurant, lots of non-alcoholic bevvie options (loved their fresh ginger and lemon tea), and an area you can rent out for private events and parties.
They have a few sets of rules here that make the space extra great:
First rule: "sit wherever you find a spot" even if the table is already taken by someone else — to encourage conversation and networking.
Second rule: no talking on the phone — to keep people engaged and present.
Third rule: no computers/tablets after 8pm — to get that social and loungy vibe that every young person craves after a long day of work.
Fourth rule: no photos — people here really value privacy, as we all should these days.
GYM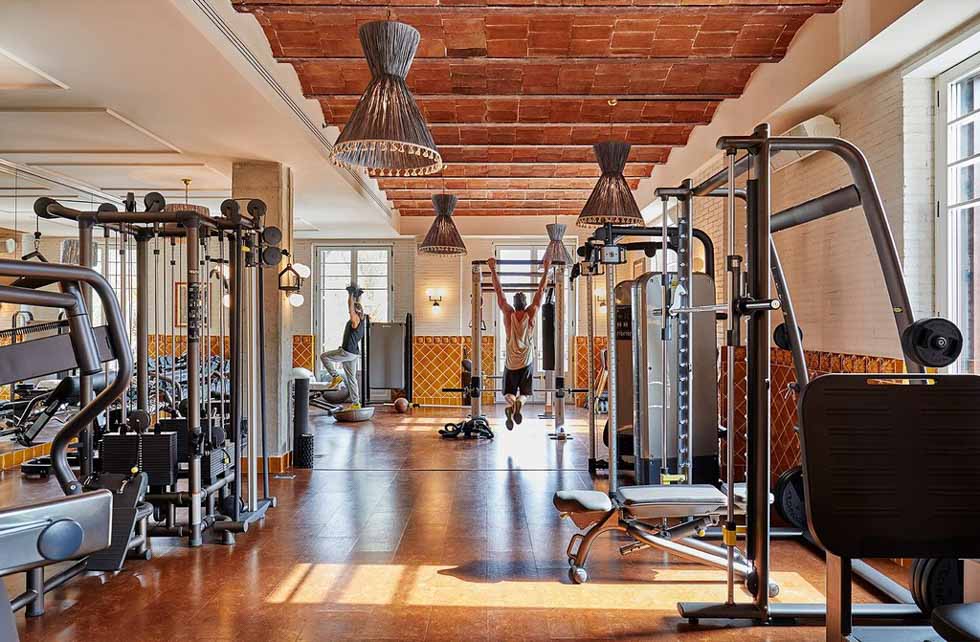 This Cowshed Active gym is my hotel dream gym. It has group classes (kick boxing, yoga, spin), friendly personal trainers, a nice stretching area with Theraguns, lots of free weights and specialized machines, and a large variety of cardio machines. It's bomb.
It houses a very large locker room area, with great amenities, for people to shower and change after a good workout.
It's a very bright and clean space, and their windows overlook either a plaza or the sea. How dreamy, right? Definitely a perk of staying at the hotel. SoHo House members use this space as their club's gym, without having to stay at the hotel.
CINEMA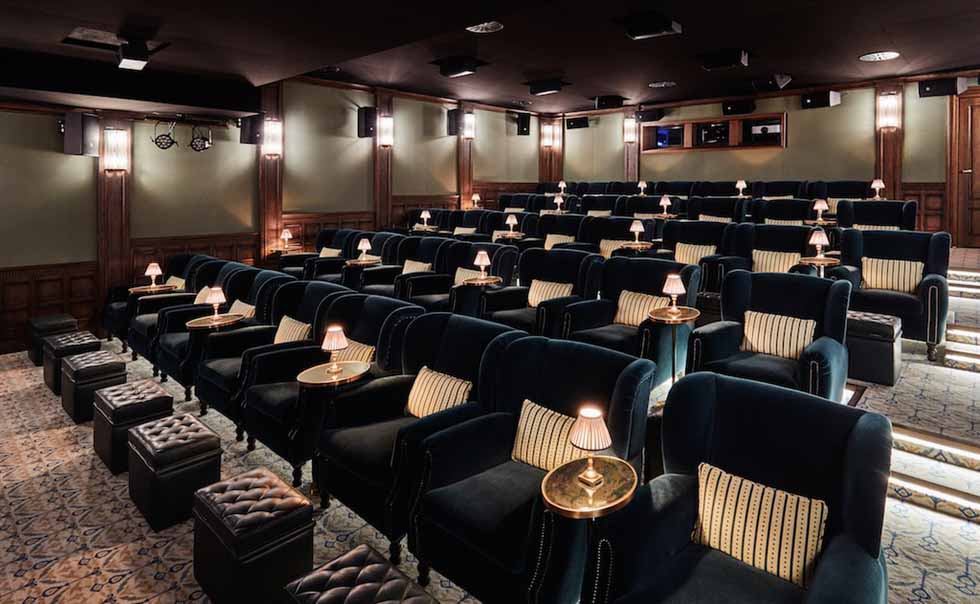 I mean, yes. A cinema. What other hotel that you know of has a CINEMA?! And look how adorable it is. Velvet deep-green chairs, little puffs to put your feet up, a shared mini-table with a lamp to put your bevvies on. It's perfection.
Right outside the cinema is a full bar where you can purchase spirited beverages to bring in while enjoying your flick. This cinema is located underground, so it's very quiet and private. Love it.
They don't play movies every day, but when they do, their movie selection is very good and interesting. It fills up quickly, so SoHo members usually sign up for it through their member app, and hotel guests have to call reception to try to get a spot.
SPA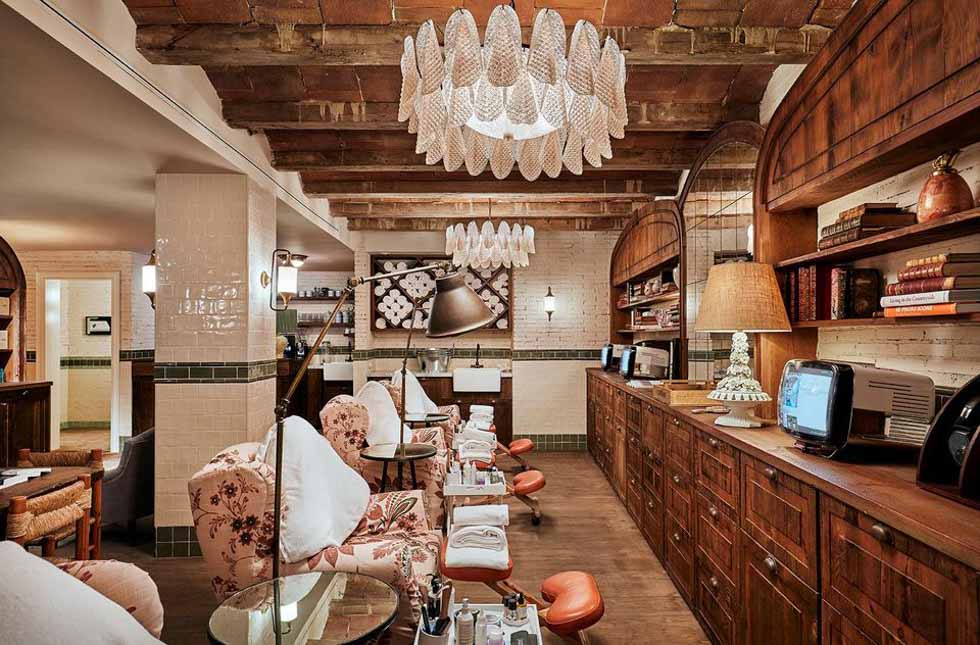 Their spa is located underground and is open to the public. It offers mani-pedi services, body treatments and facials. They also have an indoor heated pool with comfortable chairs around it to lay and have a little zen time.
When you book a service, they give you a bathrobe and slippers to change into, and they offer you some nice teas and coffees while you wait. The spa space is inviting and comfortable, and their employees and friendly. My husband and I got facials, and they were very well done. We will definitely return.
ROOFTOP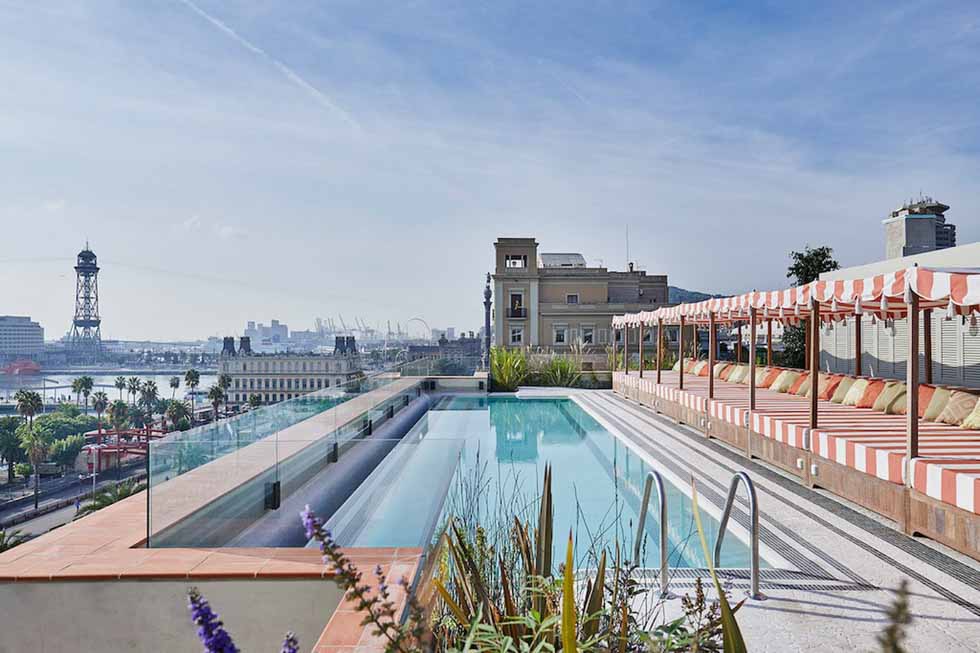 This is where its at! Barcelona is known for blue and sunny skies year round, so even in the winter, this rooftop feels warm and inviting. 
As you can see in the photo, it has a pool with sun beds (this is very popular, so be sure to arrive early and/or get on the wait list!), a bar, and an eating area.
It is a very private space where only SoHo House members or hotel guests have access. Drinks and food are delish, and the servers are top notch, very friendly!
STAFF
Last, but not least, the staff. Let me start by saying that they hire beautiful people, inside and out. I mean, literally, the staff is gorgeous. But their gorgeous looks are accompanied by gorgeous personalities, which is where the magic lies.
Staff members are outgoing, upbeat, friendly, willing and 100% on their game.
They all speak a minimum of two languages, which of course comes in very handy in a city that hosts so many international visitors a year. If you don't speak Spanish, no need to worry, they've got you covered.
During our visit, we found that most of the bartenders and servers were from Italy, which was super fun for us because we visited Italy a few years ago and fell in love with their culture and people.
All in all, SoHo House does a great job in hiring and training!
EXTRAS
They have a second, but smaller, property in Barcelona called Little Beach House Barcelona; this one is in Garraf, about 30 minutes from the city and right by the beach.
SoHo House Barcelona has a shuttle bus that takes members (and hotel guests) to Little Beach House daily. Its a fun day activity you can do when you're craving a leisurely day outside of the city. 
Even though Little Beach House doesn't have as many amenities as SoHo House Barcelona and it's not as centrally located, it's got enough charm to win anyone over. It is the cutest hotel that is literally steps away from the beach. It's a summer dream, but closed in winters due to weather.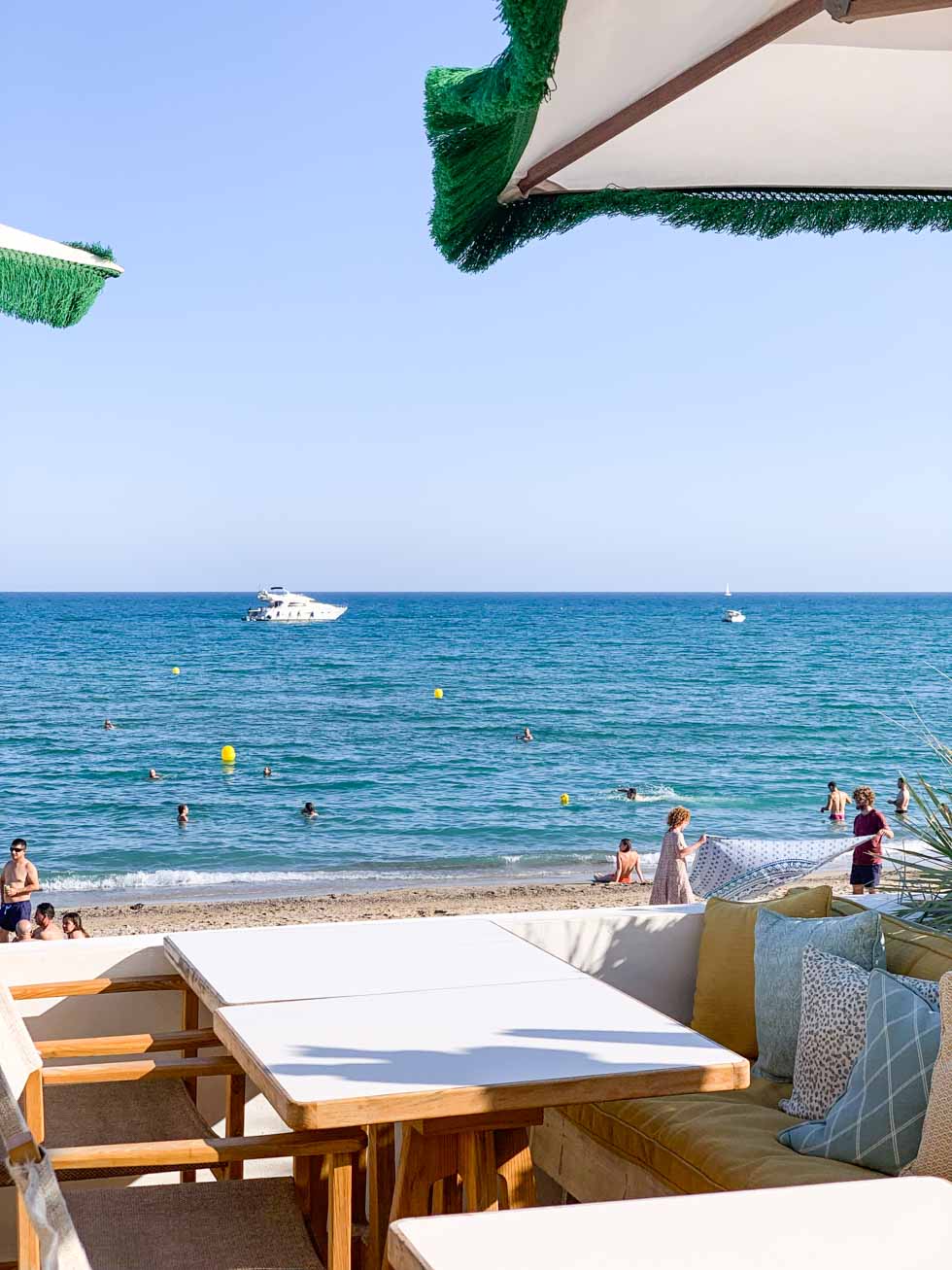 Hope you guys enjoyed the guide to what I think is the Best 5-Star Hotel in Barcelona.
SoHo House is definitely an experience of its own, and I would highly recommend it to all.
If you guys have any questions regarding this hotel or Barcelona in general, please be sure to leave it in the comments below and I will be sure to answer it promptly!
Ps: a BIG shoutout to my brother, Roberto Donoso, who is a SoHo House member and is the person who introduced SoHo House to us. He is an accomplished architect himself, an artist entrepreneur and a next-level visionary. I love you, bro. 
---
PIN ME!