You guys. The weather is finally getting better in Boise, and I could not be happier! The sun is my life, and warm weather is what I live for. Gimmie sun and seventy plus degree weather, and I am good to go! It's all I need. Forget about food and water, haha, okay… maybe just forget about water, lol!
The sunshine makes my outlook on life one hundred and ten percent positive, therefore I need sunlight. Otherwise, I can really become this moody old lady that no one wants around. And my husband would agree, he knows first hand how cray cray I can get when we don't get enough sun in the winter. #HeIsASaint
But now, FINALLY, birds are chirping in the morning again, we are able to ditch the sweaters and welcome our flip flops, we can wine and dine on restaurant's patios, and we can hang out outside and feel the sun tanning our skin once more. Ahh, it's magical.
There is so much hope in Spring! It is such a promising season, because we know that soon, our entire environment will change for the better: longer days, bluer skies, BBQs, bikinis, water activities, road trips, picnics, bike rides, cold beverages, pool days, and the list goes on. A full eight months of non-stop good times being had!
Just yesterday my husband and I met at a cafe for about half an hour, where we both sat outside on their little patio area and soaked in a good dose of Vitamin D. It was wonderful. He worked, I read, we enjoyed each other's company, and we got some SUN! There was no way we could've done that even a few days ago, but now, after Daylight Savings time started, miraculously everything has turned around. And summer, I see you.
So to celebrate this change, I have started to prepare a ton more salads at home, and with that, delicious new Spring-themed dressings and vinaigrettes. This Lemon Citrus Vinaigrette (100% Paleo) I am sharing with you today is super light, fresh, tangy and versatile. My hubby has been having it on repeat lately, and he says it's his "new favorite paleo recipe". We've been pouring it over spinach, massaged kale, herb salad mixes (Trader Jo's sells a great one!) and lettuce. It's a solid vinaigrette, and it takes no time to make at all. Easy and quick, just the way I like my paleo recipes.
Hope you guys love it over your greens, and hope you're all getting some good sunshine too! XO

Lemon Citrus Vinaigrette
This Lemon Citrus Vinaigrette is light, healthy, gluten-free, dairy-free and Paleo approved. A perfect salad dressing that is versatile and delicious!
Ingredients
½ cup extra virgin olive oil
½ cup freshly squeezed lemon juice
4 garlic cloves, grated
1 tsp honey
1 tsp dried oregano
½ tsp freshly ground black pepper
¼ tsp sea salt
Instructions
Place all ingredients in a mason jar, close with lid and give it a really good shake, until ingredients have mixed well.
Use right away or store in refrigerator until ready to use, Shake well before using.
Nutrition Information
Serving size:
2 tablespoons
Calories:
172
Fat:
18 g.
Carbohydrates:
3 g.
Sodium:
98 g.
Fiber:
1 g.
Protein:
0 g.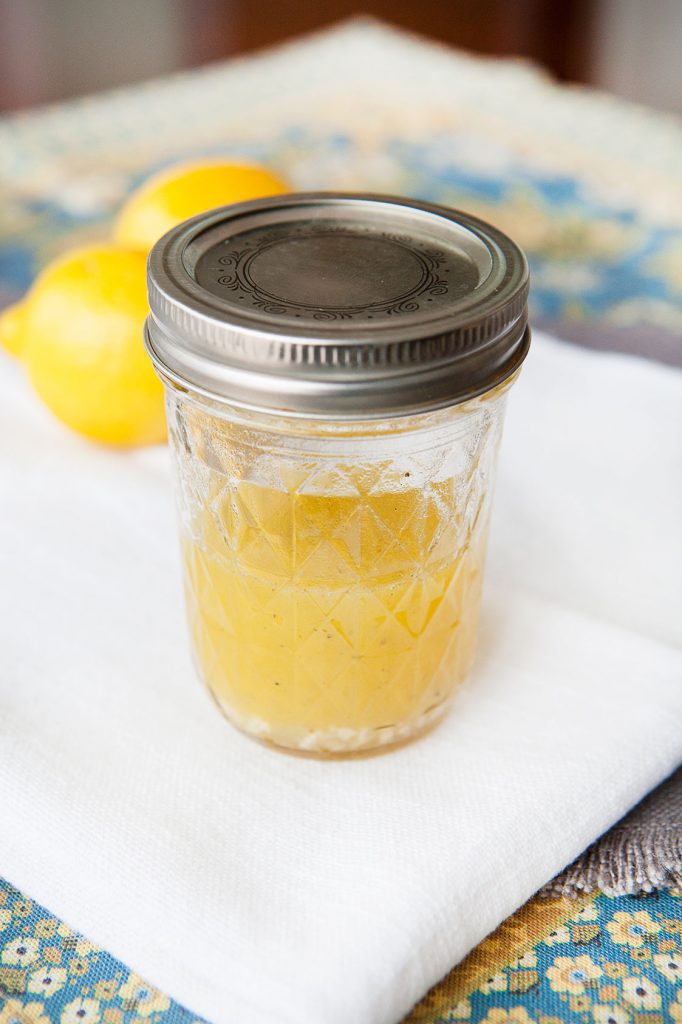 PIN ME!

Other Paleo dressings / sauces you'll love: