Strawberry Paradise Smoothie is in da house! Whoop whoop! Yep, and it is here to make us feel energized, strong and healthy. Does a treat get any better than this? Nope, don't think so. Also, did I mention it has collagen in it? Say whaaaa? Yup. So this delicious drink will even make you look and feel younger. What a winner!
Word has it that I'm the Paleo Smoothie kween. Hahaha no, but I did write the Paleo Smoothies cookbook, which contains one hundred and fifty smoothie recipes! (Talk about a flavor for everyone!) Apart from a bunch of smoothie recipes, my cookbook also has a few chapters on why smoothies are good to have while on the Paleo Diet and what the best practices are for smoothie making. There are some great tips in there, so if you don't have a copy, be sure to snag one here. It's a great resource for when you need a healthy drink; you'll find one for any occasion.
Today I am going to share a smoothie recipe that is not in my cookbook. There's probably a similar one somewhere in there (with a hundred and fifty smoothie flavors, there ought to be one, right?), but this one is extra special because this one contains a supplement, unlike any of my cookbook recipes. For my cookbook I wanted to use only real ingredients, that were all natural and organic. The reason I decided to do that was because, at the time, there was no supplement that was Paleo-approved and I didn't want to take any chances…wanted the cleanest recipes for you guys. Well, things have changed over the years, and now, I have an amazing supplement line in my pantry that can make that claim: Vital Proteins.
The Vital Proteins products that are "Whole30 approved" or "Paleo friendly" are: Collagen Veggie Blend, Collagen Beauty Greens, Collagen Peptides (Unflavored), Collagen Peptides (Vanilla & Coconut Water).
I currently have Collagen Beauty Greens and Collagen Peptides (Unflavored), but I am planning on trying the other two soon (really interested in tasting the Collagen Peptides (Vanilla & Coconut Water), I've read amazing things about that one).
As a result of my newfound love for collagen, this yummy Strawberry Paradise Smoothie recipe I am sharing with you today has my favorite fruits and two scoops of the Collagen Peptides (Unflavored) in it. You can't taste the collagen at all; even if you dissolve the two scoops in water, it barely has any flavor to it. It's an awesome supplement. Both my husband and I had this Strawberry Paradise Smoothie in the afternoon as a pick-me-up snack, and it totally hit the spot. However, it would make for an amazing breakfast smoothie as well, so if you're a breakfast smoothie drinker, definitely give it a go!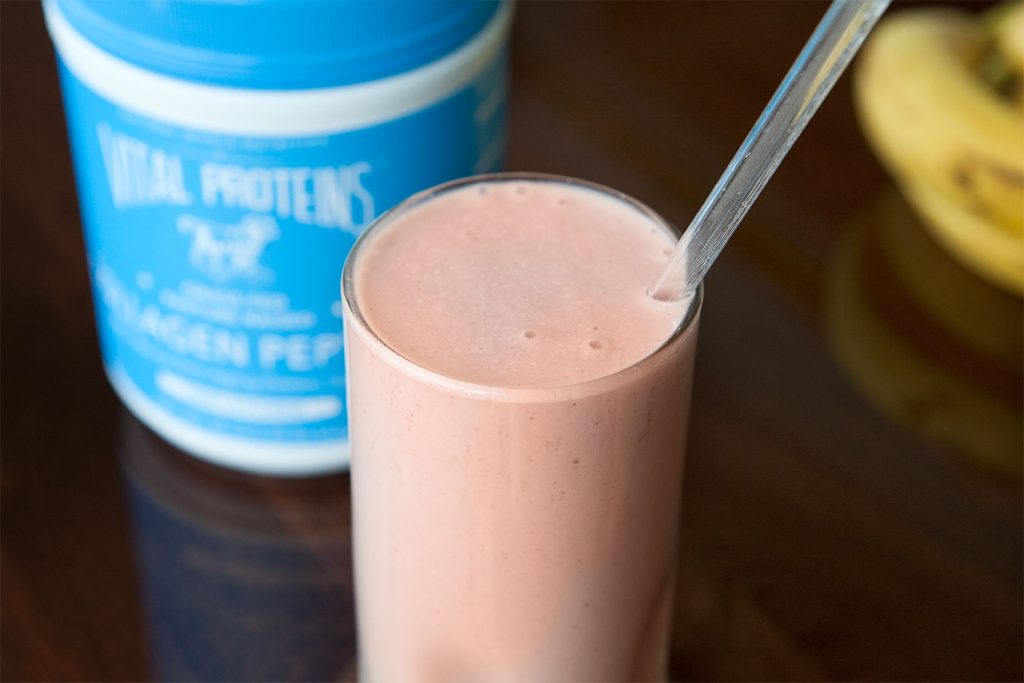 I have been taking their Collagen Peptides (Unflavored) for over ten days now (two scoops a day), and even though ten days is not a long enough period of time to see many changes, I can already tell that my hair is stronger, shinier and growing faster! And the same goes for my nails; they are strong and look super healthy. It's nuts what a good supplement can do!
I mentioned these on my last smoothie blog post, but collagen peptides:
Promote healthy digestion*
Contribute to a balanced diet*
Support bone and joint strength*
Build up a youthful appearance*
Promote healthier hair*
Develop stronger nails*
Enhance skin hydration*
So much good stuff; I sure am gonna soak in ALL the health benefits of collagen peptides!
Happy smoothie making, loves. And, here's a big "cheers" to health…salud! XO

Strawberry Paradise Smoothie
This Strawberry Paradise Smoothie is creamy, nutritious and dairy free! It has collagen peptides to help your skin & hair look amazing from the inside out!
Ingredients
1 frozen banana (freeze in smaller chunks or slices, for ease of blending)
1 cup frozen strawberries
½ cup water
1 cup unsweetened carton coconut milk
1 tablespoon peanut butter (or favorite nut butter)
2 scoops Vital Protein's Collagen Peptides
Instructions
Place all ingredients in high-speed blender, and blend on high until smooth.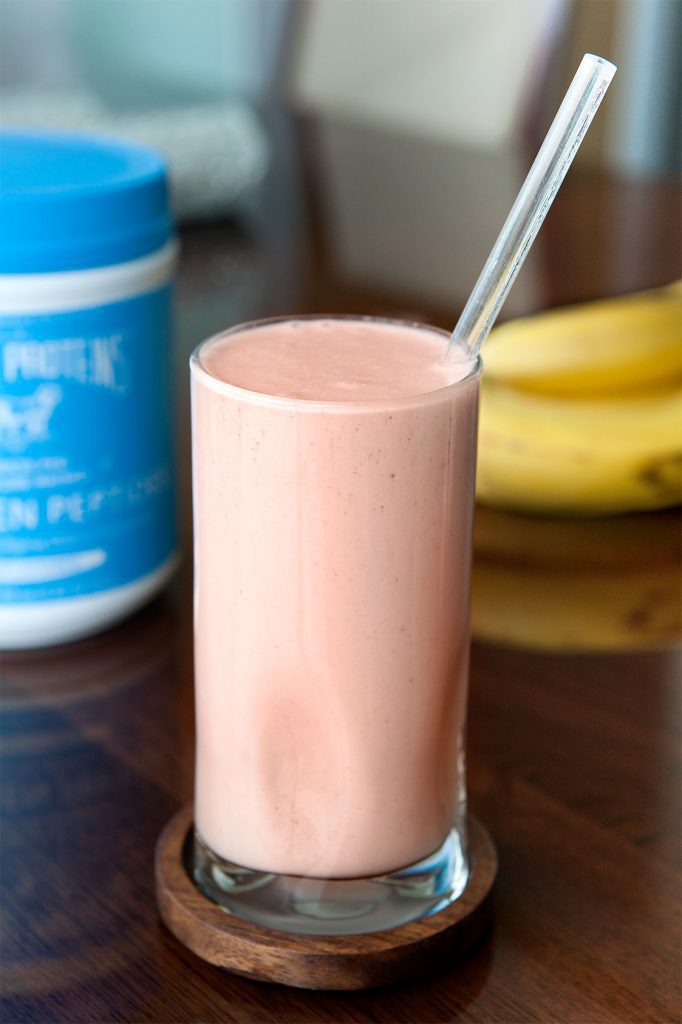 PIN ME!

Other Paleo smoothie recipes you'll love:
* These statements have not been evaluated by the Food and Drug Administration. This product is not intended to diagnose, treat, cure, or prevent any disease.