Light, simple, energizing…all things we want from food during the hot Summer months. And these Lemon Energy Balls with Poppy Seed Coconut Glaze are alllll that. And more!
They 100% fit the "summer snack" bill. We've added these cuties to our energy ball recipe arsenal, which has grown quite a bit, since we love to treat ourselves often to nutritious bite-size snacks whenever we feel like we need a nice pick-me-up.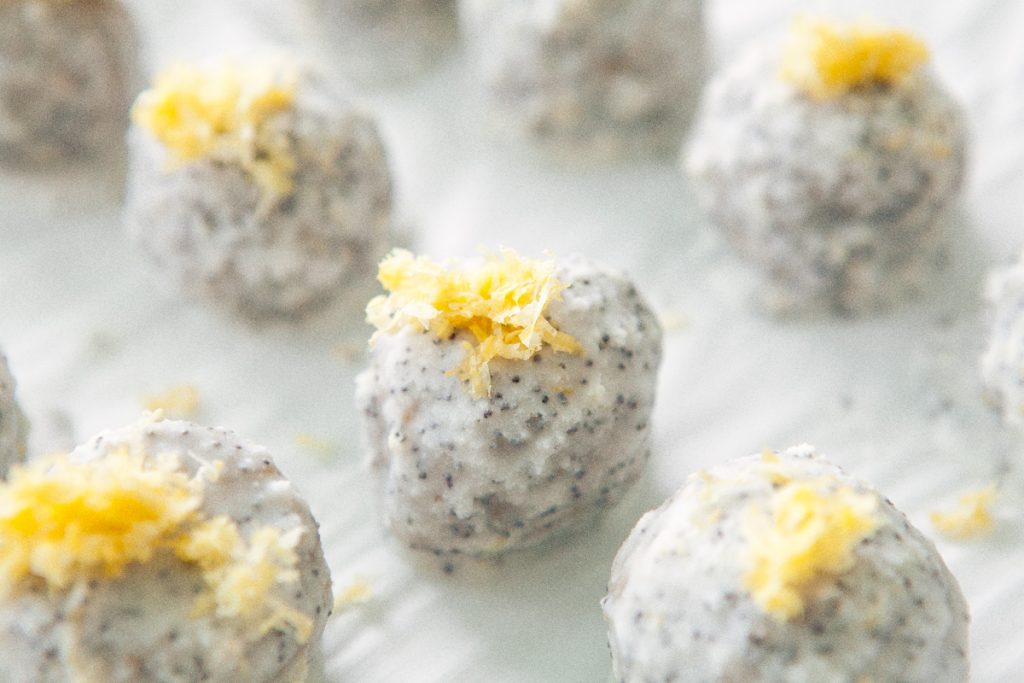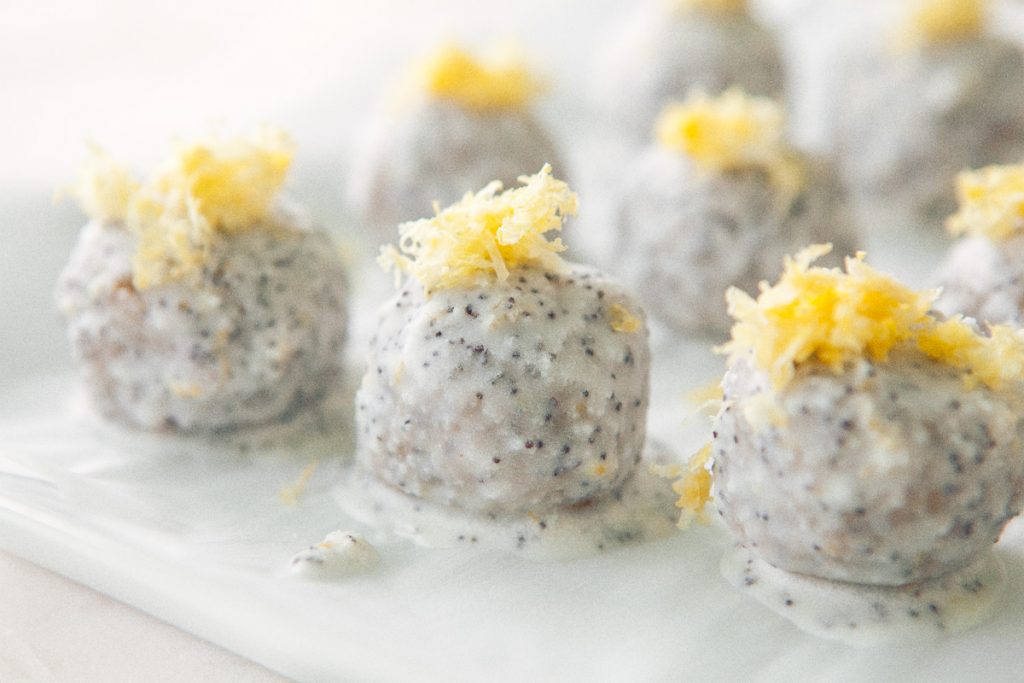 These Lemon Energy Balls with Poppy Seed Coconut Glaze are amazing for all the following scenarios:
Freezer snackaroos for any-time food/energy
Quick nourishing breakfast when running late
Post-dinner night cap, to finish the day with a bit o' sweetness
Delish party favors that could also serve as a hostess gift
Nutritious treats for your kids lunch box (or anyone's lunch box)
Awesome potluck treats to share (and for picnics, too!)
So versatile, right?! The scenarios mentioned above are all the ways these cuties shine the brightest to me. And now, I am giving you access to the recipe so they can also shine bright for you!
I made these with some of my favorite, non-inflammatory ingredients, that are gluten-free, dairy free and processed sugar free. The full recipe and the ingredient quantities can all be found, below in the recipe section, but for these balls you're going to need the following:
Gluten-free rolled oats (sub with nuts or seeds, if you want it to be 100% Paleo)
Walnuts
Dried Apricots
Shredded coconut
Coconut butter
Coconut oil
Maple syrup
Lemon zest
Lemon juice
Vanilla extract
Poppy seeds
Salt
My favorite ones from the list are probably the apricots and the collagen peptides. The apricots, because they give this treat a unique, sweet taste. And the collagen peptides, because they give this recipe protein!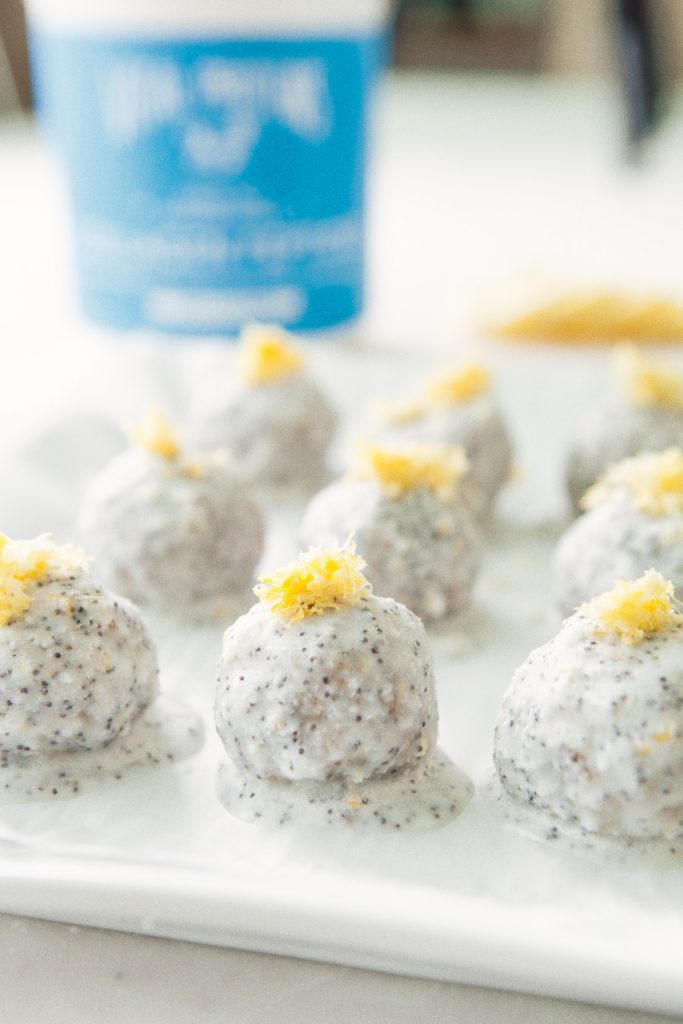 And you guys know how much I love a treat that can also give a good dose of protein. It's pretty much the only kind of treat I like to make and eat. Because, if I can make a treat that serves two purposes (yum + nourishment) I will definitely go for that option.
Why have a treat serve only one purpose when it can serve two?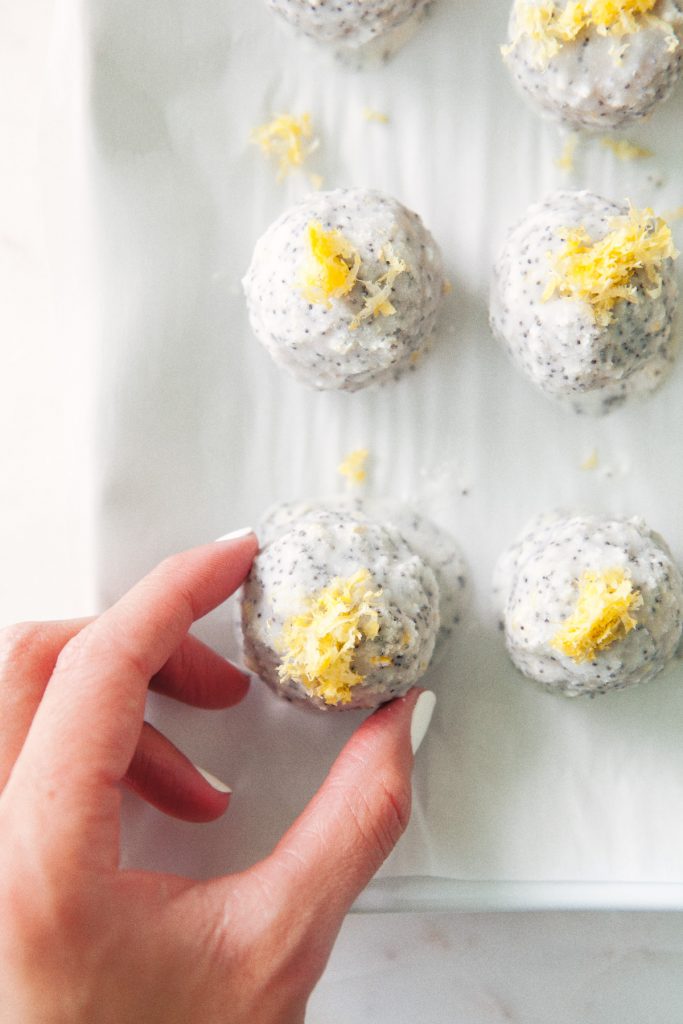 So, if you have collagen peptides at home, definitely get on this two-purpose serving treat bandwagon! You and yours will thrive because of it. It's the only way to go!
Plus, I am pretty sure you're going to love these little guys.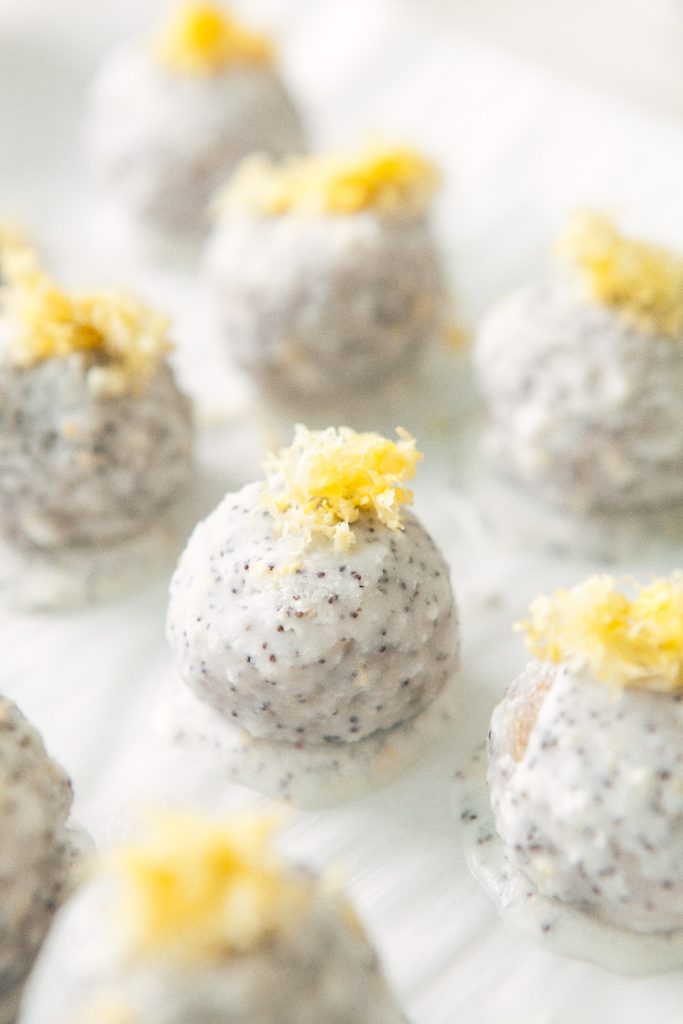 If you don't have collagen peptides at home, well, you can still make these without the collagen, but they will not have protein to them. I highly recommend adding it, and if you've never tried collagen peptides before, perhaps this is the time!
My favorite brand is Vital Proteins. If you go to their website, you'll see they have a ton of collagen peptides options (flavors, etc.), and I suggest your start and stick to the unflavored collagen peptides. The pure stuff. This is pretty much the only one I like to use in my recipes, coffee and smoothies. It's tasteless, odorless and it dissolves really easily in both hot and cold liquids.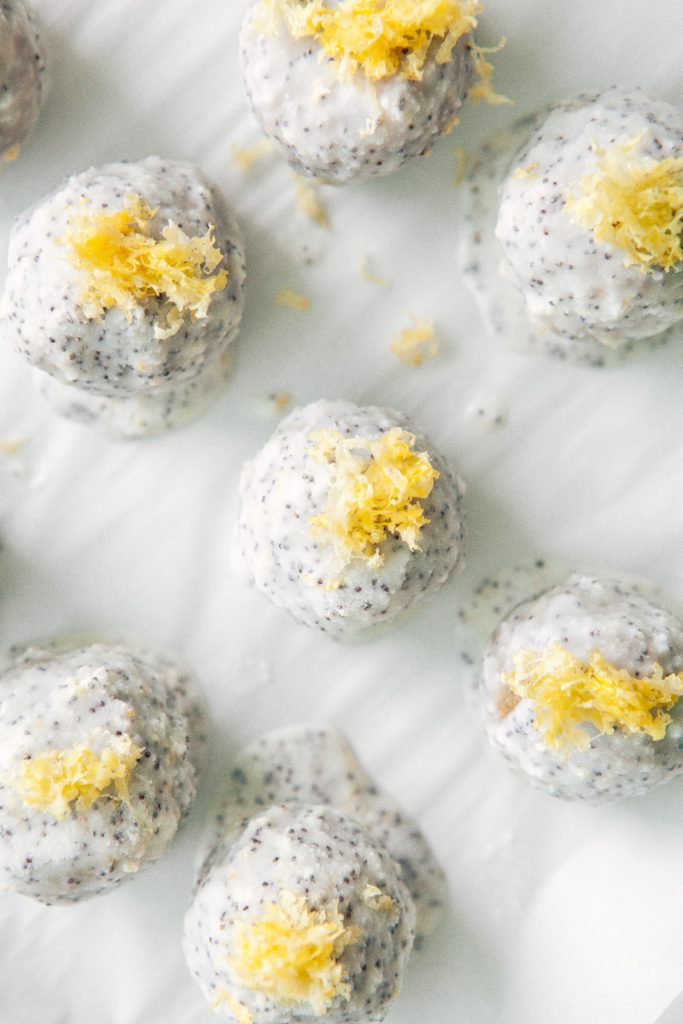 I hope you make these and I hope you love these as we do. 🤗
And if you do make them, be sure to take a photo of your glazed creations and tag me on Instagram and Facebook.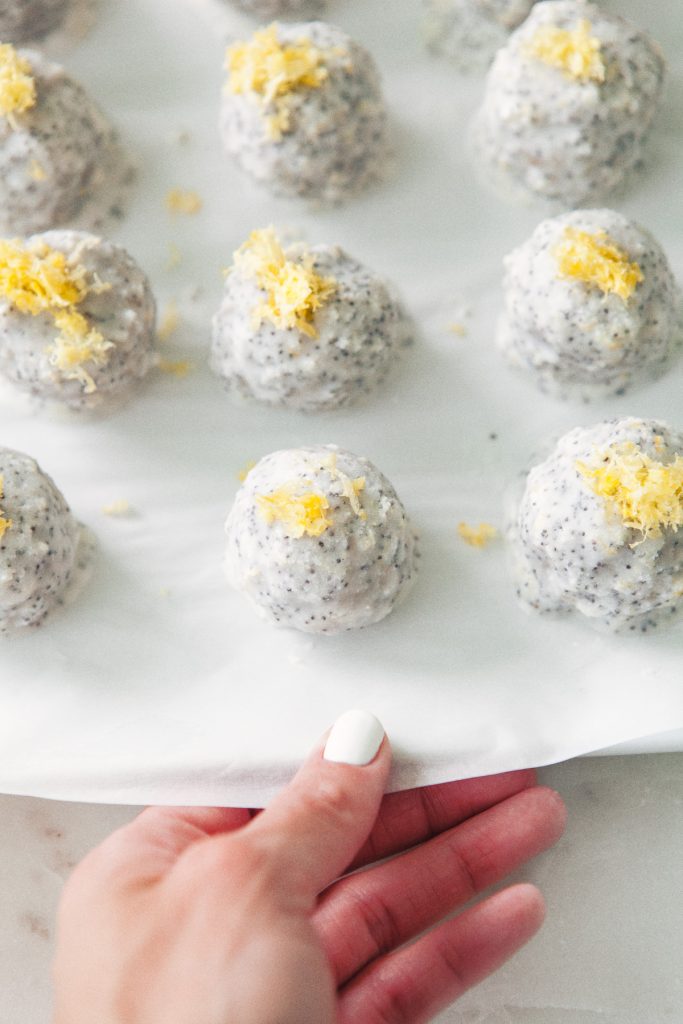 I get so much joy from seeing your versions of my recipes!
Seriously, I ABSOLUTELY LOVE IT.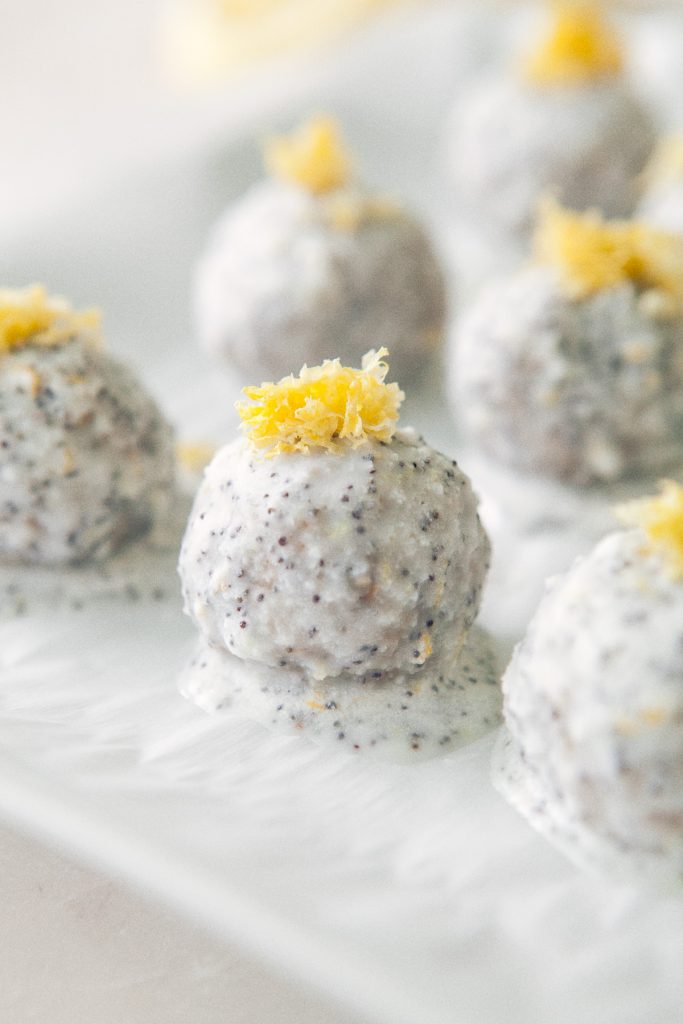 Lemon Energy Balls with Poppy Seed Coconut Glaze
This Lemon Energy Balls with Poppy Seed Coconut Glaze recipe is super easy and quick to prepare. They are made with healthy and gluten-free ingredients, are total crowd pleasers and are very nourishing!
Ingredients
For the energy balls:
1 ¼ cups chopped nuts (almonds, cashews, etc.)
1 ½ cups walnuts
¼ cup poppy seeds
¼ cup unflavored  collagen peptides
¼ tsp sea salt
1 cup dried apricots
1 tsp vanilla extract
¼ cup melted coconut butter
¼ cup melted coconut oil
4 tbsp maple syrup
½ tsp lemon zest
½ lemon, juice of
For the glaze:
7 tbsp melted coconut butter
3 tbsp melted coconut oil
1 tsp poppy seeds
1 tsp lemon zest + more for garnish
Instructions
Prepare the energy balls: add all energy ball ingredients (except poppy seeds) to a food processor and process until a doughy consistency is reached. Add in the poppy seeds and pulse a few times to combine. Wet your hands slightly, and shape dough into ~20 ping-pong sized balls. Place balls on lined plate as you go. Freeze balls for about 20 minutes to get them firm before coating with glaze.
Make the glaze: add glaze ingredients to a small bowl and whisk until smooth. Dunk each ball in the glaze until fully coated and place glazed ball back onto parchment-lined plate. The glaze should harden almost immediately due to the frozen balls, however, if it doesn't, simply place plate back in the freezer.
Enjoy right away, or store in refrigerator or freezer.
Notes
Tools You'll Need:
- Food processor
- Spatula
- Citrus juicer
- Measuring cups
- Measuring spoons
- Mixing bowls
PIN ME!


SaveSave
SaveSave
SaveSave
SaveSave
SaveSave
SaveSave
SaveSave
SaveSave
SaveSave
SaveSave