Chocolate-y, nutty, crumbly, decadent…ahhhh, no protein bar has ever tasted this great! Yup, these little cuties are actual PROTEIN BARS. Imagine that! Protein bars that look this good and taste like a treat.
It's what dreams are made of. 🙌
The protein in these treats come from one of my current favorite protein supplements out there: Collagen Peptides.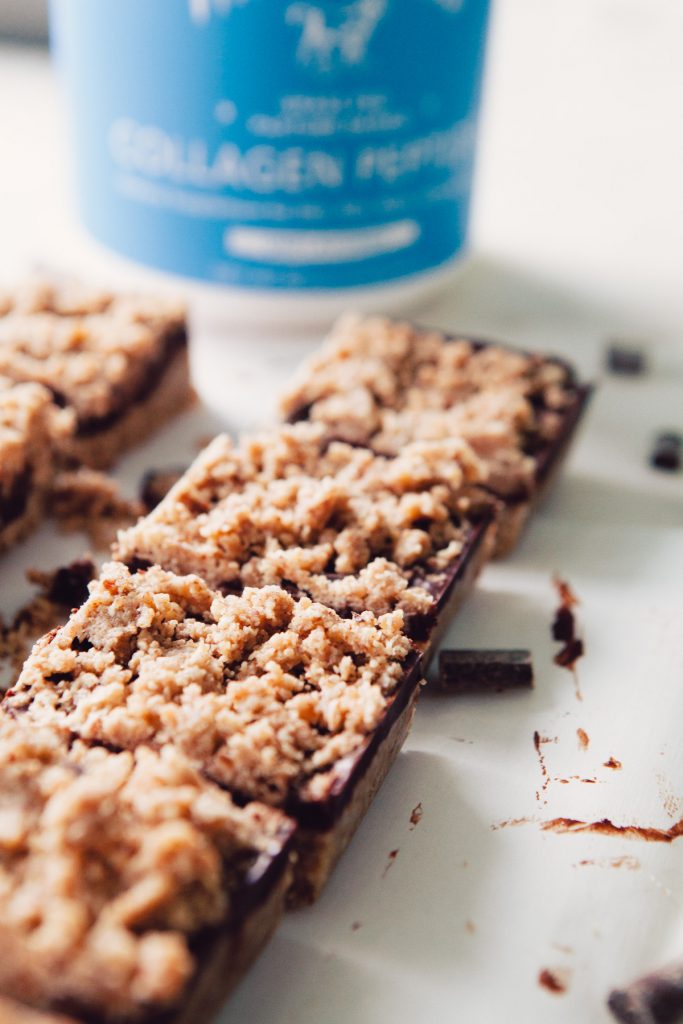 I am absolutely obsessed with this supplement and I love to sneakily add it to treats; it works super well for recipes like this one, because it's odorless and tasteless (and sort of weightless!) and it allows whatever other ingredients you add to shine without disruption.
The main reason I choose to add collagen peptides to my Paleo treats is for nourishment:
it helps strengthen our bones, joints and ligaments
it aids in muscle recovery (which is amazing for those of us that are very active on a regular basis)
it hydrates our skin and improves its elasticity
it helps with digestion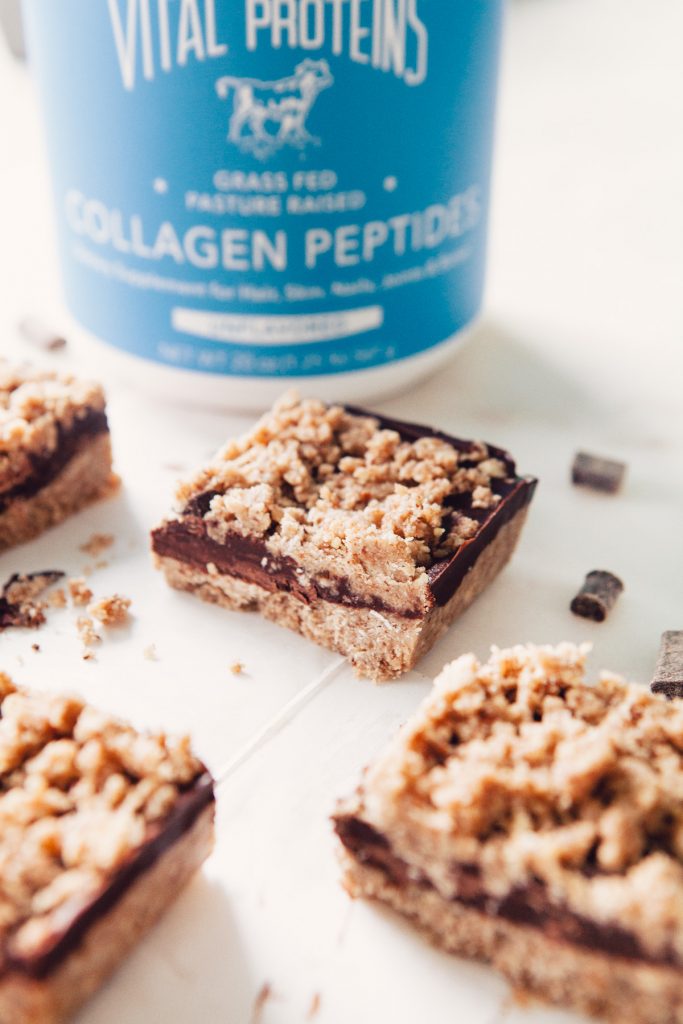 All in all, collagen is an amazing health boost that I love including in my diet. Isn't it crazy all the things it can do? Talk about a supplement WINNER.
It's really nice that we can work the collagen in so easily, too. It can be added to cold or hot liquids and dissolves very, very quickly…sort of like…umm, I dunno…MAGIC! ✨😉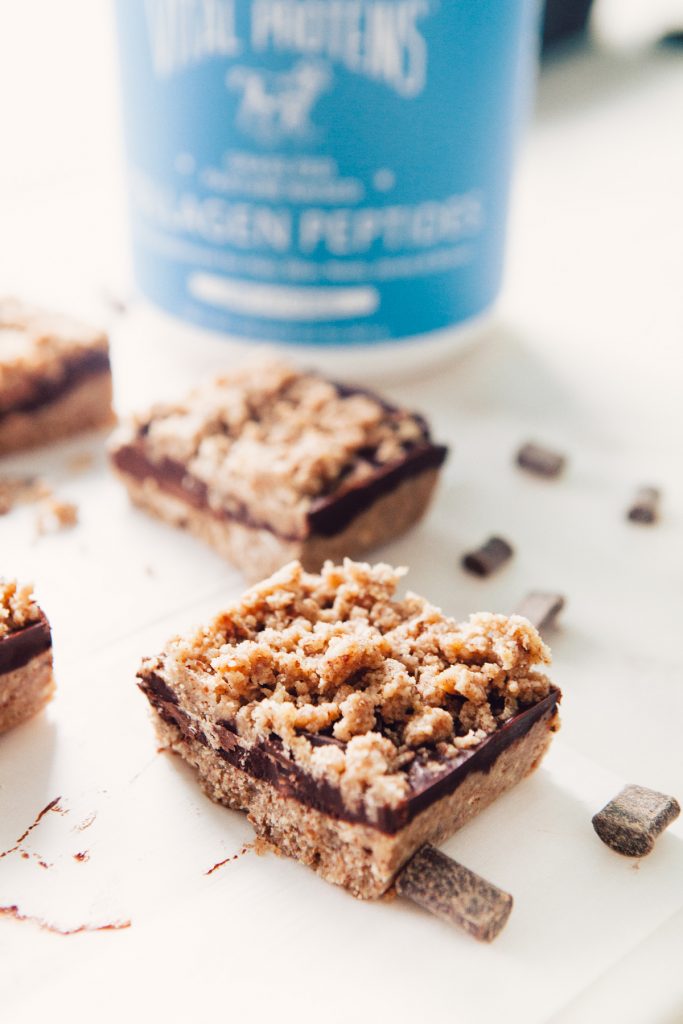 Nutritious treats, made with clean ingredients, are the only treats worth having. You get your sweet fix on AND your nourishment on. It's the best of both worlds.
Especially when it comes to making stuff to feed our families and loved ones. What better than to make those we love foods that are good for them and delicious? Nothing, nothing's better than knowing we're actively taking care of their health by choosing healthy for them.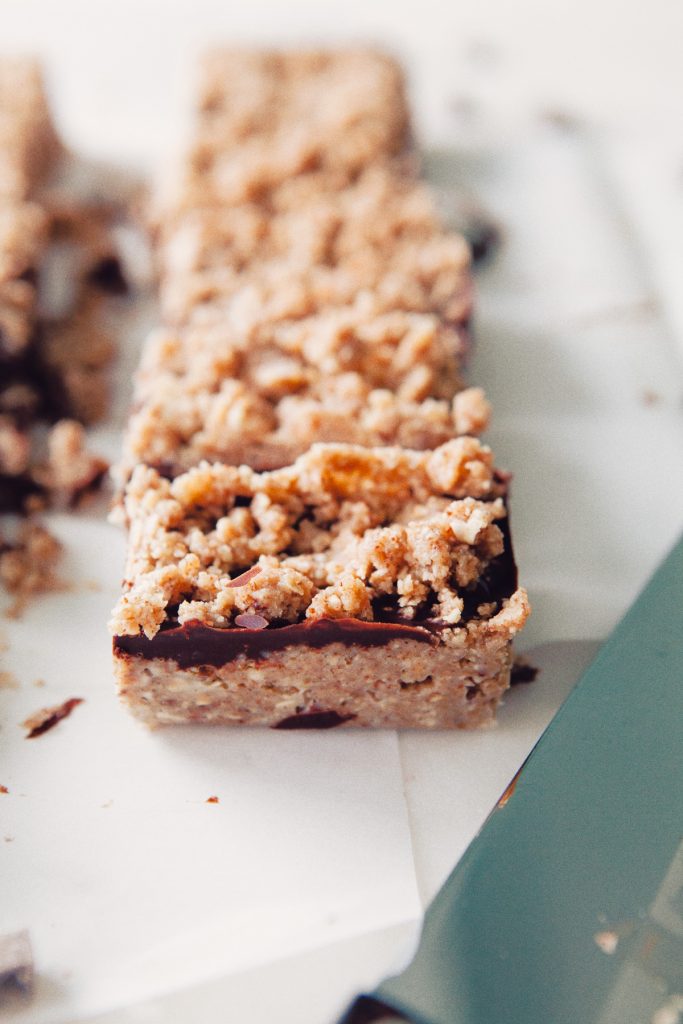 If you follow me on Instagram and watch my stories, you know that I love chocolate based treats. I'm always sharing post-treat-eating proof, where chocolate somehow ends all around my mouth. 🤷🏻‍♀️🤦🏻‍♀️ What can I say? I eat like a child. 😂
Having a nice chocolate-based treat either in the afternoon (when that 4 o'clock "I-need-a-pick-me-up" hour hits) or after dinner (when you need to finish off dinner with something sweet), is so incredibly satisfying. I don't know what it is about it!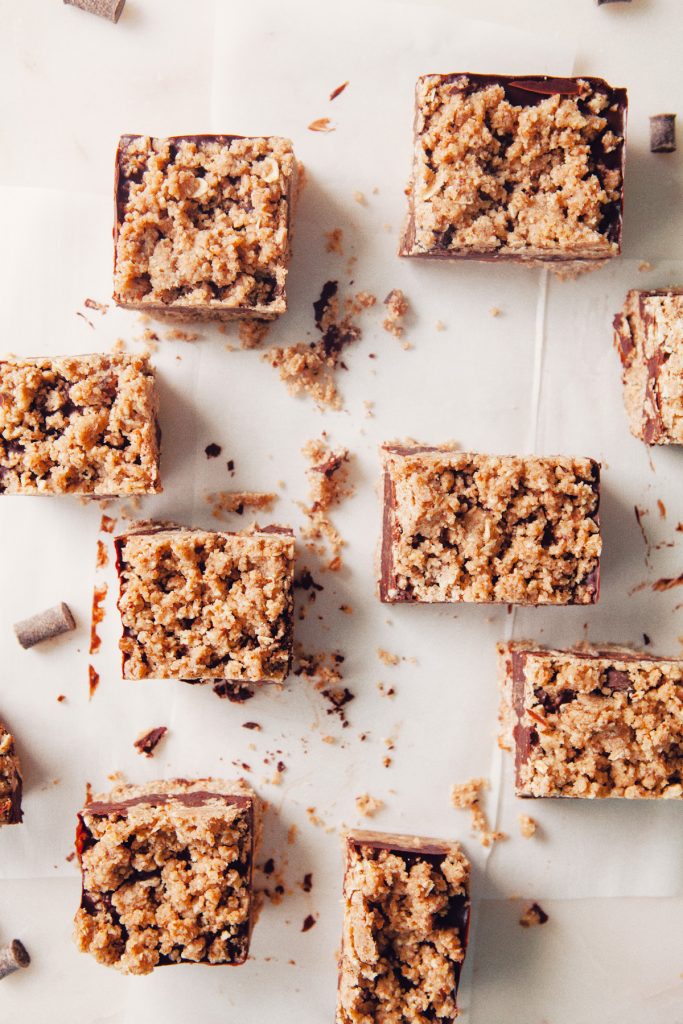 See, I am not one to crave big desserts often, nor eat large amounts of them, but a nice small treat can really go a long way for me. Actually, for both my husband and I, because we both love a nice little touch of sweetness to satiate our cravings and make us feel good.
A small treat is all we need to feel happy and satiated. Sometimes this can be as easy as a nice dark chocolate square, and some other times, as complex as one of my more elaborate gluten-free or Paleo desserts.
In my world, "complex" doesn't mean hard. If you know me well, you know that I am one to always seek for simple, non-complicated, easy and quick ways of living. Why complicate things when the simple option is around, amiright?
So know that this treat is simple, non-complicated, easy and quick to prepare. You don't even need to bake it. You just get the ingredients, process them, layer them up in a pan and pop the pan in your freezer. EASY.
Something else I must say: we like things bite sized around here.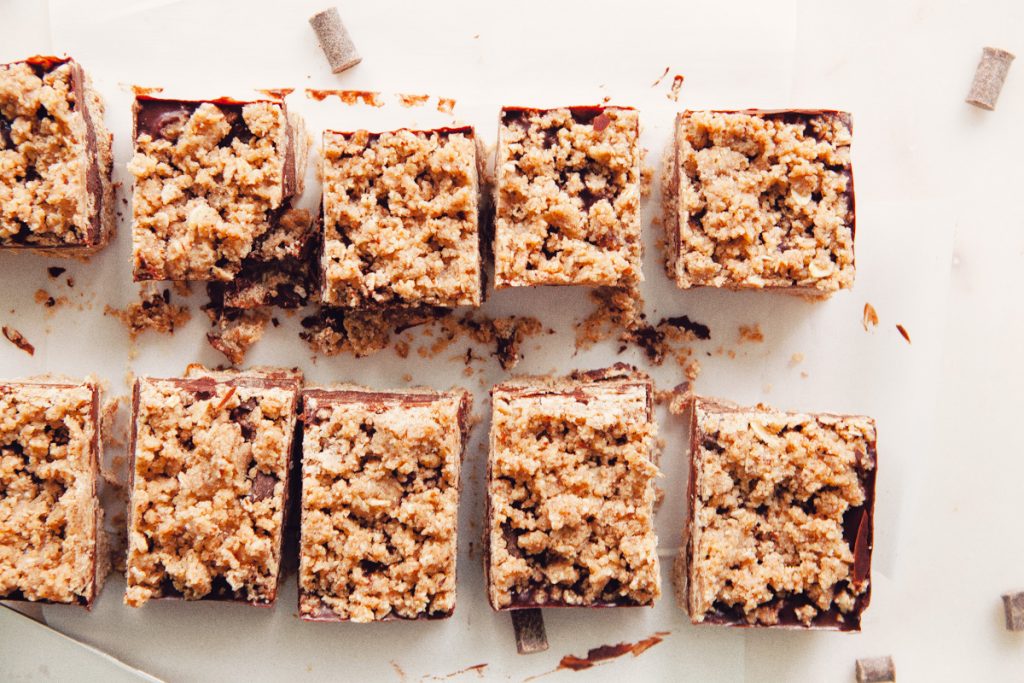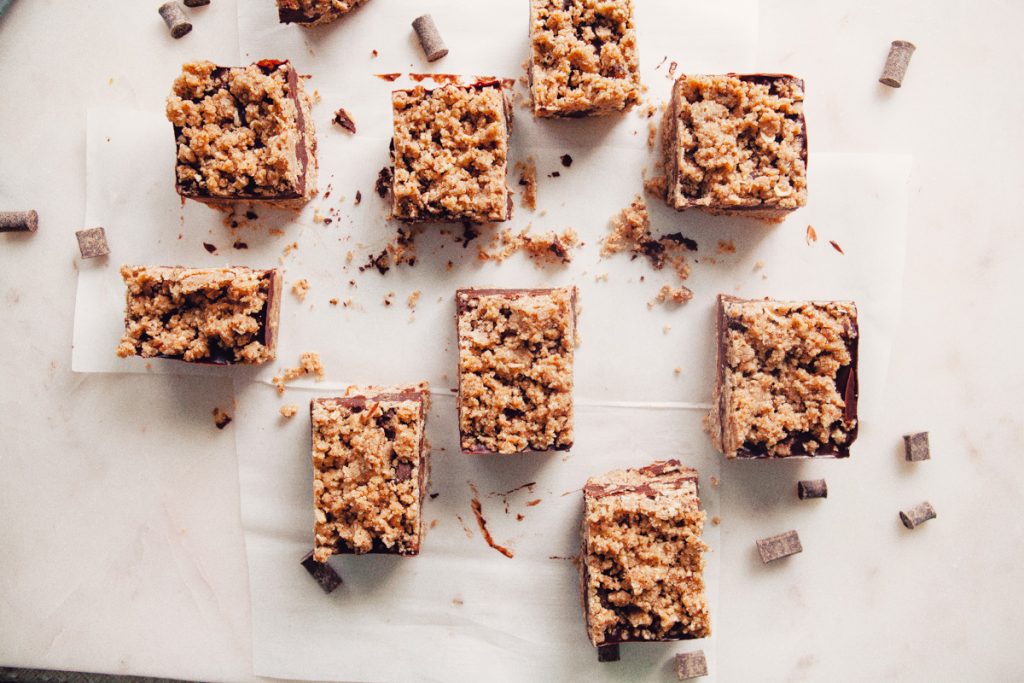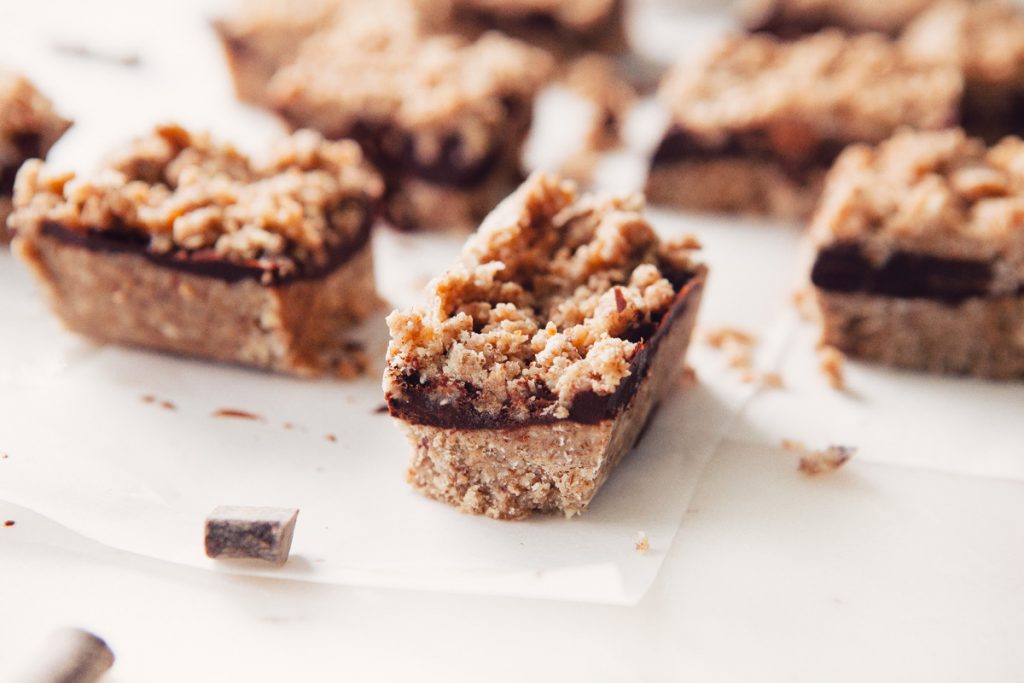 Not because we have kids or are children at heart (although, we sort of are), but because when it comes to treats, small amounts of sweetness can go a long way.
Therefore, I sliced my bars into small-dish squares. But this part (bite sized vs. not) is 100% up to you. You can slice these bars as small or as big as you want or need them to be. That is the beauty of homemade food, we can customize it according to our needs!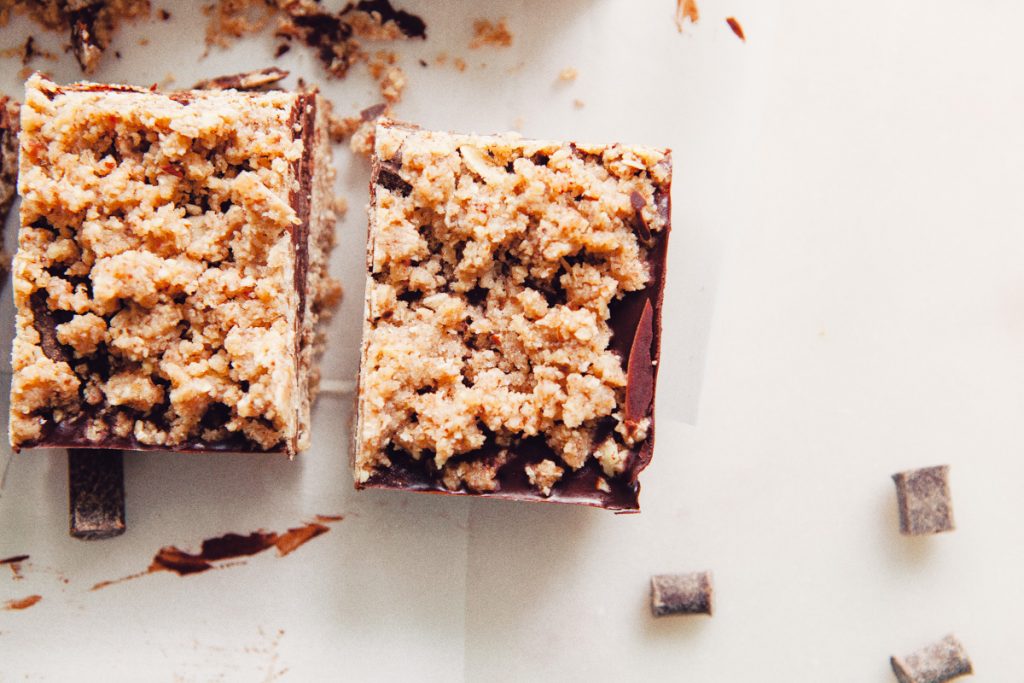 Regardless of size, these RAW Chocolate Protein Bars will hit the spot!
Hope you guys love them as much as we do. Enjoy them with a nice cup of coffee or tea, or even with a tall glass of cold non-dairy milk!
I would love to see your guys' homemade RAW Chocolate Protein Bars, so if you make them, be sure to snap a quick pick and tag me on Instagram or Facebook!
WATCH my RAW Chocolate Protein Bars video:
Chocolate Protein Bars
These gluten-free RAW Chocolate Protein Bars make for the perfect snack for after the gym or for when on the go. Bring these crowd pleasers with you to road trips, parties or get-togethers!
Ingredients
Base layer:
1½ cups pecans
1½ cups chopped nuts: almonds, cashews, etc. (you could also use gf rolled oats, if not fully Paleo)
¼ cup unflavored collagen peptides
¼ tsp sea salt
8 medjool dates, pitted
½ cup melted coconut oil
Chocolate layer:
¼ cup melted coconut oil
¼ cup maple syrup
½ cup raw cacao powder
¼ cup dark chocolate chunks
Instructions
Make the base layer: add all crust ingredients to a food processor and process until a sticky dough consistency is reached. Divide the dough, setting ¼ of it to the side; press the other ¾ of the dough on a 9"x5" bread pan lined with parchment paper.
Prepare the chocolate layer: combine the chocolate layer ingredients (except chocolate chunks) in a mixing bowl and pour over base layer.
Add the topping: sprinkle remaining crust on top of the chocolate layer, distributing it evenly, and sprinkle a pinch of sea salt on top.
Place the pan in the freezer and chill for 2+ hours. Cut into bars and serve.
PIN ME!

Thank you so much to Vital Proteins for sponsoring this post! I love working with my favorite brands and couldn't be more excited they support Amazing Paleo!
SaveSave
SaveSave
SaveSave
SaveSave
SaveSave
SaveSave
SaveSave
SaveSave
SaveSave
SaveSave
SaveSave
SaveSave
SaveSave
SaveSave
SaveSave
SaveSave
SaveSave
SaveSave
SaveSave
SaveSave