I have been DYING to share these 4th of July Cookie Ice Cream Sandwiches with you. They are absolutely everything we need a summer dessert to be. Like, EVERYTHING.
Here, let's test it:
Delectable? Check!
Fun to eat? Check!
Perfect for hot weather? Check!
Rich and with a bit of chocolate? Check!
Healthy? Check!
Dietary restriction friendly? CHECK!
I am serious, you are in for a real treat with this recipe. Not only are these cookie ice cream sandwiches all things delicious and summer-perfection, but they're very easy to make and put together. It literally took me 30 minutes from beginning to end to make all fifteen of these. Amazing, right?
And think of this: your kids can help you make them if they're around at the time you prepare them. The kiddos will have so much fun baking the cookies, sandwiching the ice cream between the cookies, and then dipping the sides of the ice cream sandwiches in a bowl full of fun and colorful sprinkles.
Here's the catch with kids though. You might need to buy extra sprinkles, because I can't guarantee they won't eat the majority of the sprinkles you have in your dipping bowl.
How am I guessing this will be the case?
Because I have somewhat of a kid at home myself, and he did exactly that. My husband. Yes. He is very much my kid sometimes, because he acts like one when fun food is around. HA! Especially sprinkles. And seed/nut butters. For some reason, he cannot hold himself back from the temptation. These two are a soft spot for him. When I have these ingredients out from the pantry in plane sight, I often find him lingering around. Then, I'll look up at his mouth and I will see him silently crunching on my sprinkles and/or licking a big spoon. 😂
LOVE HIM. Adults that are kids at heart are my favorite. Do you have one of those around? If not, go find one stat. You'll have so much fun! Guaranteed.
But back to these cuties.
There are three crucial parts to this recipe, and I think we need to talk about all three, because they all deserve equal amounts of love. They all work in unison to create magic.
And we should start from the beginning; with the part that holds the treat together: the sandwich cookies.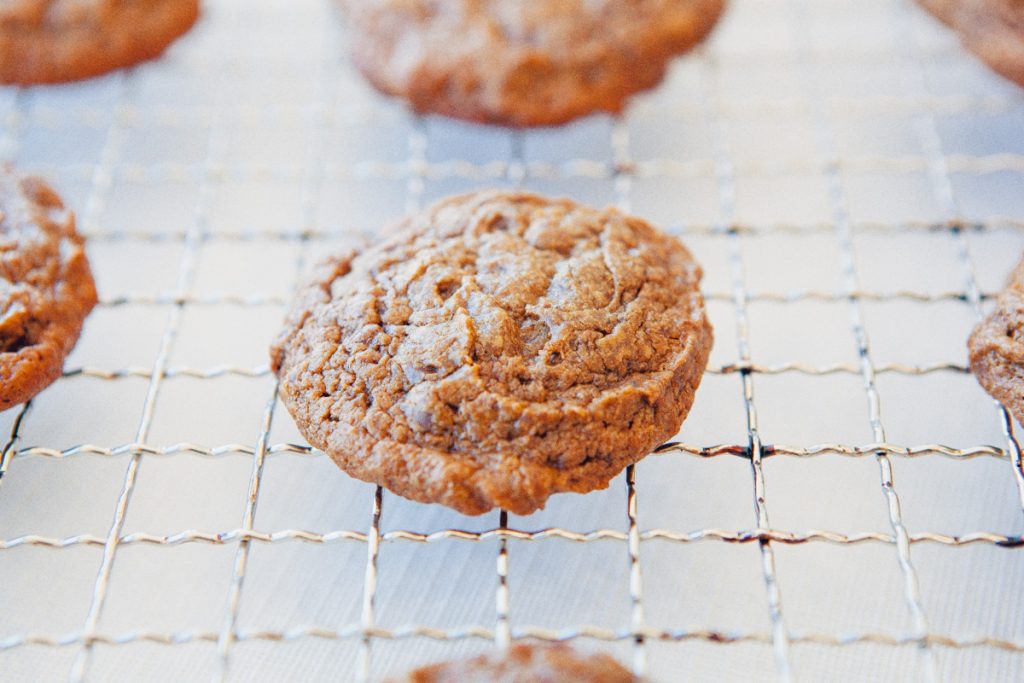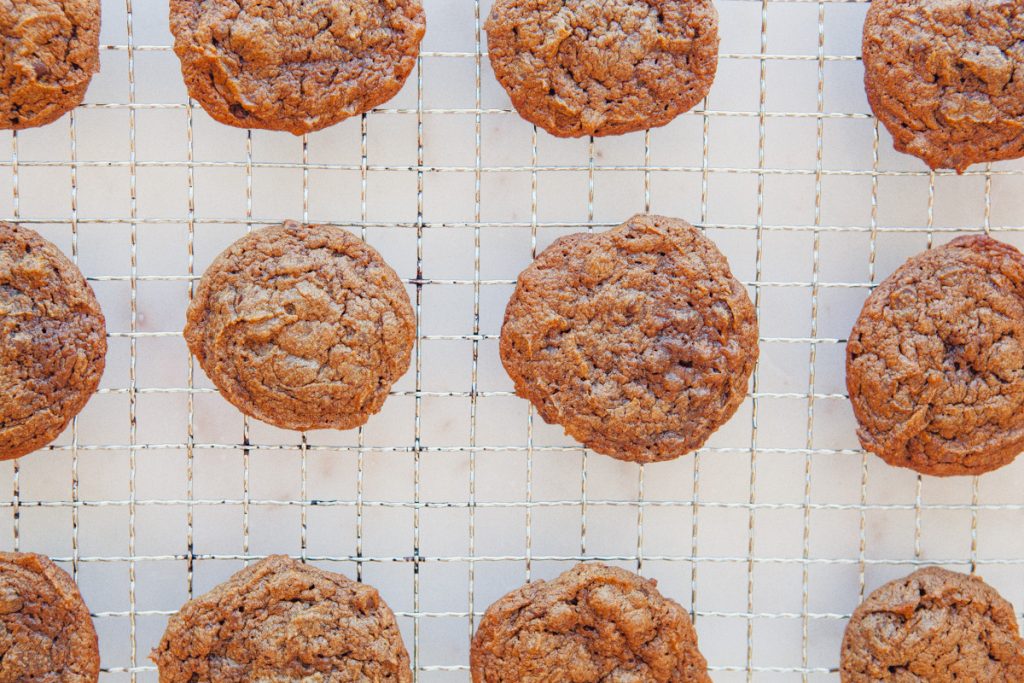 These sandwich cookies are actually homemade CHOCOLATE CHIP SUNBUTTER COOKIES. And they are baked to perfection. Golden and slightly crispy on the outside, and nice and soft in the inside. Like a good cookie should be.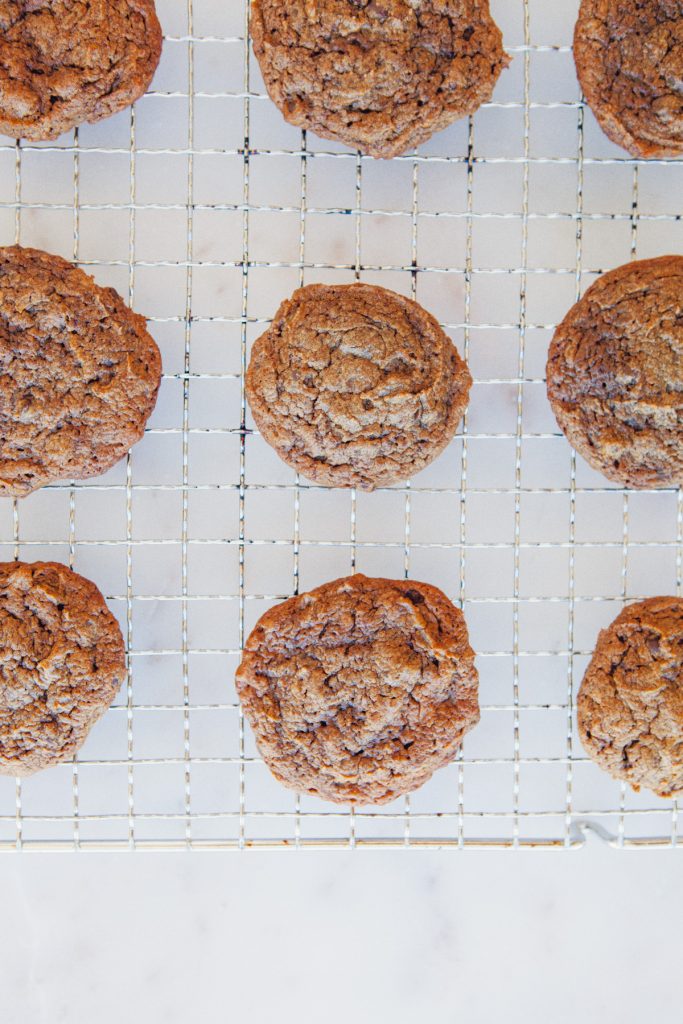 I created these using peanut butter cookies as an inspiration, but I wanted them without the peanut butter and with added chocolate chips. So, instead of peanut butter I used sunflower seed butter, and then, I simply added the choc chips.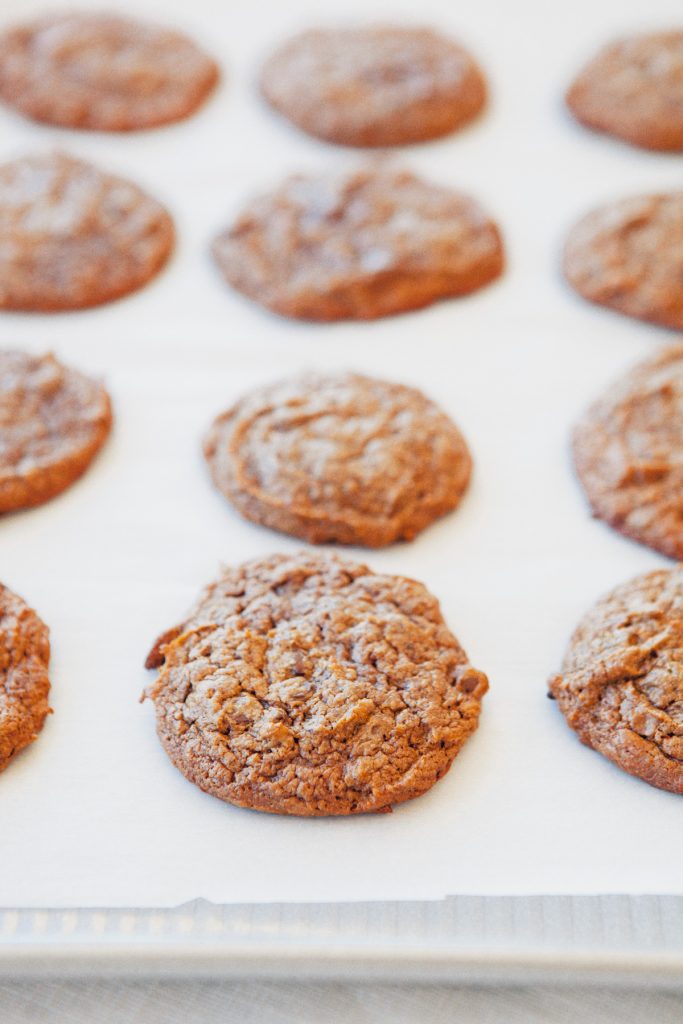 Why not peanut butter? You ask. Because sunflower seed butter is easier on our digestive systems and it's got less fat and a higher percentage of vitamins than peanut butter does.
Also, I think it's important to share that I didn't use just any sunflower seed butter. Not all sunflower seed butters are created equal, oh no!
I only use one sunflower seed butter. One that is tried and true and amazing and my all-time favorite. SunButter!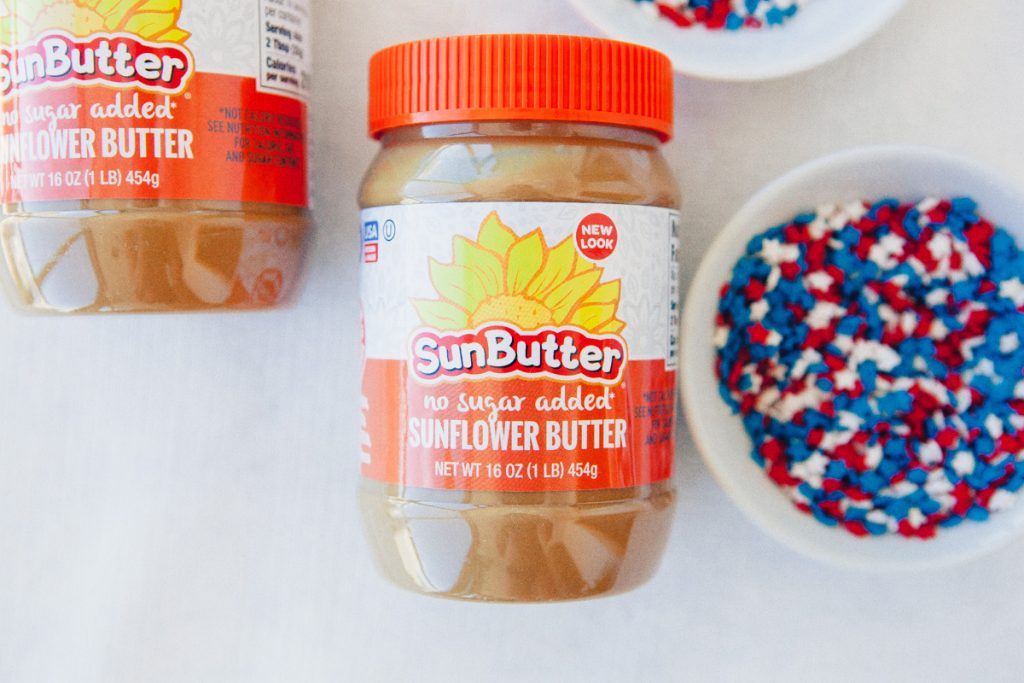 And within the SunButter brand, my favorite jar is the No Sugar Added Sunflower Butter. So of course I used that one for this recipe. (Ps: find coupons here!)
SunButter's No Sugar Added Sunflower Seed Butter has only two ingredients: roasted sunflower seeds and salt. Nothing more, nothing less. It's all it needs to be dreamy.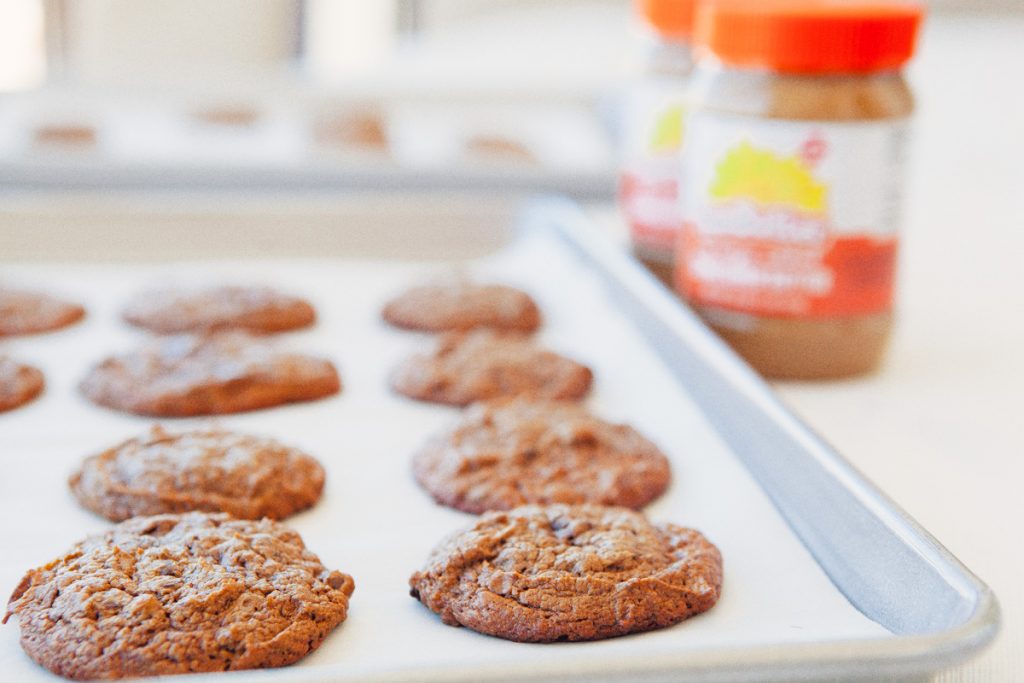 It's creamy, smooth, slightly salted and amazingly delicious. I use it for everything, and I mean, everything. Like for savory sauces, to top other desserts, to mix in with my plain greek yogurt for granola bowls, as an ingredient in chia parfaits, in smoothies…and even eat it by the spoonful (see here).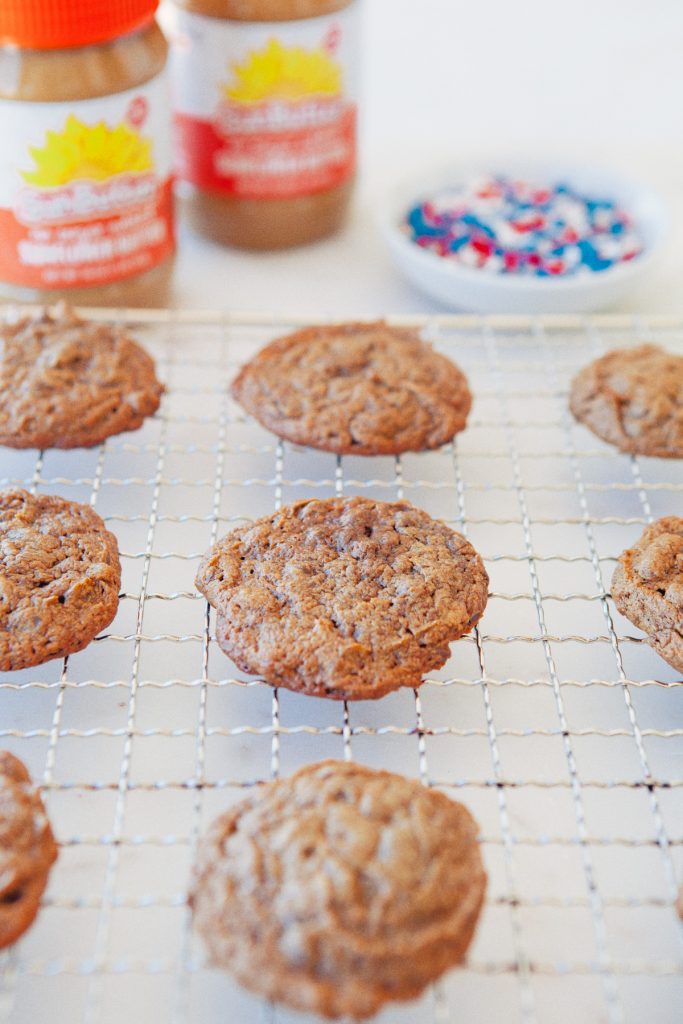 I have been using SunButter for a really long time now, and I find that their products are very reliable. With them, you know what you'll get every time. No opening a jar and randomly being surprised at a weird texture or color (which has happened to me before with other seed/nut butter brands, yikes). No sir.
And when I find brands like this, that I trust and like, I stick to them!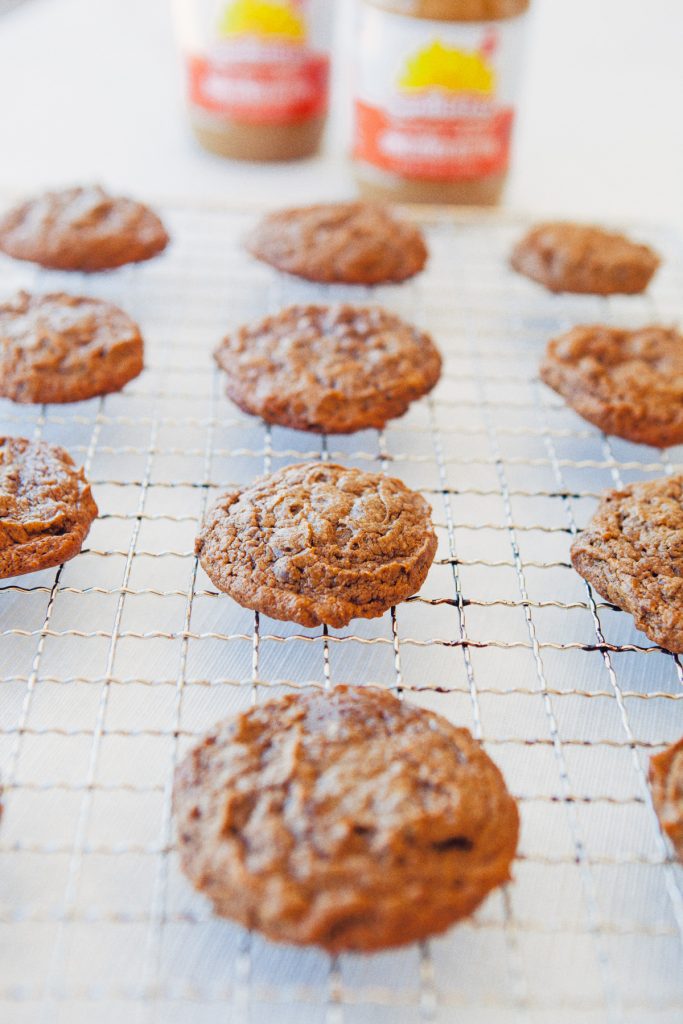 So anyway, due to the creamy SunButter, the cookies turned out incredible. The cookies were a dessert hit by themselves. We tried them by themselves too…as you can see, we don't hold back too much in this family, lol. These cookies can be eaten by themselves, can be used to accompany a simple ice cream scoop or be dipped in a cold glass of non-dairy milk. They'd be amazing for all that.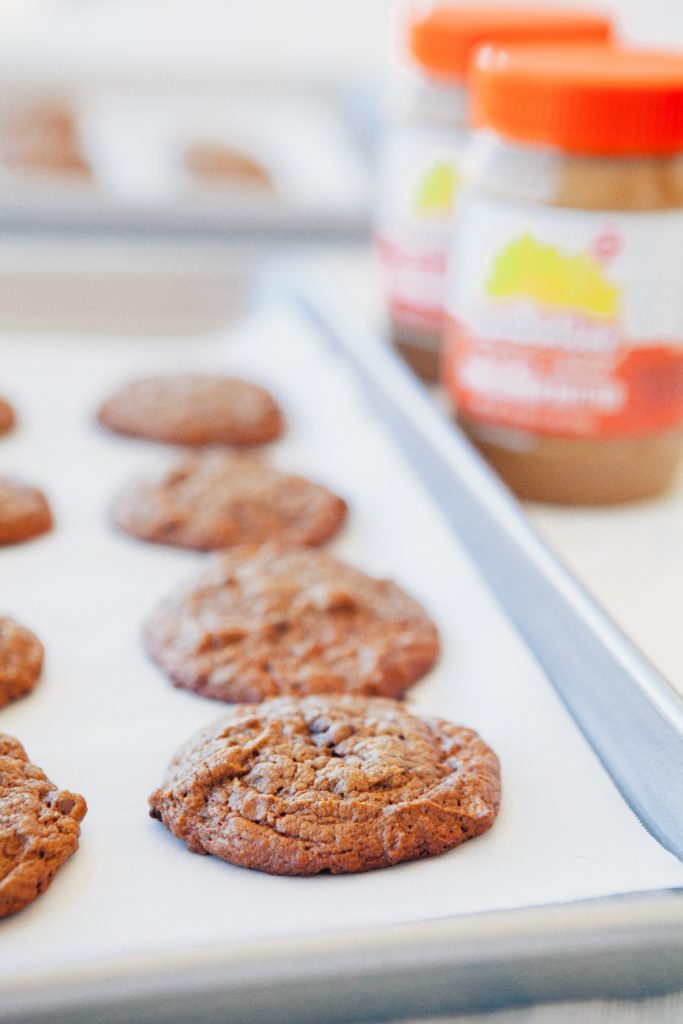 However, I went, not one, but two steps further…
I added an ice cream scoop between two of them (part two of this dessert)…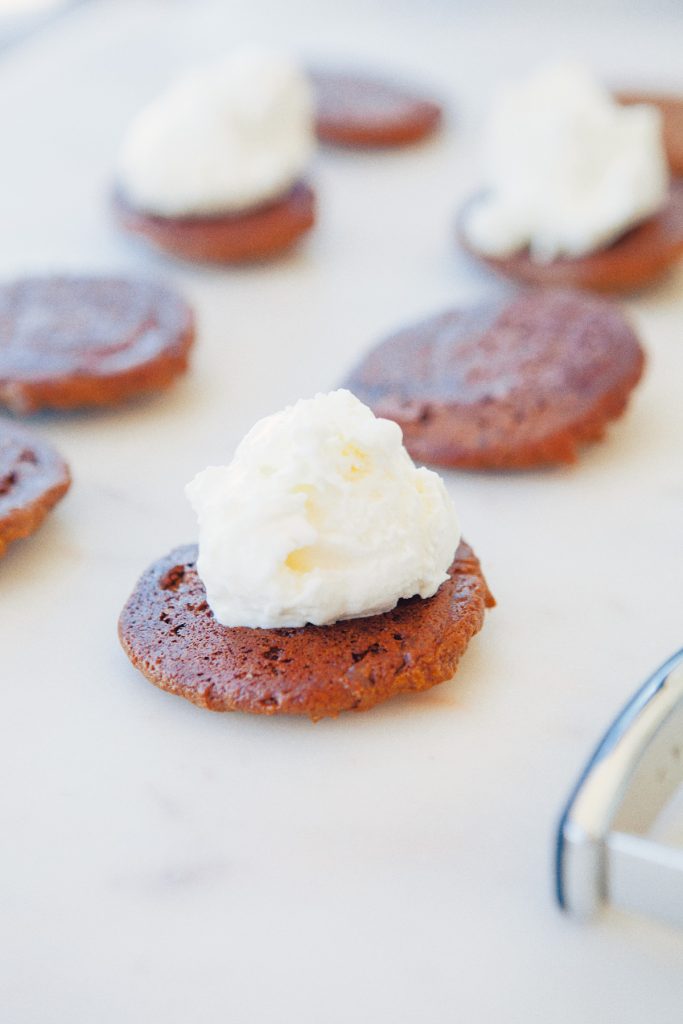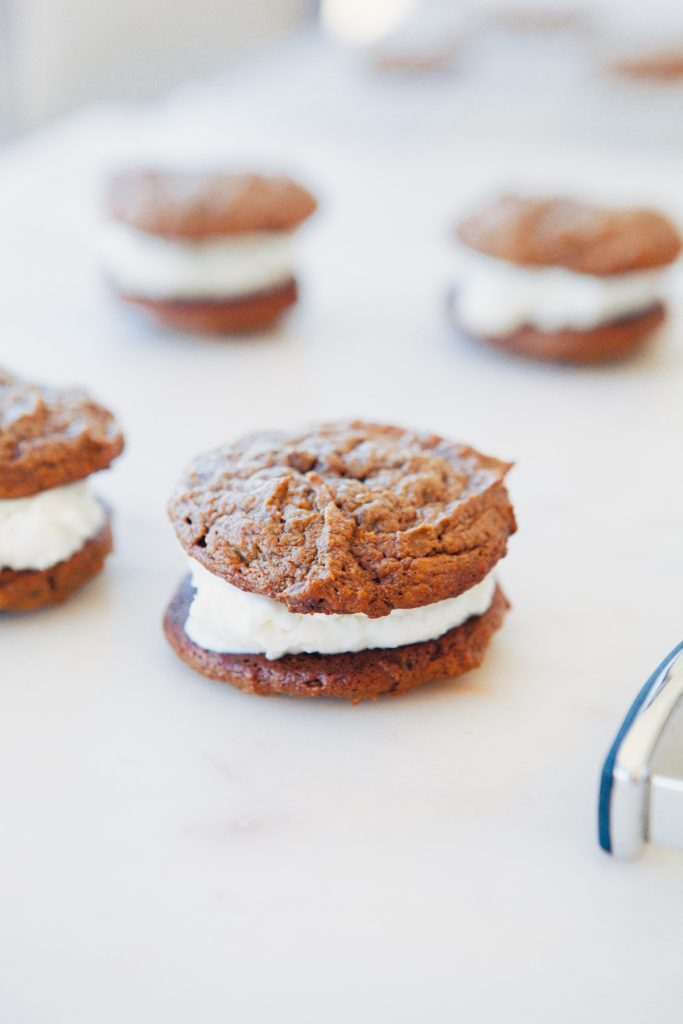 AND…I dipped them in sprinkles (part three of this dessert).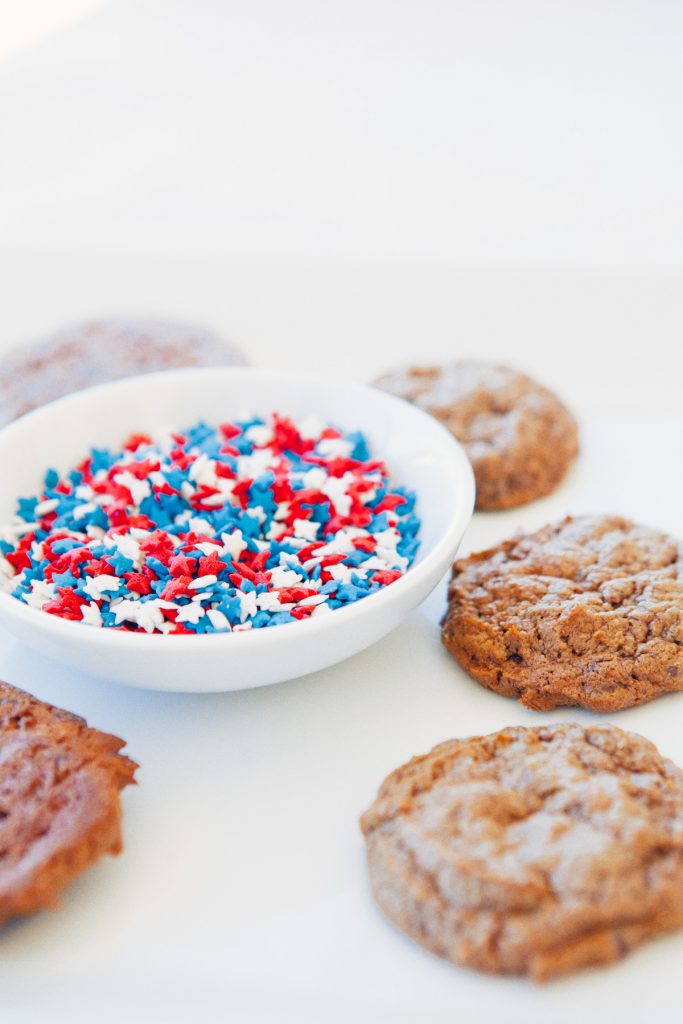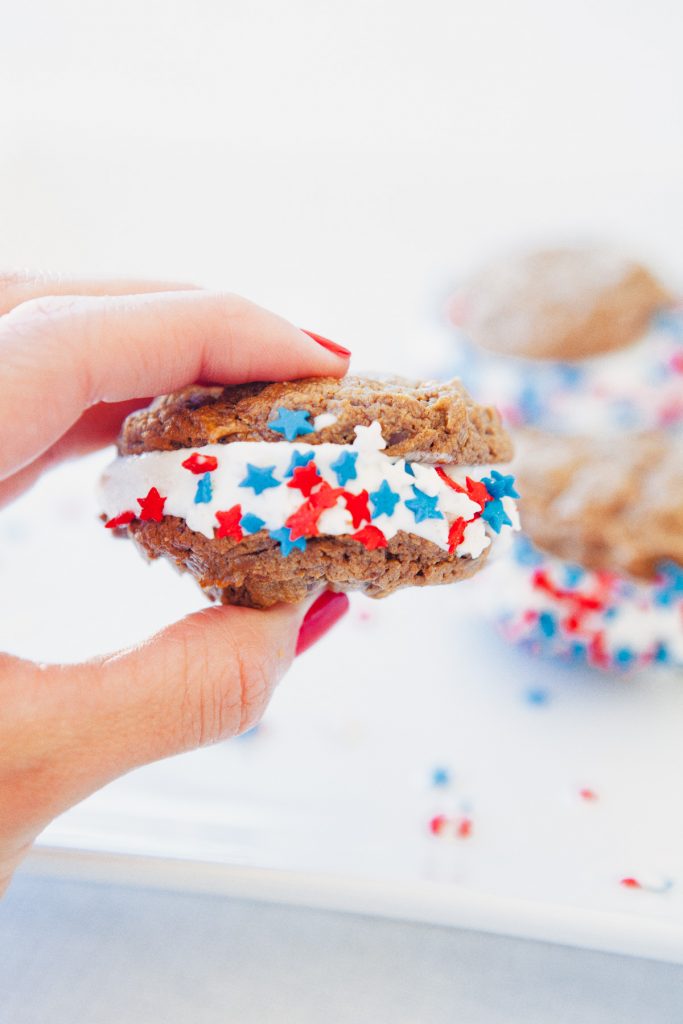 It was a fabulous. Best decision I've made this summer.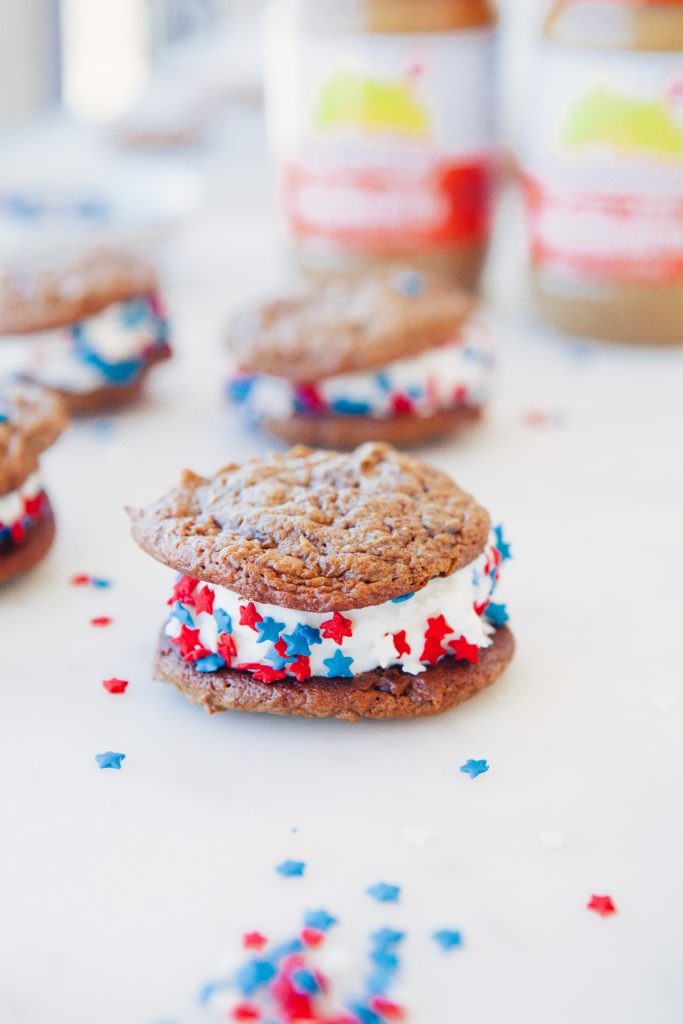 These little cuties will be the star of my 4th of July gathering, and they can be the star of yours too! What's more American (and trendy) than red, white and blue allergen-friendly treats?! Little, very little.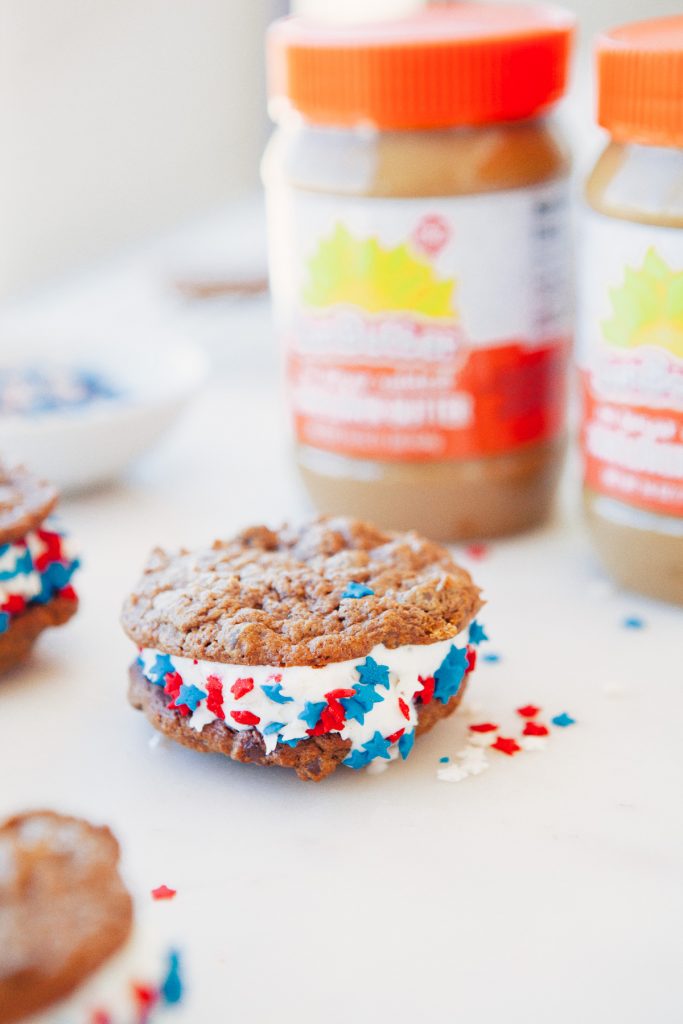 If you're planning on re-creating these beauties, be sure to watch the video tutorial I have below,  so you can see exactly how I made them.
And remember to take a quick snap, tagging me on Instagram or Facebook, so I can see your own Cookie Ice Cream Sandwich creations. HAPPY 4TH, EVERYONE!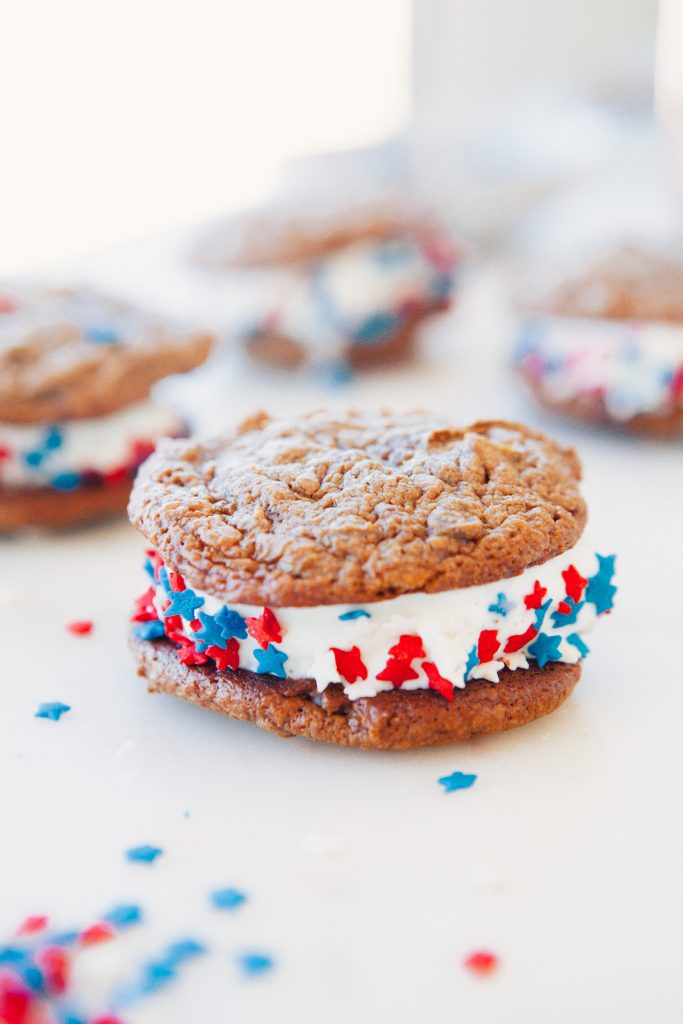 Cookie Ice Cream Sandwiches
These paleo approved Cookie Ice Cream Sandwiches are total crowd pleasers. They are the perfect 4th of July treat, or anytime treat, that is easy and quick to make (30 minutes)!
Serves:
15 ice cream sandwiches
Ingredients
2 cups coconut sugar
2 large eggs
½ tsp vanilla extract
¼ tsp sea salt
1 ¼ cups No Sugar Added SunButter
½ cup mini dark chocolate chips
Dairy-free coconut or vanilla ice cream
Instructions
Preheat oven to 350°F. Line two baking sheets with parchment paper and set aside.
In a bowl, combine coconut sugar and eggs and whisk until smooth. Whisk in the vanilla, sunflower seed butter and salt until completely blended into the batter. Fold in chocolate chips, and chill the dough for 15 minutes.
Use a 1-tbsp cookie scoop to scoop the dough onto the lined baking sheets, leaving 1-2" of space around each one. Bake until the cookies are golden at the edges, about 13 - 15 minutes (check at minute 13, you want to take them out just when the edges start to look crispy). Let the cookies cool completely in the baking sheet.
Use a cookie scoop to place mini scoops of coconut ice cream between two cookies, and then roll the sides in sprinkles. Enjoy right away.
Notes
Tools You'll Need:
- 2 cookie sheets
- Parchment papers
- Mixing bowls
- Measuring cups
- Measuring spoons
- Whisk
- Cookie scoop
- Large plates
- Bowl (for sprinkles)
PIN ME!

Thank you SunButter for sponsoring this deliciousness!
SaveSave
SaveSave
SaveSave
SaveSave
SaveSave
SaveSave
SaveSave
SaveSave
SaveSave
SaveSave
SaveSave
SaveSave
SaveSave
SaveSave
SaveSave
SaveSave
SaveSave
SaveSave
SaveSave
SaveSave
SaveSave