Fact: mornings just got 100 times better.
I am here to tell you that nutritious breakfasts and stress-free mornings do exist, and they come in the form of something beautiful known as overnight oats!
Stress-free and easy both need to be part of life, and if there is a way to get the same results (or better) by doing things in simpler, easier, less-time-consuming kind of ways, you better believe we're choosing that route! Non-stressful mornings are the start to every GREAT day; no one wants complicated starts. And, friends, this recipe right here is one of those life hacks that can get us to those great starts.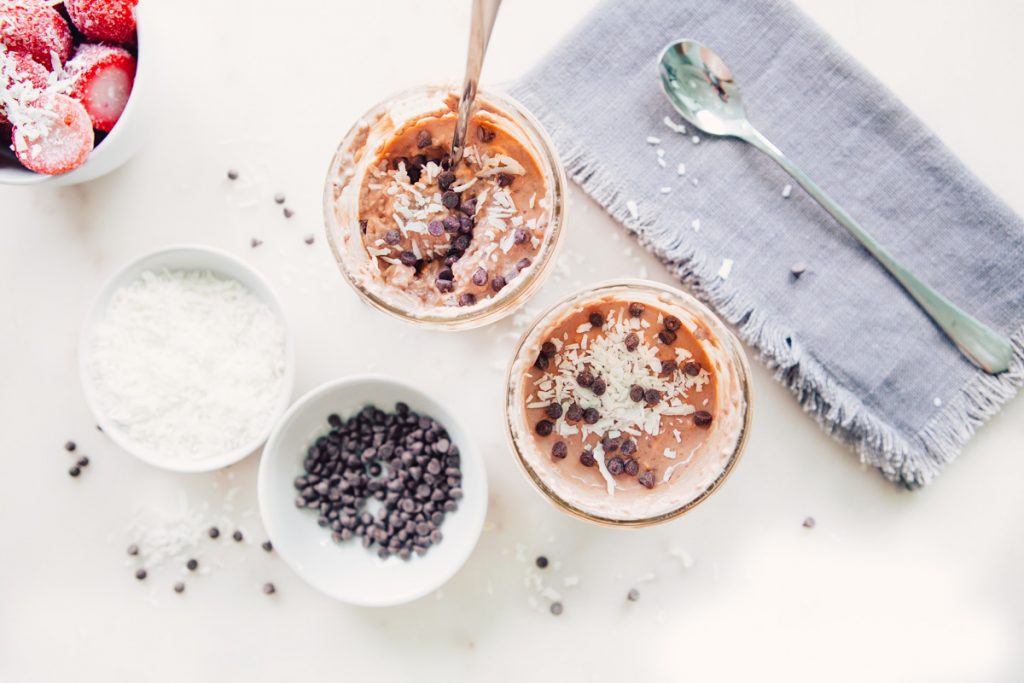 Got 5 minutes, a few mason jars and a bit of fridge space? Perfect, you're set!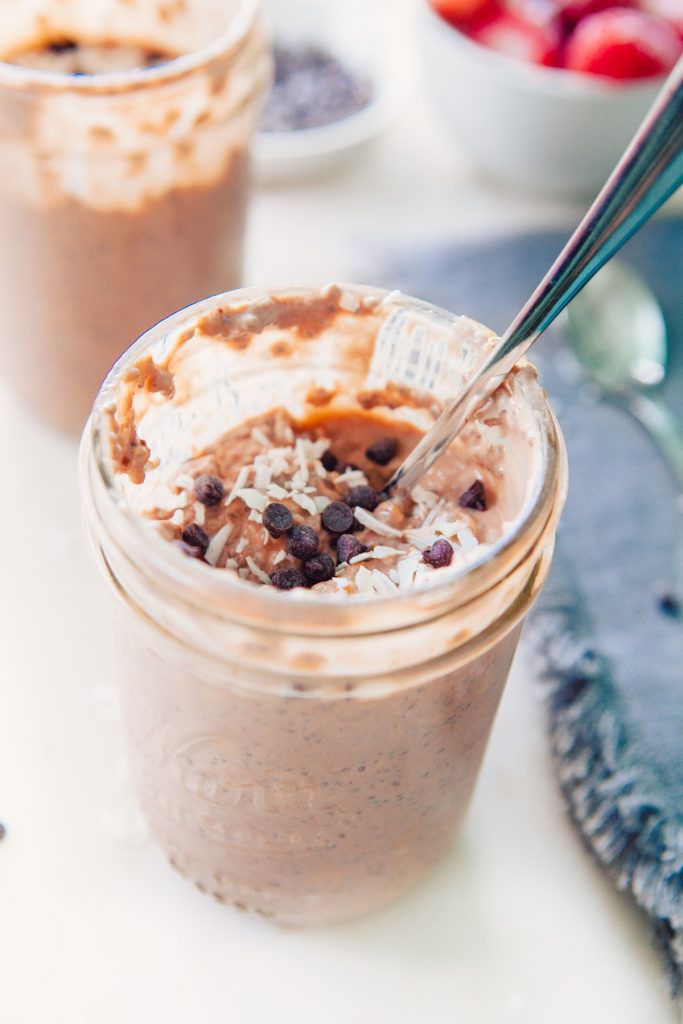 Oats are not 100% Paleo, as they are a grain. However, they are 100% gluten free (if not contaminated in the factory while being processed, so make sure you always buy the ones labeled "gluten free certified").
I enjoy oats frequently because they don't hurt my stomach nor give me inflammation, and if you're on that same boat…you bettah pin, save, screenshot this recipe because mornings just got delicious, nutritious and easy for you!
The key to this recipe are not necessarily the oats though, but the crazy good chocolate & blackberry collagen peptides that I added to the mix. It's the collagen that gives the recipe its flavor and protein, while also adding to its consistency. Don't you love an ingredient that offers more than just one benefit?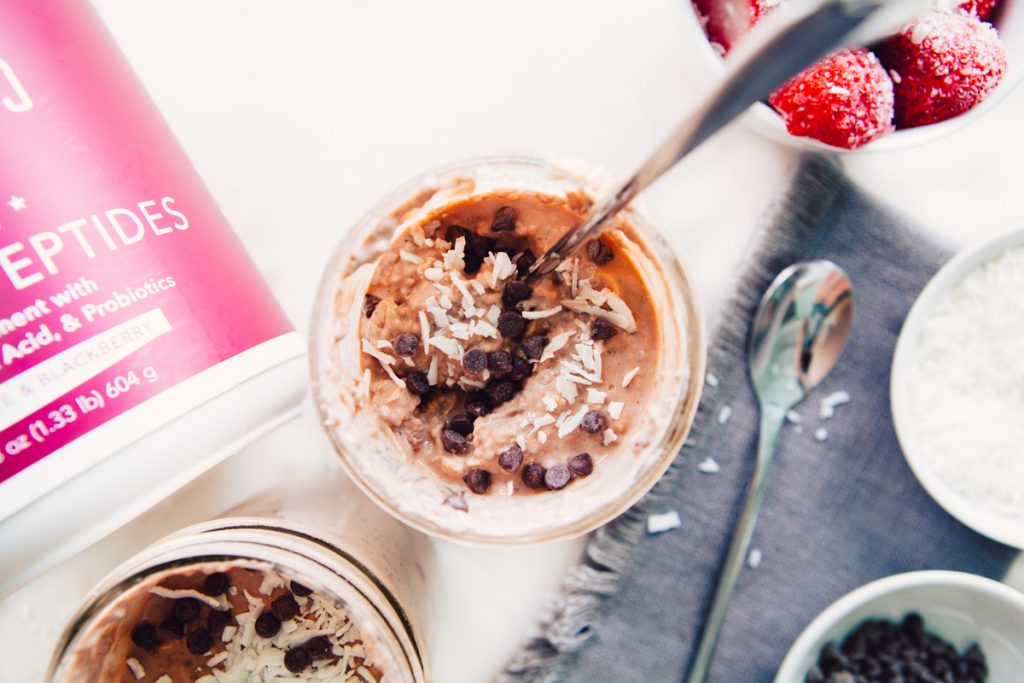 These flavored collagen peptides are mighty, they:
Are packed with probiotics that support gut health
Contribute to a balanced diet and improve digestion
Promote healthy hair/skin/nails
Support bone and joint strength
Improve athletic performance
Contain zero artificial sugars or sweeteners
I mean, collagen peptides got us covered!
Now, you know how I use the Original (Unflavored) Bovine Collagen Peptides in a lot of my Paleo recipes, well, that same Original (Unflavored) Bovine Collagen Peptides powder is the base to this Dark Chocolate & Blackberry Collagen Peptides powder. Same awesomeness, same benefits. The only difference here is, the added flavor, which is 100% made of organic and natural ingredients…and adds a whole lot to this particular recipe!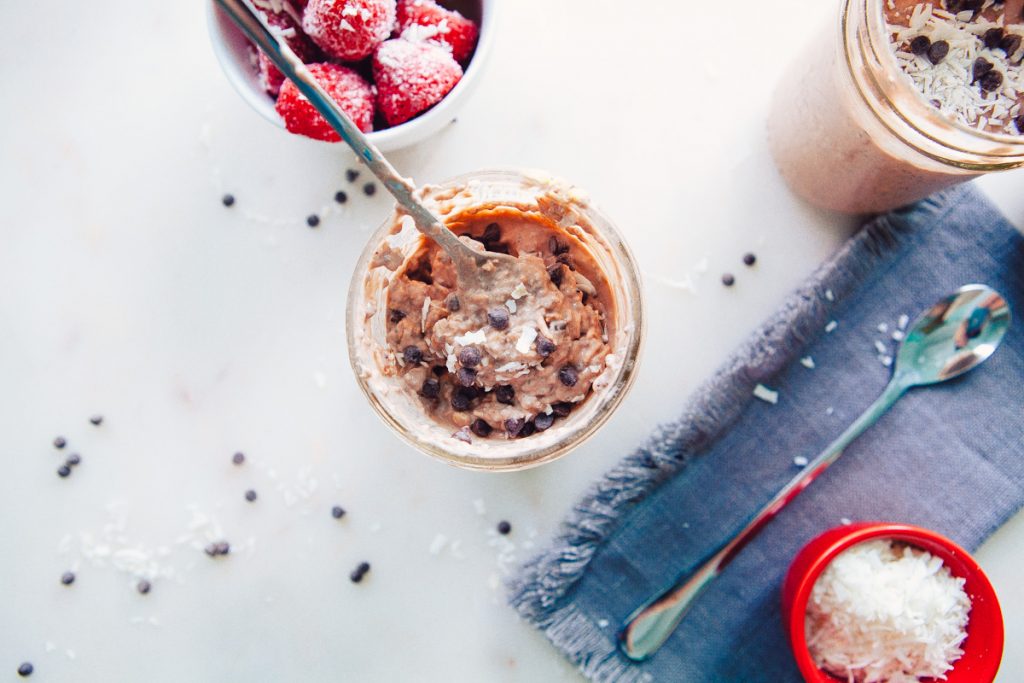 Another thing I will say about this breakfast: it is perfect for summer. Because when temperatures start rising, we're done with hot meals and beverages. It is precisely now that we crave (no, NEED) cold err'thang. ❄🙏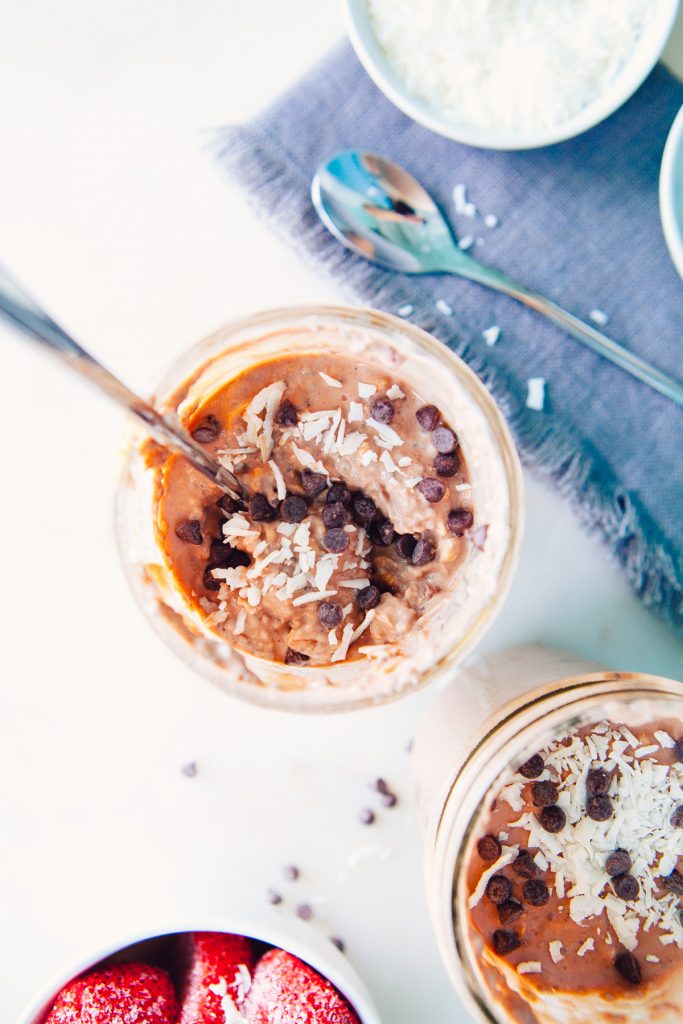 These soft, creamy and lightly sweet cold oats are just what we need on a sunny spring or summer morning. Not only do we need them for a yum breakfast that is packed with nutrition and easy on our busy morning routines, but also for helping us keep our cool (stress & temp wise)!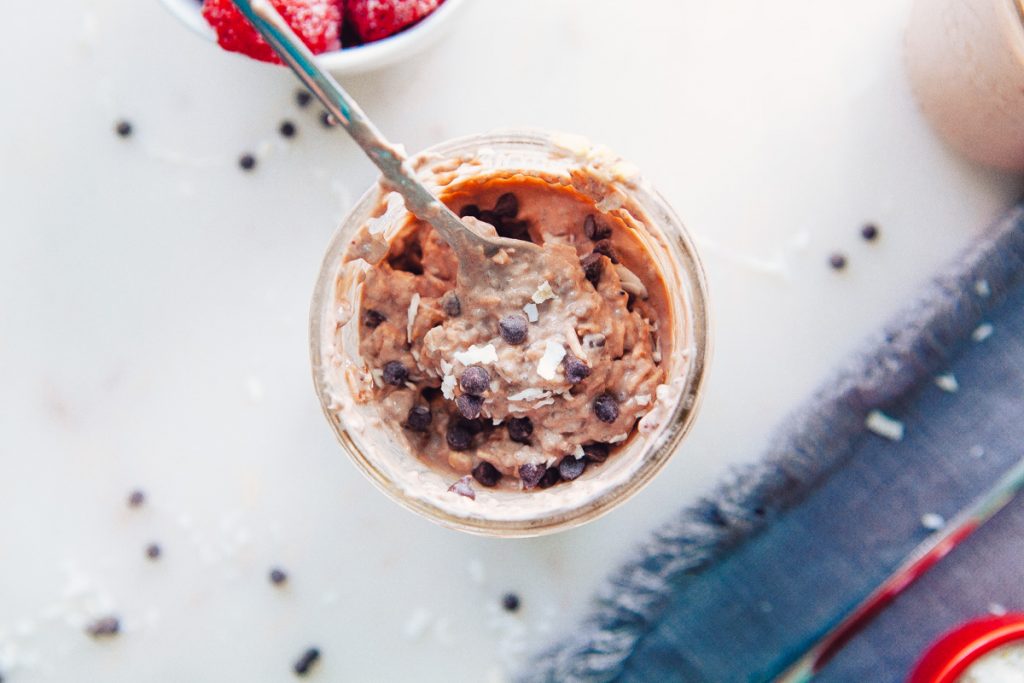 So, here is what you need to do:
Get a few mason jars out
Put oats, chia seeds and collagen in each jar
Add in plain greek yogurt (you can do flavored and non-dairy too), coconut butter and non-dairy milk in each jar
Stir in a bit of sea salt & some maple syrup
Close lids and shake, shake, shake
Refrigerate overnight
Then, wake up in the morning, open the fridge and get one of those pretty jars out! Top with your favorite toppings (for me: berries, shredded coconut, non-dairy mini chocolate chips), stir up and enjoy. Eat them on the porch, couch, office, etc.
Mornings just got awesome, wouldn't you say?!
Overnight Oats with Chocolate & Blackberry Collagen
These Overnight Oats with Chocolate & Blackberry Collagen are creamy and delicious. A super easy to make recipe that uses few and healthy ingredients!
Serves:
1 16 oz. mason jar
Ingredients
½ cup gluten-free rolled oats
2 tsp chia seeds
⅛ tsp salt
½ cup plain greek yogurt, (you can use flavored and/or non-dairy, too!)
1 tbsp coconut butter, melted
½ cup carton unsweetened coconut milk
1 tbsp maple syrup
Optional: non-dairy mini chocolate chips
Toppings: your fave
Instructions
To a mason jar, add oats, chia seeds, collagen powder and salt, and stir together. Top with the remaining ingredients (including non-dairy mini chocolate chips, if you decide to add them), seal with tight lid and shake vigorously. Place jars in the fridge overnight and enjoy the next day!
Notes
Tools You'll Need:
- 16 oz. mason jar
- Measuring cups
- Measuring spoons
- Spatula or spoon
PIN ME!

SaveSave
SaveSave
SaveSave
SaveSave
SaveSave
SaveSave
SaveSave
SaveSave
SaveSave
SaveSave
SaveSave
SaveSaveSaveSave
SaveSave
SaveSave
SaveSaveSaveSave
SaveSave
SaveSave
SaveSave
SaveSave
SaveSave
Thanks Vital Proteins for sponsoring this delicious recipe post!
Thanks Vital Proteins for sponsorSaveSave
SaveSave