These Loaded Chocolate Chip Muffin Tops are to die for.
Such a legit healthy treat disguised as dessert. They one hundred percent taste like dessert, but they're actually a very healthy food: good for both your nutrition and your fitness goals.
The muffins themselves are made with just seven, very clean, ingredients (think bananas, eggs, dates and such). And the toppings themselves are also just very few (three, but mighty, ingredients), all clean as well.
The toppings include three of my current favorite foods:
Now, I know plain greek yogurt is not Paleo as it's dairy. BUT, plain greek yogurt does not hurt my stomach, it doesn't bloat me, cause indigestion or discomfort, and since I love it so much (love its probiotics and protein), I decide to include it in my diet. I re-introduced greek yogurt to my diet after doing an extremely comprehensive food sensitivities test, where greek yogurt showed no inflammatory reaction to my system.
If you're like me and allow some dairy in your diet, perfect! Use your favorite plain greek yogurt for this treat (my favorite brand is Wallaby, I find it incredibly creamy and smooth and delicious: the one linked above is the exact one I get at the store).
However, if dairy does hurt you and you are very strict about not having it, no biggie! There are tons of amazing non-dairy greek yogurt substitutes out there. A few of my favorite are: Forager, Kite Hill and So Delicious. Use one of these as a topping instead!
And then, the rest of the topping ingredients needed are Paleo-approved. So you're good to go there.
Let me talk real quick about one of them: SunButter. I'm IN LOVE with it. My food sensitivities test also showed that all things almond are incredibly inflammatory to my system, which made sense since I was one huge bloat-bubble and had terrible symptoms of food sensitives before removing almonds completely from my diet. You can read about my journey here. Anyway, removing almonds and almond products from my diet forced me to find a good substitute for a creamy and satisfying nut butter spread. Which is when SunButter came into my life!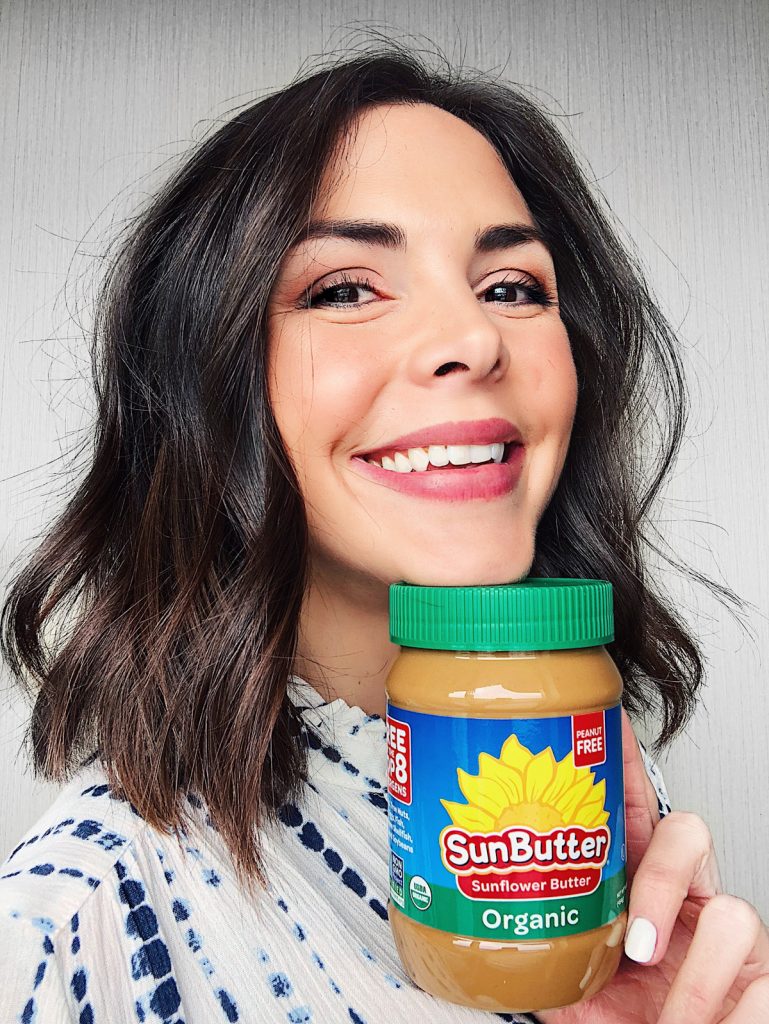 Just look at all that creaminess and smoothness below. UGH, SO GOOD. Love its taste, love its texture, love its protein content and love how good it is in recipes!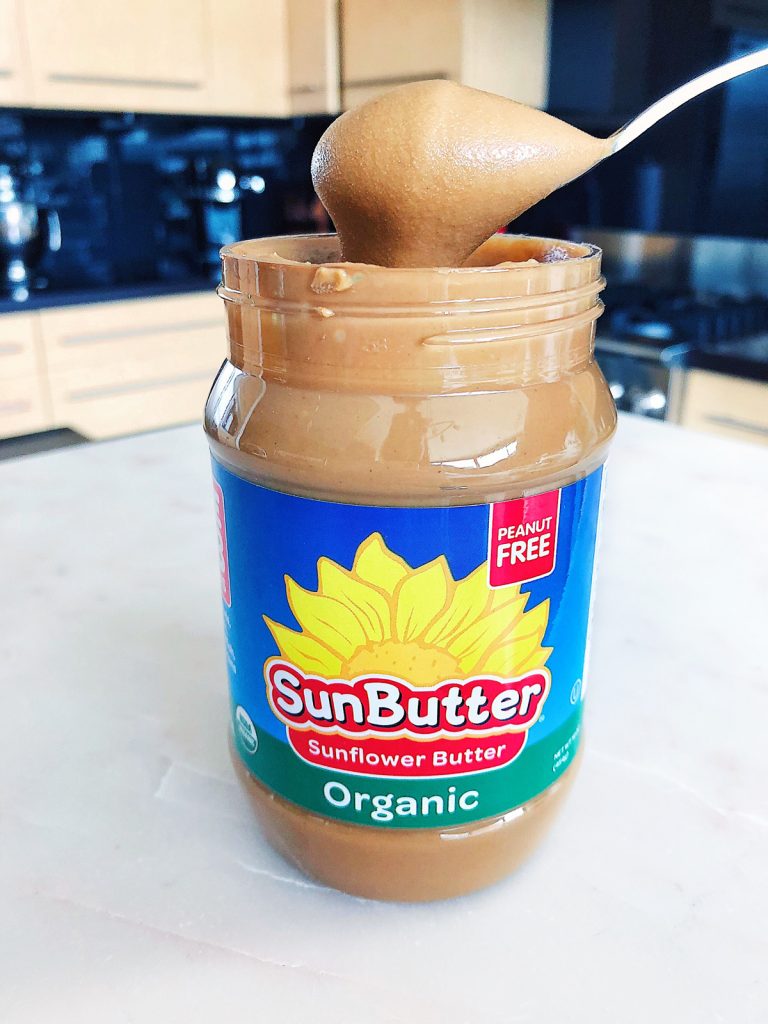 By now, it's probably pretty obvious to you that I'm very fond of my topping choices for these treats. However, let's talk about the reeeeeeally good stuff: the actual muffin tops themselves. And how rich, and scrumptious, and balanced, and healthy, and satisfying, and cute they are. Ahhh! Gimmie all of 'em. They WHOLE batch. Just me. Hubby, stay away! (He eats these like it's his job, he adores them almost more than I do. Almost.)
The recipe to these muffins I posted a few months back, but I keep making them and creatively using them, since they taste so good.
This is what the muffins look like when out of the oven:

And this is what the muffins look like when cooling on a rack: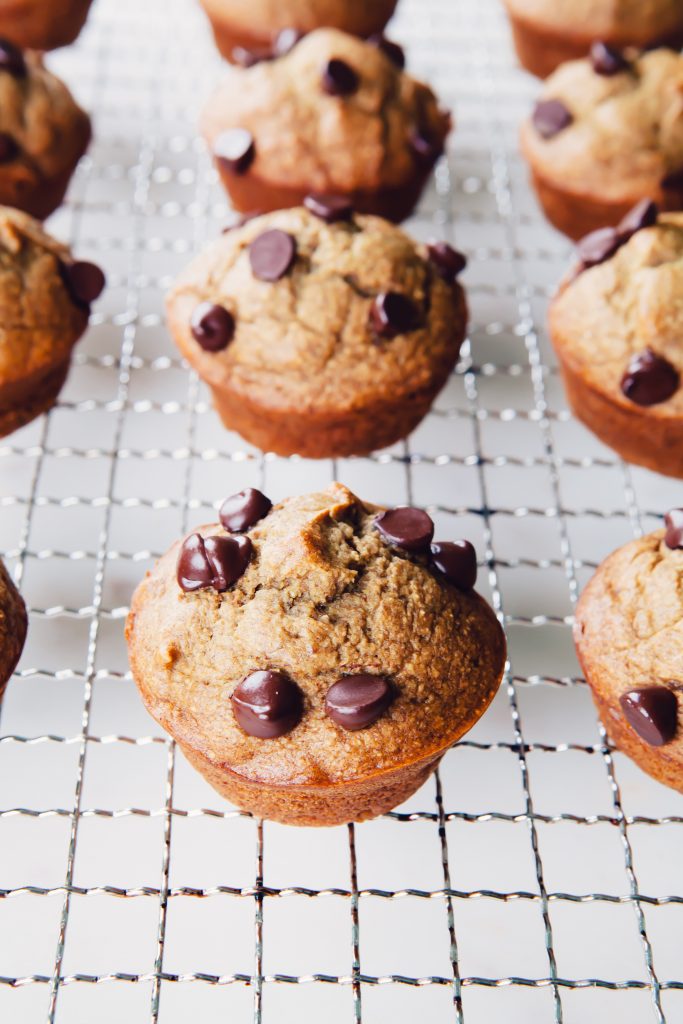 All you need to do is bake them, let them cool, slice them in half, and then, you're done! You've just created muffin tops. They are small enough that if you slice them in half, both sides have that muffin top feel, and they are dense enough on both sides, that when you add toppings, they become that fully loaded muffin top goodness we are looking for.
So easy. So tricky. So smart.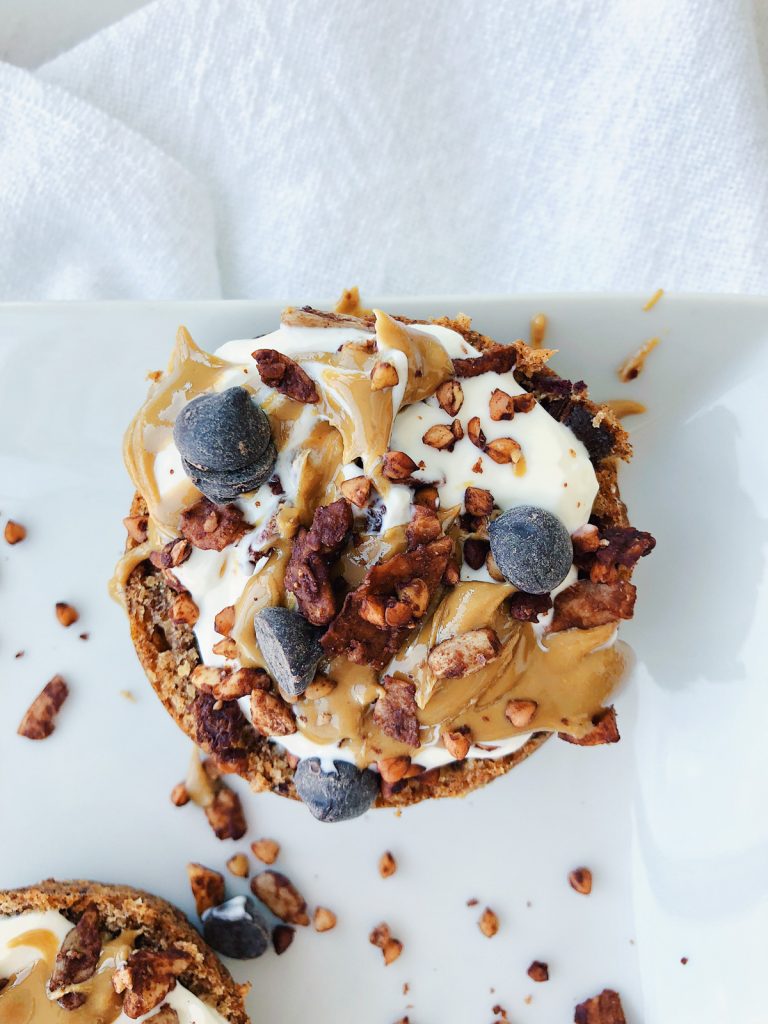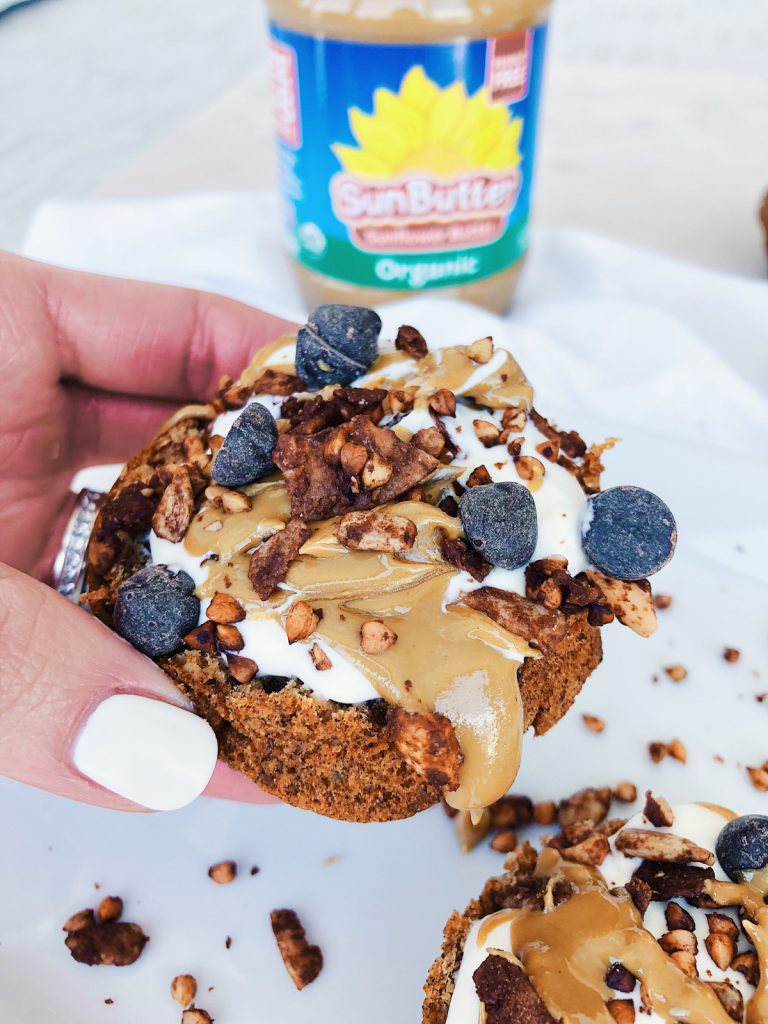 You can add as much or as little as you want of your toppings. And don't ever feel shy about having two or three of these treats, because they are totally nourishing and will do your body good.
Make these with your kiddos or friends, everyone will love them!
Also, be sure to take a few snaps of your treats and tag me on your Instagram or Facebook uploads. I'd absolutely LOVE to see your own Loaded Chocolate Chip Muffin Top creations!

Loaded Chocolate Chip Muffin Tops
These Loaded Chocolate Chip Muffin Tops are a healthy dessert that everyone in your family will love. They are super easy to make, require minimal ingredients and are perfect for any occasion!
Ingredients
Muffins:
Toppings:
Instructions
Bake muffins, allow them to cool, top with topping ingredients enjoy!
PIN ME!

SaveSave
SaveSave
SaveSave
SaveSave
SaveSave
SaveSave
SaveSave
SaveSave
SaveSave
SaveSave
SaveSave
SaveSave
SaveSave
SaveSave
SaveSave
SaveSave