Guess what I have for you today?
A delicious, mouthwatering, totally satisfying and comforting treat: Banana Nut Protein Squares. Ahhhh, the goodness of these! I can't even.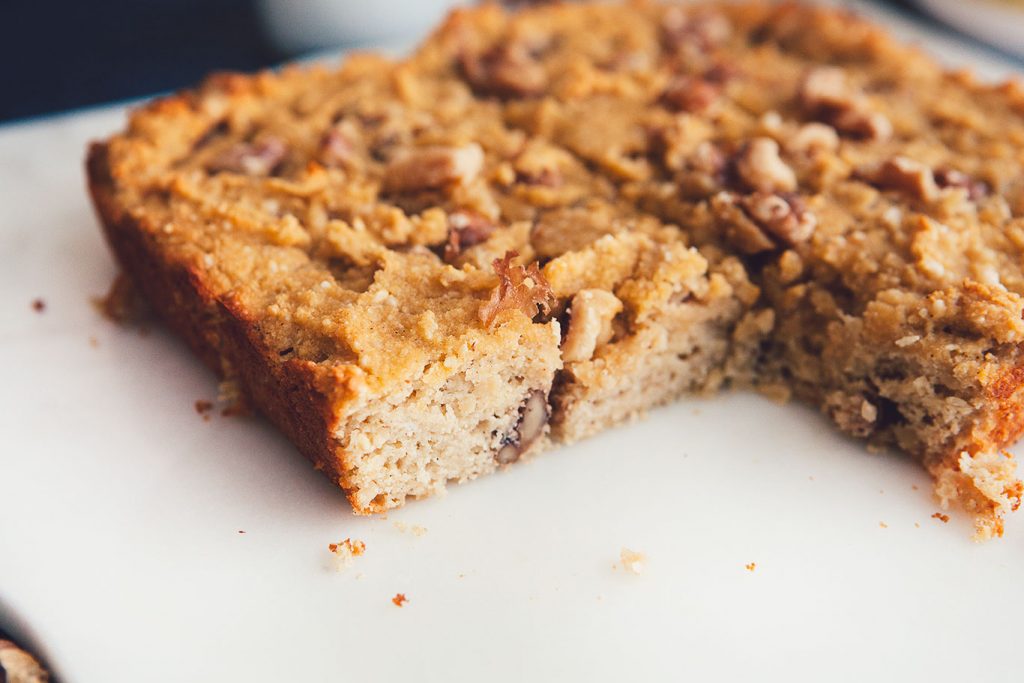 What are Protein Squares? You may ask. Well, they are protein bars. Only fluffier and more cake-like.
I  made these a little while back; I want to say around a month ago? Just never got a chance to post the recipe for one reason or another. But here it is! My Banana Nut Protein Squares recipe is all ready for you, and these could be in your kitchen in less than an hour too if you start now.
These majestic protein squares are not only delicious, but they are also good for you. They are extremely nutritious and packed with protein. If you're a gym goer (or someone who is looking into adding more protein to their diet) these are 100% up your alley.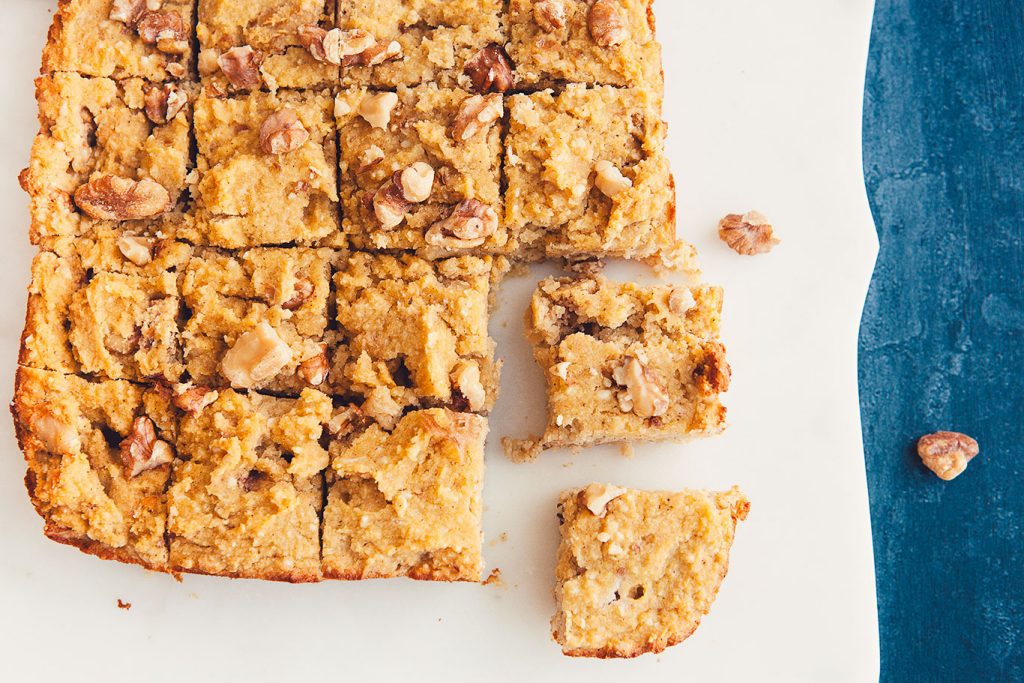 We are gym goers in our home, so we love to have these handy as a post-workout snack. We'll either pack them and bring them with us to the gym if we know we have to run errands right after working out, or we'll keep them nice and cold in our refrigerator waiting for us to come back and devour them with a cup of tea or coffee.
Two at a time is our ideal serving size; two fill us up and give us the right amount of energy and nutrition needed until lunch or our next meal.
What I love about them is that they are a fun, healthy treat that satiates a craving. Especially when you're wanting something cake-y and somewhat sweet. Sometimes you just crave something you can dig your teeth into, that is soft but crunchy at the same time, you know what I mean? And these little squares definitely do the trick.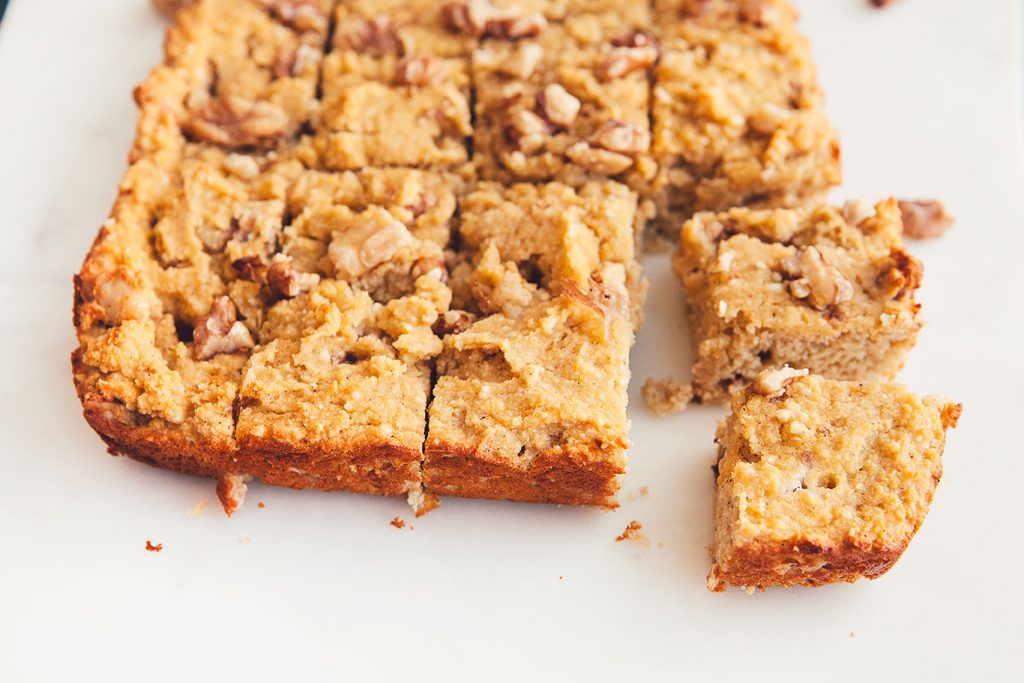 I usually let my husband eat most of the Paleo treats I bake at home, because he is a way bigger human than I (and a guy) and he can get away with eating a lot. But for some reason, I wanted this last batch of Banana Nut Protein Squares mostly for myself. I let him have a square or two, but the rest was for momma bear!
Which just tells you how much I love these treats: A LOT.
My Banana Nut Protein Squares are:
Soft and fluffy
Crunchy (because of the walnuts)
Perfectly balanced
Easy to make
Fun to eat
Nutritious
Comforting
Gluten free
Dairy free
Below I have a fun video to show you exactly how to prepare these. The video is only a minute long, so it's a super easy and fun watch. Hope you make these soon; be sure to take a photo of them and tag me on Instagram or Facebook if you do!
WATCH HOW TO MAKE MY BANANA NUT PROTEIN SQUARES RECIPE (1 MIN):


Banana Nut Protein Squares
These easy to make Paleo Banana Nut Protein Squares are naturally gluten-free and dairy-free. A delicious treat that is healthy and packed with protein!
Ingredients
6 tbsp Vital Proteins Banana Protein Powder
½ cup cashew meal
½ cup coconut flour
1 tsp baking powder
½ tsp sea salt
½ cup pumpkin puree
3 eggs
½ cup full fat canned coconut milk
4 tbsp honey
1 tsp vanilla extract
¼ -½ cup chopped walnuts
Coconut oil, to grease baking dish
Instructions
Preheat oven to 325 F. Grease an 8"x8" baking dish with coconut oil spray and set aside.
Mix all dry ingredients, except for the walnuts, in a large mixing bowl and set aside.
In a separate bowl, whisk all wet ingredients. Pour over bowl with dry ingredients and mix to combine. Fold in chopped walnuts, pour batter in baking dish and bake for 35-40 minutes. Let cool completely before cutting into squares.
PIN ME!