Many things in life make me happy. My husband, my family, my girlfriends, hosting parties, a good fiction book, a glass of wine after a long day, the beach, swimming in the ocean, blue skies & sunny days, 90 degree weather, the place where my husband and I got married (my aunt's vacation farm on the Andes), an amazing workout, this 3 Layer Paleo Carrot Cake, etc.
Seems like I love a lot of things, lol. And I bet you never guessed cake was one of them, huh? Yes, I love me a good cake!
Not the regular kid-birthday-party cake that you buy at CostCo or some other grocery store, no, not that kind. I like the kind that looks like a famous baker baked it for her own family, that will actually nourish you with every bite, that takes a good amount of labor of love to prepare, that is perfectly balanced and not too sweet and that has frosting that makes you think "this cannot be real life". (Like, #IDiedAndWentToHeaven kinda thing.)
There are few pieces of cake that I've had in my lifetime that fit that description. And well, this 3 Layer Paleo Carrot Cake recipe I am about to share with you guys today is definitely one of them!
This little gem was inspired by my madre, yet again. She always seems to inspire my dessert creations, doesn't she? Well, that's because she is an incredible home baker. And because she loves treats. I guess the apple didn't fall far from the tree, did it?
She has a signature carrot cake that everyone and their mother (see what I did there…get it, get it?) seems to adore. All of our family's friends and acquaintances remember my mom's cake. If she takes it to a party, someone will end up either asking her to bake it for one of their events or asks her for the recipe. It's a given. Mom is the best, and makes the best carrot cake.
This 3 Layer Paleo Carrot Cake recipe is not her recipe, as I've had to modify it a bit to make it Paleo compliant. Mom's recipe calls for regular flours and sugars, so I can't be sharing that on my Paleo blog. However, this 3 Layer Paleo Carrot Cake recipe gets pretty close to hers and it is frigging delicious. And the best part is, this 3 Layer Paleo Carrot Cake is sure to create happy memories for both kids and adults. Like a boss. A cake boss.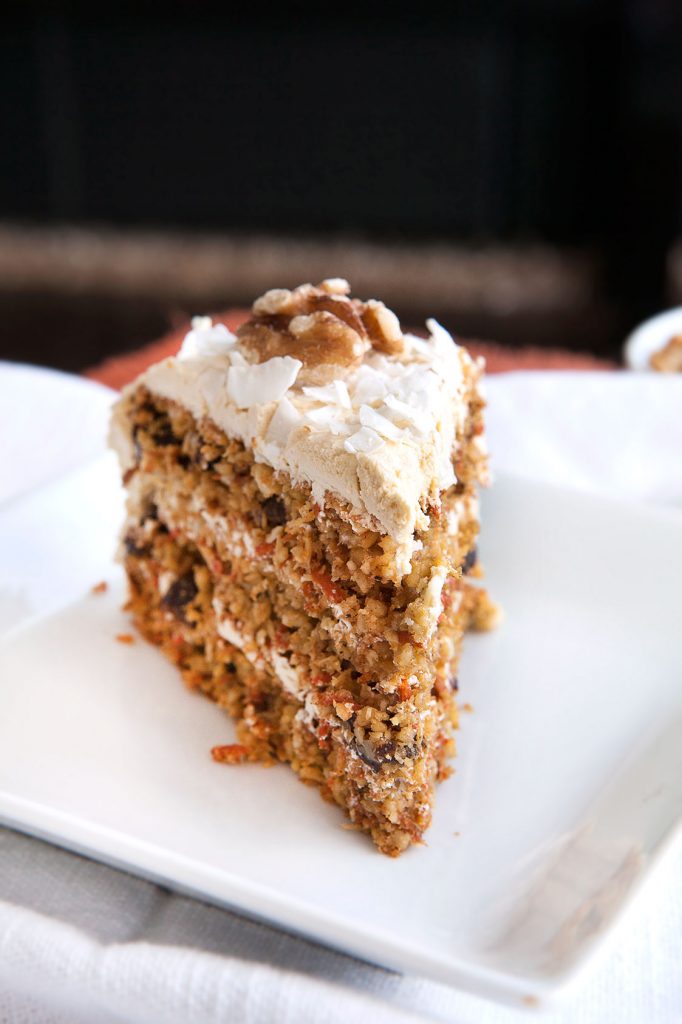 This 3 Layer Paleo Carrot Cake is:
fluffy
moist
rich
nutritious
sweet
nutty
It would make for a great dinner party dessert or for a wonderful birthday party cake. And since this 3 Layer Paleo Carrot Cake is a richer kind of cake, the slices don't have to be too big and you can probably feed about twenty people with it if need be. If you have dessert lovers to feed, however, you can make the pieces bigger and slice your 3 Layer Paleo Carrot Cake up into something like twelve pieces? With that, each dessert lover should get their sugar fix in for sure.
I made this 3 Layer Paleo Carrot Cake just a few weeks ago, because I was needing a happy cake feeling, and I had hopes that a ton of my friends would help me eat it. Preston and I had a piece to try it out (we are our own recipe testers here), and then we reached out to some of our foodie besties to come get a slice. Turns out, they were all either out of town or incredibly busy with work — whaa whaa.
The remaining ten pieces of our 3 Layer Paleo Carrot Cake were all left for us. We could not eat them all as we hoped we would (yep, we had pretty aggressive cake eating goals). So, we ended up gifting them to a few of our neighbors. They were happy. See? A good slice of cake makes people HAPPY! Don't underestimate the power of cake. I think Sofia Vergara is obsessed with it too, isn't she? Don't believe me, check her insta! She gets me. #SpiritSister
I know places like the Cheesecake Factory have incredible carrot cake slices. But hey, those desserts are a true gut bomb. This 3 Layer Paleo Carrot Cake, on the other hand, isn't! Try it out, I think you'll love it. And I also think it'll make you really happy. XO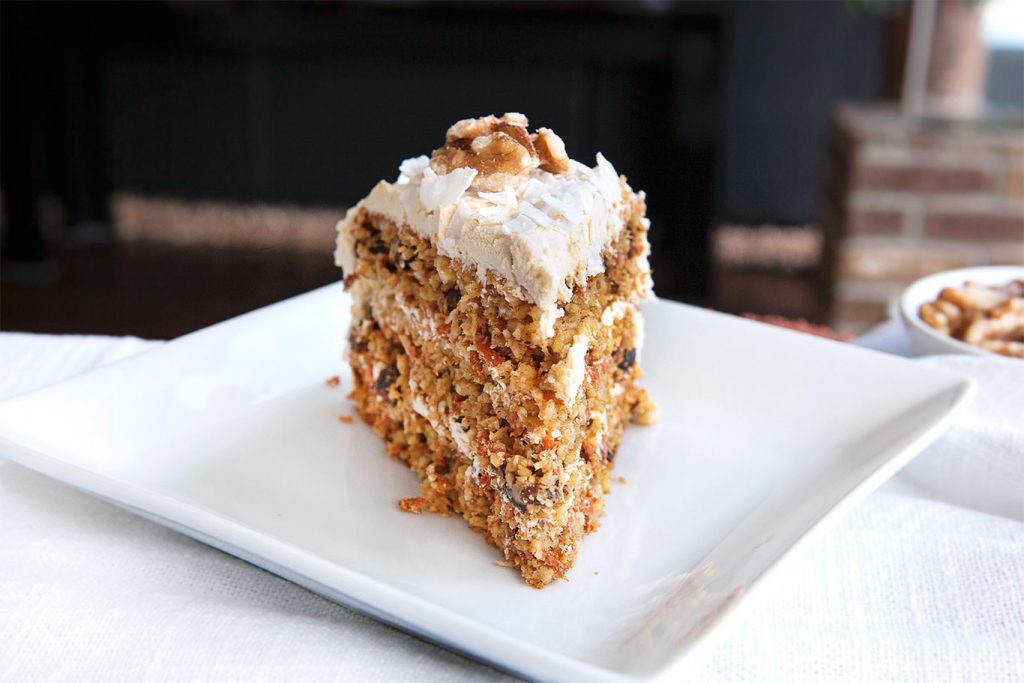 Three Layer Paleo Carrot Cake
This 3 Layer Paleo Carrot Cake is a crowd pleaser; moist, delicious, healthy & oh-so pretty. Perfect for those who are gluten-free, dairy-free or Paleo!
Ingredients
For Meringue Buttercream:
For the Carrot Cake:
Instructions
Make the merengue buttercream: prepare a batch of the Meringue recipe and switch to the paddle attachment on the standing mixer. Beat the Meringue on medium-high and slowly add in the shortening. Continue mixing on medium-high, add vanilla and mix until well combined. Place Meringue Buttercream in the refrigerator while the cake bakes, and beat once more right before decorating the cake.
Prepare the carrot cake: preheat the oven to 325 F. Line three 6" cake pans with cut out parchment paper circles and set aside. Place ghee in a saucepan and melt over low heat; set aside to let cool. To a standing mixer, add in eggs, egg white, sugar and lemon juice, and whisk on medium-high for 15 minutes. As eggs are beating, mix flour, shredded coconut, spices and baking soda in a large bowl; fold in raisins, pecans and ghee to this mixture. Once egg-mixture has been whisked for 15 minutes, carefully fold it into the flour mixture until incorporated. Divide batter into the three cake pans and bake for 35 minutes. Let cakes cool completely before removing them from the pans and use a knife to loosen the edges.
Assemble the cake: place 1st cake on a cake stand and add a layer of the meringue buttercream (about ¼" high); add 2nd cake on top and add another layer of the meringue buttercream (about ¼" high); add 3rd cake on top and cover entire cake surface with the remaining meringue buttercream. Decorate with chopped walnuts, and refrigerate cake for about 30 minutes before serving.
Notes
Tools You'll Need:
- 3 6" cake pans
- Parchment paper (cut into circles to fit at the bottom of each pan)
- Standing mixer
- Grater (or food processor with grating attachment)
- Sauce pan
- Whisker
- Mixing bowls
- Spatula
- Measuring cups
- Measuring spoons
- Cake stand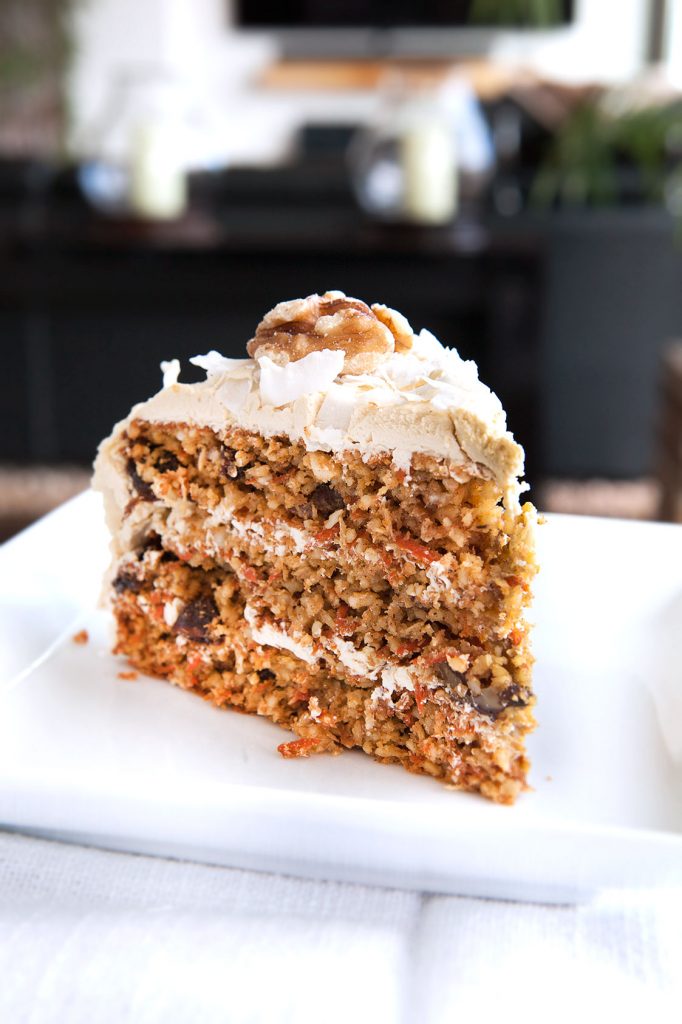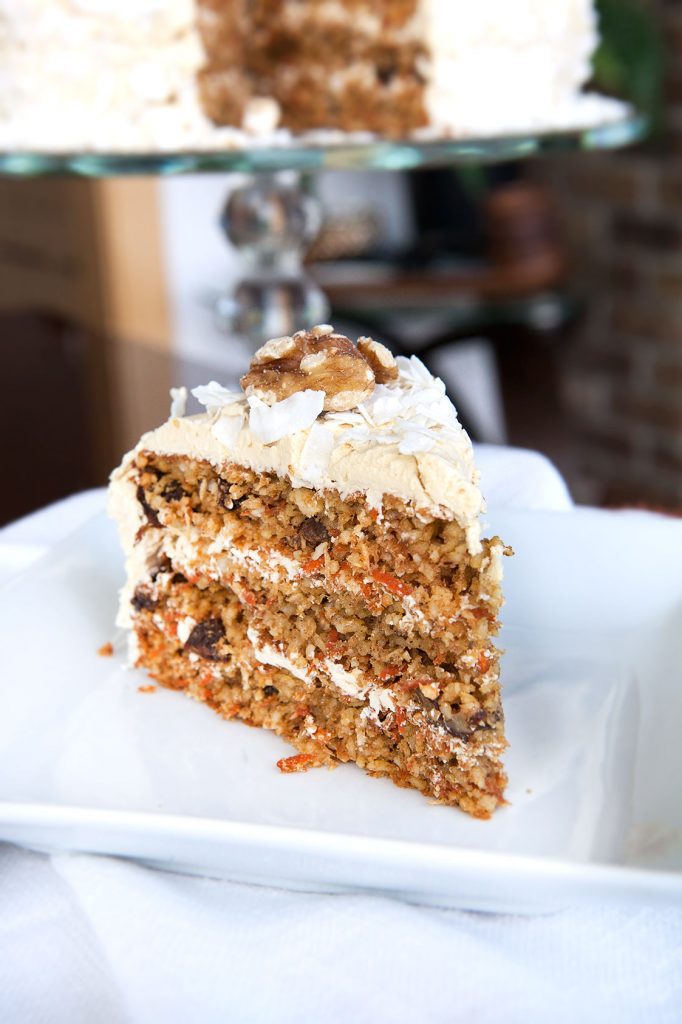 PIN ME!

Other Paleo cake recipes you'll love: