You know how summer is almost here and these warmer days make us crave different kinds of foods? Like colder, lighter, and more refreshing meals vs. richer, thicker, warmer ones?
If you live in a place that has seasons (like Idaho, for example) I bet you're very familiar with the feeling and know exactly what I'm talking about.
And if you're like me, I bet you've turned to salads and grilled proteins to satiate your new food cravings. Because they're just that: cold-er, light-er and fresh-er.
Now, I don't know about you but it's not even summer yet and I've already had enough salads. I am sort of in a desperate need for something different. At least for a day or two, you know? A little break. I mean, I still want colder, lighter and fresher foods, don't get me wrong, but something that does not always involve a big bowl of greens.
Well, guess what?
I found it! I FOUND JUST THE THING.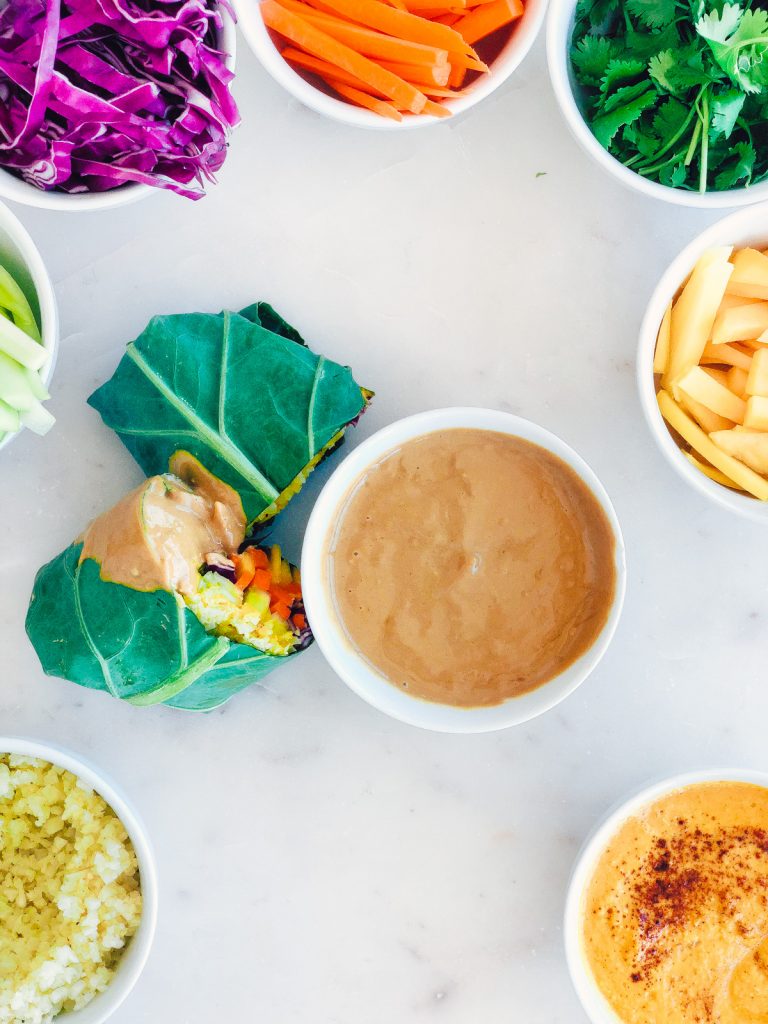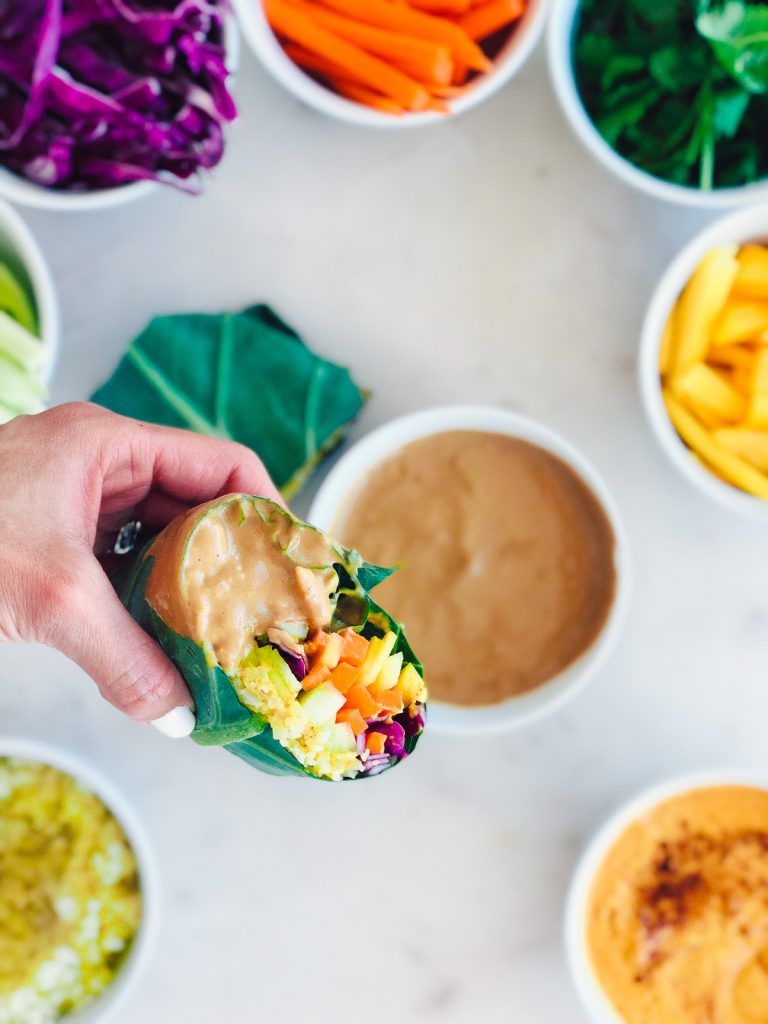 Thai Veggie Wraps with Sunflower Seed Butter Dip to the rescue!
Let me break these wraps' attributes and go a little more in depth, because I think it's my duty to share how magical these are. 💫
1. You will EAT THE RAINBOW
A variation of fruits and vegetables is not only pleasing to the eye (hello eye candy!), but it's also good for our health. Eating a variety of colors is a simple way to know you're getting a good dose of nutrients. The more produce variety you allow in your diet, the more you will benefit from the different vitamins and minerals each fruit and vegetable has to offer.
These Thai Veggie Wraps have a ton of different veggies in them (and one delicious fruit too!), and while you'll benefit from all the fiber these veggies contain, you'll also benefit from: the Vitamin A in carrots, the Vitamin K in cucumbers, the Vitamin C in cauliflower, the potassium in mangoes…etc, etc. SO MUCH GOODNESS IN ONE WRAP!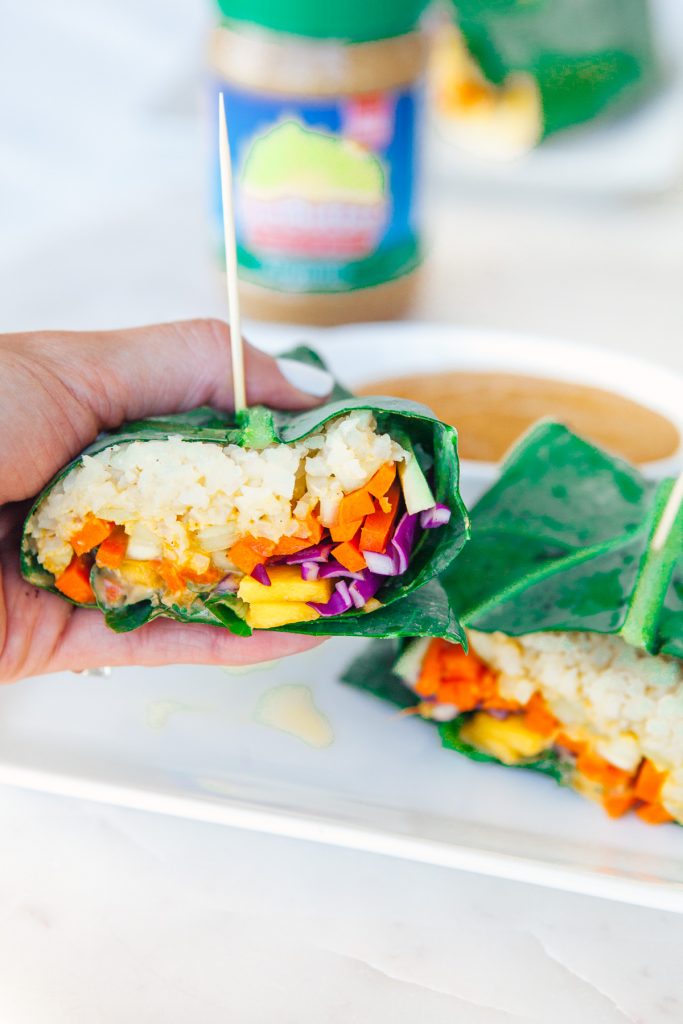 2. Every bite is packed with FLAVOR
That's the beauty of wraps. They are packaged in such a way that all the yummy flavors and textures are perfectly distributed for us to get a bite of everything at once.
These wraps have unique textures and flavors from the combination of all the vegetables in them, but in my opinion, the main dose of goodness comes from its two sauces. Yup, not one but TWO yummy sauces that go extremely well together. These sauces are both homemade and healthy, and made mostly of plant-based ingredients.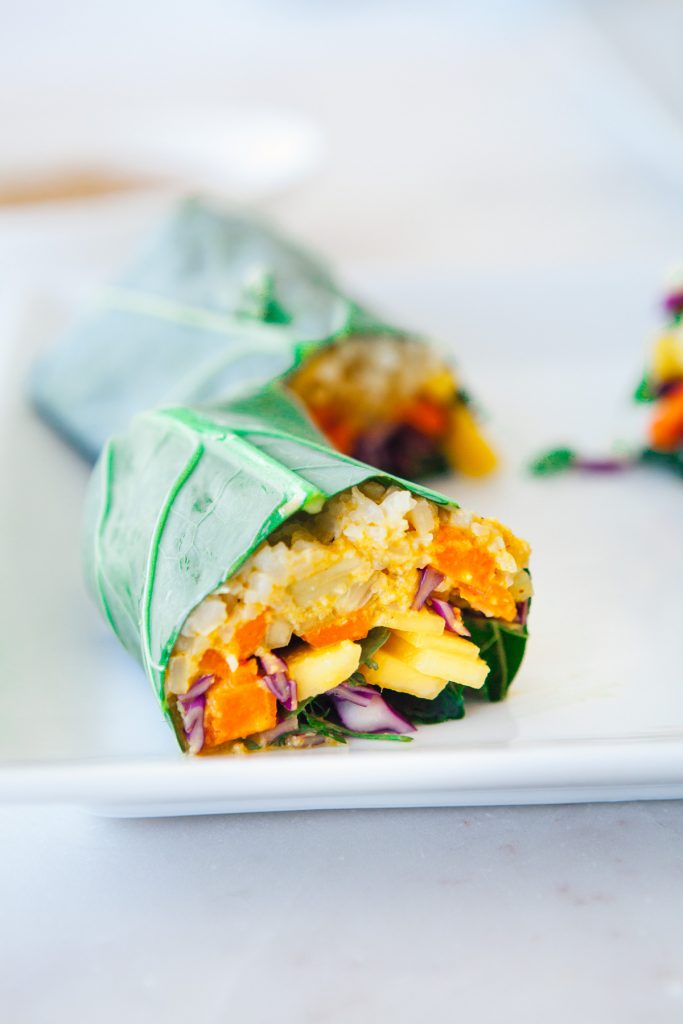 3. You get PROTEIN when you dip (!!)
So you know those two sauces I mentioned above? Well, one of them, the main dipping one, is made out of a delicious and nutritious seed that contains a great amount of protein. And this protein is, of course, plant based. The great thing about plant-based proteins is that they are naturally low in cholesterol and sodium, and also have disease fighting phytonutrients that can help us remain healthy.
What is this seed I am referring to? The mighty SUNFLOWER SEED. It's super good for you…and scrumptious! Sunflower seed butter feels very much like peanut butter, with the difference that it isn't nut based (making it a wonderful option for those with nut allergies).
My all time favorite one to use is the No Sugar Added SunButter, as it is just made out of sunflower seeds and salt. There are no sugars, oils or anything else in it. It's amazing and pure and all things good. 🙌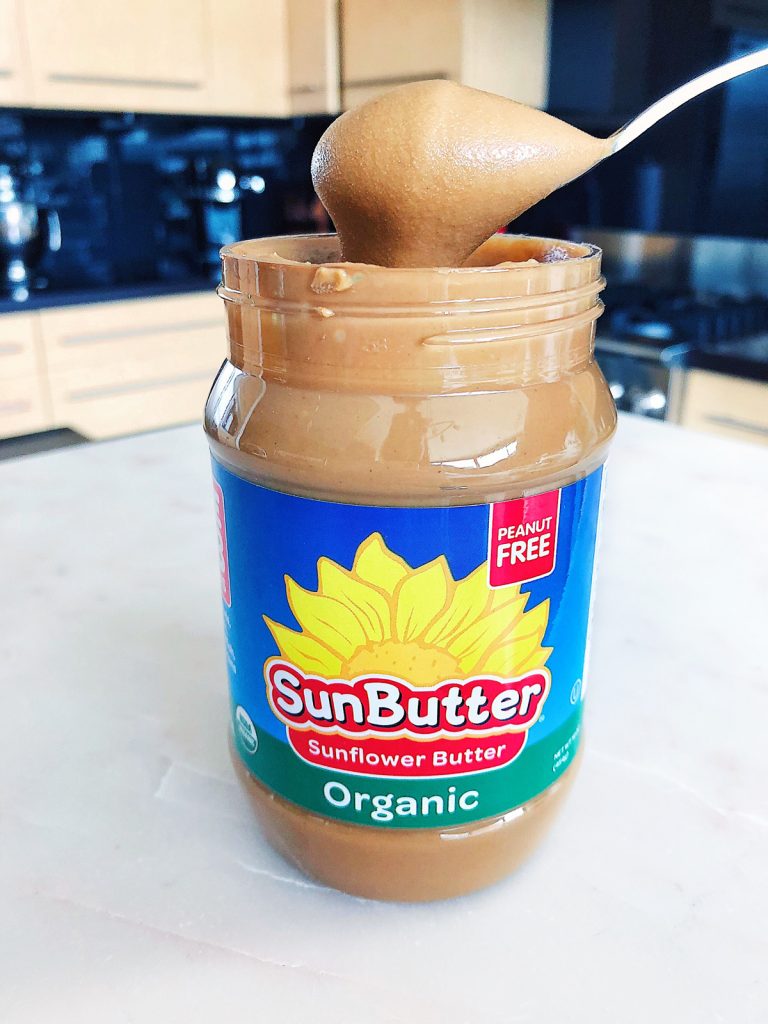 You'll get about 7g of protein per 2 tablespoons of my dip, so dip away!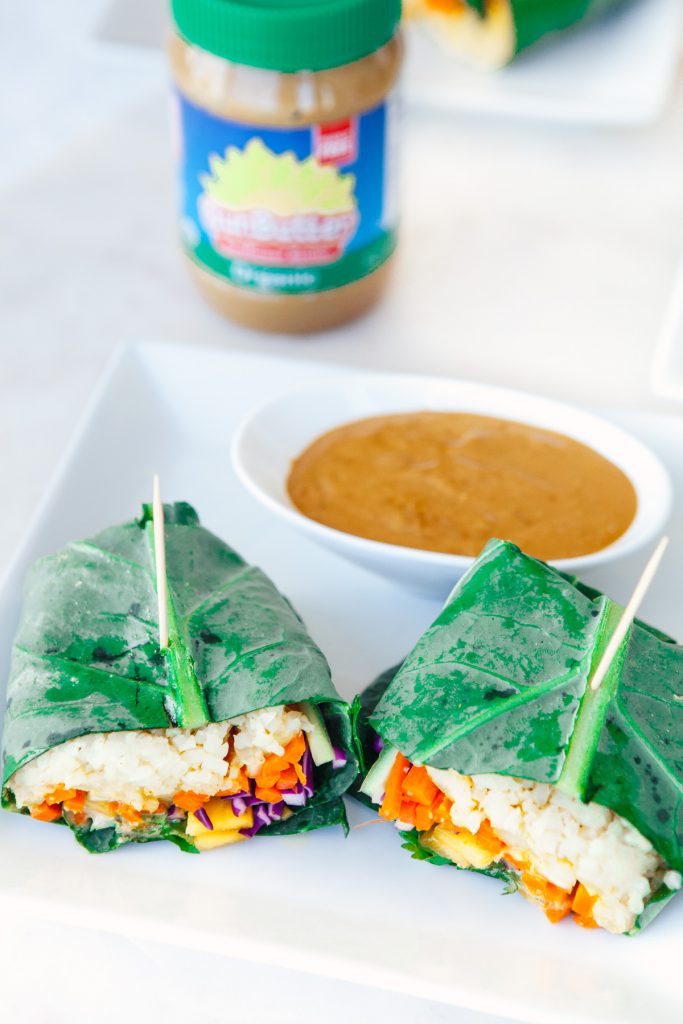 4. Light but SATISFYING
It's got the salad-feel, but the satisfaction of a treat. You'll feel light AND completely satiated after eating your wrap. So satiated, in fact, that you might even skip dessert. However, you might go for a second wrap serving, like my husband and I did. 😳😍
Shouldn't all meals make us feel like that? Light, healthy and satiated?
Yes, yes they should.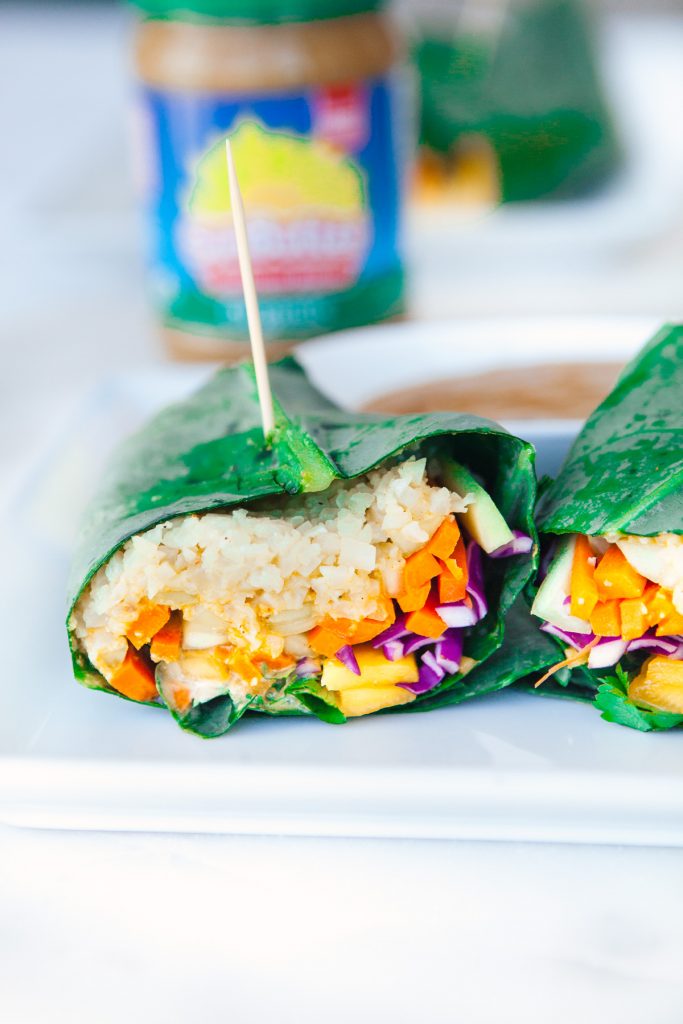 I know that you'll love these if you make them. And I know your family will have fun eating these at the dinner table.
Be sure to watch my video tutorial first to see how I assemble them. It is right here on this post, just below this paragraph. 🤗 You'll realize how truly easy they are to create; it'll take any intimidation away and get you extra excited to re-create these at home.
Bon appetite!
WATCH my Thai Veggie Wraps with Sunflower Seed Butter Dip video:
Thai Veggie Wraps with Sunflower Seed Butter Dip
These Thai Veggie Wraps with Sunflower Seed Butter Dip are paleo, gluten free, dairy free, grain free & vegetarian. A healthy meal for all ages that can be enjoyed both for lunch & dinner!
Ingredients
Thai Veggie Wraps:
5 collard green leaves
4 large carrots, peeled and cut into sticks
1 large cucumber, peeled and cut into sticks
1 small red cabbage, thinly sliced
1 large mango, peeled and cut into sticks
2 cups cooked cauliflower rice
1 cup loosely packed fresh cilantro
1 cup Curry Zucchini Hummus
Sunflower Seed Butter Dip:
¾ cup No Sugar Added SunButter
¼ cup coconut aminos
¼ cup white wine vinegar
¼ cup filtered water
2 tbsp. honey (or maple syrup if vegan)
2 garlic cloves, peeled
Instructions
Thai Veggie Wraps:
Prep all veggies, cook cauliflower rice (with olive oil, salt and pepper) and prepare Curry Zucchini Hummus ahead of time. Set aside.
Carefully trim the spine of the collard leaf, without cutting it off completely, so that the leaf becomes pliable for folding (just like a thin tortilla wrap).
Arrange your fillings on top of collard leaf in this order: cauliflower rice, curry zucchini hummus, veggies, mango and a thin drizzle of the Sunflower Seed Butter Dip (for good measure).
Fold the ends in and roll from back to front. Try to keep everything in nice and tight with your fingers as you roll. Watch video to see how!
Sunflower Seed Butter Dip:
Add all ingredients to a food processor and process until smooth. Easy!
Notes
Tools You'll Need:
- Food processor
- Spatula
- Measuring cups
- Measuring spoons
- Cutting board
- Sharp Knife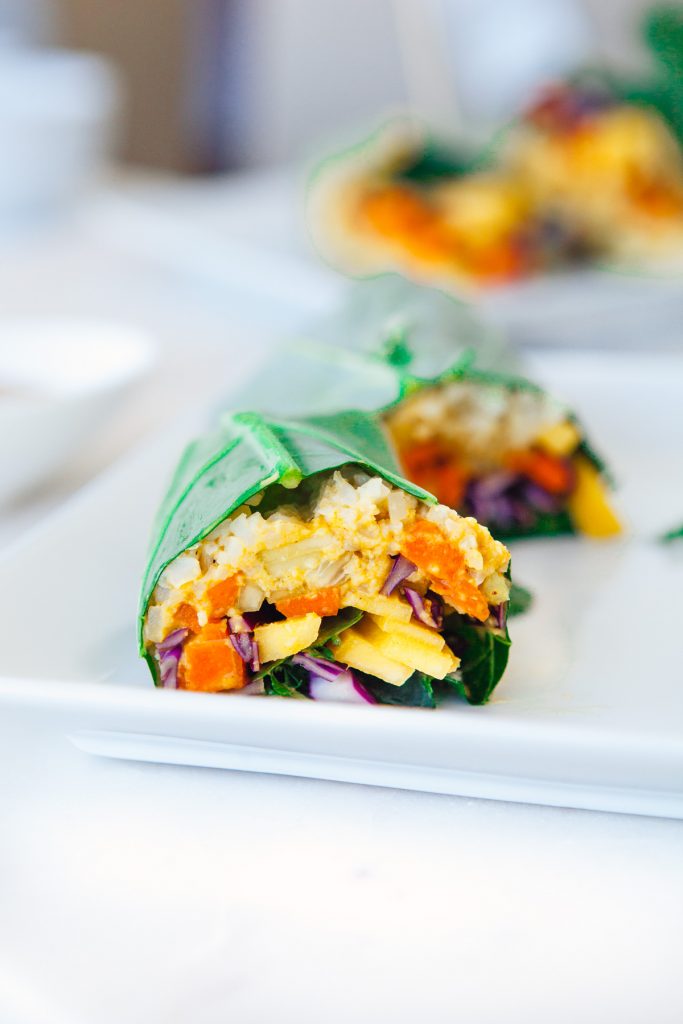 PIN ME!

Thank you SunButter for sponsoring this deliciousness!
SaveSave
SaveSave
SaveSave
SaveSave
SaveSave
SaveSave
SaveSave
SaveSave
SaveSave
SaveSave
SaveSave
SaveSave
SaveSave
SaveSave
SaveSave
SaveSave