Here's the deal: every aspect of this Vegetarian Quiche can be made Paleo, except for the cheese part. 🤷🏻‍♀️ So if you're not a cheese eater, this quiche is not for you. However, of you happen to like cheese and enjoy having it here and there, this quiche is right up your alley!
The crust can be made Paleo by mixing a few Paleo staples together and baking them, or you can simply buy those frozen pie crusts at the store for convenience sake. The crust part is entirely up to you. Both ways will turn out amazing and completely satisfying. So pick your own adventure there. And while you're at it, go ahead and pick your own vegetables, too.
You can follow my quiche recipe to the "T" for a guaranteed delish meal, but you can surely substitute ingredients based on what you have on hand or what you prefer. There is no wrong way to go here!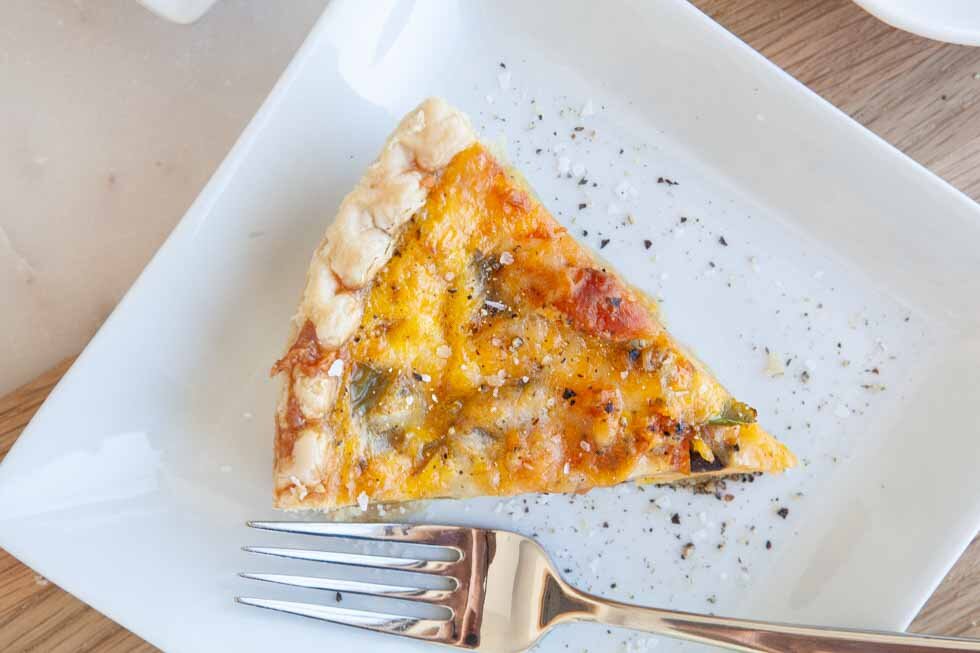 One of the things that helped this quiche turn out so amazing was the quality of the eggs I used. For the last few years, I have been buying amazing quality eggs. My favorite brand to get is Vital Farms Eggs. Even though they are more expensive than the value eggs grocery stores carry, I find that Vital Farms Eggs' yolks are way more vibrant and richer, and their nutrition and taste is superior.
Now, if you happen to have chickens in your backyard, or know a neighbor who has chickens, those eggs would be just as good and less pricey than Vital Farms. But I firmly believe that quality eggs make a huge difference. If you can, my suggestion to you is to get good eggs for your quiche. It will make your quiche-eating experience superior.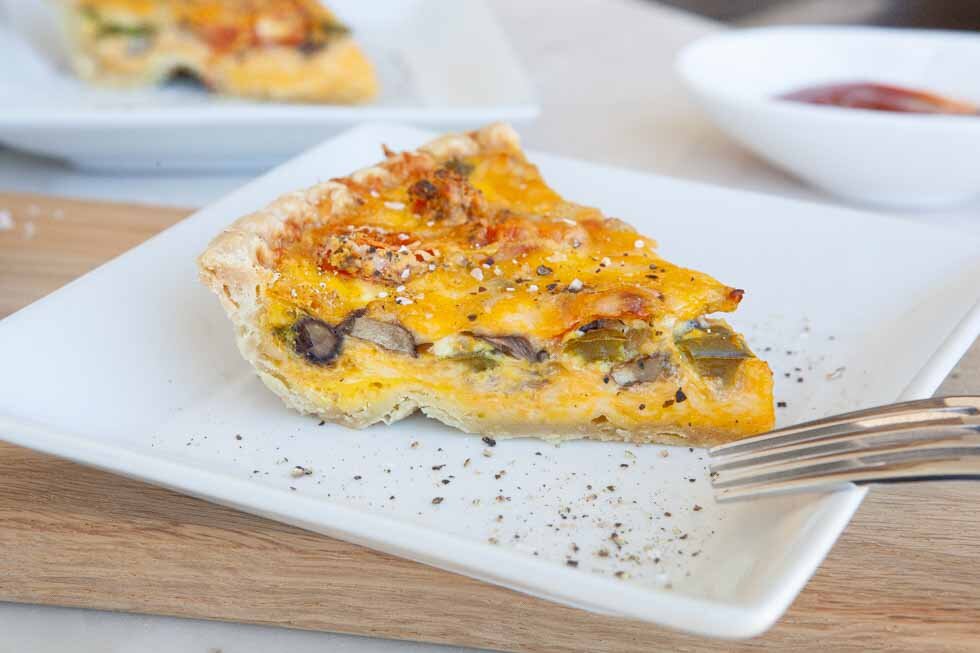 Just look how rich and bright the yellow is on my quiche. So dreamy. So full of nutrition. Just beautiful. And the variety of veggies also helps with the aesthetic here. I added some green (with the bell peppers), some red (with the cheery tomatoes), some browns (with the mushrooms) and some purple (with the shallots). And all those veggies go so well together in taste when combined, too.
You can play around with your veggie choices. For example, you could select a different kind of onion and bell pepper, opt to go for zucchini vs mushrooms, add different colors of cherry tomatoes, throw in some broccoli or spinach…possibilities are endless.
It's a versatile recipe that can be adapted with whatever you have on hand. Get creative!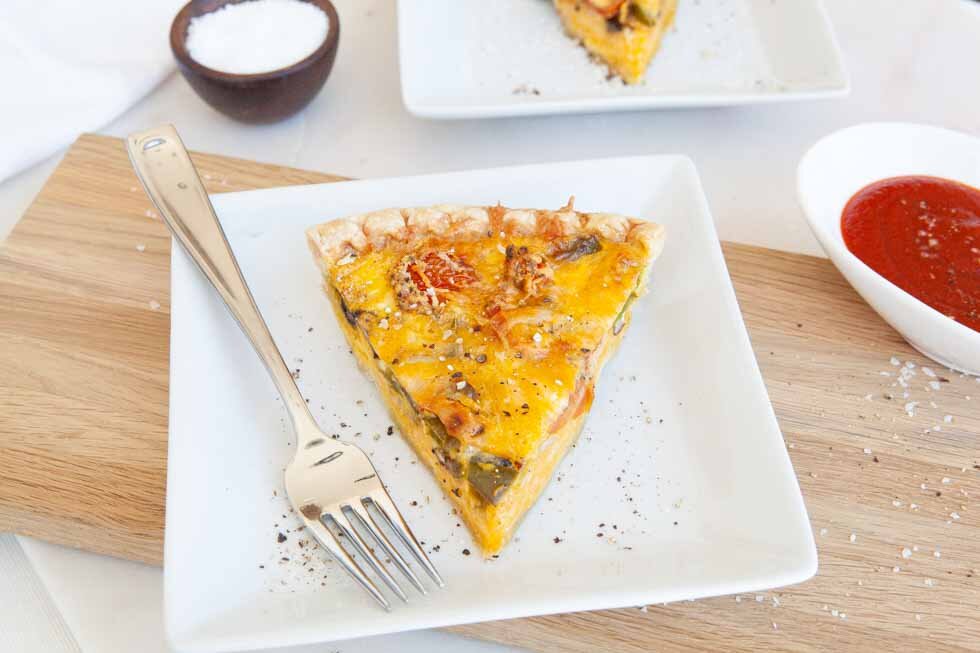 The Steps for A Good Quiche
Determine a good crust and bake it. Go with a trusty frozen pie crust brand (I highly recommend this one) or make your own Paleo version (see recipe section below).
Cook veggies – any veggies that release a lot of water should be avoided, in my opinion; instead, go for sturdy veggies that pack a flavorful punch. I love using mushrooms, onions, garlic, bell peppers and tomatoes. But other wonderful choices are zucchini and broccoli. Cook veggies ahead of time with olive oil, until tender.
Whisk eggs with dairy-free milk (to make it nice and silky) and salt & pepper (for flavor). I find that quiche gets a wonderful custard-like texture when eggs are mixed with milk, so don't skip this step!
Select cheese – to make it luscious and rich. No skipping on this here. Go with your preferred type of cheese, but I highly recommend ones that melt well such as Cheddar or Monterey cheese, or some flavorful ones such as Gruyère or Swiss.
Assemble quiche one layer at a time. Start by layering cheese on the cooked crust, then adding on the cooked veggies, then adding on the eggs, and then sprinkling more cheese on top.
Bake until cooked through and fluffy/golden brown. About 40-45 minutes at 350 F. Be sure to check after the 40 minute mark.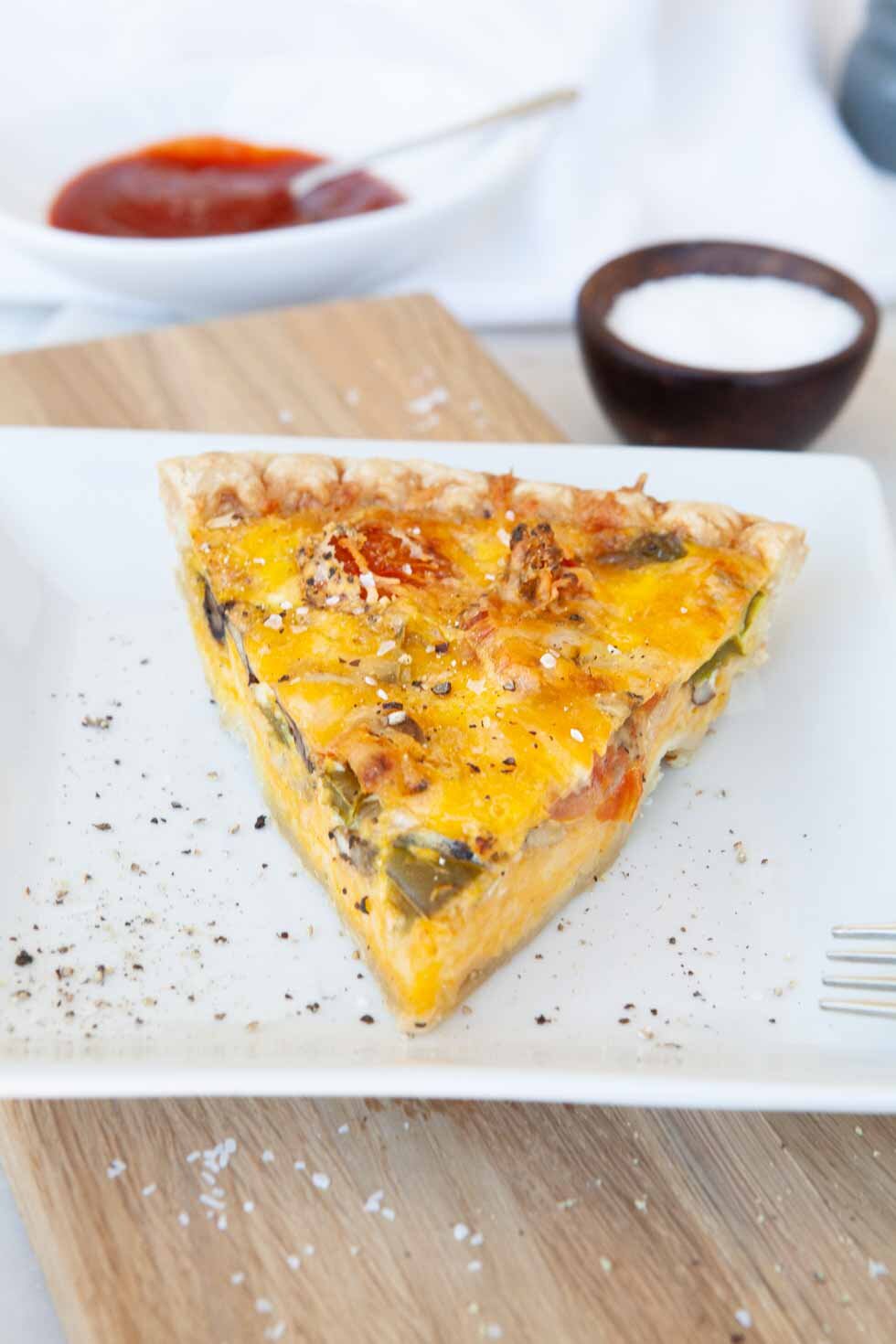 My Vegetarian Quiche recipe yields two quiches, but you can cut the ingredients in half and bake only one. No biggie.
When I made this for Easter, I kept one quiche for us and gave the other one away to one of our sweet neighbors. Sharing is caring, especially during these hard times. Coronavirus is currently hitting families hard, whether it be having their business shut down, not being able to perform their jobs, or not being able to get essentials delivered to their home.
So if you happen to have the required quiche ingredients on hand, and will be going through the process of making this meal for yourself (and you're feeling extra generous), then why not gift one of these quiches to someone who could highly benefit from it?
You'll be blessing a family, and also your heart. ❤️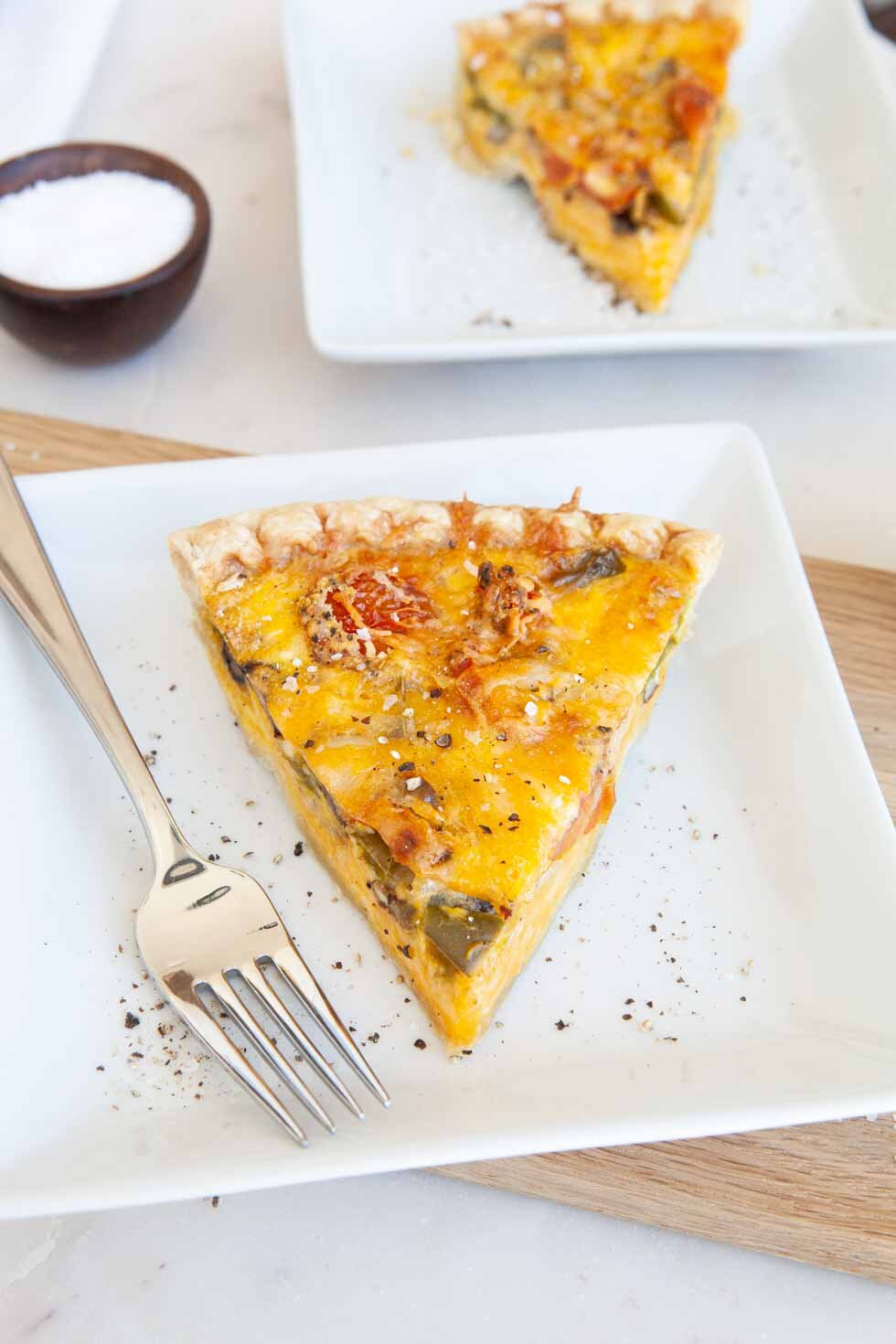 If you yourself are being hit hard by Coronavirus and/or have a big family to feed, then you can make the two quiches and keep both. Just refrigerate or freeze whatever you don't eat for later consumption.
These will freeze fell; you'll want to cut them into slices, wrap each slice individually with saran wrap, and then place them in a large Ziploc bag for ensured freshness.
Then, when you're ready to enjoy a slice (or two), you can take one out and unthaw it completely. While it unthaws, you can preheat the oven to 350 F, so it's ready for you when the quiche is done unthawing. You then place the quiche (without the saran wrap) on a baking sheet and bake it for about 20 mins. This should do the job just beautifully!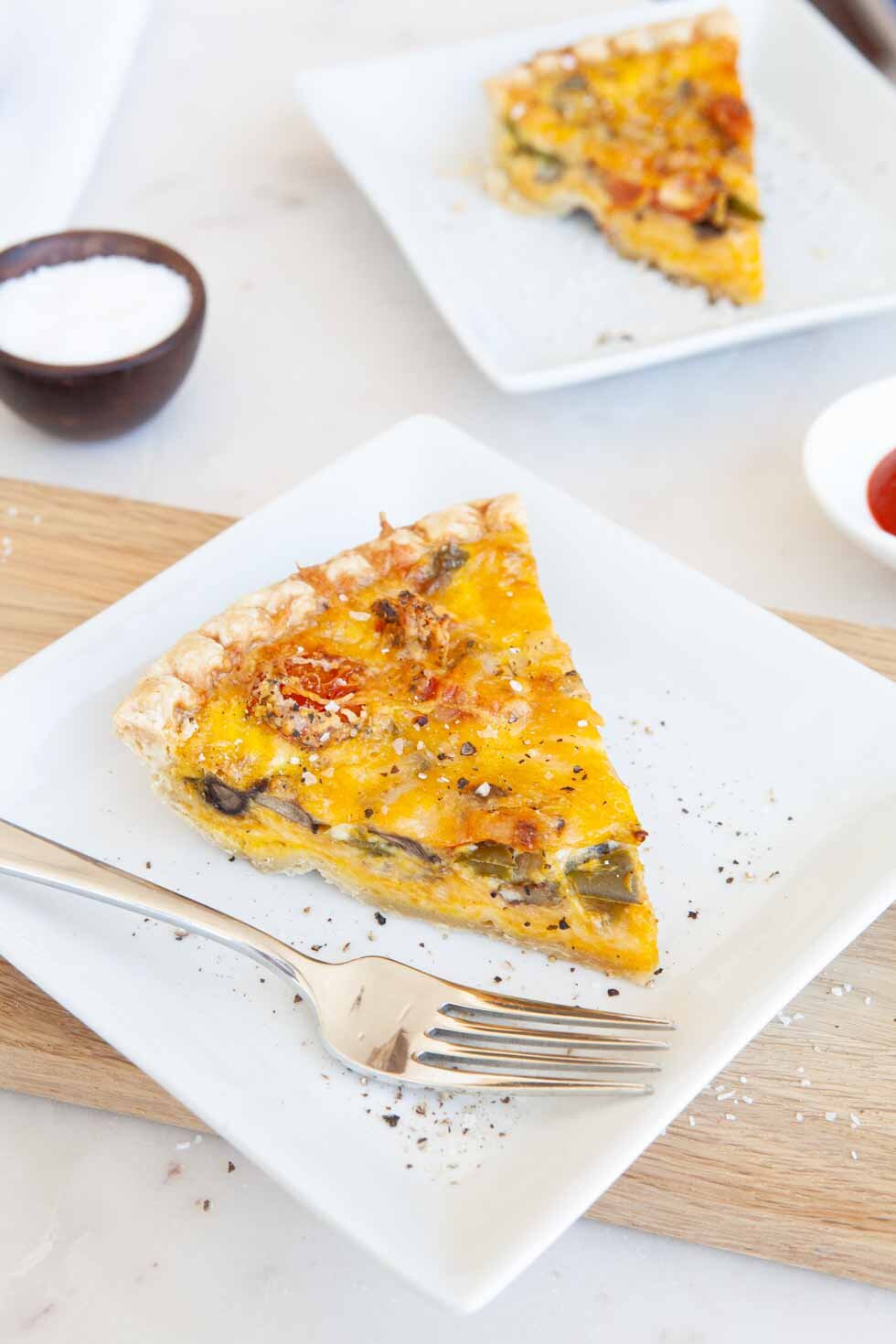 I hope you LOVE this quiche! It's:
Easy
Filling
Fresh
Adaptable
& So delicious!
This would make a delicious weekend brunch paired with simple greens salad or followed by a nice, cold fruit smoothie! Would also make for a wonderful make-ahead meal for the work week ahead. Quick and easy to grab from the fridge and reheat.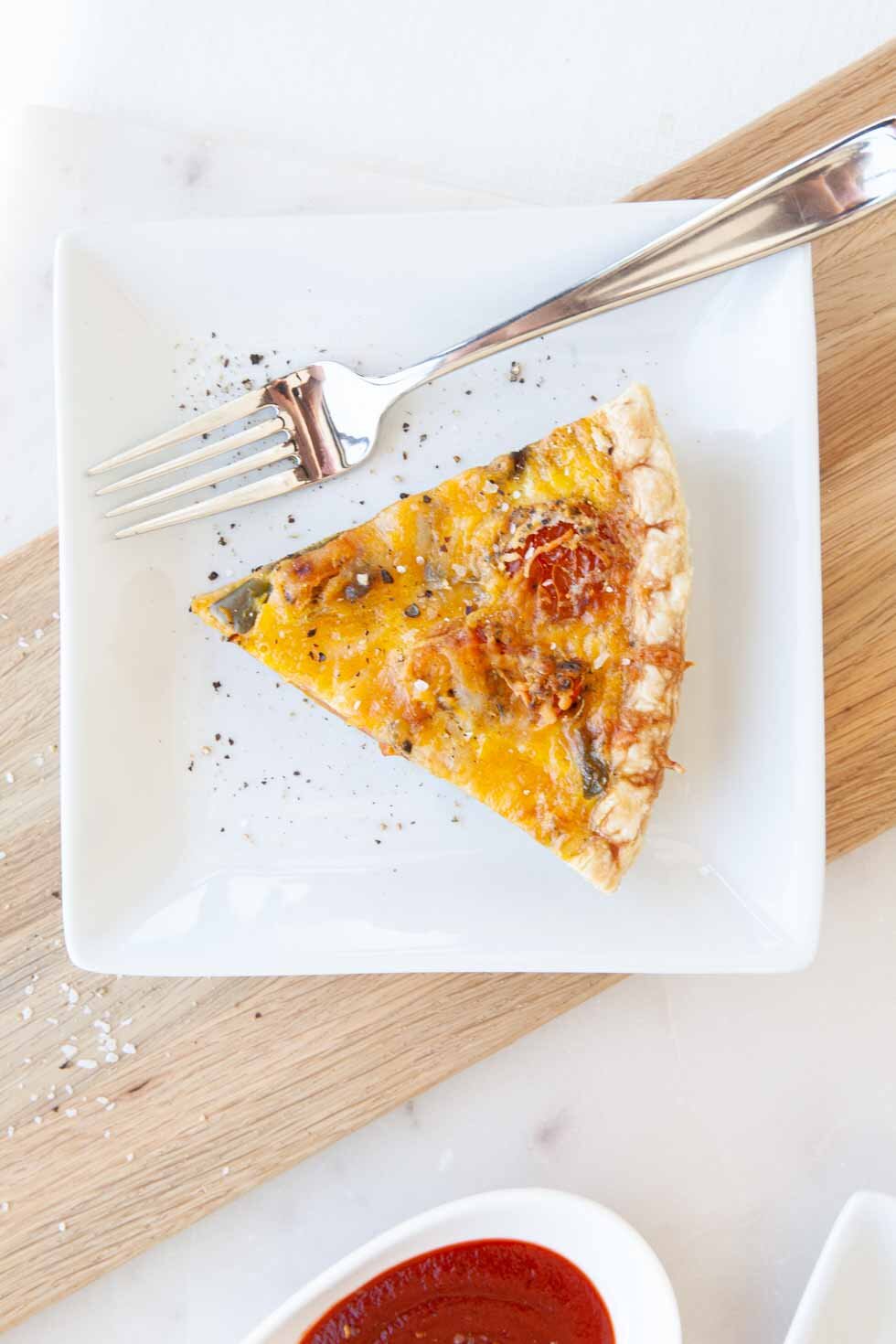 More Brunch Recipes
If you try this recipe, let me know! Leave a comment, rate it, and don't forget to tag a photo #amazingpaleo on Instagram. Take care!

Vegetarian Quiche
This Vegetarian Quiche is very easy to make and will take you less than an hour to prepare. Make it ahead of time or on the day of your event. A crowd pleaser for sure!
Ingredients
For the crust:
For the filling:
8 eggs
3 cups shredded Mild Cheddar and Monterey Jack cheese
1 cup unsweetened almond milk
1 cup diced mushrooms
1 cup chopped green bell peppers
1 cup diced yellow onion
1 cup sliced cherry tomatoes
4 garlic cloves (peeled and whole, not minced)
2 tbsp olive oil
3 tbsp regular flour (for Paleo use: cassava or arrowroot)
1 tbsp dried basil
1 tsp coarse kosher salt
½ tsp freshly cracked black pepper
Instructions
For the crust:
If using store bought: Preheat oven to 400 F. Unthaw crusts, and poke bottom and sides with a fork. Bake pie crusts until firm, about 14 mins. Remove crusts from oven and set aside. Reduce oven temp to 350 F.
If making homemade crust, follow these instructions.
For the filling:
Cook veggies: place skillet over medium heat and add olive oil. Add in onions, bell peppers, mushrooms, and whole garlics and cook until soft, about 5 mins. Transfer to a bowl and set aside. In a small bowl, mix tomatoes with flour and basil; heat up skillet and cook for about 2 mins.
Whisk eggs: in a bowl, whisk eggs, milk, salt, and pepper. Set aside.
Assemble quiche: to each baked crust add 1 cup shredded cheese as the bottom layer. Divide cooked vegetables and add those as the second layer. Divide the tomatoes and add those as the third layer. Divide egg mixture and pour it on top as the fourth layer. Sprinkle ½ cup shredded cheese on top of each quiche as the fifth layer. Bake for 40 - 45 mins. Let cool a bit, slice and serve with a bit of hot sauce.
PIN ME!