Protein Banana Pancakes!
… with extra bananas, blackberries, chocolate chips and a good drizzle of honey on top! Because shouldn't every pancake creation come with lots of topping goodness? Answer: YES.
I don't want to be bossy, but this is what you'd be missing if you didn't add all that goodness. ??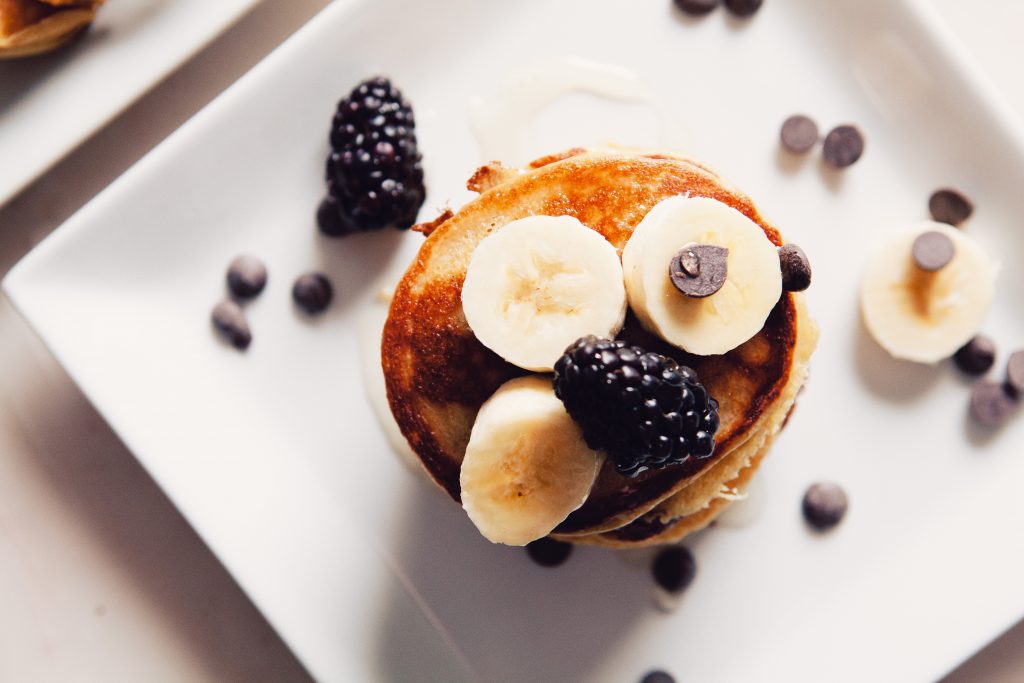 These are called Protein Banana Pancakes, but friends. I did not make these with some heavy kind of whey protein powder that has an awkward aftertaste to it and feels sort of overpowering. Nope. These are prepared with only two scoops of collagen powder, which is tasteless and odorless and dissolves in the batter like magic. You will not even notice a trace of it.
So actually, you could prepare these without the collagen peptides, but I totes recommend you keep it in there, because a.) PROTEIN and b.) better skin. I have a full article where I talk about what collagen can do for you, so be sure to check it out.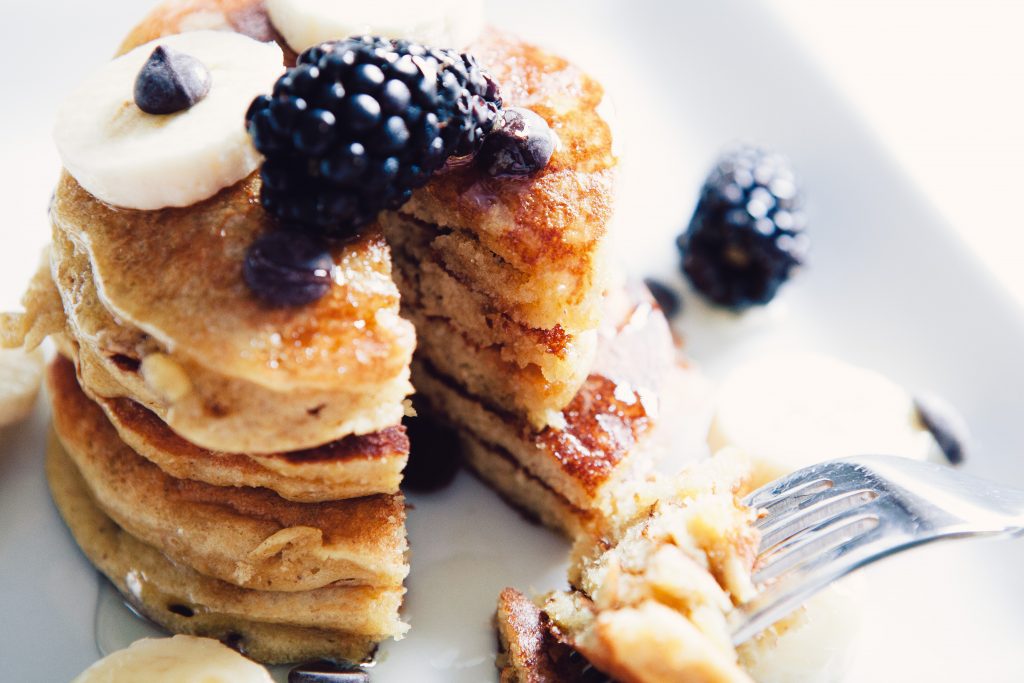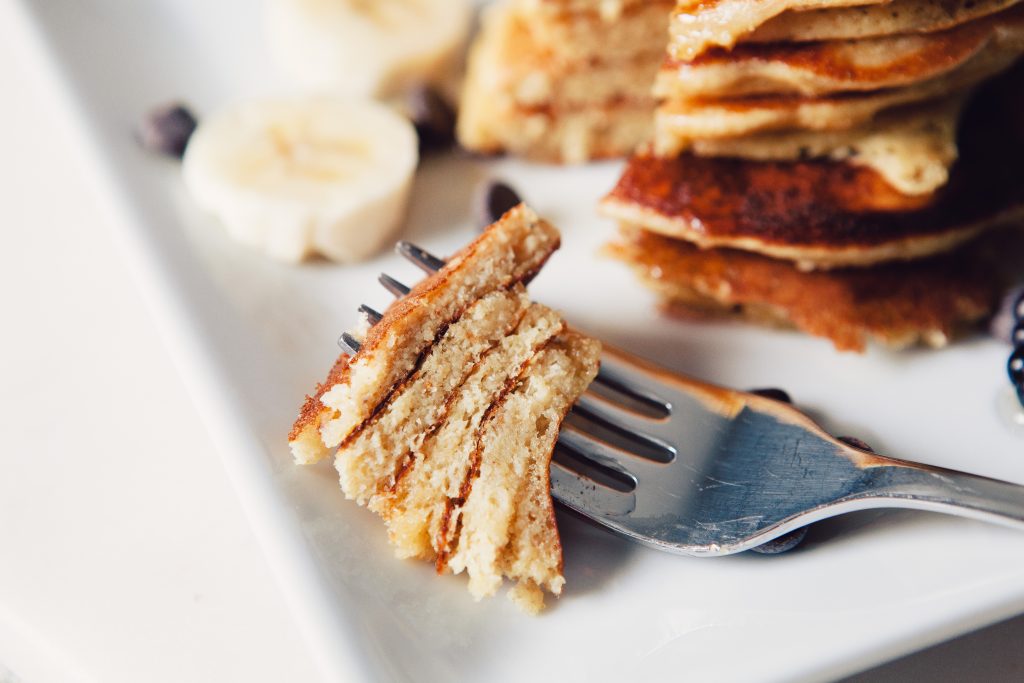 There are a bunch of things I like about these pancakes, but at the top of the list is that they are gluten-free and dairy-free. Especially because they do not feel nor taste like they are. These can fool anyone. You feel like you're eating the REAL DEAL.
Don't get me wrong – I love me a good Paleo pancake made with nut flour or coconut flour, the consistency is different and fun, but sometimes, you kind of just want a fluffy and doughy. And this is where this recipe comes in, because it gives you all that WITHOUT the discomfort and bloat. Heck to the yeah!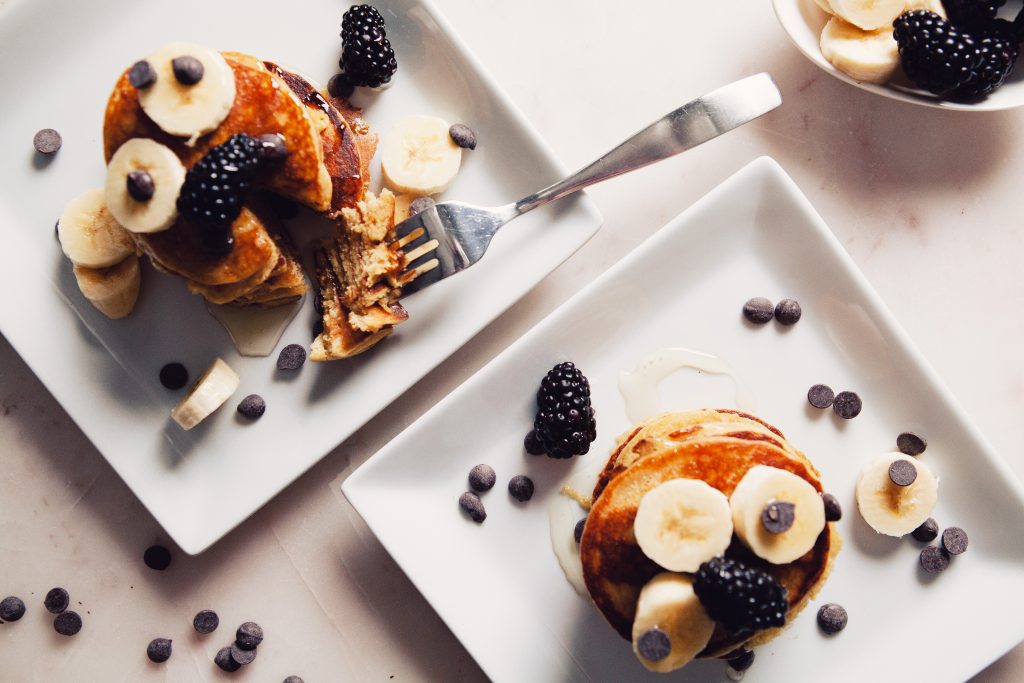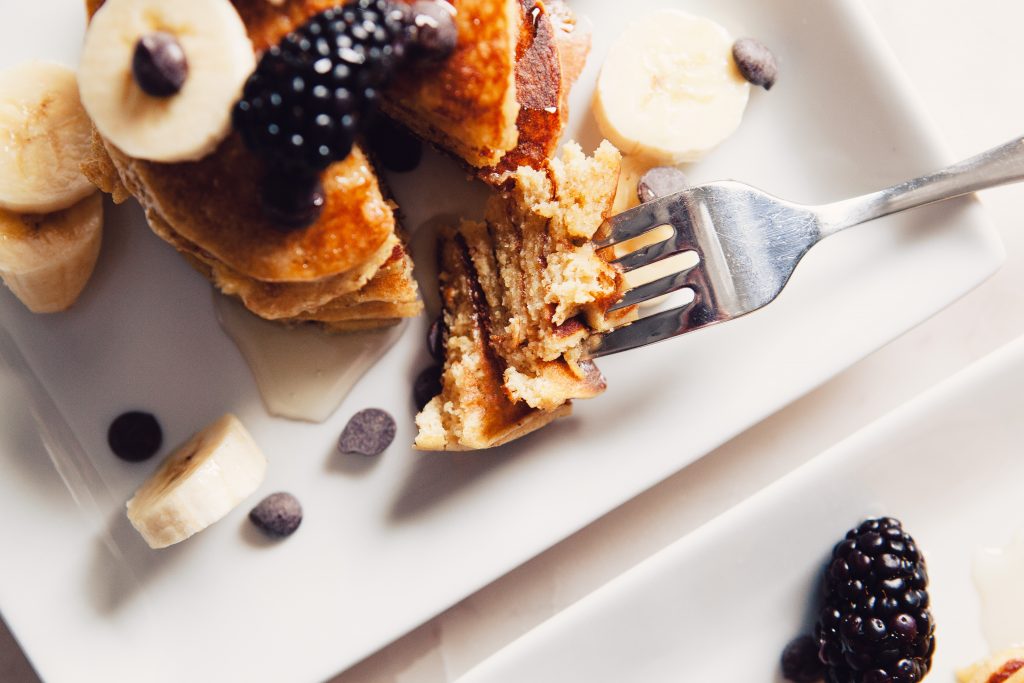 The key here is gluten-free oats. Now, I know gluten-free oats are not Paleo, BUT for those of you that can tolerate gluten-free oats (or eat gluten-free oats), this recipe is right up your alley!
I like to add the entire ingredient list to my high-speed blender and blend on high until smooth, because girlfriend, life needs easy. We already have too much going on as is, SO easy pancake mix is my jam every time.
Then, heat up your favorite skillet (I use this cast iron, as it heats up evenly and works amazingly), add a little coconut oil, pour about 1/4 cup batter (max) per pancake and watch those pancake babies be born!
The key is to add only 1/4 cup batter per pancake, as this makes them easy to flip and remain manageable. Trust me, I tried making some with a bit more batter and it was not happening for me. So be sure to stick with my 1/4 cup batter per pancake recommendation, and you'll be golden! Just like these cuties. Golden all around.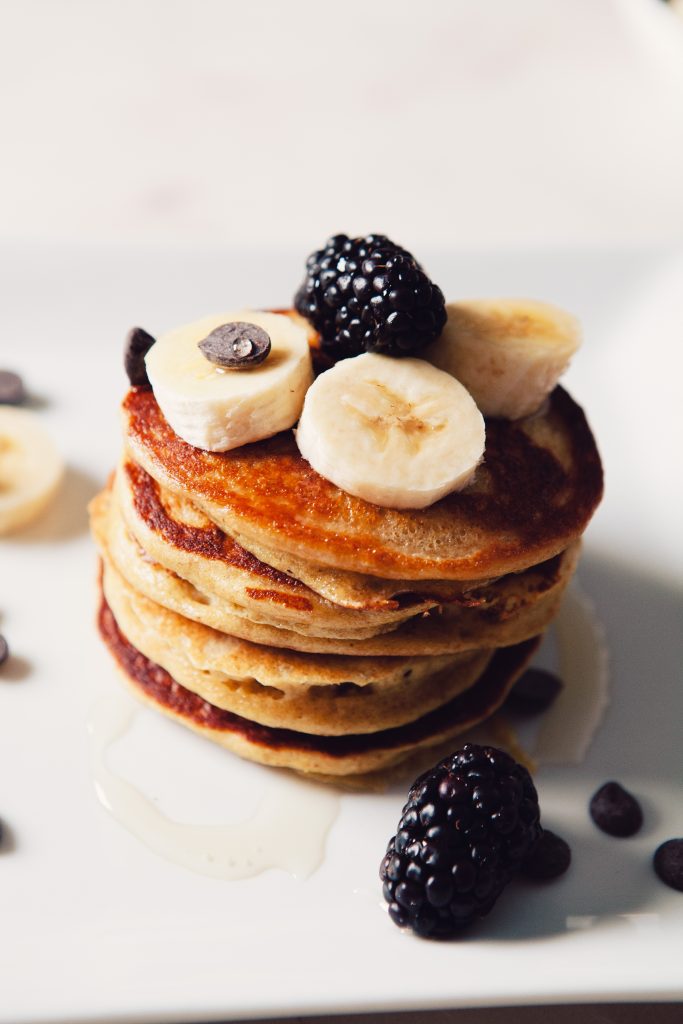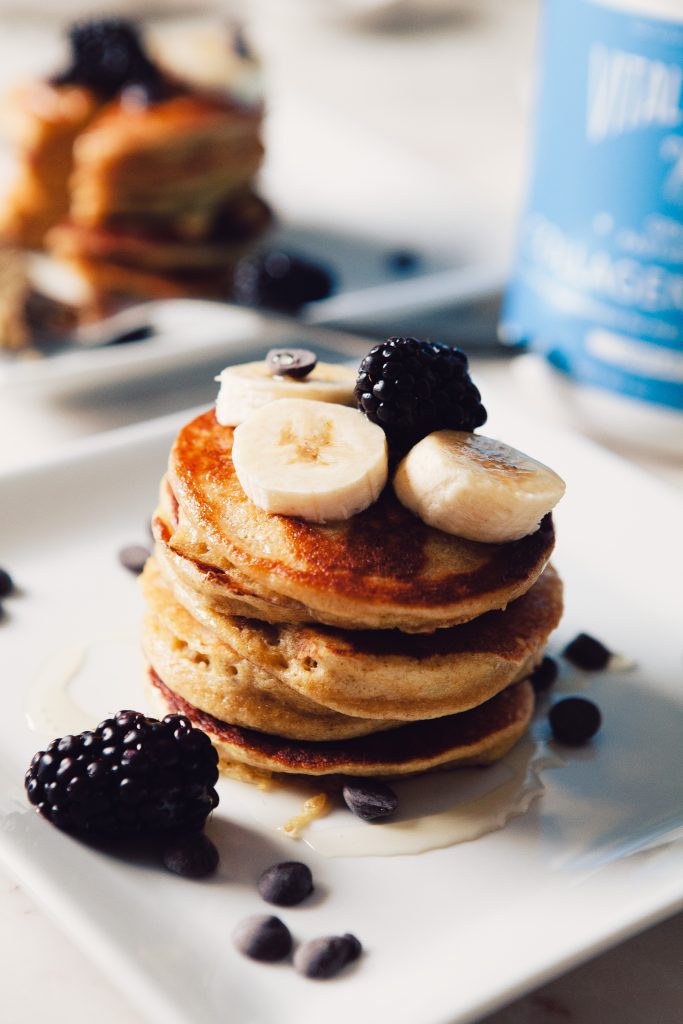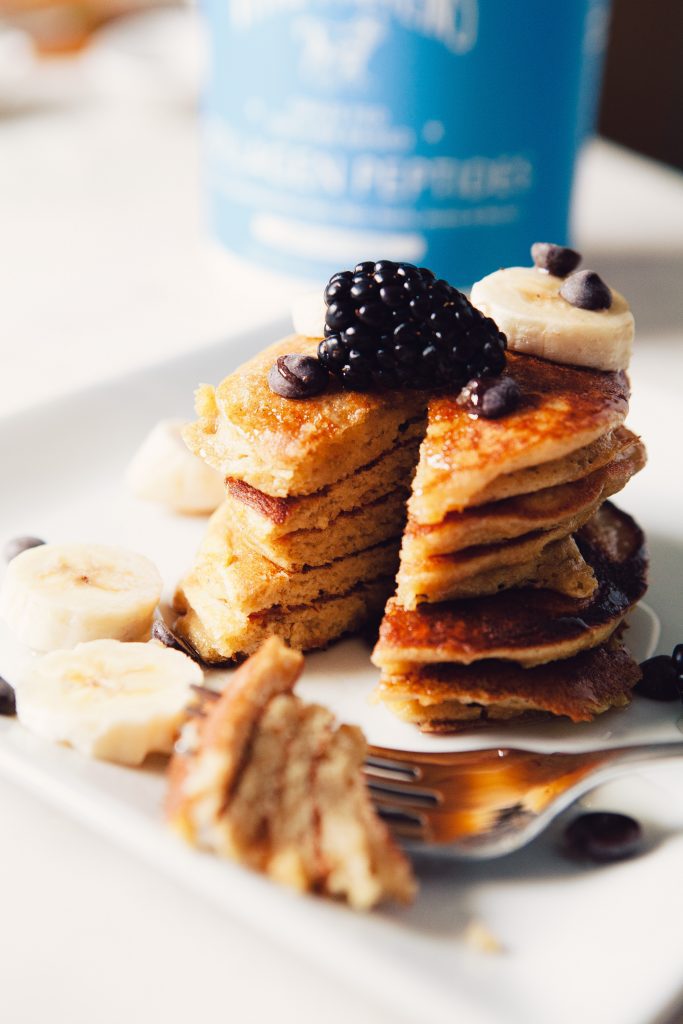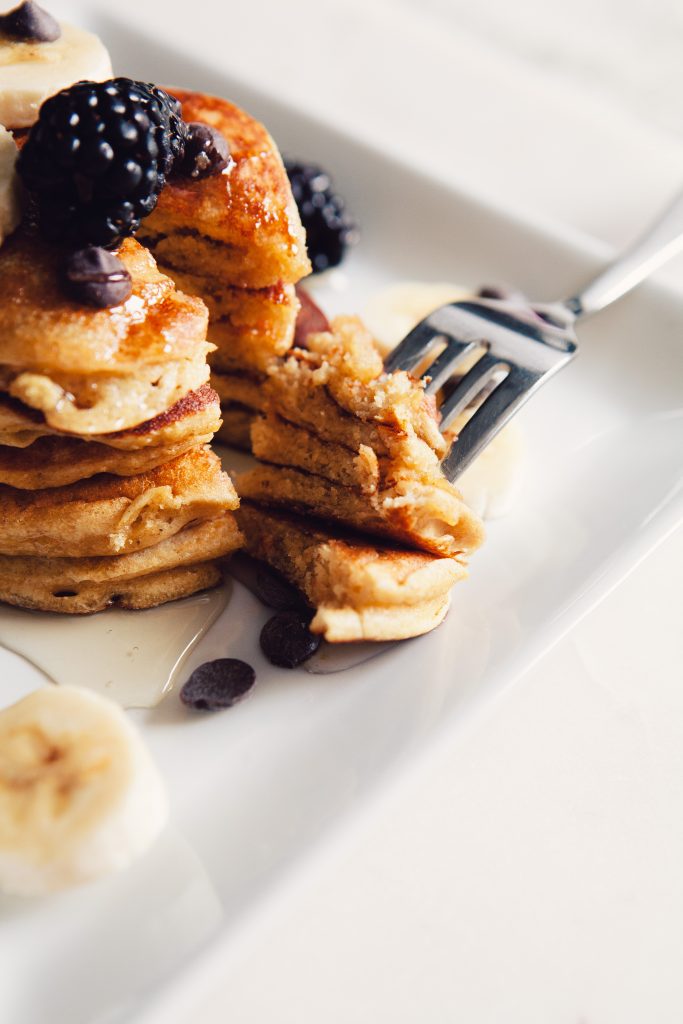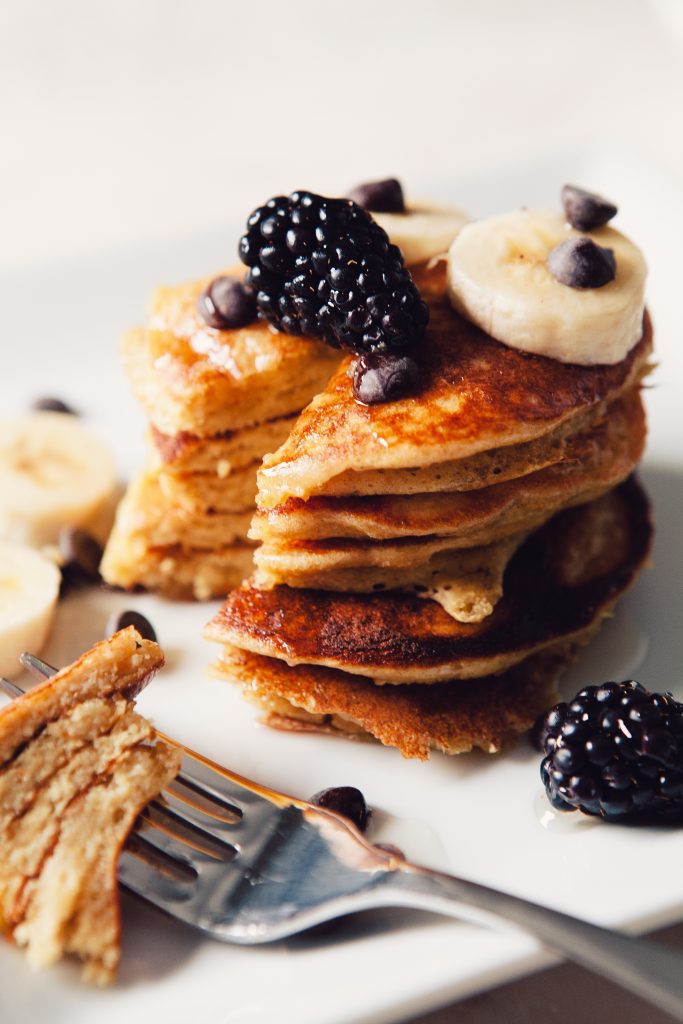 I know you and your family will just love these. And it's so awesome to know that they come with a little boost of protein, too, as everyone can benefit from a little more protein in their diet. Especially early in the morning. Especially when you can't even taste it! Ahh, so awesome.
These Protein Banana Pancakes are:
Gluten-free
Dairy-free
Fluffy
Healthy
Packed with protein
Easy to make
Super flavorful
And amazingly DELICIOUS
If you're into breakfast goods, also be sure to check out our
If you try this recipe, let us know! Leave a comment, rate it, and don't forget to tag a photo #amazingpaleo on Instagram. Happy weekend, cuties!
---
WATCH my Protein Banana Pancakes video:
Protein Banana Pancakes
These delicious Protein Banana Pancakes are gluten-free and dairy-free. Only 8 ingredients and 10 minutes to make (breakfast just got a whole lot easier)!
Serves:
12-14 small 3" pancakes
Instructions
Add everything to a high-speed blender and blend on high until smooth.
Heat a cast-iron skillet to medium high heat. Add coconut oil and add in batter in small circles (using about ¼ cup). Once edges start to bubble and look dry, flip and cook for another minute on the other side.
Add your favorite toppings and indulge!
Notes
Tools You'll Need:
- High speed blender
- Skillet
- Spatula
- Measuring cups
- Measuring spoons
PIN ME!