I have a mega treat for you today! I am SO STOKED to share this one with you, as it was my favorite dessert growing up in Ecuador. My mom would make a few of these for special occasions or for birthday parties, and I, being the food-lover that I am, would polish off whatever cake leftovers there were after the party was over. Mom would help with that too. If you were a fly on the wall, you would see us both in the kitchen table with spoons in hand just going at the Tres Leches Dessert tray together, looking like little kids who were doing something naughty. The same visual goes for when we had Nutella jars in the house; we would eat  that jar clean, one spoonful at a time. Ahhh, good times.
I reached out to my mom a few days ago, asking her to give me her Tres Leches Dessert recipe. She is so sweet, she gave it to me in a jiffy, all from memory. She is a master of her craft. Her recipe is of course not Paleo, but guess what? I worked some magic and converted it into an all Paleo approved recipe, so that we can all enjoy her fab dessert together!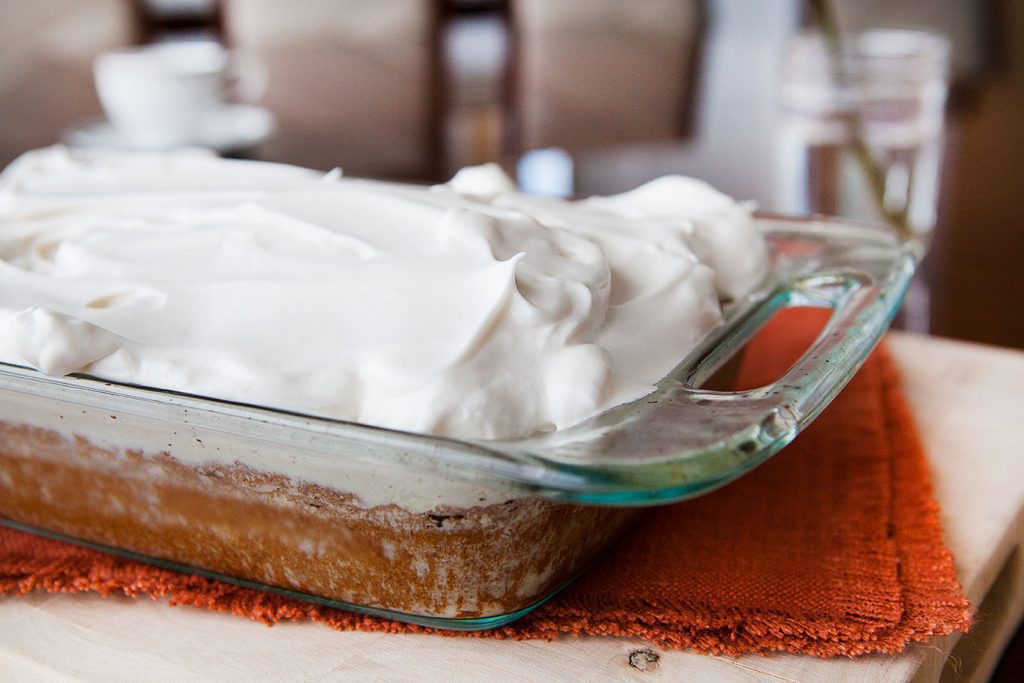 I made my mom's Tres Leches Dessert recently for Preston and I, the Paleo way. And oh-boy, it was gooooo-oooood. We each were going to share one piece, but after Preston had his first bite, he looked at me and said he was going to get his own. We each finished a generous slice in about one minute. One glorious minute.
It tasted JUST like mom's. So many wonderful memories of us growing up came to light as my taste senses were firing up. It's crazy how senses can do that, isn't it? They can spark memories so vividly when given the right sensory cue. I may have to make more desserts from home just so I can vividly re-live some of my great Ecuadorian memories; I miss home!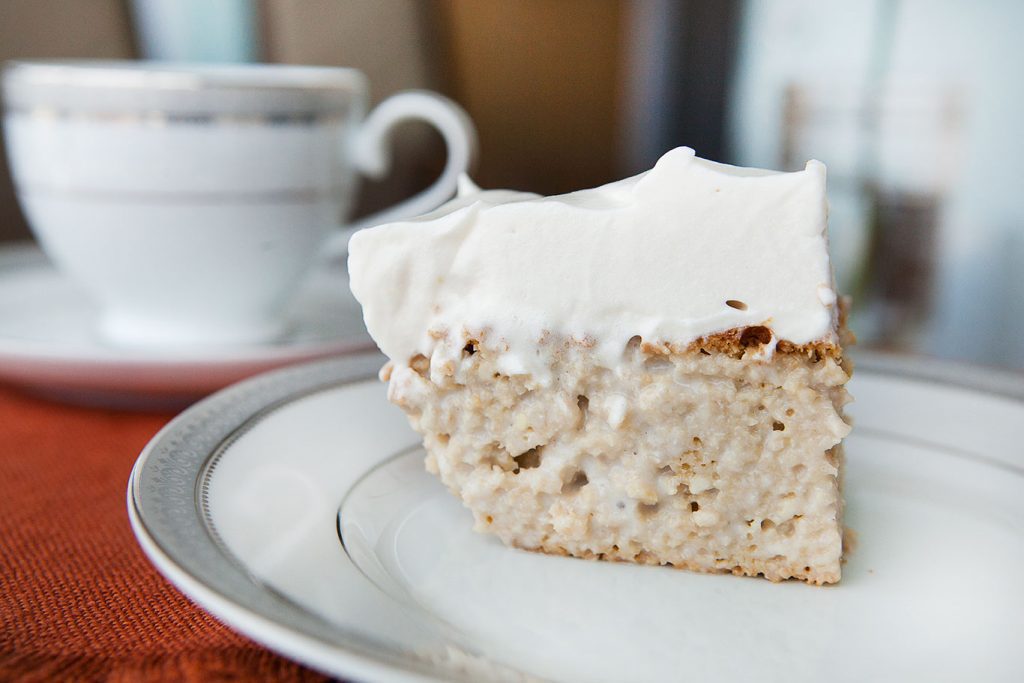 Since we all love desserts so much, I shall be in constant communication with my mama to bring more of her yummy creations your way. I think you'll really enjoy her treats. Not to mention, you'll be sort of studying a different culture's traditional foods when eating these treats. They are all Latin American, all with their own Ecuadorian twist.
How fun! I love to share that piece of me with you guys.
XO

Tres Leches Dessert
This Tres Leches Dessert is 100% Paleo, gluten-free, grain-free and dairy-free! A wonderful Latin American staple that your family and friends will love!
Serves:
8 Tres Leches Dessert Cake Pieces
Instructions
Preheat oven to 325 F. Grease 7" x 11" baking dish with ghee and set aside.
In a bowl, mix cashew meal, arrowroot flour and sea salt. Set aside.
Place ghee in a heat proof dish and microwave for about 20 seconds, or until melted. Set aside.
Separate the eggs, placing the egg whites in a standing mixer's bowl and the yolks in the bowl with the ghee. To the bowl with the yolks and ghee, add in honey, vanilla extract and lemon juice; whisk until incorporated. Pour this mixture into the bowl with the flours; whisk until batter is smooth.
Using the whisk attachment of your standing mixer, beat the egg whites until soft peaks are formed. Add baking soda into the cake batter, and immediately beat in a third of the egg whites to lighten the batter. Fold in the remainder of the egg whites.
Pour batter into pre-greased baking pan, and bake for 40 minutes. Let cool completely.
Once cake has cooled completely, use a fork to puncture holes everywhere in the cake. You want holes everywhere, so that the milk mixture can soak in and wet the cake.
To a blender, add Paleo Condensed Milk, Paleo Evaporated Milk and unsweetened carton coconut milk, and blend on high until well combined. Pour a third of the milk mixture directly on top of the cake and let the cake absorb it completely; once absorbed, pour half of the remainder milk mixture and let it absorb; pour all the remainder milk mixture (it almost seems like it won't fit, but it does, it will all get absorbed eventually) and refrigerate cake overnight.
To finish off the cake, use a spatula to decorate the cake with the Meringue. Refrigerate until ready to serve and slice into 8 servings.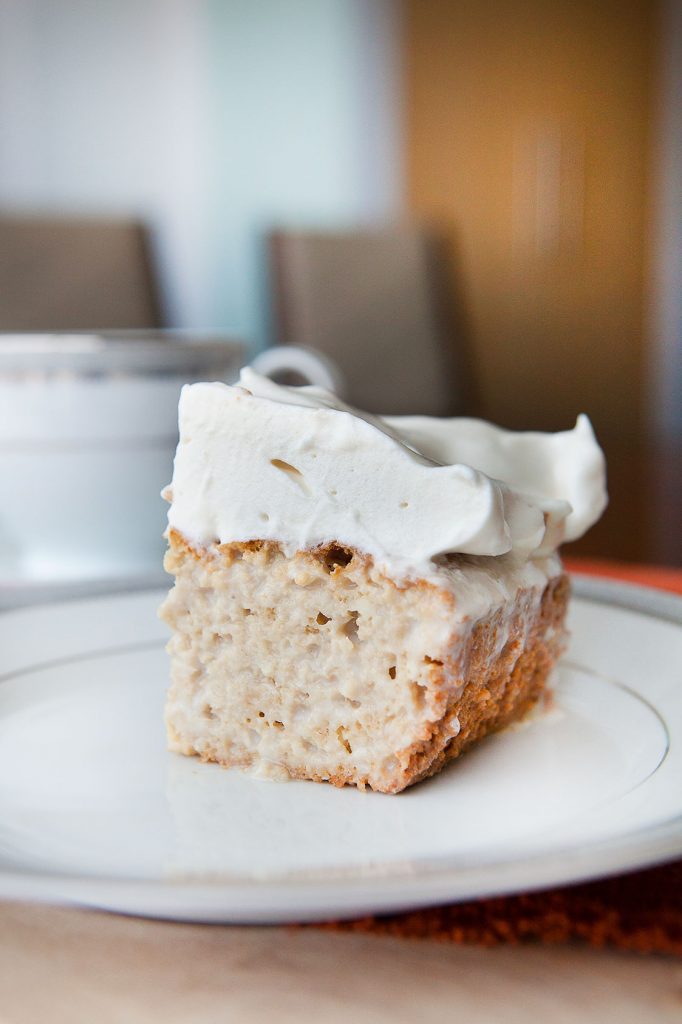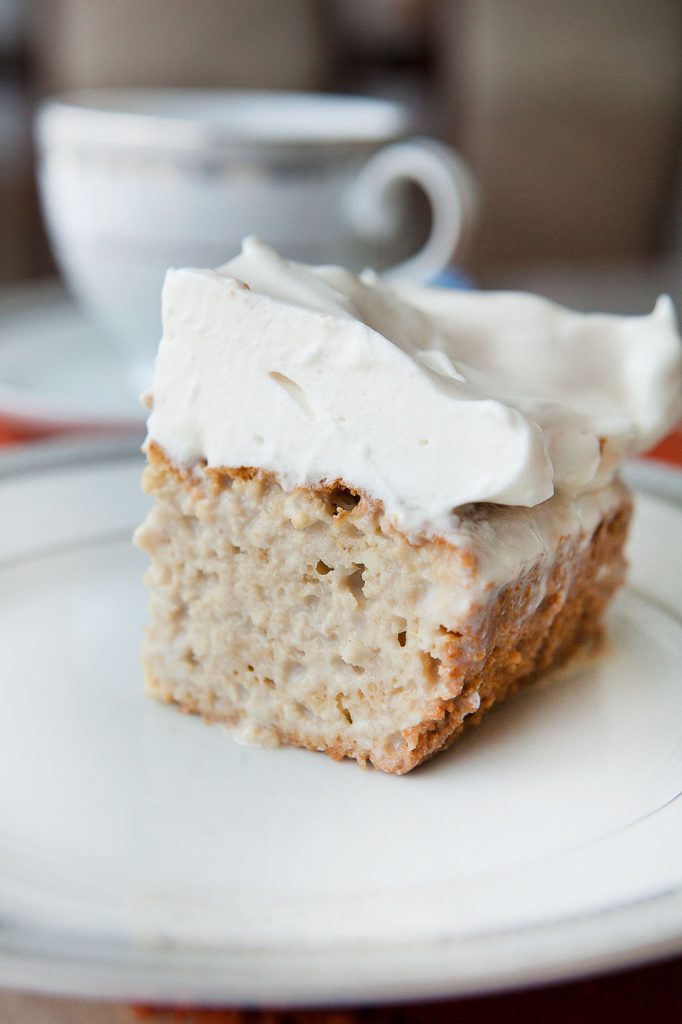 PIN ME!