A spoonful of my Paleo Sweetened Condensed Milk may just satiate any and all cravings. And guess what? It won't hurt your stomach or make you feel eeky, because it is not made with dairy! YAY. Today. Is. The. Best. Day. Ever. Dairy-free Paleo Condensed Milk for the win!
I can't remember the last time I had a spoonful of sweetened condensed milk (or "leche condensada", as we call it in Ecuador). I think the last time I had a recipe with sweetened condensed milk was in Ecuador, on one of the times Preston and I visited my family. It wasn't last time we visited Ecuador though, because last time we visited was just this past August, and we were there briefly for my cousin's wedding, my dad's sixtieth birthday and my parent's thirty year wedding anniversary (we had lots to celebrate!). It was the time before then, two Christmases ago, when my mom spoiled us rotten, making us a bunch of her her DELICIOUS desserts for us to enjoy after lunch, most of which contain sweetened condensed milk.
She is such a talented baker, it's nuts. She doesn't like to cook, but oh boy, the woman can bake. All of our relatives and family friends in Ecuador know how amazing she is, and they're always requesting her desserts for events and get togethers. The woman kills it at the dessert game, it blows my mind.
I have so many favorites of hers. Like, her "Pastel de Zanahoria" (Carrot Cake), "Postre de las Tres Leches" (Tres Leches Dessert), "Flan de Coco" (Coconut Flan), "Torta de Maqueño" (Banana Cake), "Pie de Limón" (Lemon Meringue Pie), and "Torta Helada de Mora" (Frozen Blackberry Meringue Cake). I wouldn't know which one to keep, they are all out-of-this-world good. Just typing these out, makes me want to jump on a plane to Ecuador, visit my mom, and have her make me some of her yummy treats. I miss her!
Most of these desserts contain ingredients that are not Paleo approved. Like white sugar, milk, and some wheat ingredients (graham crackers, etc.). But guess, what? For some of these ingredients, we can make our own Paleo versions of them at home, and for others, we can buy gluten-free versions online or at Whole Foods. Yay for substitutes!
So, for some of my mom's delicious desserts, I require sweetened condensed milk. And just like that, I can check that ingredient off the list! I've made it, and now stored it in the fridge until I get a few others made Paleo. I am so stoked! And here is the recipe for you today, in case you're needing some sweetened condensed milk in your life too!
How would you use sweetened condensed milk? Will you add it to your coffee to make Vietnamese Coffee? Will you use it for some of your own recipes? Or would you want to follow along and make some of my mom's recipes with me? That sounds really fun to me!
What I'll do is, I'll post all the ingredients recipes that I create to use on my mom's desserts on the blog, and then post the final dessert recipe for which I'll be using the ingredients. I am sure my mom won't mind me sharing some of her staples with you!
XO

Paleo Sweetened Condensed Milk
This Paleo Sweetened Condensed Milk recipe is very easy to make, and it is absolutely wonderful! Use it for recipes, in coffee, or eat it by the spoonful!
Ingredients
2 14-oz cans full fat coconut milk
½ cup honey
Instructions
Place coconut milk in a saucepan over medium heat. Whisk constantly until it reaches a boil. Lower heat, add honey and allow it to simmer for 30 minutes (milk should be reduced by half at this point), whisking continuously.
Remove from heat and let cool completely. Transfer to a jar with a lid and refrigerate.
Notes
Tools You'll Need:
- Saucepan
- Whisk
- Measuring cups
Nutrition Information
Serving size:
2 tablespoons --
Calories:
100
Fat:
10 g.
Carbohydrates:
2 g.
Sodium:
14 g.
Fiber:
0 g.
Protein:
1 g.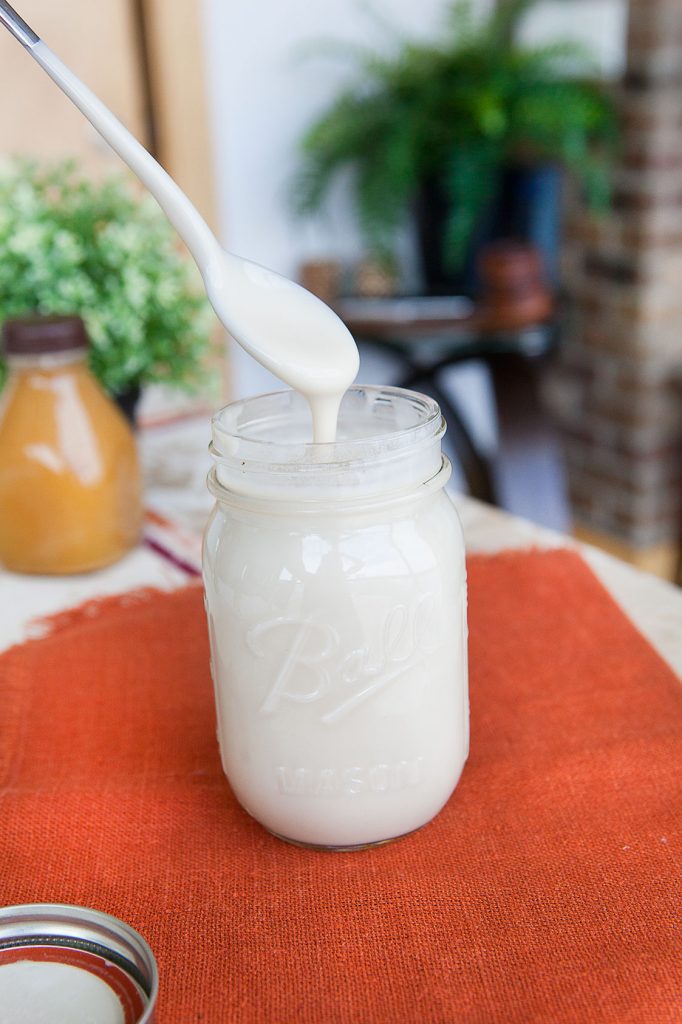 PIN ME!