There is this really cute restaurant here in Boise called Wild Root Cafe. Every time I drive by it, it's super packed, no matter the time of day. It's definitely the place to be for brunch or lunch if you work or live in downtown Boise. They use a lot of locally sourced, all-natural, organic ingredients, and have amazing salads and vegetable-based dishes. The perfect spot for when you're feeling like something casual, with quick and great service, that serves healthy comfort food. Which is exactly where I got the inspiration for my Vegan Power Bowl recipe!
They have a similar dish that I am obsessed with. It's made of roasted beets, brussels sprouts, sweet potatoes, quinoa, greens, almonds and cider vinaigrette. (Since I am highly sensitive to almonds, I have to ask they keep them out, wha-whaaa.) Their Power Bowl is so good that I inhale it all in a matter of minutes. I love the ingredient combination and all of the beautiful colors it has; you're literally "eating the rainbow". Your nutritionist would be proud. Haha.
If you live in Boise, you've probably been to Wild Root Cafe a few times by now (because who hasn't been there that lives in Boise?!). But, if you don't live in Boise and plan on visiting soon, I definitely recommend you check Wild Root cafe out.
I wanted to re-create the Power Bowl at home, so that I could share it with all of you who have no plans of coming to Boise. And I did! A copycat version of Wild Root Cafe's, if you will; all made by memory. It turned out DELISH! Almost as good as Wild Root's; and I say "almost" because food always tastes better when someone else cooks it for you, doesn't it?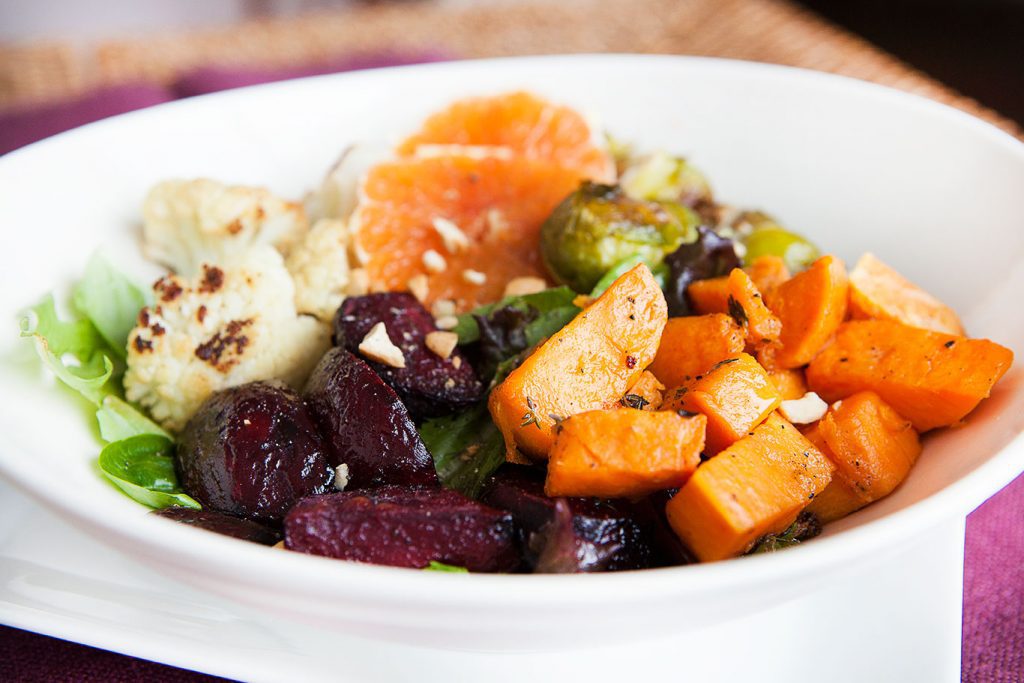 It is easy and affordable to make, and you'll love how good it is for your body.
The Power Bowl at Wild Root Cafe also comes with quinoa, but I skipped that part to make it 100% Paleo and to avoid the extra carbs. However, if you love quinoa, feel free to add it in! Also, feel free to add in grilled chicken if you're needing a little extra protein in your life.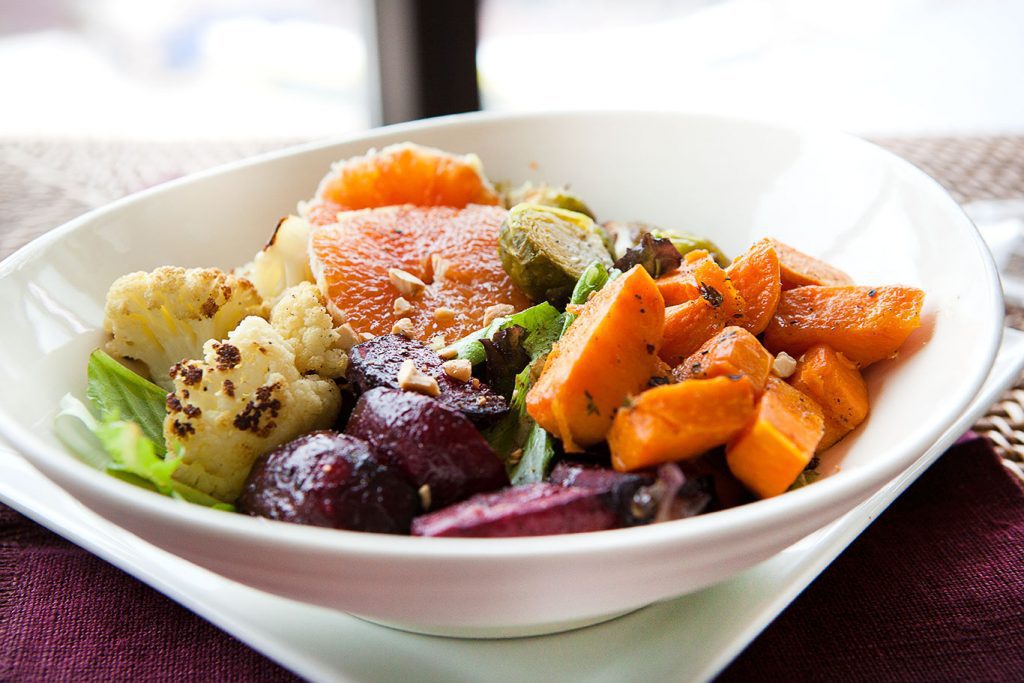 This Vegan Power Bowl recipe is:
Paleo
Gluten-Free
Vegan
Healthy
Comforting
Filling
Savory
All things delicious
Also, I love how vibrant and comforting it is, don't you? You really are eating the rainbow with this recipe. Hope you love it! XO

Vegan Power Bowl
This Vegan Power Bowl is Gluten-Free, Dairy-Free, Vegan & Paleo approved! The perfect lunch or dinner recipe to feel healthy and shine from the inside out!
Ingredients
2 cups sweet potatoes, peeled and cubed
2 ½ cups cauliflower florets
1 ½ cups beets, peeled and cubed
2 cups Brussels sprouts, halved
1 cara cara orange, peeled and sliced
4 tablespoons coconut oil, melted
2 teaspoons sea salt
1 teaspoon freshly ground black pepper
1 ½ teaspoon fresh rosemary or thyme (your preference), chopped
8 cups Trader Joe's herb salad mix (or your choice of greens), lightly packed
8 tablespoons Lemon Citrus Vinaigrette
4 tablespoons roasted and salted cashews, chopped
Instructions
Prep ingredients ahead of time.
Preheat oven to 450 degrees Fahrenheit, arranging one rack in the middle and one rack at the bottom.
Grease two 9 x 13 baking dishes and set aside.
Place sweet potatoes and cauliflower in one baking dish, and Brussels sprouts and beets in another baking dish. Drizzle vegetables with melted coconut oil, and season vegetables with sea salt, black pepper and fresh herbs. Situate baking dishes on different racks (one in the middle and one in the bottom) in oven and bake for 25 minutes. Use a spatula to move veggies around halfway.
While veggies bake, divide herb salad mix into four salad bowls and drizzle 2 tablespoons of Lemon Citrus Vinaigrette on top. Use your hands to gently massage salad mix to ensure vinaigrette coats all leaves evenly. Set aside.
Remove from oven and let veggies cool off slightly.
Add desired amount of roasted sweet potatoes, cauliflower, Brussels sprouts and beets to each salad bowl, decorate with sliced oranges and sprinkle some chopped cashews. Enjoy!
Nutrition Information
Serving size:
1 bowl --
Calories:
340
Fat:
21 g.
Carbohydrates:
36 g.
Sodium:
98 mg.
Fiber:
1 g.
Protein:
9 g.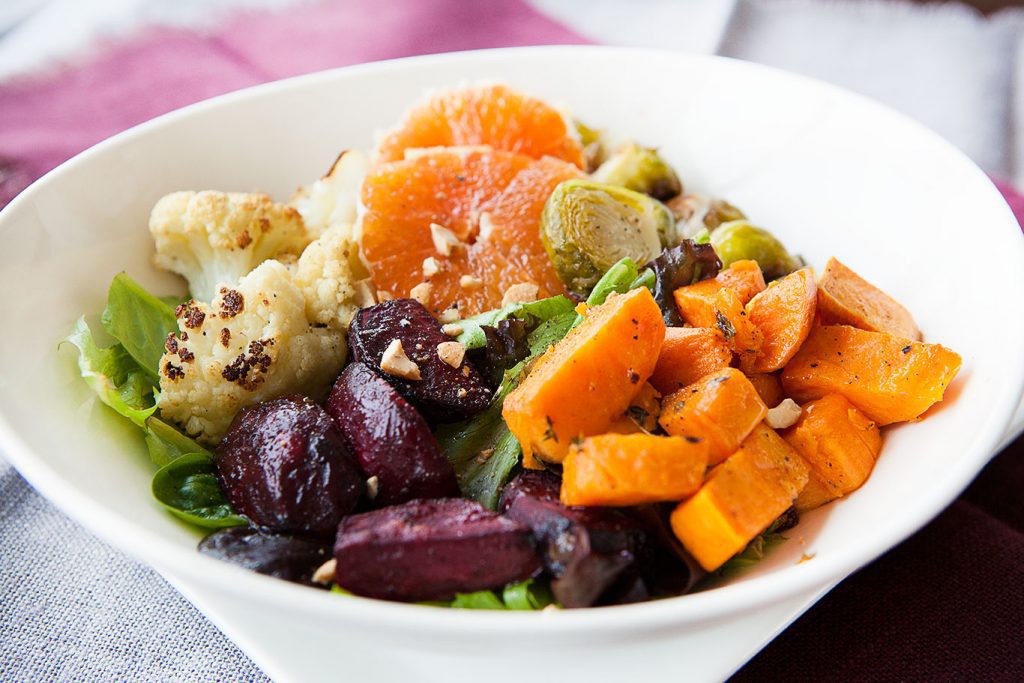 PIN ME!

Other Paleo bowl salads you'll love: