I have been making this 5-Minute Paleo Salsa for over seven years now. Yes, SEVEN years.
I love it and I am obsessed with it. It's simple, easy-to-make and consistently delicious, all of which fit in the "this recipe is a winner and it's going to be a part of our lives always and forever" bucket. Hence the seven-year salsa making period.
You'd understand why I keep making it over and over again if you've tried it at least once. My friends do. "I can drink your salsa" is a quote that literally came out of one of my friend's mouth. Not even joking. And I know a handful of my friends that make it on the regular to top their morning eggs and/or to share it at get togethers. Some of these friends even make this salsa as a gift to give other people.
You know you've developed a good recipe when people use it for gift giving. 🙌

I am so confident in the quality and amazingness of this salsa recipe, that I am HIGHLY (and not so subtly) encouraging YOU to make it at your home and give it a healthy taste.
And by "a healthy taste" I mean, dip your chip deep and fill it generously, girl friend! If you're into chips and salsa, I can guarantee you'll be smiling after the first bite.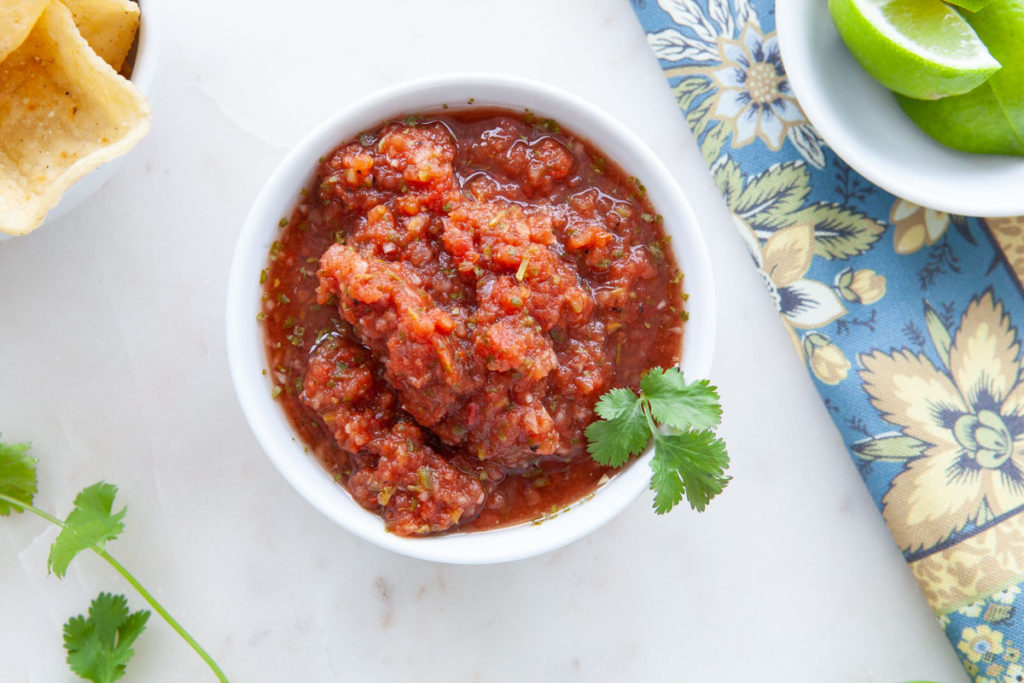 You'll find this salsa to have a smokey taste to it, due to the fire roasted canned tomatoes it uses. I chose canned tomatoes over fresh tomatoes, because I find that when using fresh tomatoes, my salsas often turn a bit more runny and watery, which is not my favorite thing to happen with salsas.
Canned tomatoes also keep this salsa recipe consistent and on-point, no matter the time of year. It's a success when prepared in the summer time, and a success when prepared in the winter time. It definitely avoids me having to have find the perfect tomatoes at the store or farmer's market, and making sure I use them just at the right time: when juicy but not overly ripe. Which can be a tough task. Canned tomatoes here really take all the guess work away. And I am all about that.

And by the way, there are two kinds of canned tomatoes in this recipe. Fire roasted and the diced. These two happen to work beautifully with the FRESH lime juice, cilantro, onions and garlic this recipe also calls for. There's a solid mix of fresh and canned ingredients here, no discrimination whatsoever. 😉
A few simple spices also go in the mix: cumin, salt and pepper. And there is one little ingredient that I have chosen to include as "optional": honey. I don't always chose to use honey when making this salsa, and trust me when I say that the recipe comes out amazing either way. If you're trying to keep your diet a bit on the sugar-free side, skipping the honey can be the best option for you. However, my advice is to try making it once with honey and once without honey, that way you get to experiment and determine which style you like best.

Now, if you're one to like a bit extra garlic or onion or cilantro, feel free to add in a little more of those, too. Freedom and autonomy when it comes to creation is KEY. Especially in the kitchen. You gotta follow your intuition and do what you think you'll love the most.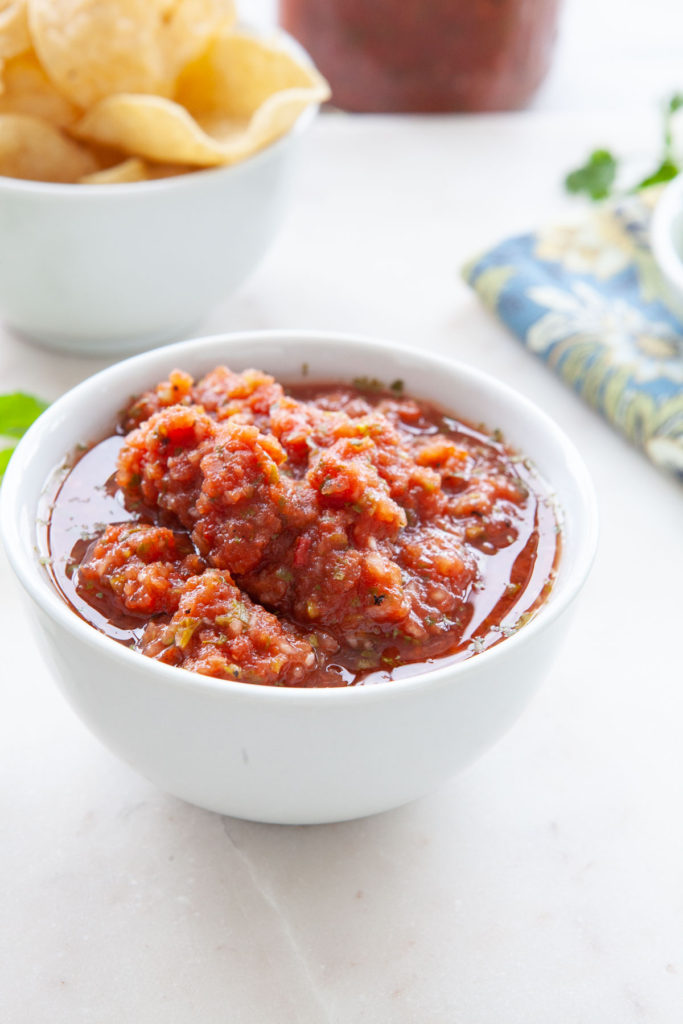 This 5-Minute Paleo Salsa is:
Quick + Easy
Fresh
Flavorful
Smoky
Spicy
Customizable
& Extremely delicious
It's the perfect salsa for dipping tortilla chips or your favorite grain-free chips.
It would also make a delicious addition to things like grilled chicken, grilled steak, Mexican sweet potato rounds and yuca fries.
If you try this recipe, let me know! Leave a comment, rate it, and don't forget to tag a photo #amazingpaleo on Instagram. Buen provecho!

5-Minute Paleo Salsa
This 5-Minute Paleo Salsa is made in a food processor in less than 5 minutes. It can be made year round and the results are consistently delicious every single time!
Ingredients
1 can of organic diced tomatoes
1 can of organic diced tomatoes with green chilies
½ purple onion, chopped
1 garlic clove, peeled
1 jalapeño or serrano pepper
½ cup of cilantro
Juice of 1 lime
¼ tsp cumin
1 tsp sea salt
1 tsp of honey
Instructions
Pour canned tomatoes in a food processor, add in onion, jalapeño pepper, garlic and cilantro; process until combined.
Add in lime juice, cumin, sea salt and honey, and process until desired salsa consistency is reached.
Taste test and add more salt or cumin if needed. Refrigerate for an hour or more before eating so the flavors can set.
Notes
Keeps fresh in the refrigerator for 1 week.
Keeps fresh in the freezer for 1 month.
PIN ME!