Guys, guys, guys. I gotta tell ya: this Tahini Caesar Kale Salad is absolutely insane.
We've been making it at home on repeat for the last two months, and because of our obsession, we try to keep the necessary ingredients in stock at all times, so that we can whip it up on demand whenever our Caesar Salad cravings kick in. And lately, those are coming in often.
One of the reasons we love it so much is because a) its really easy to make, and b) it pairs up really well with most grilled/sautéed proteins and baked starches (think sweet potatoes, red potatoes, any kind of potato…), which is important to us because easy-meals that are well balanced are our jam. Right? Who doesn't want that on a week night?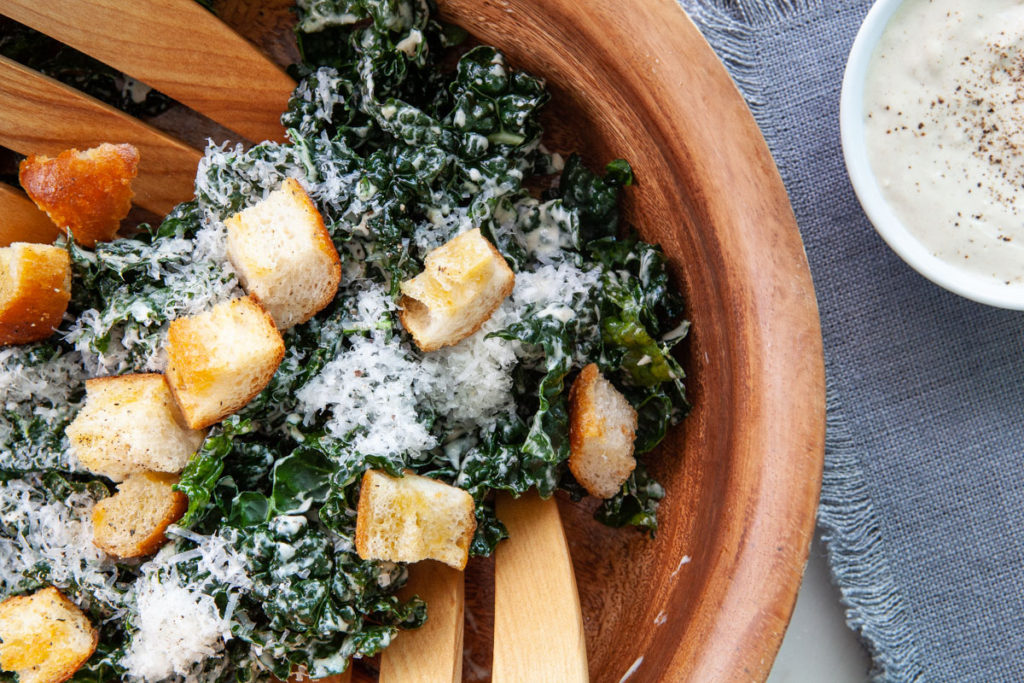 Picture it with me: large dinner plates for you and your honey, each containing a generous portion of this homemade Tahini Caesar Kale Salad, a juicy chicken breast fresh out of the grill and a colorful side of roasted sweet potato fries to add to the amazingness of it all. A killer balanced and delicious meal right there.
And so simple and healthy, too. As all dinners should be.
The kale salad adds a flavorful touch to our dinner plates and a nice dose of fiber that makes for happy digestive systems. And holy moly, do you know much about kale's nutritional content? It is crazy good.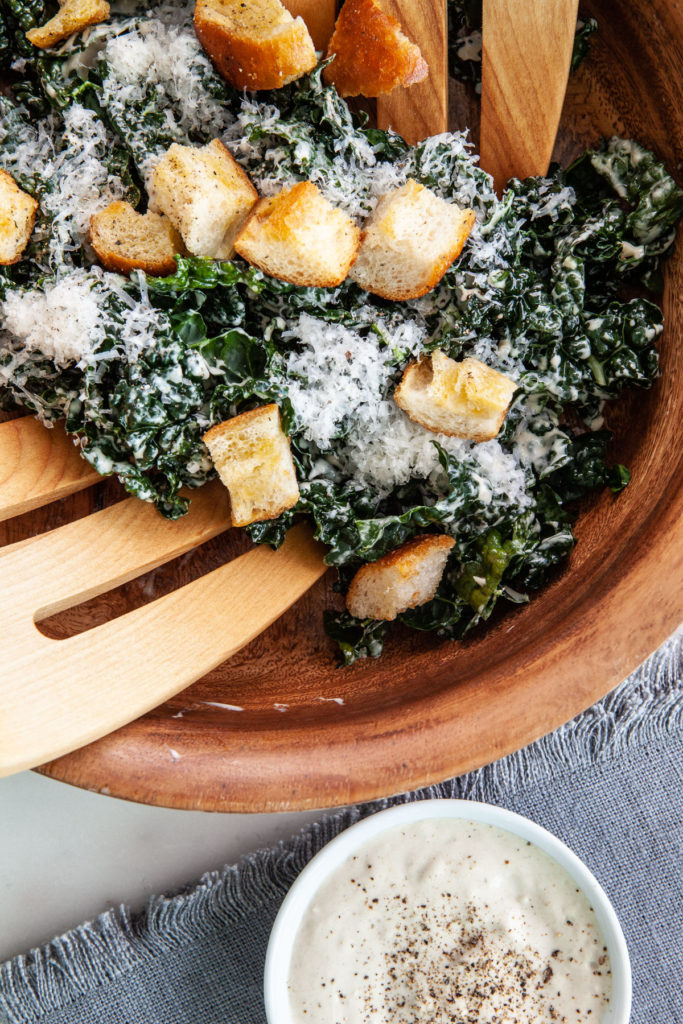 Here's what 1 cup of kale gives you:
684% DV of Vitamin K
134% DV of Vitamin C
133% DV of Vitamin A
26% DV of Manganese
10% Dv of copper
9% DV of Vitamin B6
9% DV of Calcium
9% DV of Potassium
6% DV of Magnesium
Those first three bullet points though. 😍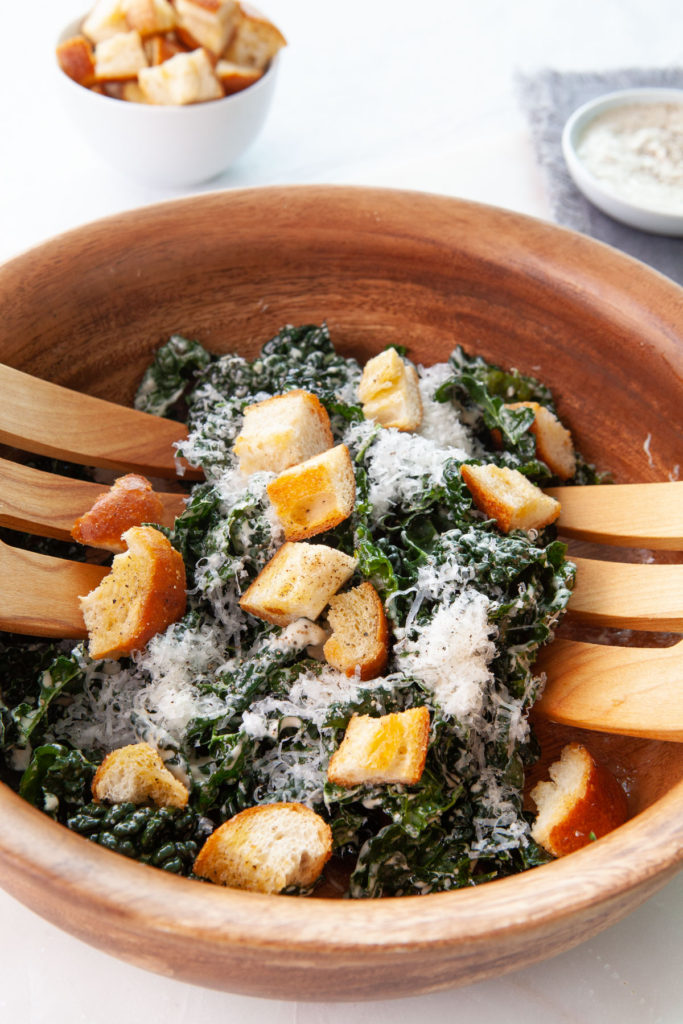 Kale can be our personal all-natural vitamin bottle. Doesn't it amaze you how perfect God is and in His ways, and how He designed things in this planet to support human life so well?
Whenever I stop to think about this my mind is blown, and I am overcome with gratitude. God loves us so deeply that He ensures our basic needs be met through things we can find in the wild or things we can ourselves grow and harvest.
What a beautiful gift. God and nature are perfect.
And knowing/remembering this, makes me heavily gravitate towards natural things.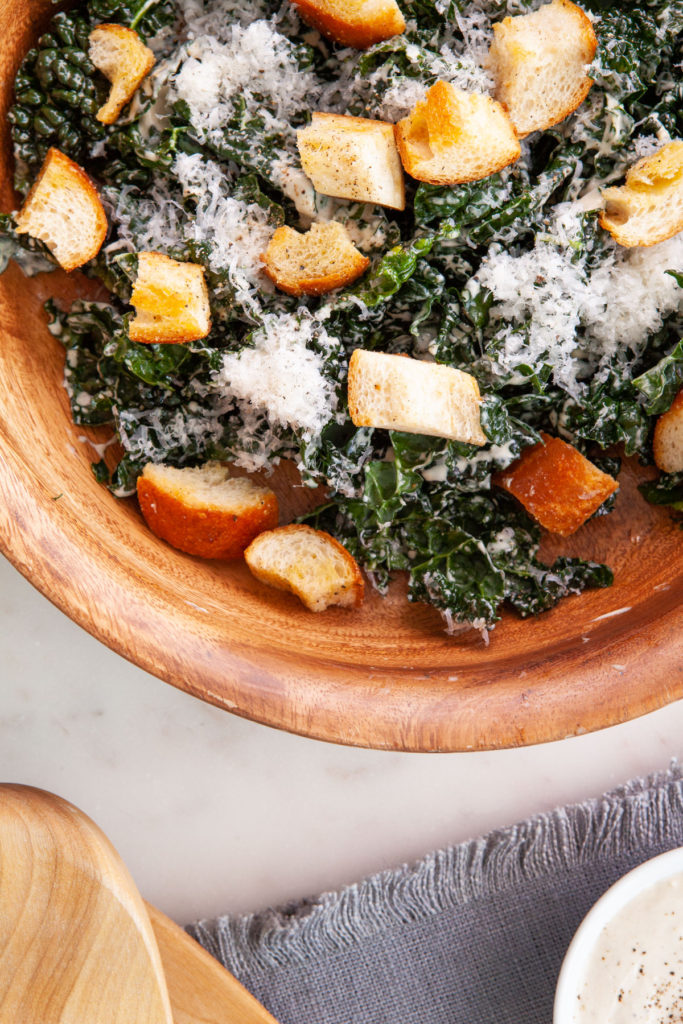 Which is when all I crave and want are pure, simple, whole foods. Things that are easy to digest and can pack a nutritional punch. Things that can feed my brain and my body alike.
Such as kale. Which is why I am obsessed.
If you're like me and have been on a kale kick for a while, then you can most certainly relate to this "healthy obsession" of mine. It's just so good; one can't stop, won't stop, you know what I mean? 😉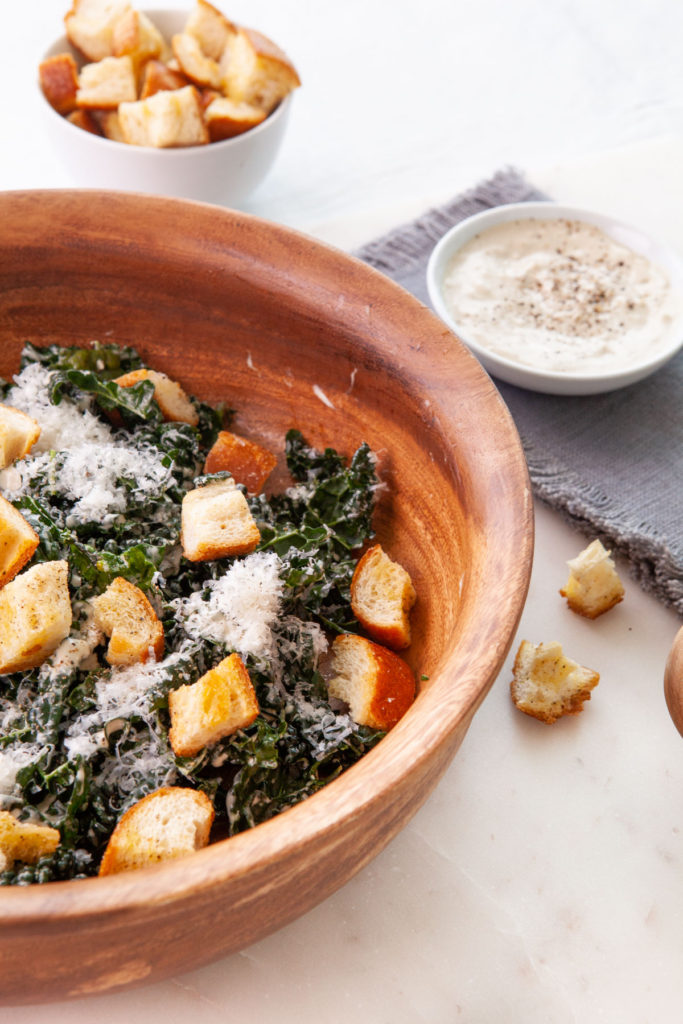 Now, if this "healthy kale obsession" sounds a wee-bit whacko to you, but you're sort of interested because you've been thinking about getting into kale…well, my sweet friend, I am telling you: this recipe is money and it might just be what you need to make you jump over the fence and be on our kale-loving side.
It's so good. Even my picky husband loves it. And if you knew my husband well, that would tell you a lot. Like a lot, a lot. He's a cereal-lover, fast-food joint goer kind of guy. And so for him to say the words "I love" right before "this kale salad", is truly a mini-miracle and music to my kale-loving ears.
Try it, friends.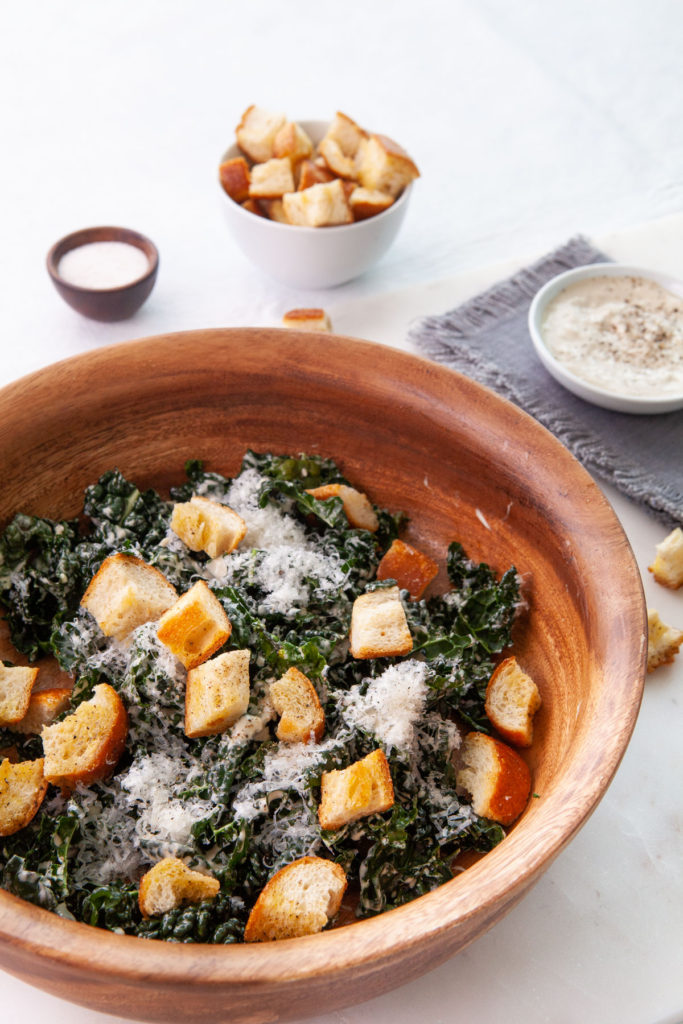 For it, you'll definitely need to:
Massage the kale with olive oil and fresh lemon juice prior to mixing it with the dressing. Massaging it will soften it and take its bitterness away. Do not skip this part.
Make the dressing ahead of time. You can make it a few days ahead if you're a planner, which will actually make the assembling process much easier; the dressing keeps fresh for about a week. But you can also make the dressing right before starting the salad, because sometimes one can't plan that far out in advance you know? Whenever you have time, whip up the dressing. Takes about 5 minutes. Recipe is linked below, but here it is, too, just in case you're impatient and need to see it now: Caesar Tahini Dressing.
Make the sourdough croutons ahead of time, too. If you're a wheat eater and wheat sits well for you, definitely gives these a go. So flipping good. Here's the recipe, again for you impatient kind: Sourdough Croutons. BUT, if you seriously cannot handle wheat, then sub these with toasted pepitas or some other kind of crunchy topping (perhaps roasted chickpeas, if you can handle those?). Pick your crunch!
Have some freshly grated parmesan cheese ready, only if you eat dairy, to sprinkle on top right before serving. It adds that nice Italian flare that is oh-so-yummy and fancy.
And just to show you that this recipe is actually super simple to put together, here's a video that shows you exactly how I assembled my Tahini Caesar Kale Salad at home:
Tahini Caesar Kale Salad
Massaged kale with a creamy, tahini-based Caesar dressing made in just 5 minutes with simple ingredients. The perfect easy-to-make side dish for any dinner!
Ingredients
1 bunch dino kale, de-stemmed and chopped
2 tbsp extra virgin olive oil
½ lemon, juice of
Salt and pepper to taste
½ cup lightly packed freshly grated Parmesan cheese (or vegan parmesan cheese)
Optional toppings: Sourdough Croutons, freshly grated parmesan cheese or roasted pepitas.
Instructions
Place kale in a large bowl and add extra virgin olive oil, lemon juice and salt and pepper to taste. Massage kale for about 1-2 minutes; this will soften the kale and remove any bitterness.
Drizzle kale with Caesar Tahini Dressing and toss to coat all leaves. Add in desired toppings and additional black pepper. Enjoy!
If you're into salads, be sure to check out my Epic Paleo Mexican Chicken Salad, Cauliflower Wings and Mixed Greens Salad, Winter Kale Salad with raspberry Vinaigrette, Smokey Kale Salad, Turmeric Cauliflower Kale Salad with Roasted Pepitas, & Massaged Kale and Roasted Squash Winter Salad with Maple Vinaigrette.
If you try this recipe, let me know! Leave a comment, rate it, and don't forget to tag a photo #amazingpaleo on Instagram. Enjoy!
---
PIN ME!