So you're craving baked Italian meatballs with zoodles, huh?
SAME. 🙋🏻‍♀️
I'm not gonna tell you this recipe is 100% Paleo, because it's not. The meatballs call for parmesan cheese and sourdough bread crumbs, both of which are not Paleo ingredients.
BUT… I will certainly tell you that these are SUPERdelicious and SUPERnutritious meatballs on zoodles, and that they carry an ultra yummy marinara sauce that brings everything together beautifully. They are so good that you may actually think an angel brought this dish down from heaven specifically for you to indulge.
This recipe also comes together SUPERfast; faster than your hangry self can believe it. Like, 40 minutes max. You can even prep the meatballs ahead of time (say: one day before) to save 10 minutes come dinner making-time. Which can come in real handy when when you know your hangry self is right at the door about to knock.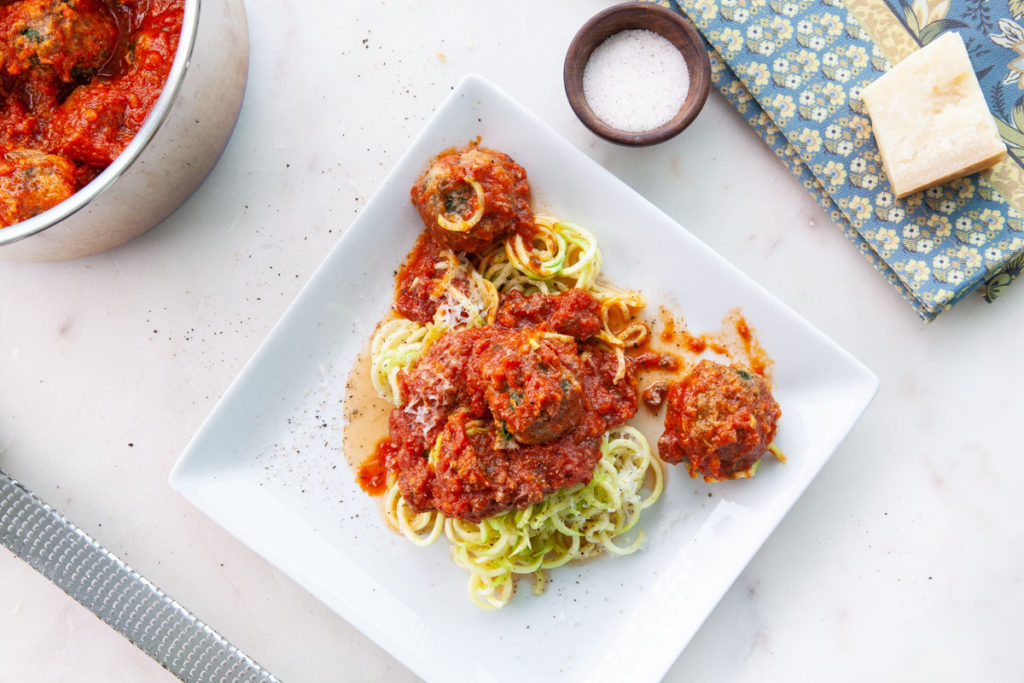 And meal prep time matters, because you know those moments when you need really good, quality food and you need it really fast? And the last thing you need are confusing steps, advanced cooking skills, and any wasted time?
Yup. I know those moments, too. And too well. Which is why…holy moly…this recipe can be a darling. 🙌 And it is here to save us.
You could be looking at a heavenly tasting meal that can be made in LESS THAN 30 MINUTES. I mean…a true dinner no brainer!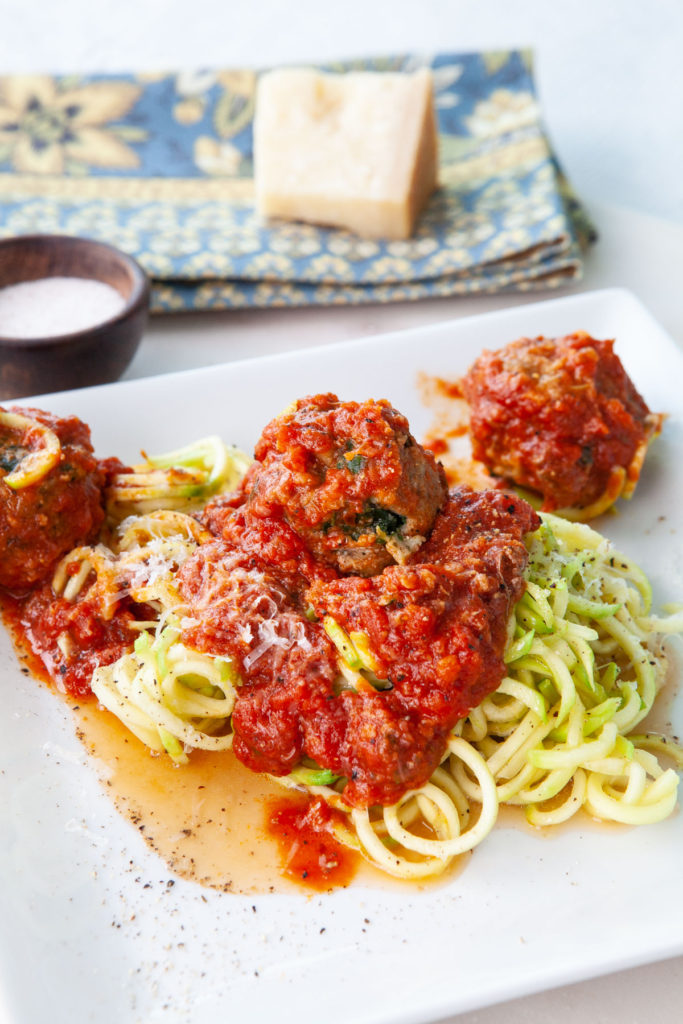 Now, not to change subjects too suddenly or anything, but…
Summer is right around the corner, guys. Can you (sort of🧐😭) feel it?!
It's been a wet Spring for us these last few days, so I've been somewhat forced to "embrace" the rain and clouds in my life. And I have done so via recipe development, blog content creation, photo and video editing – and also, with lots of warm foods, hot drinks, hoodies, socks and blankets.
But what the heck, isn't it MAY? We deserve at least a solid week of hot, sunny days.
It's coming guys, I truly think sunshine will arrive soon to stay! I give us another week or two of rain, but that's it. And until then, at least we'll have this comforting recipe to give us all the warm, cozy feels.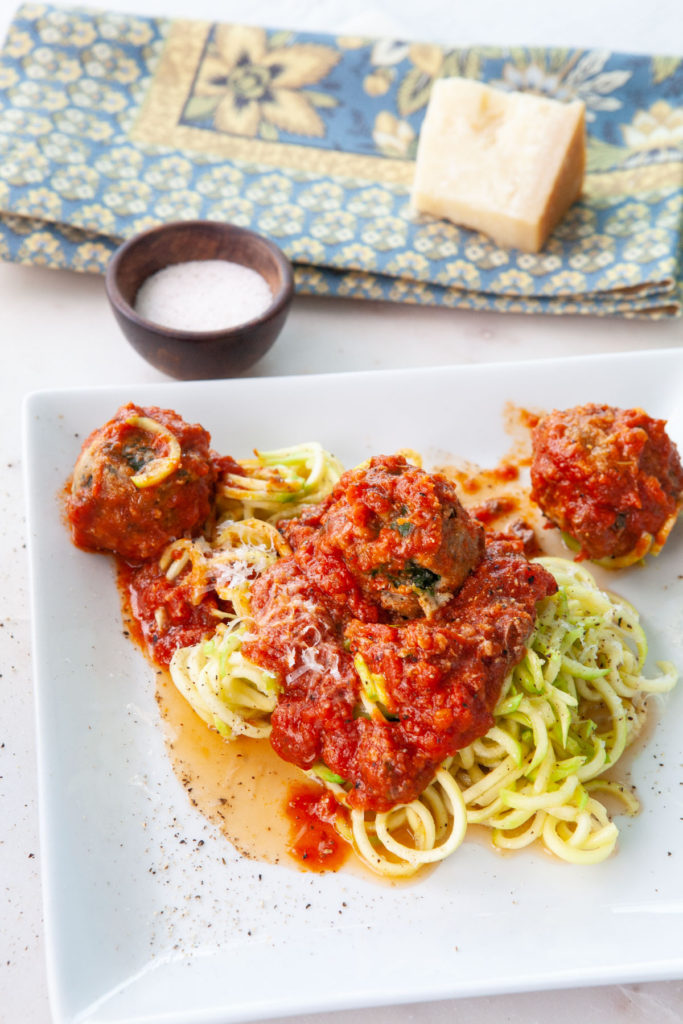 The first time I made these zoodles (about two months ago), it was a total hit in my home. My husband requested I make it again for dinner the following day. He was obsessed.
And since then, I've made it about five times, three of which have been this month. No shame in our zoodle game. My favorite part of this recipe? It turns out consistently well every single time. You can count on it.
If you're an Italian food lover, I think you'll really love this one. It reminds me of the fresh tasting Italian dishes we had during our Italy visit two summers ago. Such sweet, delicious memories. Which is probably why we've had this little number on repeat. Yum!
Also: baked meatballs. 🤤 🇮🇹 Ahh, few things are easier and better. Just look at them: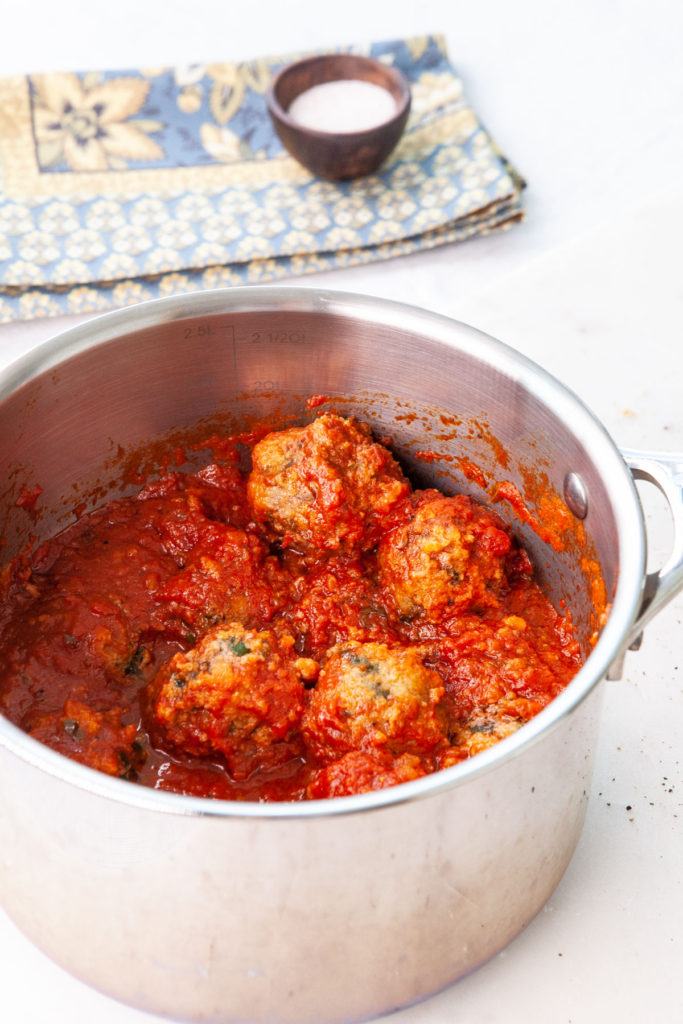 These Baked Italian Meatballs with Zoodles are:
Simple
Flavorful
Comforting
Healthy
DELICIOUS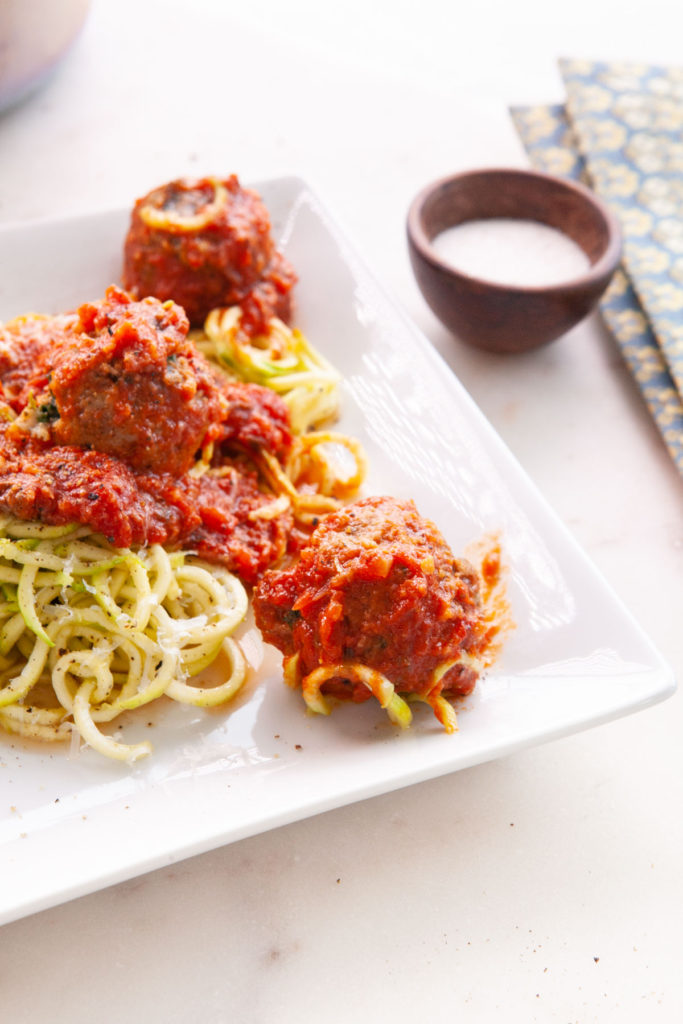 It makes an excellent, satisfying meal on its own, but if you're looking for extra veggies, it would pair really well with a Tahini Caesar Kale Salad.
While I love these beef meatballs with a passion, if you're looking for different meatball options try my Paleo Curry Meatballs or Sweet and Spicy Asian Bison Meatballs!
If you try this recipe, let me know! Leave a comment, rate it, and don't forget to tag a photo #amazingpaleo. Buon appetito, friends!
WATCH MY BAKED ITALIAN MEATBALLS WITH ZOODLES VIDEO:
Baked Italian Meatballs with Zoodles
These Baked Italian Meatballs with Zoodles are light, satisfying and perfect for a date-night in. Very easy to make and healthy!
Ingredients
For the meatballs:
For for the zoodles:
Instructions
Preheat oven to 400 F. In a large bowl, combine beef, eggs, spinach, cheese, ¼ cup breadcrumbs, egg and spices. Form meatballs, about the size of a golf ball each. Add remaining breadcrumbs to a bowl and dip meatballs in to coat. Place meatballs in individual mini muffin tin cups, and bake for 20 minutes.
Heat RAO's sauce in a pan, and add cooked meatballs to the sauce. Set aside.
Cook zoodles with olive oil, salt and pepper until al dente. Dish zoodles, add meatballs and sauce. Top with freshly grated parmesan cheese and pepper.
PIN ME!