BEST EVER SUMMER SALAD. No joke.
I shared a photo of this yummy salad on my Instagram two days ago, letting you all know that the recipe is coming to the blog (YAY, it's finally here!), and with that photo, I also encouraged you to guess the ingredients!
You guys did an awesome job at naming them, and for the most part, all the ingredients used were called out. Except for one. Y'all had a hard time figuring out one of them. This one ingredient was thought to be a pair, an apple, a plum…but nope, it wasn't any of those! Wanna know what it was?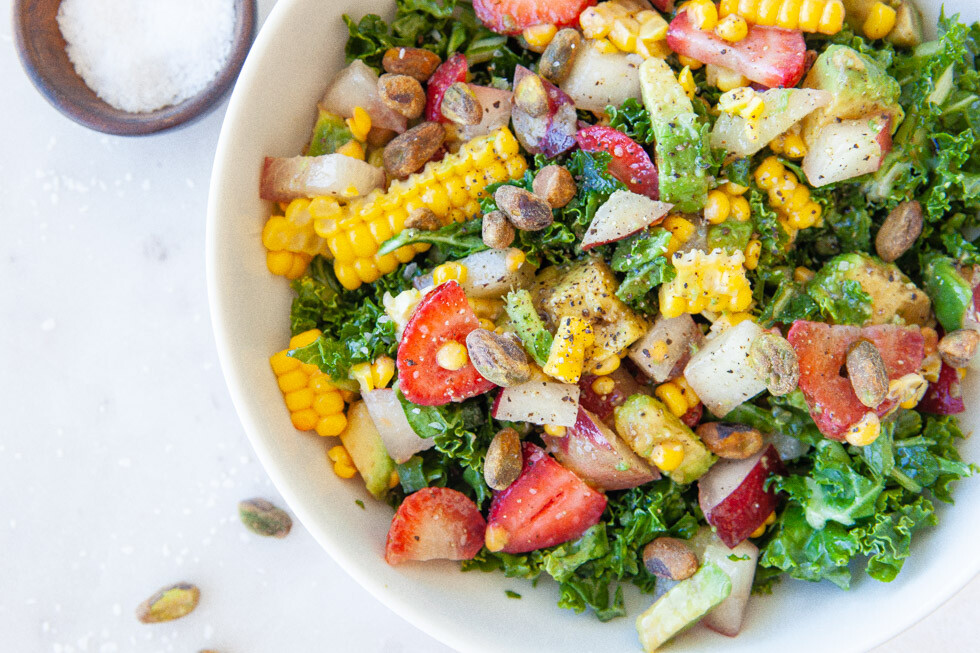 Here we go.
Ready for it?
That ingredient was a fresh, crisp, sweet, delicious…
WHITE PEACH!
Ahhh. White peaches are so good right now 🙌 , and easier to find compared to any other time of year. They are nice and plump, with reddish skin and with a white juicy inside. Oh man, it's making me want one so bad. #drool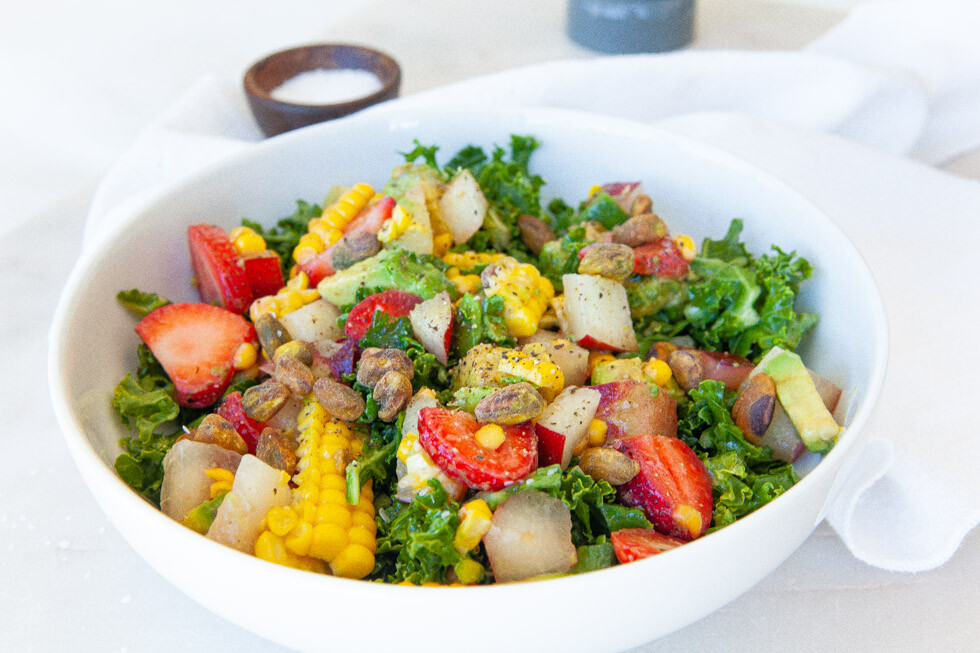 Most of the ingredients for this salad are just a step away from you; find them at your nearest farmer's market or grocery store: corn, peaches, strawberries, kale.
The avocado and the pistachios might be a bit tucked away, and probably not at farmer's market, but they are staples…so you really shouldn't have a problem getting your hands on some! You can order pistachios and avocados online via Instacart and keep them in your fridge (yep, I highly recommend keeping nuts and avocados in your fridge for freshness) until you're ready to make the salad. Easy peasy.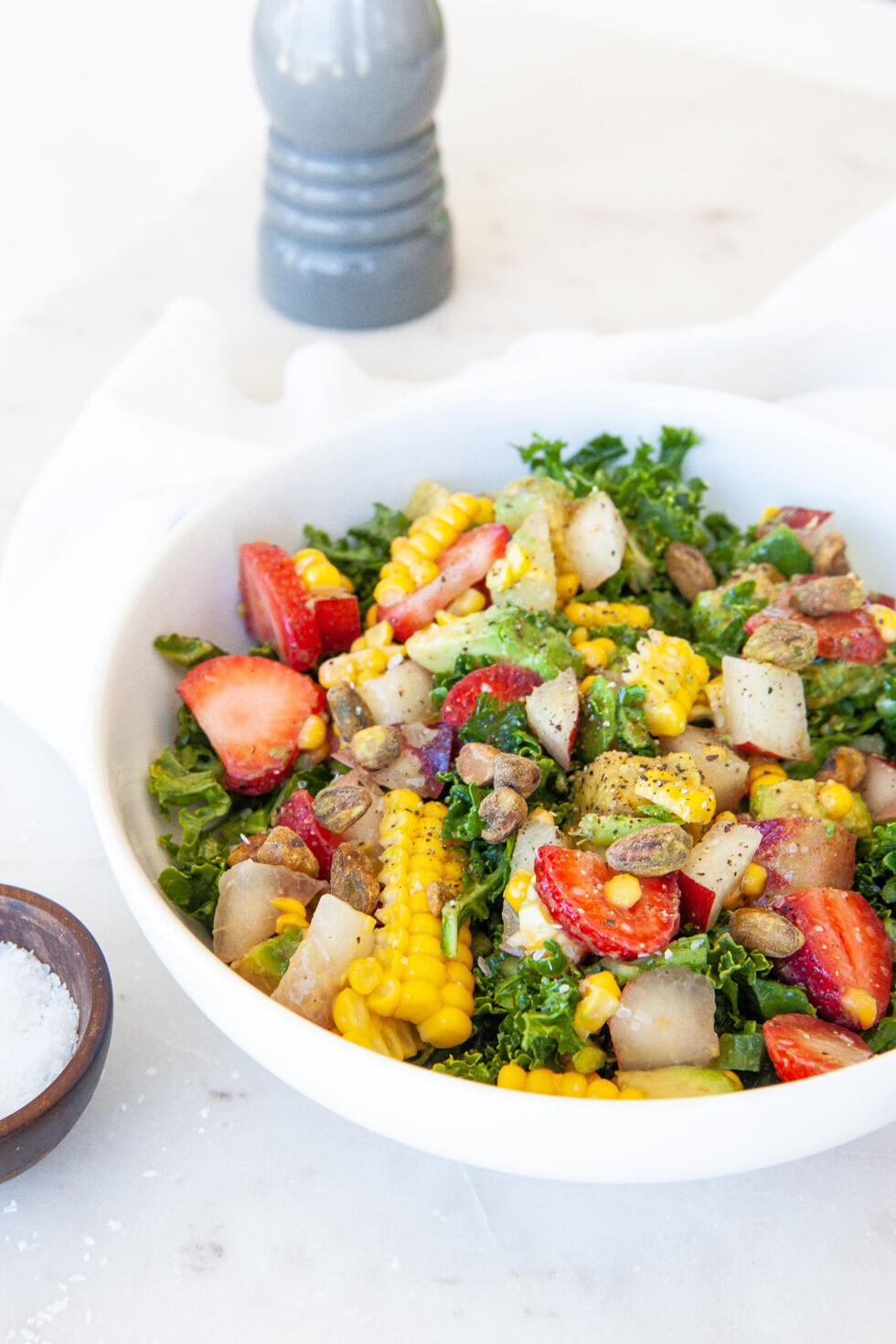 The salad is SUPER EASY to prepare.
The most time consuming parts are:
1.) prepping ingredients (washing, chopping, etc.)
2.) making the *corn on the cob, and
3.) massaging the kale
But those steps are a walk in the park, too, so you have nothing to worry about.
Plus, I'll guide you every step of the way; my methods are all listed below in the recipe section. Oh, and lemme just say, you'll definitely want to follow my corn on the cob cooking technique! Because, here's a secret: I make the best corn in the world! I know am tooting my own horn here, but I'm just being honest, y'all. It's gooooood.
*If you are 100% Paleo and don't eat corn, just sub the corn with roasted sweet potatoes…it'll be just as tasty and satisfying!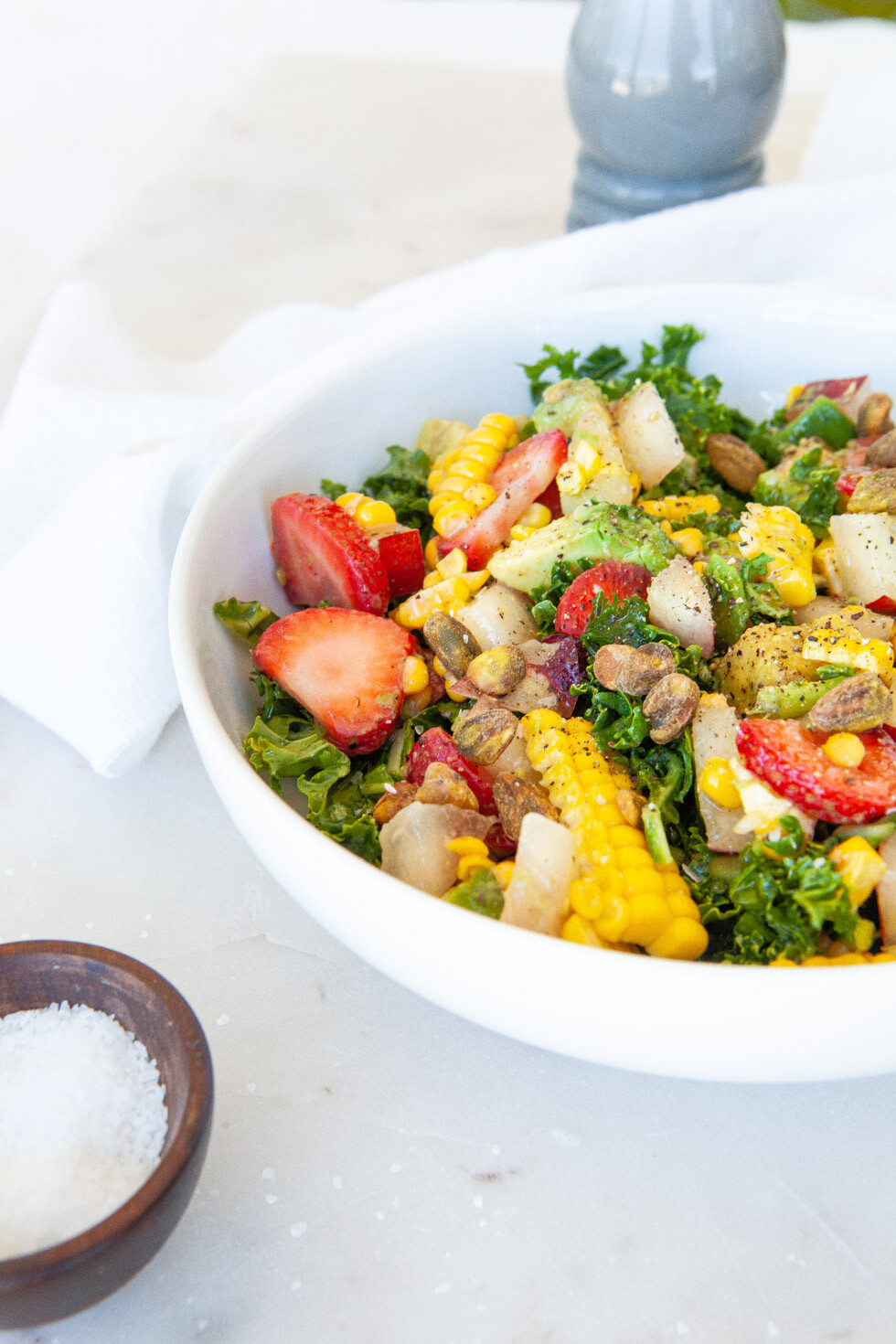 So first step is to make the corn on the cob.
While the corn is cooking, the second step is to prep the rest of the ingredients (wash, dry, chop) and massage the kale on a large salad bowl along with lemon, salt and olive oil.
The third step is to cut off the corn kernels with a knife, after it's cooled off, and use them to assemble the salad by tossing all the ingredients together.
Fourth step, drizzle olive oil and balsamic vinegar on top of the salad, add salt and pepper to taste, sprinkle pistachios on top and…YOU'RE DONE!
Four step, simple process. You guys got this!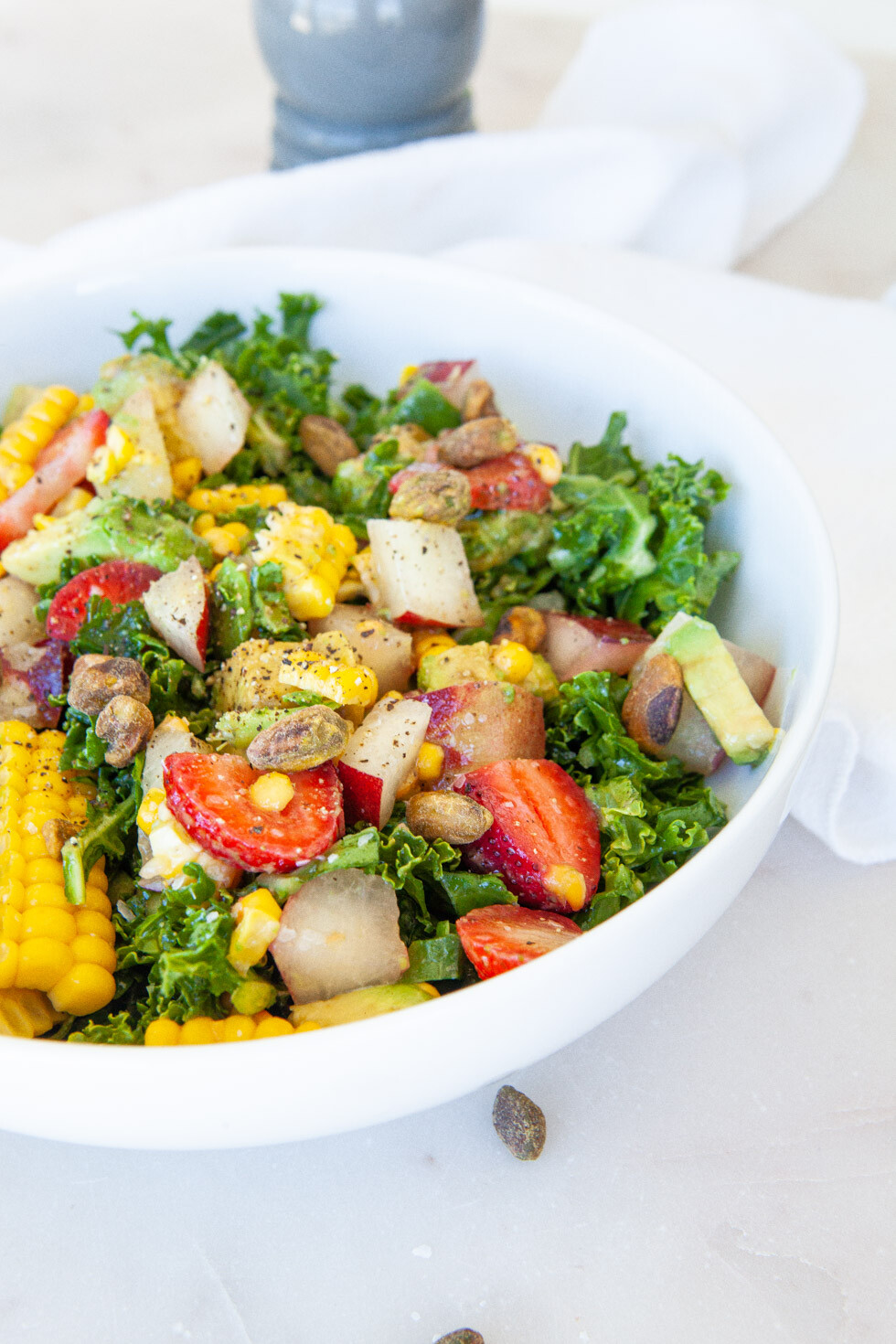 I hope you LOVE this recipe! It's:
Colorful
Light
Fresh
Crisp
Healthy
Satisfying
SUPER flavorful
& Delicious!
Now off you go to make this summer salad, and remember to pair it with some yummy grilled protein. Pick your fav there, the salad goes with everything.
Here are a couple of my personal pairing suggestions:
What to Serve with my Best Ever Summer Salad
If you try this recipe, let me know! Leave a comment, rate it, and don't forget to tag a photo #amazingpaleo on Instagram. Bon appetite!

Best Ever Summer Salad
This is the best summer salad EVER. It is easy to put together, uses fresh ingredients, comes together really quick, goes with everything and satisfies every single time. Try it!
Ingredients
For the corn
4 ears corn on the cob
2 tbsp white sugar
½ lemon, juiced
For the salad:
6 cups curly kale, washed and dried
10-12 strawberries, hulled and halved
2 white peaches, cored and cubed
1 avocado, cubed
4-6 tbsp extra virgin olive oil, divided
4 tsp balsamic vinegar
1 lemon, juiced, divided
Kosher salt, to taste
Freshly cracked black pepper, to taste
Instructions
For the corn:
Bring 4 quarts of water to a boil. Once it boils, mix in 2 tbsp white sugar and squeeze in the juice of half a lemon. Turn heat off, add in the corn, close with a lid and allow corn to cook for 10 mins. Drain and set corn aside to cool completely, and once cool, cut kernels off cob.
For the salad:
Massage kale with 2 tbsp olive oil, juice of half a lemon and a pinch of sea salt. This will soften the kale. Top it off with the rest of the ingredients. Drizzle remaining olive oil, balsamic vinegar, and salt and pepper. Sprinkle pistachios, toss and serve.
Notes
*If you are 100% Paleo and don't eat corn, just sub the corn with roasted sweet potatoes...it'll be just as tasty and satisfying!