There is this one salsa I make that my friends and family love: 5 Minute Paleo Salsa. It's incredibly delicious, fresh tasting and super easy to make.
I make it at least once a month, doesn't matter if it's Spring, Summer, Fall or Winter. We eat Mexican food often here at the Lewis'.
I have been making my 5 Minute Paleo Salsa for over 6 years (was making it even before I shared it on the blog), so it goes without saying that I've truly perfected the recipe. I love it, however, I felt like I needed to add a strong green salsa recipe to the mix. Because, let's be real, a solid Mexican meal requires at least two types of salsas. A girl's gotta have dipping options! 😉
And guys, I've done it again. I've created the most delicious green salsa recipe!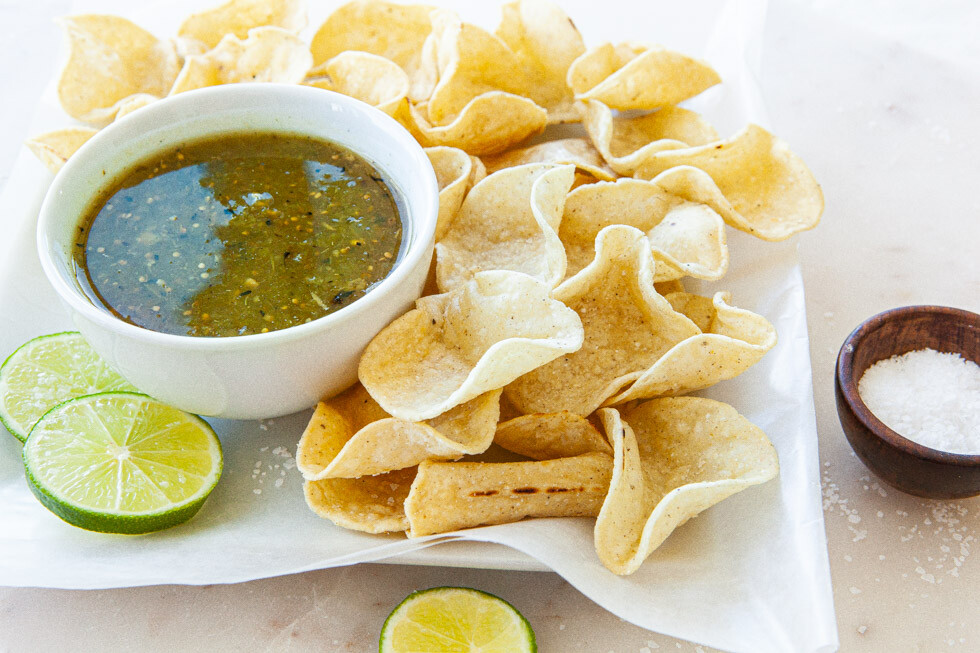 Let me introduce you to my new obsession: Roasted Tomatillo Salsa 😍
I have made this Roasted Tomatillo Salsa over and over again since beginning of Spring, each time modifying it ever so slightly to get it *just* right.
And now, I feel like the recipe is finally ready to be shared with you! You can now make and taste this deliciousness at home with loved ones, too. YAY.
Prepare your taste buds for a "wow" experience.
Its tangy, good, addicting, alllll the things!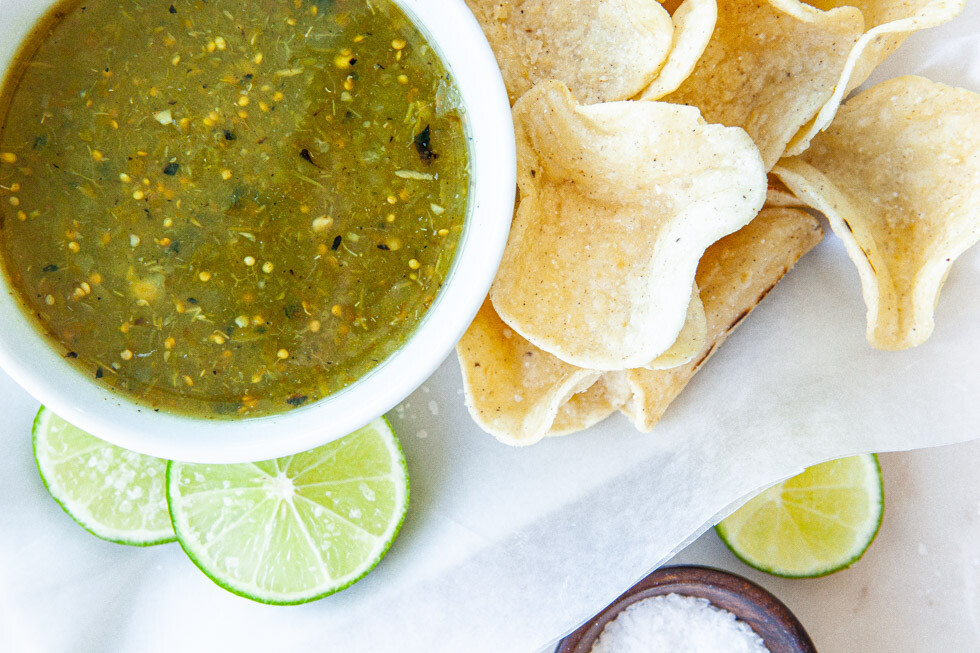 Here are the basic steps for Tomatillo Salsa making:
You start by husking and slicing tomatillos in half, arranging them cut side down on a parchment lined baking sheet and roasting them for 20 mins. You'll end with slightly charred, juicy and delicious roasted tomatillos!
Once your roasted tomatillos have cooled completely, you then add them to a high-speed blender along with the rest of the ingredients and blend on high until desired salsa texture has been reached.
You're done! Transfer your salsa to a bowl and enjoy along with chips, or store it in a mason jar with a tight lid and refrigerate for later consumption. It's that easy.
Anyone can do this. And everyone can enjoy. Don't you love these kinds of recipes?
Me, me, me…I DO! 🙋🏻‍♀️ 🤩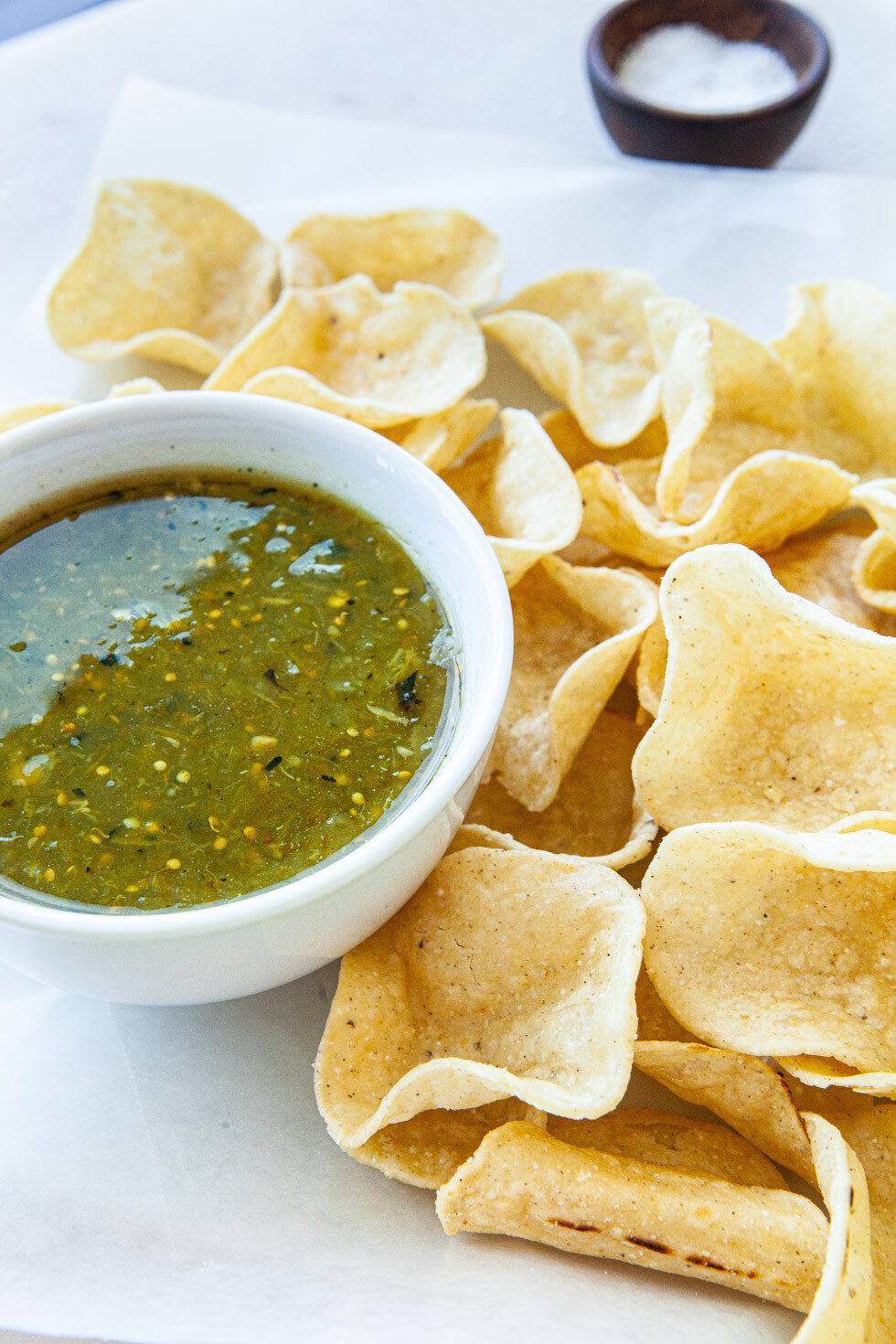 When you go get tomatillos, make sure these are around the size of a tennis ball. A bit smaller is okay, too.
Just don't buy the tiny tomatillos that are the size of a golf ball or smaller, as if you do, the ingredient ratio for this recipe will be off and you'll end up with hardly any salsa at all (and one that is pungent, too).
I recommend going to a local farmer's market first and getting some there, as you're not only going to get juicy and plump tomatillos, but you'll also support your local economy.
If you don't have a farmer's market close-by, or you don't have one available to you where you live, then perhaps try a grocery store that sells organic and fresh produce, like a Whole Foods Market or a Co-Op. Having the right tomatillos will make this recipe extra stellar.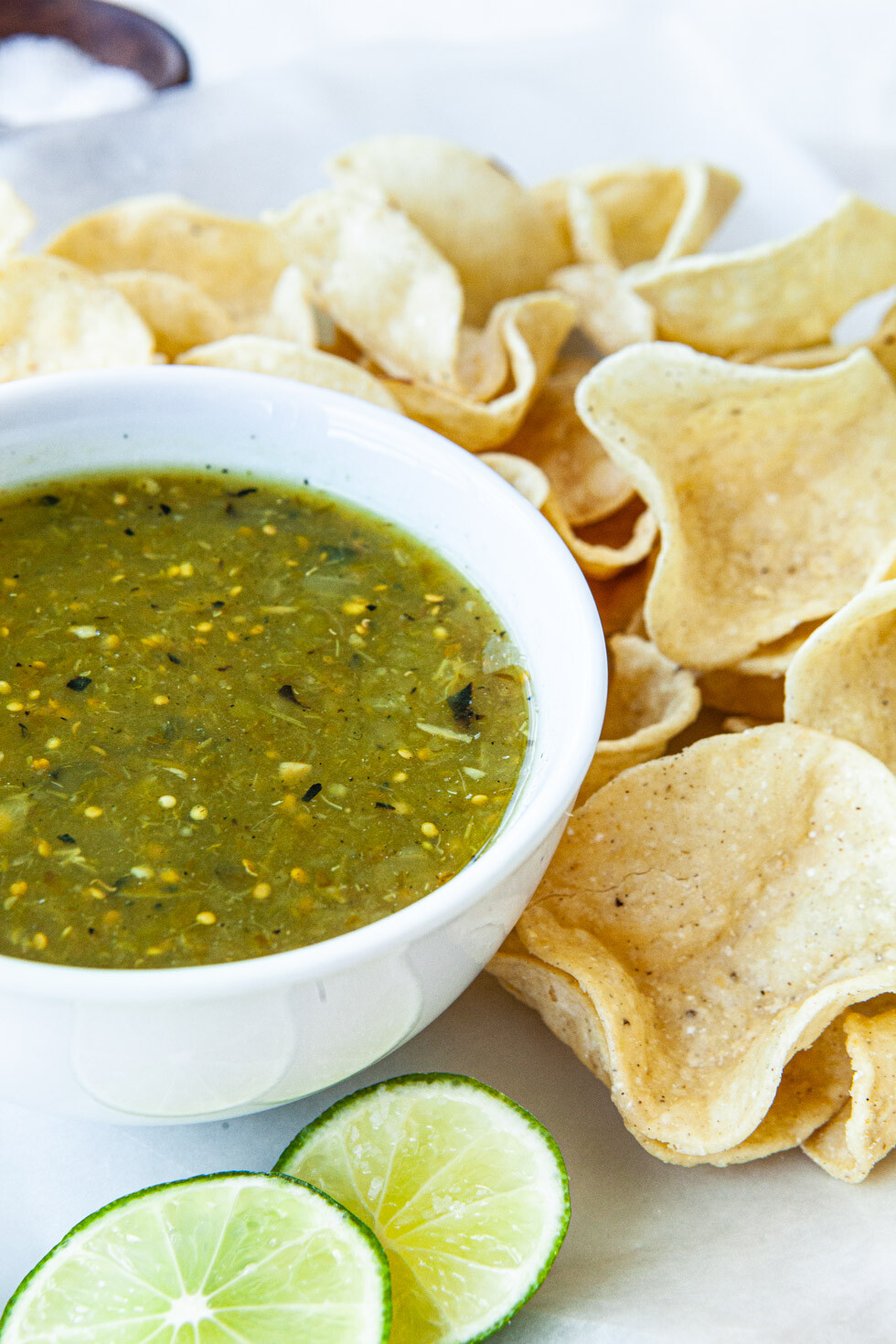 You can use this salsa as a condiment to drizzle on top of all your favorite Mexican dishes, think enchiladas, burritos, quesadillas, etc.
But a super easy and simple way to enjoy this salsa is as a dip to go along with your go-to tortilla chips. We all have a favorite brand, don't we? If you are currently looking for a new favorite. Lemme recommend two:
For Paleo-approved tortillas: I absolutely adore these Siete Tortilla Chips Lime; and,
For non-Paleo tortillas (made out of corn and are therefore not Paleo): I am OBSESSED with these Late July Cantina Dippers.
Fortunately corn does not affect my tummy and I can enjoy corn no problem. If you are like me, then I highly recommend trying the corn tortilla chips I mentioned above. They are thin and crispy and just overall amazing tortilla chips.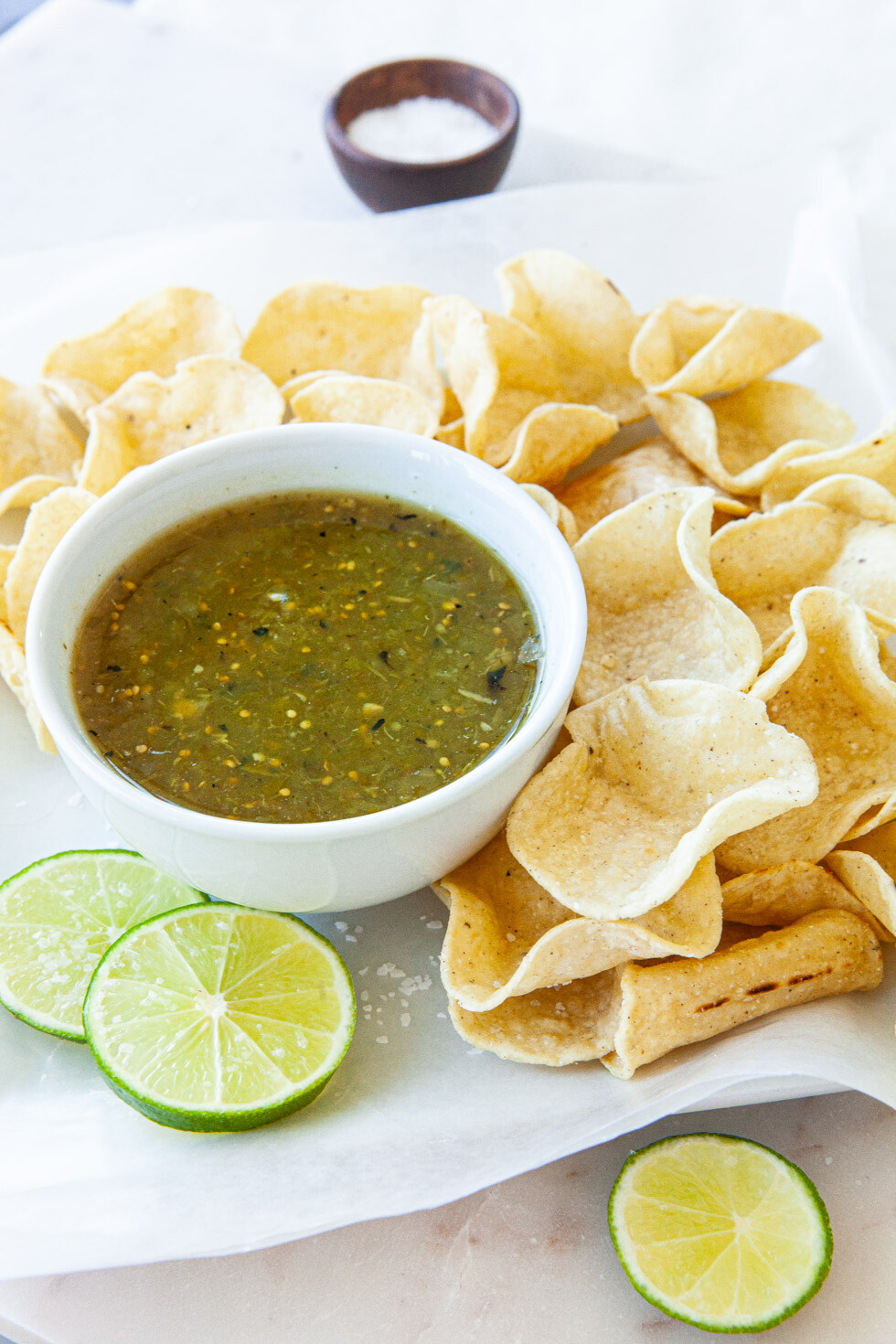 I hope you'll love this salsa! It's:
Fresh
Flavorful
Tangy
Spicy
Quick + Easy
& Delicious
This is the perfect salsa for dipping corn tortilla chips, Paleo-approved tortilla chips or even kale chips! You and your loved ones will finish the whole jar in one sitting, I can almost guarantee.
It would also make a delicious addition to things like my Sweet Potato Mexican Salad Bowls, Plant Based Mexican Bowls, Mexican Sweet Potato Rounds, or Patacones/Tostones.
If you try this recipe, let me know! Leave a comment, rate it, and don't forget to tag a photo #amazingpaleo on Instagram. Disfruten, amigos!

Tomatillo Salsa
This Tomatillo Salsa is tangy, citrusy, refreshing and flavorful, everything you'd wish for in a summer salsa. Made in less than 25 minutes and extremely versatile. A MUST TRY!
Ingredients
1 lb. tomatillos, husked and halved
½ white onion
1 jalapeño pepper
3 garlic cloves
½ cup cilantro (stems removed)
2 limes, juiced
1 tbsp. coarse kosher salt
½ tsp. freshly cracked black pepper
Instructions
Preheat oven to 425 F. Place tomatillos cut side down on a parchment lined baking sheet, and roast for 20 minutes. Remove from oven and let cool.
Once cool, transfer tomatillos to a high-speed blender, add in the rest of the ingredients, and process until desired consistency is reached. For chunkier salsa, blend less. Taste and adjust seasoning as needed. Serve with favorite chips and enjoy!
PIN ME!