Muffins > bread loaf.
Why? Well, because muffins bake way faster than a full bread loaf, and they are perfectly portioned, so there's no need to slice and dirty more utensils once the baking is done. Muffins are a genius creation, my friends. I am a BIG fan of the muffin.
This particular muffin recipe came to be because the hubs and I wanted a naturally sweet baked good earlier this week, something *like* banana bread, but something more bite sized and easier to eat. So, we began muffin baking!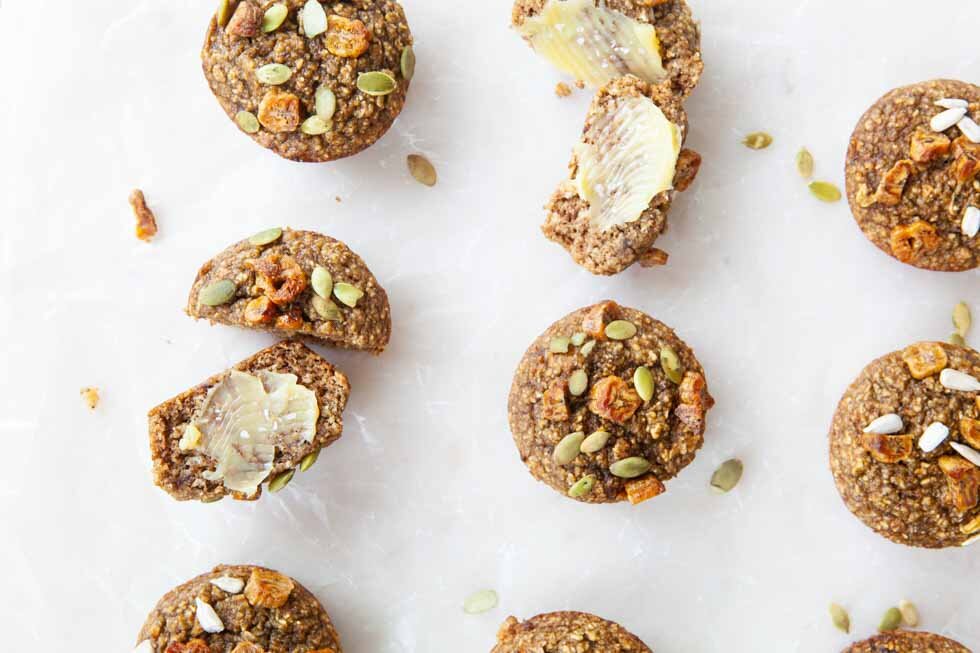 And the result was ABSOLUTELY DELICIOUS.
These Banana Date Muffins came out perfectly moist, perfectly balanced, perfectly bouncey and perfectly adorable.
They have quickly become our favorite. They are naturally sweet, gluten-free, nice and soft, nutritious, and oh-so gooooood.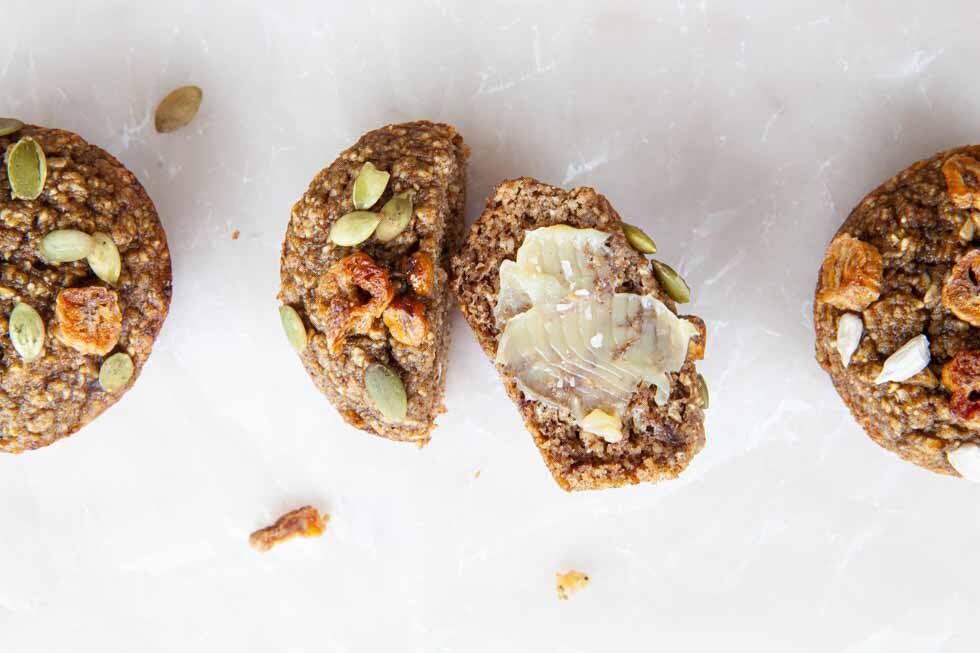 The base requires 6 ingredients and then you can chose to top them off with whatever seeds, nuts or dried fruits you want.
I highly recommend topping them off with dried baby banana slices and pumpkin seeds, which is what we did, but you can obvs go with whatever your favs are and/or whatever you have on hand. Go cray!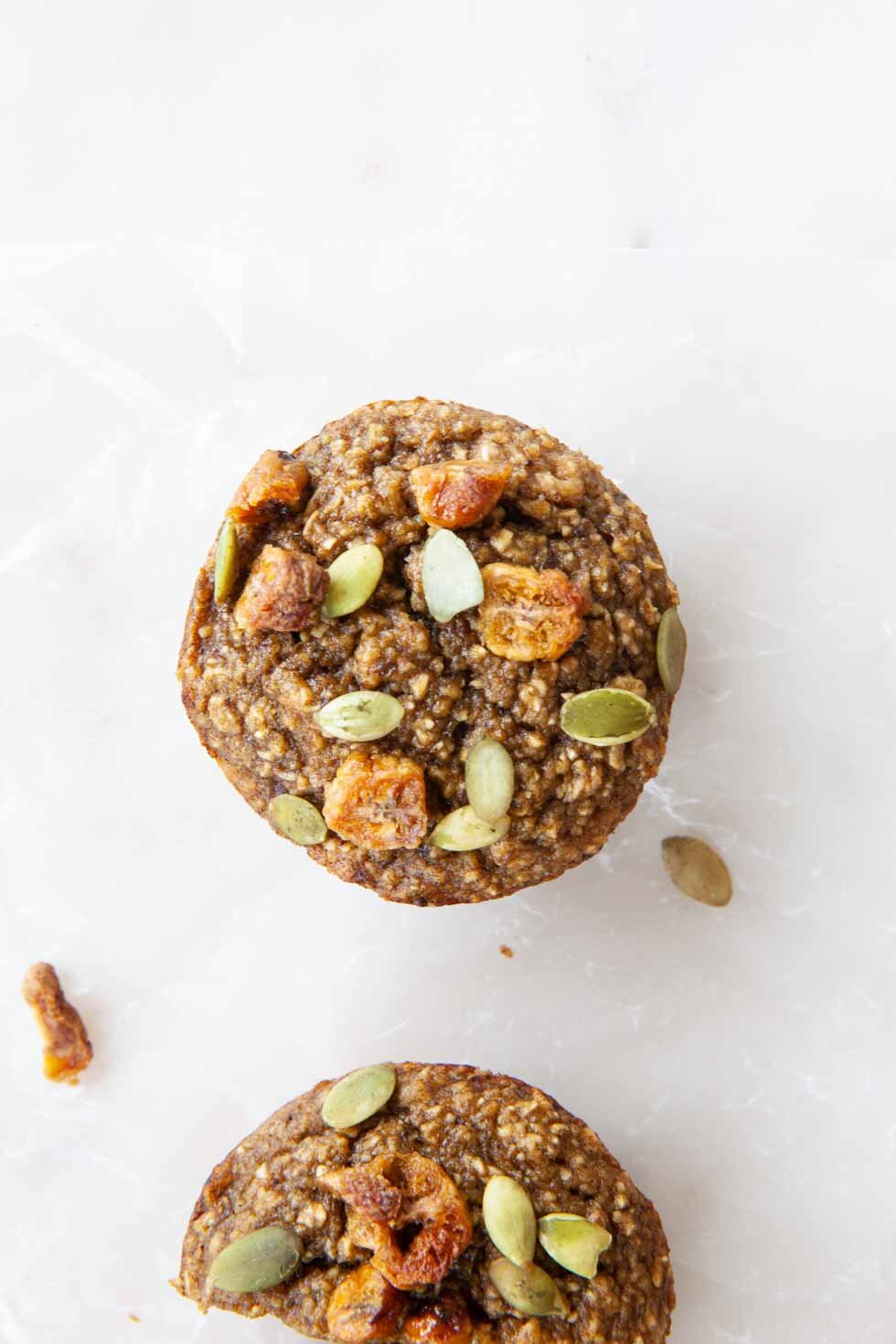 A month ago, I didn't know dried baby bananas existed. Not until I caught a little obsession about all-things-bananas and started looking into all the *pure* banana products available out there. I stumbled upon these on a lucky run.
I live two blocks away from Trader Joe's and I hopped over there recently to shop their nut/seed/dried fruit isle.
Among many kinds of banana chips and freeze dried bananas, I came across these gems. Dried baby bananas. WHAT!?
I had no idea what to expect when opening the bag, especially because there was no viewing window or anything on the packaging, and I have never even heard of "baby bananas" before in the US.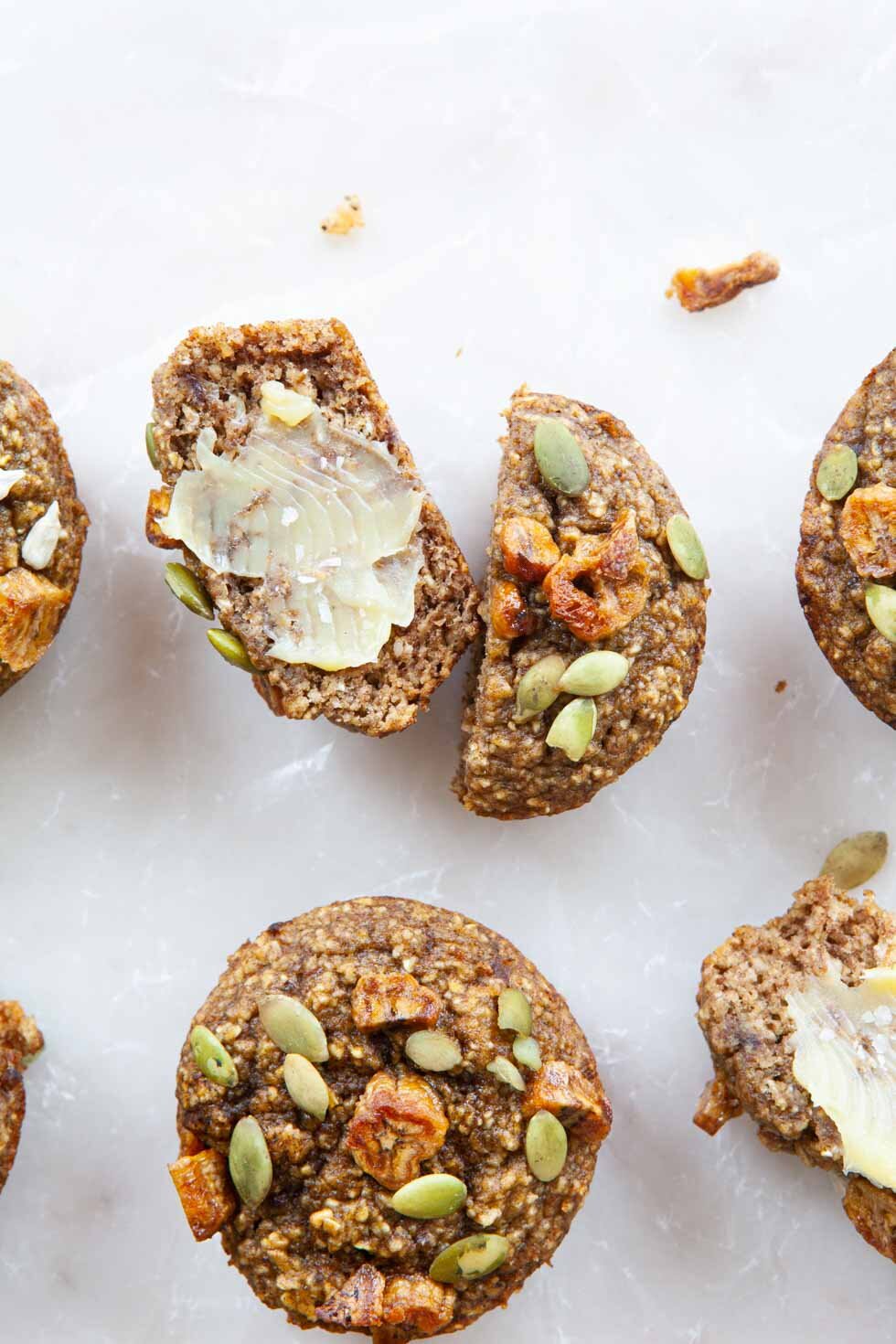 The only thing I could think of was "oritos", which I grew up with in Ecuador; oritos are tiny little bananas that are way sweeter and denser than regular bananas.
They seldom sell oritos in the US, but sometimes you're lucky enough to find them at Whole Foods or other natural foods stores. I was ecstatic to open up the bag and really hoping to run into oritos.
And guess what? I think they actually were!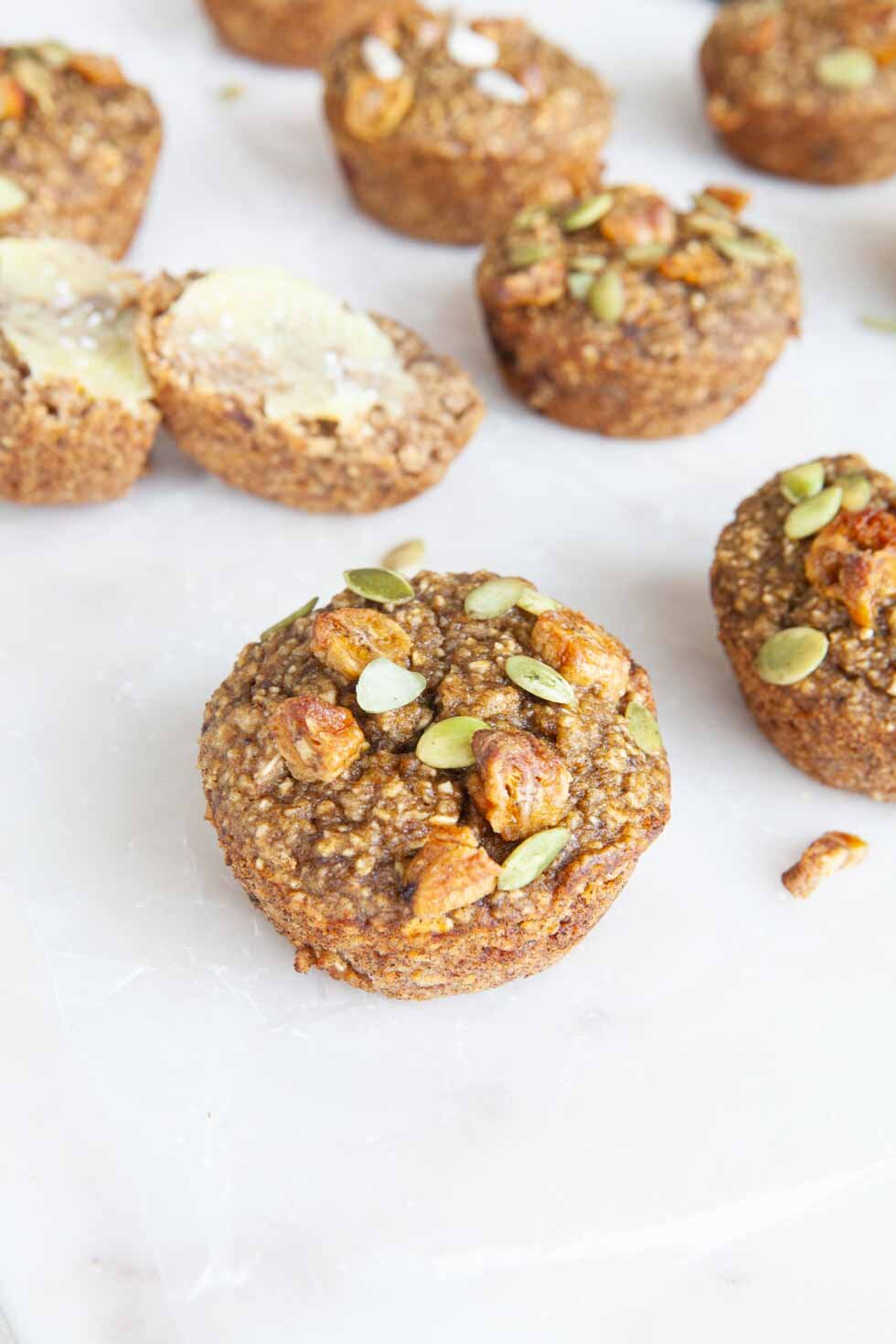 I can't tell for sure, because they were dehydrated whole and the dehydration process shrinks items all odd-like, making the fruit look a little unrecognizable.
However, the baby bananas were very sweet and if a dehydrated orito would be dehydrated, that's kind of what they would look like. 🤷🏻‍♀️
So I'm telling myself I found dehydrated oritos! HECK. TO THE. YES.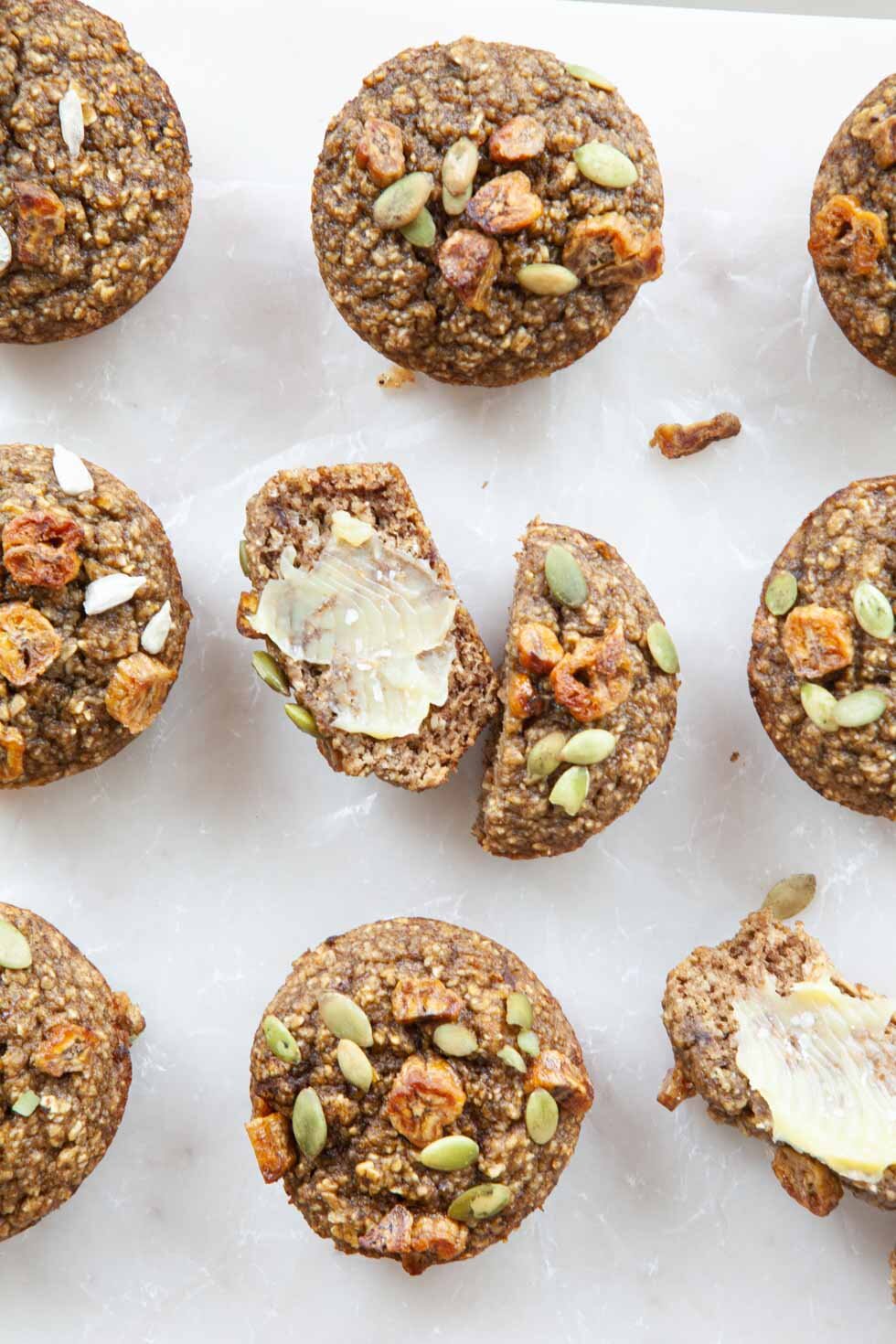 I had no idea how I was going to use them, but once I thought of baking these banana muffins, I thought it would be PERFECT to slice them thinly and add them on top of each muffin along with some pumpkin + sunflower seeds before baking. Thinking they would add the perfect texture and some extra banana goodness. And they sure did!
These Banana Date Muffins are yuuuuu-mmy.
And if you're feeling a little "extra", you can slice them in half and add a bit of butter with salt, or even a bit of nut butter, to each side.
You'll take your snacking game to that next-level goodness.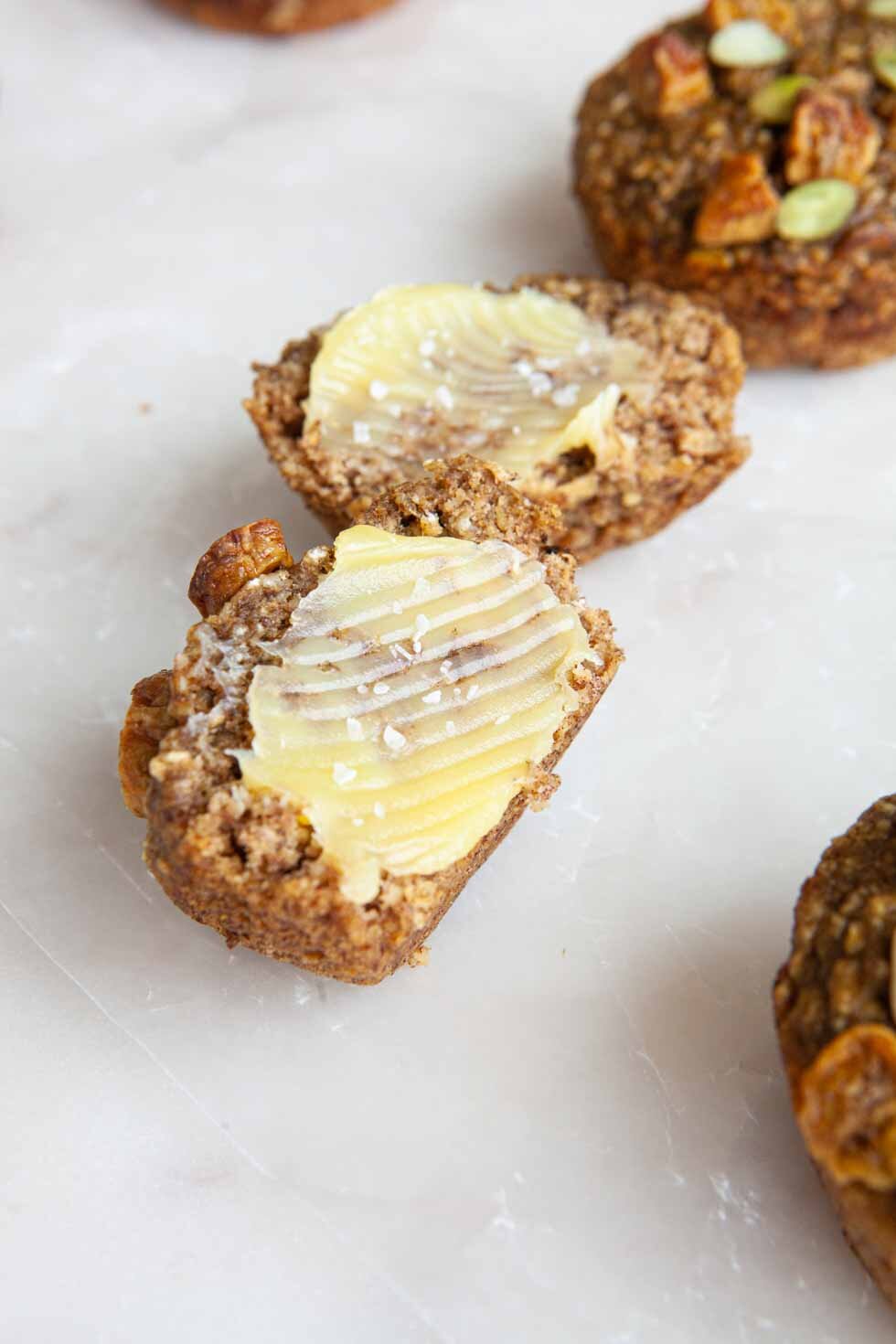 Also, did I mention the muffin batter can all be prepared in a high speed blender or food processor? It's such a win. Easy, quick, and less dishes to wash. I love recipes that don't leave my kitchen a mess. I LOVE tidy and clean! Don't you?
I hope you love these muffins! They're:
Tender
Moist
Flavorful
Banana-packed
Nutty
Perfectly sweet
Easy to make
& Kind of, well, perfect
These have officially become my husband's favorite muffins! He loves to enjoy them cold right from the fridge, along with a cup of hot tea or cold nut-milk. It's his ideal post-dinner/movie-watching combo, and boy, I'll give it to him. It's a very comforting mix!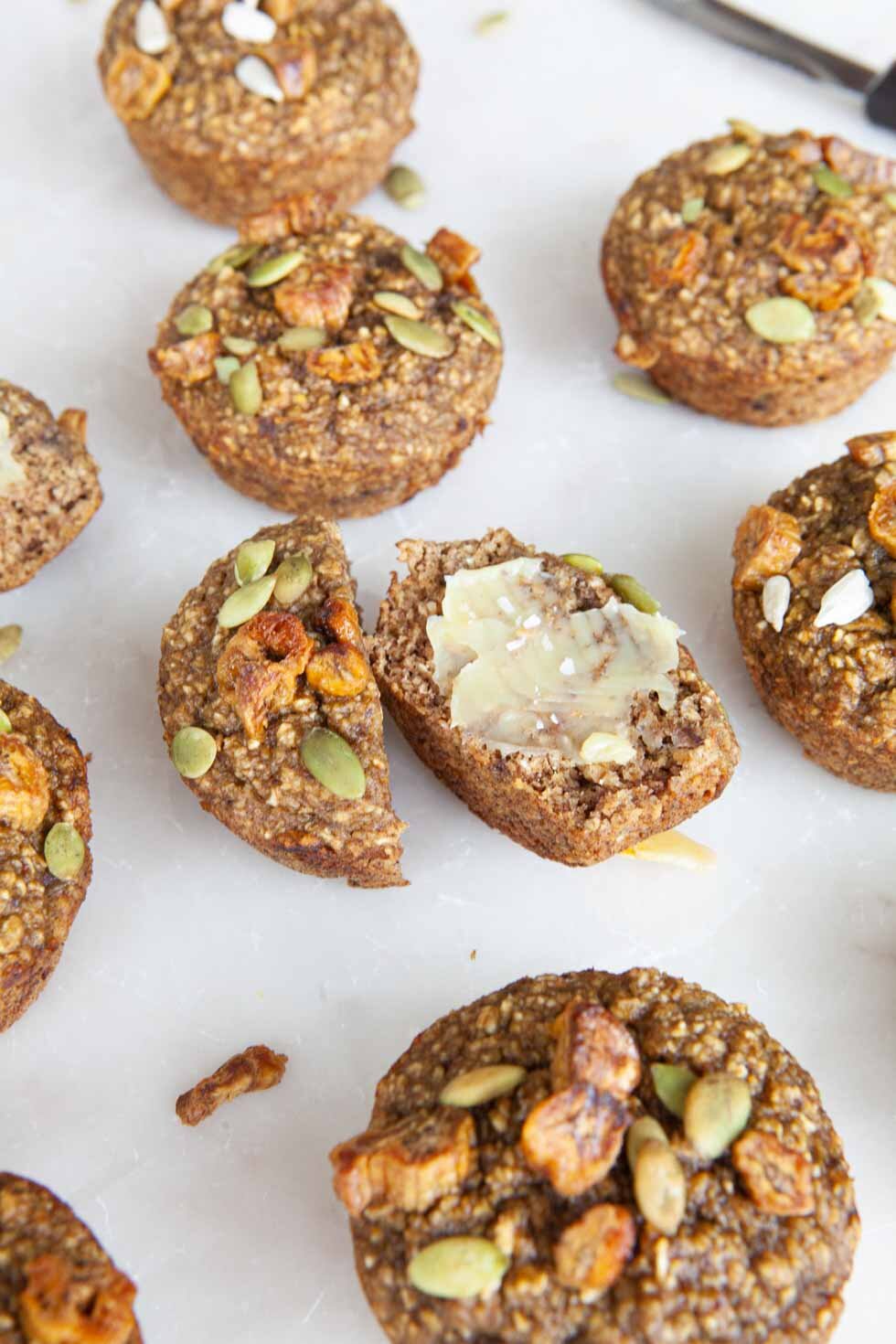 They're delicious as is, or like I mentioned above, with a bit of ghee or nut butter. They'd also make for an amazing hearty breakfast when served alongside your favorite cup of latte or greens smoothie.
If you are looking for other non gluten-free muffins, try my Triple Chocolate Protein Muffins or my Dirty Chai Paleo Muffins.
If you try this recipe, let me know! I love hearing your feedback! Leave a comment, rate it, and tag a photo #amazingpaleo on Instagram. Enjoy, cuties.

Banana Date Muffins
These Banana Date Muffins are the ideal recipe for breakfast, as a snack or for dessert. Made with simple, clean ingredients that will nourish and keep you healthy. Did we mention they are DELICIOUS?
Instructions
Preheat oven to 350 degrees.
Grease a muffin pan.
Mix all ingredients in a blender or food processor until smooth.
Pour batter into muffin pan (you should have enough for 10-12 standard size muffins). Top with dried banana slices and seeds.
Bake for 15-18 minutes, let cool and enjoy! Store in the fridge for up to 5 days.
PIN ME!