In light of the current world pandemic (COVID19), I thought I'd brighten your day with some colorful food photos, and with a good recipe for you to keep in your "quick n' easy" recipe arsenal, in case you're feeling like making something healthy and full of color.
If you've been following my last two recipe blog posts (here & here) and my Instagram, you've probably noticed that I'm currently obsessed with plant-based meals. Bowls in particular…ones that are naturally gluten-free, and are both satisfying and nourishing.
I am loving me a good savory plant-based bowl right now!
This Butternut Squash and Kale Plant Based Bowl is LIFE, and if you're into plant-based meals, this one is a must try. Trust me on this.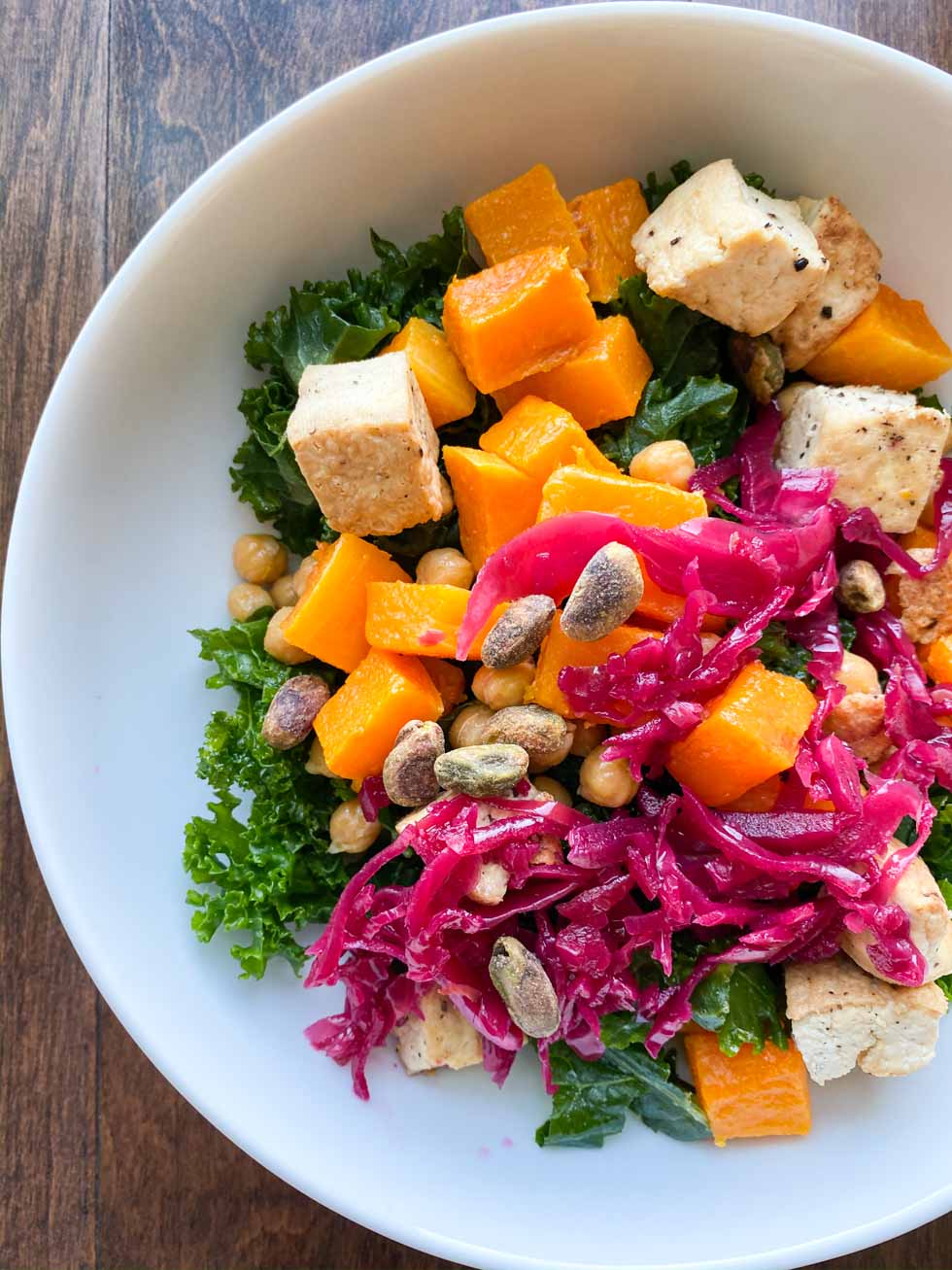 IN THIS BOWL:
Tofu
Butternut squash
Chickpeas
Kale
Beet sauerkraut
Pistachios
Also in this bowl, a super easy dressing: a drizzle of olive oil, a squeeze of lemon, and a sprinkle of salt and pepper. It seriously does not need much else on top, as all the other ingredients do the work for you as far as flavors and textures go.
If you don't have these ingredients on hand, allow me to suggest the following substitutions:
Tofu = any kind of cooked animal protein, tempeh
Butternut squash = sweet potatoes, potatoes, cauliflower
Chickpeas = any bean (just don't roast it, as the recipe suggest for the chickpeas)
Kale = any kind of leafy green
Beet sauerkraut = any kind of sauerkraut or picked vegetable
Pistachios = any roasted nut or seed
I know it's hard to follow recipes to the "T" these days, especially with limited supply availability at grocery stores and online, and with "Shelter in Place" and "lockdown" mandates. But the above substitute suggestions should give you ideas on how you can still make this meal by getting creative in the kitchen with the stuff you do have.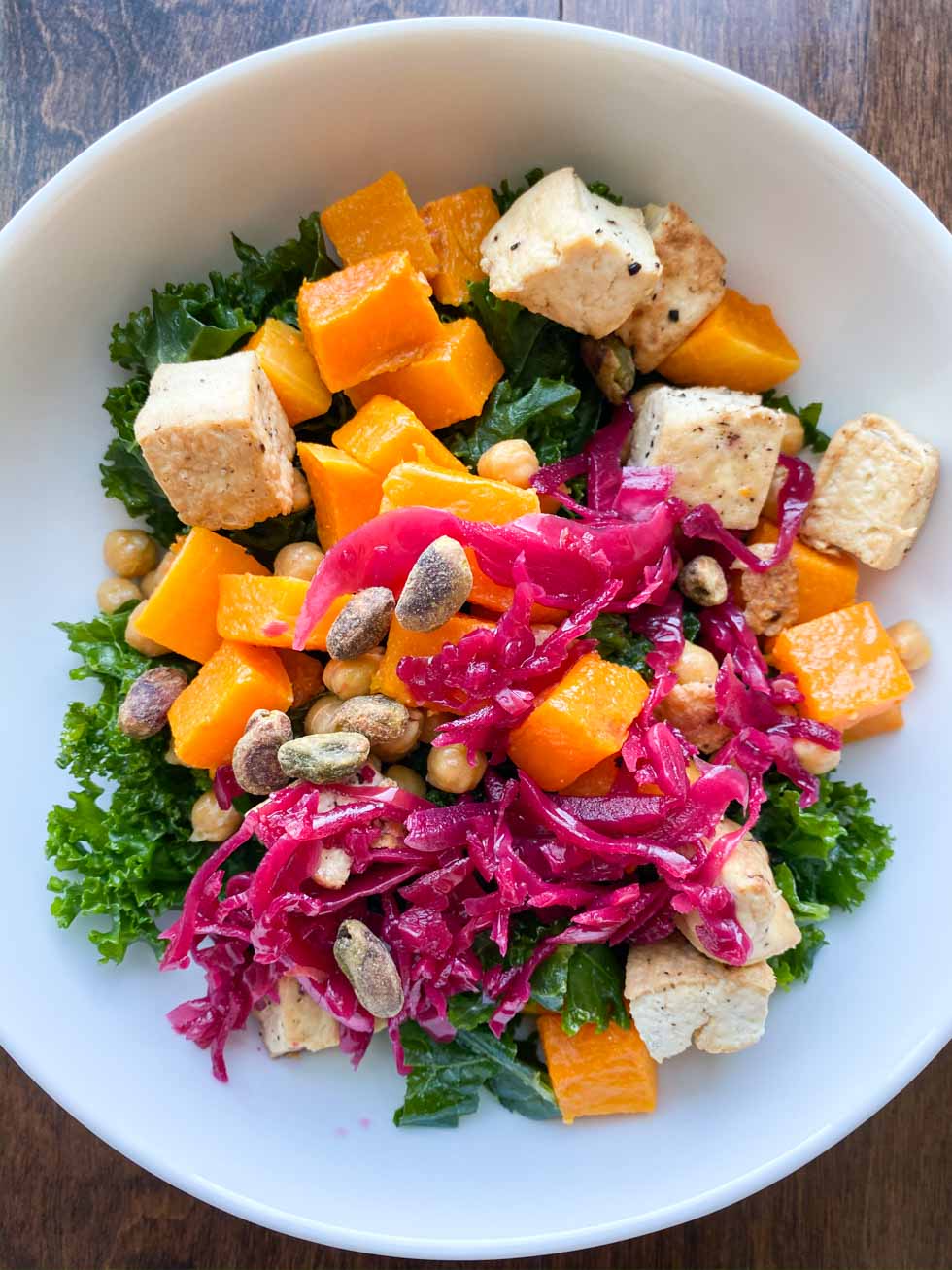 If you have any questions or need help at all, please leave me a comment in the comments section below. I will do my best to answer right away and provide the info you're looking for, as I want to help you thrive during this time.
If we all help and support each other, we'll be better off. So please know that I am available for you.
My goal is to provide simple, yet wonderful, recipe ideas and suggestions for you to live your best and healthiest life, in spite of the craziness that's going on with the virus.
We cannot control the outside world, government rules, limited supplies, etc…but we CAN control how we feel about it all. We can also control those small choices we make every day, which end up highly impacting our health and wellbeing.
Eating healthy bowls like this one, will keep our physical and mental health high. Plus, it's the small things that give us joy, too, so let's cook and prepare things with love and attention, and feel grateful for the stuff we have.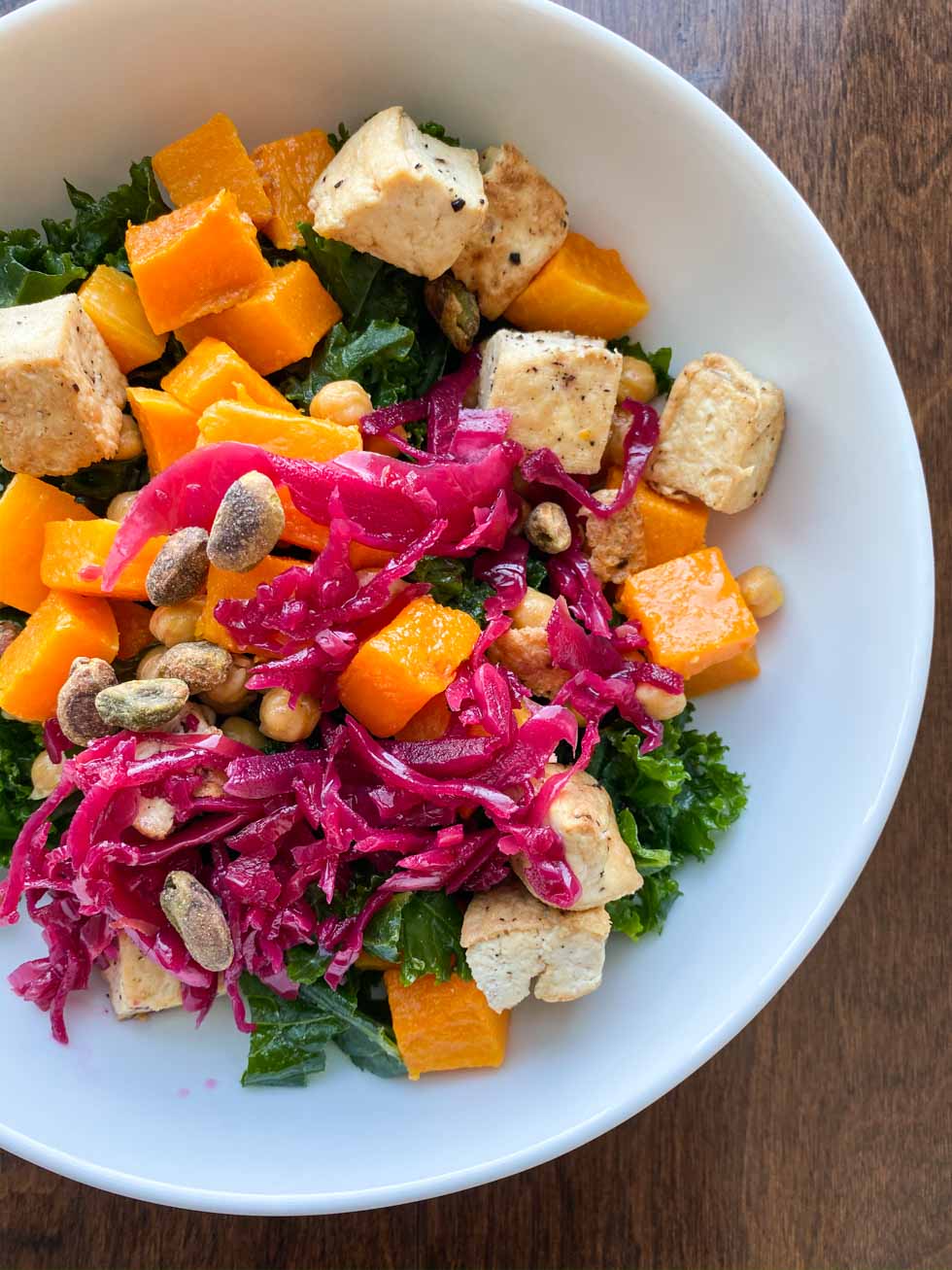 HOW I GO ABOUT MAKING IT:
First, I roast the butternut squash and the chickpeas in the oven at 450 F for 30-35 minutes.
Second, I brown the tofu squares in a cast-iron skillet and transfer the skillet to the oven at 375 F for 15 minutes.
Third, I massage the kale with a bit of olive oil, fresh squeezed lemon juice and salt. This is an essential step, as it will help your kale soften and be less bitter. IT'S KEY!
Fourth, I assemble my bowl: kale at the bottom, followed by roasted butternut squash, chickpeas and a few tofu squares, a generous amount of beet sauerkraut, a few pistachios, and a bit of lemon juice and extra olive oil for good measure.
PS: if you need a make-ahead meal… you can roast the squash and chickpeas, and cook the tofu, ahead of time and keep it refrigerated. These stay fresh and yummy for about 4 days.
I hope you LOVE this bowl! It's:
Nourishing
Flavorful
Comforting
Hearty
& So delicious!
It would be perfect for meal prep, if you prepare the components in advance (butternut squash, tofu, chop kale) and then assemble for easy weekday or weeknight meals!
MORE NOURISHING BOWL RECIPES
If you try this recipe, let me know! Leave a comment, rate it, and don't forget to tag a photo #amazingpaleo on Instagram!

Butternut Squash and Kale Plant Based Bowl
This Butternut Squash and Kale Plant Based Bowl comes packed with flavor, texture and nutrition. Perfect for lunch or dinner, for those needing well rounded meals that are light yet satisfying!
Ingredients
For the Tofu:
1 packet extra firm tofu (extra firm is key)
2 tbsp olive oil
Coarse Kosher salt, to taste
Freshly cracked black pepper, to taste
For the Butternut Squash and Chickpeas:
1 large butternut squash, peeled, seeded and cut into small cubes
1 can chickpeas, drained and well rinsed
3 tbsp olive oil
Coarse Kosher salt, to taste
Freshly cracked black pepper, to taste
For the Kale:
6 cups kale
1 lemon, juice of
1 tbsp olive oil
Pinch of coarse Kosher salt
To top bowl:
Beet sauerkraut, as desired
Roasted pistachios, as desired
Olive oil, as desired
Freshly squeezed lemon juice, as desired
Instructions
For the Butternut Squash and Chickpeas:
Add olive oil, salt and pepper to butternut squash squares and chickpeas; roast them separately for 30-35 mins at 450 F. Check on your veggies after the 20 min mark, to move them around and to prevent them from burning. Take them out if you feel some veggies will burn if they stay longer.
TIP: do not overcrowd baking sheets/pans, to allow roasting (vs steaming).
For the Tofu:
Press tofu with tofu press for 20 mins. Cut into small squares and season with salt and pepper. Sauté each side for 5 mins in cast iron skillet with olive oil. Transfer skillet to oven, bake at 375 for 15 mins. Set aside.
For the Kale:
Add your kale, a bit of olive oil, fresh squeezed lemon juice and salt to a bowl. Give your kale a little massage to soften it up. Set aside.
Bowl Assembly:
Divide the kale amongst 4 bowls. To each bowl of kale, add desired amounts of roasted butternut squash, chickpeas, tofu, beet sauerkraut and pistachios. If desired, top off with a drizzle of olive oil, freshly squeezed lemon juice, salt and pepper. Enjoy!
Notes
Leftovers: save each of the bowl components separately, for extra freshness and for each component to maintain its flavor. Leftovers last fresh for up to 4 days.
PIN ME!