I have been on a plant-based kick lately. My body has been craving this style of eating, so I am just going with it. 😋 And because of it, I have been making a lot of plant-based recipes lately in my kitchen.
Even though Amazing Paleo is mainly a Paleo-based blog, I am sharing these plant-based recipes with you just in case you're switching up your diet, too, and would like to have access to new and easy recipes.
Each of these plant-based recipes I'm sharing, will all contain substitution recommendations in the recipe section of the blog post, so that you know how to best modify the recipe to make it Paleo. A win-win for all.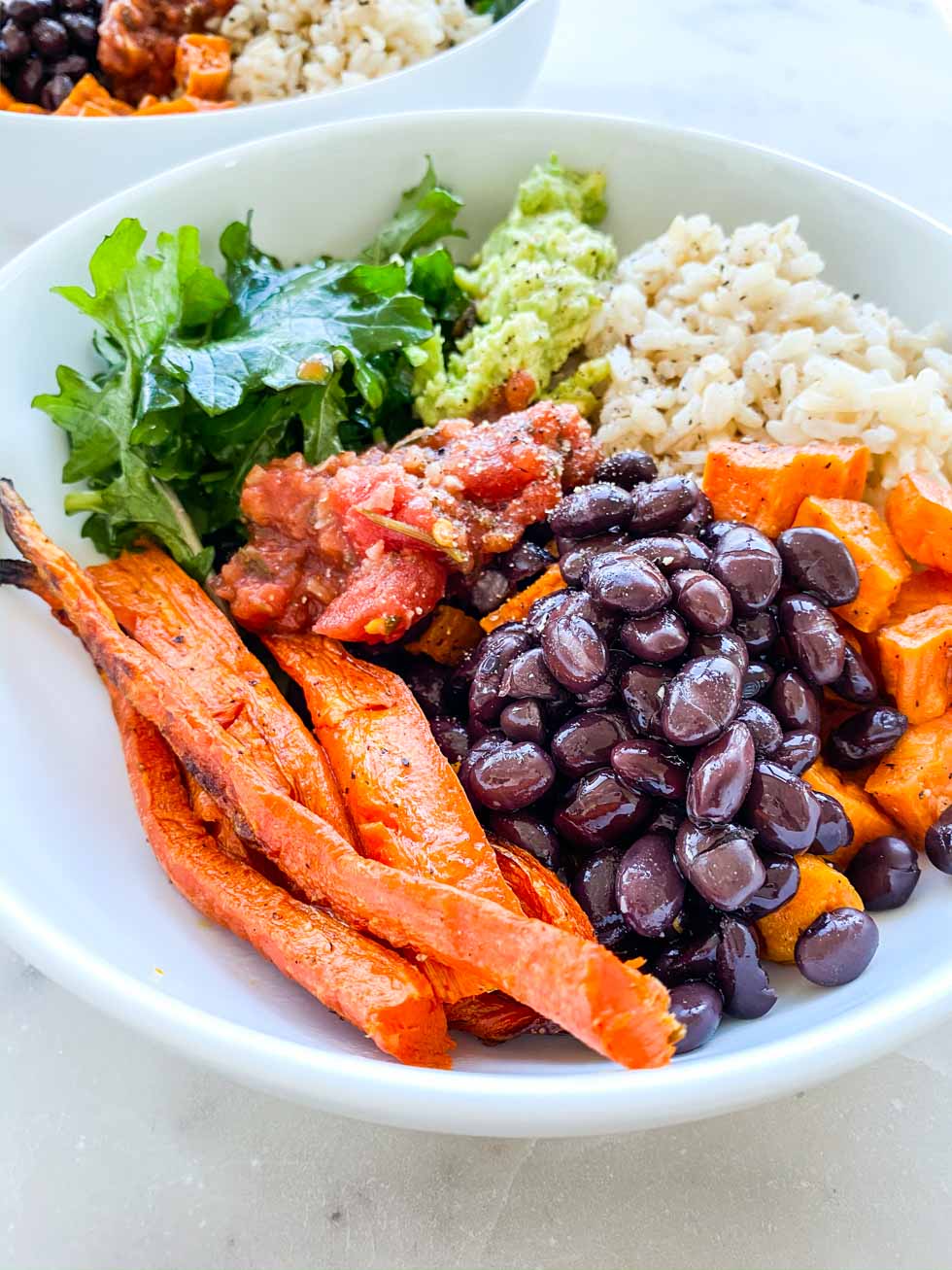 As of late, these Plant Based Mexican Burrito bowls have my heart. ❤️
They're relatively quick and easy to make, requiring simple ingredients you likely have on hand right now, and are incredibly versatile and satisfying. Oh, and did I mention that apart from being plant-based, these bowls are also fully gluten-free?
Majorly dietary-restriction friendly, if you ask me.
So, let's dive into the "meat of it", shall we? (Pun totally intended here! 😉) I'd love to share with you what I consider the basics of building a solid Mexican bowl.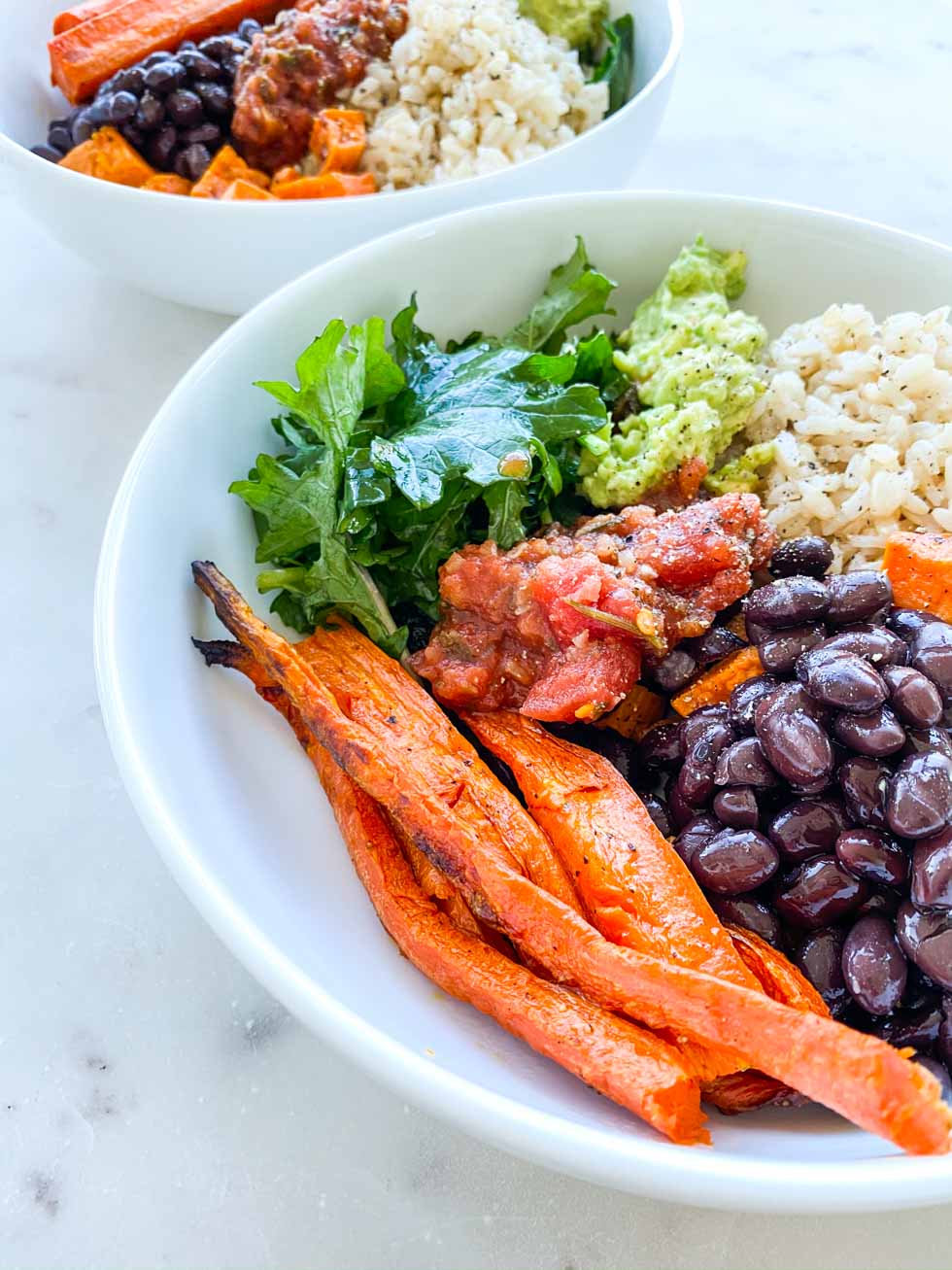 MEXICAN BOWL 101
You can make a Mexican bowl literally however you want, adding or substituting ingredients that you personally prefer and/or are craving at the moment.
However, I'd like to share some high level suggestions that I believe, if you follow, will set you up to make a great bowl at home.
Here are the components of a good Mexican Bowl:
Grain: white rice, brown rice or cauliflower rice (quinoa would work great, too!)
Protein: shredded chicken, ground beef/chicken or beef carnitas (omit and add tofu, or double up on beans if vegan/vegetarian)
Legume: black beans, pinto beans, or garbanzo beans (omit if paleo)
Veggies: a bed of greens + roasted sweet potatoes, onions, carrots, and/or peppers
Sauce: pico de gallo, fresh salsa
Guac: homemade guacamole (make it your preferred way!)
Garnish: freshly cracked black pepper, fresh cilantro, a squeeze of lime
Bam. Dinner's on the table. Super easy and fast.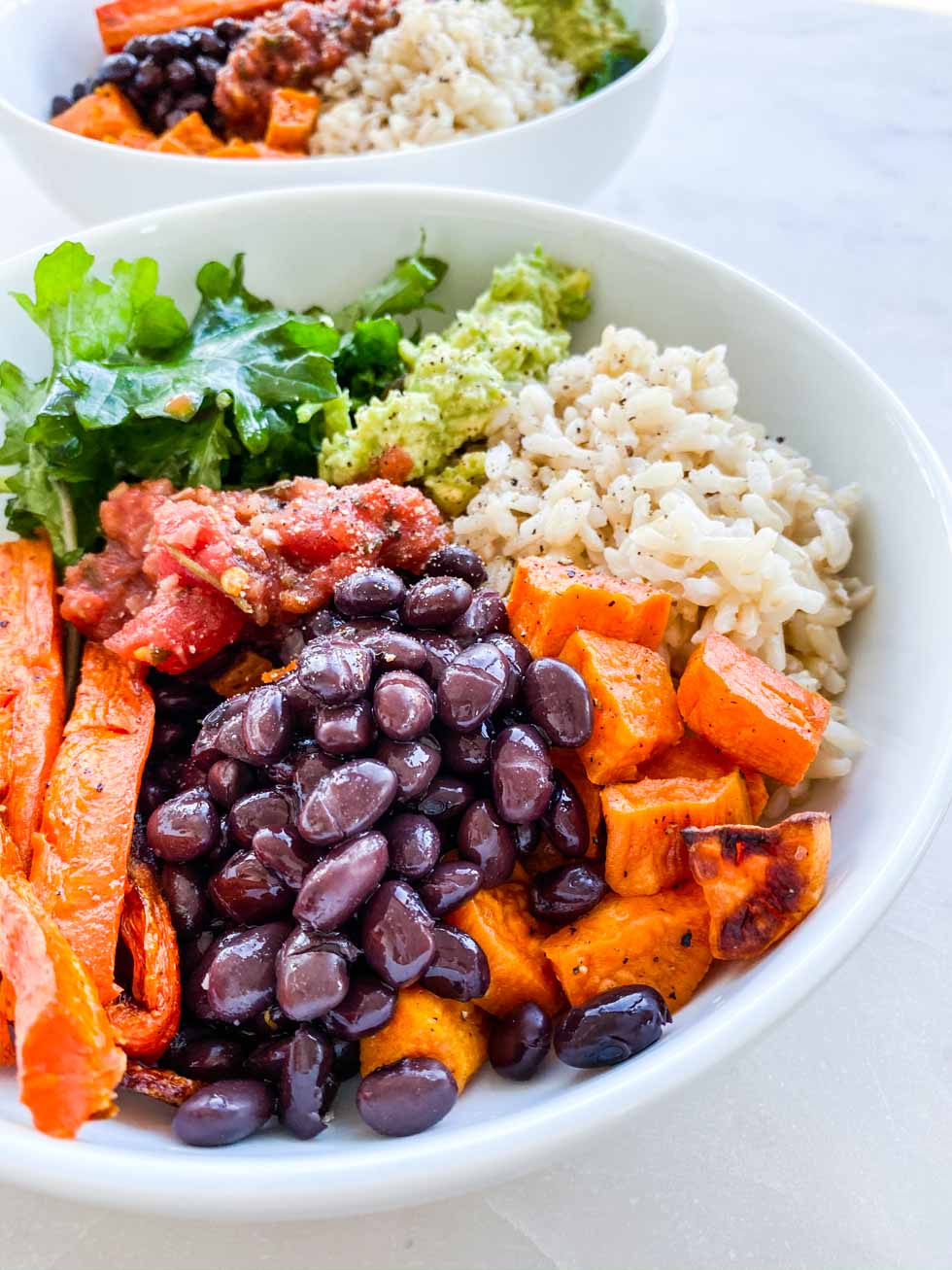 For my Plant based Mexican Bowl, I opted for brown rice as its grain. I cooked in the instant pot, which takes zero effort and comes out consistently good Every. Single. Time.
As far as the protein goes, I decided to add extra black beans instead of an animal protein, because, again, I am currently in a plant-based kick. But remember, you can add shredded chicken/pork, ground chicken/beef, beef carnitas, a fried egg, or even tofu!
For legumes, I went for black beans, as that's the kind of bean I had in my pantry. You can opt out of a legume completely, or add a small amount. Up to you!
When it came to the veggie part, I went for a bed of mixed greens tossed in olive oil, fresh squeezed lemon and a bit of salt. Then, I also added roasted sweet potatoes and carrots, which added SO MUCH to the flavor and overall satisfaction of my meal. Chose your favorites here, guys!
I went for store bought salsa as my sauce. A nearby Co-Op sells a wonderful local medium heat salsa that I tried for the first time the other day and loved. This made my bowl preparation extra easy, but normally you find me using homemade salsa on all my Mexican dishes. You can go for store bought, or follow my favorite salsa recipe or pico de gallo recipe if you're feeling a bit extra!
For the guac, I kept it super simple. I just smashed some avocados, added fresh squeezed lime, salt and pepper. Easy peasy, and delicious. Guacamole can obviously be left out for those that are not into avocados…but, dang…who are these people!?
The garnish on my bowl was kept to a minimum. I added freshly ground black pepper and left it at that. Everything else had its own seasoning, so felt like I wasn't missing out on anything. Maybe a bit of fresh squeezed lime/lemon would've been great, but I felt it was perfect as it was.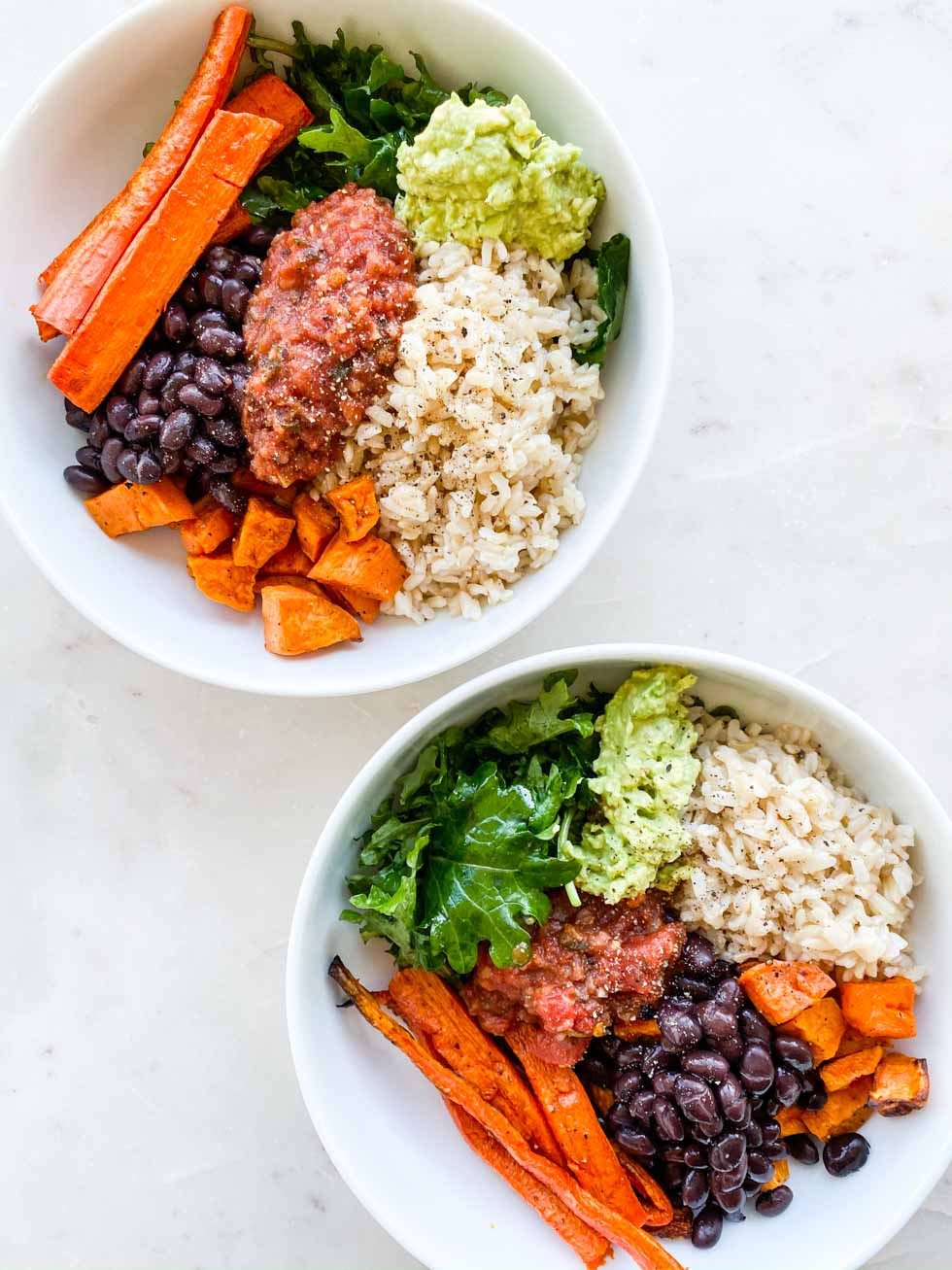 I hope you LOVE this Plant Based Mexican Bowl! It's:
Super easy to make
Customizable (switch up your grains, veggies, proteins, and sauces!)
BIG on textures and flavor
Satisfying, but not heavy
Seriously delicious
This would make the perfect weeknight meal when you want something healthy and satisfying on the table fast. It's also great for a crowd of picky eaters, since each person can customize their meal in the kitchen as they serve their own bowls. Serve as a stand-alone meal, or alongside some delicious guacamole or salsa!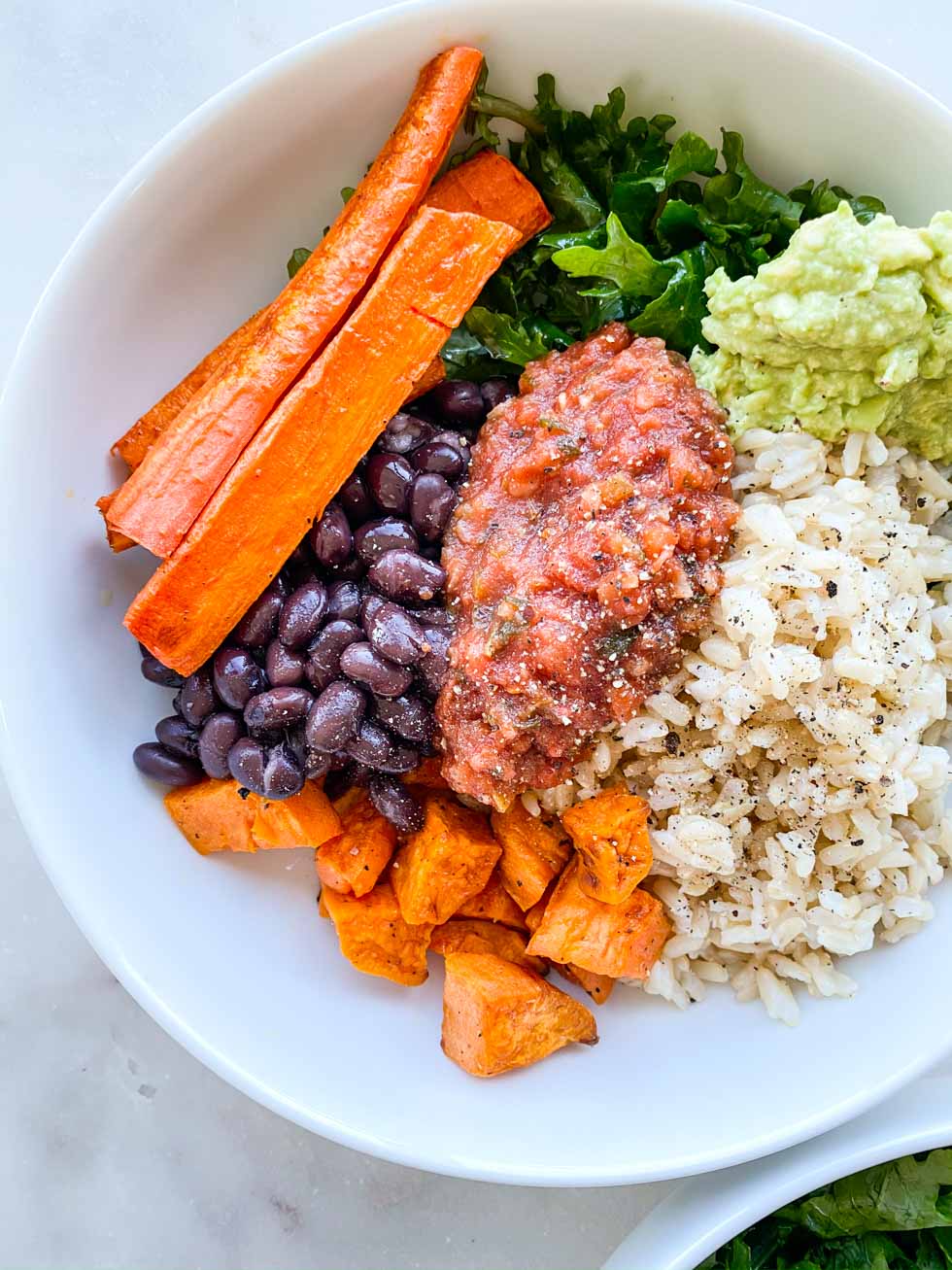 MORE BOWL INSPIRATION
If you try this recipe, let ME know! Leave a comment, rate it, and don't forget to tag a photo #amazingpaleo on Instagram. Buen provecho, amigos!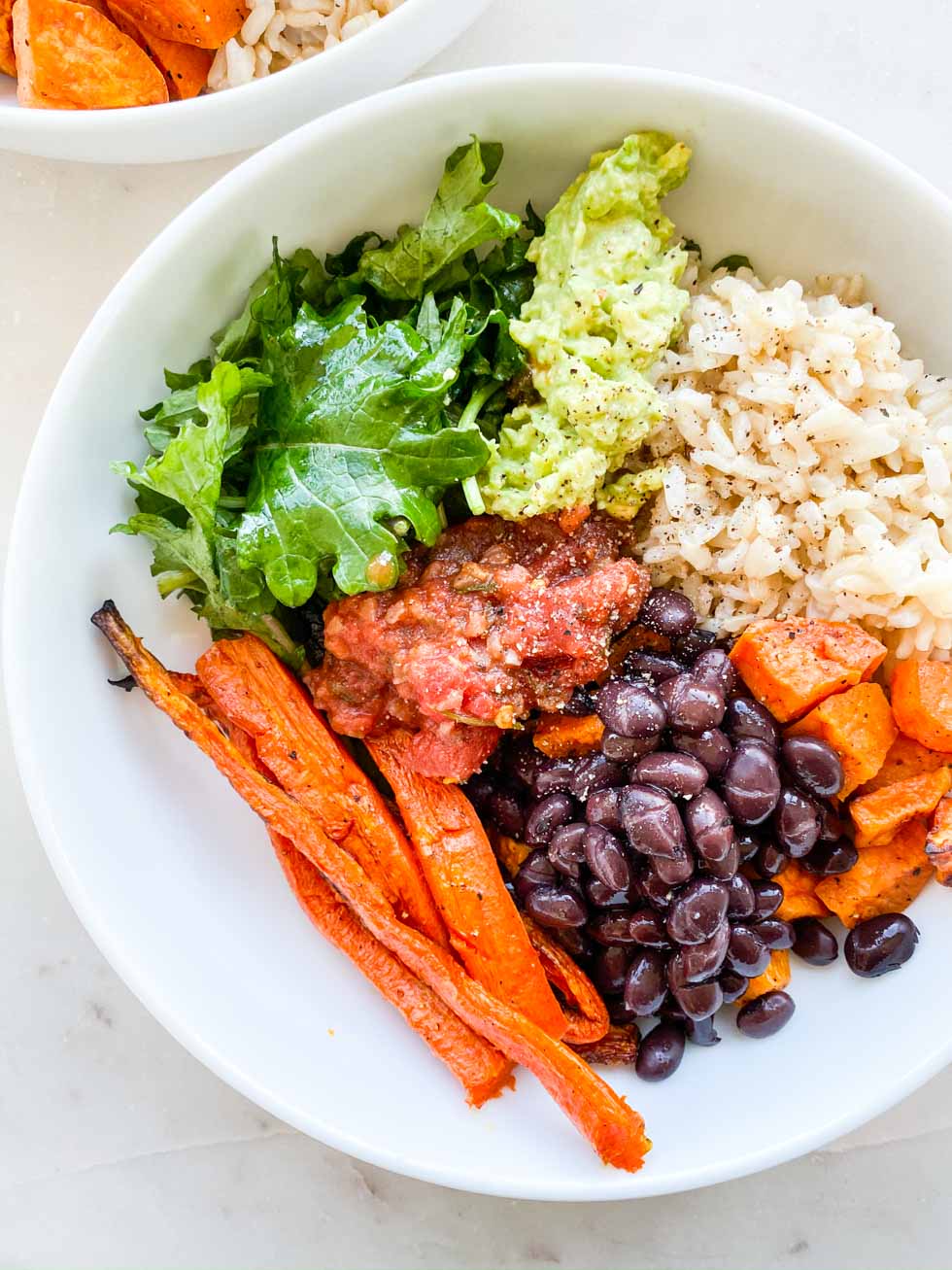 Plant Based Mexican Bowls
Great made-at-home meal for all of us staying indoors & needing a healthy, easy-to-make option. Made with few ingredients & minimal effort!
Ingredients
For the Rice:
2 cups brown rice
2 ½ cups water
1 tbsp extra-virgin olive oil
1 tsp coarse kosher salt
For the beans:
For the Greens:
Mixed greens, as desired
Freshly squeezed lemon juice, as desired
Olive oil, as desired
Coarse Kosher salt, as desired
For the Roasted Veggies:
2 large sweet potatoes, peeled and cubed into small squares
4 carrots, peeled and cut in half
Olive oil, enough to lightly coat all veggies
Freshly cracked black pepper and salt, as desired
For the Guac:
1 ½ - 2 ripe avocados
½ lime, juice of
Freshly cracked black pepper and salt, as desired
Garnishes:
Instructions
For the Rice:
Rinse brown rice in a strainer until water runs clear. Set aside.
Plug in your instant pot and use the sauté setting to heat the olive oil for 1-2 mins. Add rice and stir for 30 seconds. Add water and salt. Use manual setting to cook for 23 minutes; once done, allow pressure to release naturally (do not use the release valve!) for 15 mins. Fluff and serve.
For the Beans:
Rinse beans in a strainer until water runs clear. Set aside.
For the Greens:
Add your mixed greens, a bit of olive oil, fresh squeezed lemon juice and salt to a bowl. Give your greens a little massage to soften them up. Refrigerate until ready to assemble bowls.
For the Roasted Veggies:
Add olive oil, salt and pepper to all veggies; roast them separately for 30-35 mins at 450 F. Check on your veggies after the 20 min mark, to move them around and to prevent them from burning. Take them out if you feel some veggies will burn if they stay longer.
TIP: do not overcrowd baking sheets/pans as veggies will steam vs roast.
For the Guac:
Mash avocados, and add lime, salt and pepper as desired.
To Assemble:
Start with a base of greens and rice, then add in roasted veggies, beans, guacamole and salsa. Top with desired garnishes and serve!
Notes
PALEO SUBSTITUTIONS:
- Sub brown rice with cauliflower rice.
- Sub black beans with your favorite animal protein (shredded chicken, ground beef/chicken, beef carnitas, etc.)