Have you ever tried 3-minute eggs?
If you haven't, giiiiiiirl, do not waste another second! Get yourself to the kitchen, follow the egg instruction part of this Savory Breakfast Bowl recipe and try yourself some incredibly delicious and creamy 3-minute eggs. They are wonderful by themselves, on toast, in salads, you name it. You're gonna flippin' love 'em.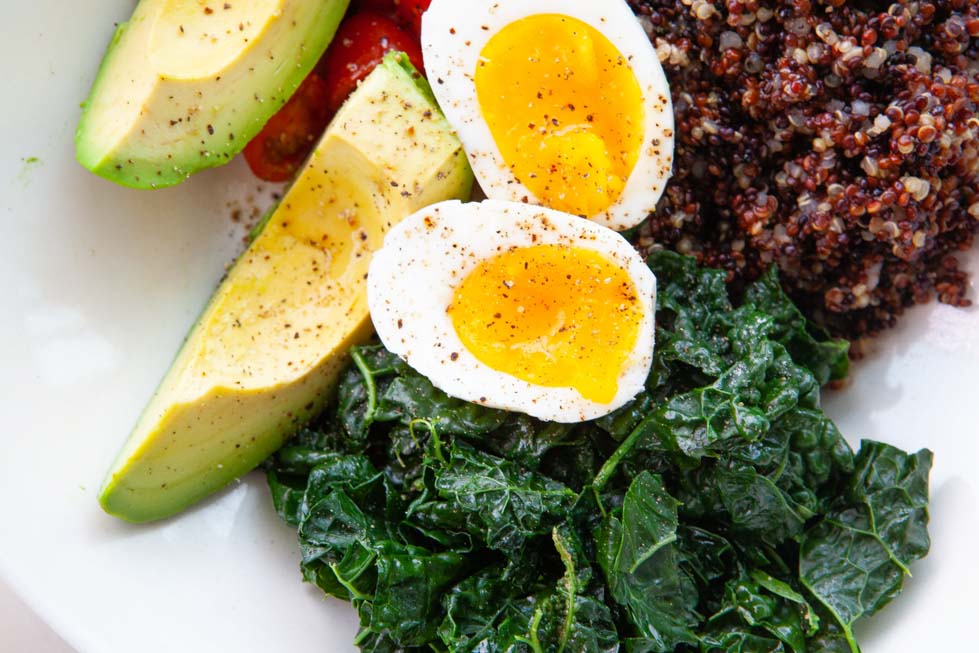 If you have tried 3-minute eggs…you are my people! Aren't they fabulous? And because you know how good these are (especially for brekkie), how excited are you for this recipe?!
We have been in love with these Savory Breakfast Bowls for a little while now, making them on weekends when we wanna take it a little slower, set the dining table and enjoy ourselves a lovely, yummy, easy morning at home.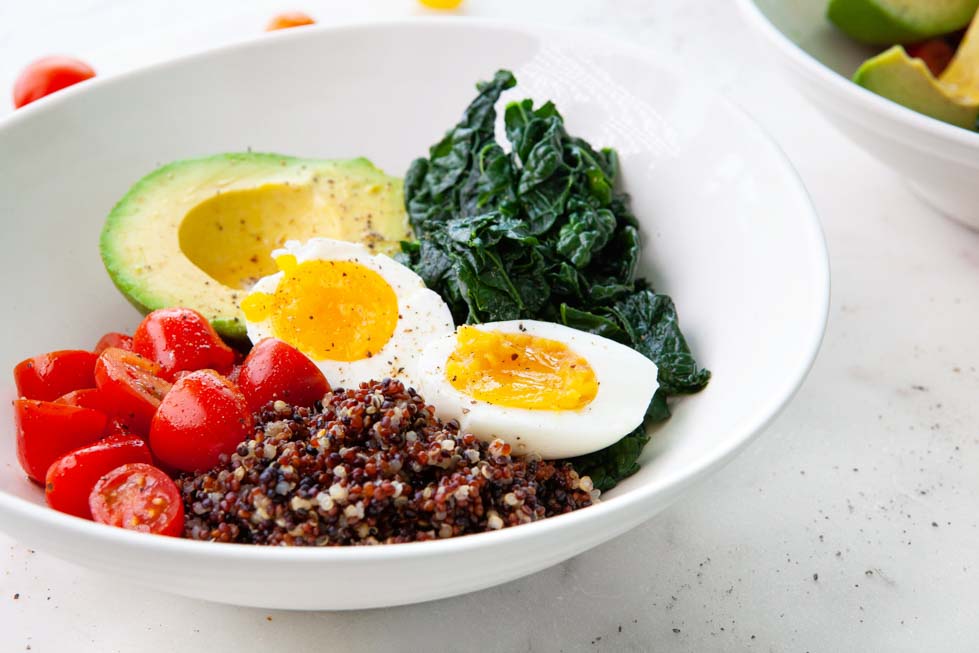 The sautéed kale, the marinated cherry tomatoes, the warm cozy quinoa, the creamy avocado and the 3-minute eggs…they all work together magically and in perfect harmony to bring you nothing but good feels. Good, comfy feels.
And in the morning, who doesn't wanna sing up for that?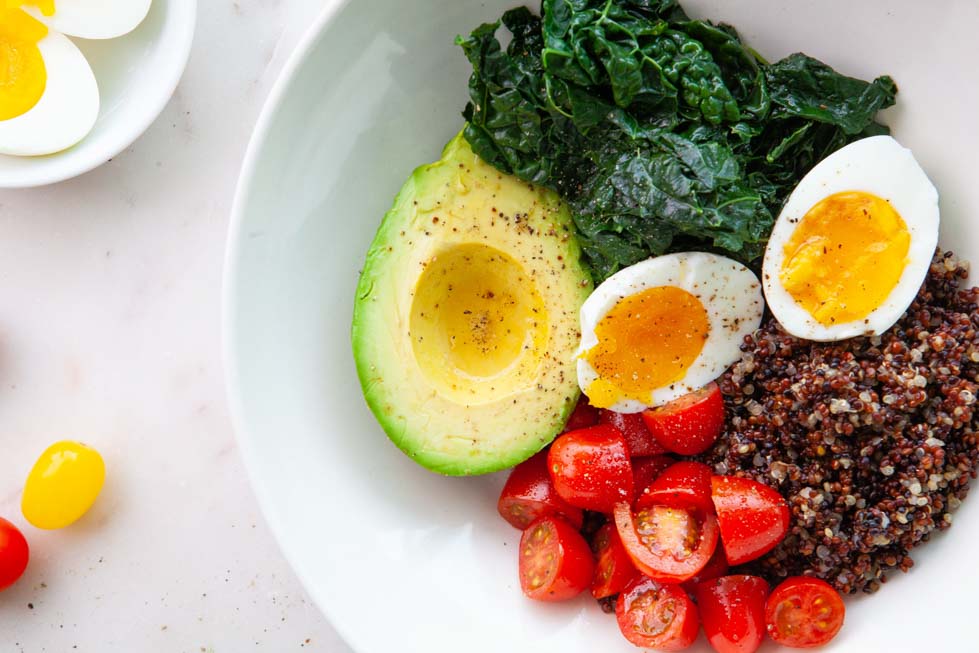 Since tomatoes are still in season, and the local ones pretty much taste like straight up candy (yup, you better hit up that farmer's market!), you should take advantage of this and try a bowl of this goodness this weekend.
This is what this weekend can look like:
Wake up early, make yourself a nice cup of coffee to go, bike/walk/drive to the farmer's market real quick with one goal in mind: tomatoes. Get back home immediately before hunger strikes, head to the kitchen to make you and your honey some Savory Breakfast Bowls and EAT. 🙌 So much yes. Do it!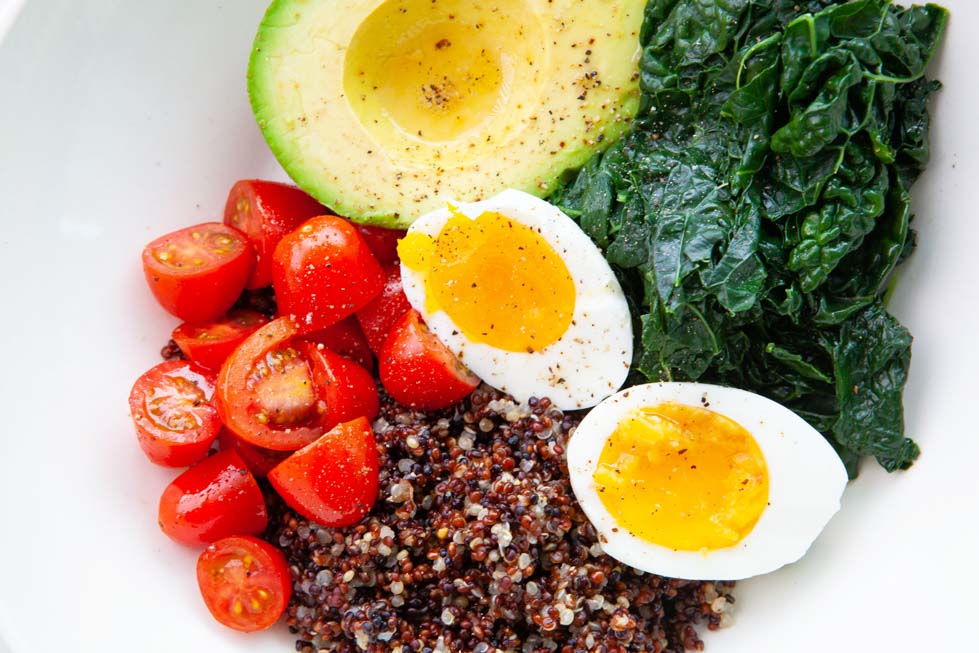 Just look at those tomatoes: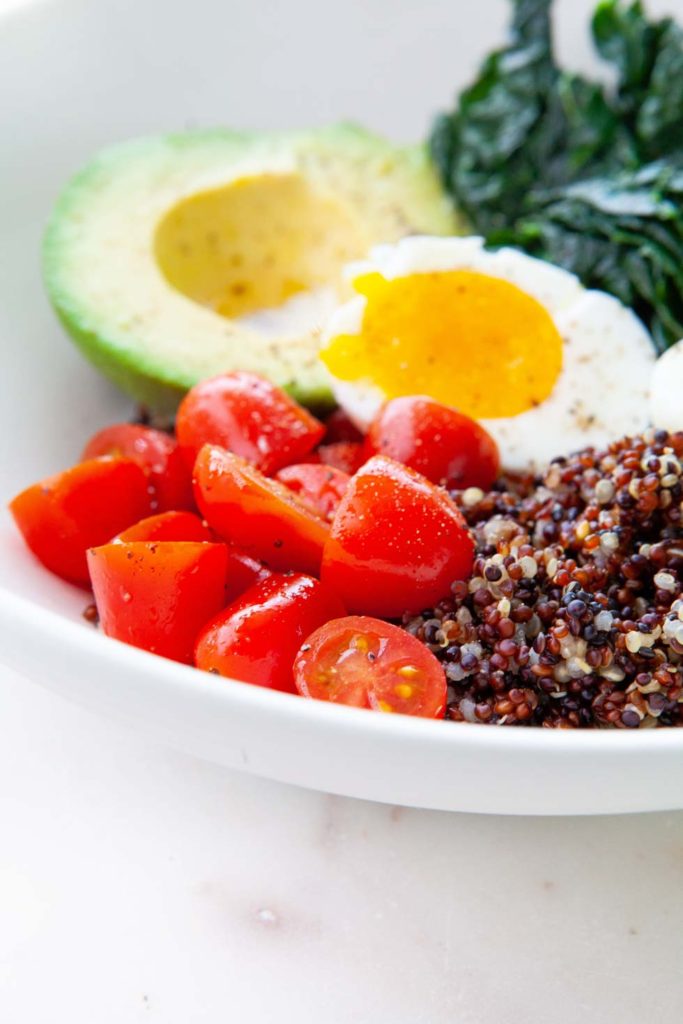 You can taste the sweetness and juiciness through the screen.
Currently, our farmers have been putting out these teeny tiny little cherry tomatoes that are the size of blueberries (unfortunately, those are not the ones pictured), and ohemgee, they are to die for. If you can find yourselves some of those, get em. You will fall in love with tomatoes in a way you have never fallen before. 🥰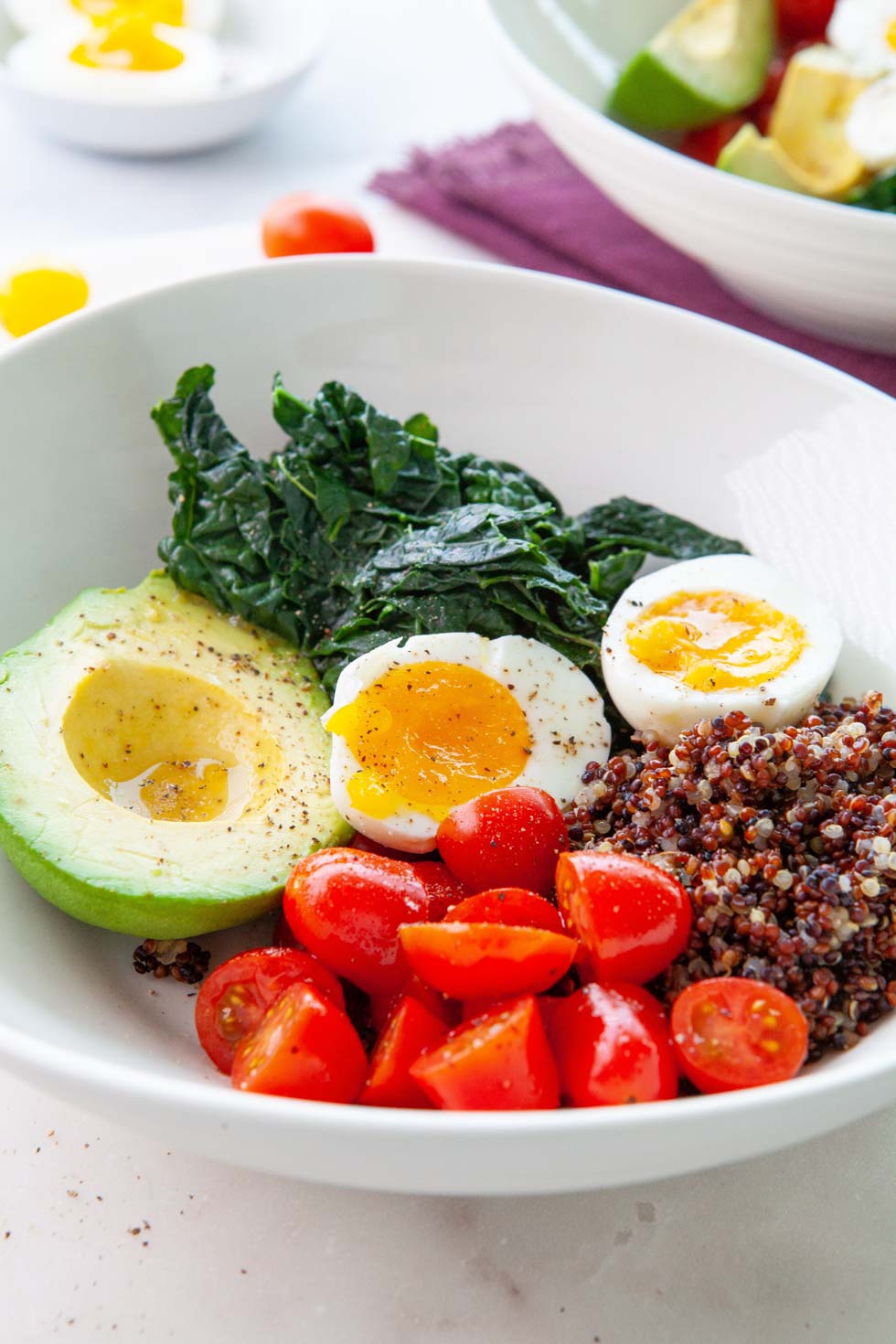 I used tri-color quinoa for this recipe, but you can use whichever kind of quinoa you have on hand or prefer. This one worked really well, though, as it gave the bowl extra texture and earthiness. I cooked it per the packaging instructions, and it came out nice and fluffy.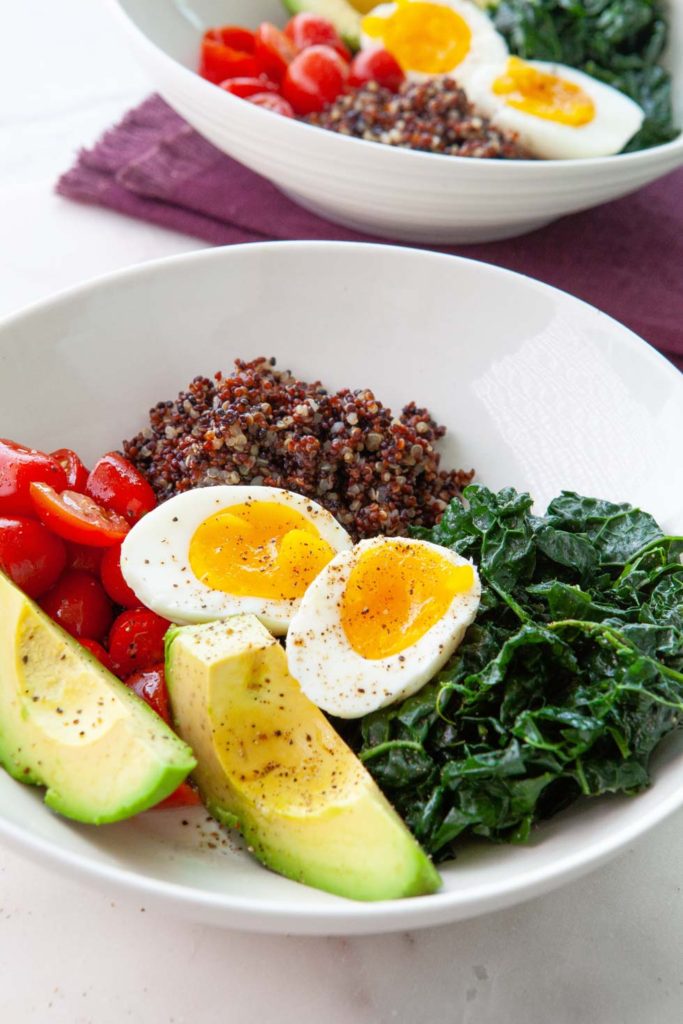 The kale variety I used was dino kale, which breaks down a bit when cooked but still keeps itself together without falling apart or getting mushy. You can use any kind of kale you prefer, but I recommend this one for the recipe. 🌱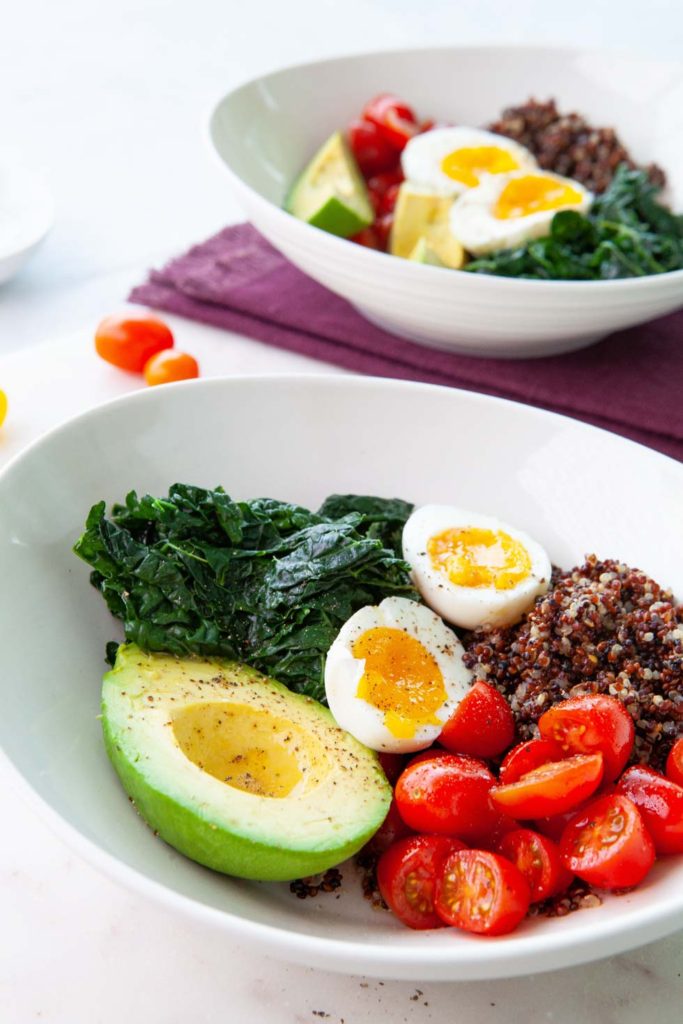 As far as avocados go, make sure you use ripe ones, ones that don't have major bruises on their outside skin, but feel soft and ready to eat. You want those avos to be nice and creamy, and when they are soft on the outside, they are typically flavorful and creamy!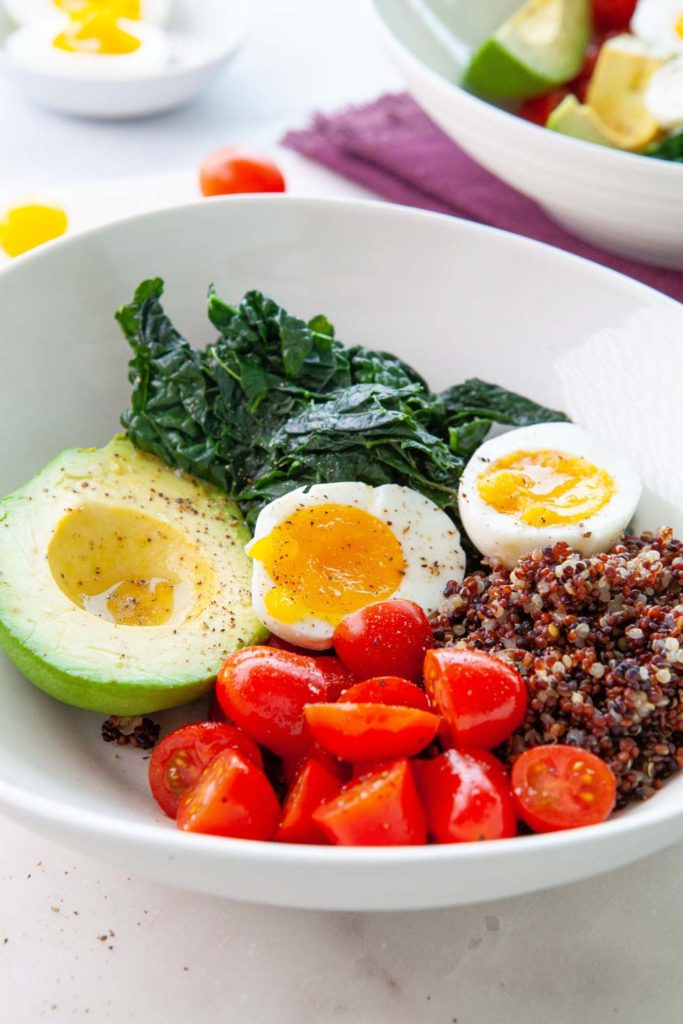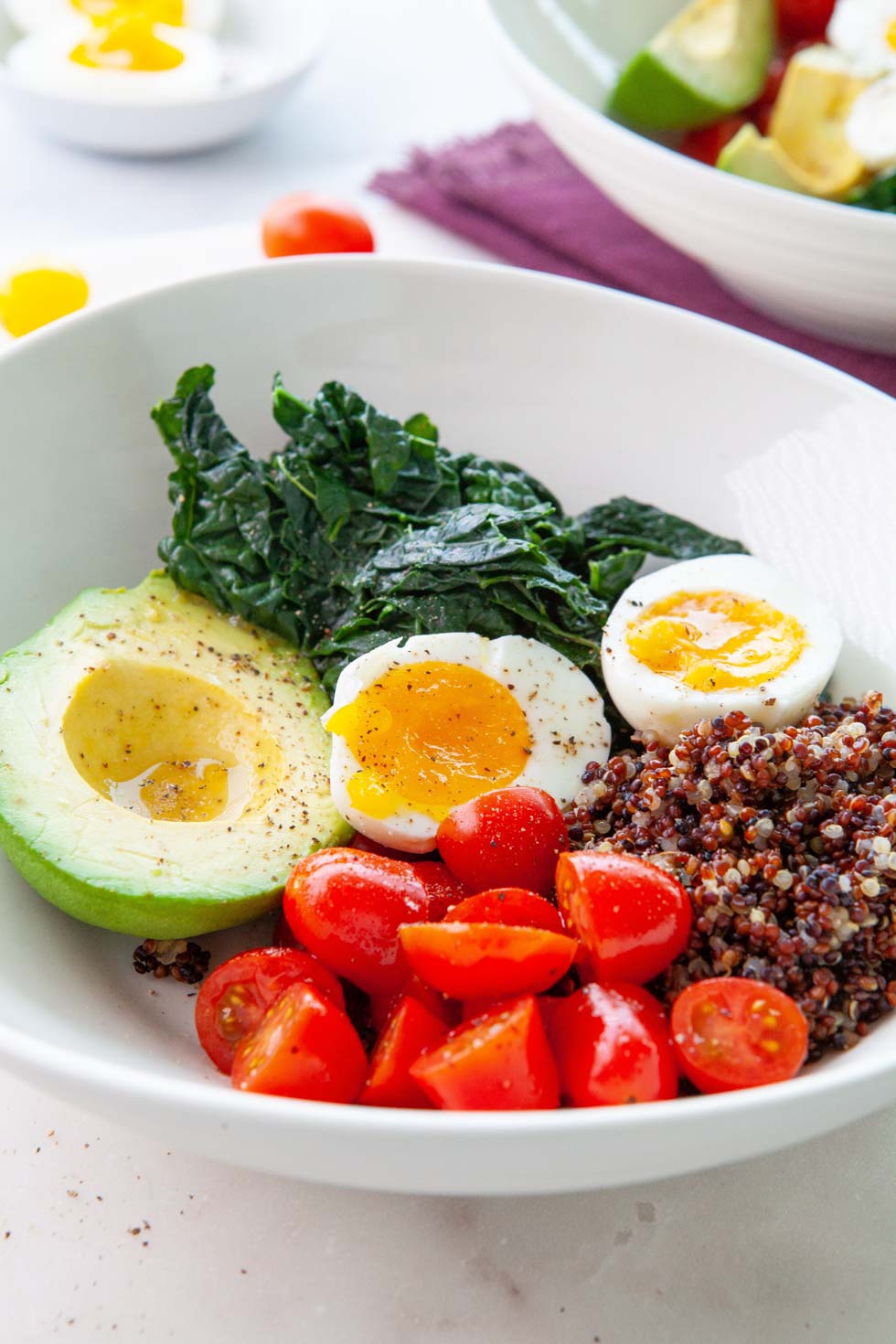 The eggs I LOVE to use are Vital Farms eggs. They are store bought, but feel like farm fresh eggs; their yolk is super yellow and they are very flavorful. If I had access to farm fresh eggs, I would use that for sure, but since I don't, I go with Vital Farms. In my opinion, they are the next best thing!
Ps: in no way shape or form is this post sponsored by Vital Farms, haha, I just love those suckers way too much and had to share the love. I mean, look at the color of that yolk: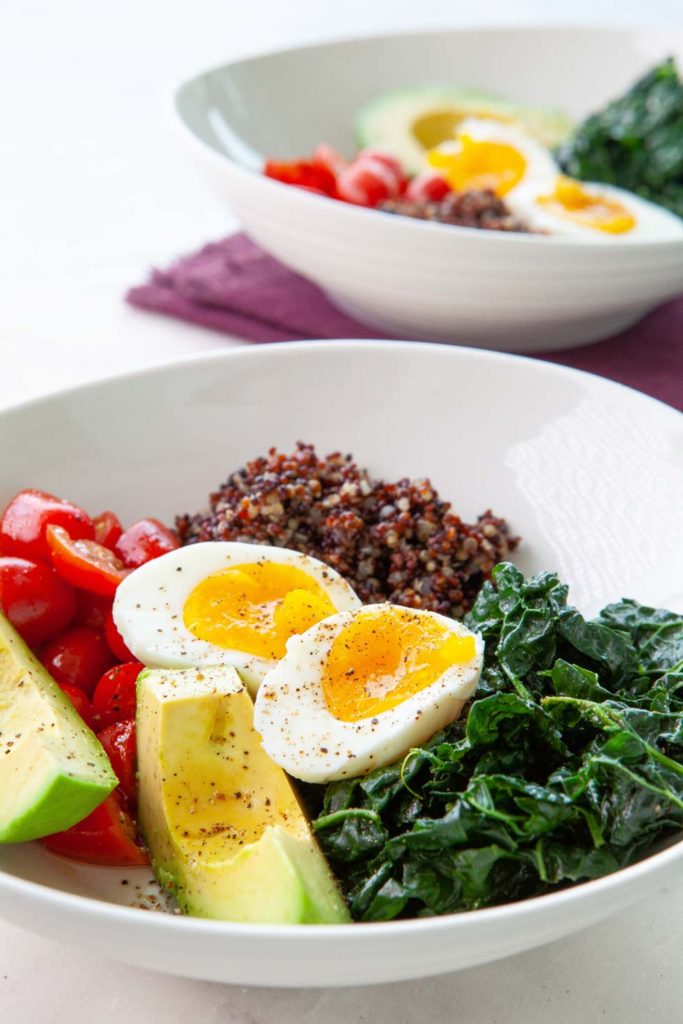 It's as simple as that. I hope you guys love these bowls. They are:
Savory
Nutritious
Satisfying
Full of flavor
Good for you
Easy to make
& Incredibly delicious!
They are a perfect weekend breakfast or brunch meal for yourself and your family. You can pair it up with your favorite cup of coffee (say, an almond or hazelnut latte) or a tall glass of fresh squeezed orange juice. YUM!
Into breakfast? Be sure to check out my: Cinnamon Roll Energy Bars, Arrowroot & Almond Flour Paleo Waffles, Protein Banana Pancakes, Chewy Chocolate Chip Cookie Bars, or Egg White and Sweet Potato Omelette.
If you try this recipe let me know by leaving a comment, rating, and tagging a photo @amazingpaleo on Instagram!
Watch how easy it is to make this Savory Breakfast Bowl:
Savory Breakfast Bowl
This easy and quick to make gluten-free and dairy-free Savory Breakfast Bowl is the perfect way to start a healthy morning. Perfectly delicious and satisfying!
Ingredients
For the Kale:
1 bunch kale, washed, de-stemmed and chopped
2 tbsp. extra virgin olive oil
3 tbsp. water
Salt and pepper, to taste
For the Tomatoes:
¾ cup cherry tomatoes, sliced
4 tbsp. extra virgin olive oil
3 tbsp. red wine vinegar
Salt and pepper, to taste
For the Eggs:
For the Salad:
1 cup cooked quinoa (for fully Paleo, sub with: roasted sweet potatoes or cauliflower rice), divided
1 avocado, divided
Optional: diced green onions, feta, roasted seeds/nuts.
Instructions
Prepare the eggs: Place the eggs in a saucepan and cover them with cool water. Bring the water to a boil, then lower the heat and simmer for 3 minutes. Remove eggs from the saucepan and place them in a bowl of cold water until completely cool. Remove shells and slice each egg in half. Set aside.
Prepare the tomatoes: Place halved tomatoes in a bowl, add in oil, vinegar, salt and pepper and toss to coat. Conversely, whisk oil, vinegar salt and pepper in a bowl to emulsify first, and then add in tomatoes and toss. Set aside.
Prepare the kale: Place skillet over medium heat and add olive oil. Once hot, add kale and move it around to coat with oil. Add in water and toss to combine; cover and cook, stirring half way, for 2-3 minutes until wilted. Season with salt and pepper.
Assemble the salad: Divide the cooked quinoa (or preferred starch) into two serving bowls. To each, also add in half of the cooked kale and the tomatoes in vinegar. Drizzle remaining vinaigrette from the tomatoes on kale and quinoa. Add two 3-minute egg halves and half an avocado to each bowl. Season with additional salt and pepper to taste, and add any additional toppings (green onions, feta, etc.)
PIN ME!