It's fall, and that means chili season has arrived. Yipee! Is there anything better than a hot, hearty bowl of savory goodness? Nope. Don't think there is!
Lucky for me, my husband really loves soups, so he doesn't complain when I serve chili bowl after chili bowl after chili bowl for dinner. And my mother-in-law loves chili too, so when we go visit my in-laws, we eat even MORE chili (YES!). My mother-in-law makes a sweeter kind of chili, whereas I make a spicier and a more savory kind of chili…but that only means that we get to have some chili variety, which is great!
Traditional chili can be kind of a gut bomb, as it contains lot of beans and it's topped with sour cream and grated cheese. And on top of that, I'm personally sensitive to red bell peppers, so chilis made with those can be REALLY harsh for me (is anyone else sensitive to bell peppers? I know my husband is as well, so I wonder if some of you guys are too?). 
I haven't had a traditional chili bowl in what seems like six years. Yes, traditional chili can be very tasty, but it can be very heavy…and if you love chili as much as we do, you certainly can't be having traditional chili bowls every night or every other night. Your tummy may not like that too much.
So how do Preston and I eat chili so frequently and not have belly pain? Well, we omit the ingredients I just listed above. We add only Paleo-friendly ingredients that are non-inflammatory, yet super delicious, to make a lighter version of our beloved soup.
We start by omitting the red bell peppers, just because it hurts both of our stomachs, and we replace these with thinly sliced carrots and a few extra chopped onions. Then, we replace the beans with some sort of starch to add some nice texture to our chili (like sweet potatoes or pumpkin). Lastly, we replace the sour cream and cheese that tops the chili, with lots of fresh cilantro and avocado slices. Mmmm hmmm. SO GOOD.
Also, when Preston and I have specific fitness-goals we are trying to achieve, like getting a little leaner for example, we'll go ahead and substitute the ground beef for a leaner ground meat, like turkey or chicken. This allows us to reach our goals without giving up some of our favorite foods. It works like a charm.
Today, I am going to share with you guys the chili bowl that I have been making on repeat since fall started. This bowl is 100% Paleo approved and is also a GREAT recipe to make when you're wanting to stay a little leaner. It is light, non-inflammatory, and best of all, INCREDIBLY DELICIOUS.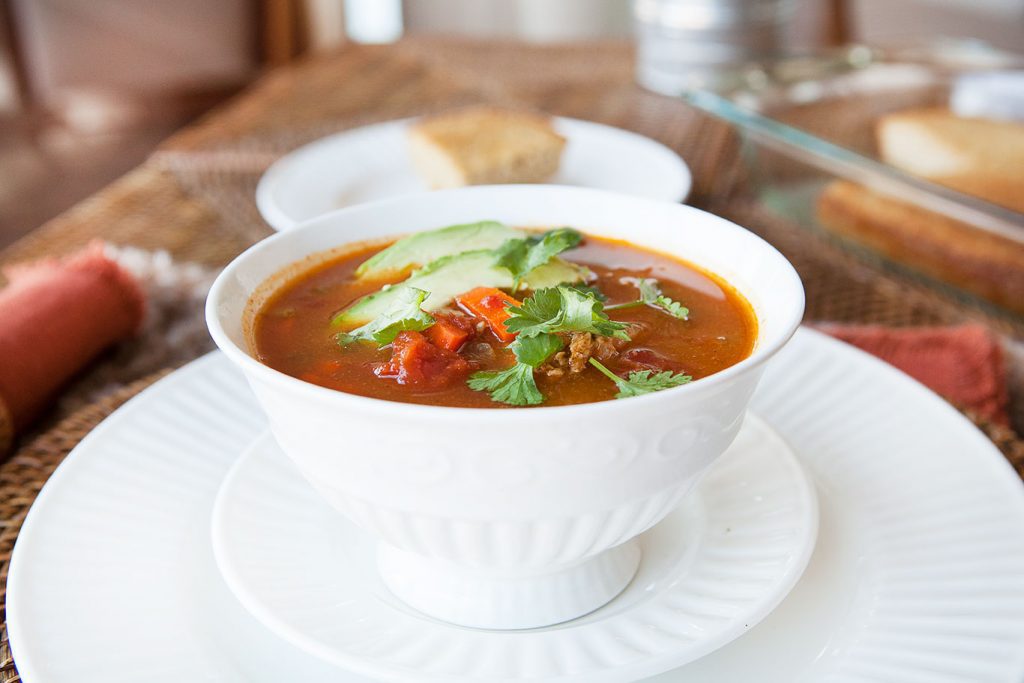 I like to make a big batch of it, so I can keep the leftovers in the fridge for upcoming lunches and dinners. Making this chili is like meal-prepping for the week, only it's the easiest meal prepping ever because you get tons of portions for hardly any work. That's the beauty of the slow cooker.
Because this meal takes eight hours to cook, I will buy and prep all of my ingredients the day before (washing, slicing, chopping and mincing), and then as soon as I wake up on the day I want to have chili for dinner, I will follow the steps on the recipe listed below and just let the slow cooker do it's magic for eight hours. That way, when dinner time comes, our chili is extremely flavorful and ready to be enjoyed.
Hope you guys love this easy Paleo recipe as much as my hubby and I do!
XO
Ps: Try this delicious Paleo Cornbread recipe with this chili…match made in heaven!

No-Bean Spicy Chicken Paleo Chili
This No-Bean Spicy Chicken Paleo Chili is a family favorite. All Paleo, gluten free, dairy free, super easy to make and extremely delicious.
Ingredients
2 lbs. ground chicken
1 red onion, diced
1 yellow onion, diced
1-2 serrano peppers, minced
6 garlic cloves, minced
29 oz. can diced tomatoes
14.5 oz. can organic pumpkin puree
3 large carrots, peeled and sliced
6 celery stalks, sliced
32 oz. low sodium vegetable broth
1 tbsp coconut oil
2 tbsp chili powder
2 tsp smoked paprika
2 tsp cumin
2 tsp dried oregano
½ tsp red pepper flakes
1 tsp sea salt, or to taste
Instructions
Place a skillet over medium heat and add coconut oil; once hot cook onions for about 5 minutes. Add in garlic, serrano peppers, chili powder, paprika, cumin, oregano, red pepper flakes and sea salt, and cook for another 2 minutes. Add in chicken and cook until no pink remains; about fifteen minutes.
Transfer cooked ingredients from skillet to crockpot, add in remaining ingredients, cover and cook on low for 8 hours. Serve hot along with favorite chili toppings.
Notes
Tools You'll Need:
- Crockpot (I have this one: http://www.williams-sonoma.com/products/all-clad-deluxe-slow-cooker-with-aluminum-insert/)
- Spatula
- Measuring cups
- Measuring spoons
- Cutting board
- Sharp knife
Nutrition Information
Serving size:
1 serving --
Calories:
203
Fat:
5 g.
Carbohydrates:
13 g.
Protein:
19 g.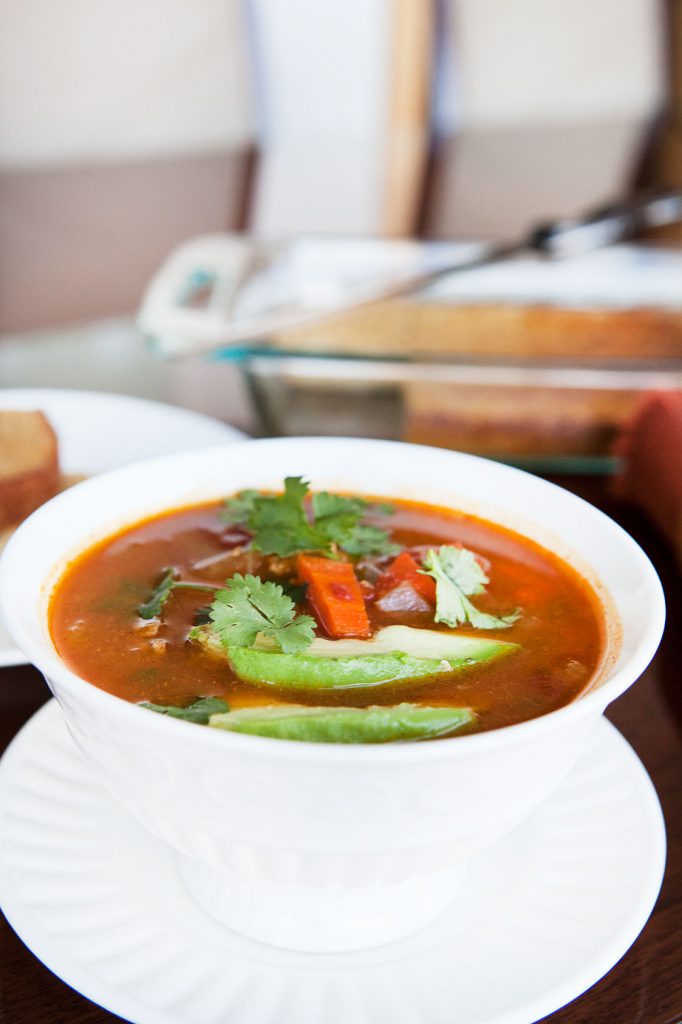 PIN ME!