I've been dying to write a post about the only skin care products I use, because I feel like I've finally found a skin care line that actually does what it says it will do and one that works.
If you follow me on Instagram, then you know which products line this is, because I've posted about it a few times. But if you don't, let me introduce it to you! It's called Shunly Skin Care. And I swear it's pure magic. 🙌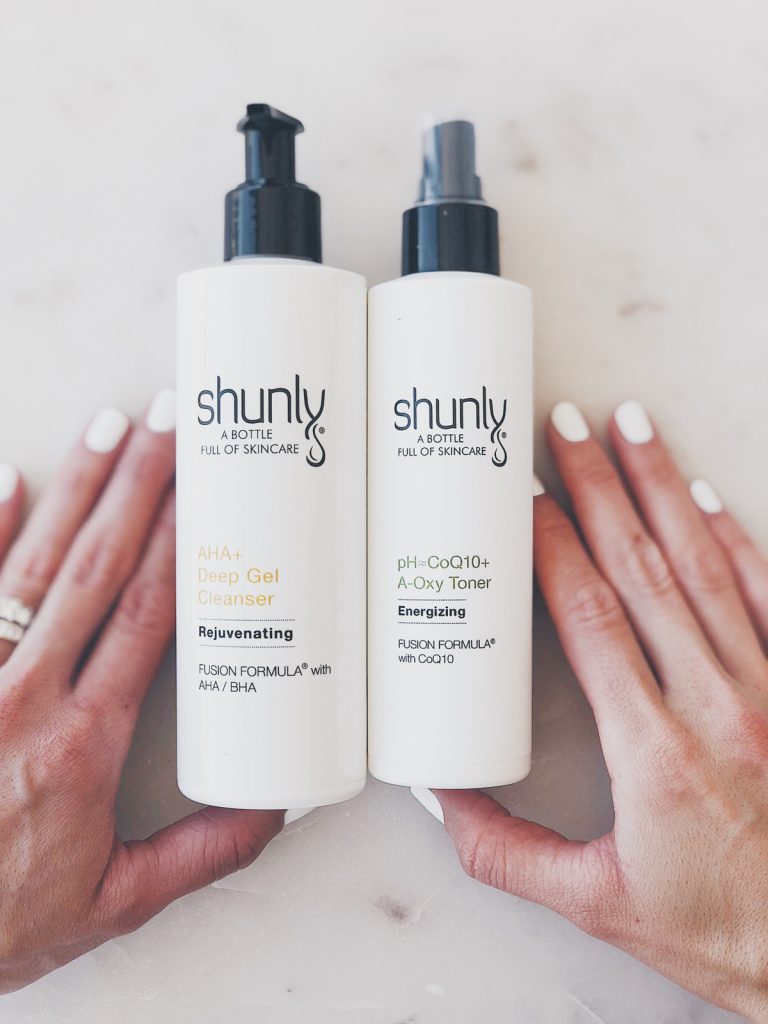 I tried Shunly Skin Care products for the very first time about three years ago. I was going through a rebellious skin time due to the dry winter weather we get in Idaho and my skin was very dry. I was dying to fix that uncomfortable feeling and flaky look.
Everything I was trying was not working; I was using bottle after bottle of expensive moisturizers and serums, but nothing was making a difference.
It wasn't until I spoke to my esthetician about it, that things started to turn around.
She asked about my skin care routine at home and asked what products I was using; she listened carefully and then gave me her feedback. After talking to her, it was clear that I was not only using the wrong products (expensive lines that were actually packed with chemicals), but I was also missing a few key and important products for healthy skin.
My esthetician's recommendations:
Shunly's pH~CoQ10+A-Oxy Toner after washing my face, or when feeling extra dry, to help balance my skin's PH levels and nourish my skin.
Shunly's Zn20+ SPF40 Light Moisturizer on a clean and toned face; a non-comedogenic sunscreen formula that protects the skin and adds moisture.
I immediately ordered those two products and started using them right away. The products came highly recommended, not only by her, but by the whole team at her spa.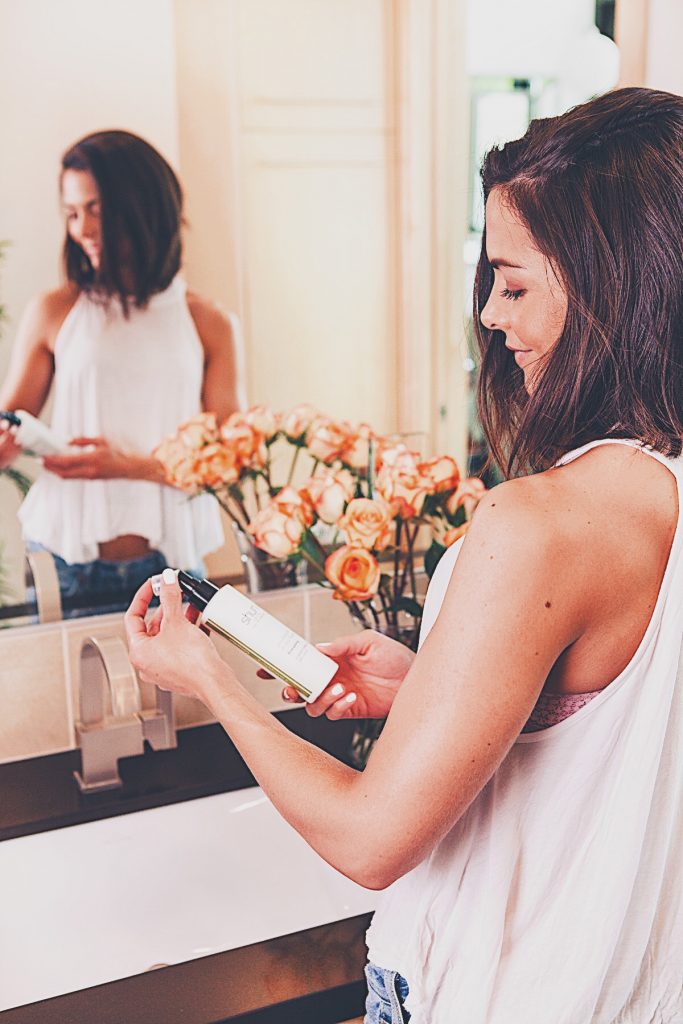 The results were crazy. After the first two days of using them, I could already see my skin turning around. My dryness was fading quickly, and my face was starting to feel plump, fresh and hydrated. I kept using those two products on the daily, and slowly started acquiring more products from the same brand.
The next products I purchased were: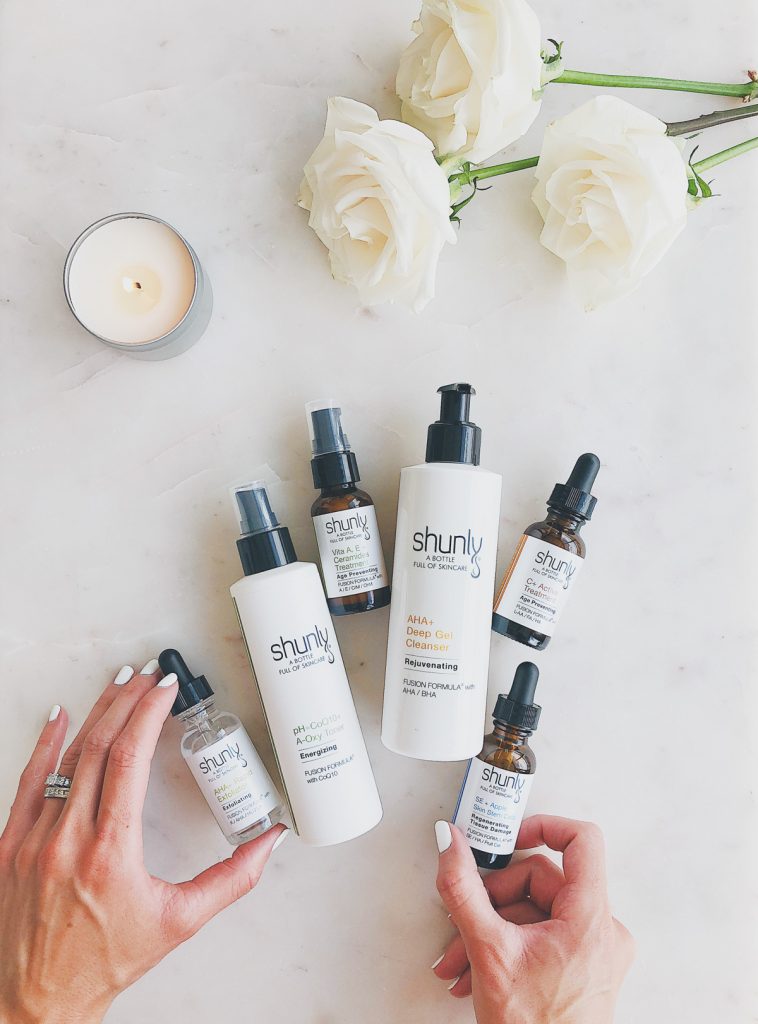 All of the above, including the toner and SPF, I now use everyday. These products have kept my skin balanced, protected, youthful, fresh and plump. Not to mention, free of any problems or reactions. Some of her products are gentle enough to be used on kids, that's how amazing they are. Totally chemical free.
Below I talk about each of these, sharing their benefits, and how and when to use them!
---
SKIN CARE PRODUCTS I USE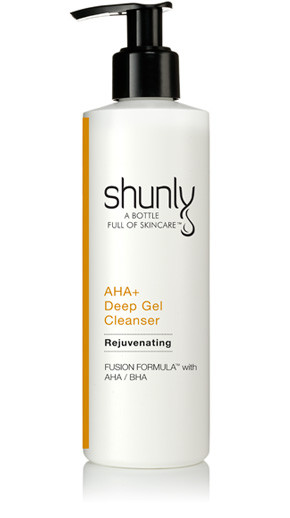 The Gel Cleanser and the Gentle Milk Cleanser are the only two cleansers I use to wash my face and neck. The gel cleanser foams up a bit more, and the milk cleanser is softer and gentler, so the one I pick for the day sort of depends on what I'm feeling my skin needs at the moment. I use either cleanser three times a day (that's how gentle they are): in the morning, after the gym and at night. Each bottle is $42, and I realize that is a big price for a cleanser bottle, but the bottle will last you a long time as you only need a penny size for each wash.
How to use:
Gently rub a penny-size amount of the cleanser on damp face. Let it sit for a good 30 seconds, rinse thoroughly and tap dry face. Face will feel clean, refreshed and renewed.
When to use:
I say use as often as needed, but twice a day is what the bottle recommends.
Benefits:
Rejuvenates skin: brightens and boosts radiance
Stimulates collagen production
Helps improve fine lines
Unclogs and refines pores
Reduces breakouts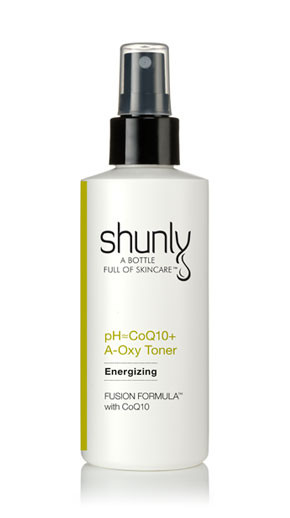 This toner is made with powerful antioxidants that absorb damages and help moisturize my skin, bringing a naturally balanced PH to my face. Also, I personally feel like it tightens my skin and boosts its radiance. LOVE IT.
How to use:
Apply toner, using clean hands, all over clean face and neck using a tapping technique. Tap gently with fingers until it feels like toner has been absorbed by skin.
When to use:
Every time after washing your face, or as needed, when feeling like skin can use extra moisture.
Benefits:
Helps increase cell's energy production
Rejuvenates and moisturizes skin
Nourishes and maintains healthy pH balance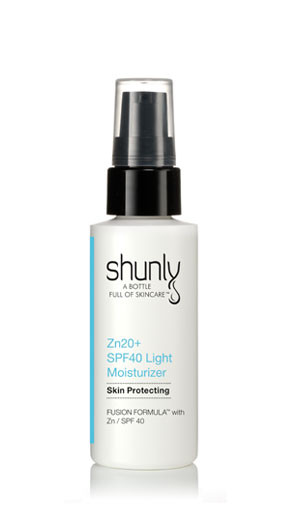 This is a water resistant SPF moisturizer that works for all skin types. It helps boost collagen and prevents premature aging. I apply this sunscreen immediately after cleansing and toning my face, in the morning or right before going outside. After I apply it my skin feels soft, silky and smooth. Not to mention, my skin is fully protected!
How to use:
Squirt full pump on clean fingers, and slowly apply little dots of all over clean and toned face. Then, using fingertips, distribute sunscreen evenly all over face until it's been absorbed by skin.
When to use:
Every morning after cleansing and toning, or as needed if active, sweaty, or after swimming.
Benefits:
True broad-spectrum UVA-I / UVA-II / UVB protection
Non-chemical
Potent antioxidant, anti-pollution and anti-inflammatory
Excellent for aesthetic/clinical procedures
Gentle enough for children's skin
Locks moisture in the skin improving skin hydration
Lightweight texture, can be used as makeup base
Designed for all skin types, including hypersensitive, eczema and Rosacea-prone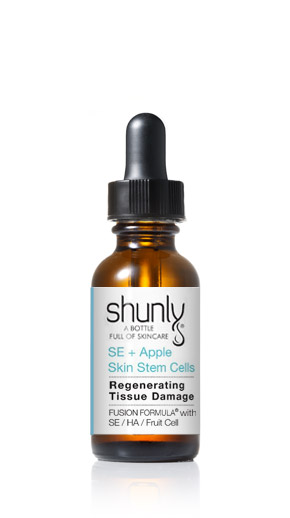 This serum is my all time favorite product. It is a gentle, but powerful, serum that helps reduce the appearance of wrinkles, rejuvenates the skin and boosts collagen. It is the elixir of beauty! I use it every other night after washing my face and applying a toner, or whenever I feel like my skin needs a little reparation (long days under the sun, dryness, etc.).
How to use:
Shake well and apply 5-7 drops of the serum on a clean and toned face. Using your fingertips, gently massage the serum all over face and neck, until fully absorbed.
When to use:
At night right before bed, or when staying indoors and feeling like giving your skin a nice reparation boost.
Benefits:
Preserves youthful appearance of skin
Helps promotes cell proliferation
Helps reduce wrinkles and fine lines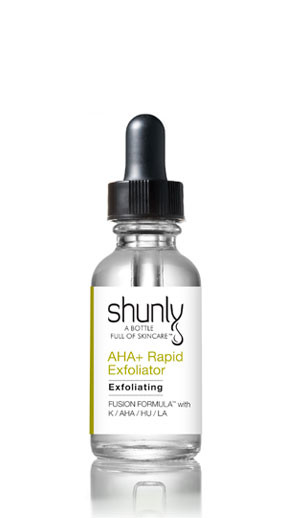 This nighttime leave-in exfoliator is another one of my favorites. I use it once or twice a week right before bed, after cleansing and toning my face. It exfoliates, hydrates, renews and retextures the skin all while you sleep. It doesn't get any better (and easier) than that!
How to use:
Apply 5-7 drops on a clean and toned face. Using your fingertips, gently massage the serum all over face and neck, until fully absorbed.
When to use:
At night right before bed.
Benefits:
Provides resurfacing and exfoliating action
Helps rejuvenate and reduce the appearance of wrinkles and fine lines
Boosts skin hydration levels
Helps renew, tighten and improve skin texture
Promote skin health and improve skin elasticity
Excellent for men, after shaving, to prevent ingrown hair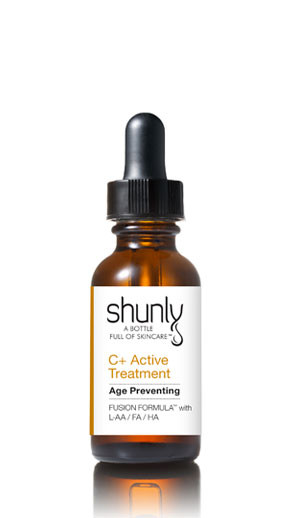 This protective serum is a wonderful product for those who send a lot of time outside. Used prior to an SPF moisturizer, this treatments helps shield the skin against environmental pollutants and helps brighten, firm and improve the texture and appearance of your skin. I use it on days I plan on being outside for a long time, applying it on a clean and toned face, and follow it up with sunscreen.
How to use:
Apply 5 to 7 drops to clean and toned face, avoiding direct contact with eyes. Follow it up with SPF moisturizer. Keep in refrigerator to prolong shelf life.
When to use:
In the morning before heading out, or as needed when planning to be outside.
Benefits:
Protects against harmful UV radiation
Prevents skin from darkening
Promotes production of collagen and elasticity
Helps brighten and firm skin
Corrects photo damage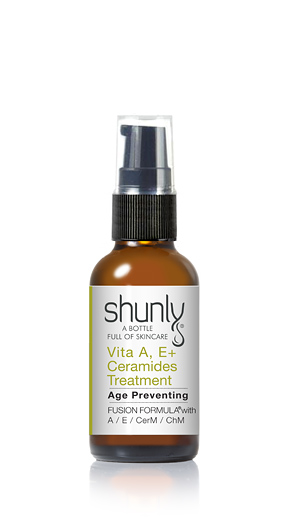 This is another nighttime favorite of mine, which I use on nights when I don't use the AHA+ Rapid Exfoliator nor the SE+ Apple Skin Stem Cells. It is an amazing treatment that not only add a ton of moisture to my skin, but actually corrects it. It reduces pore size, fine lines, wrinkles and fixes skin discoloration.
How to use:
Apply a thin layer on a clean and toned face. Using your fingertips, gently massage the serum all over face and neck, until fully absorbed.
When to use:
At night, on nights when you don't use either AHA+ Rapid Exfoliator nor SE+ Apple Skin Stem Cells.
Benefits:
Helps minimize appearance of fine lines, wrinkles, and skin discoloration
Provides intensive repair action
Helps boost skin firmness and youthful complexion
Adds moisture to skin
Skin care routine steps:
Morning

If going outside: wash face with Deep Gel Cleanser, spray pH~CoQ10+A Oxy Toner, apply C+ Active Treatment and moisturize with Zn20+ SPF40 Light Moisturizer.
If staying in: wash face with Deep Gel Cleanser, spray pH~CoQ10+A Oxy Toner, apply SE+ Apple Skin Stem Cells.

Night: wash face with cleanser, spray toner and use either: AHA+ Rapid Exfoliator, SE+ Apple Skin Stem Cells or Vita A, E+ Ceramides Treatment.
Once a month: microdermabrasion facial.
For those of you who don't know what microdermabrasion is, it's a type of facial that uses a non abrasive instrument to gently sand your skin to remove that thicker and uneven outer layer. The instrument is a little loud when on, so the facial itself is not super relaxing. However, it works, and that is why it's worth it. Microdermabrasion helps with:
Thickening your collagen, resulting in younger looking skin
Improving age spots and black heads
Improving hyperpigmentation (patches of darkened skin)
Exfoliating your skin, resulting in a refreshed appearance
Lessening the appearance of stretch marks.
Reducing fine lines and wrinkles
Reducing or eliminate enlarged pores
Treating acne and the scars left by acne
A microdermabrasion facial does not hurt in the least, but it does leave your skin a bit on the red side for a few minutes. I have seen amazing results from it and would recommend it to anyone.
I get a Microderm once a month, and by the time my appointment is coming up, I feel like my face really craves it. I go in with dull and tired skin, and come out with fresh, shiny and smooth skin. Amazing.
---
I've personally reached out to Shunri Skin Care and have asked that they provide me with a discount code for you guys, so that you can give them a shot!
Here is the code: amazingpaleo30
With it, you get 30% off*, which is HUGE. I've only ever gotten 15% off, and I thought that was amazing already!
*Not valid on gift and combo sets.
Tip: free shipping on $49+ purchase.
Let me know if you have any questions about the products, or feel free to ask the Shunly Skin Care experts your questions directly through Instagram direct messaging. They are pretty good at responding and are super knowledgeable.
PIN ME!


SaveSaveSaveSave
SaveSave
SaveSaveSaveSave
SaveSave
SaveSaveSaveSave
SaveSave
SaveSaveSaveSaveSaveSaveSaveSave
SaveSave
SaveSave
SaveSave
SaveSave
SaveSaveSaveSave
SaveSaveSaveSave
SaveSave
SaveSave
SaveSave