Ahhh, summer; it's what dreams are made of. The sun rises early, the skies are mostly blue, the sun shines all day, the temperatures yield for fun outdoor activities, the sun sets late at night and nightly walks after dinner become a therapeutic ritual.
It's a time where neighborhoods and cities become alive, where you hear children playing and laughing with siblings and friends, where BBQs are a weekly occurrence and where beach/lake/pool days are a-plenty.
My husband and I absolutely adore summer. We've found that our leisure activities match this time of year more than any other season. We love to go on bike rides along the river, to spend a day by the lake/pool tanning and dipping (and tanning and dipping some more), to take long walks after dinner before the sun sets, to enjoy BBQs with friends and family on the weekends, to take fun road trips around Idaho, and to be a part of our community by being out and about as much as possible.
If you stop to look through the above list of things we love in the summer, you'll notice that most (if not all) of these activities are outdoors and they require you to be under the sun. Which we love and welcome, because that summer glow makes you feel healthy and alive! However, the sun is powerful and we must take care of our skin if we want it to stay fresh and healthy in the future. Not to mention, we want to avoid any possible complications that those strong summer rays might bring our way. Our families don't have histories of skin cancer, praise God, but this doesn't mean we are 100% exempt.
So in order to avoid complications, and to keep our skin fresh and young, I have this wonderful summertime skin care routine that has worked wonders for my husband and myself. It is simple, yet effective, and it allows for that Summer glow we all desire. Below is a list of my 4 Summer skin care essentials that I use on the daily. These are wonderful steps/products that I have found keep my skin healthy, fresh, young, glowing and free of blemishes. If you're looking for good skin care product recommendations*, here they are!
*Important: these are all my opinions; I buy these products myself and do not get any kick backs from recommending these to others.
My 4 Summer Skin Care Essentials
Cleanser: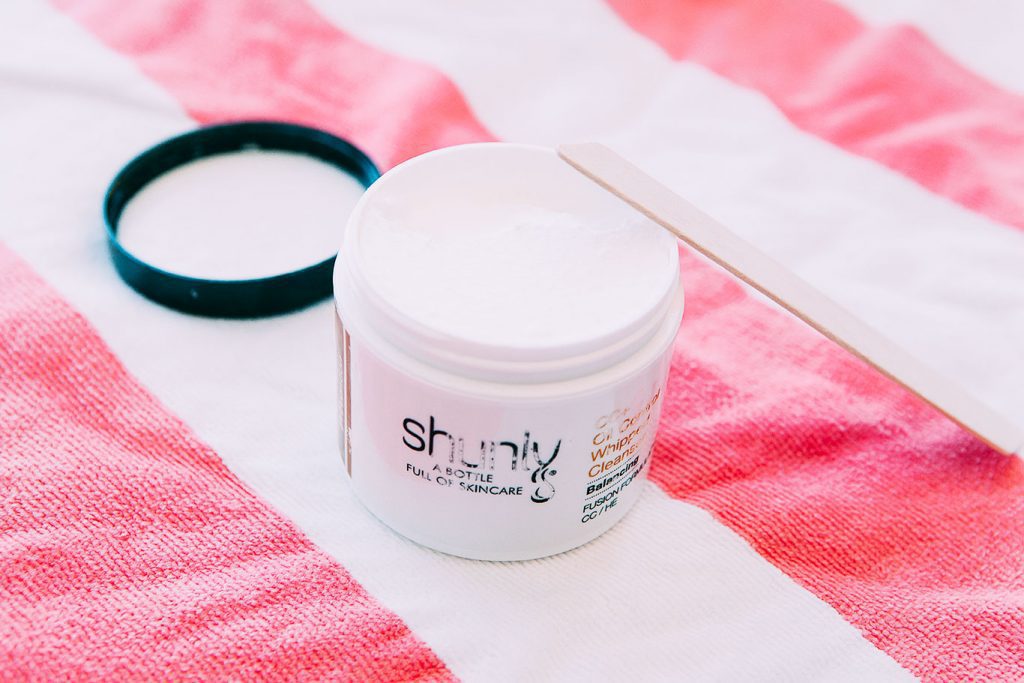 This cleanser is what I use every day to wash my face. Each bottle is $42, and I realize that is a big price for a cleanser bottle, but you use a tiny bit (a blueberry-size amount) each time and this bottle will last you anywhere from six months to a year. What you do is you use a small wooden palate (like pictured above) to grab a blueberry-sized amount of the cleanser, place it on one of your hands, wet your other hand and then rub your hands together to create a foam-like mixture. Then, you apply it over a damp face and cleanse away. Rinse thoroughly and tap dry your face. You will feel like every ounce of dust, dirt, pollution is gone. It leaves you squeaky clean.
It is a deep pore cleanser that removes skin surface dead cells and impurities, which in turn, promotes a clear and smooth complexion and prevents skin from clogged pores.
Toner: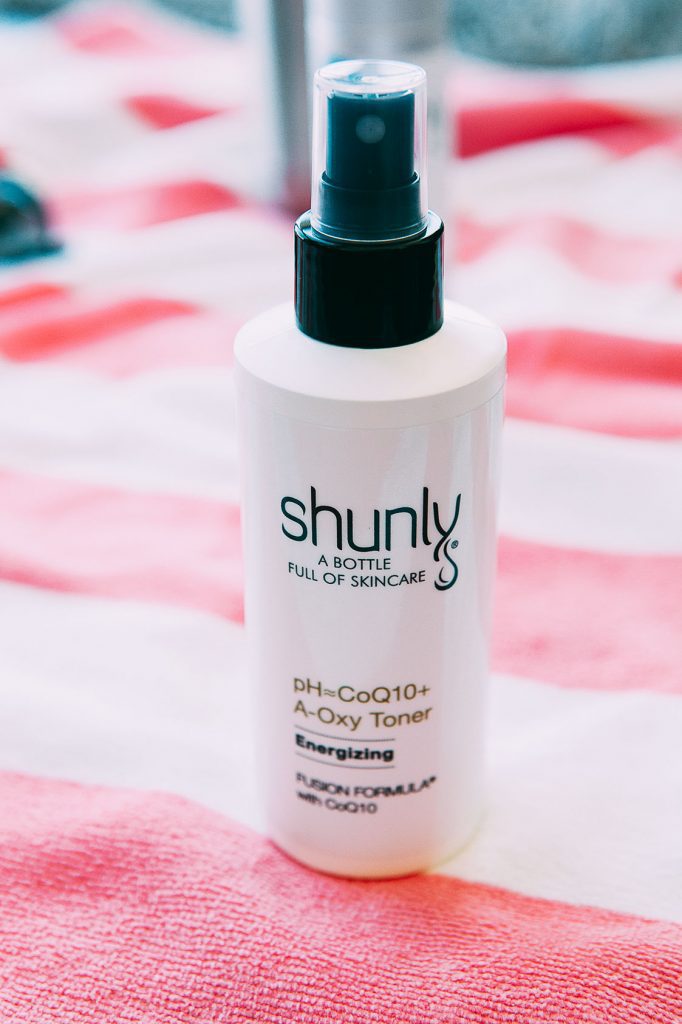 After washing my face with the cleanser, I immediately spray this toner all over my face and neck. I then use clean hands to tap the toner all over my face and neck, until it feels like it's been absorbed by my skin.
This toner is made with powerful antioxidants that absorb damages and help moisturize the skin, bringing a naturally balanced PH to my skin. I also feel like it tightens my skin and boosts its radiance.
My husband and I use this toner every single time after we wash our faces…and we also use it whenever we feel like we need a little moisturizing boost. It's great!
Sunscreen: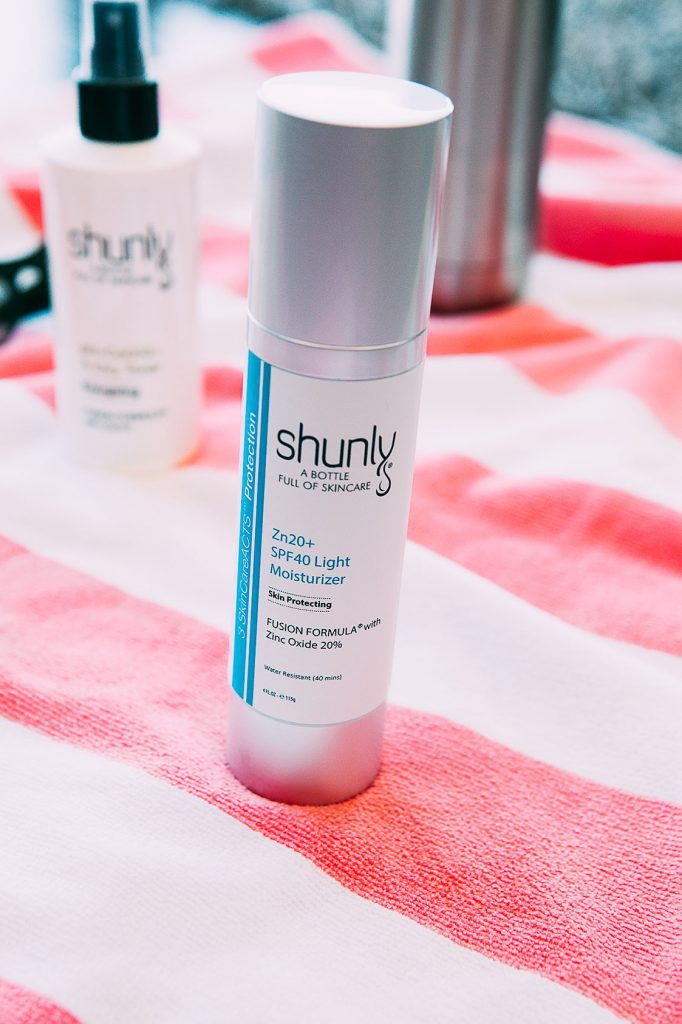 If it's morning or if I'm about to go outside, I apply this sunscreen moisturizer immediately after applying the toner. I squirt one full pump of it on my hand, and using my finger, I slowly apply little dots of it all over my face. Then using my fingertips, I distribute the sunscreen evenly all over my face until it's been absorbed by my skin. After applying it, my skin feels soft, silky and smooth. Not to mention, super protected.
Once my husband applied this on his face and a regular sunscreen on his body before going out to a day at the pool in the hot sun of Las Vegas, and everything BUT his face was fried after two hours. This stuff is magical and I have full confidence in it.
This formula works for even the most sensitive of skin types, as it uses top rated physical sunscreen filters to help defend skin against free radical production. It also helps prevent collagen breakdown and premature aging of the skin.
Sugar Scrub: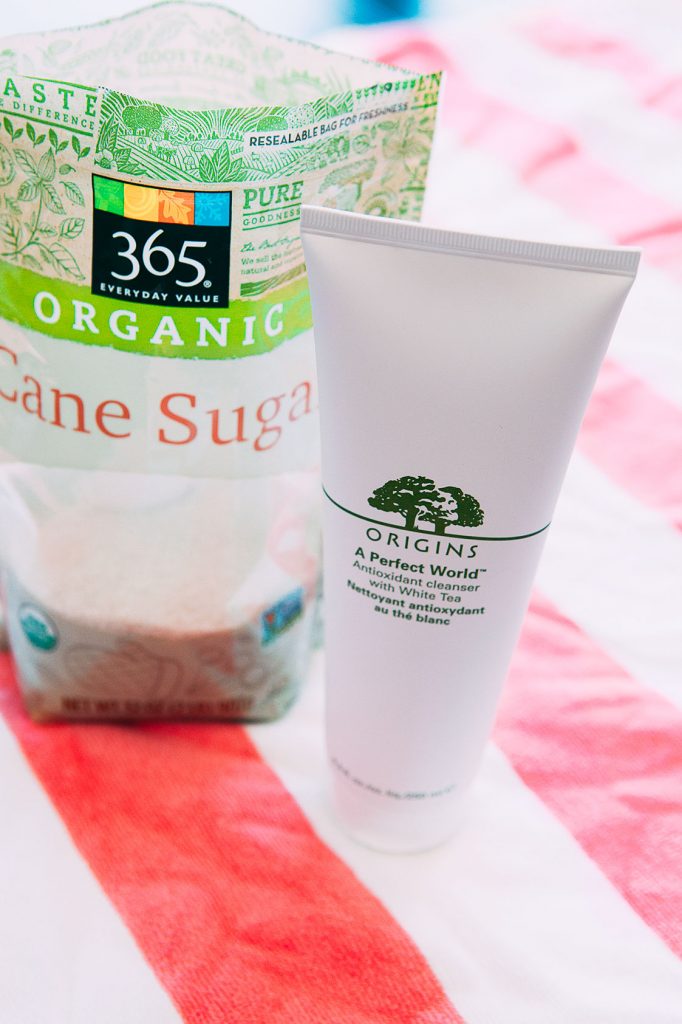 Okay this one will save you a little money, since it is a hacked sugar scrub! What I do is I use this face wash and mix it with a teaspoon of organic white sugar. I then very gently rub it all over my (dry) face, making sure I cover all areas. I then rinse it off until my face is all clean, and then dry my face. Easy peasy.
I only do this once a week, but boy, does it leave my skin nice and soft. Do note, that I have a microdermabrasion facial every month, so my skin gets exfoliated there at a deeper level. But this sugar scrub hack, is totally affordable and works for me in between my microdermabrasion appointments. Try to stay away from the sun for just a day or two after using the scrub, just to avoid any potential sun spots or stains.
After exfoliating, I apply my toner and then a moisturizer right after. I go with my sunscreen moisturizer if it's day time, or with my night moisturizer from Origins if it's bed time.
---
This is what my Summer skin care routine looks like:
8am (before the gym): wash face with cleanser, spray toner and moisturize with sunscreen.
11am (after the gym and/or anytime before going outside): wash face with cleanser, spray toner and moisturize with sunscreen.
8pm (before bed): wash face with cleanser, spray toner and moisturize with night cream & eye cream
Once a week: wash face with homemade scrub, spray toner and moisturize with sunscreen.
Once a month: microdermabrasion facial
---
Things I keep with me at all times
Water Bottle:
It is extremely important to stay hydrated during the summer, as the hot temperatures and the strong sun make us sweat and perspire a lot more than any other season. If you feel thirsty, you're already dehydrated, so don't allow yourself to get to that point.
About 70% of our bodies are made with water and about 90% of our blood is made out of water. Yes, water is a huge part of us! Drinking enough water helps us maintain our body's fluid balance, which helps us transport nutrients within the body, regulate our body's temperature, digest food properly, and much, much more.
Water is an essential part of our complexion. If we don't drink enough water and we let ourselves dehydrate, our skin can become vulnerable to skin disorders and wrinkling. Now, we don't want that do we? Water also helps us filter out a lot of impurities, which could otherwise get stuck in our bodies and show up in pimple form in our face. So drink your water!
I try to drink about a gallon a day. I drink about 45 ounces right after waking up, 30 ounces throughout my workout and after my workout, 30 ounces after lunch and 30 ounces after dinner. This keeps my energy levels up, keeps my from feeling anxious and allows for a healthy daily hydration!
I use this Nalgene bottle when at home, and this S'well bottle for when I am out and about!
Sunglasses:
Alright, so here's the thing about sunglasses. Yes, they make for a great fashion statement, but their real (and dare I say, most important) job is to protect our eyes from the sun's UV rays. The sun rays can be harsh, especially during the summer, and these can have damaging effects on your eyes if we don't care for them properly.
Some of these negative effects are:
Cataracts (clouding of the eye's lens, which can blur vision)
Macular degeneration (damage to the retina, which destroys central vision and could lead to blindness)
Pterygium (tissue growth over the white part of the surface of the eye, which can cause astigmatism)
So get yourself a pair of cute sunnies and prevent these eye problems! Wanna know a trick? Some insurances cover sunglasses! Just go to your eye doctor for an eye exam, and ask him about your options for glasses/sun-glasses that your insurance can help cover!
I currently wear some cute cat eyed Ralph Lauren glasses I got at Macy's about two years ago. And even though I got them quite a bit ago, they are still my favorite and I feel like a total fashionista whenever I wear them. You can see them sort of hidden in the back behind the toner in the photo below.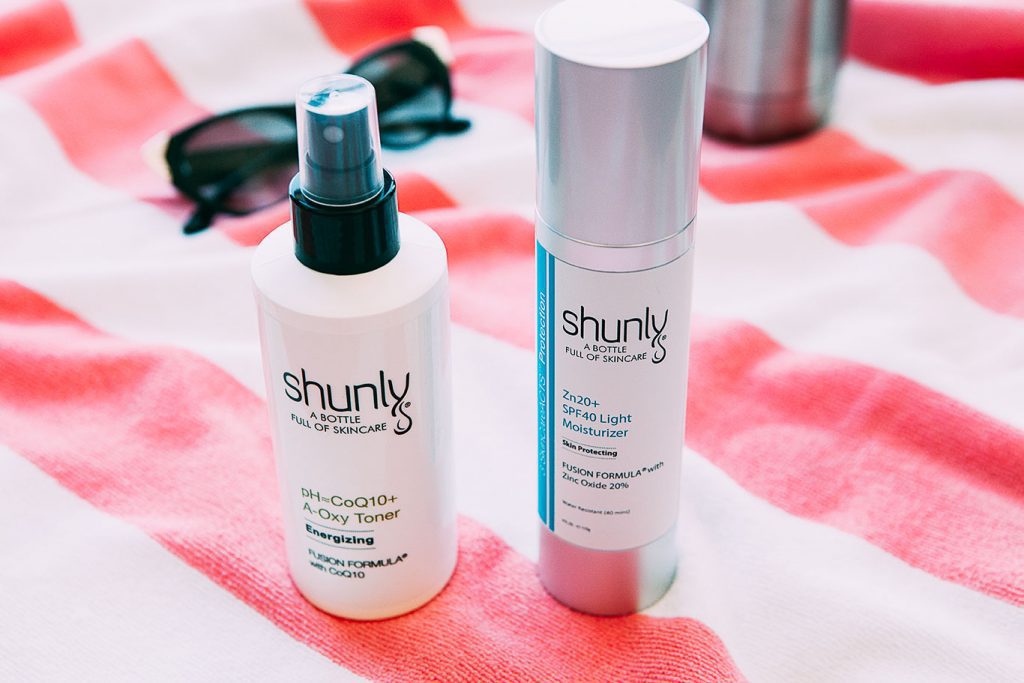 So there you have it. This is how I enjoy Summer to the fullest! These products and tips will keep you well and covered, and allow you to soak it all in without the worry.
Remember: use a toner and sunscreen, wear your sunnies, drink lots of water…and eat lots of good food with lots of good friends (wink wink)!
XO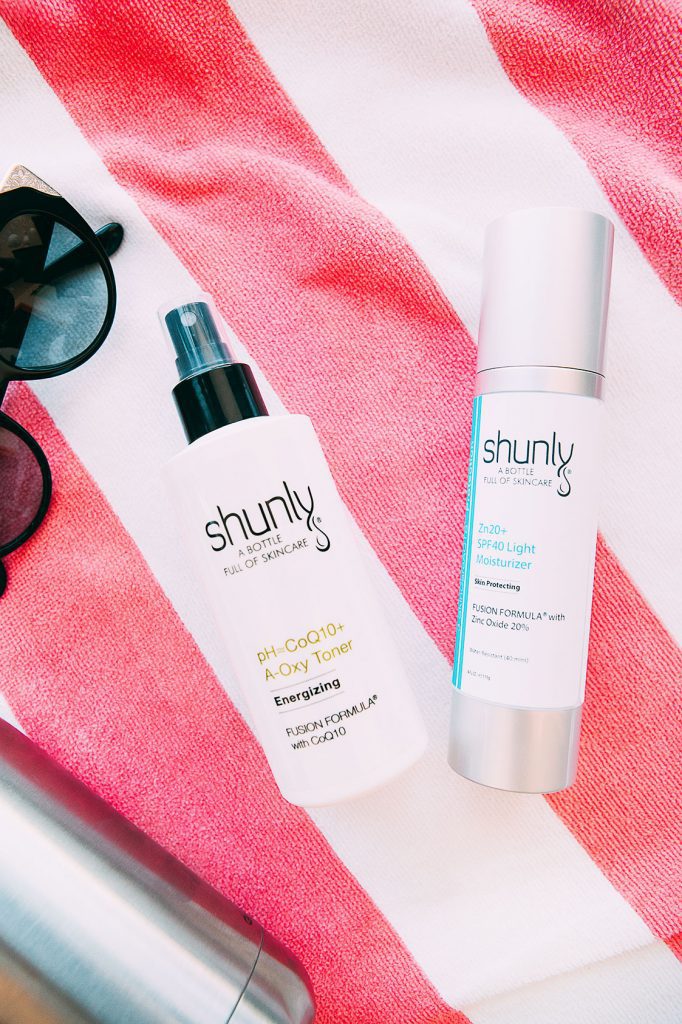 PIN ME!

Some Paleo Summer Recipe's You'll Love: