Look out world, this Paleo Vanilla Peach Cobbler recipe has made it's way in, and it's here to stay!
I kid you not, this is the food of my dreams. Fruity, vanilla-ey, nutty, crumbly, buttery? I meannnnn, goodness me. I can't even.
Trust me when I say that you need to taste this beaut.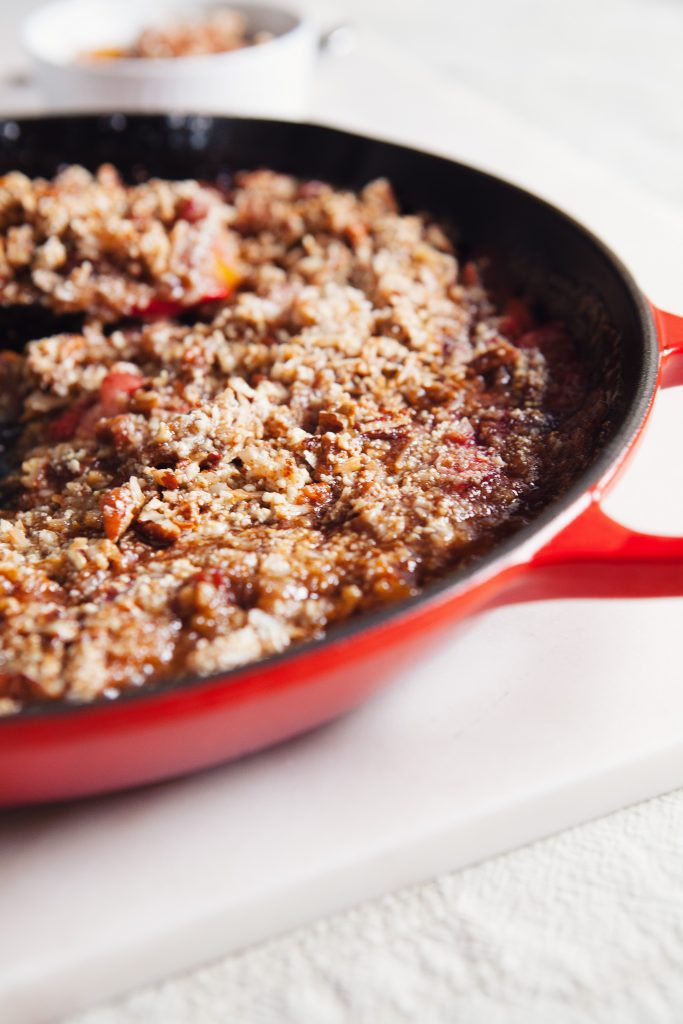 You know those times when all you want is to bake something comforting that you can eat right away to get all those cozy feels you desperately need? Yup, aha. That was me this Sunday. And, well, most Sundays. Let's be real here.
And when that feeling comes, there's nothing to do BUT treat yourself to something nice. Because there is no point in practicing depravation. It leads us nowhere. Believe me, I know! Instead, "good for you treats" is the name of the game.
And today I get to share with you my newest (and currently favorite) recipe creation that fits all of the above: comforting, cozy, non-depriving, good for you!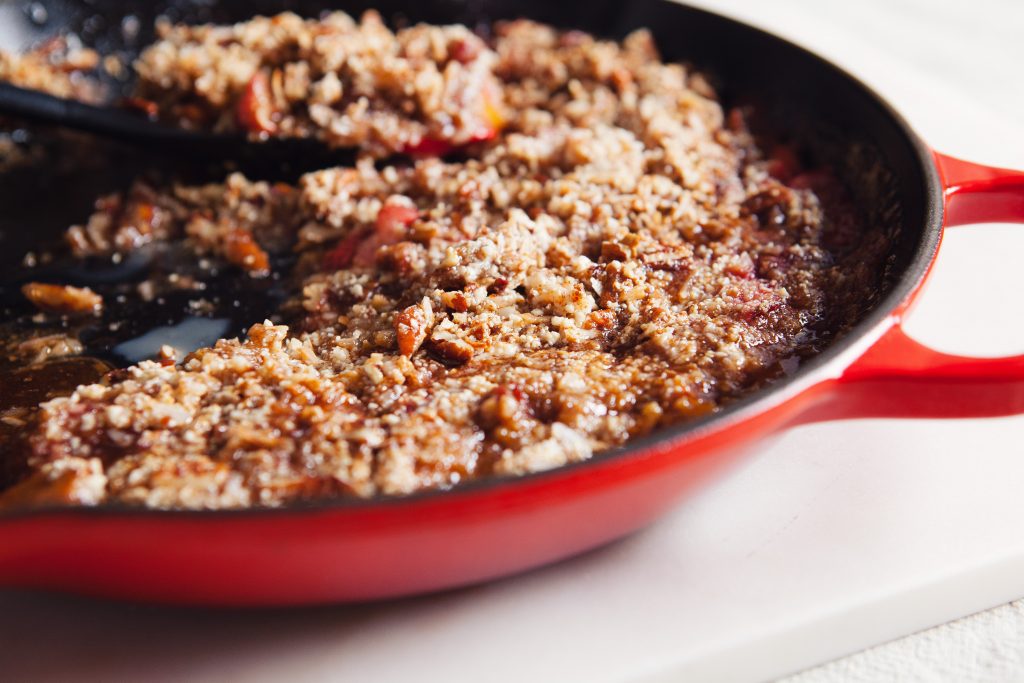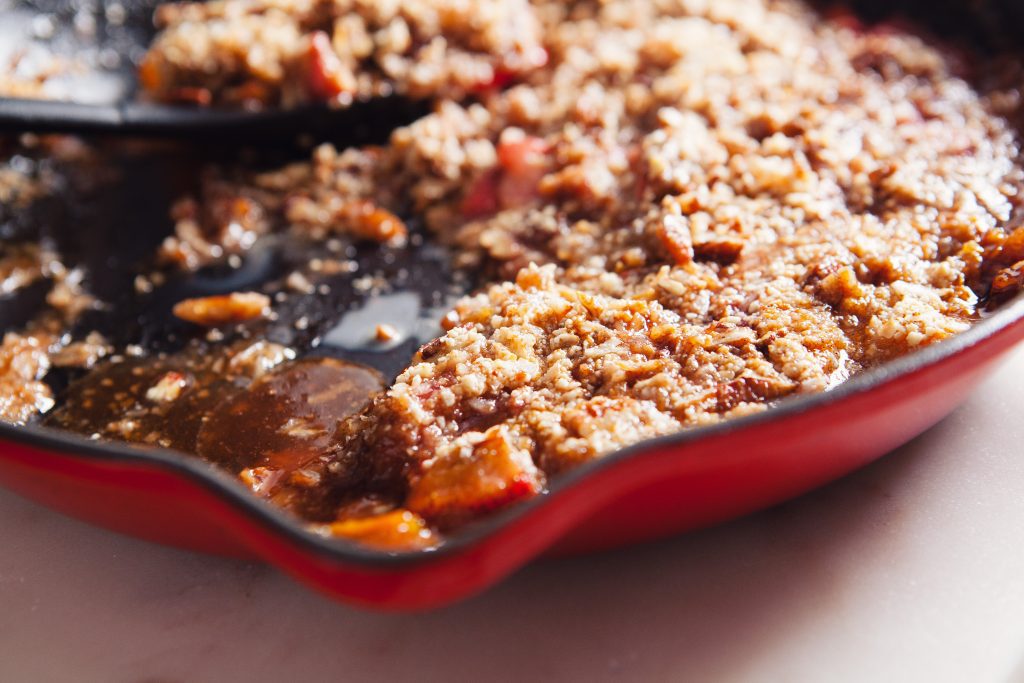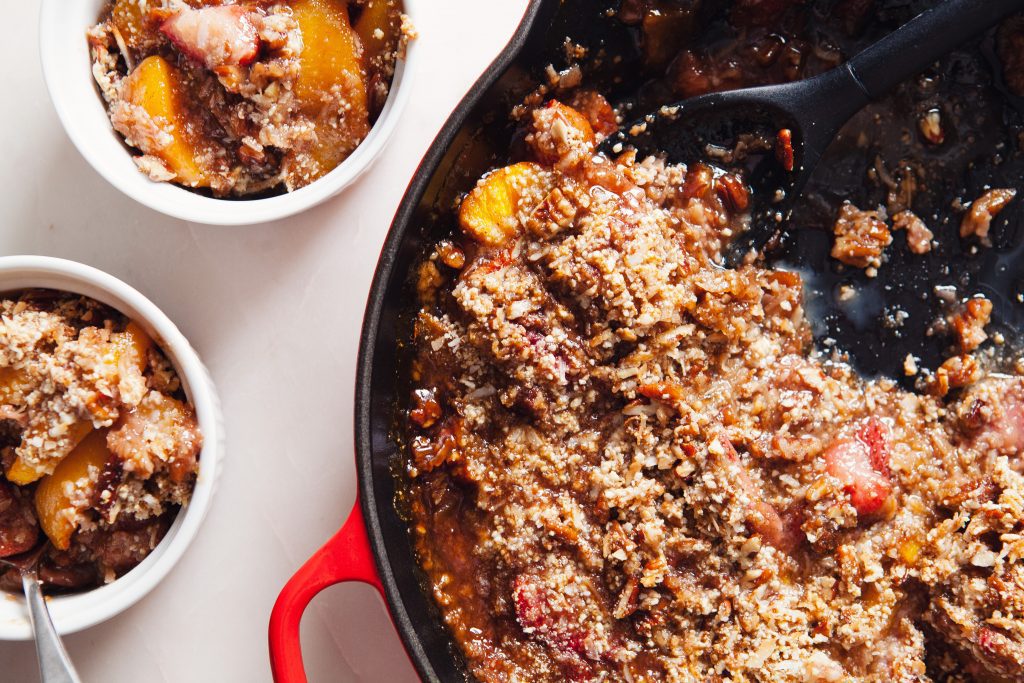 This Paleo Vanilla Peach Cobbler is my all-time favorite cobbler. Ever. And here's why:
TASTES LIKE A DREAM.
Nuts and coconut instead of grains. Hello gluten-free living!
No milk or cream. Bye-bye inflammation!
Organic maple syrup instead of sugar. No sugar crush!
Coconut oil drizzle for that buttery-like taste. Yes please!
Real fruit ingredients (peaches & strawbs). Because who can't use some tropical feels right about now?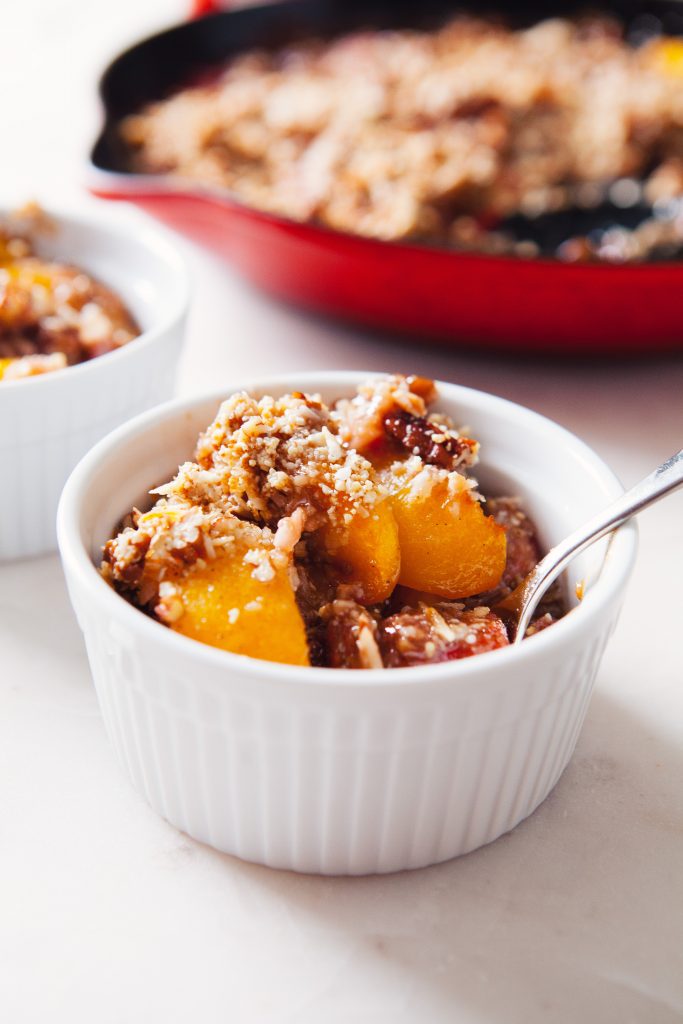 What I love most about this recipe, is that this particular cobbler has a way of keeping you healthy and strong. Let me explain.
One of the ingredient it calls for is Vanilla & Coconut Water Collagen Peptides (which is what adds that delightful vanilla hint to the cobbler), and this amazing ingredient can help with allllllll of the below:
Glowing skin
A more youthful appearance
Joint health
Tendon & bone strength
Healthy cartilage
Increased athletic performance
Improved digestion
Gut health
Deeper sleep
Sort of a miracle worker that also makes your treats DELICIOUS. My kind of self-care.??❤️ For sure.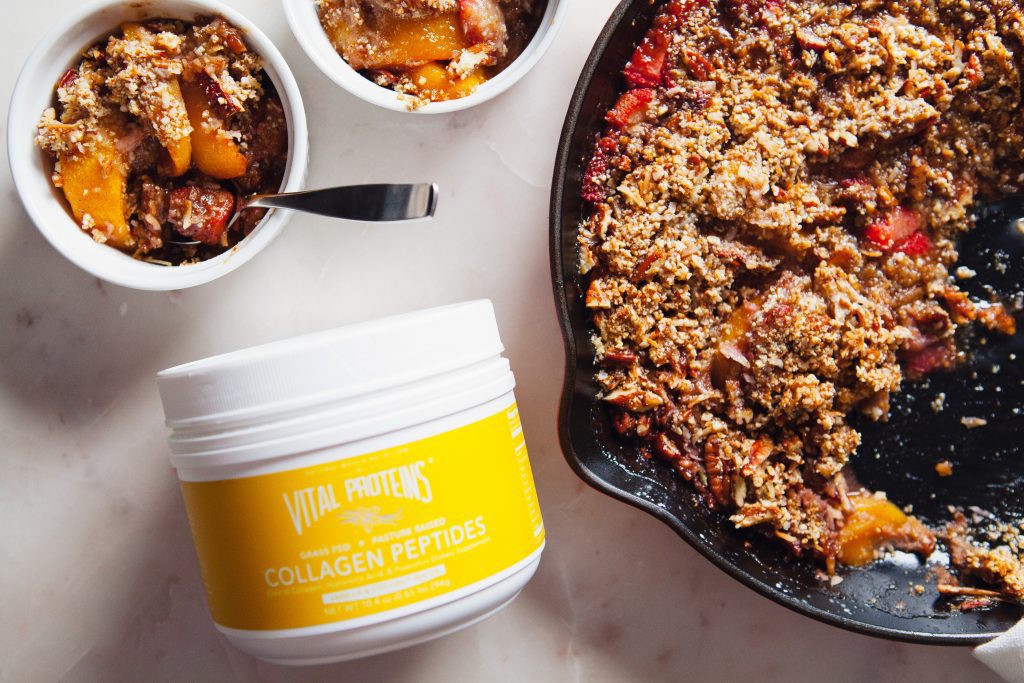 Flavored collagen is something we can add to our everyday foods. Think coffee, smoothies and yogurts. Mix one scoop in, and you'll be giving your treats a major dose of health (and flavor). Also, did I mention you get 13 g. of protein per scoop? ??
If you didn't know about collagen, now you do. And you've just discovered my secret weapon; I use it every day. Like, sometimes I forget to take my multivitamin, I will accept that. But I never forget to take my collagen. NEVER. That's how obsessed I am.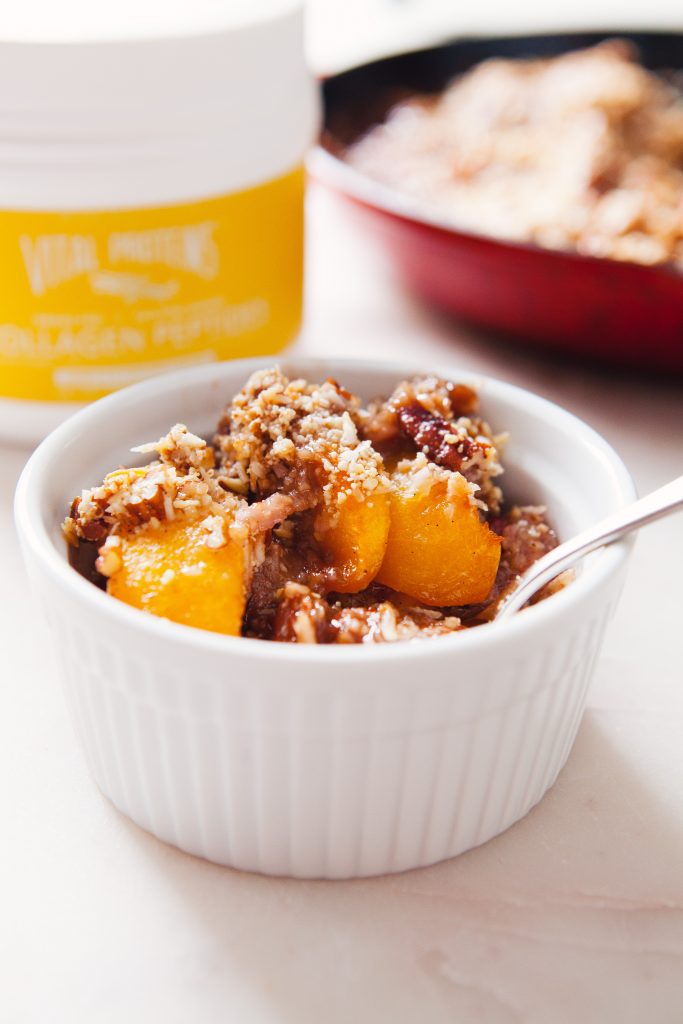 The flavored collagen peptides come in two other flavors: Dark Chocolate & Blackberry and Mixed Berry. So if vanilla isn't really your thing, girl, you got options!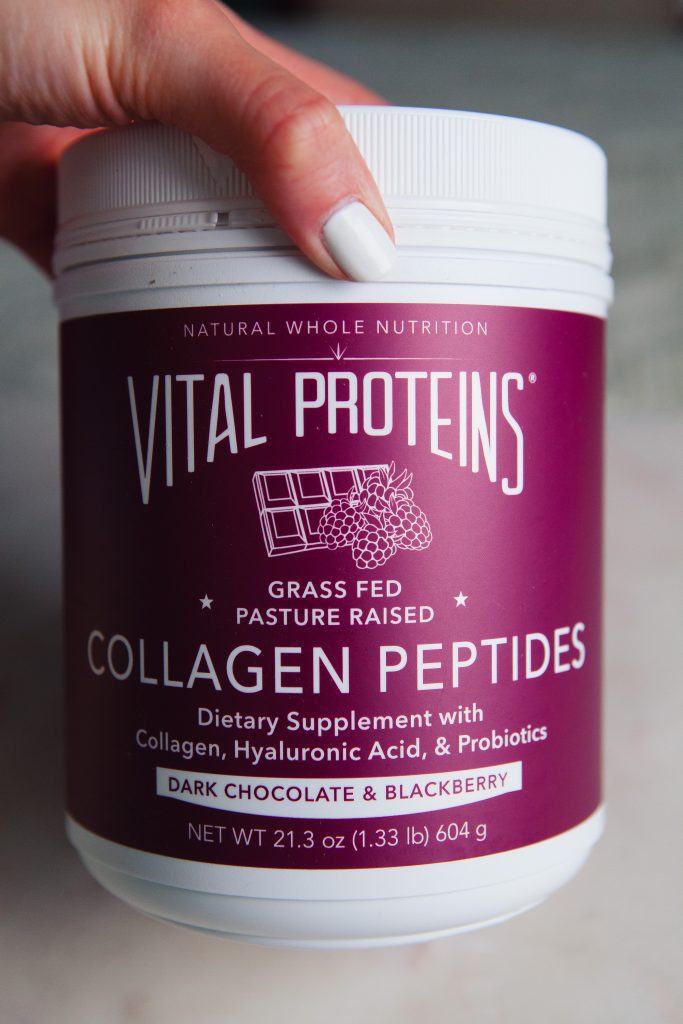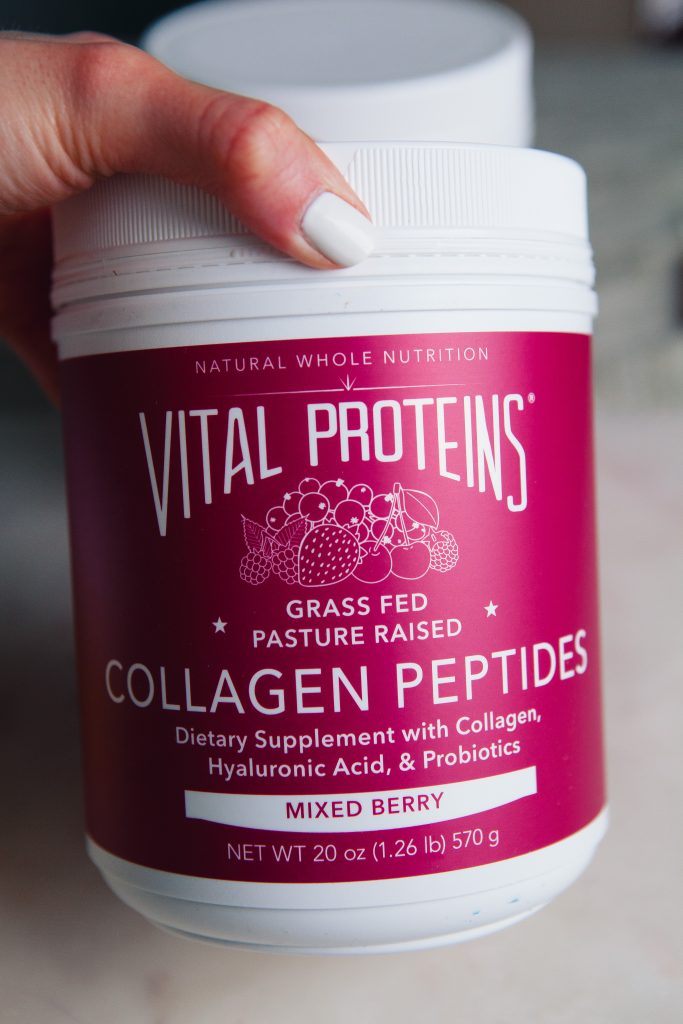 But who doesn't like vanilla? ? I can't fathom. Especially after experiencing this Paleo Vanilla Peach Cobbler.
---
WATCH MY PALEO VANILLA PEACH COBBLER VIDEO (60 SEC):
Paleo Vanilla Peach Cobbler
This easy to make Paleo Vanilla Peach Cobbler recipe is naturally gluten free and dairy free. It's the perfect treat for a party or for Sunday brunch!
Ingredients
1 lb peaches, sliced
1 lb strawberries, sliced
3 tbsp maple syrup
2 tbsp arrowroot powder
2 tbsp fresh lemon juice
1 cup cashew flour
1 cup unsweetened shredded coconut
1 cup pecans, chopped
⅓ cup coconut sugar
½ tsp salt (I used pink Himalayan salt)
¼ cup melted coconut oil
Instructions
Preheat oven to 375 F.
Add fruit to a 10 ¼" cast-iron skillet and mix; then fold in maple syrup, lemon juice, arrowroot powder and vanilla collagen peptides.
In a separate mixing bowl, combine cashew flour, shredded coconut, pecans, coconut sugar and salt, and spread mixture on top of the skillet with the fruit. Drizzle melted coconut oil on top, and bake uncovered for 50 minutes (or until golden brown).
Let cool and serve cobbler as is, or top with Paleo Whipped Cream.
Notes
Tools You'll Need:
- 10 ¼" cast-iron skillet
- Mixing bowls
- Spatula
- Measuring cups
- Measuring spoons
---
PIN ME!

Thank you Vital Proteins for sponsoring this post!