THIS RECIPE IS SPONSORED BY SWANSON.
---
So, this is winter:
Red, crispy, borderline inappropriate apples at their peak of sweetness combined with plump, bright blueberries baked into a jammy base under a light cookie-dough-meets-biscuit type topping with a golden top.
Apples, we love you, and we are so glad you're here to brighten up our winter. We need apple-based crisps resting warm out of the oven on our counters. We need it scooped into bowls and swimming with a plop of melty non-dairy ice cream. We need it cold in our fridge asking us – no, demanding us – to eat the crisp for breakfast, too. WHICH WE WILL OBVIOUSLY DO BECAUSE WE OBEY.
My love for apple crisps right now is sky-high. Not that it's obvious or anything.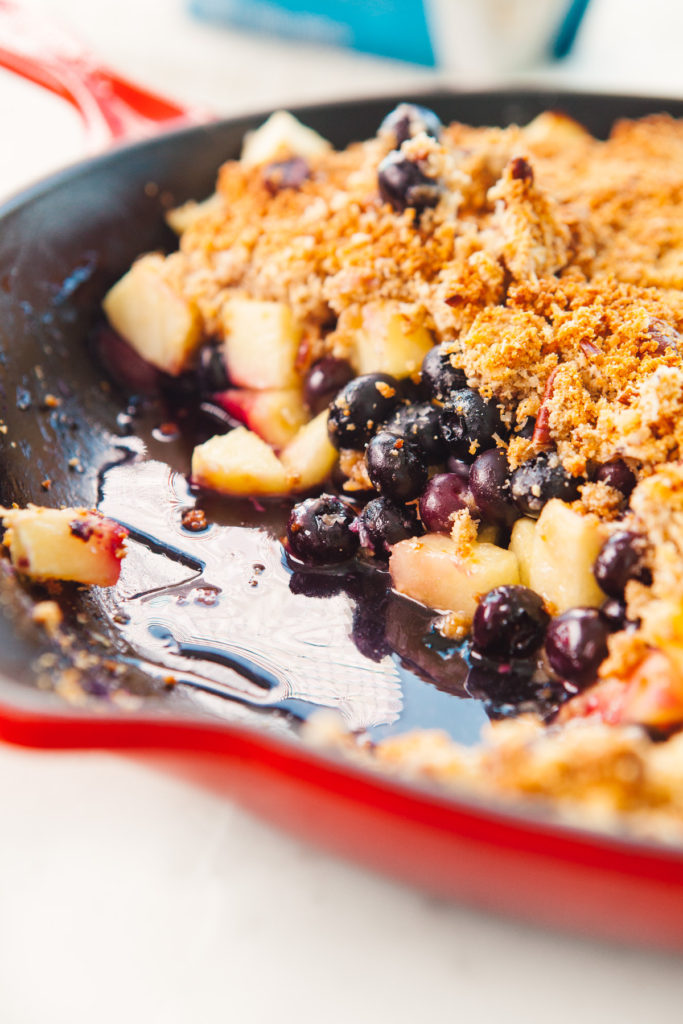 Fun fact about crisps, beyond the juicy, jammy, just-the-right-amount-of-golden-brown-and-crispy factors.
It's a LAZY with a capital L-A-Z-Y DESSERT. Approximately zero percent hard. Here's how I do it.
APPLE CRISP STEP ONE:
Fruit and sweetener and thickener in baking dish. Done.

APPLE CRISP STEP TWO:
Crumbling / pressing / generally spreading our cookie-dough-like base over the top of the fruit.
Use a spatula or just your fingers here. No need to get fancy.

APPLE CRISP STEP THREE:
Bake and done!

Let cool, because HOT, and then add your fave non-dairy ice cream or yogurt or whipped topping. And please don't skimp on this part, as it's of outmost importance. 😉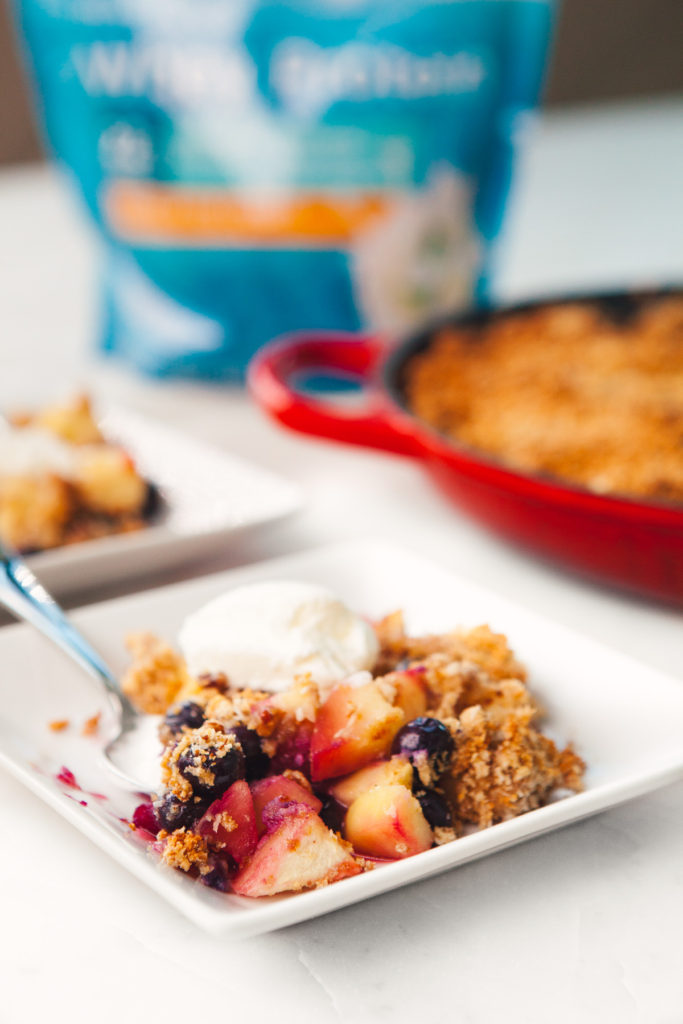 We have made said crisp topping from a handful of pantry essentials, including two scoops of Swanson Vanilla Whey Protein Powder, which, as you know, I have been a fan of and have been known to make other treats with (it adds natural sweetness and protein to my baked goods…BIG FAN!).
This Protein Apple & Blueberry Crisp crust is uncomplicated and elementary, but that's exactly why Swanson Vanilla Whey Protein Powder shines.
It says: I see you making a very chill recipe, and I see that you want classic, sweet flavors without adding a ton of ingredients, and I'm going to elevate your game a bit by bringing a high-quality sweet smoothness with just two scoops of my sweet-powdered self.
It also says: YOU ARE WELCOME.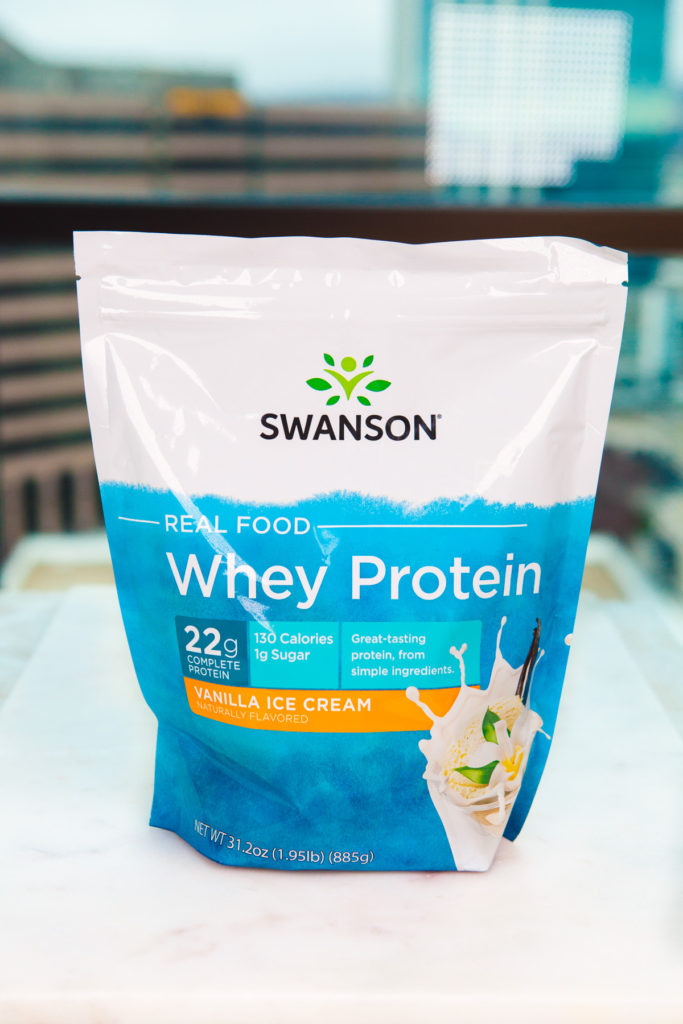 We have been obsessed with this vanilla whey protein powder, not only because it has 22 grams of protein and a complete amino acid profile per serving (HECK-TO-THE-YEAH!), but also because it has no hidden ingredients, no added sugars, no preservatives, no artificial sweeteners, flavors or colors.
It's the real deal.
It is naturally gluten-free and easy on your stomach, which lets face it, its something hard to come by when it comes to a lot of protein powders in the market. Your modern-world strong self will be taken care of with a nice scoop of this vanilla powder goodness.
Whey protein is a fabulous addition to treats (like our amazing crisp, but also think: pancakes, waffles, muffins, smoothies, and granola bars)…and is easy to carry on-the-go for busy days or quick little getaways. Just add single (full) scoops to your trusted on-the-go containers or baggies, and you're good to go for each time or day that you'll need a pick-me-up.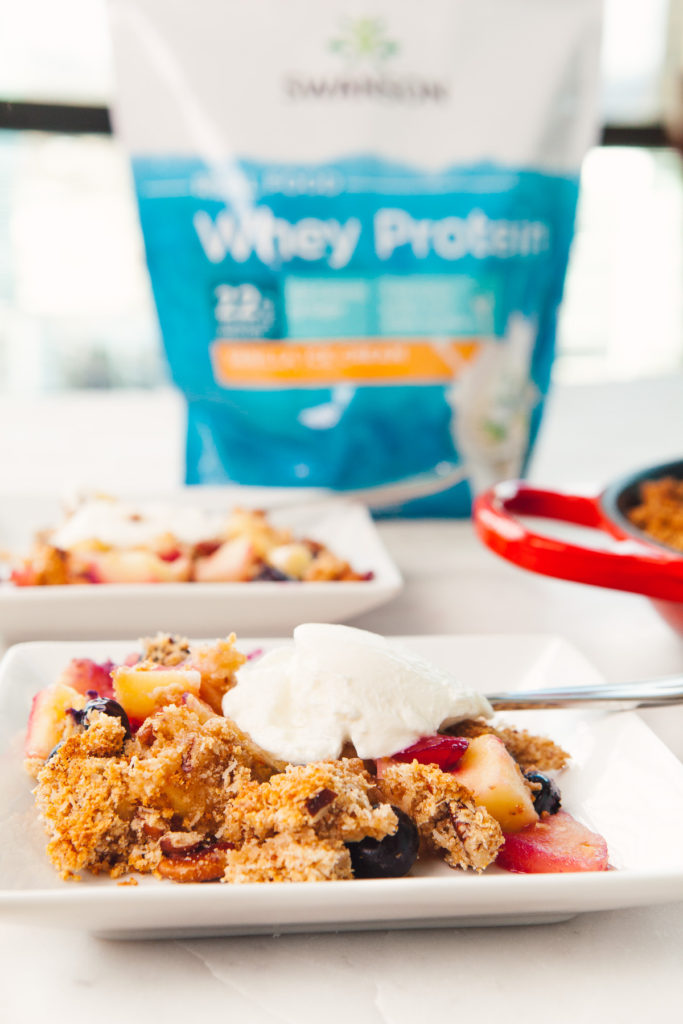 Back to the star of the show: the crisp.
I don't want to brag here, but I do want to recommend you to get a protein apple and blueberry crisp up in your life. It's winter, for goodness sake, we got to bump it up a notch and live our best life.
There are tons of crisp recipes out there, and I've made MULTIPLE versions in my pursuit for the best. #someonesgottadoit And guess what, friends? I've done it. I've finally reached amazing.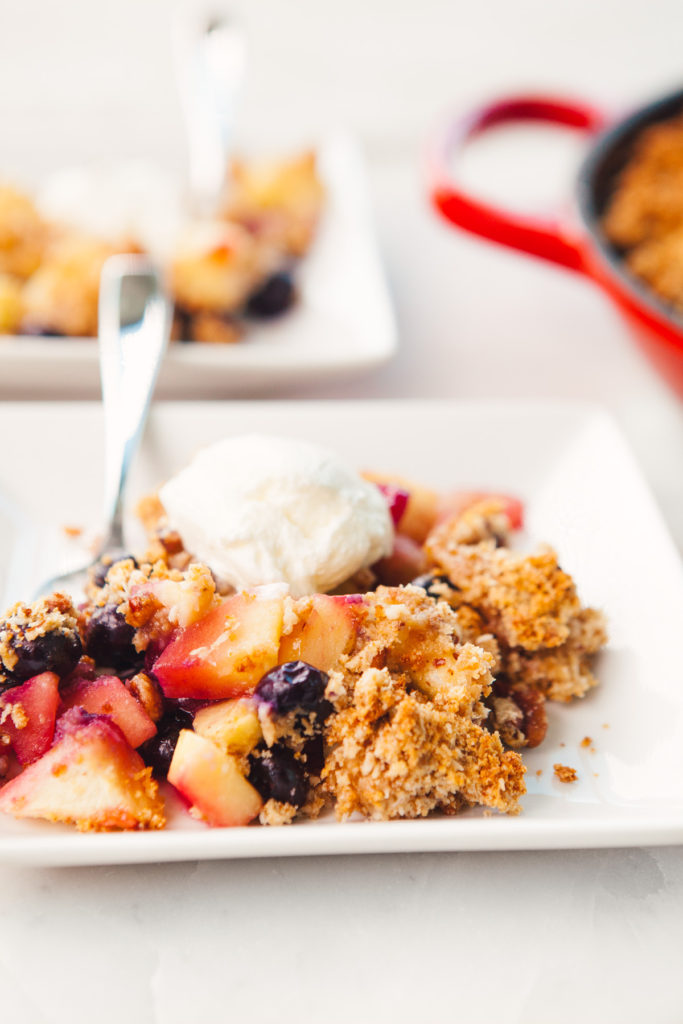 Here's why I love this crisp recipe:
Easy, as mentioned.
Guten-free, and good for those staying away from all grains.
Extremely juicy and jammy when using fresh, sweet and plump fruit.
Less jammy, but still very, very good when you have no access to fresh and plump fruit. I'd suggest switching fruit up, to match what's in season.
A crisp topping that is not cake-y nor dry. I find it to resemble a golden, rich and moist baked cookie that has a biscuit-type texture at the top for some magically contrasting crunch.
SUPER
GOO
OOOD.
Whey Protein Apple & Blueberry Crisp
This Whey Protein Apple & Blueberry Crisp is naturally sweetened, and has a crispy, grain-free topping! The perfect plant-based, gluten-free treat for breakfast or dessert!
Ingredients
For the Apple Blueberry Layer
2 cups blueberries
4 large apples (peeled, cored and diced)
3 tbsp maple syrup
2 tbsp arrowroot powder
1 tbsp fresh lemon juice
For the Crisp
2 scoops Swanson Vitamins Vanilla Whey Protein Powder
¾ cup fine almond flour (or almond meal)
¾ cup unsweetened shredded coconut
½ cup chopped pecans
½ cup coconut sugar
½ tsp salt
⅓ cup melted ghee
4 tbsp maple syrup
Instructions
Preheat oven to 350 F. Add fruit directly to a large cast-iron skillet or to a 9"x13" baking dish. Toss with lemon juice, maple syrup, arrowroot powder.
In a large mixing bowl, combine almond flour, shredded coconut, protein powder, pecans, coconut sugar and salt. Mix in ghee and maple syrup and combine until the mixture takes a bit of a sticky consistency. Spread the crisp evenly over the fruit, and bake uncovered for 40 minutes or until the crisp takes a golden color.
Let cool for about 5 minutes before serving. Serve right away as is, or with dairy free vanilla ice cream on top.
When you make this Protein Apple and Blueberry Crisp, plate it and finish it off with your delicious topping of choice, please snap a photo and share it with me on Facebook or Instagram.
I'd absolutely love to see your own juicy and sweet crisp creations!
PIN ME!