Let me share one of my latest food obsessions with you: my Vegan and Paleo Sweet Potato Red Curry.
I've been holding on to this one for a while now, and for no good reason. I am sort of kicking myself for not posting it sooner, because something so good should absolutely be shared. Better late than never, right? So here it is! In all of its glory, coming in all flavorful and colorful and healthy for ya. Ready to hypnotize you like it did me. 😉 It does that, you know? Hypnotize you. Every. Single. Time.
Just look at it. Ohmygosh.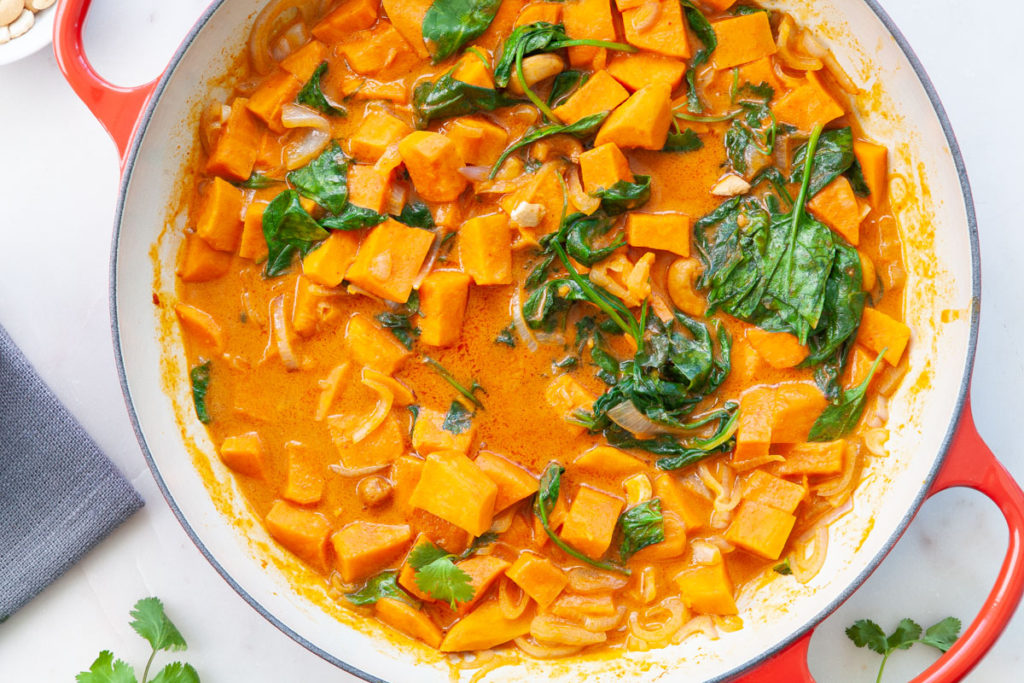 One of my favorite things about this beauty is that it's made in one bowl.
You don't need to dirty much else to make it. Sure, you'll need a few measuring cups and spoons, cutting board and knives. Aaaaaand, maybe one pot for the rice…but as far as the curry goes: only one, baby! My kind of cooking.
Do you love to keep kitchen messes down to a minimum? Yep, meeeeee too. I strive for this every day of my life. LOL. The more energy I can save for the other ten million things I gotta do, the better.
Therefore, finding gems like this one can be a game changer. Ones that save you time, but still kill it in the taste/satisfaction department.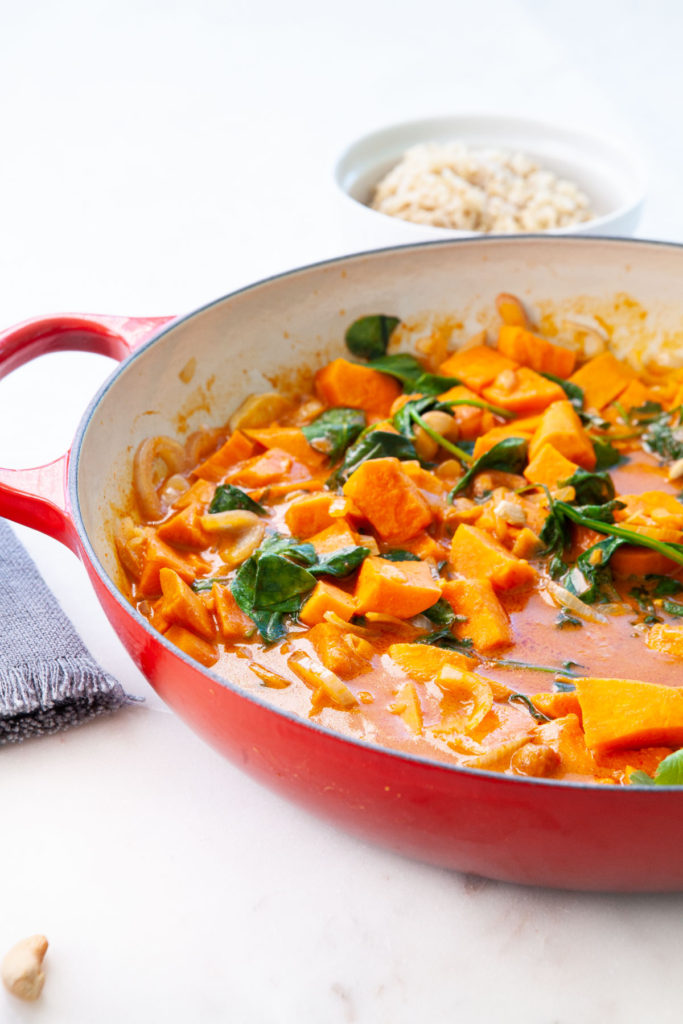 It's not too spicy. It's sort of a mild spice, which is what I love about red curry.
It's creamy. Something truly magical happens when you mix canned coconut milk, vegetable broth and curry paste.
It's filling. The combination of the sweet potatoes with the lighter veggies really know how to work together to pack a nutritious punch.
It's flavorful. Shallots, spinach, broth, cilantro, all hard at work. YUM.
It's soothing. Perfect for nights when you feel the need of some healthy food comfort.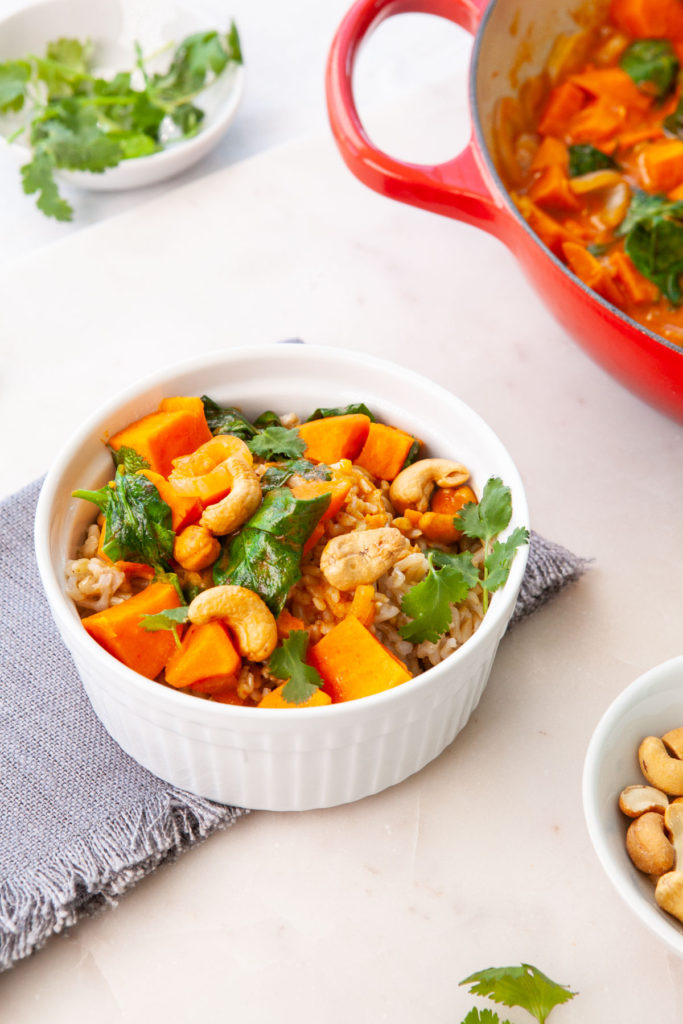 This Vegan and Paleo Sweet Potato Red Curry recipe goes amazing on rice. Any kind of rice. For my family, I did brown basmati rice, but you can do any kind you prefer. Be it white rice, brown rice, the long or the short kind, cauliflower rice…it all works.
For each mouth you're feeding, add about 1 cup of rice to a bowl, about 1 1/2 – 2 cups of this curry, garnish with a little cilantro and roasted cashews (I like the lightly salted) and add a spoon in. Whomever you're making this for, is one lucky cat, because this little meal is a meal to remember.
I remember it so much, that I make it every other week. Haha. Constantly in my mind. See?
And you can always play a little with the ingredients, too.
You could sub the spinach with kale and the shallots with onions. However, I'd recommend that the first time you make this recipe, you make it as is. Then, if you want to switch it up a little, you switch it up the next time you make it. That way you can taste it the way I recommend it, and then can compare it to whatever else you decide to do next. You'll have a more solid knowledge of what kinds of ingredients you like in your red curry afterwards.
I hope you LOVE this recipe! It's:
Simple
Quick to make
Nutritious
Wholesome
Both Paleo & Vegan
& Delicious
This would make the perfect weeknight meal when you need something hearty and flavorful on the table for yourself and/or your family! We like to have one large, hearty bowl for dinner, that way it's one bowl and done, no pairings or side dishes needed.
However, if you do need a pairing…how about a nice glass of pinot noir? And perhaps a good dark chocolate afterwards to finish the night off well?
If you're into easy, plant-based dinners, be sure to check out my: Vegan Power Bowl, Creamy Mushroom Instant-Pot Soup and Turmeric Cauliflower Kale Salad with Roasted Pepitas.
If you try this Vegan and Paleo Sweet Potato Red Curry, let me know! Leave a comment, rate it, and don't forget to tag me on a photo @amazingpaleo on Instagram.
Bon appetite, beauties!
Watch a video on how to make my Vegan and Paleo Sweet Potato Red Curry:
Vegan and Paleo Sweet Potato Red Curry
Easy, 1-pot Vegan and Paleo Sweet Potato Red Curry with curry paste, coconut milk, vegetable broth and fresh vegetables. A simple yet satisfying plant-based, gluten-free meal!
Ingredients
2 large sweet potatoes, peeled and cubed
2 shallots, thinly sliced
4 cups baby spinach
3 tbsp. red curry paste
14 oz. canned full fat coconut milk
1-2 cups vegetable broth (depending on how thick you want your curry; 1 cup for thicker)
½ cup fresh cilantro, divided
½ cup salted and roasted cashews, divided
2 tbsp. extra virgin olive oil
Instructions
Place large pan over medium heat and add oil once hot. Add shallots and cook until fragrant, about 1 minute.
Add in potatoes and toss to coat with oil. Add curry and stir to combine.
Add in coconut milk and broth and simmer for about 20 minutes, or until potatoes are cooked through.
Add in spinach and stir to incorporate. Add half of the cilantro and half of the cashews; cook for another minute or so.
Plate 4 dishes with your favorite kind of rice (cauliflower rice, brown rice, etc) and add a generous amount of sweet potato curry on each. Top with remaining cilantro and cashews. Enjoy the deliciousness!
---
PIN ME!