These Gluten Free Banana Pancakes may be my favorite pancakes of all time.
That's a big statement, but I wouldn't say it unless it were true. And let me also say that I've had my practice making pancakes and waffles and breads for breakfast, and so perfecting these kind of things has been my thing.
My pancake journey has gone from not-so-healthy + full-of-wheat-and-dairy pancakes, to too flat + bland pancakes, to nut + seed based pancakes, to…healthy + fluffy PERFECTION pancakes. Which is what these are, and where I bring you guys. To get in all of this goodness.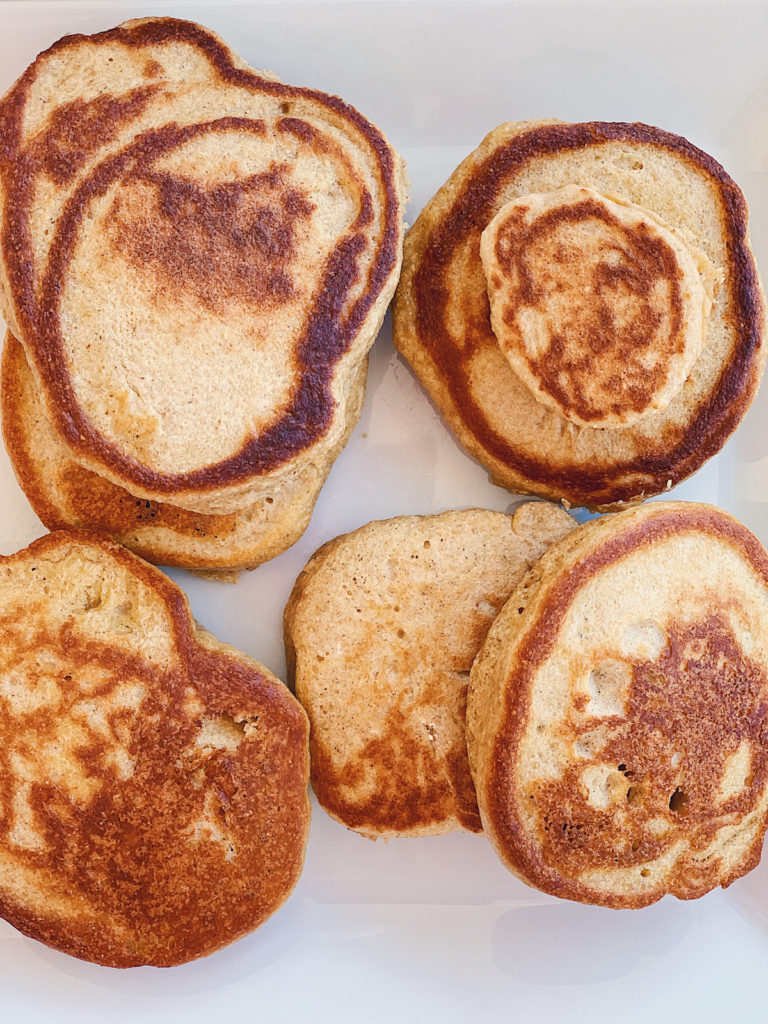 Let's make pancakes!
These blender 10-minute pancakes, require 8 simple ingredients that you'll probably have on hand. You legit just throw them all in the blender, blend on high until smooth, and BAM: you've created a banging' pancake batter.
It makes 6 small healthy and fluffy pancakes.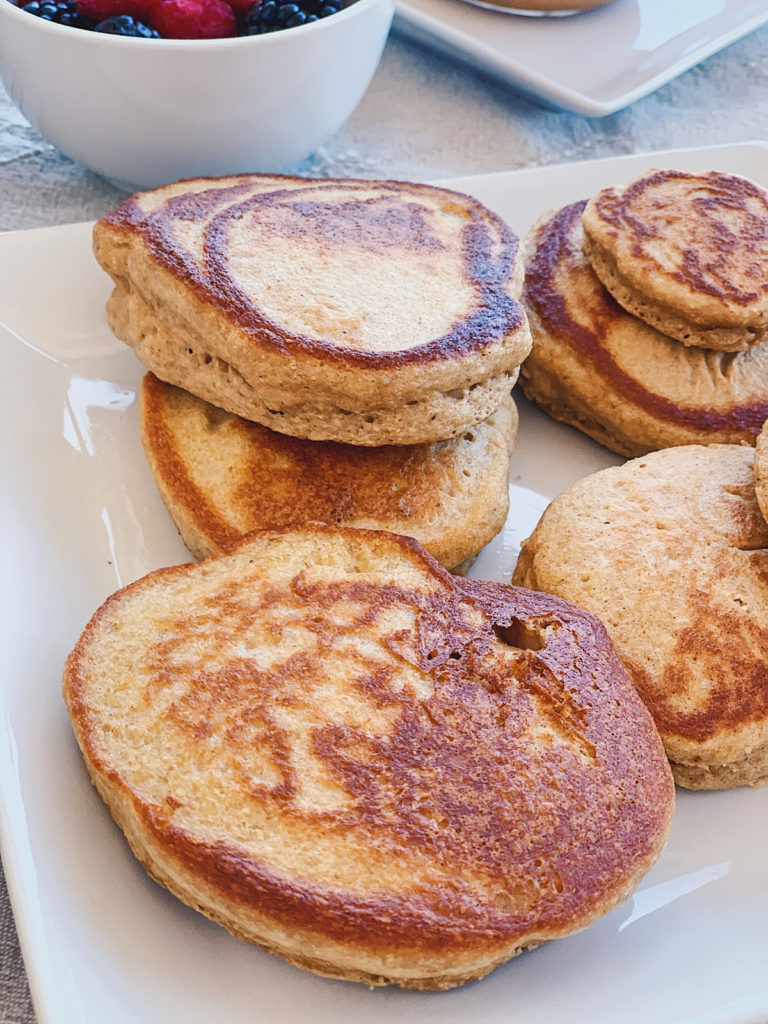 I love cooking my pancakes on a seasoned cast-iron pan lightly coated with olive oil. You can use any oil you prefer though, or any oil that you have on hand. Once the pan and the oil are hot, add about 1/4-1/3 cup of batter, cook each side until brown, and then keep them warm in the oven until it's time to serve.
Be sure to have fresh berries and a large bottle of pure maple syrup on your table to top your pancakes with. The fruit will add a nice tarty balance to the maple syrup and you'll love the combination of the two on the banana pancakes.
And if you like things to be a bit extra, like me, add a dollop of nut butter on top. Trust me on this one, you get next-level pancakes!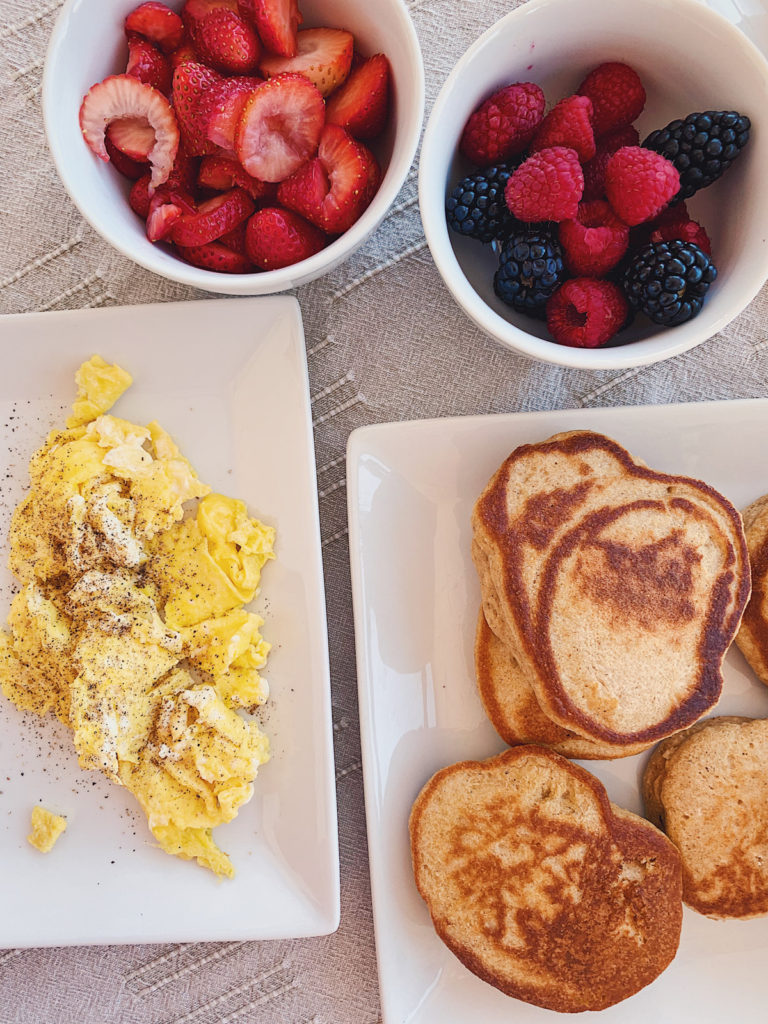 I hope you absolutely LOVE these pancakes!
They are:
Fluffy
Healthy
Tender
Naturally sweet
Gluten-free + dairy-free
Banana-infused
Suppler duper easy to make
& DELICIOUS
These make the perfect special weekend breakfast. I like making a batch and enjoying them right away (between my husband and I, we easily polish the 6 small pancakes the recipe yields). And I also love making extra after we are done eating, so I can freeze and enjoy them throughout the week: easy snack and breakfast for the win.
Although optional, we totally recommend being playful with the batter and customizing it a bit. You can add mini chocolate chips, sprinkles or blueberries to the batter – these will complement the banana flavor really well. And, like I mentioned before, treat yourself by topping them with some kind of nut butter and pure maple syrup for the ultimate breakfast experience!
If you're into breakfast foods, also check out my Vanilla Almond Protein Granola, Arrowroot and Almond Flour Paleo Waffles, Overnight Oats with Chocolate and Blackberry Collagen, Egg White & Sweet Potato Omelette & Strawberry Poppy Seed Paleo Bread.
If you try this pancake recipe, be sure to let me know! Leave a comment, rate it, and don't forget to tag a photo #amazingpaleo on Instagram! Bon appetite.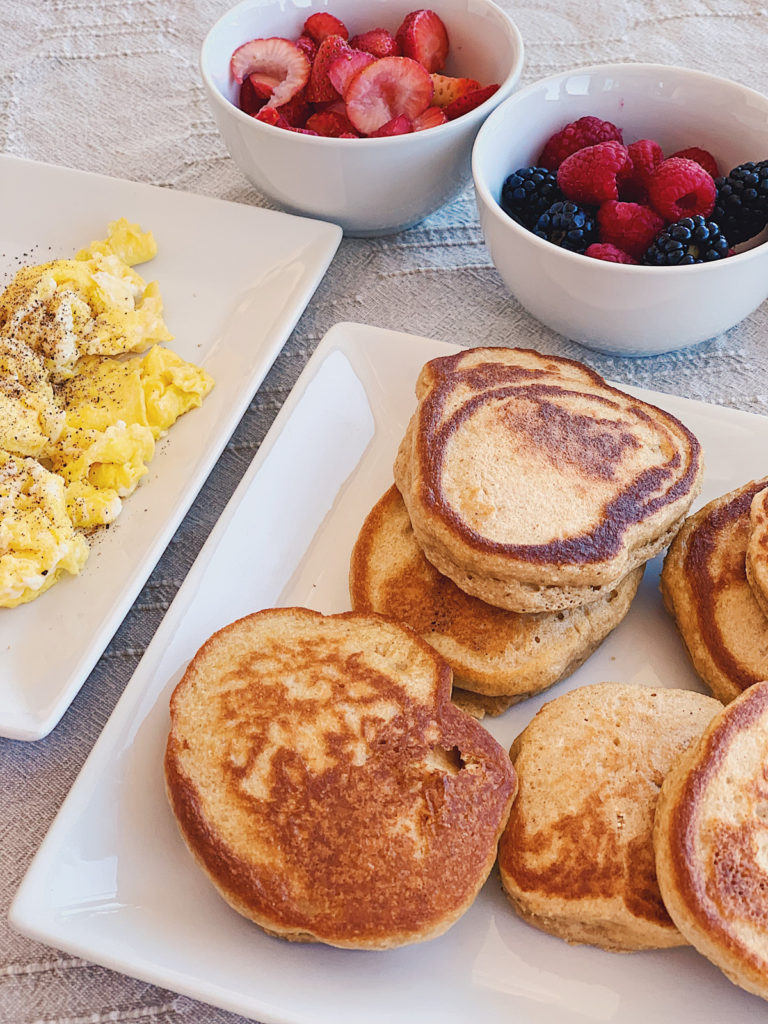 Gluten Free Banana Pancakes
Gluten-Free Banana Pancakes made in the blender with wholesome ingredients! Easy, fluffy, tender, naturally sweetened, and the perfect healthier breakfast or snack!
Ingredients
1 cup gluten-free rolled oats
2 full eggs
2 eggs (just the whites)
1 ripe banana
2 tbsp flax meal
4 tsp baking powder
¼ tsp salt
¼ tsp cinnamon
Instructions
Throw all ingredients in a high-speed blender and blend until smooth. Cool about ¼ cup at a time in a hot pan with olive oil. Enjoy!
Notes
To freeze pancakes, add cooled pancakes to glass Tupperware with parchment or wax paper in between to prevent sticking. Reheat in a toaster oven, oven, or microwave until hot and fluffy.
PIN ME!