TRIPLE CHOCOLATE PROTEIN MUFFINS!
Let me say that again: Triple. Chocolate. Protein. Muffins. That's right. Not one, not two, but THREE different kinds of chocolate were used in the making of this recipe.
And spoiler alert: it was flipping' delicious.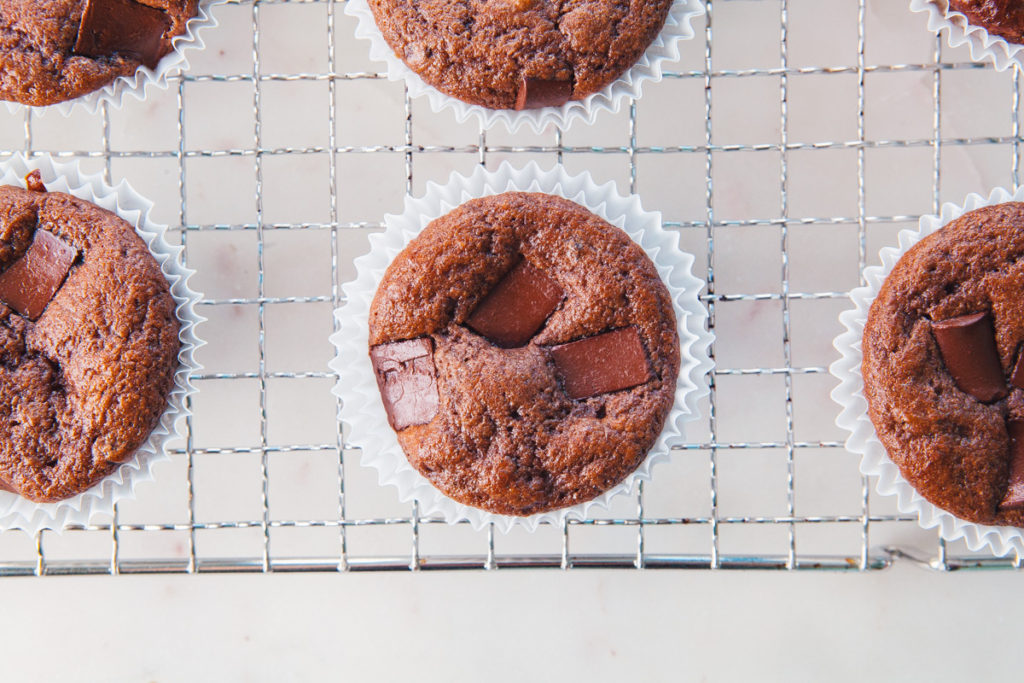 The raw cacao powder, the dark chocolate chips/chunks, the chocolate whey protein powder. 🙌 So much chocolate goodness, and in all of its forms.
Add to all this a hint of almond, vanilla, honey, sea salt…and oh my gosh, done deal. GAME OVER. Thank you and goodnight.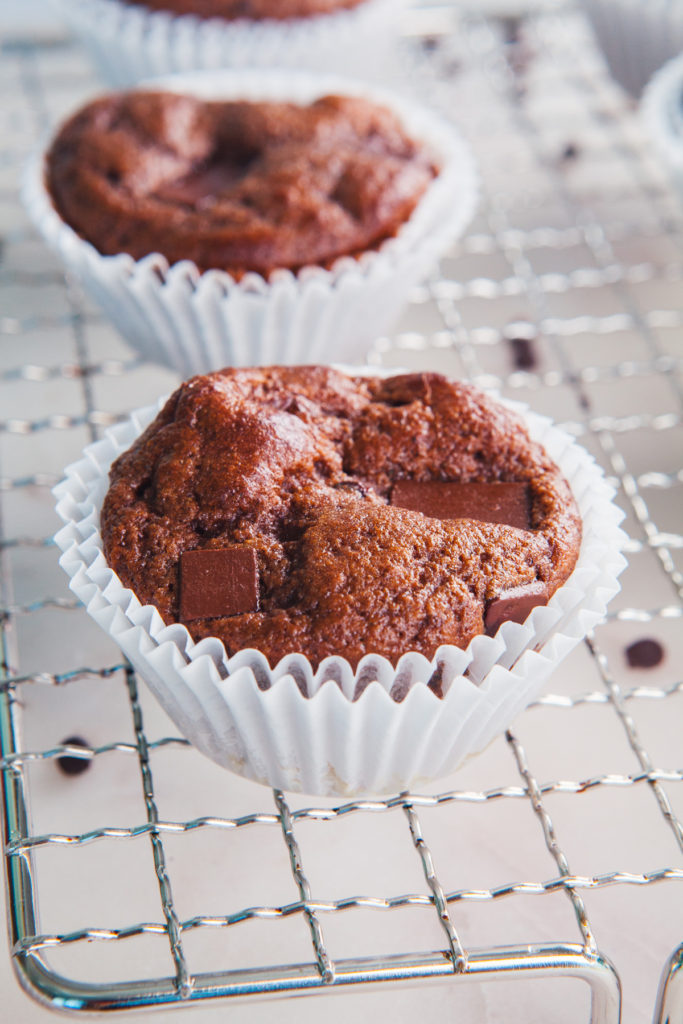 One of the single greatest things about winter is baking, IMHO. It warms up your house, makes it smell heavenly, it gives you all the feels as you patiently (or not so patiently) wait for your treats to be done, and it gives you delicious bundles of joy that you can enjoy in the hours and days to come.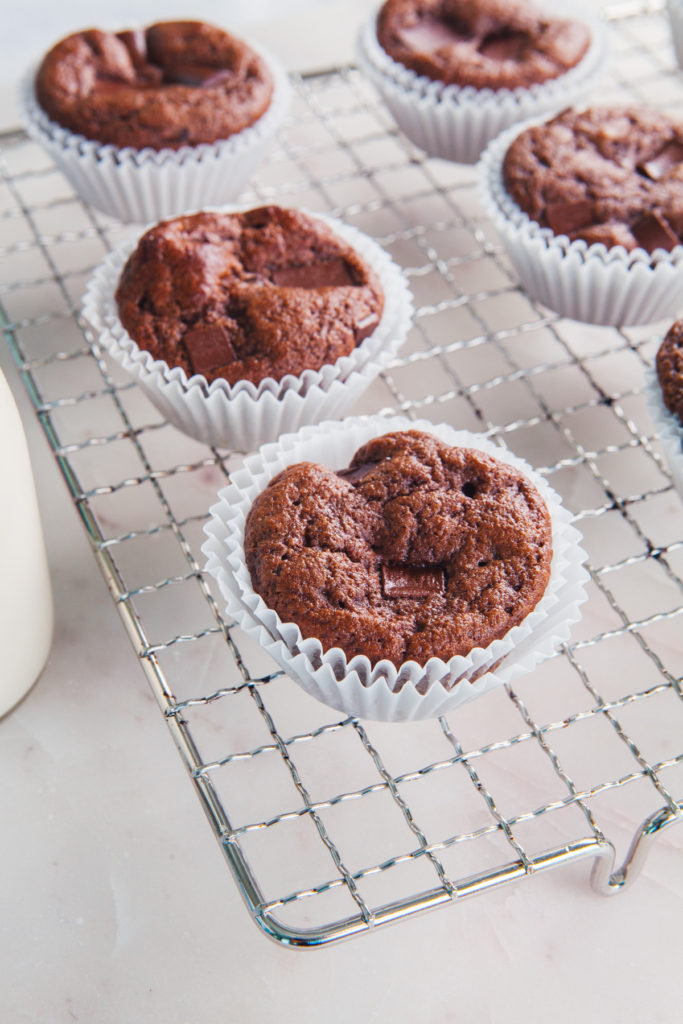 Since winter is still very much present, I find myself turning on the oven quite often these days; see, I plan on milking that feel-good baking situation all the way.
And wanna know a secret? I've been having a moment with chocolate based muffins lately – chocolate muffins of all kinds. The chocolate chunk kind, the chocolate chip kind, the chocolate dough kind, the chocolate drizzled kind…you name it. If it's a muffin with chocolate, I've been there.
They are comforting, sweet, tender, moist…and they always, always, always seem to hit the spot in between meals or after dinner. They are like a big ole hug, but in food form.
The thing that is super special about this particular muffin, apart from having THREE kinds of chocolate, is that it has protein in it!
It's a treat that actually feeds you, all whilst being delicious. Job well done, little muffin!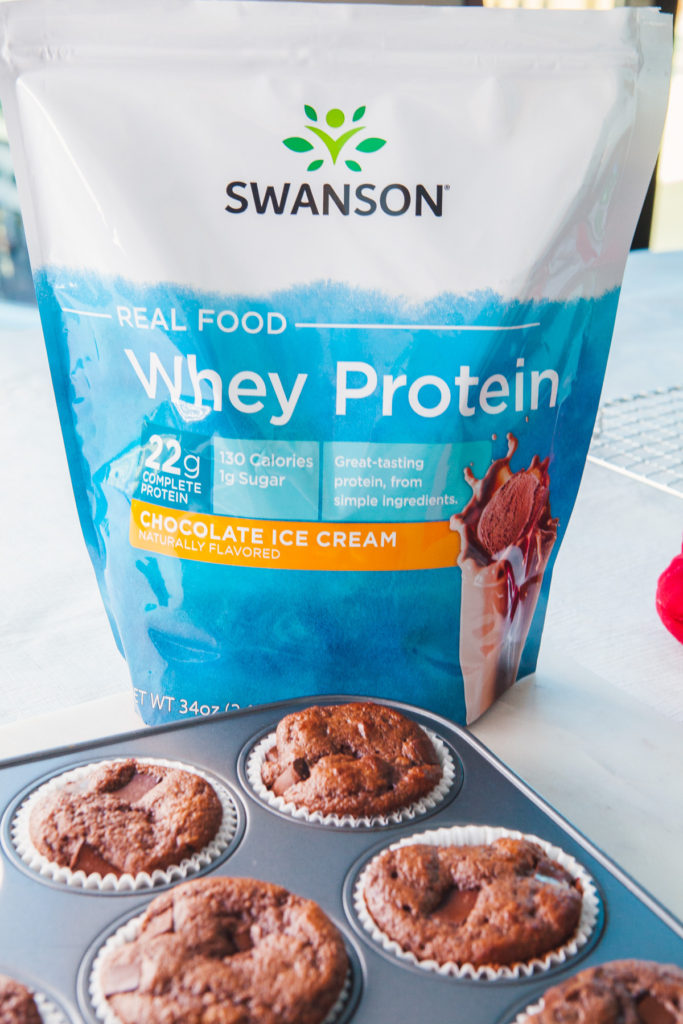 The flavor of the chocolate protein powder I used for this recipe is "Chocolate Ice Cream". Let that sit for a moment. Chocolate flippin ice cream. Yeah, gimmie some of dat now.
The flavor adds a luscious and decadent taste to the muffin that we've been digging hard!
And rest easy, this whey protein powder is made with real, whole food ingredients, having no added sugar, preservatives, artificial sweeteners, flavors or colors. It has everything you want, and nothing you don't…making it easy on your stomach.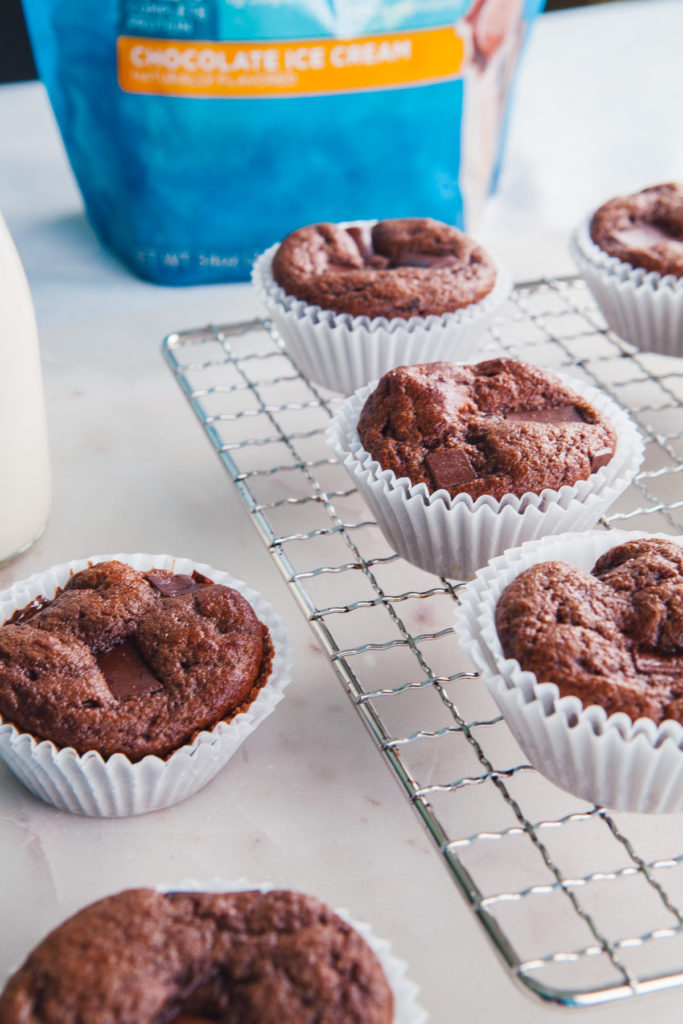 Now, if I can give you a big tip for this recipe, is to make sure you don't skimp on the chocolate chunks. Three to four per muffin on top should do the trick.
Picture this deliciousness with me:
The timer just beeped and you grab your mittens to remove the muffin pan from the oven. You place it on the counter to let the muffins sit for a bit, enough until they slightly cool so taking a bite doesn't burn the roof of your mouth.
You grab the best looking muffin of the twelve available…one that looks like this: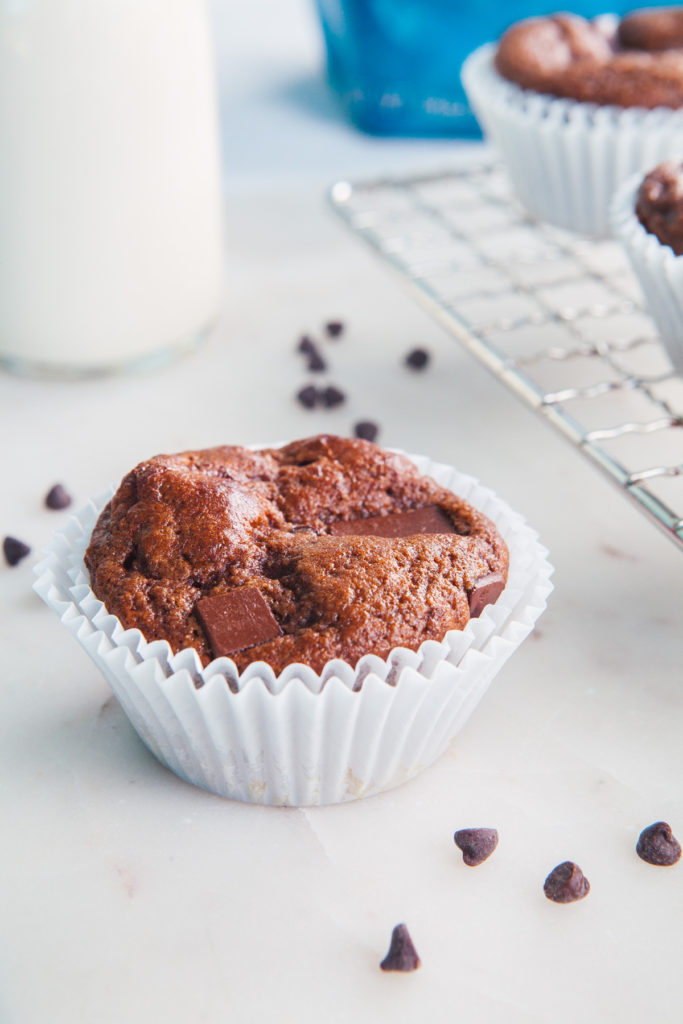 You move down one side of its white muffin liner and approach the muffin like a tiger does its pray.
You close your eyes, the chocolate aroma is highly perceived by your sense of smell, you start feeling extra happy and excited, you open your mouth as you simultaneously bring the muffin closer and closer to your mouth, your tongue touches the pillow-ey muffin and you dig your teeth right into the middle of this chocolate goodness. YAS.
First, you sense a bit of a crunch from the chocolate chunks, but immediately after, you hit the soft and fluffy muffin. Ahh – heaven.
You continue to keep you eyes closed as you let your taste buds take over. At this point, you would turn off all other senses to let the taste you are tasting get your undivided attention. Because IT. IS. BLISSFUL.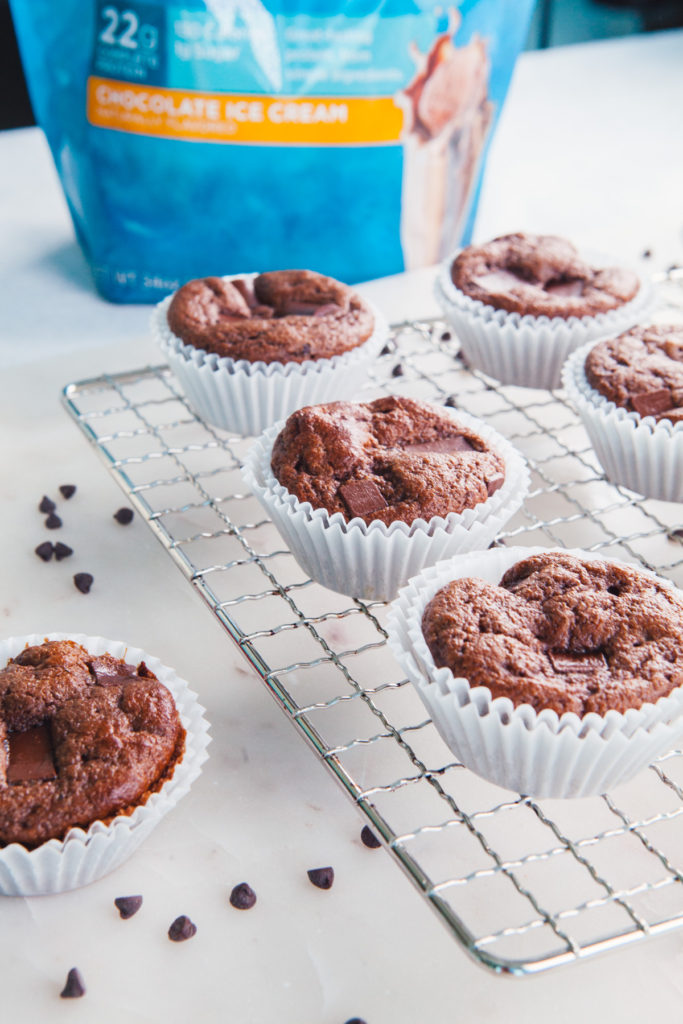 We hope you LOVE these muffins! They are:
Paleo approved
Gluten free
Very chocolate-y
Protein packed (!!)
Nutritious
So super yummy
& Perfect for any time of day!
The muffins make for a great on-the-go snack and for an afternoon treat. Pair them with your favorite hot beverage, coffee or tea, for the ultimate muffin experience.
For more protein powder recipes, check out my Vanilla Almond Protein Granola, Peanut Butter Chocolate Plant Protein Bars and Protein Apple & Blueberry Crisp!
If you try this recipe, let me know! Leave a comment, rate it, and don't forget to tag a photo @amazingpaleo on Instagram. ENJOY!
WATCH HOW TO MAKE MY TRIPLE CHOCOLATE PROTEIN MUFFINS:
Triple Chocolate Protein Muffins
Tender, fluffy, paleo triple chocolate protein muffins prepared in only 10 minutes! Healthy ingredients, naturally sweet, insanely delicious, and so easy to make.
Ingredients
¾ cup fine almond flour
1 tbsp raw cacao powder
3 tbsp mini chocolate chips
½ baking soda
½ tsp baking powder
¼ tsp salt
3 eggs
¼ cup organic applesauce
3 tbsp honey
1 tsp vanilla extract
Optional (but recommended!): chocolate chunks to top
Instructions
Pre-heat oven to 350 °F and double line a muffin pan with muffin liners.
In a mixing bowl, combine dry ingredients and whisk well.
In a separate mixing bowl, combine wet ingredients and whisk well.
Pour wet ingredients into the dry ingredients and combine well.
Fold in chocolate chips, and pour batter into liners. Add chocolate chunks if desired.
Bake for 12-15 minutes, let cool and enjoy!
PIN ME!