Athens was our very first Greece spot. I had been traveling in Spain for a little over two weeks with my brother prior to arriving to Greece, and I was thrilled to finally meet with my husband in Athens and get our Greek vacation started!
My flight arrived two hours before my husband's, which was not bad considering we were both flying in from completely different parts of the world; him from the US, and I from Spain. While I waited for him at the airport, the first thing I did was to look for a snack store and get me some Greek goodies.
I found one, and it was the perfect one, because it had a bunch of local products. I went straight to the refrigerator section to look for a good thick, Greek yogurt. I found a high fat one (6%), bought some fresh fruit and tahini along with it. I dug in, and let me tell you, it was the best food decision I made. I was in heaven and that bliss kept me very happy until my husband's flight landed.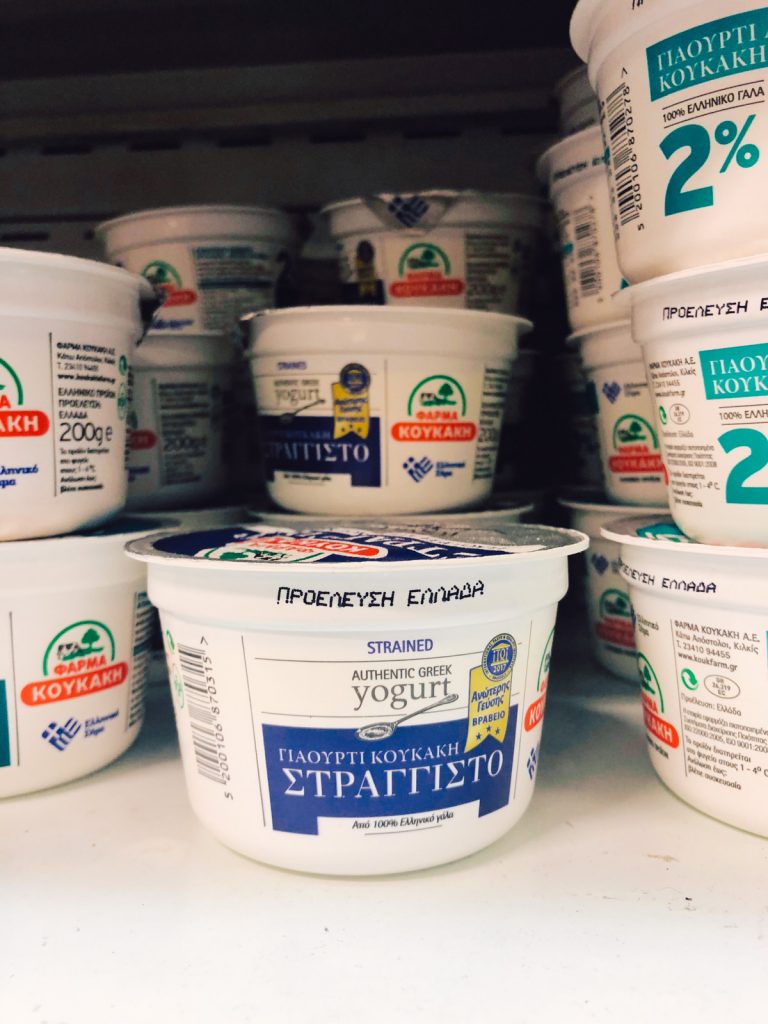 I picked up my hunk (I was SO EXCITED to finally see him!) and then we both took a cab to our hotel in downtown Athens. Being with him felt like home, and I was taken over a state of peace. Since I travelled without him for over two weeks, I kept my guard up at all times, but now that I was with him, I felt completely safe and was able to relax.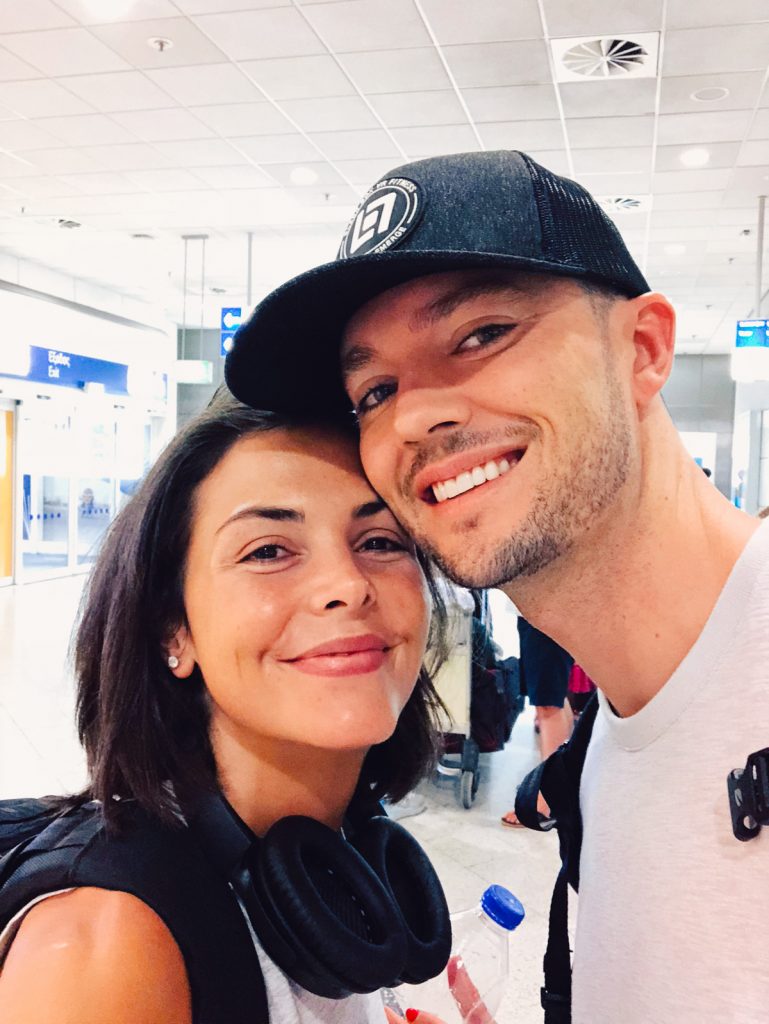 Our taxi ride to the hotel was about 35-40 minutes, and since we arrived in the afternoon, there was plenty of light for us to look out the taxi window and check out the city.
Our first impression was that it was a bit run down and a bit dirty, but that was to be expected not only because of the crisis Greece is going through, but also because of its age! Did you know that Athens has been continuously inhabited for about 5000 years!?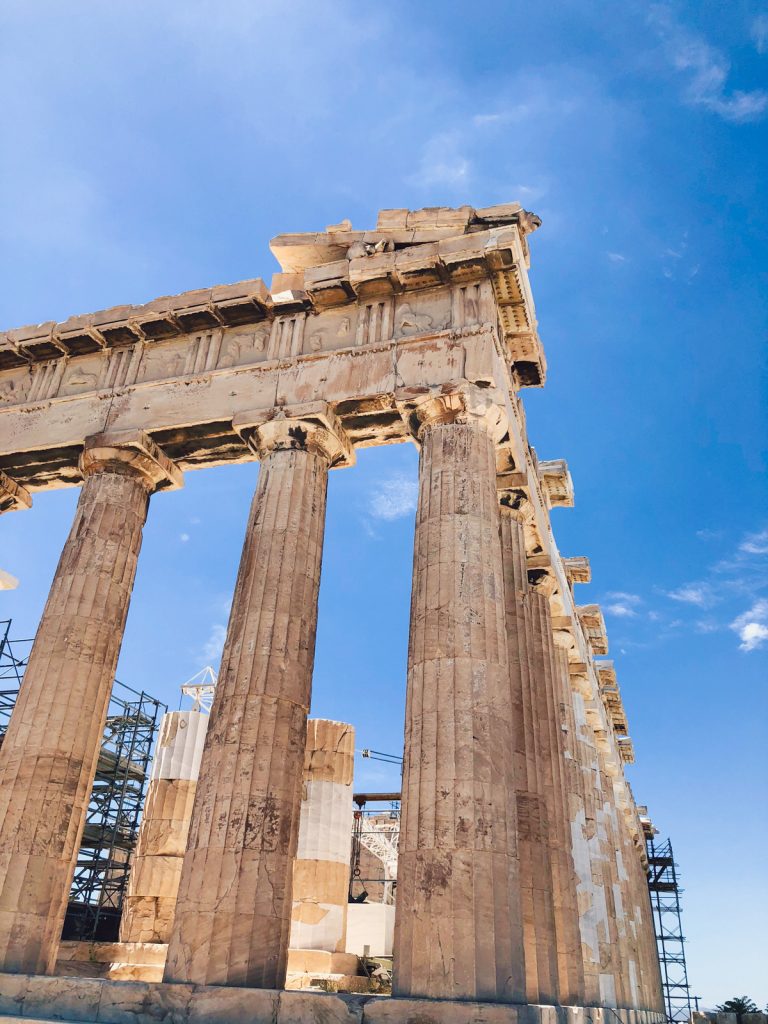 We arrived at our hotel, got settled in and started our 3 day exploration.
Below you'll be able to see all the details of where we stayed, what we did and where we ate. If you find yourself wanting to check out this ancient city, don't wait any longer and book your flights! You won't regret it!
---
Where we Stayed in Athens
Looking the best possible stay at the best possible rate in a new city is probably one of my favorite things to do prior to any trip. I love doing my research online and checking out the most centrally located areas for what we want to do and see, and once I find our ideal area to stay at, I begin looking for nice hotels around there. I begin my hotel research in google by selecting our dates, and then once results appear, I set my filters. The filters I like to use the most are: hotel stars and hotel reviews. These two set me up for success in comparing hotels and deals, because they save me time by giving me options that meet my minimum requirements.
Apart from location and great overall reviews, what I look for in hotels is a comfortable bed, cleanliness, accommodating staff and good facilities. Having breakfast included is always a plus, and when it does, it just sweetened the deal for me.
After a bunch of research, the hotel we landed on was Adronis Athens.
This hotel caught our attention because it had views of the Acropolis (the main reason we were visiting Athens), had 4.8/5 reviews (people spoke highly of the quality of stay and service), felt young and alive, breakfast was included and the rooms looked really, really nice!
When we arrived to the hotel, the space felt just like we had pictured from our research. It had a great vibe, it was really pretty and the staff was very welcoming. We were greeted by a really nice lady, received with glasses of champagne, were given a bunch of great food/activity recommendations by the hotel manager, got escorted to our room, settled in and off we went to explore.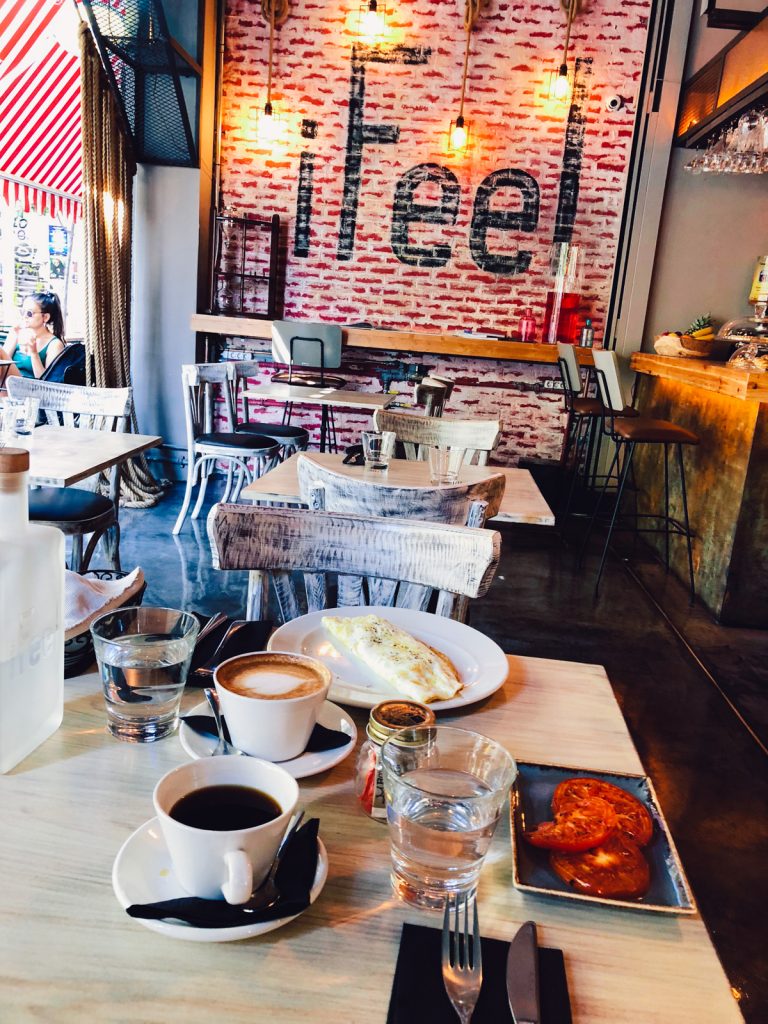 ---
What we Did in Athens
Day 1
The first thing we did the night we arrived was to walk around the streets close to our hotel for sightseeing and a quick orientation.
We found that the night was balmy, because of summer, and the streets felt very much alive. There were street performers, lots of street vendors, and of course, the sight of the gorgeous Acropolis overlooking the city.

That night, we went to dinner, did a bit more walking to find a gelato for my husband (I was all gelato'd out at the moment from all the gelato I had in Spain) and then we headed back to the hotel for a little romantic night in.
Day 2
We woke up with energy VERY early in the morning due to my husband's jet lag. We took advantage of that, however, and walked to buy our passes to tour the Acropolis and the museum. We weren't going to go into the Acropolis or the museum then, but it was nice to pick up our tickets as soon as they opened in the morning, since the ticket lines later in the day get out of control! We were happy to avoid those once we saw how long they got.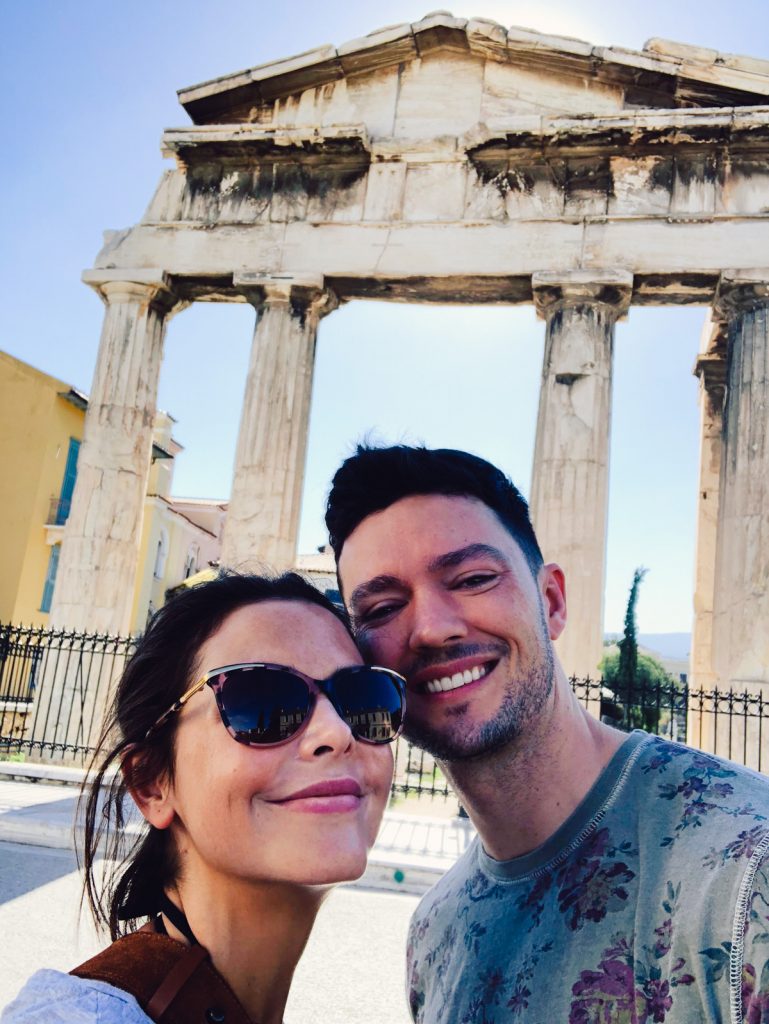 We got our passes and went back to the hotel for a nice and relaxing breakfast. After our brekkie, we got ready, packed our bare essentials (sunscreen, wallet, water) and began our trek to the Acropolis. It was about a 10-15 minute walk from our hotel and there was nice climb up to it; we were grateful for it, since our hotel did not have a gym.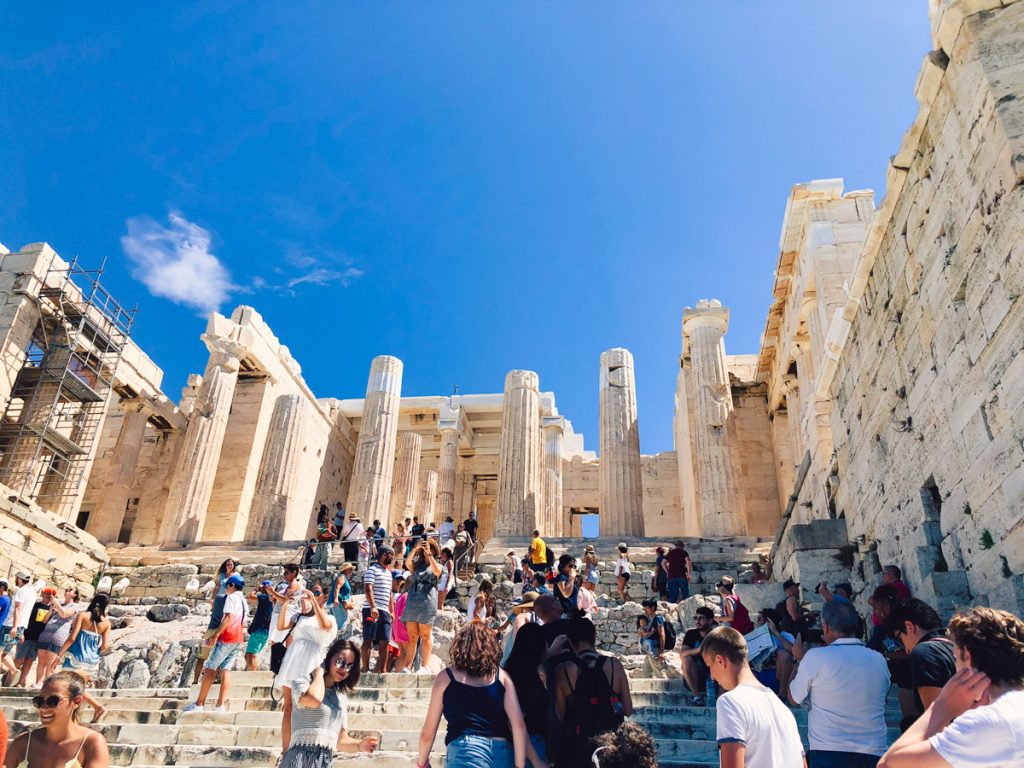 The Acropolis was the highlight of our trip to Athens for sure.
It had much history, it was so grand and so impressive. We were wow'ed by it and tried to spend as much time as possible on those inspirational grounds.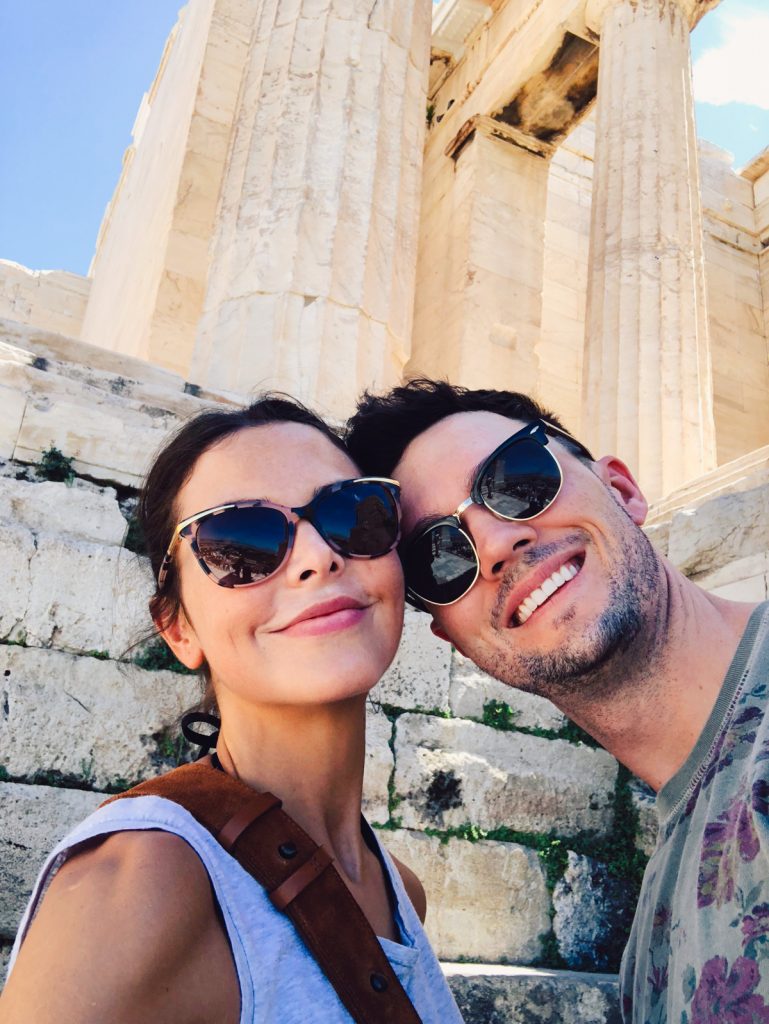 Within the Acropolis you'll be able to see the following:
Parthenon
Erechthelon
Propylaea
Temple of Athena Nike
Brauronion
Temple of Rome and Augustus
Pedestal of Agrippa
Beule Gate
Acropolis Fortification Wall
Chalkotheke
Old Temple of Athena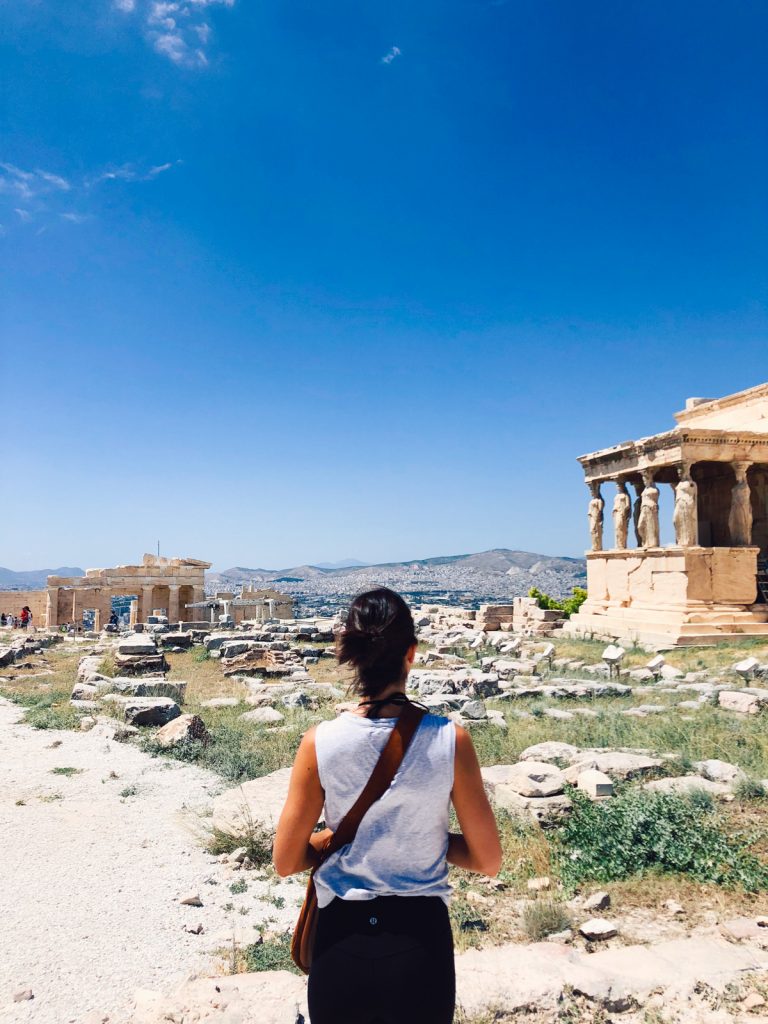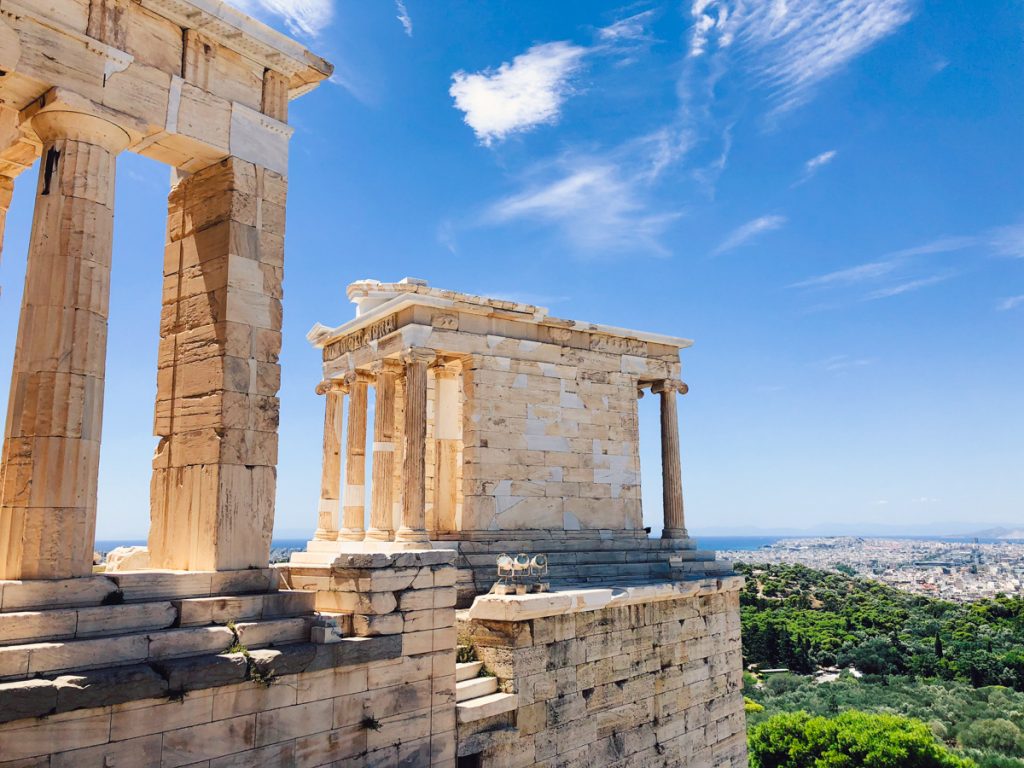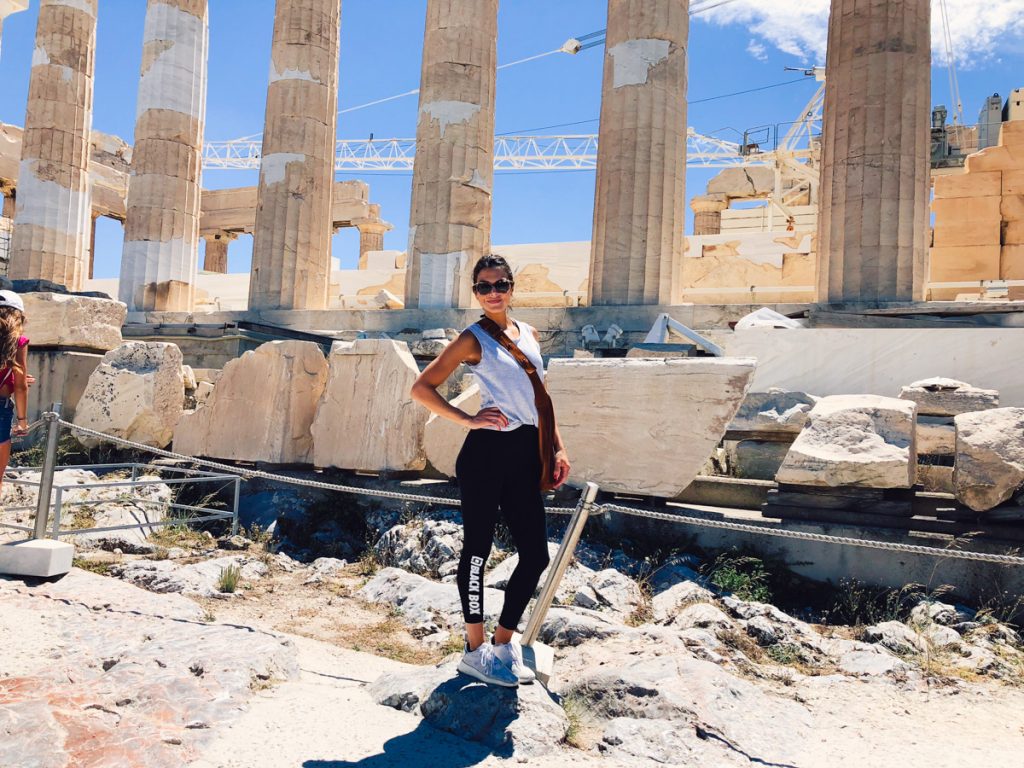 After a few wonderful and inspiring hours at the Acropolis, we walked downhill to go check out the Acropolis Museum.
The line was small and it took us less than 10 minutes to get it.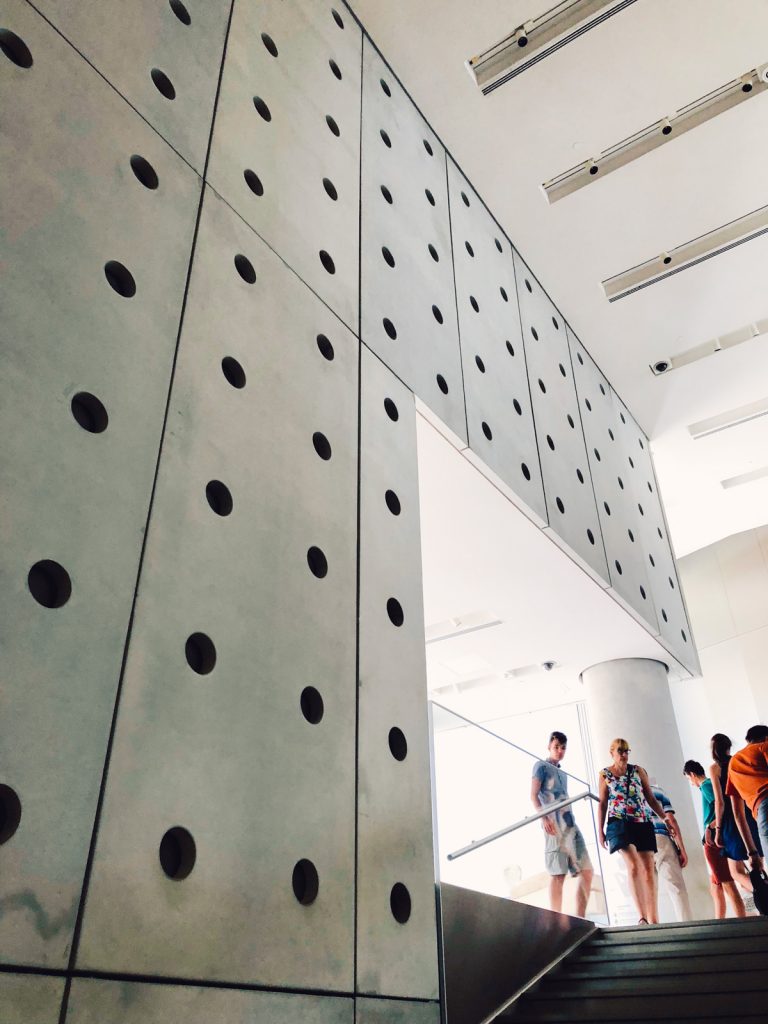 The museum had impressive architecture and it felt large and airy. Because of its size, it did not feel crowded at all and we were happy for all the space to be able to appreciate art well and in peace.
We weren't supposed to take pictures inside, which we respected for the most part, but I had to snag one in. Here it is: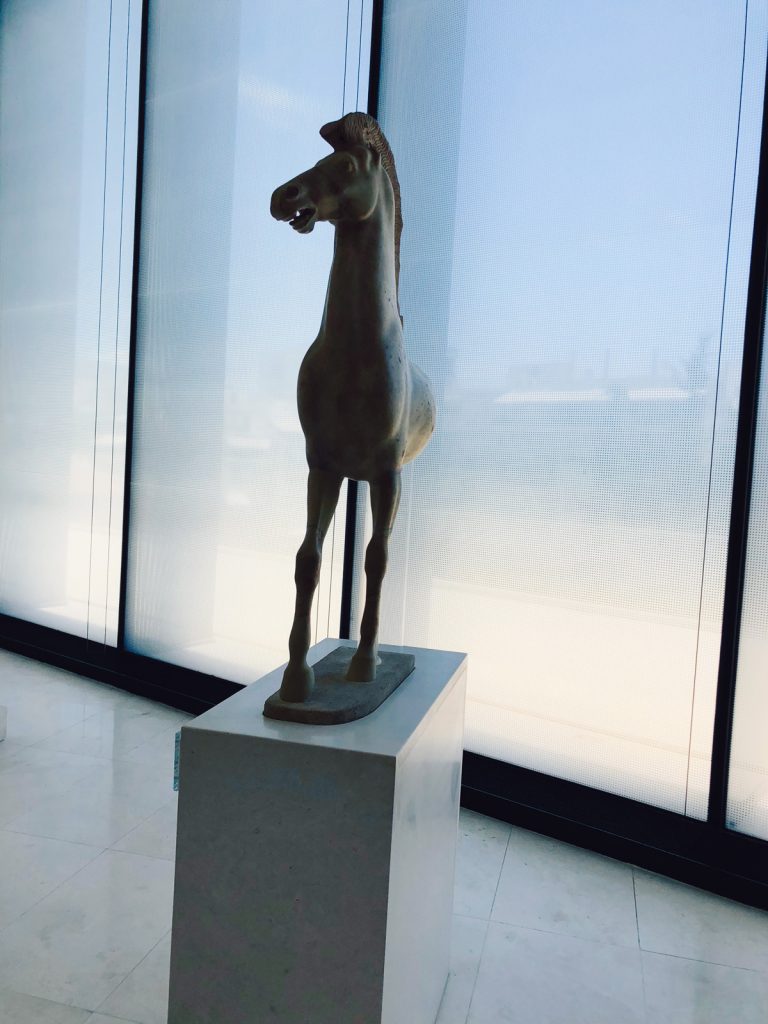 After the museum, we went to have late lunch and continued to explore the downtown streets of Athens. It was a hot and active day, we ate a lot and later turned in to the hotel to shower and get ready for dinner.
Post dinner, we walked around some more and explored the bars and nightlife of the city. Most things opened late, and we saw some really cute cafes and bars with live music and charming atmospheres.
Day 3
This was a shorter day for us since we would hop on a plane to Santorini later that afternoon. But even though we were preparing to leave Athens that day, we still wanted to get a little exploration in.
Upon waking up, we looked online for a gym close-by. We found a decent one that was really affordable (5 euros), and jogged to it to get our morning workout in. It was a very old school body-building type gym, and since it was super early, no one was there yet.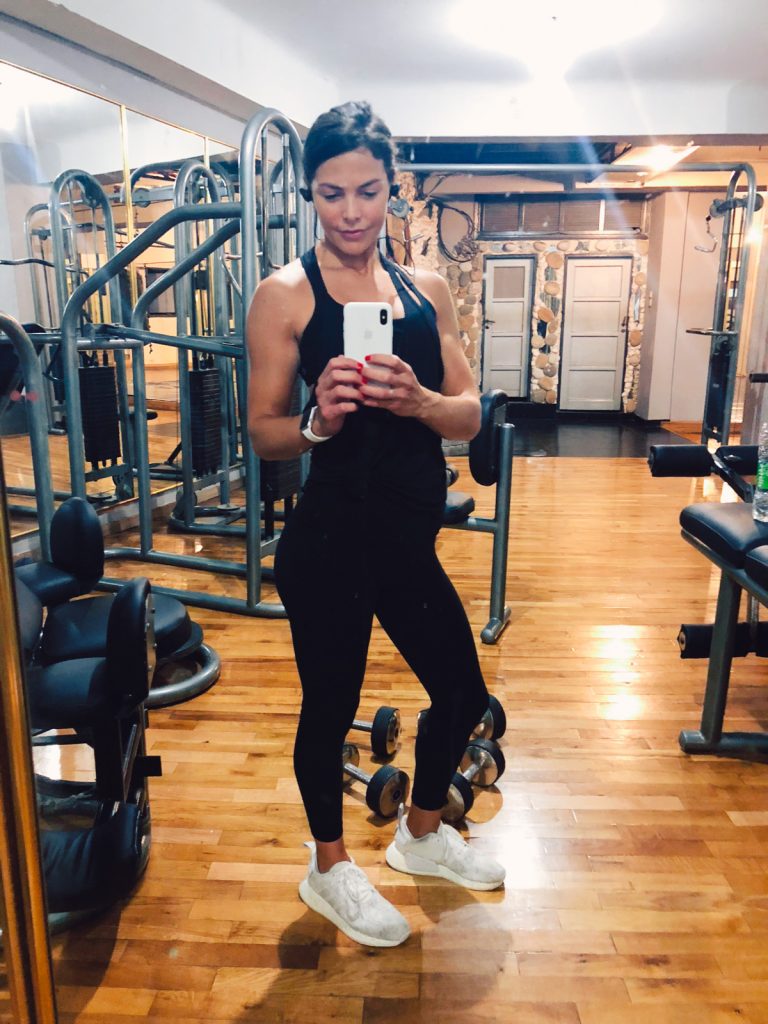 The guy who owns/runs it was a buff and ripped 70 year old man! We could not believe it when he told us his age; he looked 20 years younger. It's truly amazing what taking care of your body can do for you. I wish we took a picture with him to show you guys! He was extremely sweet and friendly, and made us feel welcome. We got a quick workout in, and then left to go eat breakfast back at the hotel.
We showered, checked out, left our bags at the bellhop and went out for a little stroll around the Plaka neighborhood. This is the most ancient neigbourhood in Europe, and the views of the Parthenon are unparalleled. We wondered around the narrow streets of old time Athens, went into small shops and bought fresh fruit from some of the street vendors. It was magical. Afterwards, we grabbed our bags and took a taxi (this was our second time taking a taxi in Athens; if you chose a centrally located hotel, you don't really need one) back to the airport.
So as you can see, we had a short stay in Athens, but we felt like it was the perfect amount. We saw all we wanted to see and got a taste of the local culture.
---
Where we Ate in Athens
Ahh, my favorite part! THE FOOD. I'll be honest, the food in Athens was probably my favorite of all the food we tried in Greece. Not even kidding. Maybe a close second was Santorini, but I was really impressed by the Athenian flavor. I was not expecting that.
First of all, our hotel had incredible breakfasts. Just incredible. You could chose from a wide variety of items, freshly made eggs, amazing greek yogurt, delicious coffee, creamy tahini, fresh fruit, etc., etc. Super good. Highly recommend their restaurant! In fact, many people that don't stay at the hotel, come to the hotel just for breakfast. Yup, THAT good.
Secondly, the manager of the hotel was wonderful (she felt like a friend) and she had the best restaurant suggestions for us. They were all affordable, close by and were ones that the locals would go to…none of that "tourist trap" ones that getcha good.
These are some of the ones we tried and absolutely adored:
1. iFeel – Our hotel's breakfast/brunch place. Seriously delicious. Even if you're not staying at the Adronis Athens Hotel, you can come here for breakfast!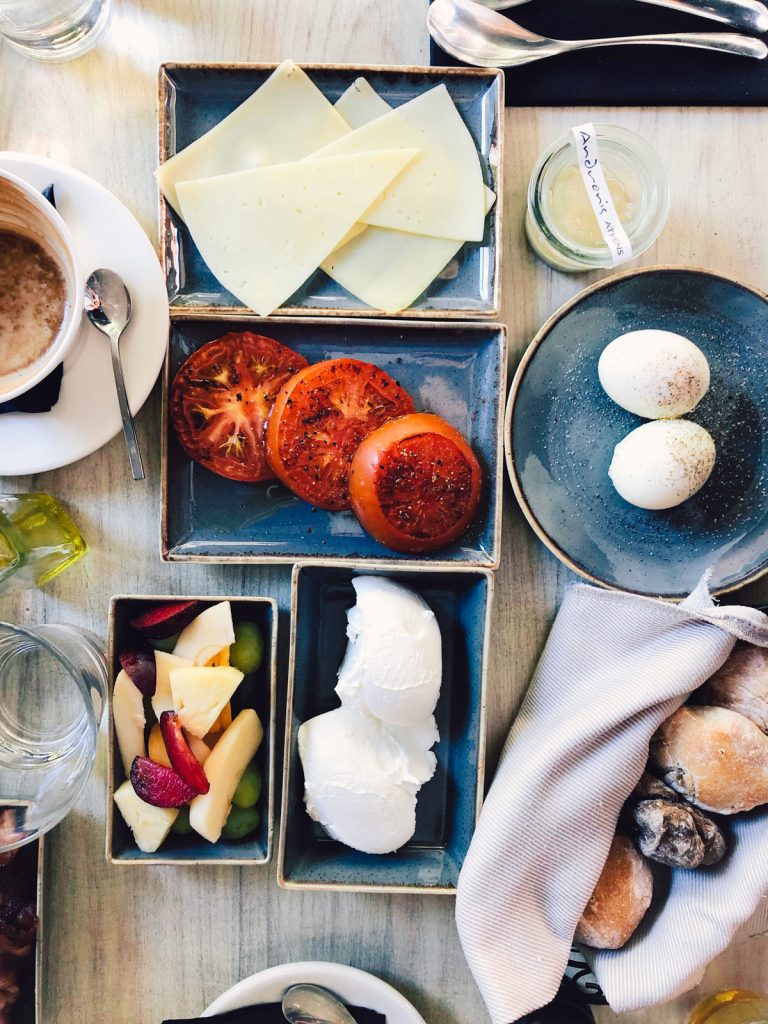 2. Kuzina – Traditional Greek with a twist.
We shared a fried zucchini appetizer with yogurt sauce, which was amazing and definitely hit the spot. I got an amazing Greek salad, which was big enough to be my main dinner, and accompanied it with some house wine and lovely views from their terrace. Sit outside if you can!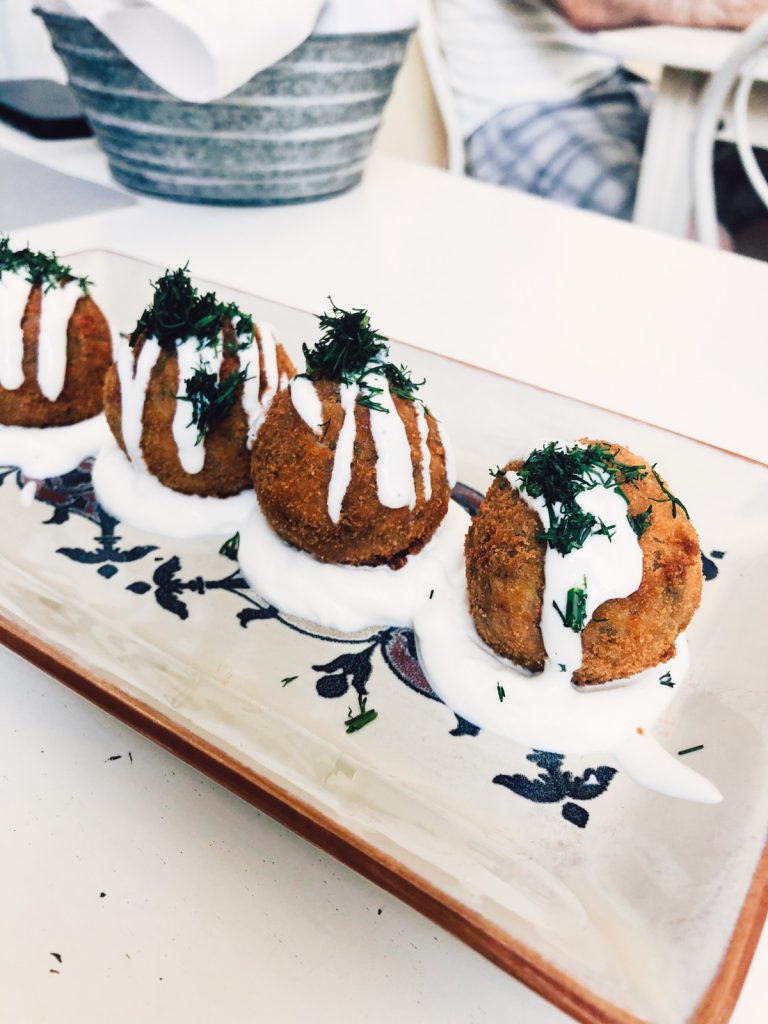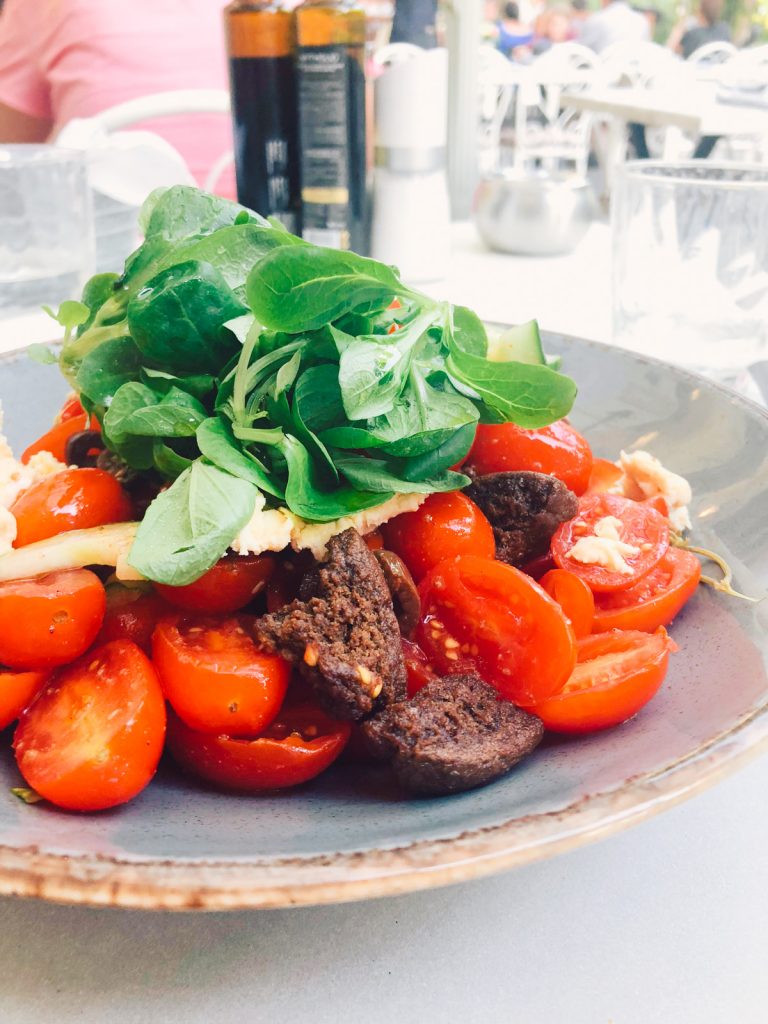 3. Lithos Tavern – Adorable tavern on the corner of a cozy street; nice staff and great Greek flavors!
We got a Greek salad to share (yeah, I know, shocker…I ordered allllll the Greek salads in Greece), and we each got the fresh fish of the day with veggies. It was superb!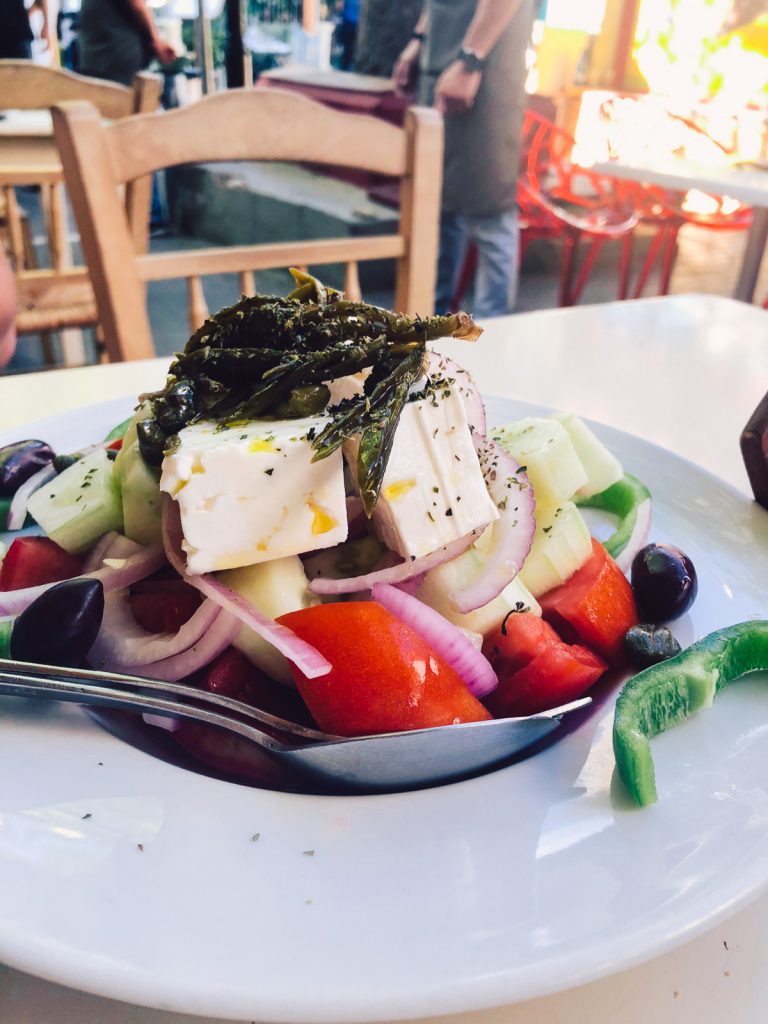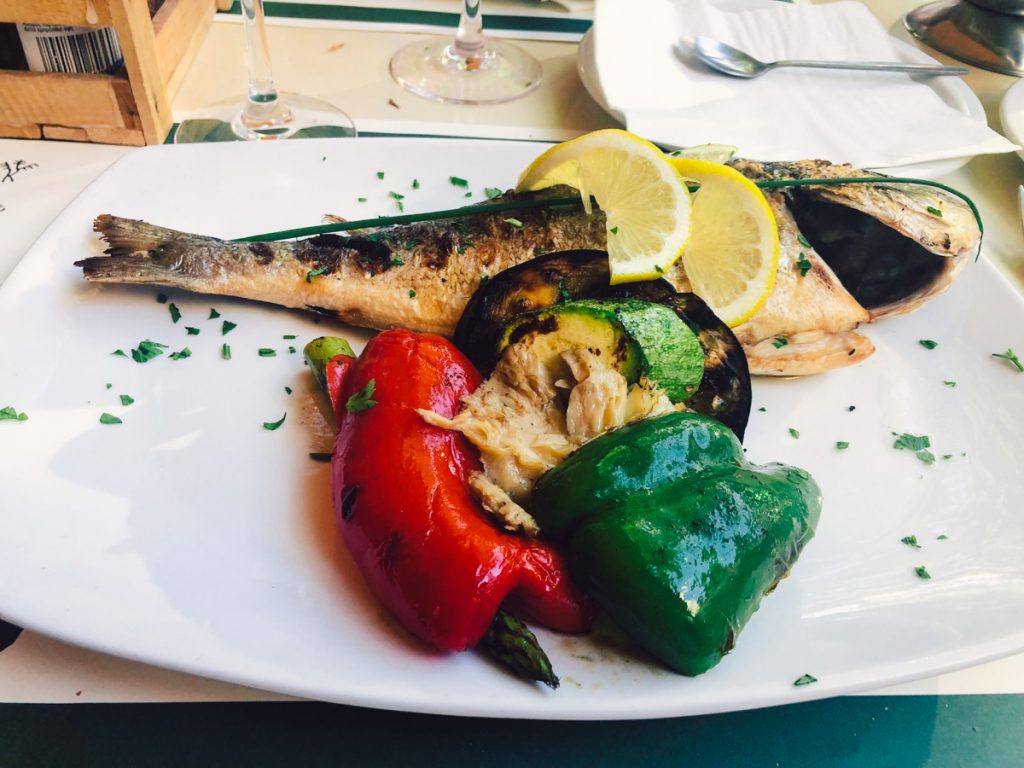 4. Thespis (ΘΕΣΠΙΣ) – Cozy Greek restaurant tucked away in the corner of Plaka; incredible views of the city and of the Acropolis.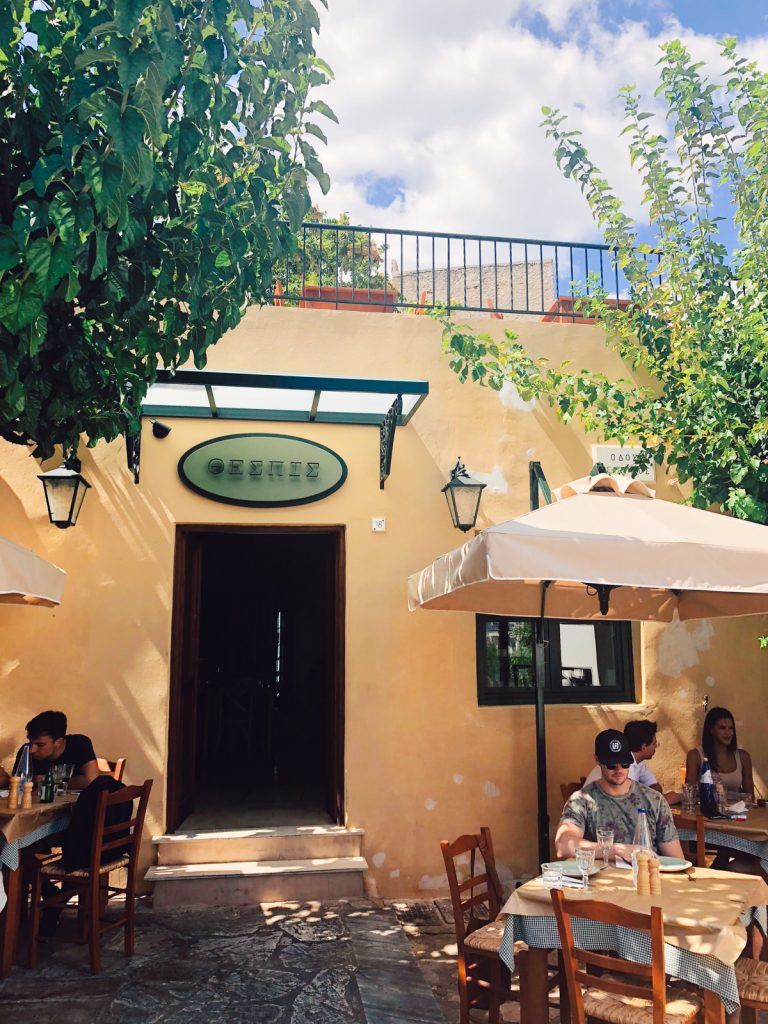 We got a bunch of dishes to share at this cute lunch spot we ran into. We were starving, so we thought it was a great idea to order FOUR dishes. We had lots of leftovers, but only because it was a ton of food and we could not keep eating.
It was all delicious! See pictures of all we got below (from top to bottom: meatballs with fresh mint and ouzo, seasoned potatoes, mediterranean salad and greek salad).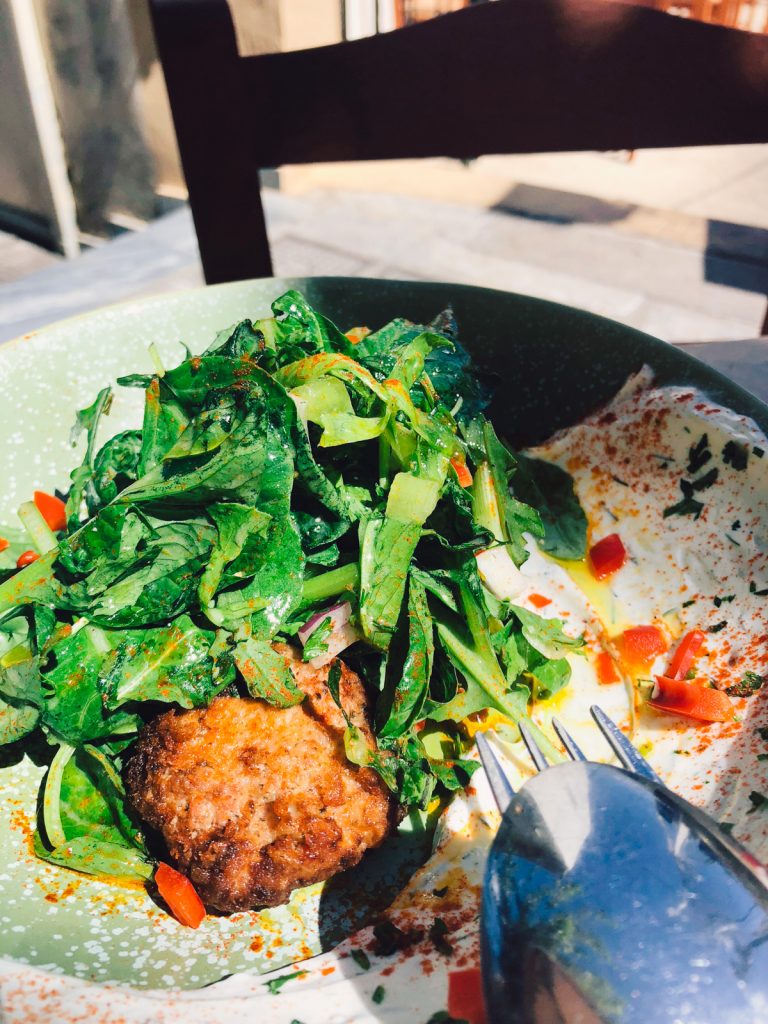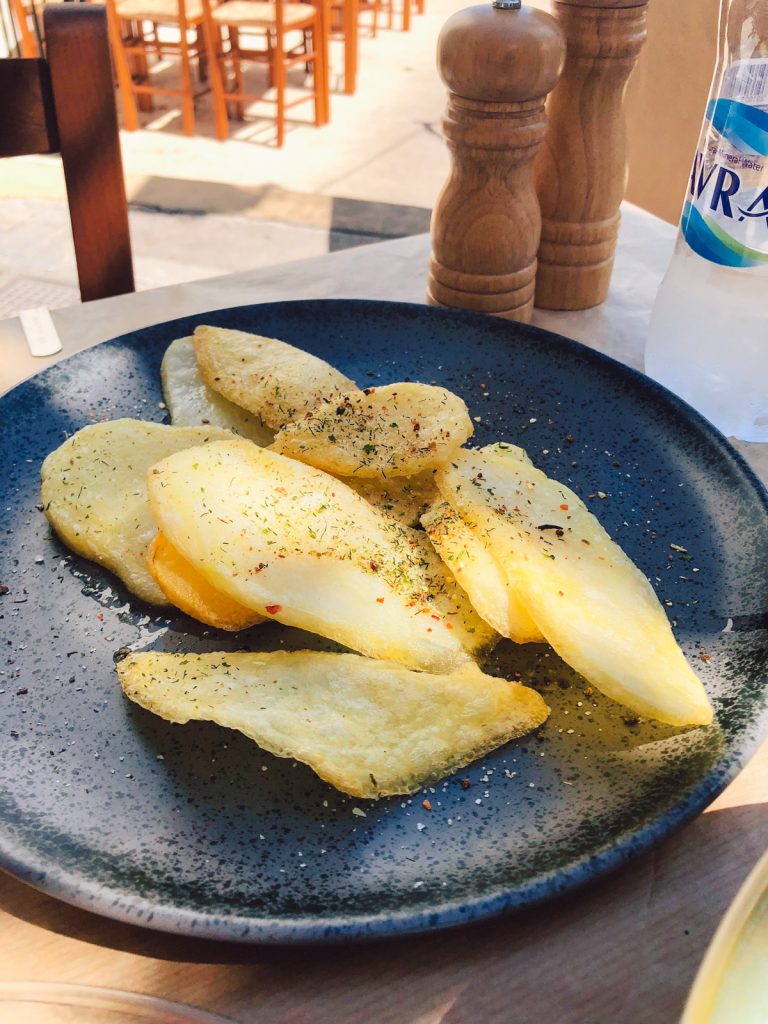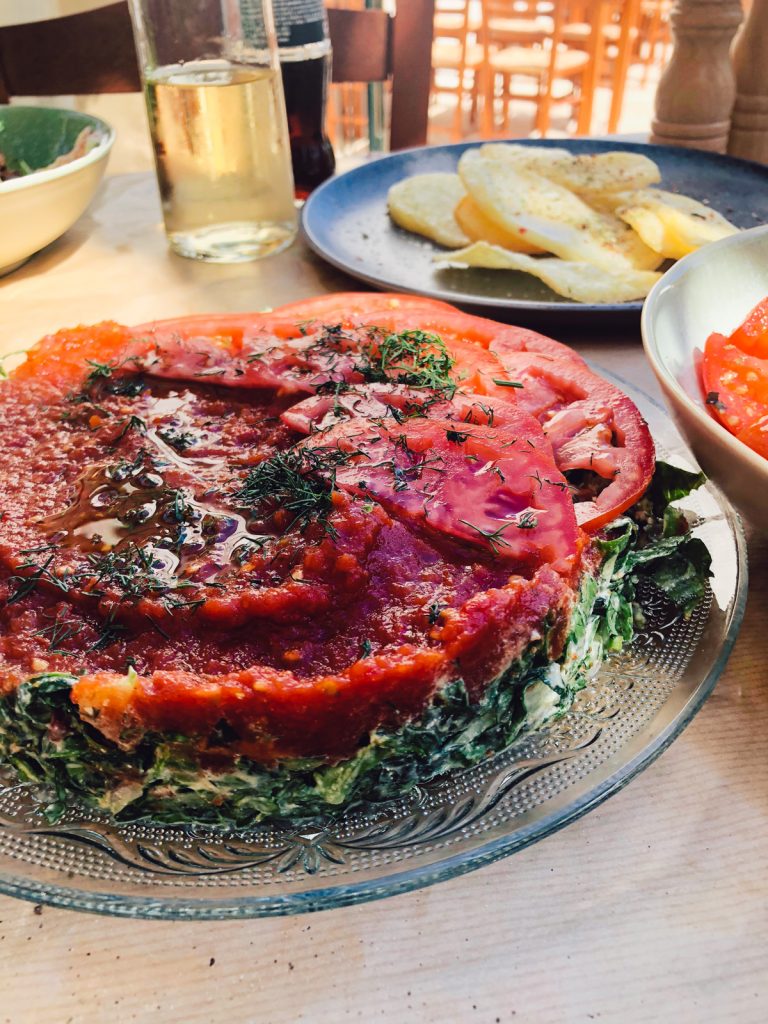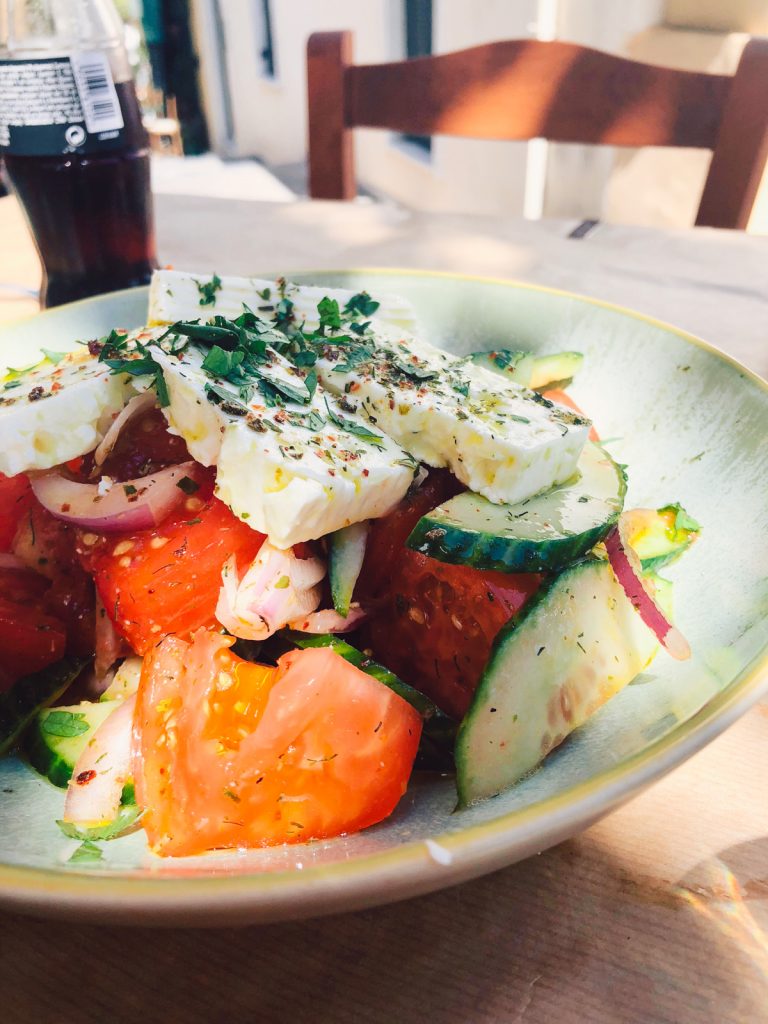 5. Da Vinci – best rated gelato in Athens. Plus, look at those cones. SO FUN!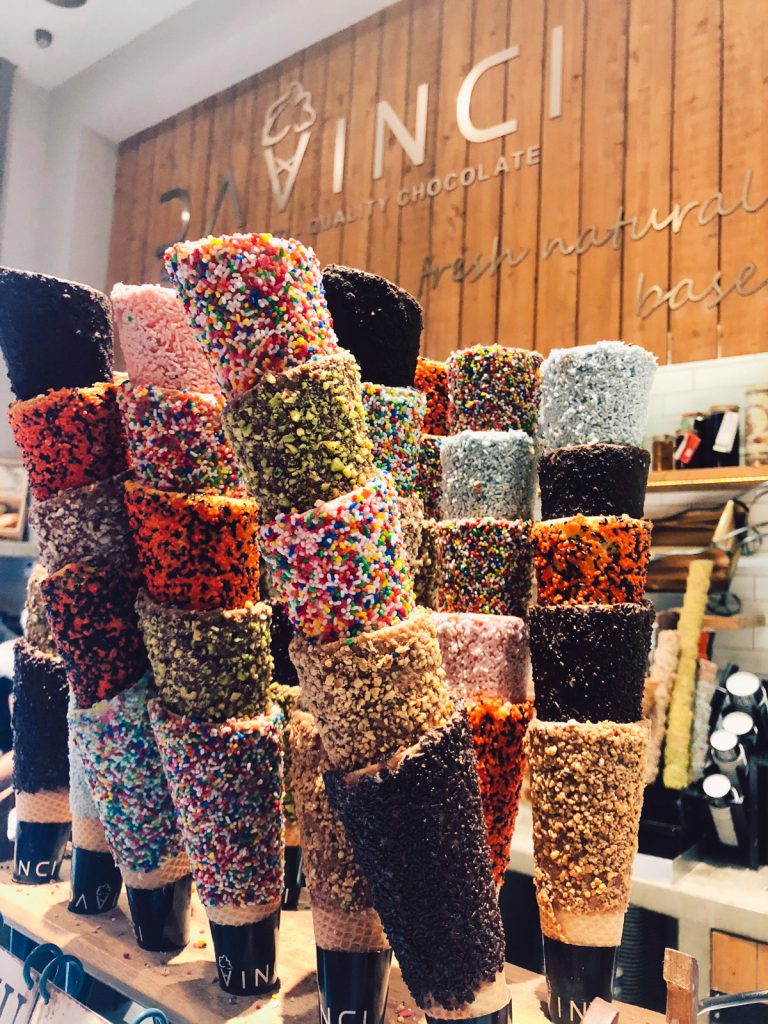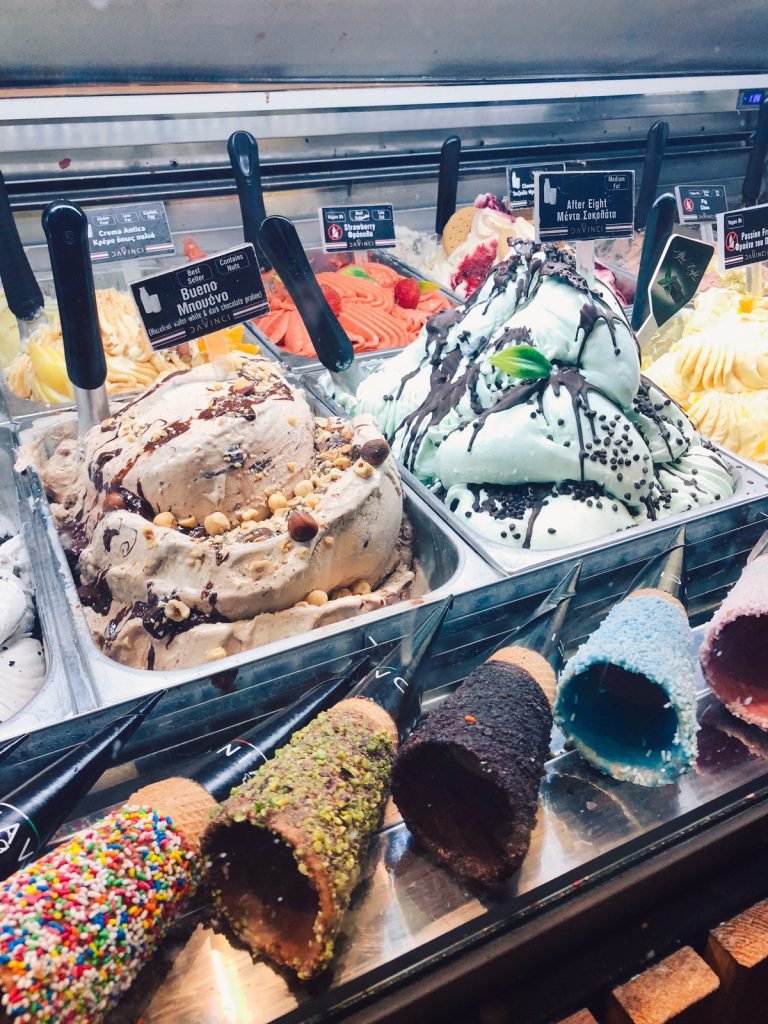 Oh, one more thing…
Below is a picture of a delicious baklava we tried at a cute bakery we found one day while walking around. It was PERFECTION. I can't remember what the bakery was called, but I am sure there's good baklava all around Athens. Be sure to try a piece if you're there. Such pleasant texture and flavors!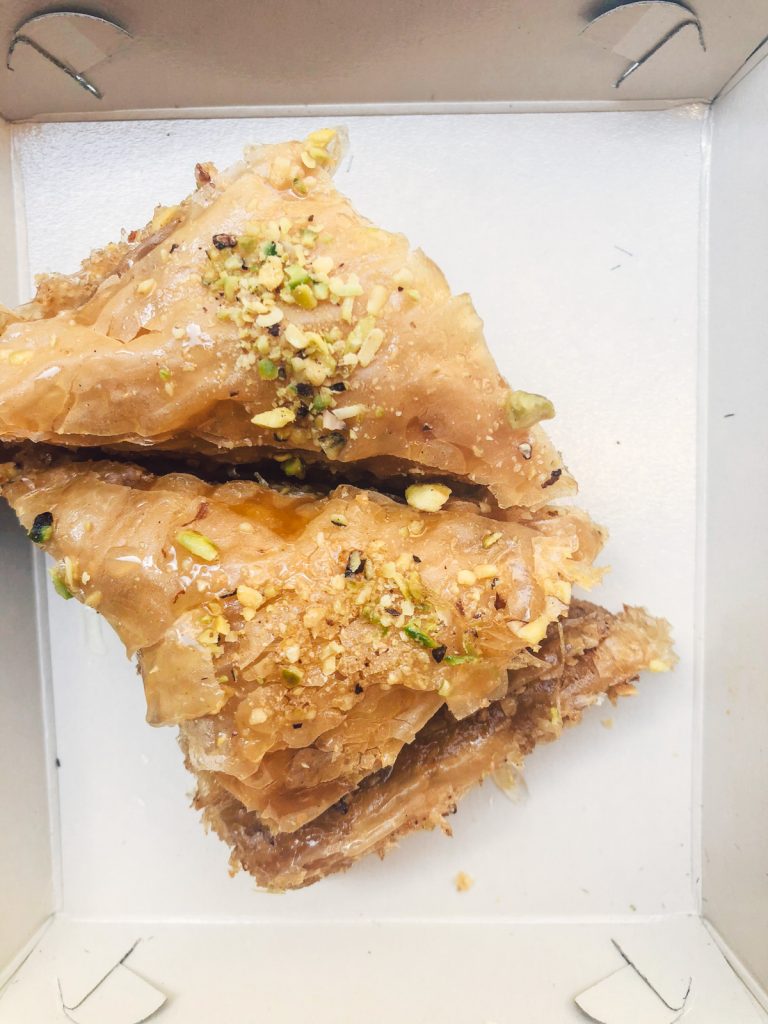 ---
Notes
Note 1: Expect Athens to be dirty and messy. It is an ancient city and since it's been around for a loooong time, the streets and buildings feel and look run down. Also, Greece's economic debt-crisis probably had something to do with the run-down feeling.
Note 2: Summer was really hot and crowded, and even though this time of year works great for us to travel due to birthday celebrations, if I could chose again, I'd probably go in June or September/November; less crowds, cheaper prices and cooler weather.
---
Hope you guys enjoyed my Athens Guide. We had so much fun exploring its streets, its flavors and its culture. The people are really friendly here and the food alone is worth the trip!
If you have any questions, please feel free to ask via the comments below; I try to answer them as soon as possible.
PIN ME!