Santorini was our second stop in Greece. We got to it by plane, which was a quick 50 minute flight from Athens with Aegean Air. The only other option was to take a ferry, but the ferry from Athens to Santorini is an 8 hour journey, and since we had limited time in Greece, the flight seemed like a way smarter option for us.
The hotel manager had a transfer waiting for us at the airport, so we looked for a sign with our name and hopped in the car. We were staying in Oia (pronounced "Ia"), which is the most beautiful part of the island and where everyone goes to to watch the sunset from.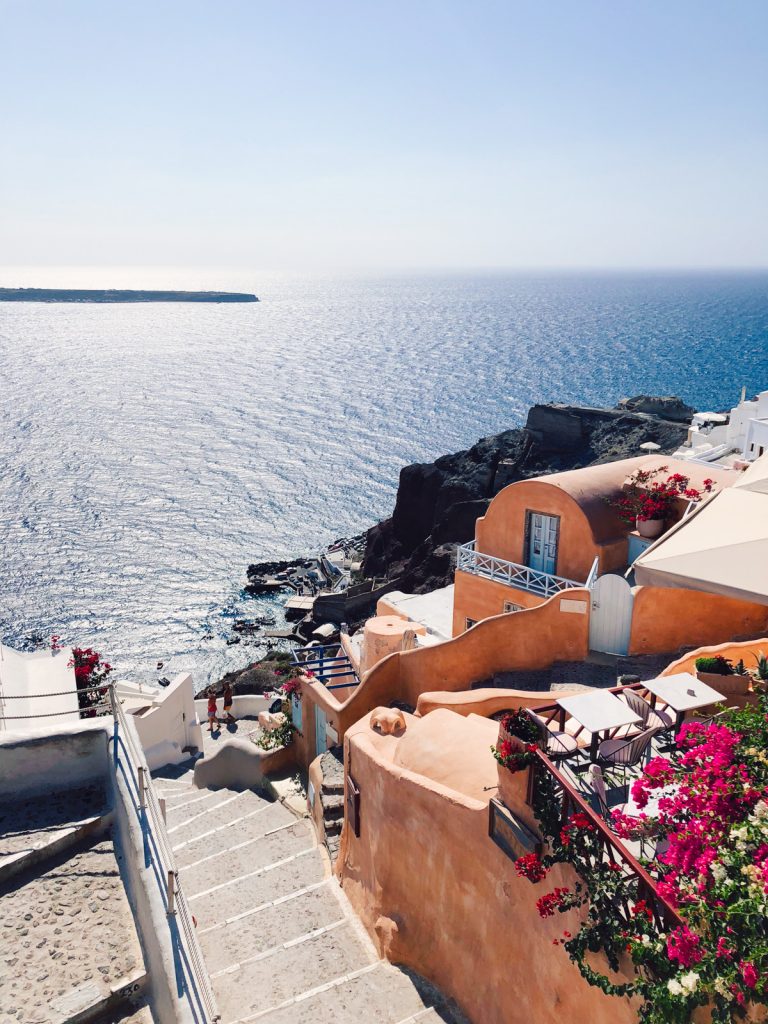 Oia was about a 30-40 minute ride from the airport, and the scenery was not necessarily the prettiest for the majority of the ride. It wasn't until the last 5-10 minutes, when we could see the majestic deep blue ocean, that it got pretty.
We arrived near our hotel, and one of the hotel employees was there to greet us, get our bags for us and direct us to the hotel.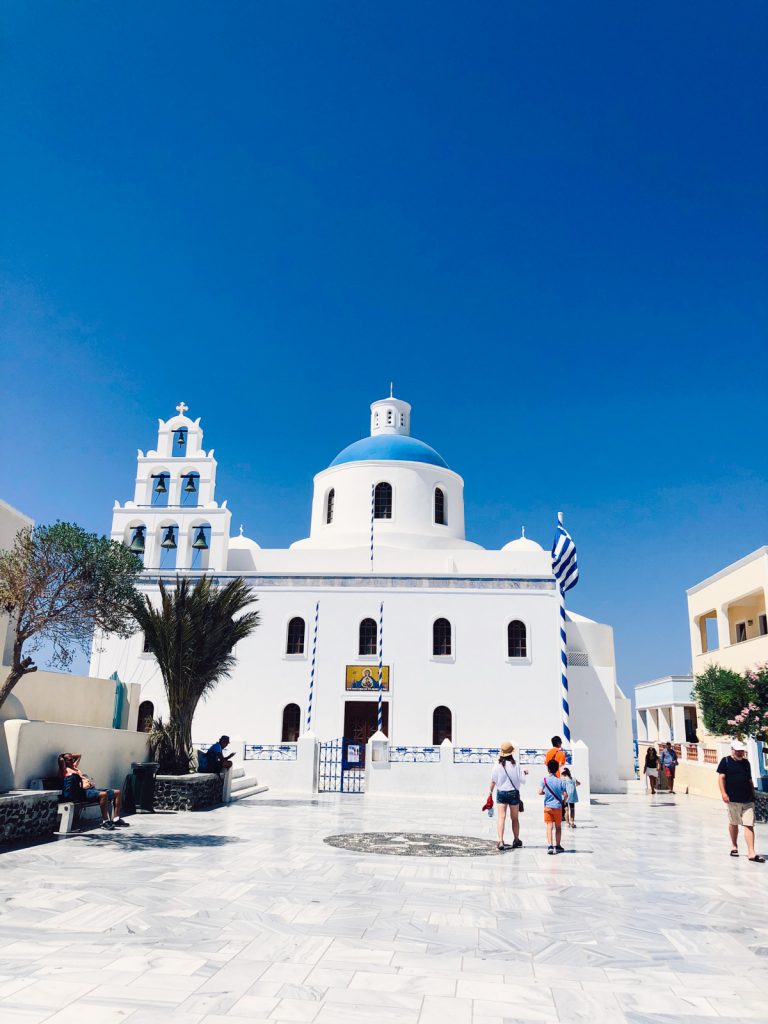 Oia was simply gorgeous. Everything you picture Santorini to be, Oia was. Picture it with me: white buildings, blue domes, narrow stone streets, gorgeous ocean views.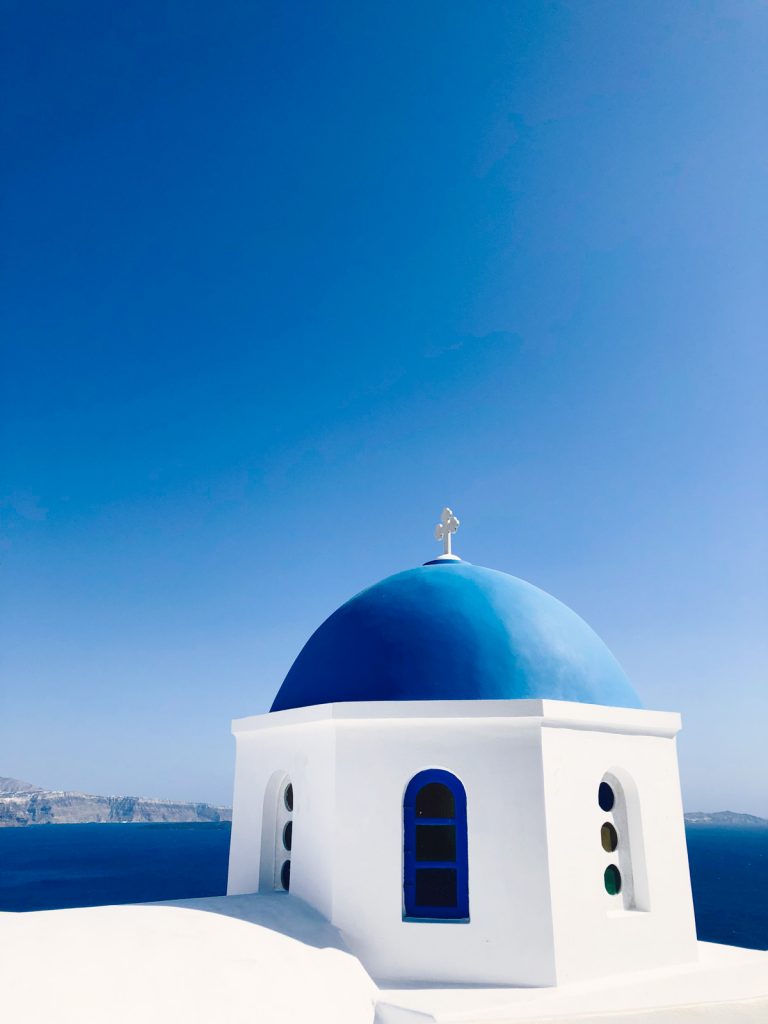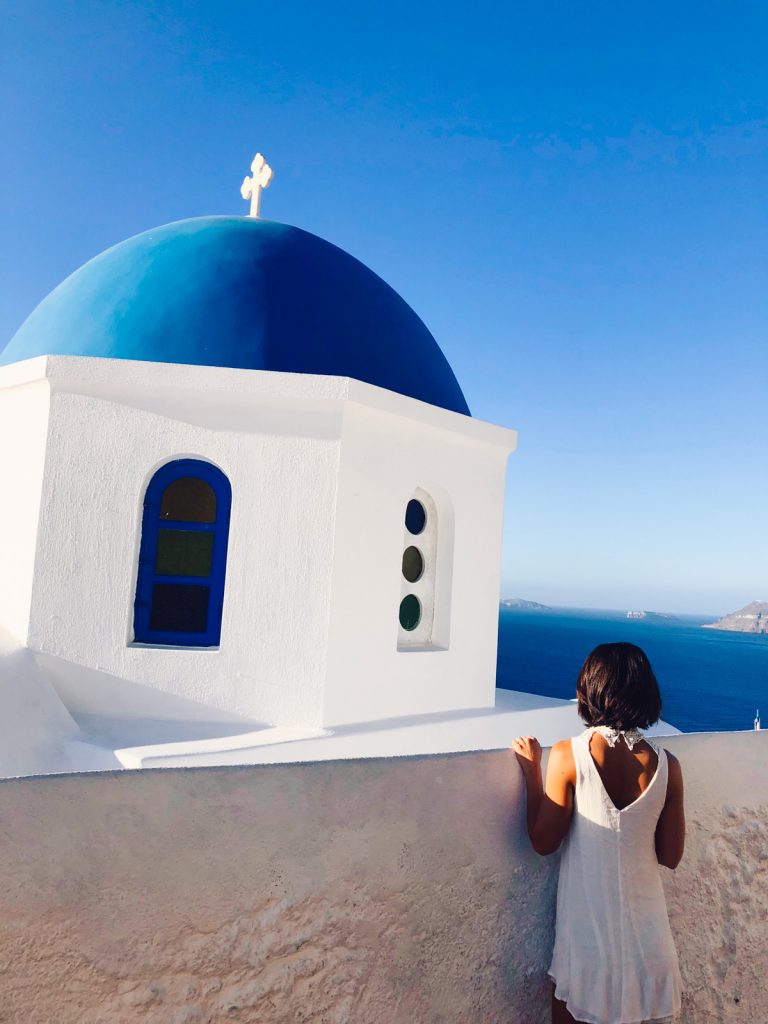 We arrived at our hotel and we were greeted by the owner/manager. She was wonderful! A young, kind and smart girl, which by the end of the trip, felt like a good friend.
She gave us a quick tour, took us to our room and explained everything we needed to know about the island. She also gave us the best recommendations and offered to arrange any fun experiences for us. These right here, are the perks of selecting a good hotel.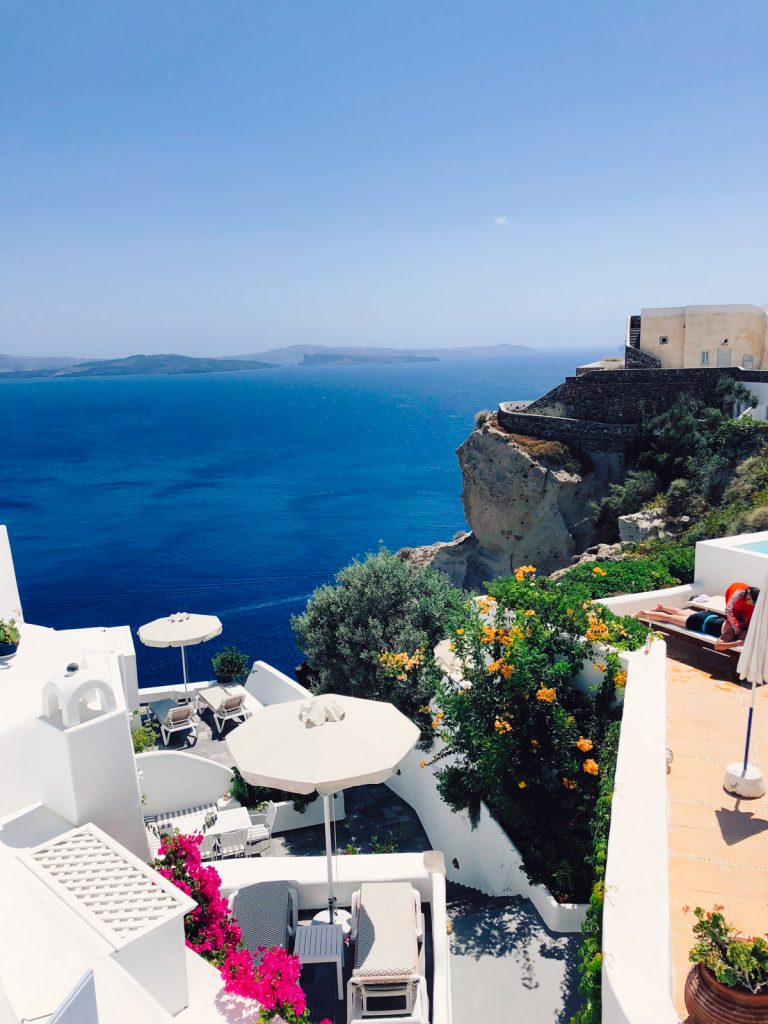 We were absolutely wow'ed by the hotel. It was perfectly located and peaceful. Below you'll be able to see all the details of where we stayed, what we did and where we ate. If you find yourself wanting to check out this blue dome paradise, don't wait any longer and get yourself there. It will be the experience of a lifetime!
Where We Stayed in Santorini
As I mentioned in my Athens Guide, finding the best possible stay at the best possible rate is one of my favorite things to do prior to going on a trip. I love doing my research online and checking out the most centrally located areas for what we want to do and see. Once I find our ideal are to stay at, I begin looking for nice hotels there.
I begin my hotel research in google by selecting our dates, and then I set my filters. The filters I use the most are: hotel stars and hotel reviews. These two set me up for success in comparing hotels and deals; they save me time by giving me options that meet my minimum requirements. Apart from location and great reviews, what I look for in hotels is a comfortable bed, cleanliness, accommodating staff and good amenities.
After a bunch of research, the hotel we landed on for Santorini was Aris Caves.
This hotel caught our attention because it is located in one of the best parts of the Oia area (which, after research, we found was our ideal location to stay at in all of Santorini), because it has great reviews (4.6/5) and because the hotel grounds looked gorgeous.
I feel like the hotel was actually more beautiful than what it looked like in pictures.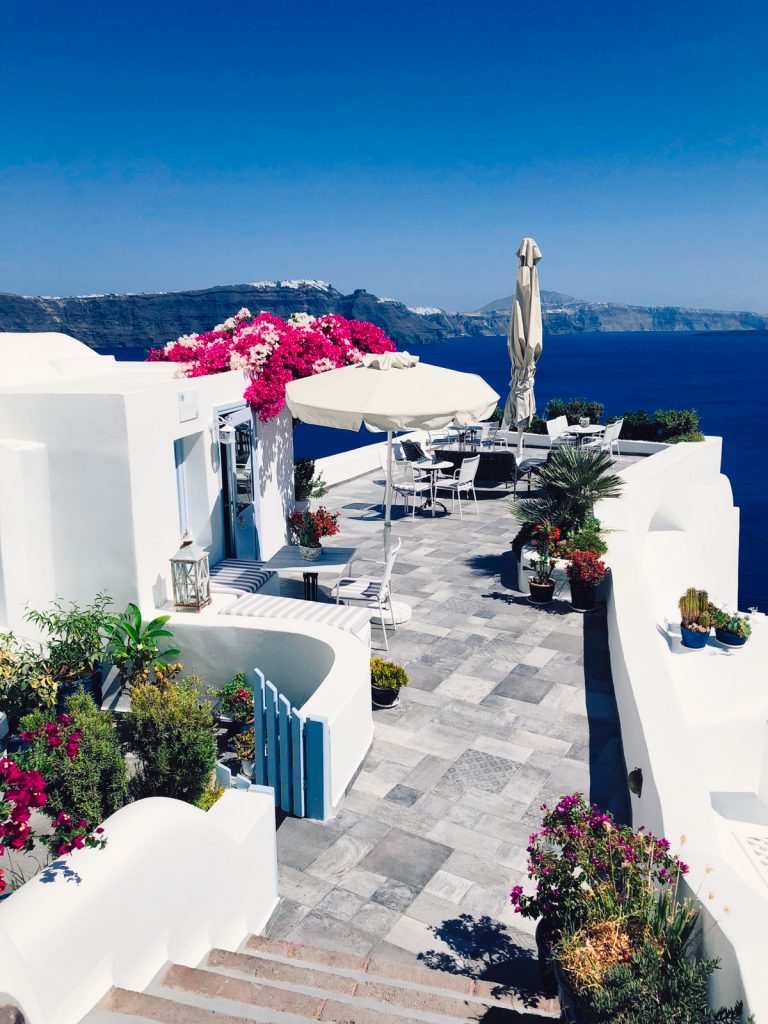 Aris caves is a 4 star hotel, comprised of a total of 7 suites/studios. It is a very peaceful and private property, which we appreciate; the less guests, the better for us, since we prefer quiet and more exclusive lodging in general.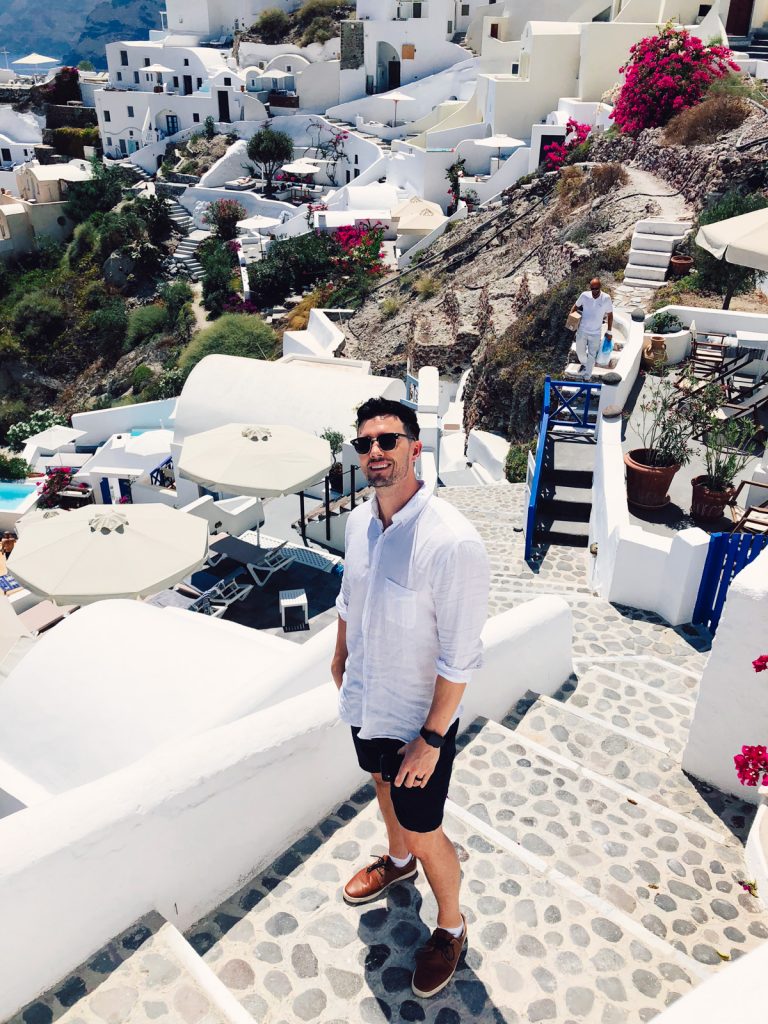 Our suite was a cave; it had no windows, but it was a positive since the days were so hot, that having a cave-like room only helped keep our room cool and private.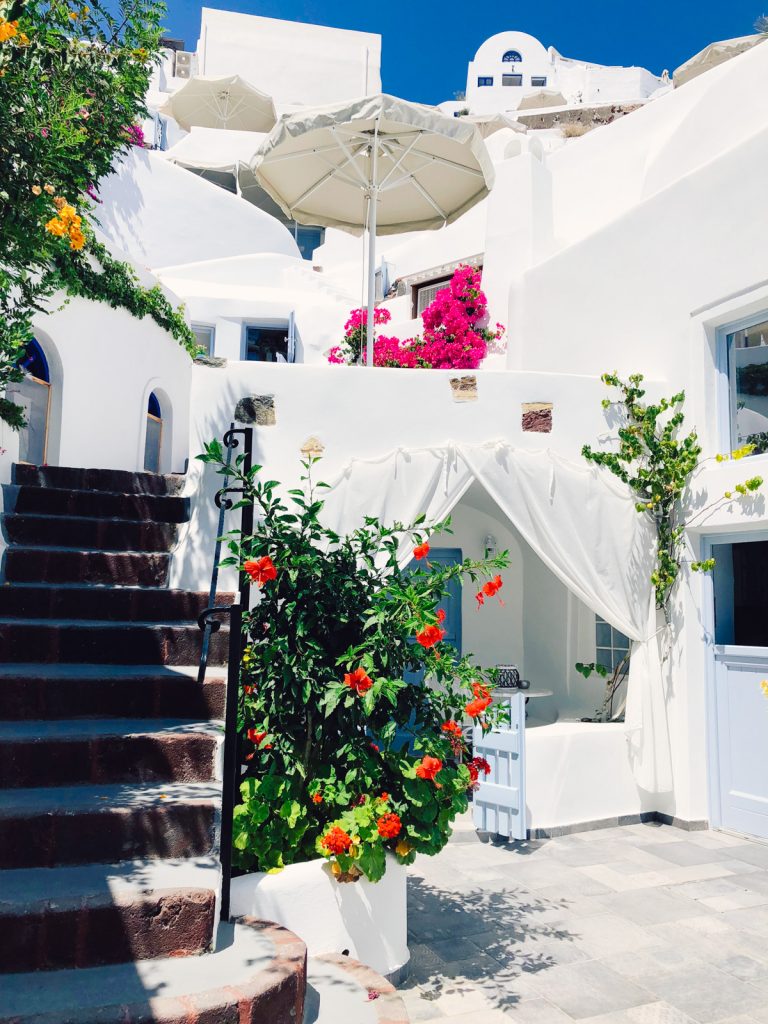 We had a kitchenette with all the cooking essentials (pots, pans, plates, silverware, etc.), so we were able to cook breakfasts in the morning. Also, our amazing host (Christina…the owner who I mentioned felt like a good friend) had complementary cake, Santorini wine and olive oil waiting for us, which was a nice plus.
Our suite's doors were also super adorable. They made me feel like I was in the Sleeping Beauty movie, at her house in the woods.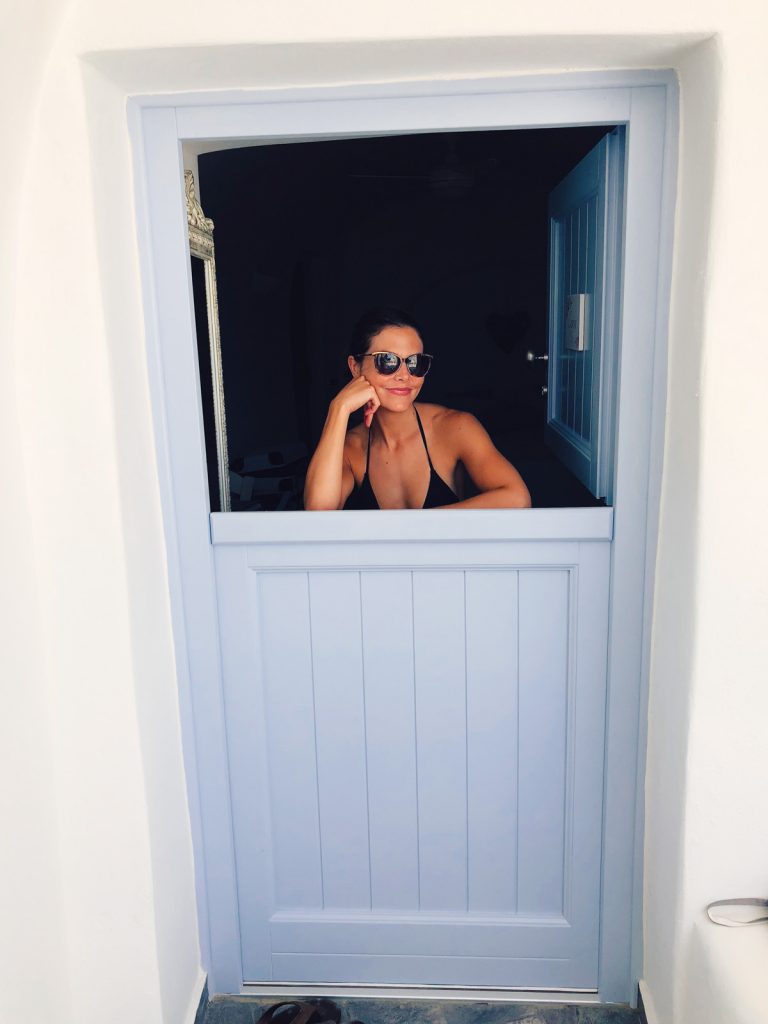 We also had our own private covered jacuzzi…and guys, this was HUGE. The jacuzzi was the perfect temperature and super duper clean (and I am a clean freak who never goes in public pools nor jacuzzis, because of sanitation reasons). Definitely an amenity we used in the morning, afternoon and night. Two thumbs up!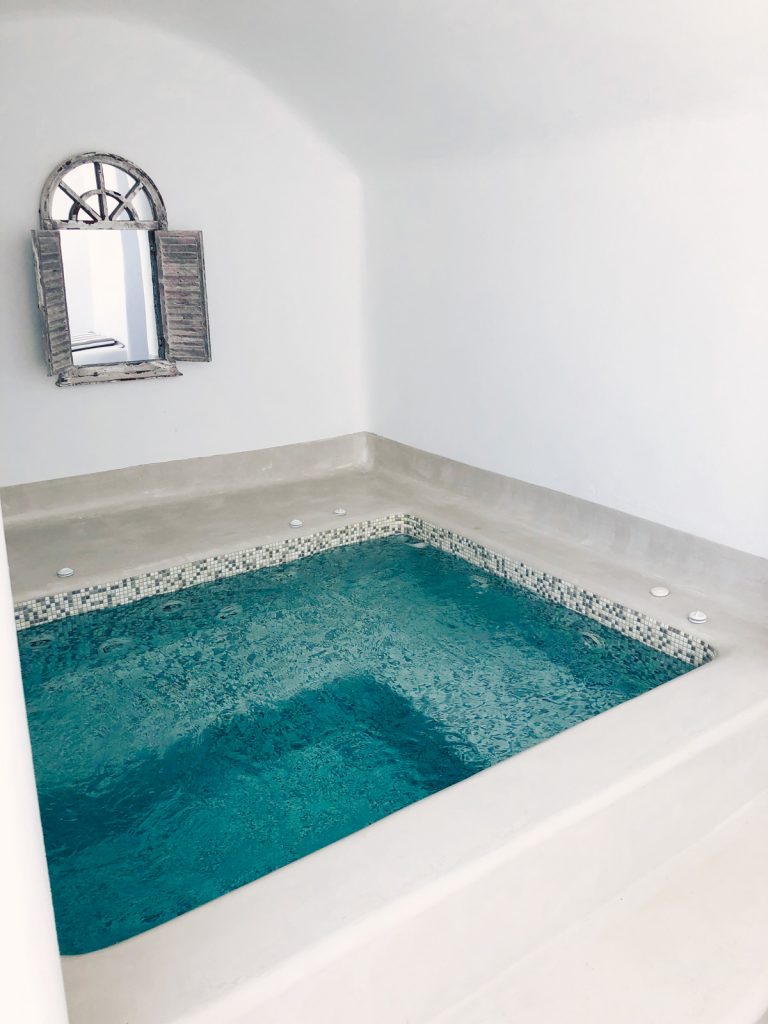 Like I  mentioned before, the owner Christina was great. She helped us book a fun activity for my birthday and had some other great suggestions for us for the rest of the days. Read what we did each day below!
---
What We Did in Santorini
Day 1
We arrived fairly early (early afternoon) to Santorini, so we had the afternoon and night to explore. We got settled in, drank wine at the deck outside our room to appreciate the view, and at around 4pm, went out to explore Oia.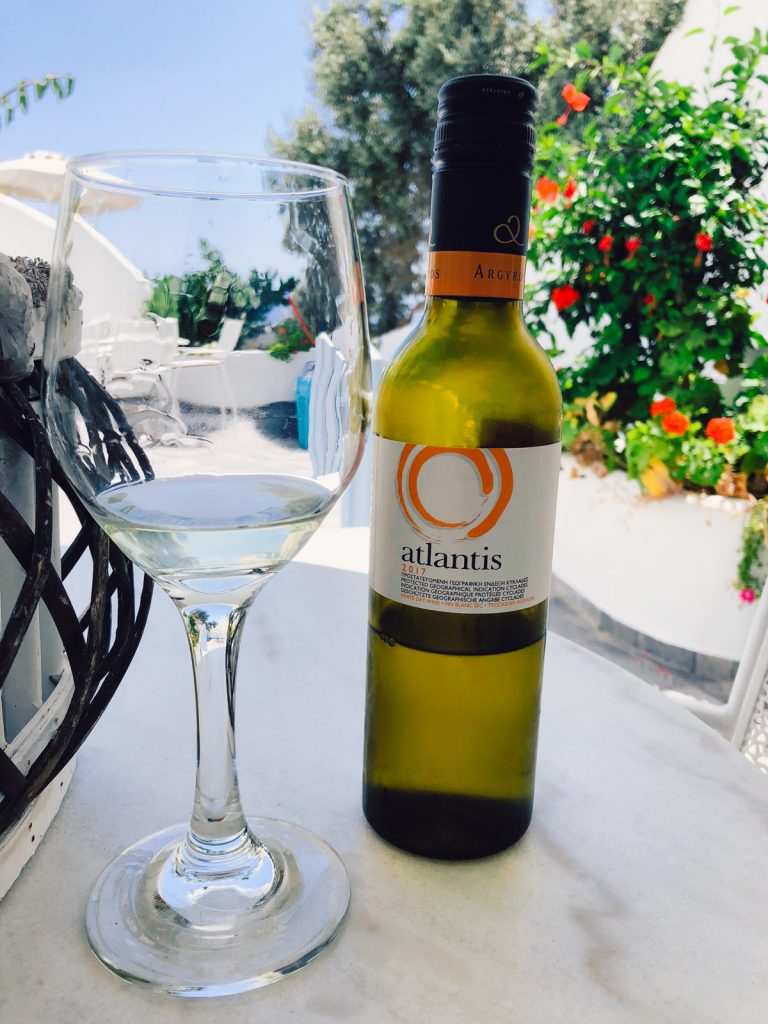 We stopped at leather and jewelry stores (each adorable and unique) and at a cute bookstore called Atlantis Bookstore, where we bought souvenirs and spoke with the business owners to learn about life in Santorini.
It was a slow, but extremely nice afternoon. Much needed, especially since it had been a traveling day for us.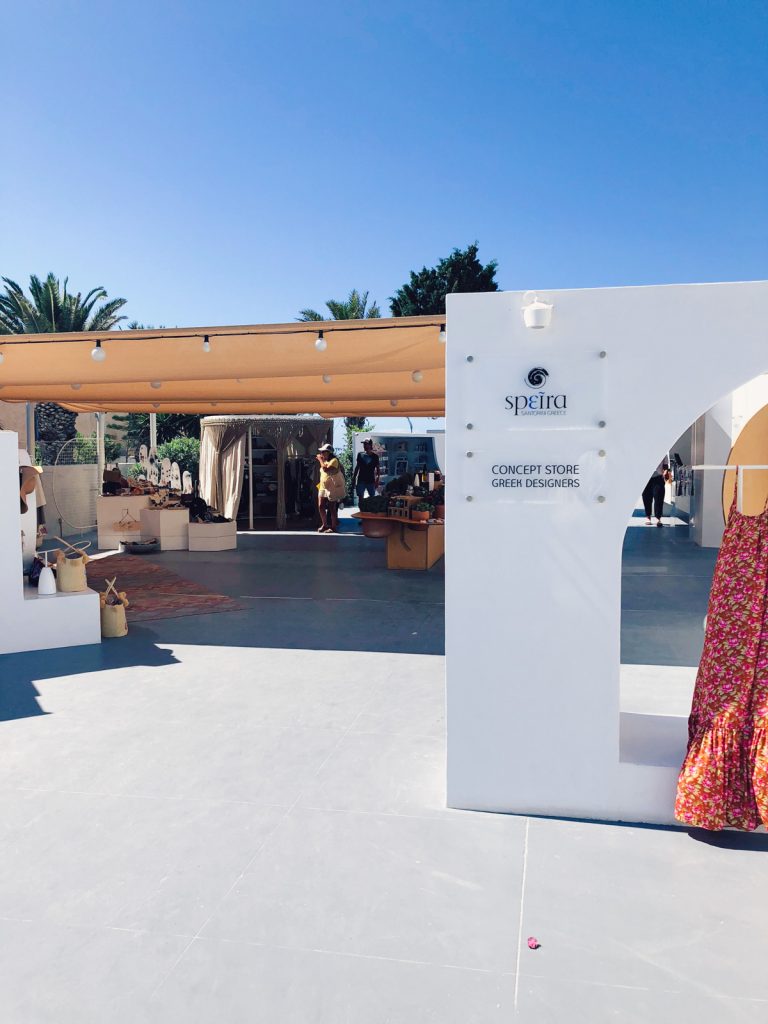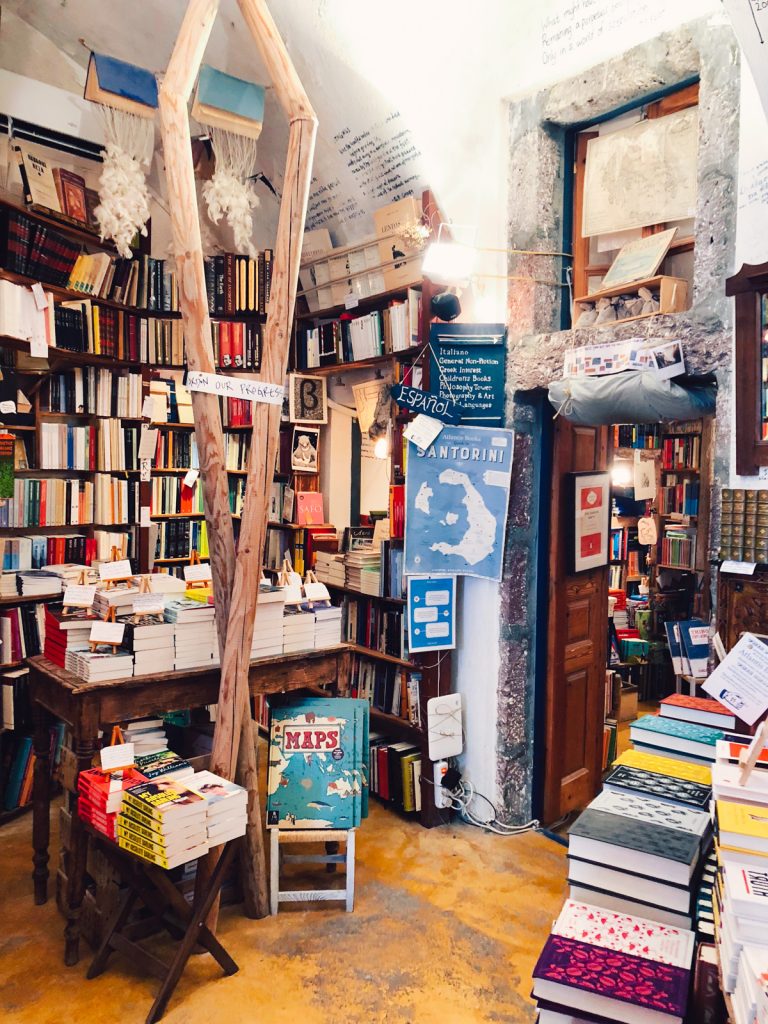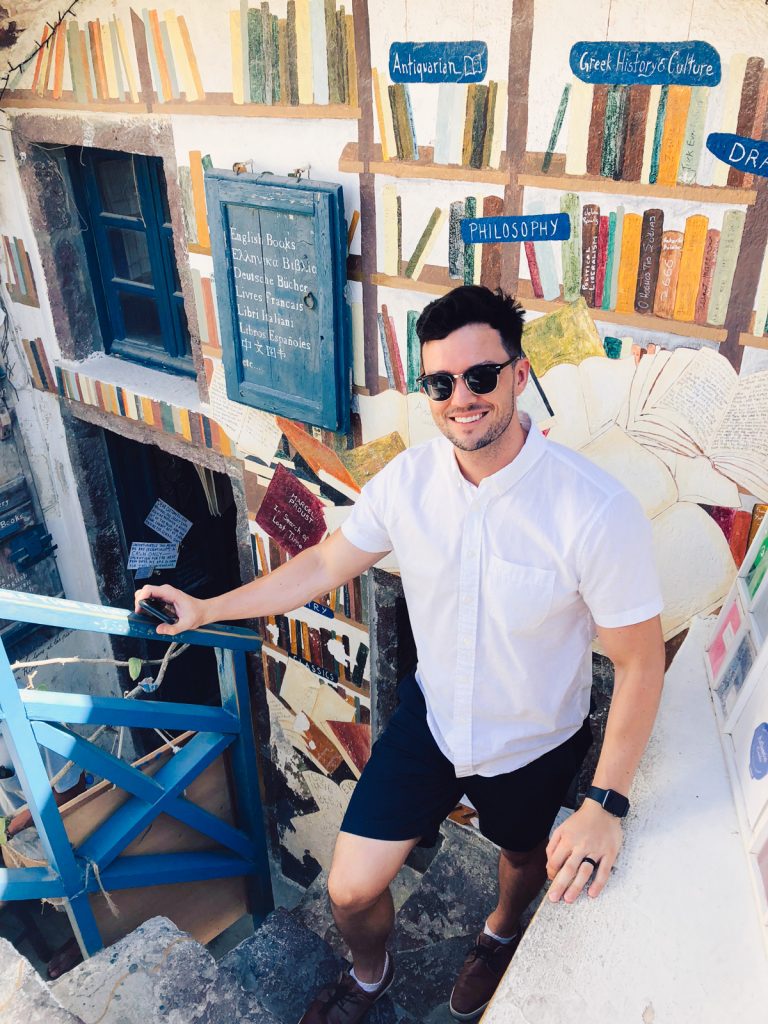 As soon as we started getting a bit hungry, we checked out the street facing menus at some of the restaurants that caught our attention.
Most of the menus looked amazing, but we wanted views and fish, so we landed at a cute little place in the middle of Oia's village center, very close to our hotel.
The views at the restaurant were gorgeous, and the restaurant had a very peaceful atmosphere. It was here where we talked about what we wanted to do the next few days. Afterwards, we went back to the hotel, got in our outdoor jacuzzi and turned in for the night. It was a lovely first day on the Island!
Day 2
On day 2 we woke up extra early, because it was my birthday!
And we've made it a tradition to wake up super early on my birthday to find a picturesque, quiet and lovely spot to watch the sunrise.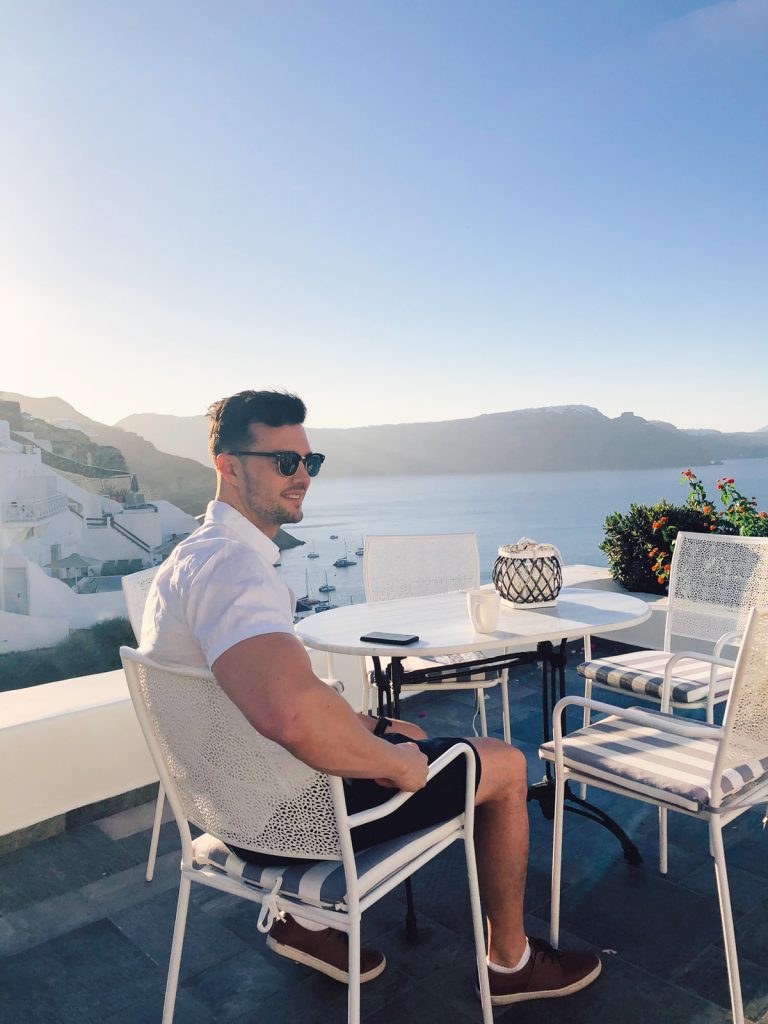 Our sunrise tradition is probably one of the most memorable experiences of our summer trips every single time. Last year we did this in Venice, at the Pizza San Marco, and it was mind-blowingly gorgeous! Probably the highlight of our Italy trip. The reason why waking up at 4:30am or 5am to catch the sunrise is so memorable is three fold: we get to have a moment of peace without any tourists around (or anyone around, for that matter), watch gorgeous colors and textures rise up with the sun, and set ourselves up for a successful and exhilarating start to our day (it's crazy how all that natural beauty can really get you going and give you energy).
After watching the gorgeous pinks and yellows the sun brought to the Santorini skies, we headed out to have a local breakfast with a view. We found a cute spot that opened early (8am, compared to the other restaurants that opened at 9am), had gorgeous ocean views and a great looking menu.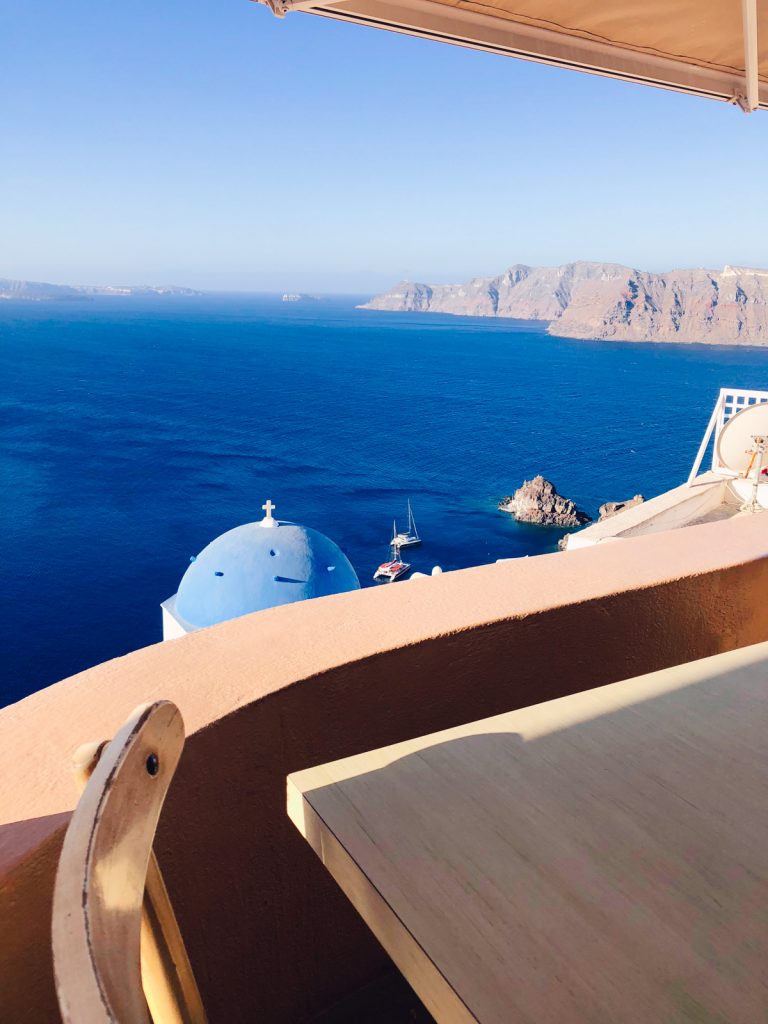 We sat by the glass-less window, and enjoyed fresh air along with amazing bread and coffee aromas. Get the name of this breakfast place on my "Where We Ate in Santorini" section below.
After breakfast, we went back to the room, got rid of our bedhead and pajama-looking outfits we had on (that's how we do sunrises lol), and off we went to continue with our Day 2 adventure.
We spoke with the owner, and got her insight as to the best winery in Santorini. She helped us book an early dinner along with a wine tasting. Once we got that taken care of, we walked to a close-by market to buy essentials for our kitchenette (think wine, snacks and breakfast foods for the coming days) and came back to the room to put those away and rest. Shortly after, we went outside to lay on the pool chairs and tan.
It was such a lovely day, not one cloud in the sky. We spent all day in and out of the jacuzzi, drinking wine, snacking on some popular Santorini goodies, and getting our Aegean Sea glow on. In between all of the tanning, we went to lunch at an authentic Greek spot which was close to our hotel (get the name of the restaurant under my "Where We Ate In Santorini" section below).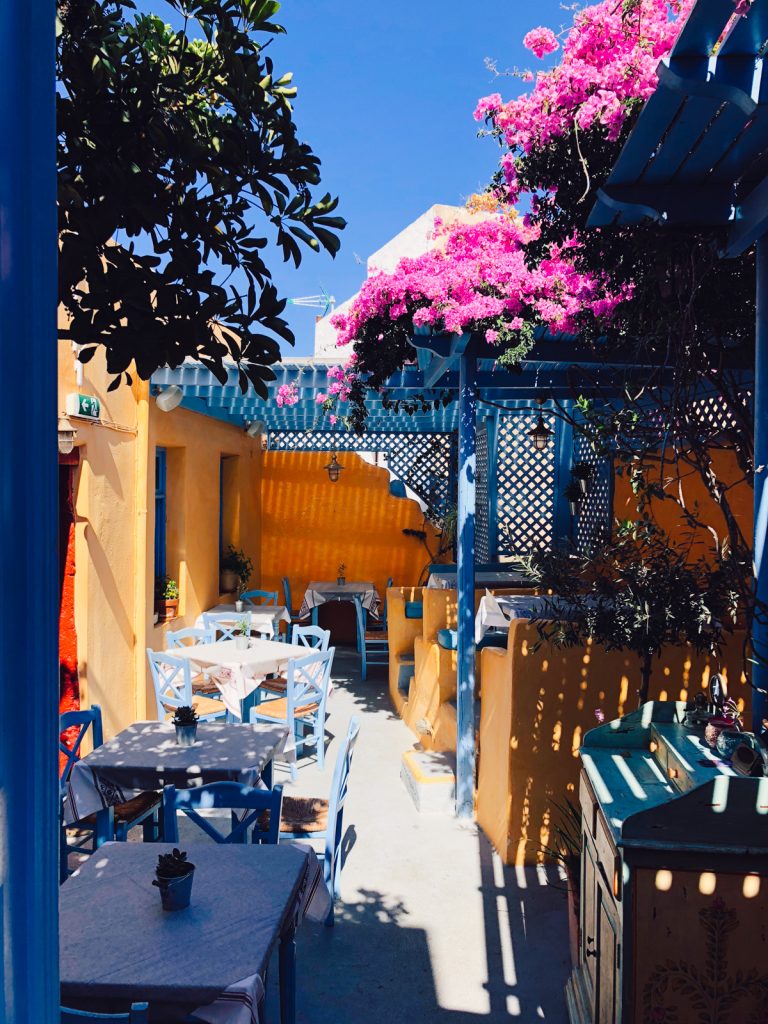 Then, it was time to shower and get ready for our winery date, so we said goodbye to the lovely sun and in we went. We hopped in a taxi to take us to the winery (about a 10 minute drive) and arrived to a cute little place where we were welcomed by sights of vines, barrels and grapes.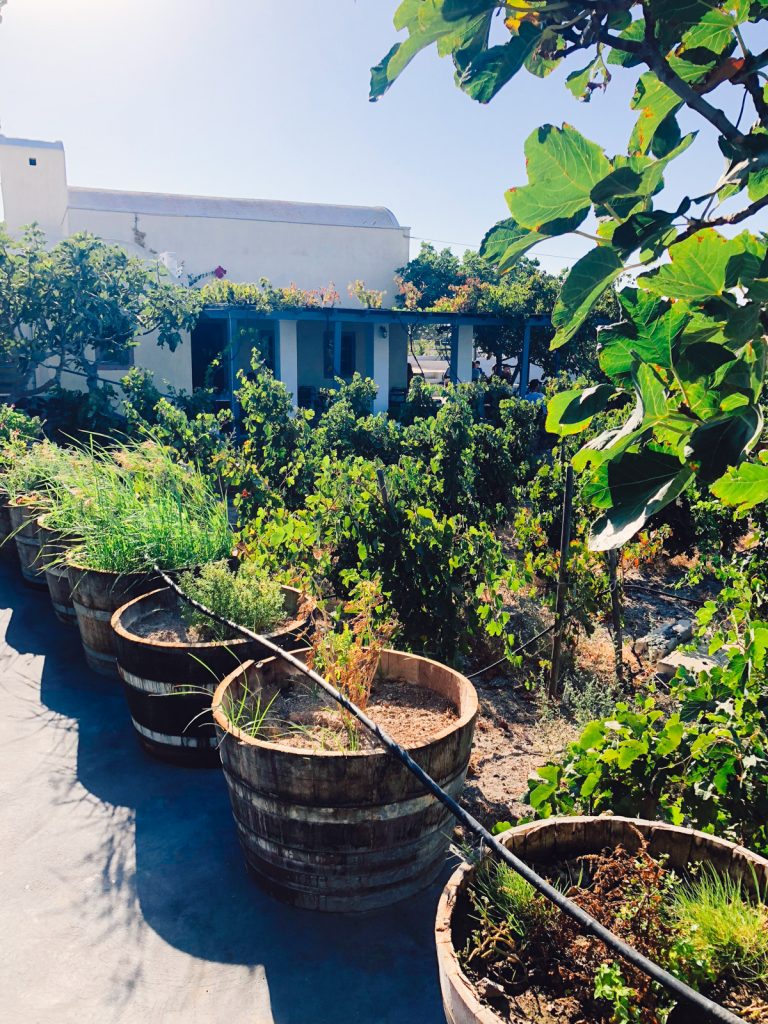 The wines were amazing, the food was amazing and the people who worked there were amazing. It was such an cool experience. Totally different than any other winery and vineyard I've ever experienced. Get the full name of the winery on my "Where We Ate In Santorini" section below. Highly highly recommend going there.
We finished our day with a bang by catching the sunset in Oia. We saw it from the top of the stairs near that cute little bookstore I spoke about before; the crowds weren't as insane around the bookstore area, so we decided to see it from there.
Day 3
We woke up with a high from the day before. And even though Day 2 would be hard to top, we still wanted to make Day 3 awesome.
For breakfast, we took advantage of our cave's kitchenette and of our balcony with a view, and cooked brekkie together.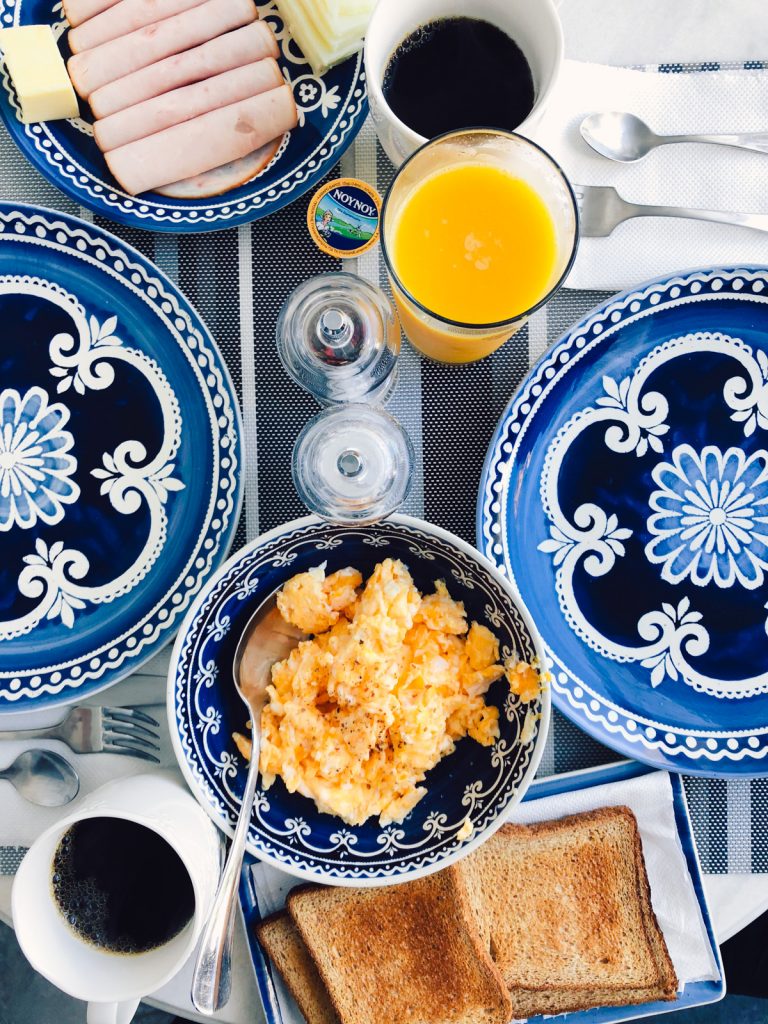 Post breakfast, we laid out on the sun beds for an hour or so to take advantage of the blue skies and keep our glow going.

Afterwards, we hopped in a bus because the bus station was only a 5 minute walk from our hotel and we wanted to experience public transportation on the island.
We decided to take a mini tour of Fira, which is the capital of Santorini, to see other parts of Santorini. About 4 Euros and 25 minutes later, we made it to the capital and started our exploration. Fira was a bit more hectic than Santorini, as this is where all the ports of the Island are and where all the cruise ships and ferries arrive and depart from. The views were still gorgeous and there were plenty of restaurants and bars to visit.
We only stayed in Fira for a couple of hours, and took advantage of our visit there to pick up ferry tickets we had bought online from the States, which would take us from Santorini to Mykonos the next day.
After Fira, we went our for a late lunch at the same restaurant we had lunch the day before for my birthday, because it was THAT good. We tried new things this time, all of which are shown on the "Where We Ate In Santorini" section below. Afterwards, we toured around some more, went home and got ready for our last dinner in Santorini.

For dinner, we enjoyed Santorini based white wine, Greek salads and the BEST EVER chocolate crepes. We ordered a crepe to split, but after our first bite, we knew we each needed to get our own. This crepe was better than the one I had tried 2 weeks before in France…who knew Santorni had better crepes than France. My mind was blown (deets on where to get it under "Where We Ate In Santorini").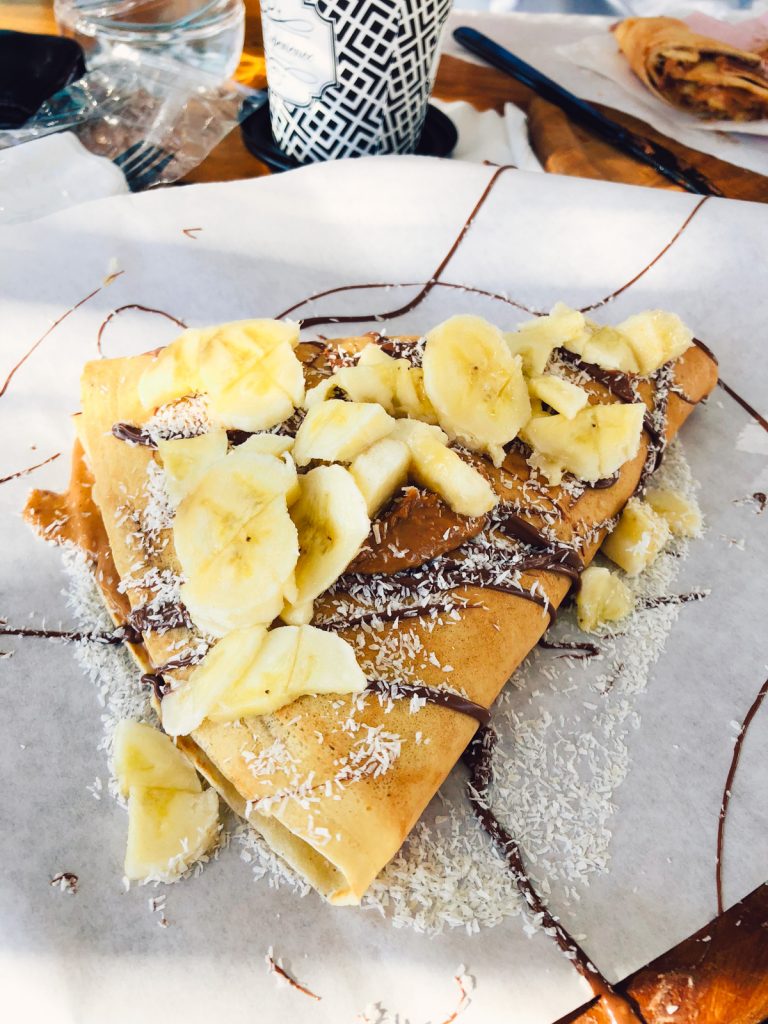 We went back to our place, packed, got ready for bed and did a little Netflix binge watching from bed.
Day 4
Our last day in Santorini! We had time for a quick outdoor body-weight workout (we didn't have a hotel at the gym, and there were no decent gyms around…trust me we checked) which we did by following the Seconds App.  We showered, said goodbye to our hotel host and hopped in a taxi to Fira to catch the Ferry.
We arrived to the New Port about two hours in advance just in case, which ended up being WAY too long, as we learned the hard way that ferries almost never leave on time. So we waited at a nearby restaurant and ordered lunch.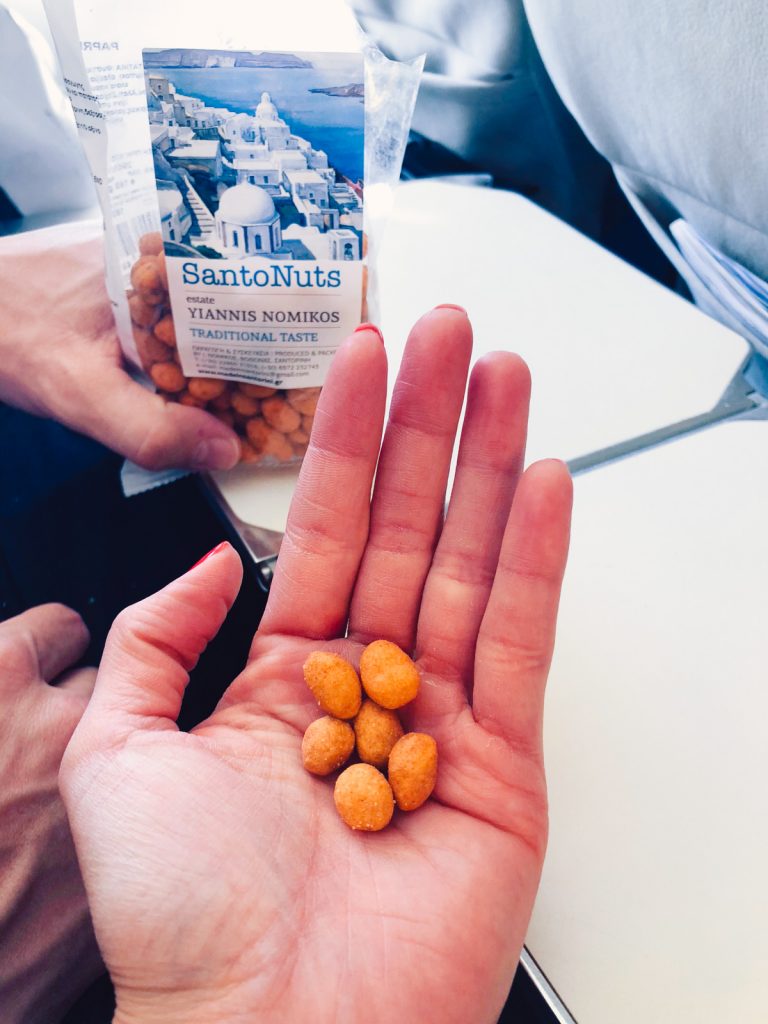 A word of warning: the ferry boarding process was a bit crazy. There was little order, a ton of people with a ton of bags, and it was incredibly HOT. If you're catching a ferry, be sure you have water with you and be sure to pack light. You don't want to be hauling large and heavy bags in the midst of all that chaos.
Once we were in the Ferry though, we got comfortable and ordered some drinks and food. I recommend splurging on the Business Class ticket, as there is a lot more space, its a bit more private and you get better food/beverage service.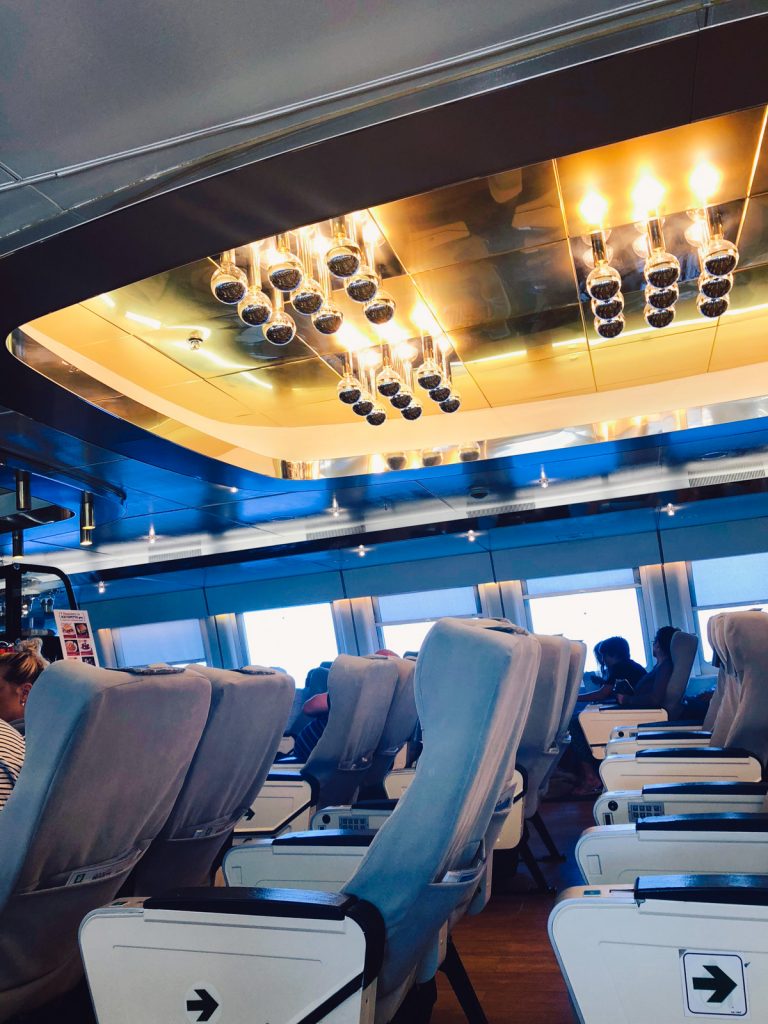 ---
Where We Ate in Santorini
Below is a list of all the fun and delicious places we ate at while in Santorini. We made breakfast in our kitchenette, so I only have one breakfast recommendation for you guys, but we have some great lunch and dinner recos below. Bon appetite!
Meteor Cafe – Cute café with good coffee and cocktails, perfect place to take a breather in the afternoon.
If available grab the table right on the terrace for amazing views of the Caldera.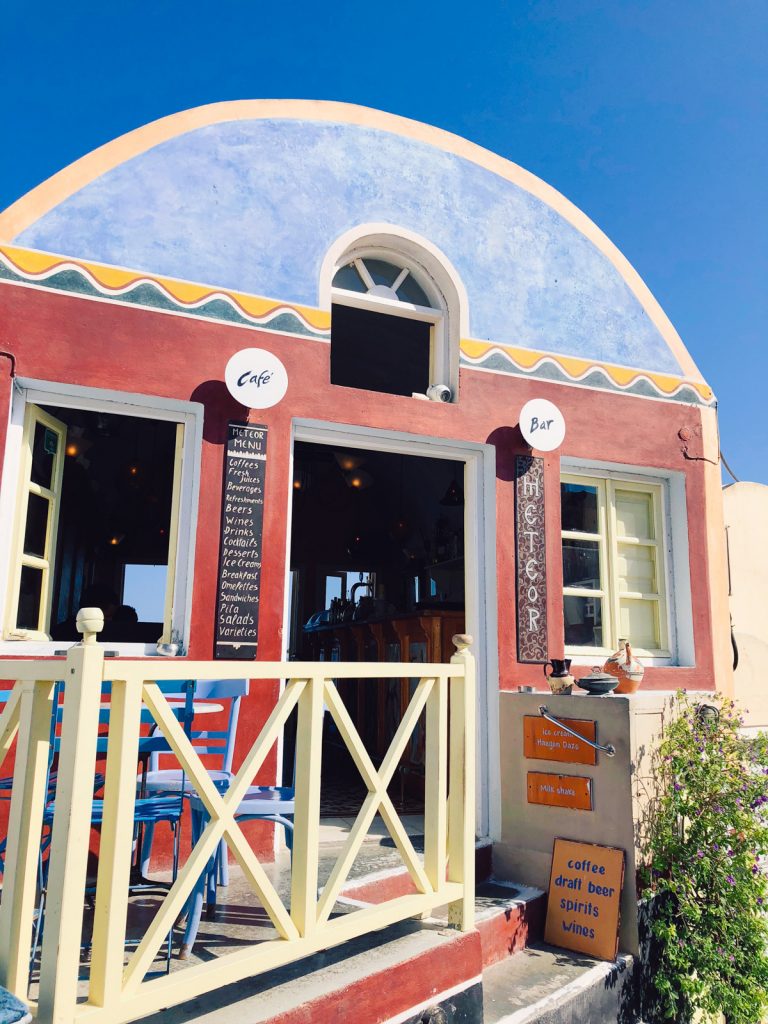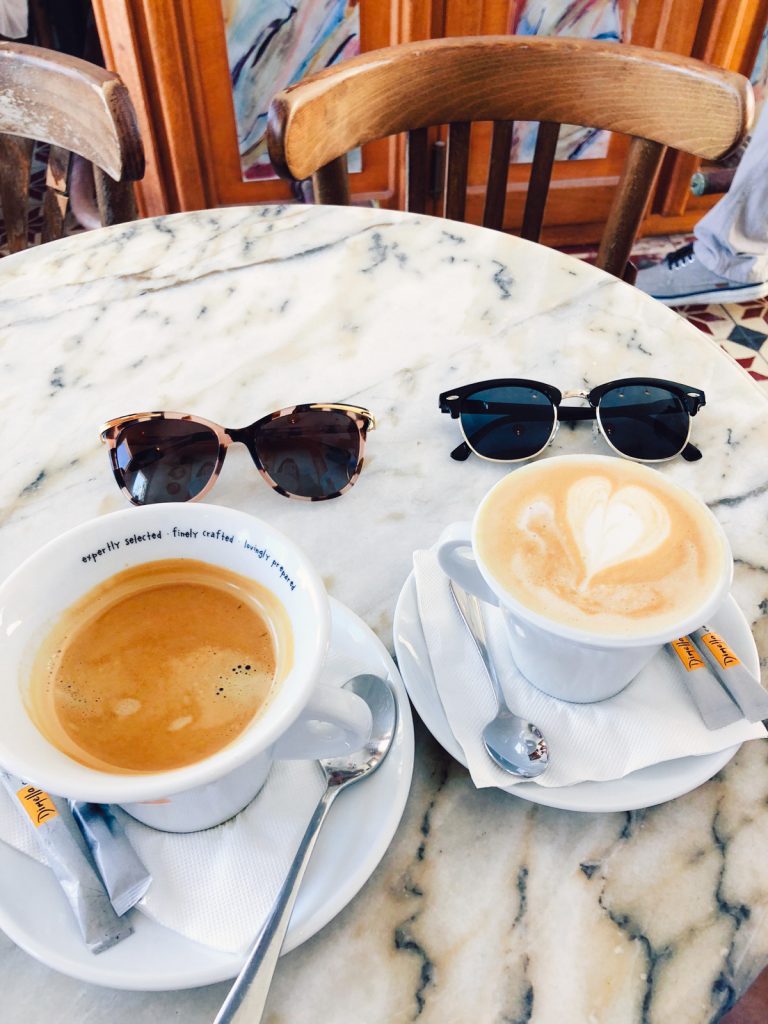 Terpsi en Oia – Breakfast restaurant with lovely views (opens early; 8am compared to the rest of the breakfast restaurants who open at 9am). 
We were their first customers as we arrived at 7:50am, so we got to pick our table. We sat on their terrace right by their glass-less window and had a gorgeous ocean view. We ordered their greek yogurt, fresh fruits, freshly baked bread, omelette and coffee. It was tasty and filling.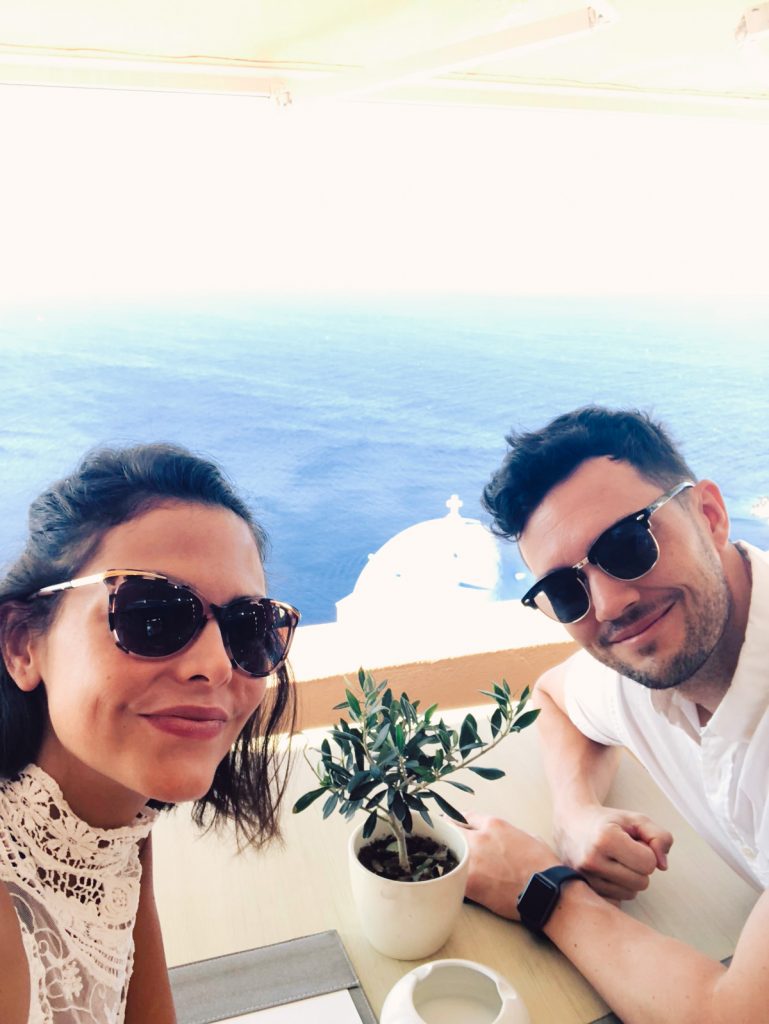 Pelekanos Restaurant – Delicious Greek food with excellent views and a really kind staff.
We ordered a bottle of white wine, Greek salads and grilled fish.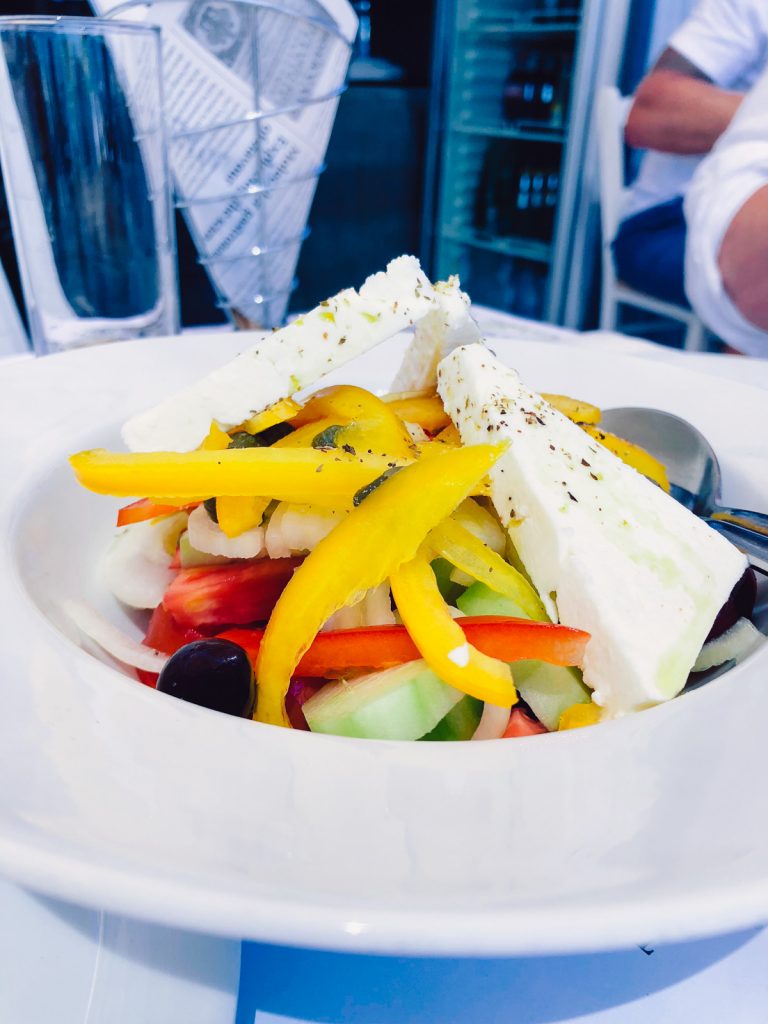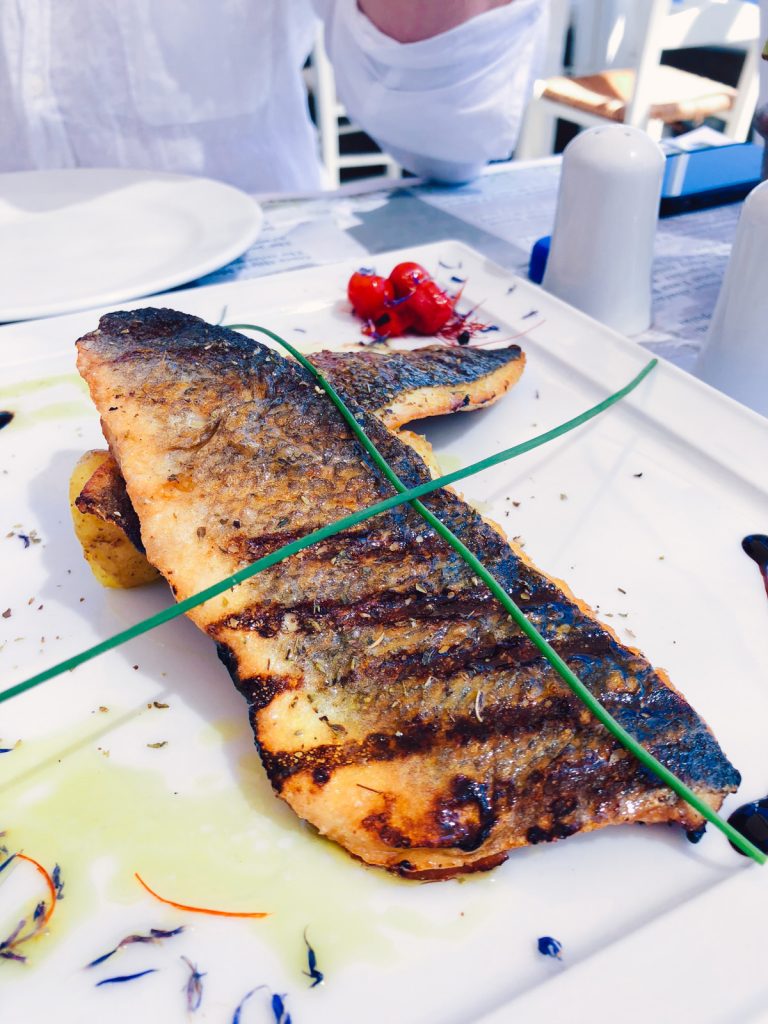 Roka – Our favorite Greek restaurant in all Santorini!
Amazing flavors, not pretentious, kind and sweet staff members, picturesque location and a laid back and chill ambiance. We ordered the Santorini Salad, Grilled Eggplant, Homemade Kebabs and Handmade Meatballs. Everything was AMAZING. So good we went there twice!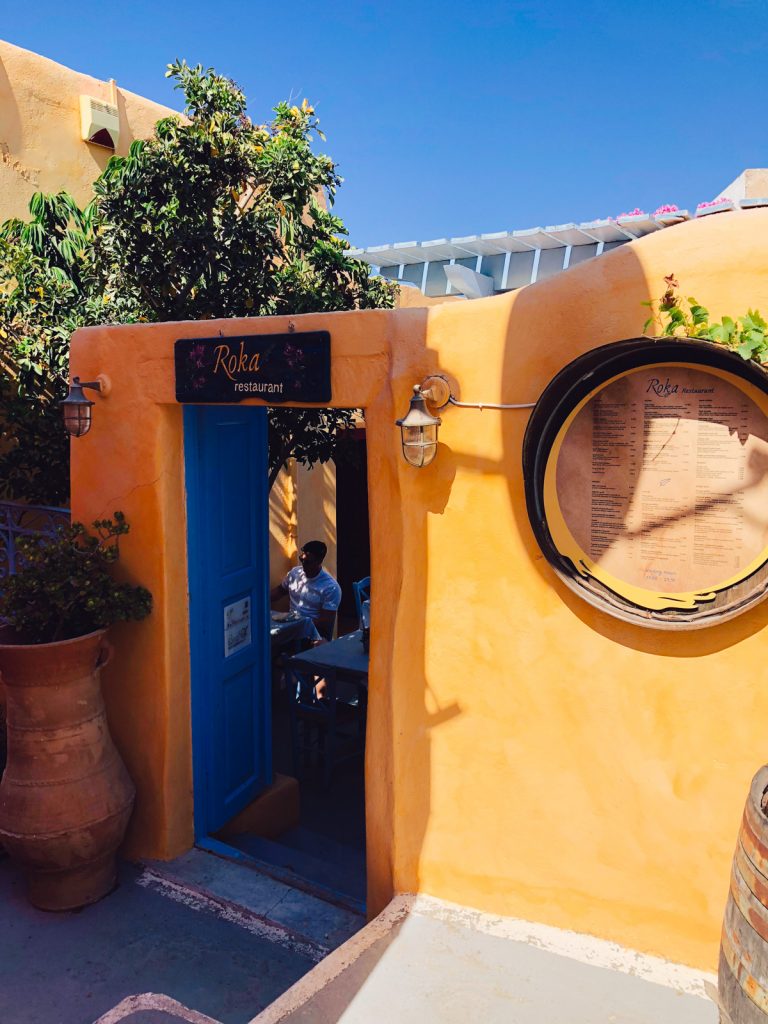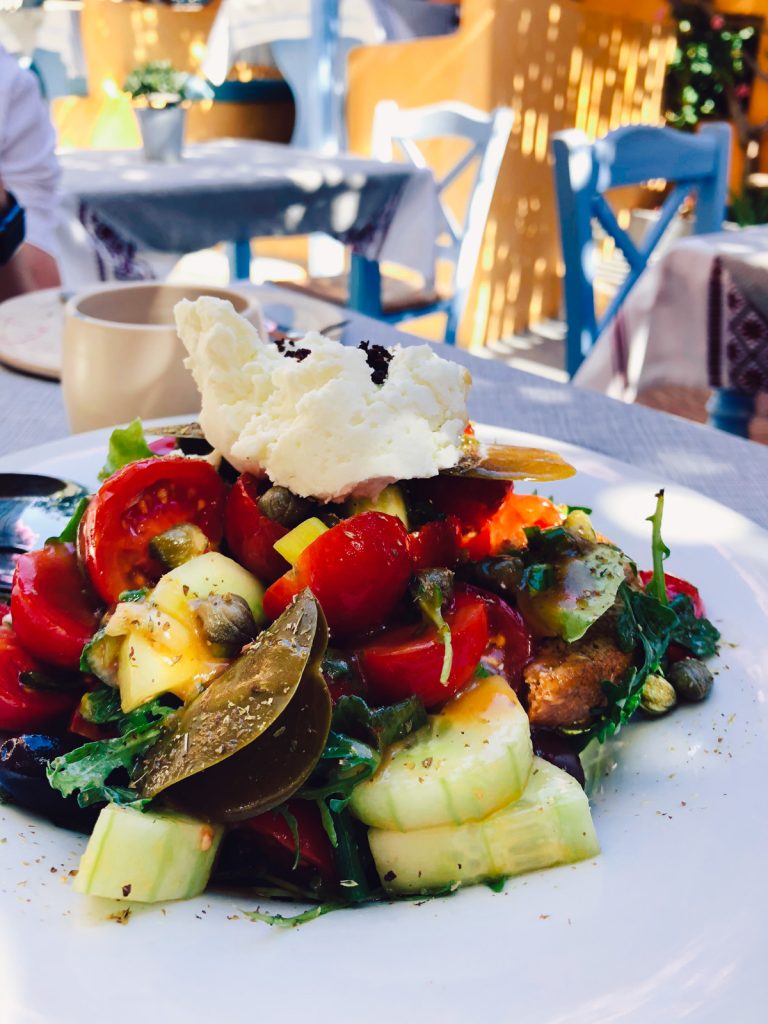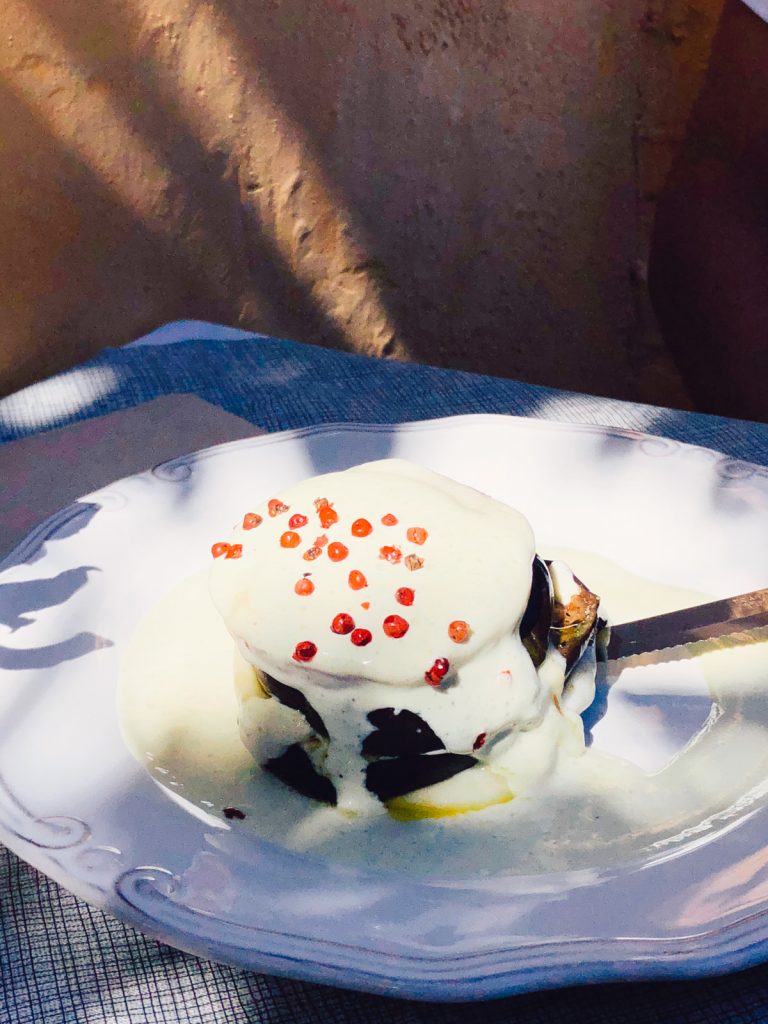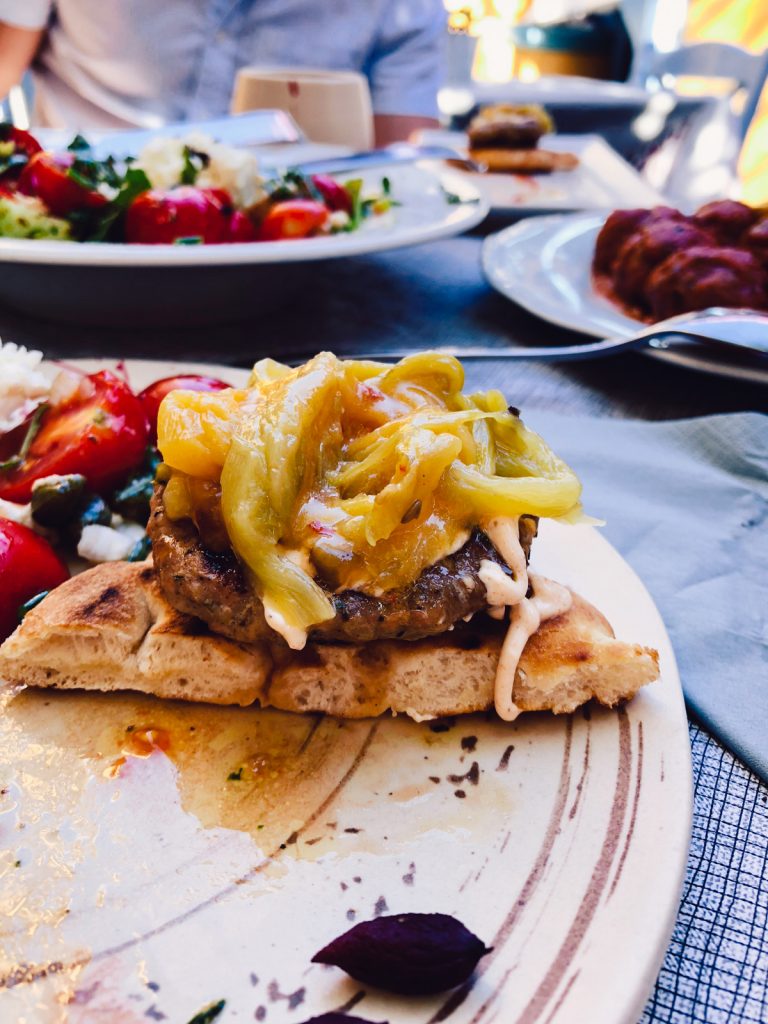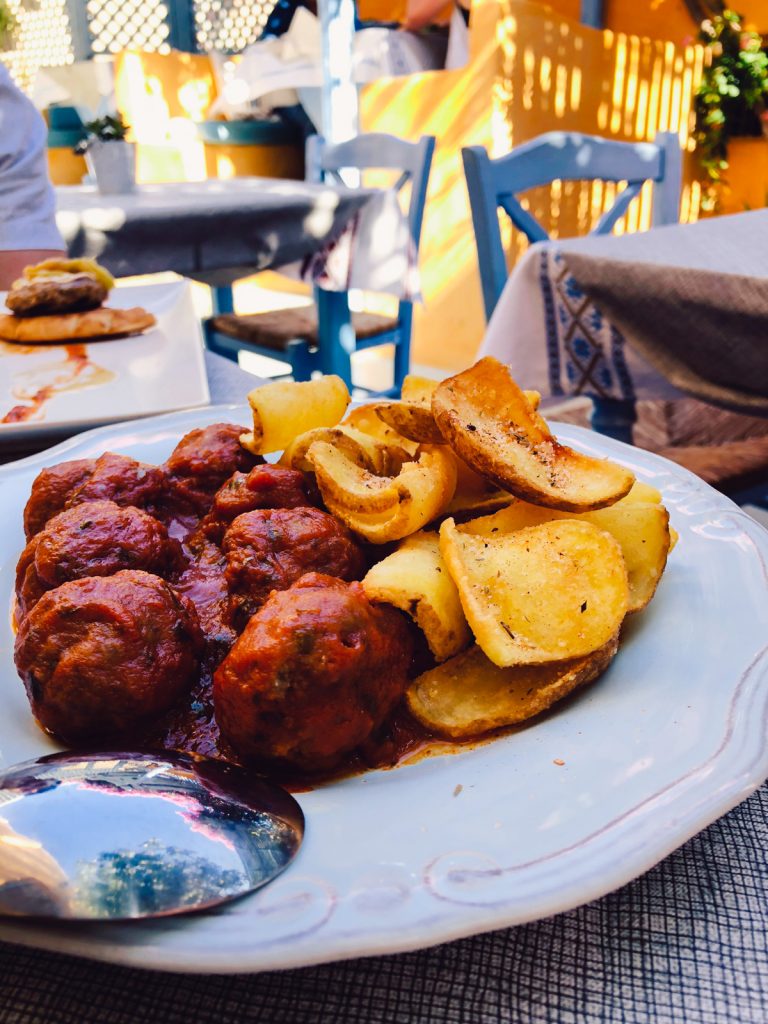 Domaine Sigalas – Wine tasting experience with dinner pairing in Oia.
This is where we came for my birthday and it was everything we hoped wine tasting in Santorini would be. Gorgeous setting, quiet and calm, delicious wine and delicious food! Staff was knowledgeable and extremely sweet. Also, surprisingly affordable!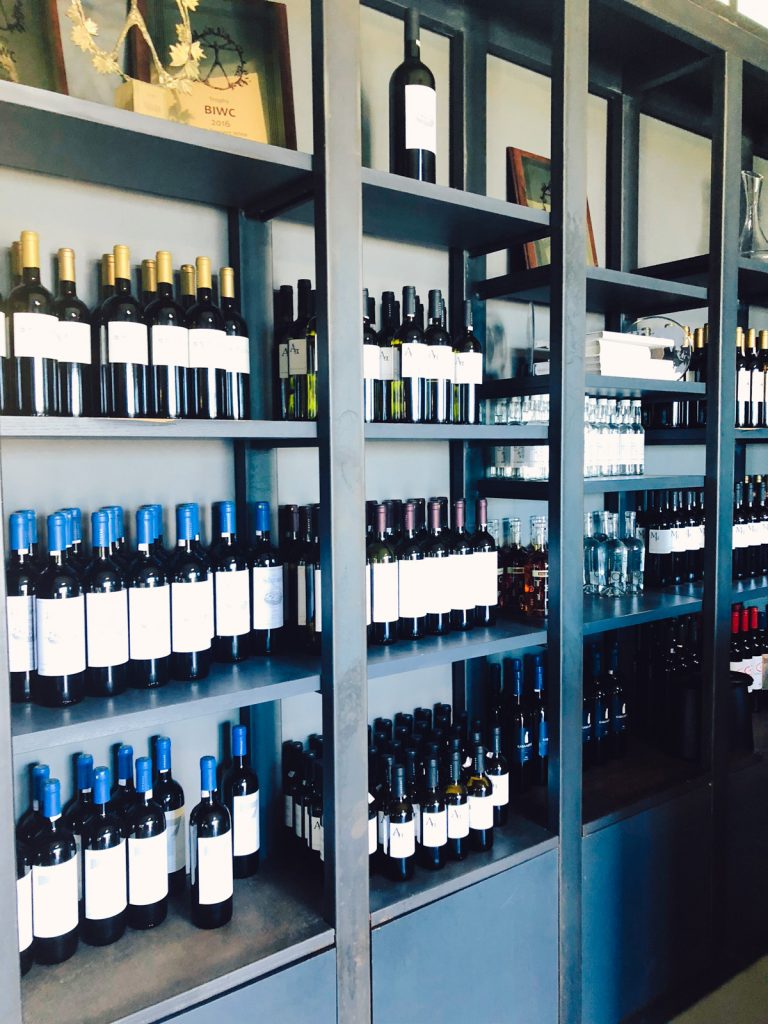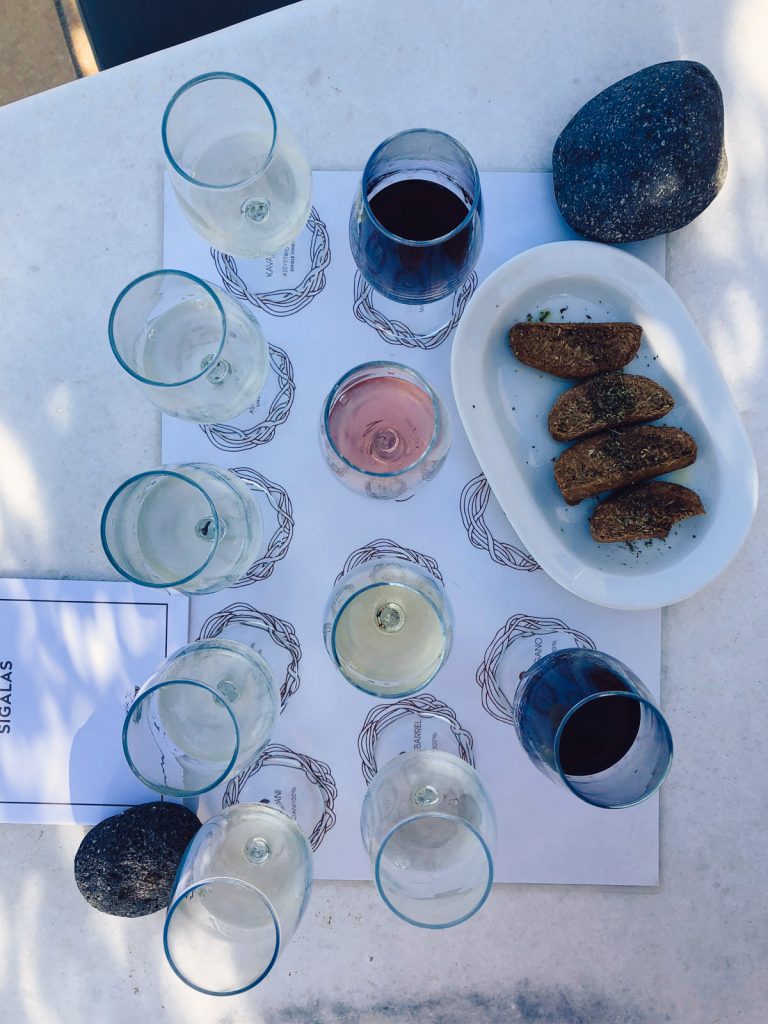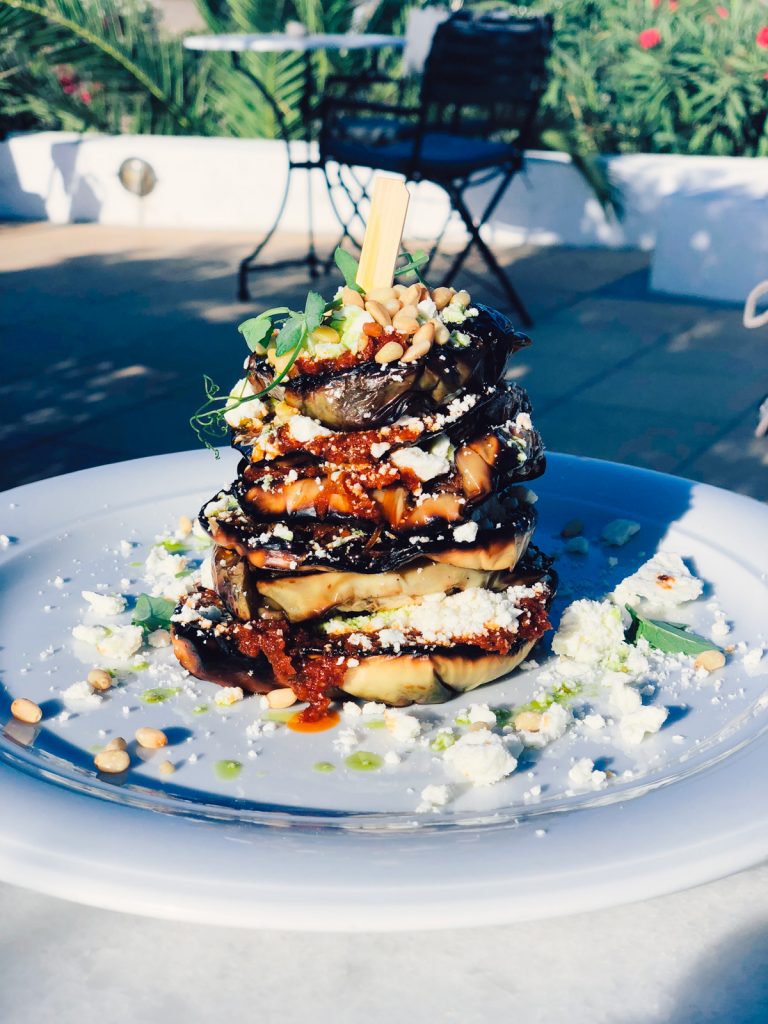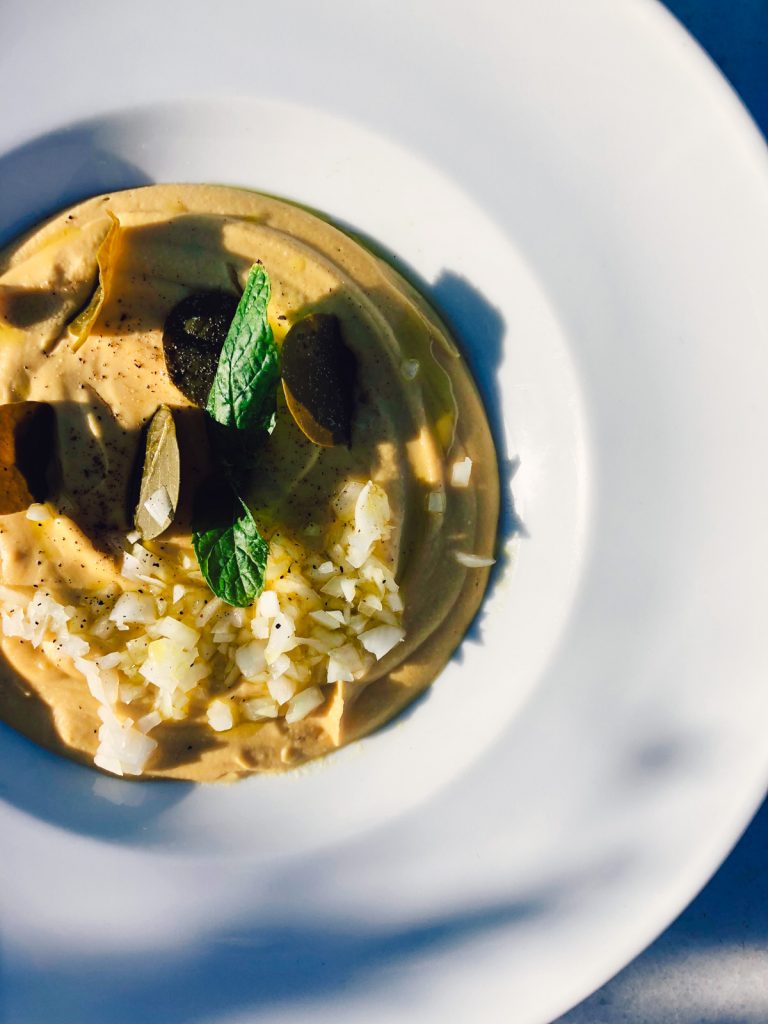 The Hungry Donkey – Okay. This crepe place. WOW. GO THERE.
Its a delicious little local restaurant that could be classified as fast food, since it's so quick and easy. But the food is to-die-for-good; very flavorful! Perfect for those days you don't want fancy, don't feel like dressing up, but still want yummy food.
We ordered two crepes (both with the same ingredients: chocolate, peanut butter, coconut and banana) and they were delicious. Their savory items looked great too (I peeked at other's people's tables), and I bet they were good because people were devouring.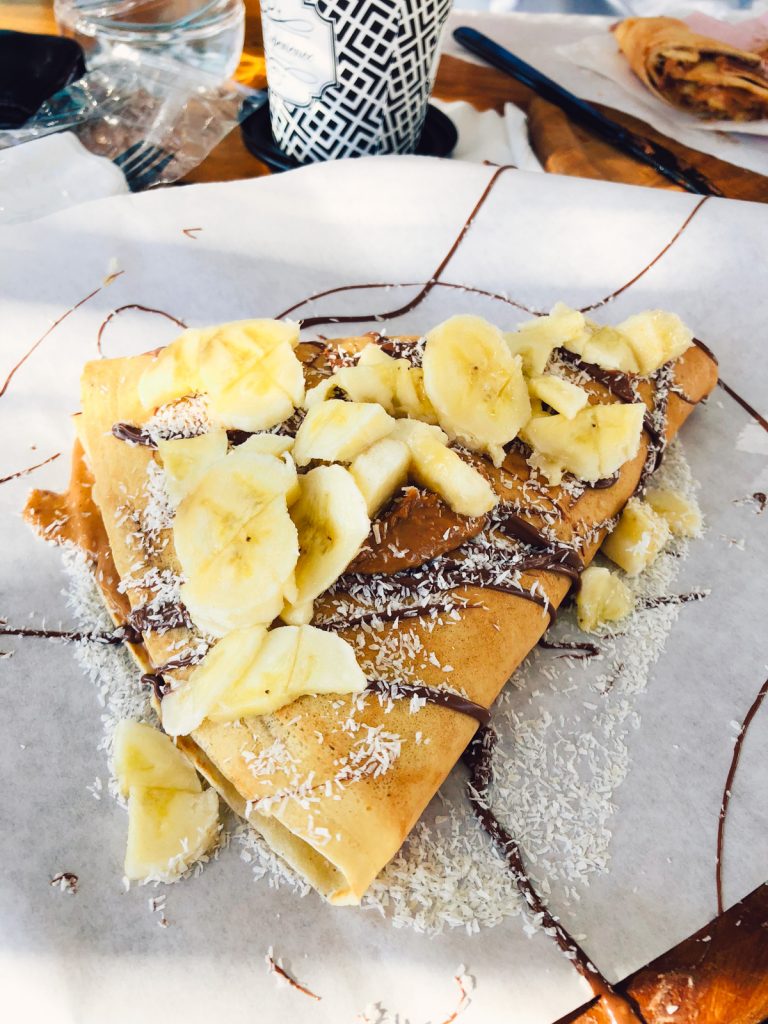 Lolitas Gelato – cute little ice cream/gelato spot in Oia.
Tucked away from the busy crowds, so it's a nice spot to go get a treat and chill. The gelato was good, but it wasn't the best I've had.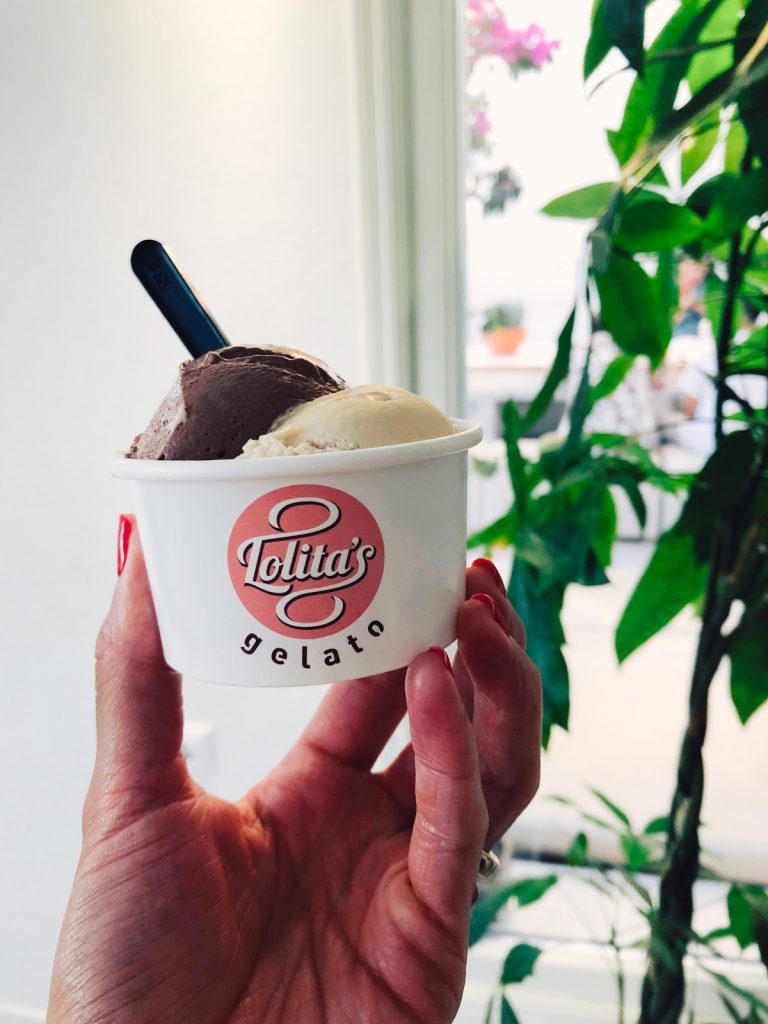 ---
Notes
Note 1: We decided to stay around Oia for the most part while in Santorini, because after doing some research and asking around, we figured we'd prefer that area over others. We like quieter and more tranquil places, prefer to need little transportation (to avoid wasting precious vacation time), and highly appreciate great views and restaurants…Oia was able to provide us all that. If this sound like you, too, then do what we did! If not, feel free to do some research of your own to see what other areas of Santorin you'd like to experience.
Note 2: Because we stayed in Oia for the most part, we did not rent a car. We used a cab three times (airport to hotel, hotel to winery, hotel to port) and a bus once; other than that, we were able to walk everywhere we wanted to go!
Note 3: Summer was really hot and crowded, and even though this time of year works great for us to travel due to birthday celebrations, if I could chose again, I'd probably go in June or September/November; less crowds, cheaper prices and cooler weather.
---
Hope you guys enjoyed my Santorini Guide. We had so much fun exploring its streets, its flavors and its culture. The views alone are worth the trip!
If you have any questions, please feel free to ask via the comments below; I try to answer them as soon as possible.
PIN ME!