Mykonos was our third and last stop in Greece. We got to it by ferry, which was a two hour ride from Santorini via SeaJets.
Taking a ferry was the only transportation option from Santorini, as there aren't any direct flights from Santorini to Mykonos. However, the ferry was short and comfortable.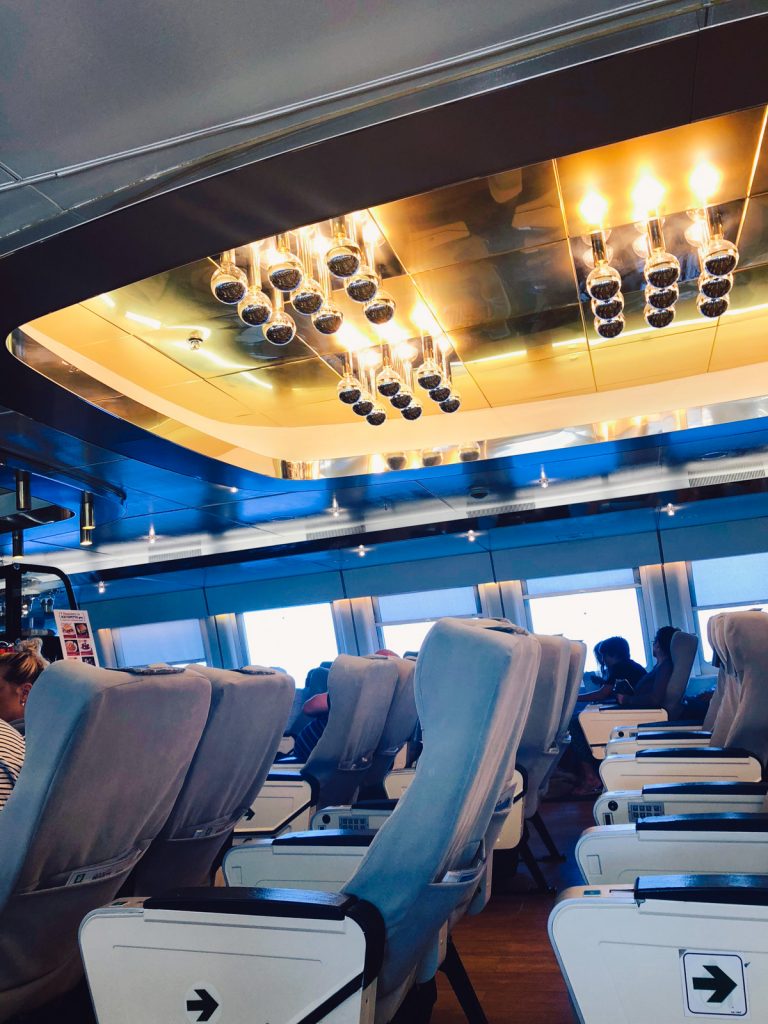 A word of warning (#1): the ferry boarding process at the port was a bit crazy. First of all, the ferry did not leave on time; it left 45 minutes late. I hear this is typical, that they hardly ever leave on time. If you get your printed tickets in advance, you only need to be there 20 minutes prior to the ferry's departure time.
A word of warning (#2): There is very little order at the ports. There are no members of staff telling you where to wait or how to line up; actually there are no lines and it kind of feels a bit like you're cattle in a big field waiting for a barbwire fence to open so you can finally be somewhat led by the farmer. LOL. Such a weird comparison, but it's how it felt.
A word of warning (#3): Pack light! There are a ton of people with a ton of bags, and it typically is incredibly HOT. If you're catching a ferry from any Greek island, be sure you have water with you and do yourself a favor and pack light! The last thing you want to do is haul large and heavy bags in the midst of that chaos.
Once you get in the Ferry though, you get comfortable and you cool off. I recommend splurging on the Business Class tickets, since this part of the port has their own private staff service, has a lot more space and it feels a lot more private and comfortable.
But, on to the good stuff. Let's talk Mykonos! 🎉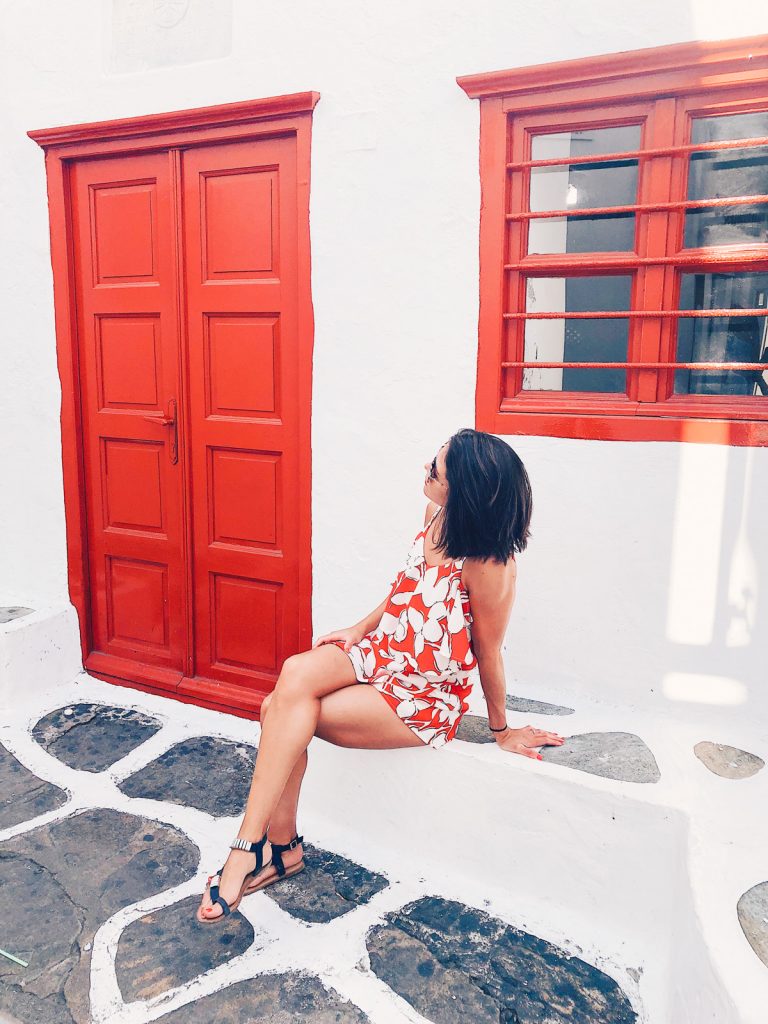 The vibe in Mykonos is very different than the vibe in Santorini. Things in Santorini feel a bit more upscale, calm, slow paced and close-by; the crowd is a lot older and more laid back. Things in Mykonos feel a bit more fast paced, alive, hectic, fast paced, and more dispersed; the crowd is younger and people who go there are ready to party.
Unlike Santorini, in Mykonos you NEED a car. There are ONLY 30 TAXIS ON THE ISLAND, and they mainly service the airport and ports, so the chances of you getting one of these are very slim. Plus, the island is extremely dispersed and there are a bunch of beaches you want to get to and explore, and for all of that you need a car.
Also unlike Santorini, people in Mykonos like to party. Lots of young people who go to this island are seeking a party vacation, so there are a lot of great party choices if that's what you are looking for. One word of advice: make sure you drive carefully and watch where people are going; people get in motorized vehicles drunk, so be extra aware and careful of your surroundings to avoid bad and unwanted experiences.
The cars available for rent in Mykonos are small for the most part (think smart cars), which is a great thing because the streets are narrow and the parking spaces are small. These small cars fit a party of two (or even four) comfortably; however, if your party is larger than four, or even if it's a party of two with large bags, plan on renting more than one car (or try renting a larger vehicle in advance, as there's very few of these and they go fast).
Our hotel facilitated the rental car process for us, but if you want to rent online in advance, I suggest using this popular car rental company.
Speaking of our hotel, the hotel we stayed at was wonderful. I was extra excited for it, because unlike our Santorini stay, our Mykonos hotel had a gym. YAY! We love to workout and we feel like our bodies now need it (we've been working out consistently for over 8 years), so a hotel gym is always, always welcome.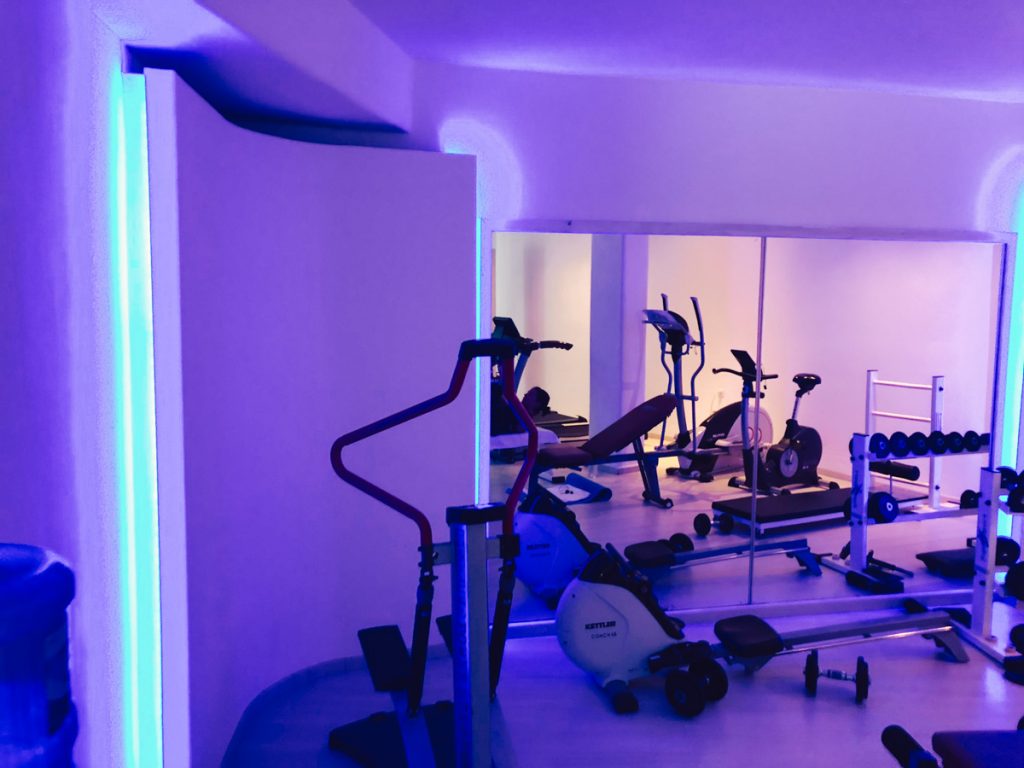 Below you'll learn a bit more about the hotel in which we stayed at and the area it was at!
---
Where We Stayed in Mykonos
As I mentioned in my Athens Guide and in my Santorini Guide, finding the best possible stay at the best possible rate is one of my favorite things to do when planning a trip. I love doing my research online and checking out the most centrally located areas for what we want to do and see, and once I find our ideal area, I begin looking for nice hotels there.
I begin my hotel research in google by selecting our dates, and then I set my filters. The filters I use the most are: hotel stars and hotel reviews. These two set me up for success in comparing hotels and deals; they save me time by giving me options that meet my minimum requirements. Apart from location and great reviews, what I look for in hotels is a comfortable bed, cleanliness, accommodating staff and good amenities.
After a bunch of research, the hotel we landed on for Mykonos was Archipelagos.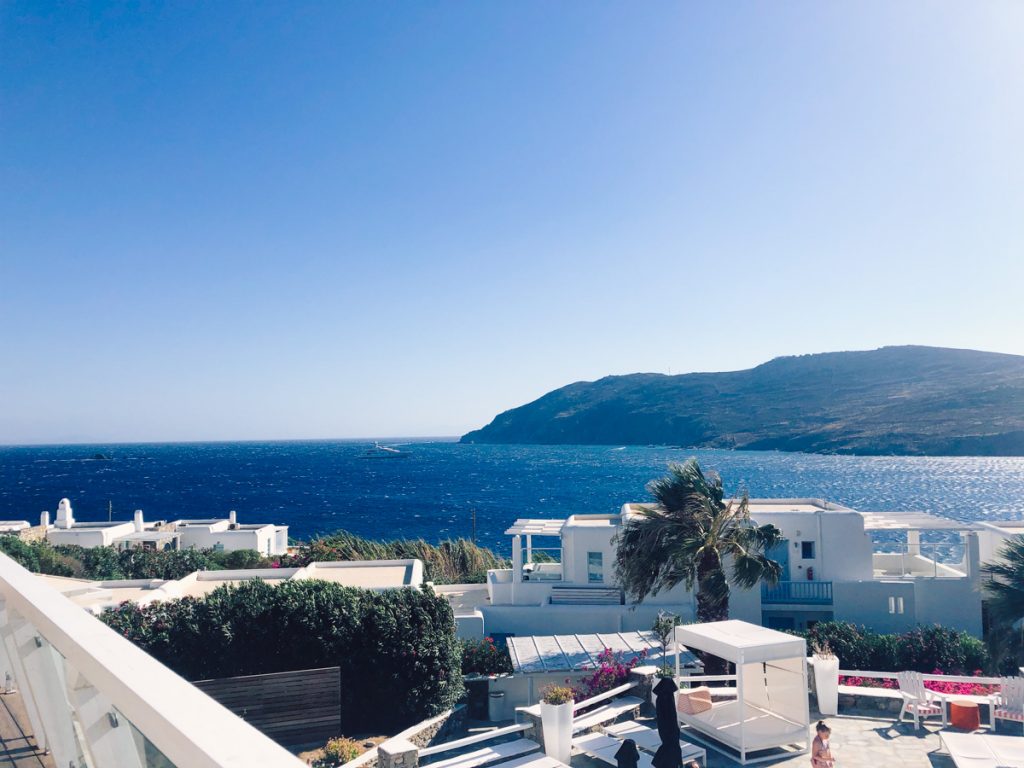 We chose this hotel for various reasons: it's located on a quieter side of the island, it's right by the beach, it has a gym, it offers free breakfast, free parking (lots of parking available), and the rooms are very spacious.
The hotel has great online reviews (4.7/5), which is always nice to see as you can read what people liked about it, and since it's a 5-star hotel, it offers all the good amenities and standards a 5-star hotel typically offers.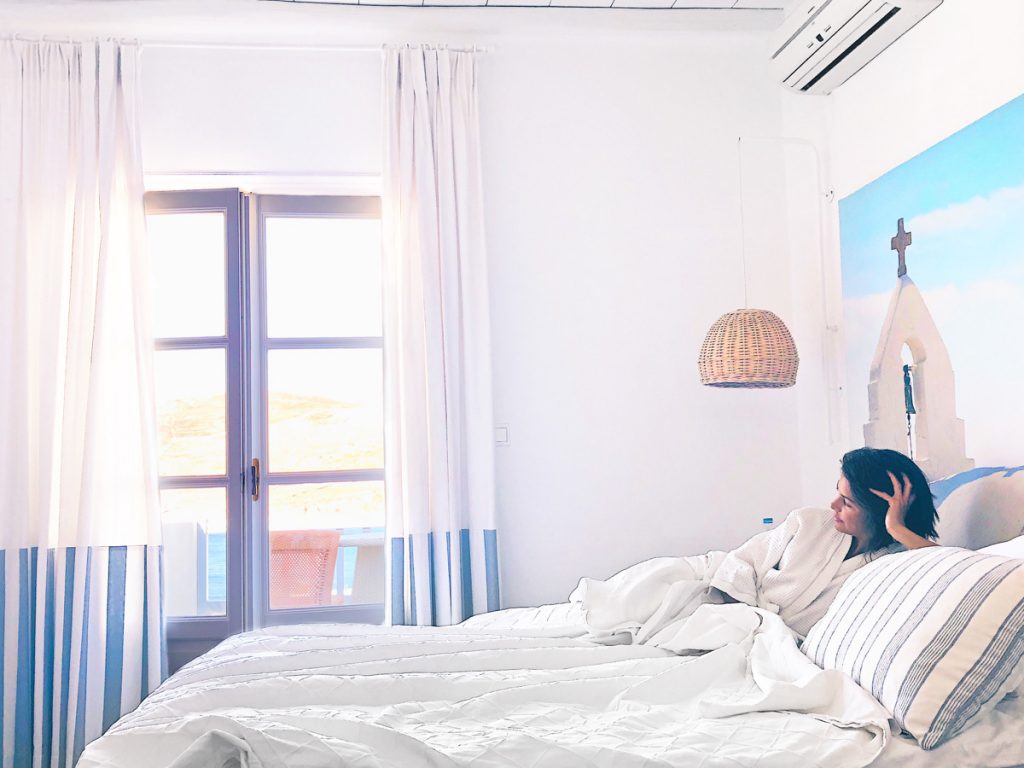 In general, hotel is pretty quiet and peaceful, it has a great sized pool, has a nice restaurant on site, has a wonderful and helpful staff, and has gorgeous views of the ocean (you can feel that strong Mykonos breeze).
My favorite part was its proximity to the beach. The hotel is only a 3-5 minute walk away from the Kalo Livadi beach, where you can find beach beds for rent, a delicious restaurant and even Lindsey Lohans beach club, haha. I had no idea Lindsey Lohan had a beach club in Mykonos, we found out once we arrived to the area.
---
What We Did in Mykonos
Day 1
We arrived to Mykonos from Santorini at around 4pm. We found a cab (one of the 30 in all the island) and off we went to our hotel. We got all settled in and then took a walk to Kalo Livadi beach to explore a bit and grab some dinner.
Since the beach was super close to our hotel, it took us no time to get there. It was a gorgeous, white sanded beach, with good sized waves and a nice dose of sea breeze. The ocean was light blue and there was not one cloud in the sky. The whole ambiance was breathtaking.
There was a main restaurant right by the beach and they sat us right away. We ordered cold white wine and apps, and enjoyed a romantic date with amazing music and a great vibe. (Get the restaurant name under "Where We Ate in Mykonos" section.)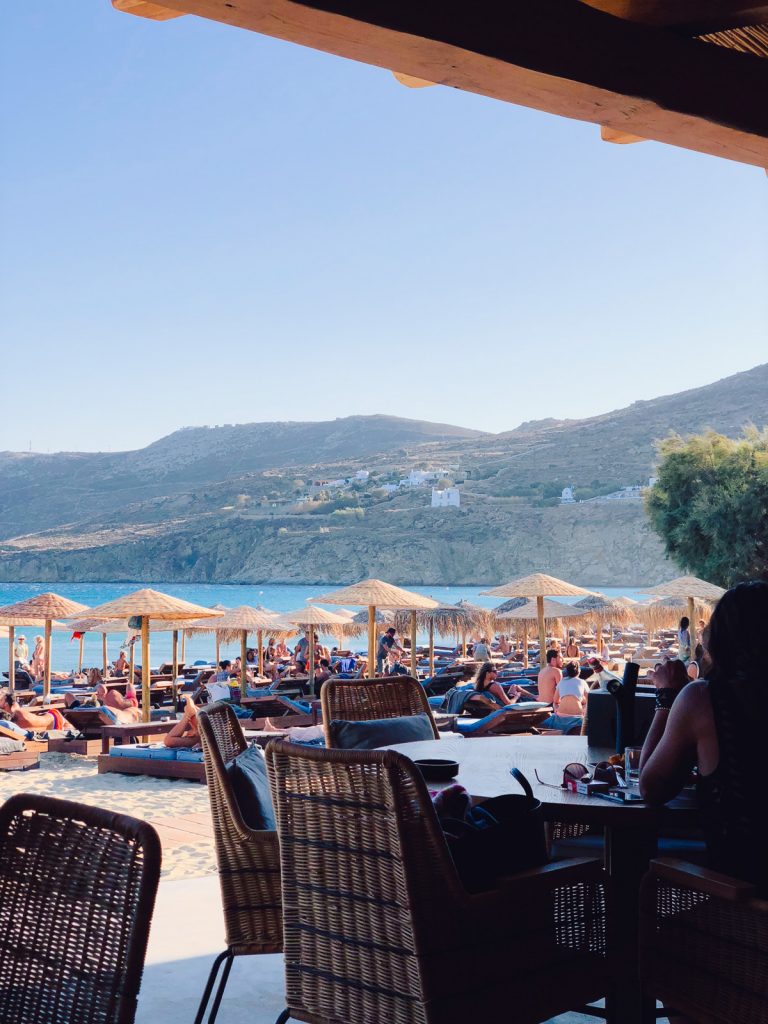 After dinner we walked to the ocean, dipped our toes in the water and then sat on the sand for a while. It felt like a sweet high school date. So sweet.
We then went back to our hotel and asked the concierge to facilitate a car rental for us. Our cute little smart car was delivered to our hotel, and once we got it, we took it out for a drive to go explore Mykono's capital: Hora.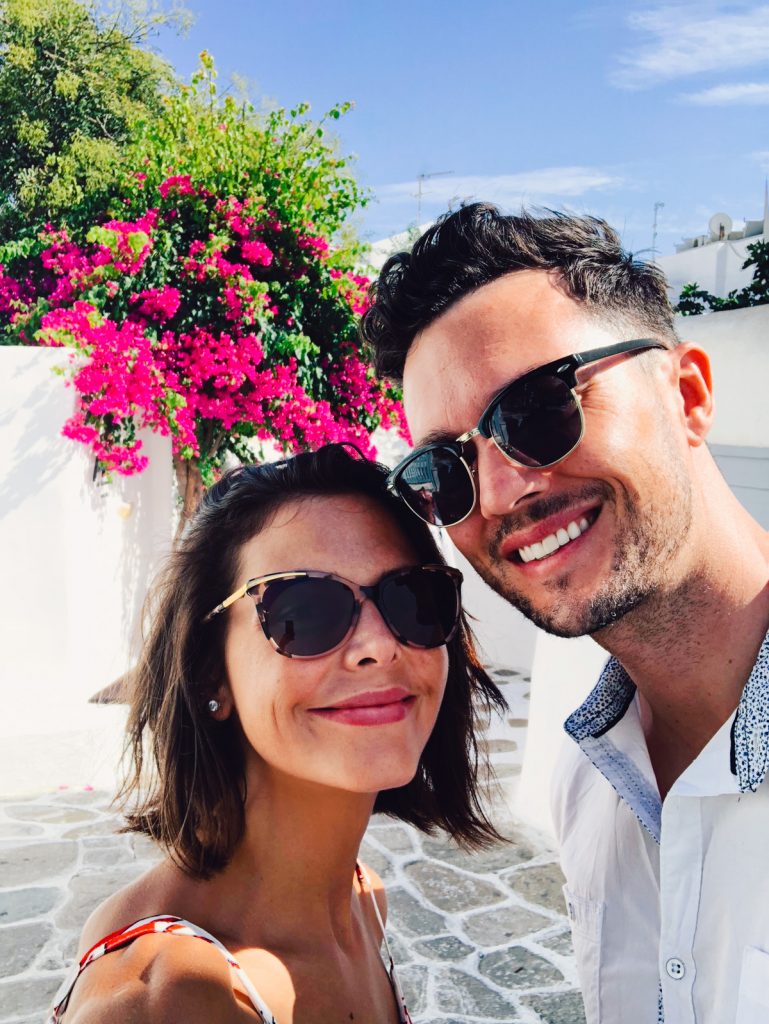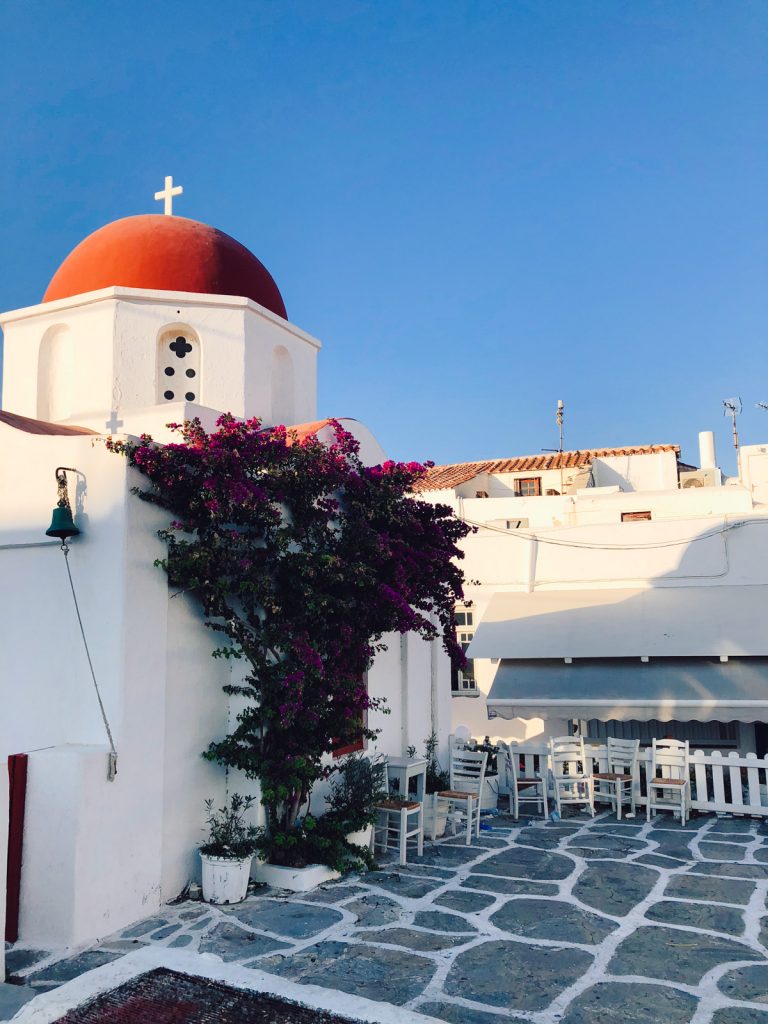 Hora is also known as Mykonos main town or old town, and its the island's second biggest attraction after its beaches. You can walk for hours on those gorgeous narrow stone streets while looking at picture-perfect whitewashed buildings, boutiques and restaurants.
On Day 1 we visited Hora at night, and even though we thought most things were going to be closed at nighttime, we found that the tiny capital was actually at its most vibrant at night. People there start to eat, shop and drink after 8pm.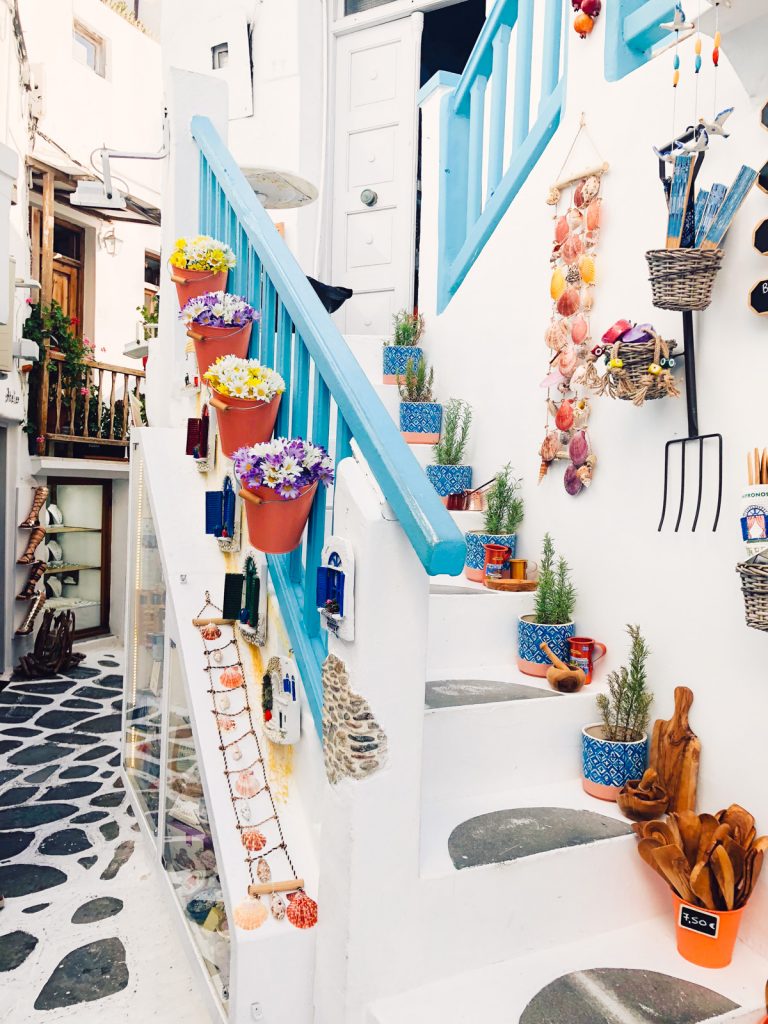 After exploring Hora, we hopped in the car and went back home to get a good night's sleep.
Day 2
This was my hubby's birthday and it was one of the most fun days we had in Mykonos!
We woke up, headed to the hotel gym and had a fantastic workout, showered and went for breakfast at the hotel's restaurant.
Afterwards, we drove to get a nice cup of coffee in Little Venice by the water to relax for a bit and soak in the gorgeous day.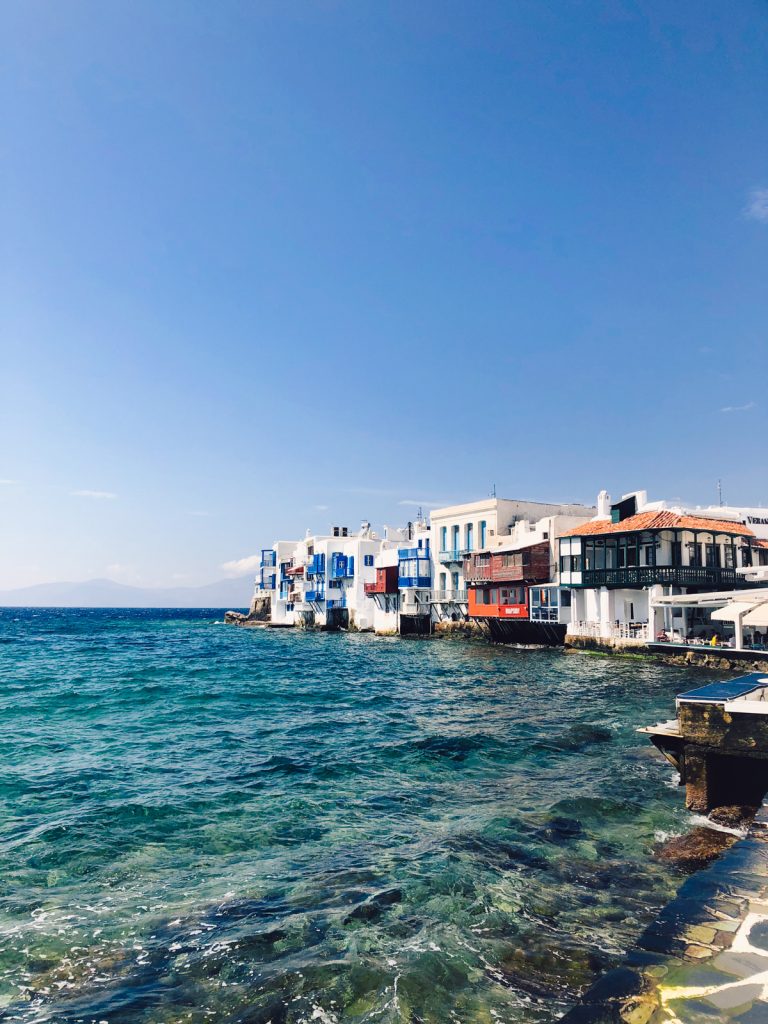 We had a whole day planned out, including beach time, lunch and dinner. Once we were done with our coffee, we got in the car and drove to our next stop: Alemagou beach bar!

Even though this was our second birthday stop planned for the day, it turned out to be our last spot. We had waaaay too much fun to leave. We met the most wonderful people and we became good friends with them.

At Alemagou we literally partied until we couldn't any longer! It was such a COOL space. The best of ambiances, amazing music, fantastic people, delicious drinks and food, and gorgeous views.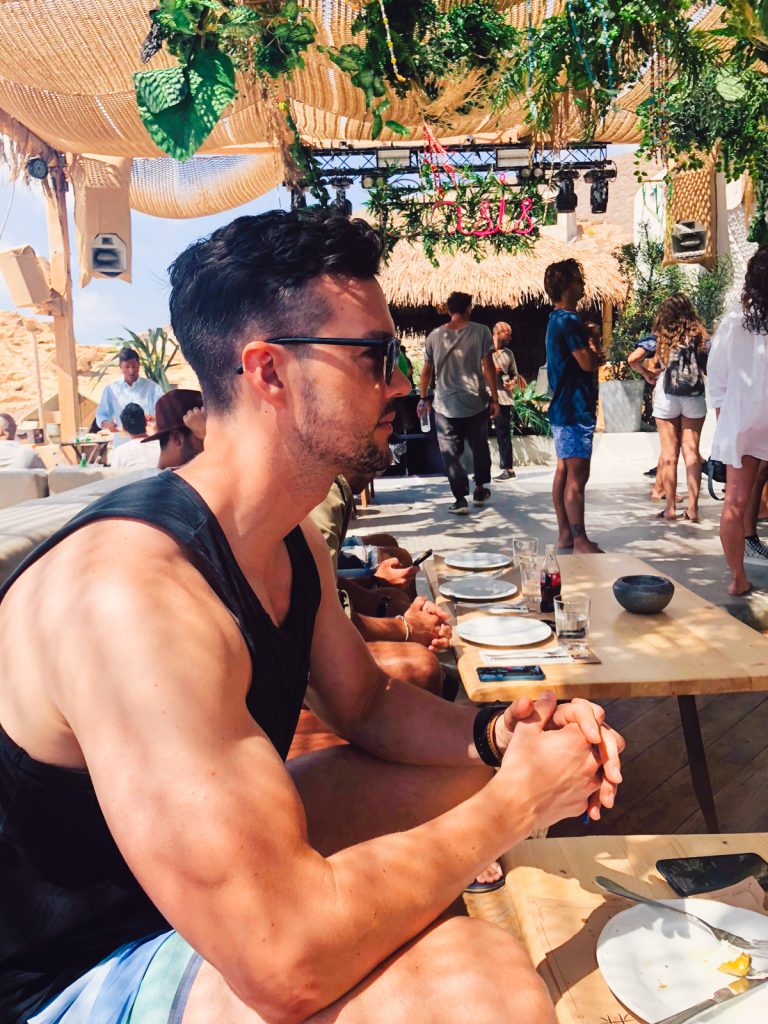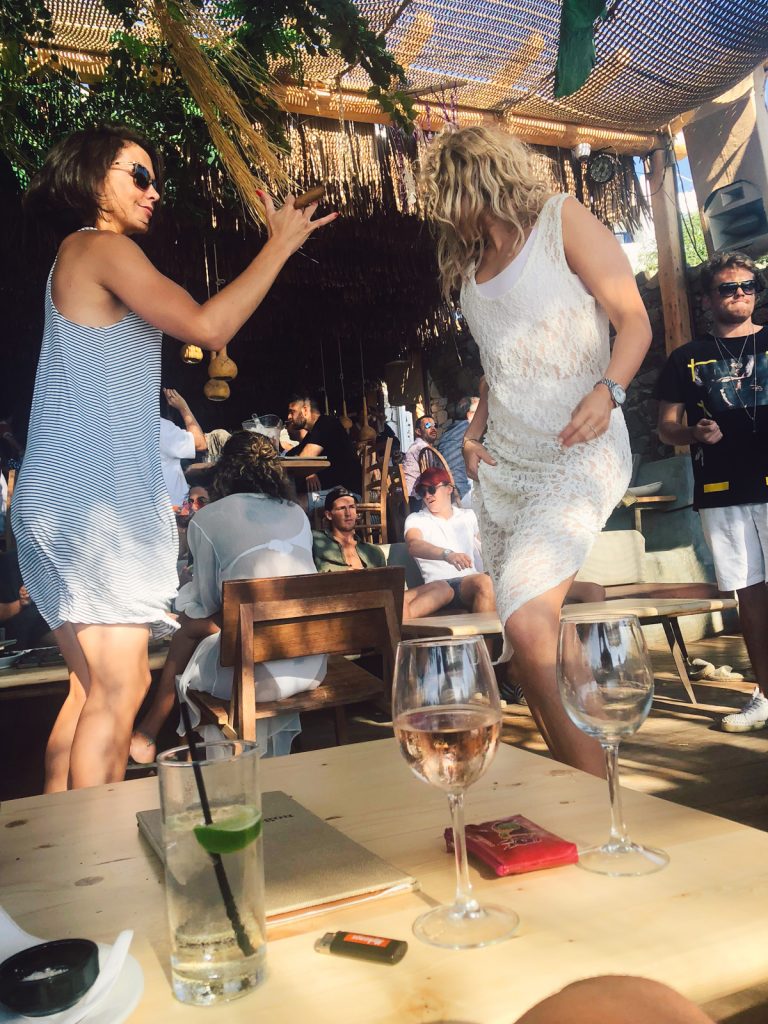 Alemagou is a destination in itself. They have a gorgeous private beach with sun beds, a delicious restaurant, a fabulous bar, and the best house music of all time. You can plan a full day here. From tanning, to swimming, to dancing, to watching the sunset, you can do it all in this hidden gem. Definitely recommend it!
Day 3
Today we woke up a bit hungover 😬 but we powered through it and got out of bed. We did not workout (even though we really, really wanted to) because we figured that if we added a good sweat sesh to the hangover, we'd be pretty much fried for the rest of the day.
Instead, we went down to the hotel restaurant for breakfast and then got ready to go explore the Windmills of Kato Mili.

These windmills are iconic; they are in every Mykonos picture you see on travel guides.
The mills are located near Little Venice in Mykonos town. It's an extremely picturesque sight, with lots of sea breeze and strong sounds of waves crushing nearby. Gorgeous!

After a few minutes of windmill admiration, we made our way to Hora for lunch. We ate and drank and became merry, and then we walked and walked around the town, getting lost in Little Venice, strolling through the narrow marble streets and admiring the gorgeous whitewashed houses with colorful doors and plants.
We went in and out of art galleries, boutiques and charming cafes.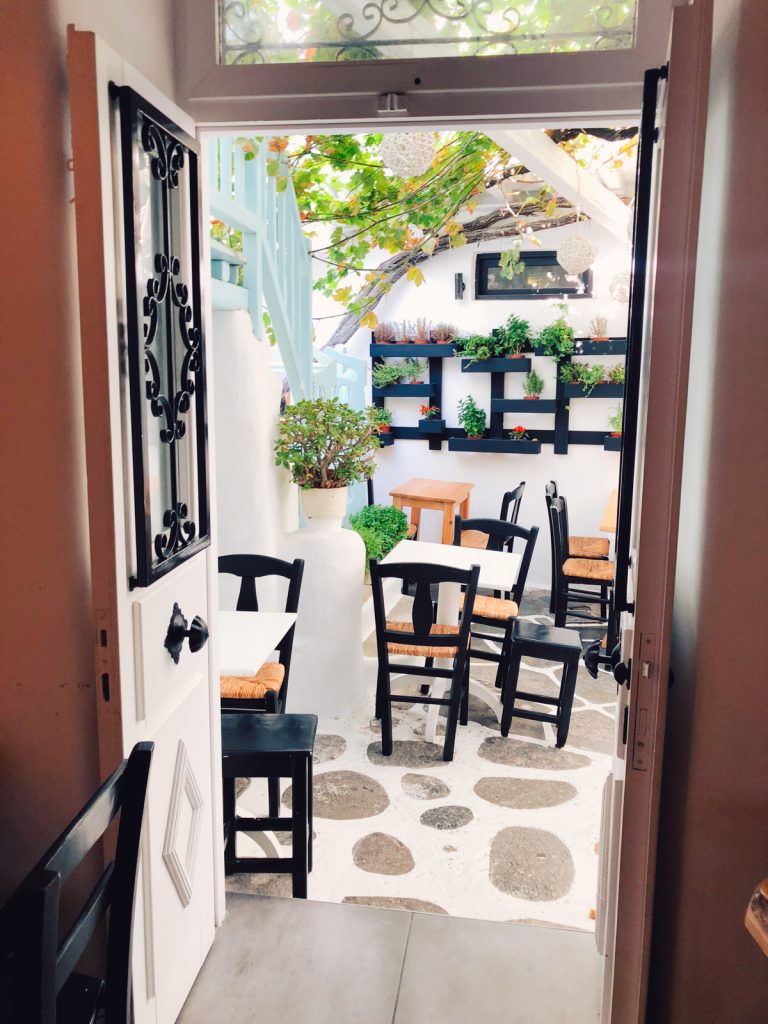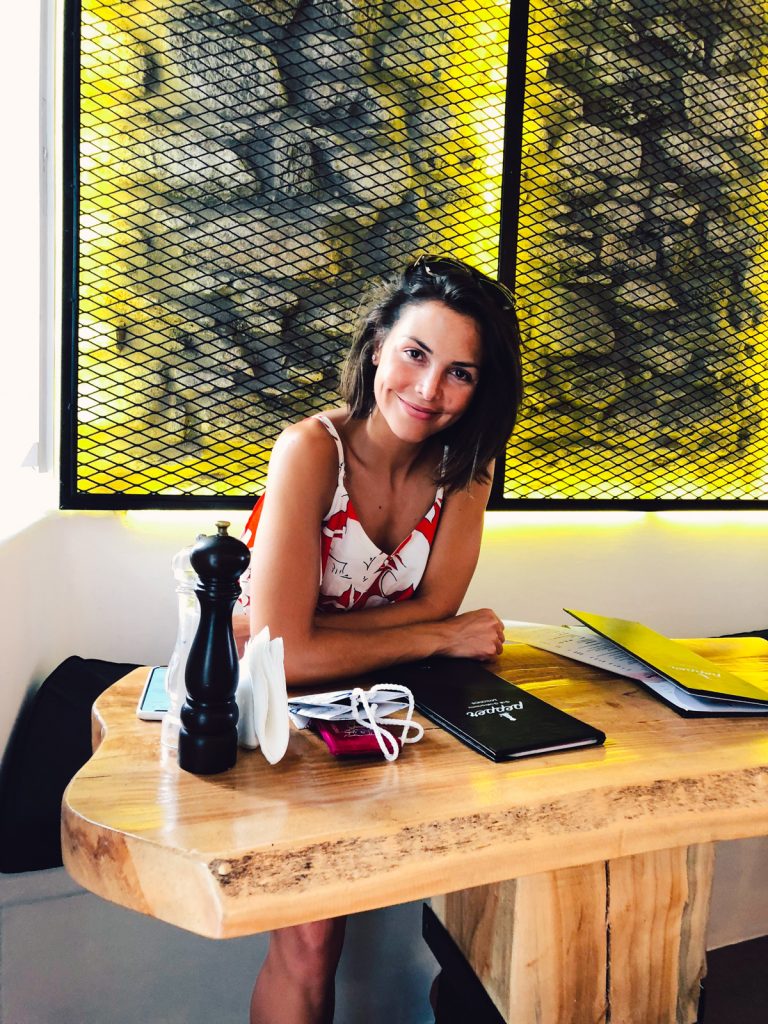 And then settled at an adorable place for an early dinner and headed home to the hotel restaurant for a night cap with a night ocean view. We were so captivated by the water, that we took a nightly stroll near the ocean at Kalo Livadi beach and talked about life and our goals and dreams. Sounds cheesy, but that's exactly what we did.
Day 4
This was our very last day in Mykonos, but our plane didn't leave until night time. We had a full day available to explore still.
We got a quick workout in, showered and went to lay out in the sun at the pool of the hotel. It was a hot day, with lots of breeze and there was not one cloud in the sky. The pool vibe at the hotel was great; it wasn't crowded and the music they were playing really got you in that cool Myconian vibe.
We laid out in the sun for a few hours and then went to the room to shower and pack. It was then time to checkout, and so we put all of our bags in our smart car and then headed out to a popular sunbathing beach on the other side of the island called: Agios Sostis Beach.
This beach can be a bit crowded, so I recommend planning a few hours for this activity, as it takes a while to find a parking spot.
The sand here is white, the ocean blues are gorgeous and the water can't feel any better on your skin. Also, it isn't a commercialized beach, so it feels a bit more laid back and relaxed. Bring your own beach towels, food and drinks, and plan on staying for a little.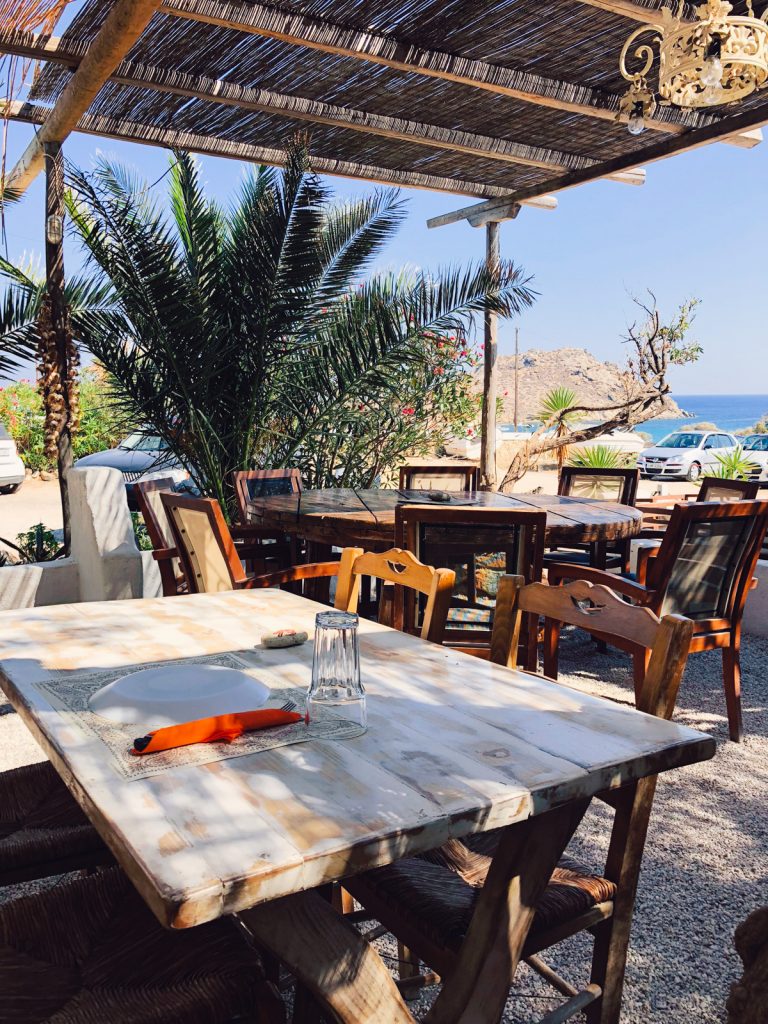 After the beach, we headed to a nearby restaurant where they served the BEST Italian food. Not even kidding, this place was amazing. It's owned by an Italian family, and you can really tell they pour all their love and care into their business. Highly recommend (get the name on my "Where We Ate in Mykonos" section below).
After eating all the Italian savory deliciousness, we felt like we needed to finish off our meal with more Italian deliciousness: gelato. We found one of the best rated gelato spots and headed there for dessert. Highly recommend this place too, portions were huge and it was SO YUM!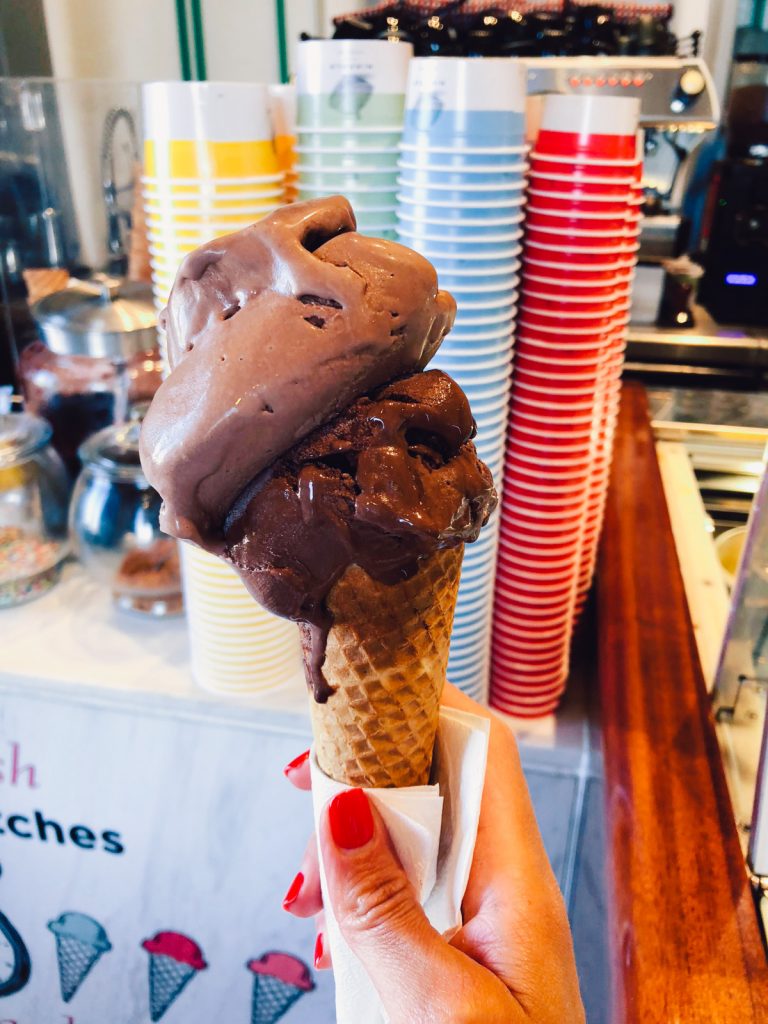 ---
Where We Ate in Mykonos
Below is a list of all the fun and delicious places we ate at while in Mykonos. Bon appetite!
Solymar – Myconian and modern cuisine, with fresh ingredients from local producers.
We ordered white wine, a delicious salad and steamed mussels with mediterranean seaweeds and herbs. Super yum!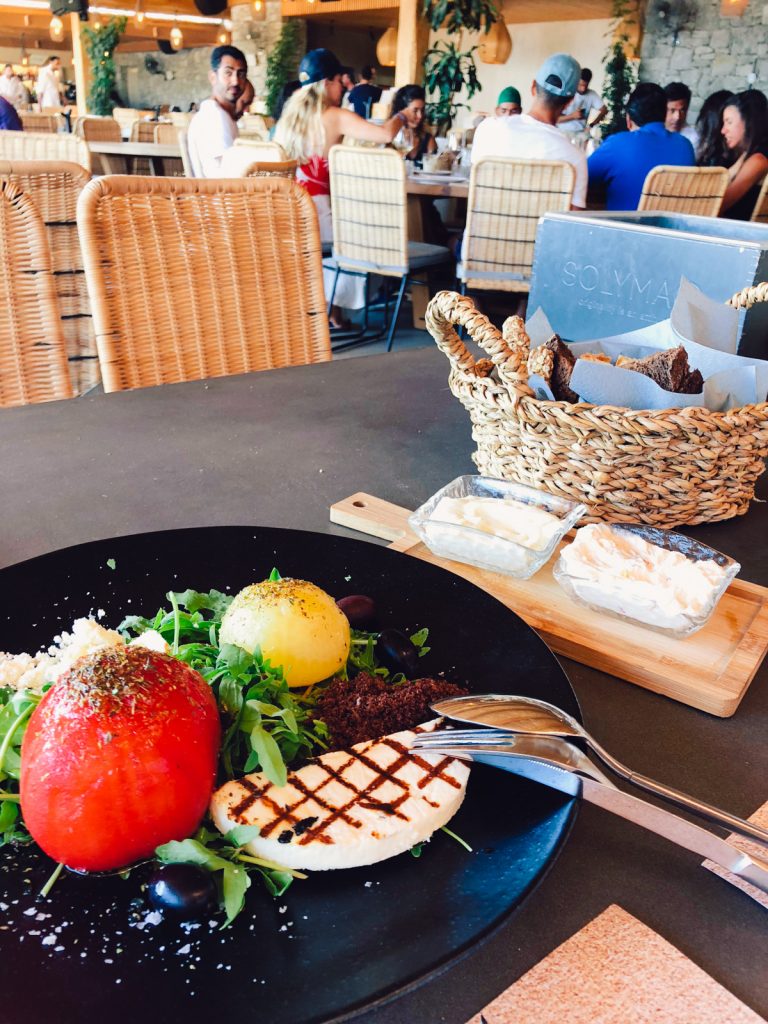 Alemagou – fantastic beach bar and restaurant, with sun beds and a private beach; a destination in itself!
We ordered cold rose, vodka mixed drinks, and all kinds of delicious apps. Everything was top notch.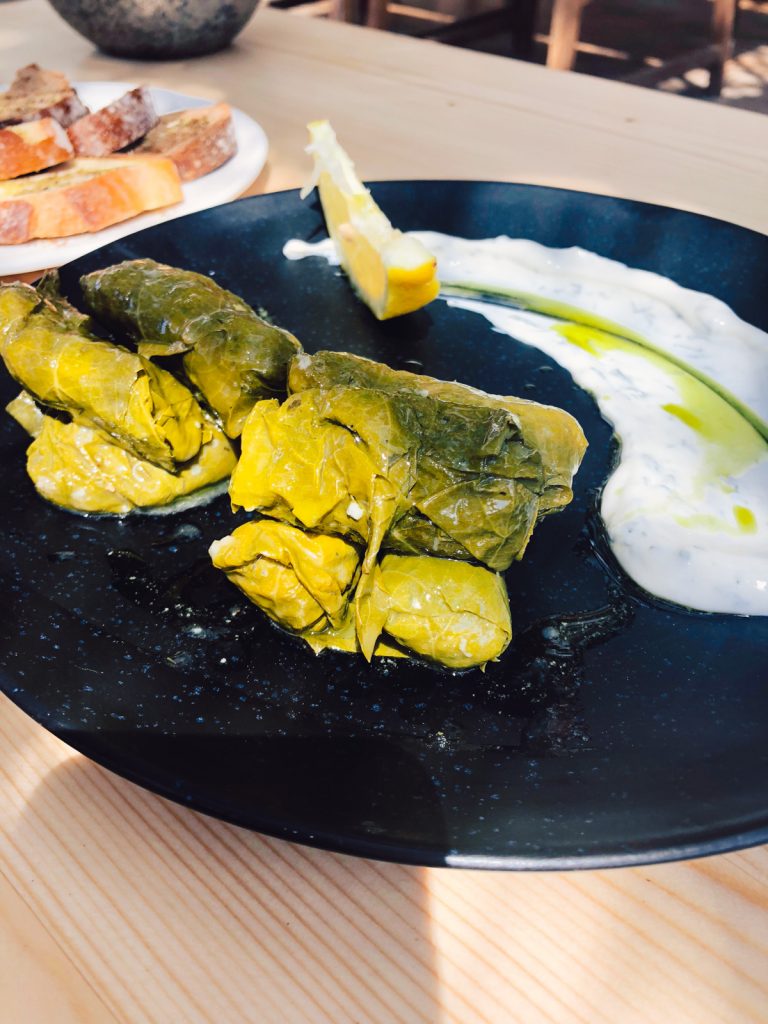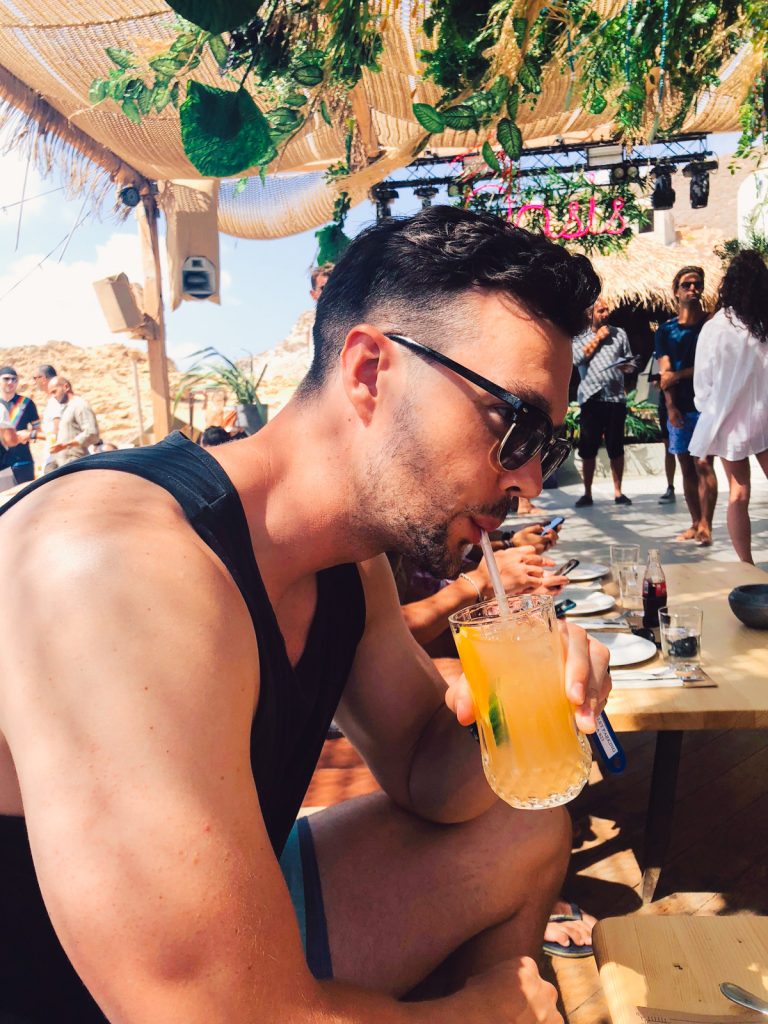 Pepper Souvlaki & More – cute little space tucked away in Mykonos town, with amazing souvlakis and incredible potatoes.
We ordered chicken pita slouvakis and BBQ potatoes.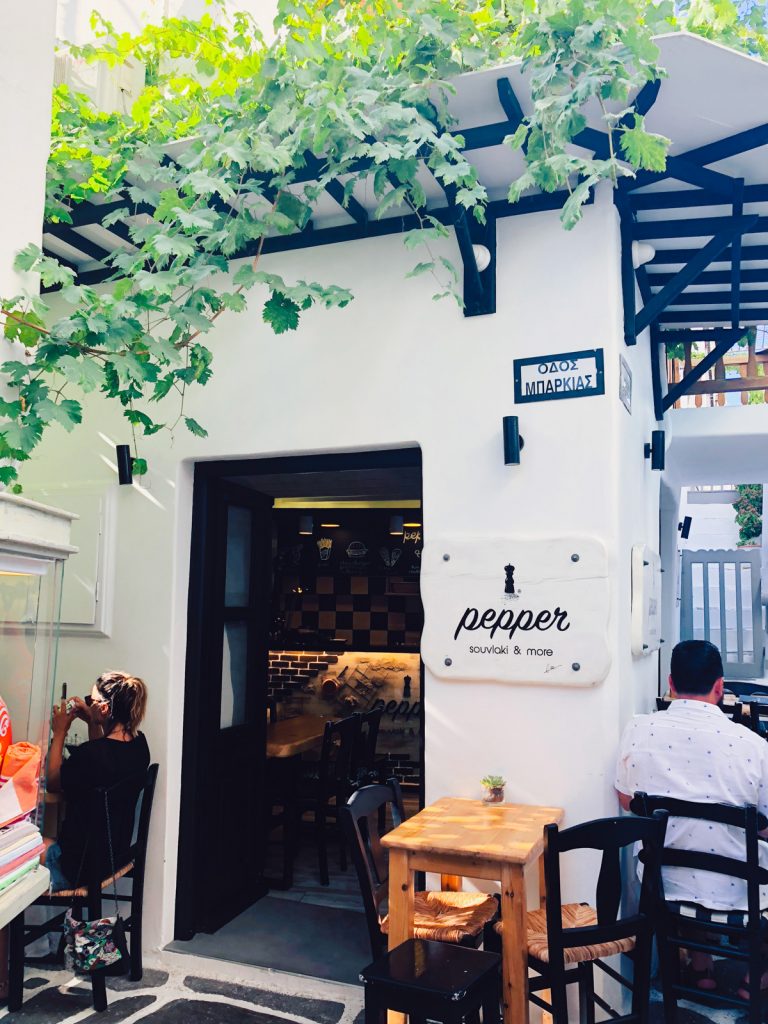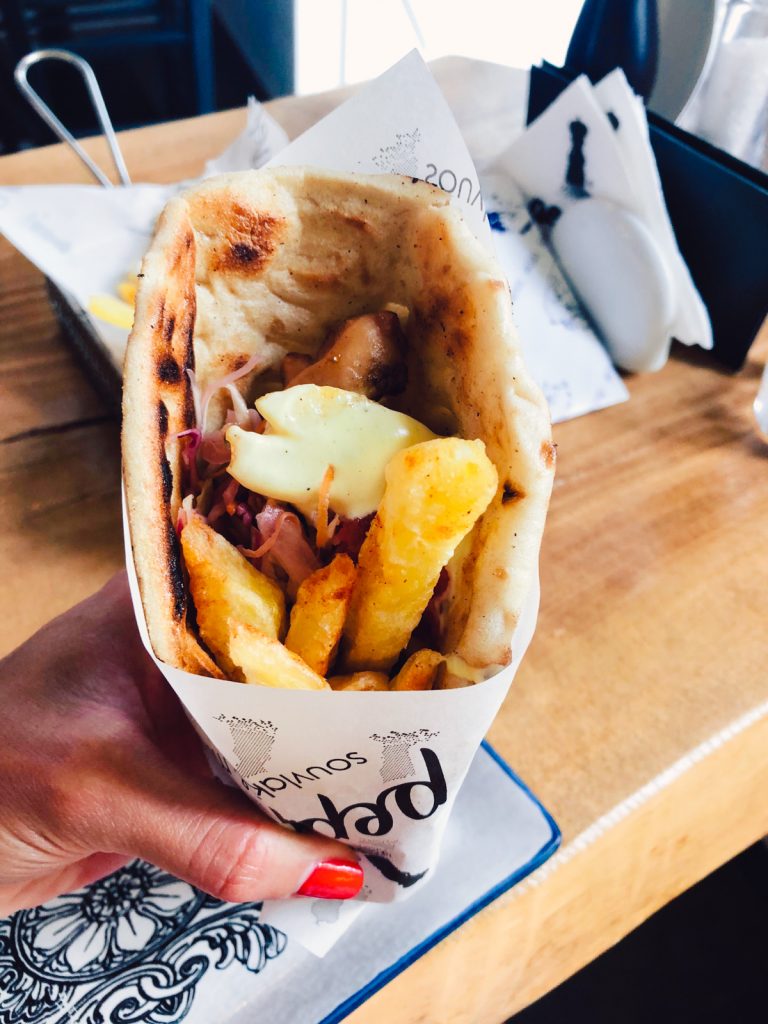 D'Angelo Restaurante – cute Italian restaurant located near the shops in the old town of Mykonos. Fast service and reasonable prices.
I ordered a Greek salad, my husband had pasta with chicken. Fresh tasting and delicious!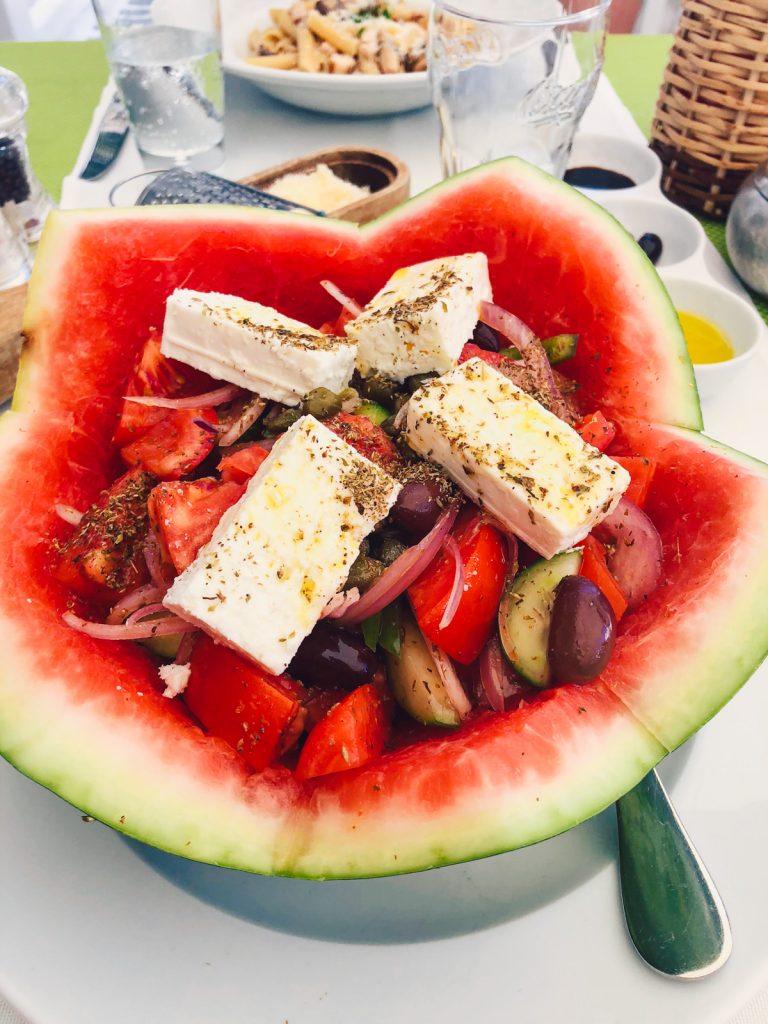 Bandanna – cozy, family owned Italian restaurant with a great view of Kalafati beach.
We loved everything about this place. The location, the ambiance, the people, the food. It was a great experience. We ordered salads and pizza to share.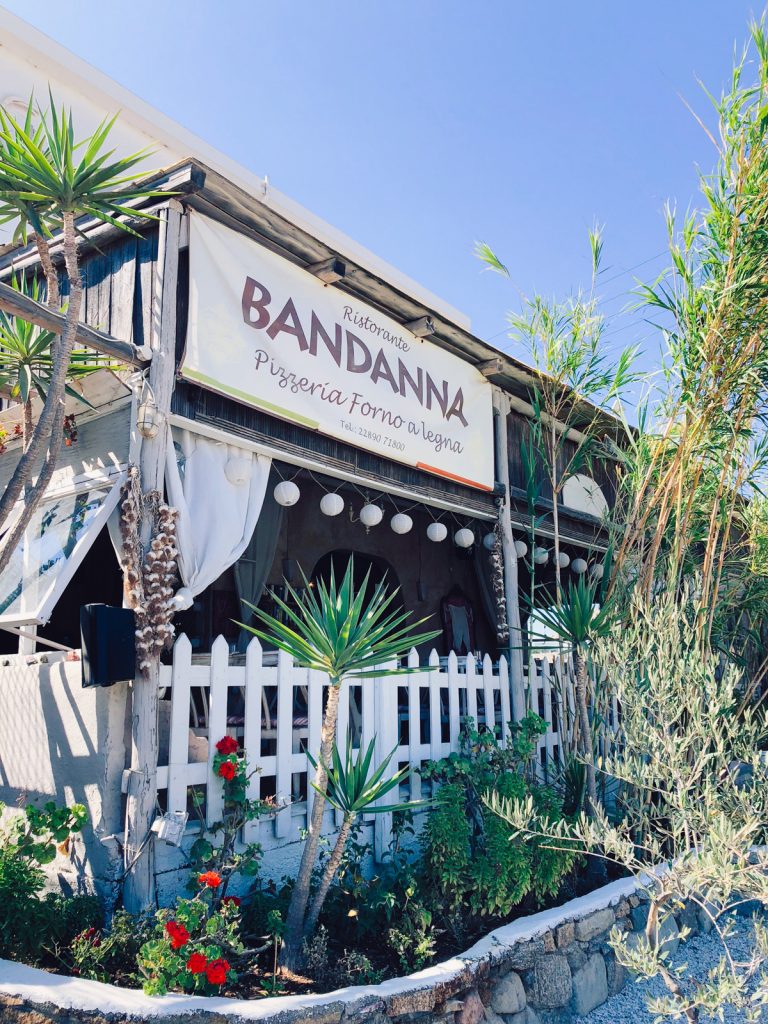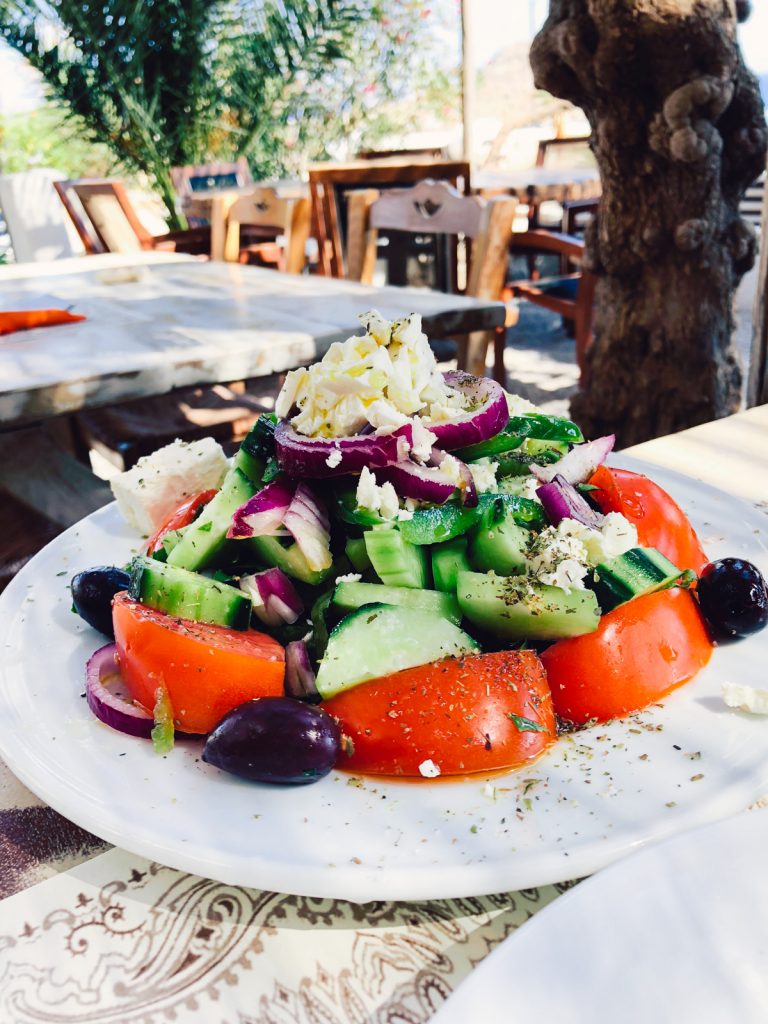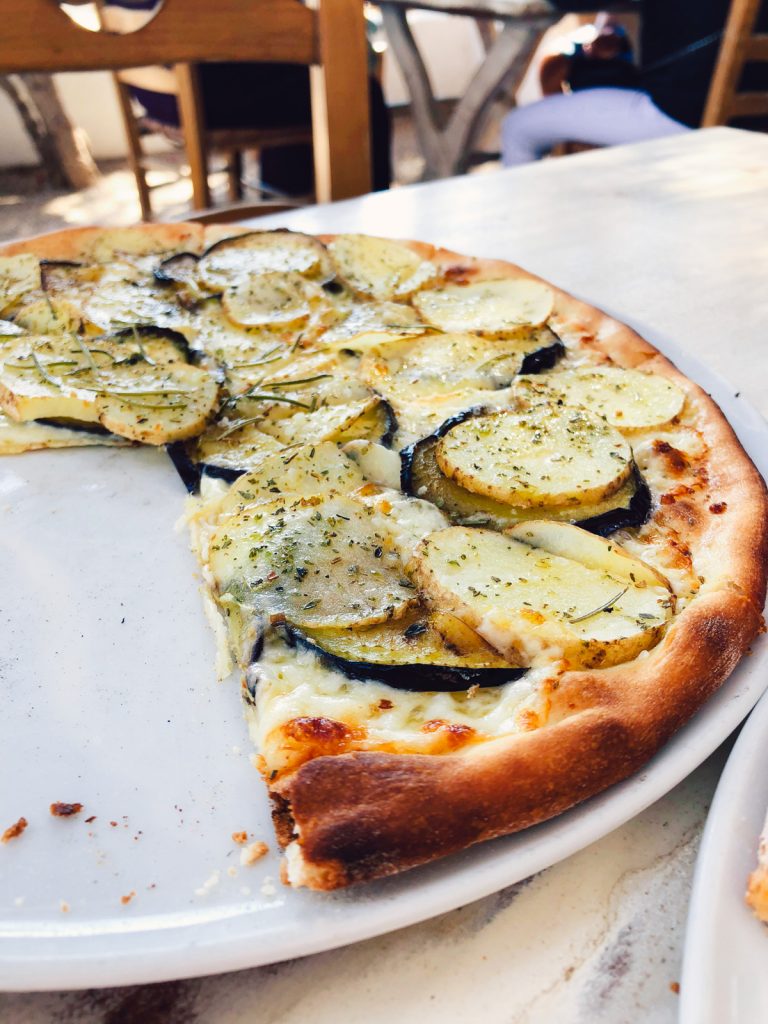 Ninnolo – traditional gelateria with delicious flavors and very generous portions.
We got gelato and coffee here. Super good. Highly recommend!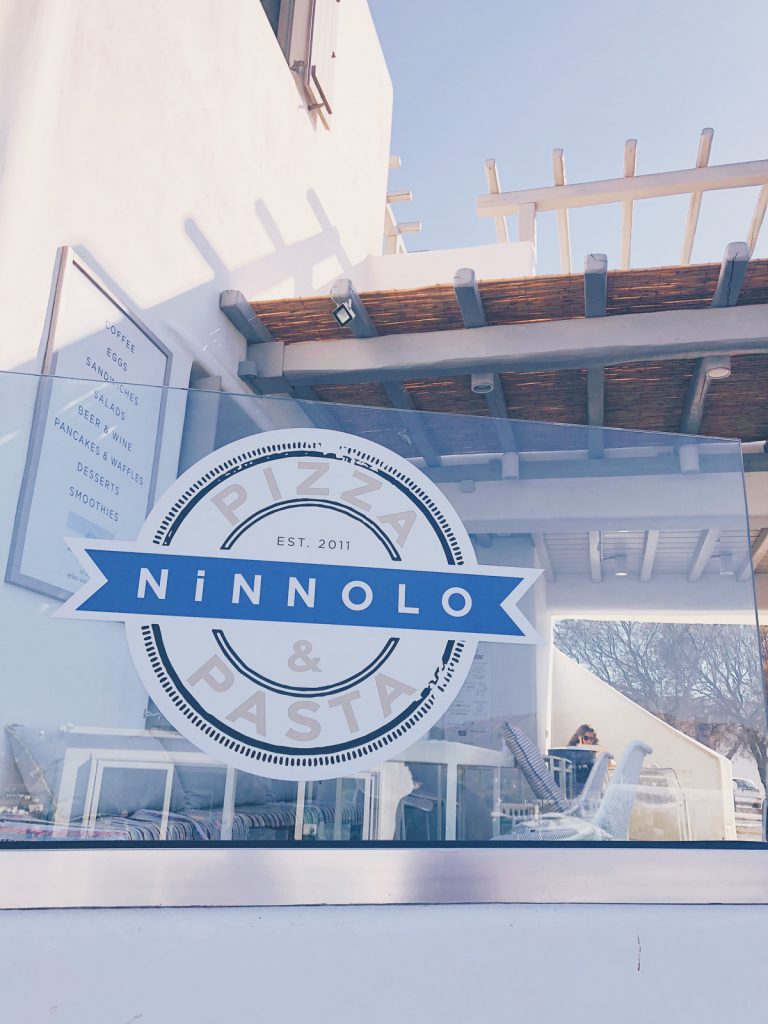 I Scream – cute Gelateria and coffee shop in old town Mykonos. Great service and ambiance.
We came here multiple times to get coffee and gelato. They have really awesome flavors, all delicious and creamy!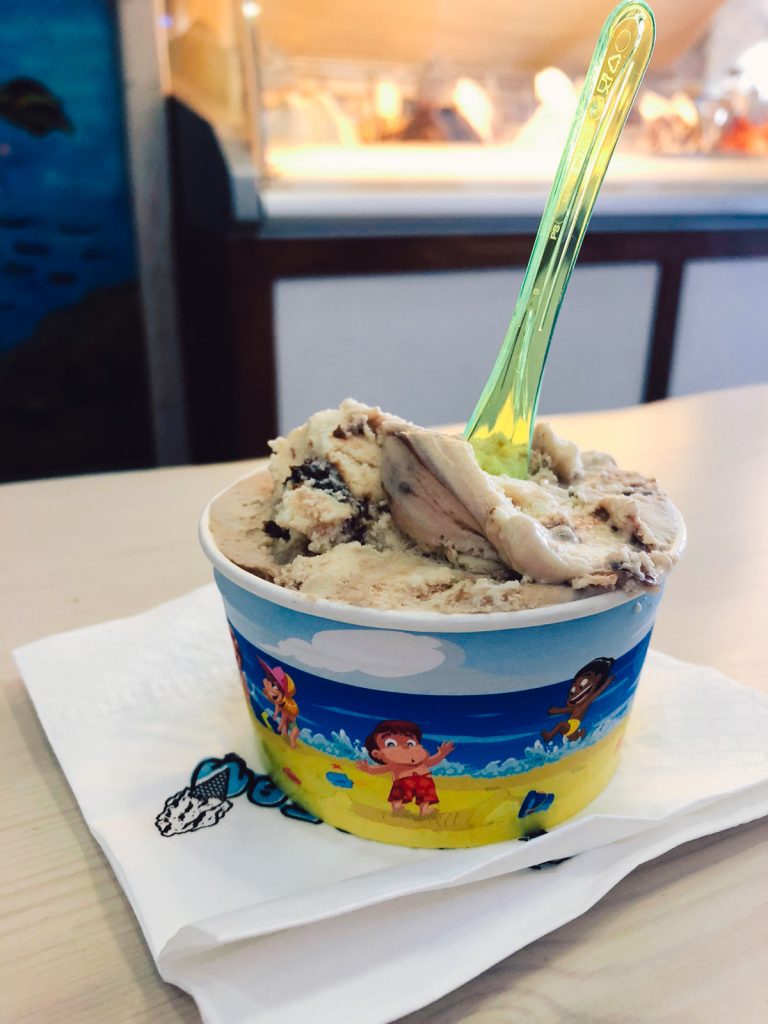 Restaurants that came highly recommended, but we didn't get a chance to go:
Kiki's Tavern – Traditional Greek food and flavors right by Agios Sostis beach. They say the wait can be a little long, but it's well worth it. People love the chicken filet stuffed with feta, the grilled fish and the salads.
Koursaros – fancy seafood/sushi place in old town Mykonos. Came highly recommended by hotel concierge and by friends. We were supposed to go on my husband's birthday, but ended up having too much fun at Alemagou and didn't make it on time for our reservation.
Matsuhisa – sushi restaurant created by the same chef at Nobu. Located by the pool inside a boutique hotel, and said to have very unique seafood dishes.
---
Notes
Note 1: Summer was really hot and crowded, and even though this time of year works great for us to travel due to birthday celebrations, if I could chose again, I'd probably go in June or September/November; less crowds, cheaper prices and cooler weather.
Note 2: Be sure to drive carefully. Since its a party island and people start drinking early in the day, many of them get in their cars a bit drunk to go to their next destination. My suggestion to you is to be very aware, not only of where you're going, but of where other's are going.
---
Hope you guys enjoyed my Mykonos Guide. We had so much fun exploring and driving around the island, tasting its flavors, meeting new people and being a part of its fun culture. The vibe is wonderful and the beaches are gorgeous, and its an overall great experience!
If you have any questions, please feel free to ask via the comments below; I try to respond to all comments as soon as possible.
PIN ME!