This Greek Chicken Salad. 🙌 It's where it's at, guys.
Preston and I came back from Greece about a year ago, and we have been obsessed with the country's flavors ever since. To the point that whenever I'm not sure what to make for dinner, I 100% go for a Greek dish.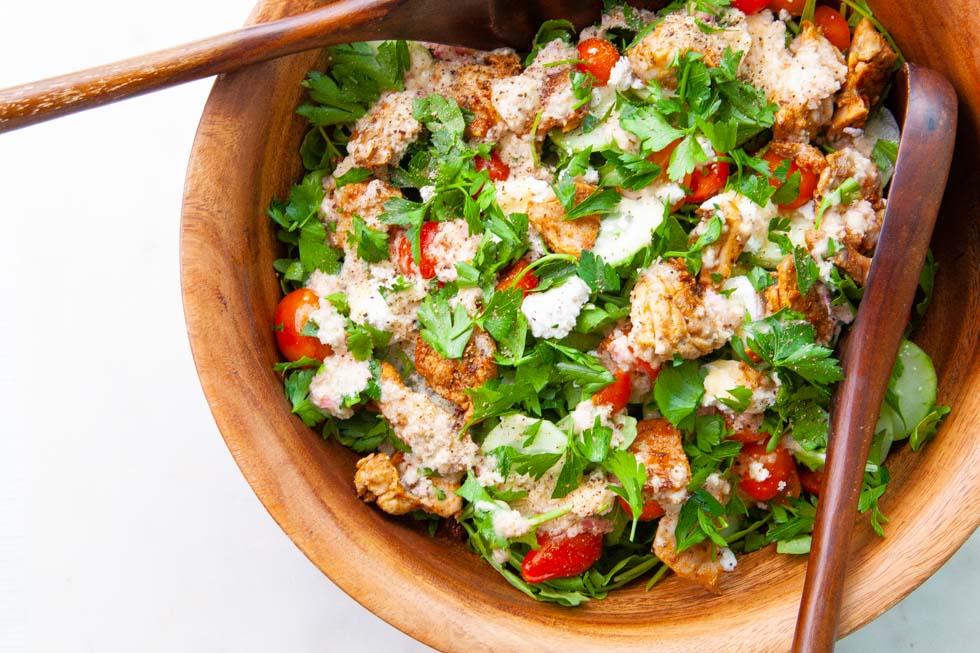 Which is where this Greek Chicken Salad came to be.
Its inspiration came both from a Greek restaurant in San Francisco and from the many dishes we enjoyed during our trip to Athens, Santorini & Mykonos.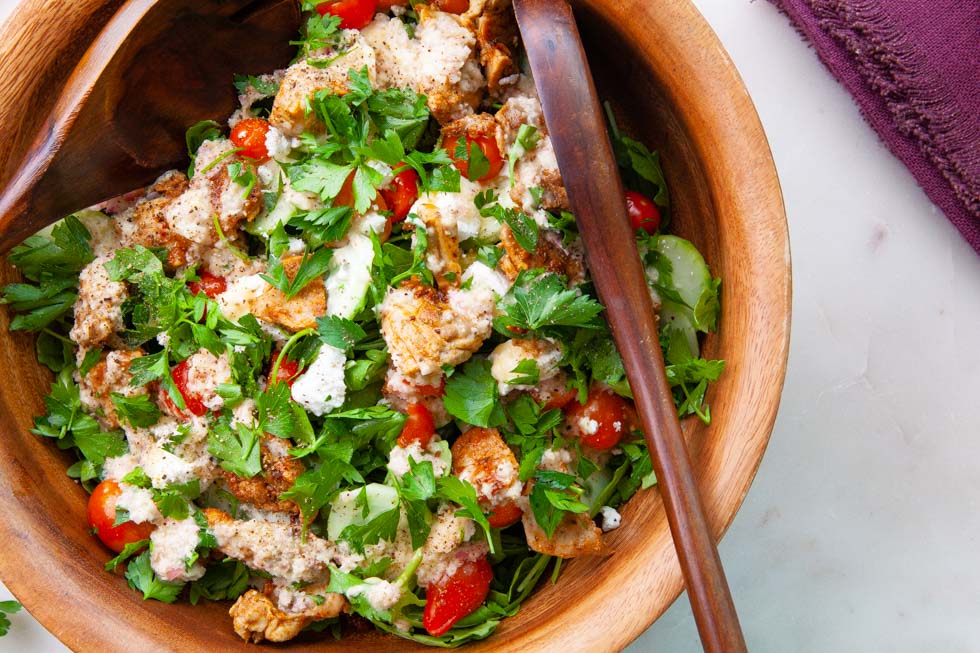 The salad is fresh, packed with flavor and super healthy. You've got all three macros" protein from the chicken, healthy fats from the cheese and oils, and fibrous carbs from all the veggies.
I love the different textures and colors the various veggies in the salad bring to the table:
The tomatoes add a nice punch of color
The cucumbers add crispness
The parsley adds a ton of great, mild bitter flavor
The arugula adds a herbaceous, peppery flavor
The pickled onions…oh man, those onions…they're what Greek dreams are made of. The video + recipe below will teach you how to make the pickled onions, I gotchu covered, girl!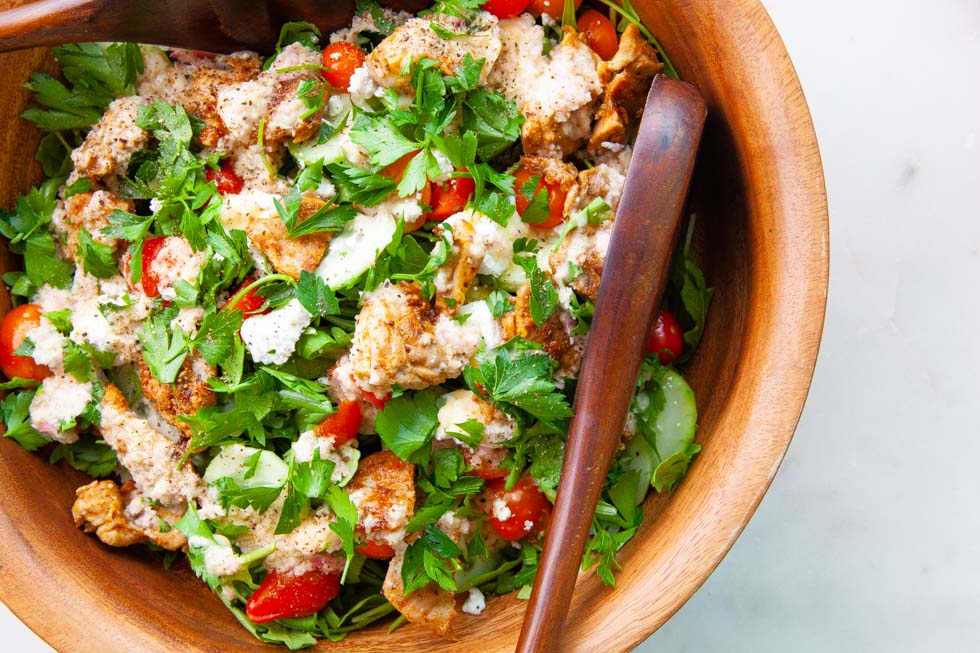 All of these veggies work together beautifully, you will not be disappointed. Trust me. Especially with the well seasoned pan roasted chicken + that Oregano Vinaigrette the recipe also calls for. Dayyyyum. 🤩
Healthy Greek food heaven. Who else is in?!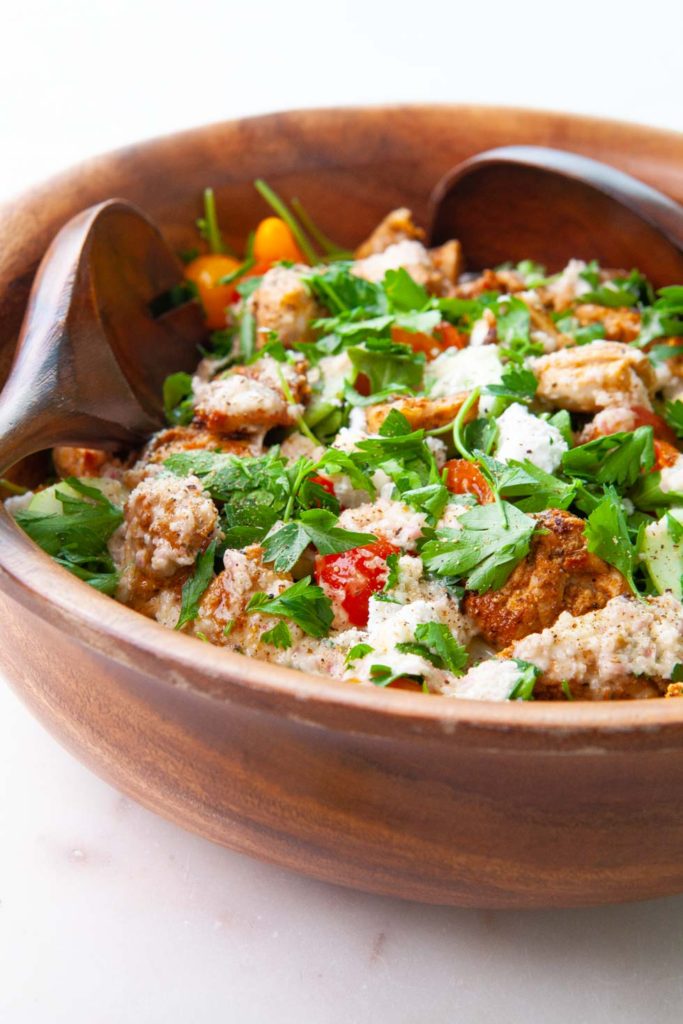 You can dish the recipe up in a large salad bowl and bring it to the dinner table to allow everyone to grab as they please…ooooor you can serve it in individual salad bowls, to make it extra cutesy and easy for your guests.
My suggestion is: serve it in a large salad bowl when its a casual dinner with your family, and in individual bowls if you're having friends over for a dinner party.
Either way, results are going to be delicious and y'all are gonna be happy people!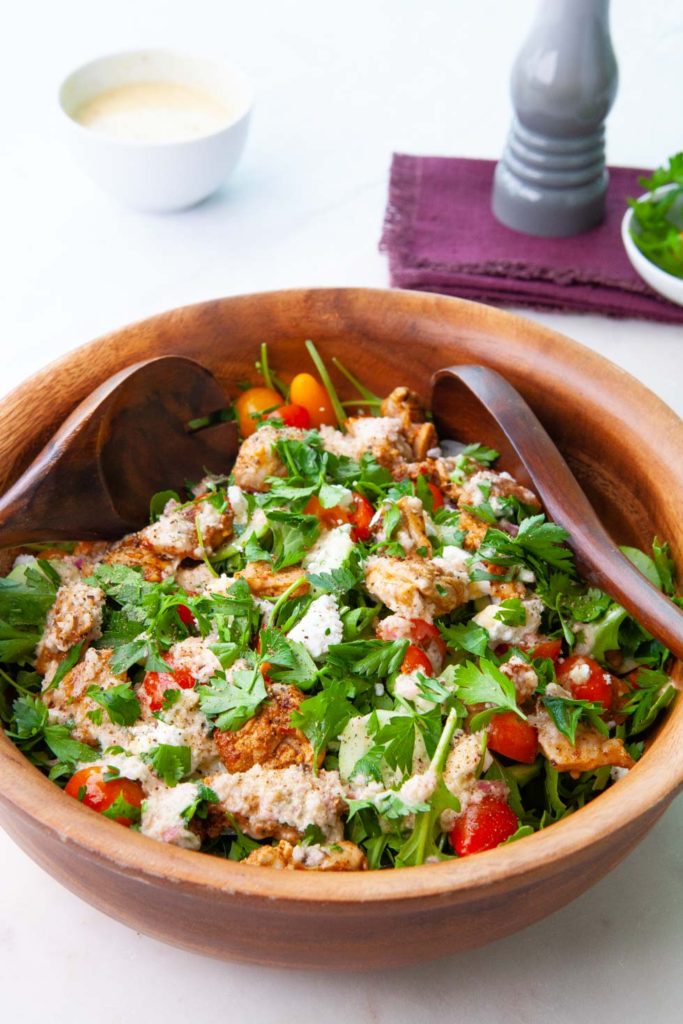 Savory, fresh, colorful, customizable (sub the arugula for other greens: mixed greens or spinach…add other greek-friendly ingredients: bell peppers, olives, etc.), and usually contains goat milk feta cheese, which is basically the love language of the Greek.
If you're not intolerant to dairy, 100% do it!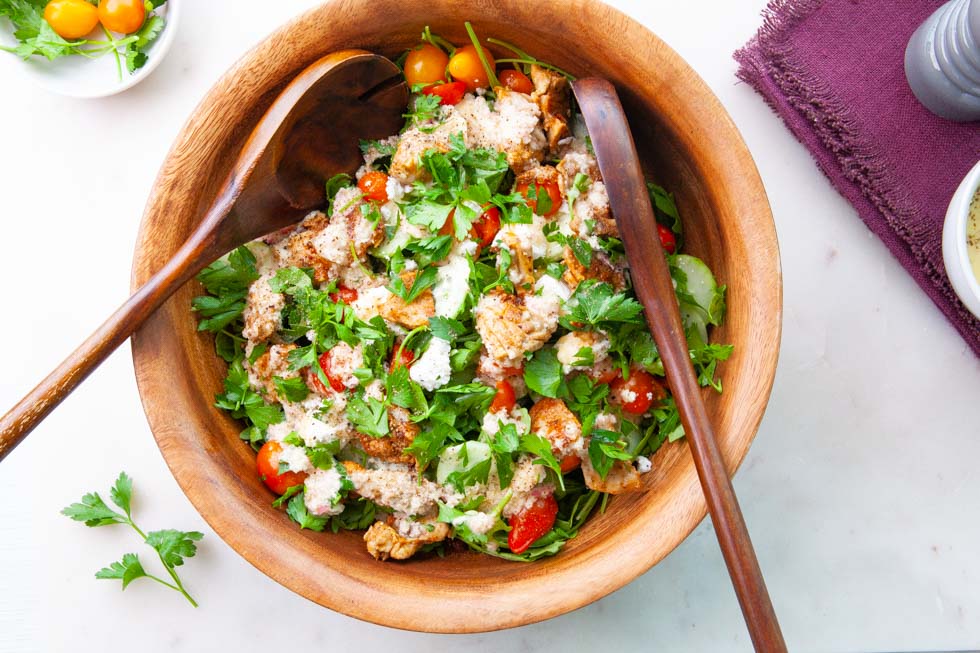 Start by preparing your onions and then move on to make your vinaigrette. These two keep fresh in the fridge for about four days, so you could make them ahead of time!
Next, prep your veggies, and then sautee. that. chicken.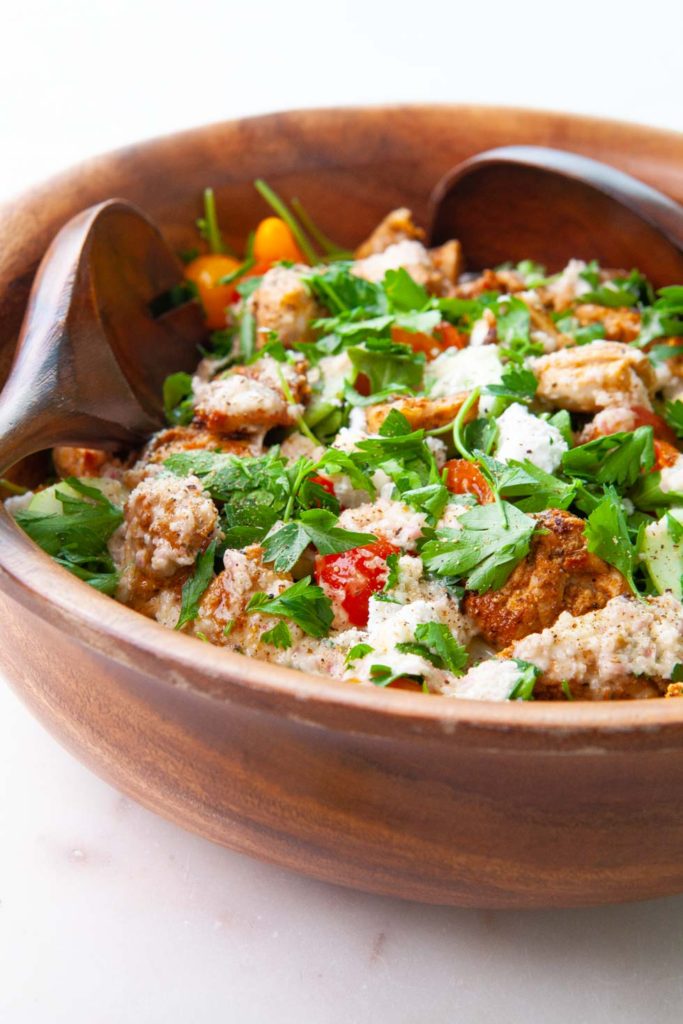 Greek Chicken Salad
Easy to make Greek- and Mediterranean-inspired chicken salad with feta, pickled onions and lemon vinaigrette! A healthy, satisfying entrée for lunch or dinner.
Ingredients
For the pickled onions:
1 red onion, thinly sliced
1 cup warm water
½ cup apple cider vinegar
1 tbsp. sugar
1 ½ tsp. salt
For the Oregano Vinaigrette:
Salt to taste (about ½ tsp. – 1 tsp.)
For the chicken:
1.5 lbs. skinless, boneless chicken thighs
⅓ cup extra virgin olive oil
2 lemons, juice of
4 garlic cloves, peeled and minced
1 tsp. salt
½ tsp. black pepper
1 tsp. mild paprika
1 tsp. cumin
½ tsp. oregano
½ tsp. red pepper flakes
For the salad:
4 cups arugula
½ cucumber, peeled and thinly sliced
½ cup cherry tomatoes, halved
⅓ cup chopped parsley
Feta cheese, to taste
Instructions
Prepare onions: whisk water, sugar and salt in a large mason jar until dissolved. Place onions in the jar and pour apple cider vinegar in, close jar with lid and shake until combined. Let jar sit in refrigerator for 1+ hour, or until serving time. Drain onions before using.
Prepare vinaigrette.
Prepare the chicken: combine all ingredients in a large bowl and toss to coat. Cover bowl with lid and refrigerate for at least an hour before cooking. Place skillet over medium high heat; cook chicken for 6 minutes, each side -- I like my chicken a little extra charred and crispy so I moved my chicken around in the hot skillet for an additional 2 minutes or so. Set aside.
Assemble the salad: place arugula in a large salad bowl; add in cucumbers, tomatoes, pickled onions, parsley, feta cheese (if using), and chicken. Drizzle a generous amount of the Lemon Vinaigrette, and add additional parsley leaves and freshly cracked pepper if desired. Enjoy!
Notes
- This salad would be bomb with pitted and sliced Kalamata olives. If you have some handy, definitely add a few!
- You can make both the pickled onions and the vinaigrette a few days in advance, this could save you some time when it comes to assembling the salad!
- Assemble salad and add vinaigrette just moments before serving. Salad will be the most fresh when assembled moments before!
PIN ME!