This guide is here to give you helpful tips as to how to enjoy Barcelona to the fullest during the hot Summer months!
I've been to Barcelona during winter, to spend Christmas and New Year with my family, and during summer, to use it as a hub to travel around Spain with my brother, and both experiences were amazing and unique.
And even though I liked my Barcelona stay during the winter months a bit more, summer time in the city was magical as well.
I loved having longer days to walk around, being able to enjoy those warm balmy nights, going on fun road trips to see new places, waking up early and going on day-trips close by, cooling off with a cold white wine or beer in the afternoons, going in the water to enjoy a day under the sun…all so, so nice. And unique to summer.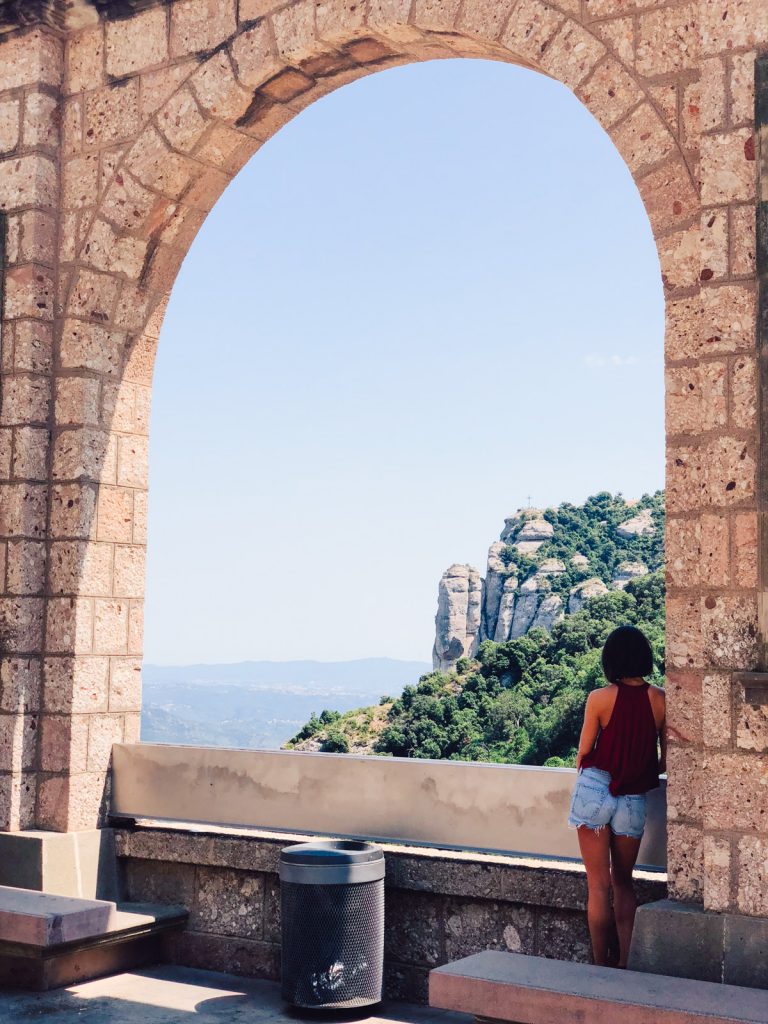 Some of my favorite summer time Barcelona perks:
Earlier sunrises
Later sunsets
Longer operational hours for tourist attractions
Packing lighter clothes
Beach days
Day trips
Road trips
So let me give you some helpful tips I learned during my travels, that I think will come in handy when planning your next trip to Barcelona.
---
HELPFUL BARCELONA TRAVEL TIPS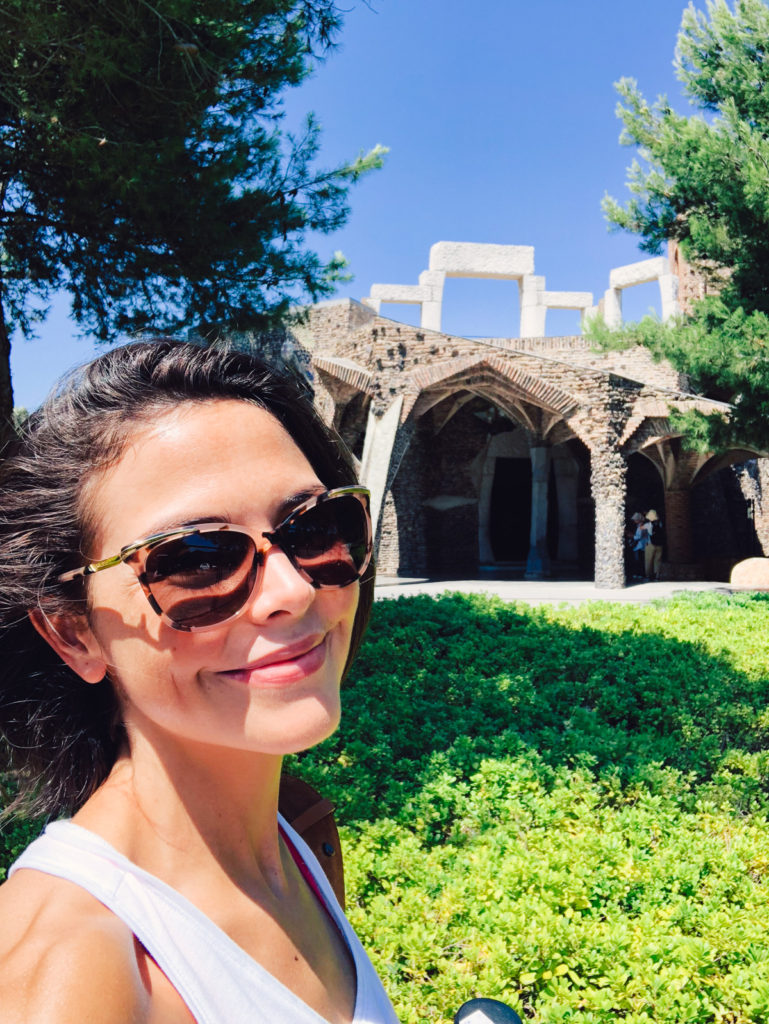 I read the Rick Steves's Spain travel book prior to going to Barcelona. It gave me some great history and insight as to Barcelona's culture and important sights. I read the entire Barcelona section in depth, highlighting the places I wanted to visit the most.
I also followed various travel bloggers who currently live in Barcelona, or have recently traveled to Barcelona, for some good insight and info. You can either go to their blogs to read about their travels, or follow them on social media (Instagram, etc) to check out the cool spots they've seen. This will typically give you some good ideas of fun places to see and cool things to do, that you wouldn't normally find in travel books.
Below you'll find the details of where we stayed, what we saw and where we ate during our Barcelona winter stay.
---
HOTEL
I chose to stay at the same boutique hotel we stayed at during our Barcelona Winter vacation: Europark.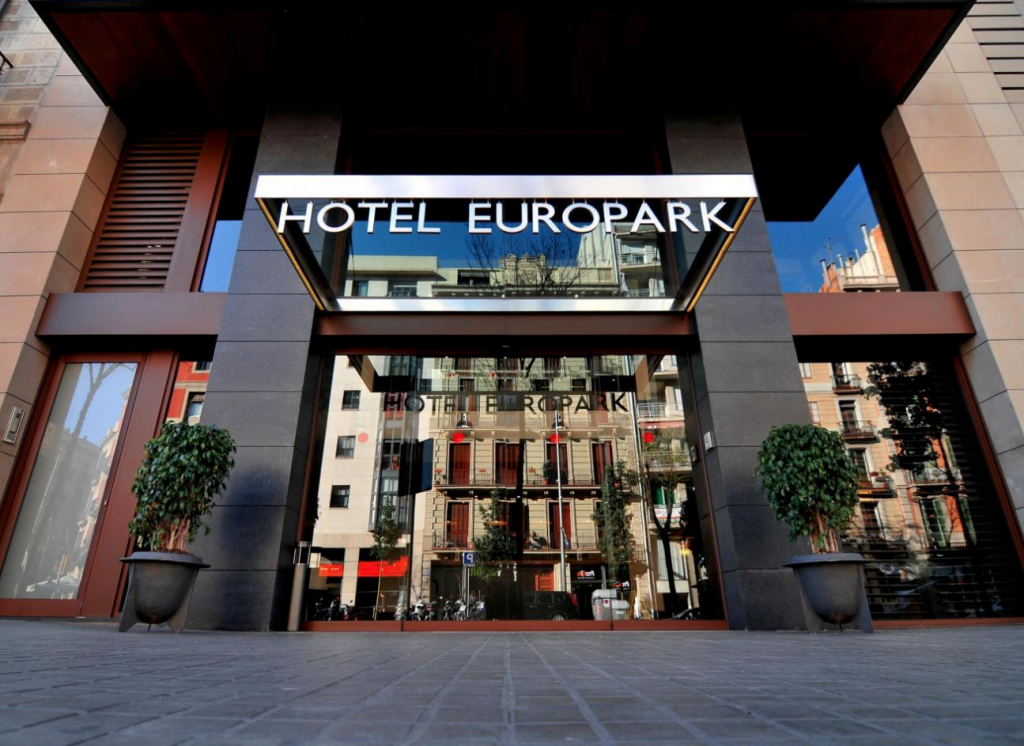 It's a 3.5-star hotel that feels like a 4-star due to its amenities, comfort, decor and the wonderful treatment you get.
It's well located, it's close to one of my favorite gyms in Barcelona (Áccura Bruc, about a 3 minute walk), it's comfortable, it's clean, well decorated, and it's safe.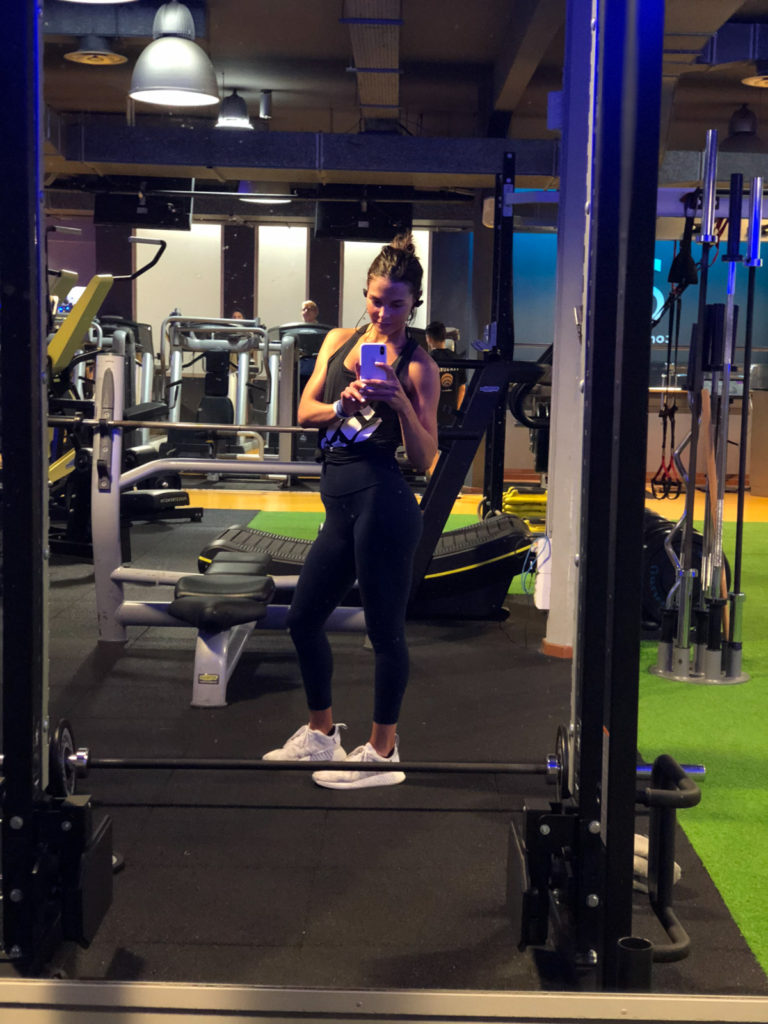 Safety and familiarity were two things that were really important to me while selecting a place to stay this second time around, especially since I was staying at the hotel by myself while visiting my brother in Barcelona (my husband couldn't come with me this time).
Some other things I love about this hotel: close to a few markets (grocery store & an actual market, about 2 minute walk to both), easy walk to various Barcelona landmarks, close to restaurants, spacious rooms and bathrooms, DELICIOUS breakfast buffet, and comfortable.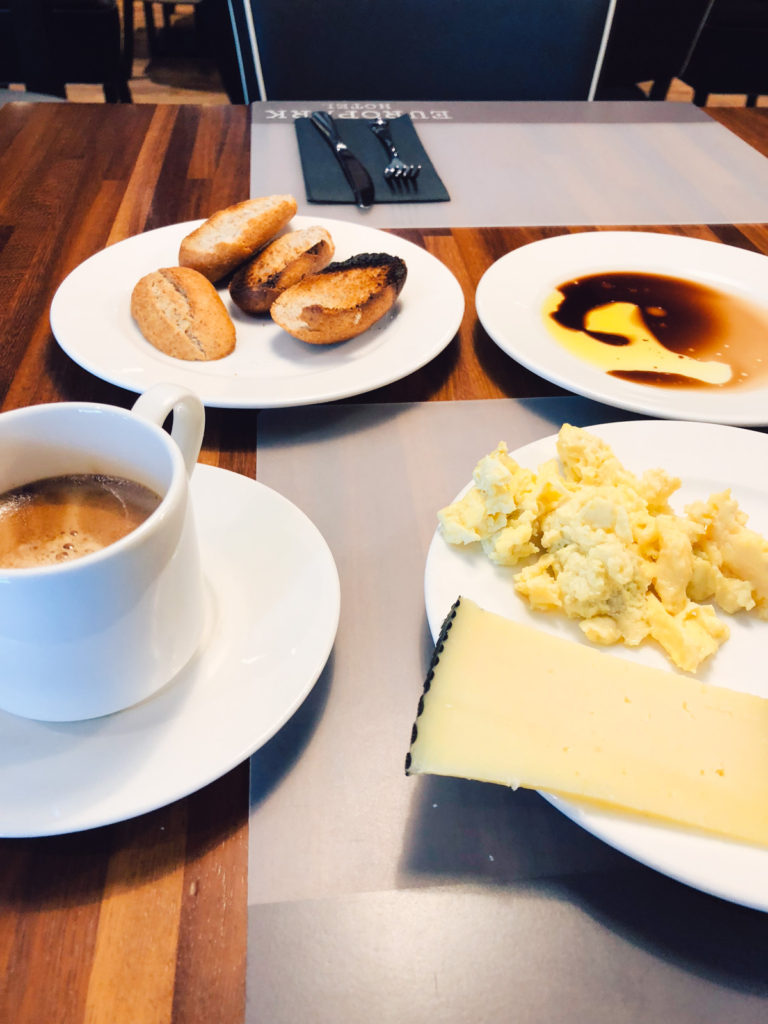 The rooms were very spacious and they had great little amenities that made our stay uber comfortable: coffee maker, safe, bath robes, hair dried, nice toiletries. The hotel houses a business center, a small gym, and a pool with a little rooftop area to get some sun and order food/drinks.
It has a restaurant on the second floor with a delicious breakfast, and some great lunch and dinner options.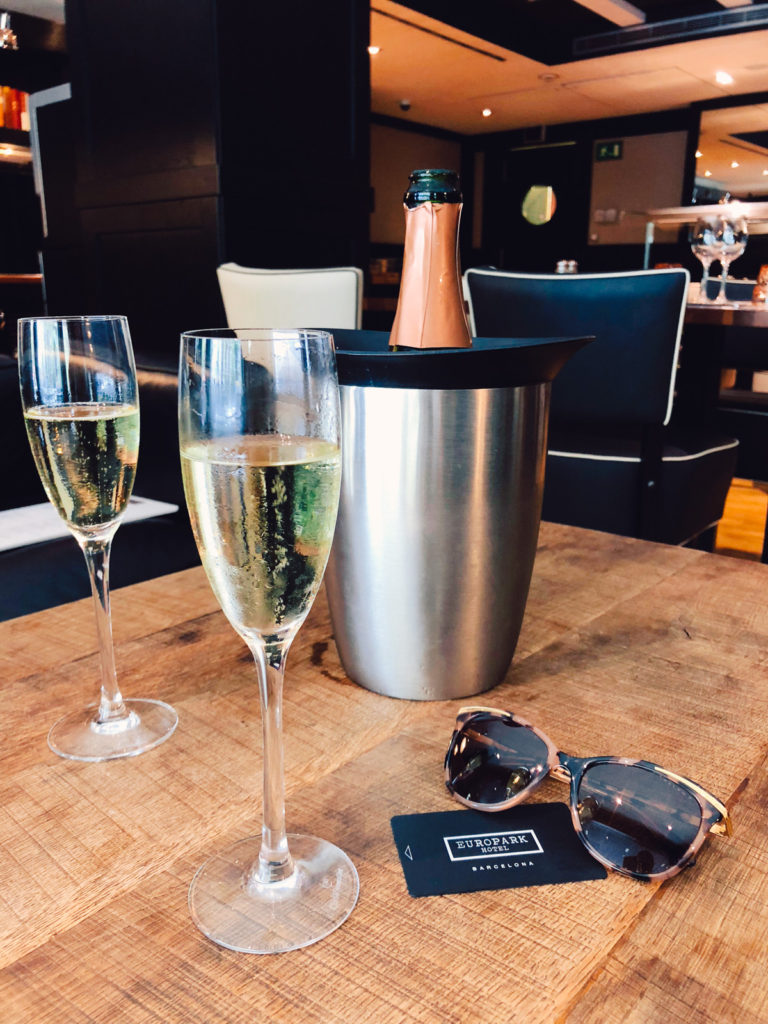 Also, there's a good laundromat right across the street from the hotel, which is super convenient if you're traveling light and need to get a few things laundered, and a convenient store where you can grab waters, snacks and whatever else you may need. I visited both of these quite frequently!
This hotel is a great value for your money and it makes for a really nice stay in the city.
---
SIGHTS
Even though I've shared a lot of must-see sights via my Barcelona Winter Guide, I have a few other places I highly recommend you check out when visiting during the summer.
I recommend you open both of my guides simultaneously to get a full view of all the cool places I recommend, and then decide what you want to see based on your preferences. With these two guides, I cover what I think to be the most impressive sights in Barcelona, however, the city has much to offer and there is much more to see.
Listed below are sights I visited in the summer: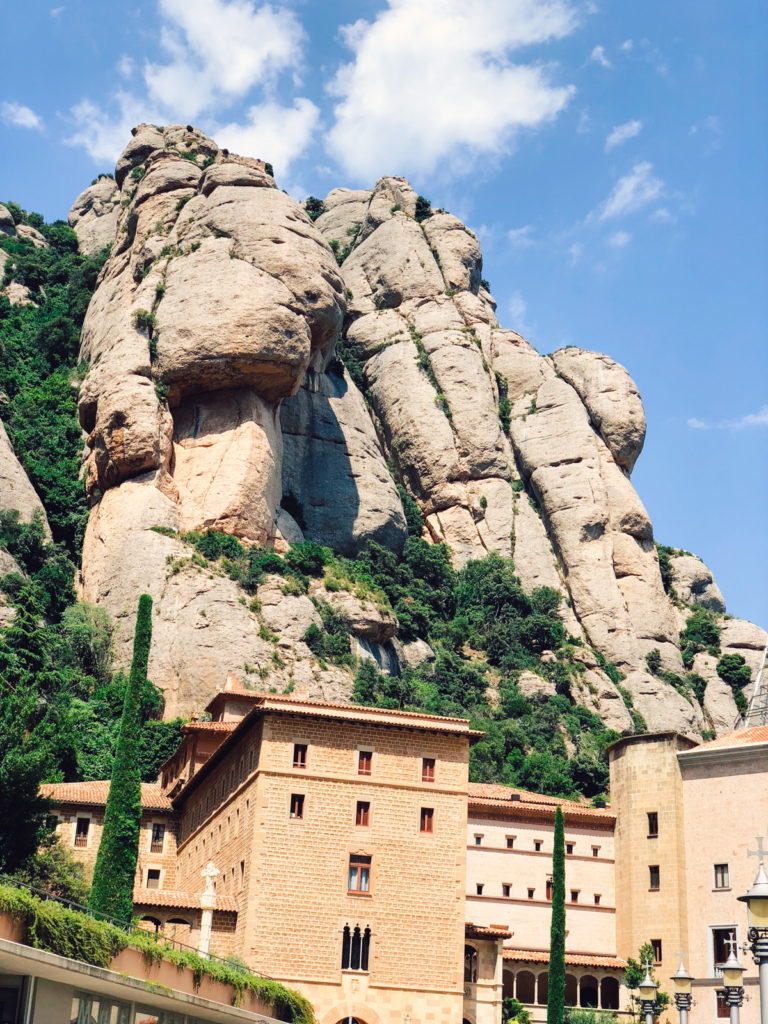 Hands down one of my favorite sights and day trips from Barcelona. The views are breathtaking and you cannot leave without taking the Funicular de Sant Joan, which takes you to the top for an amazing birds eye view. You can buy funicular tickets there, no need to get these ahead of time.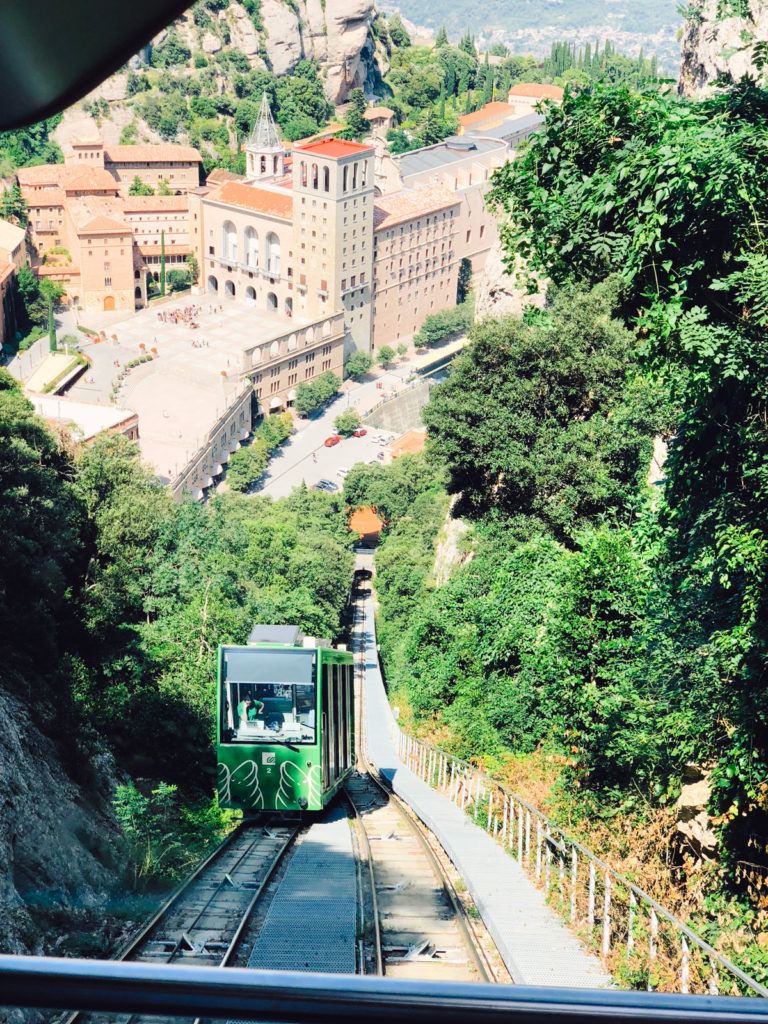 Here's a useful guide that can give you some insight as to how to get there by train from Plaça España rail station.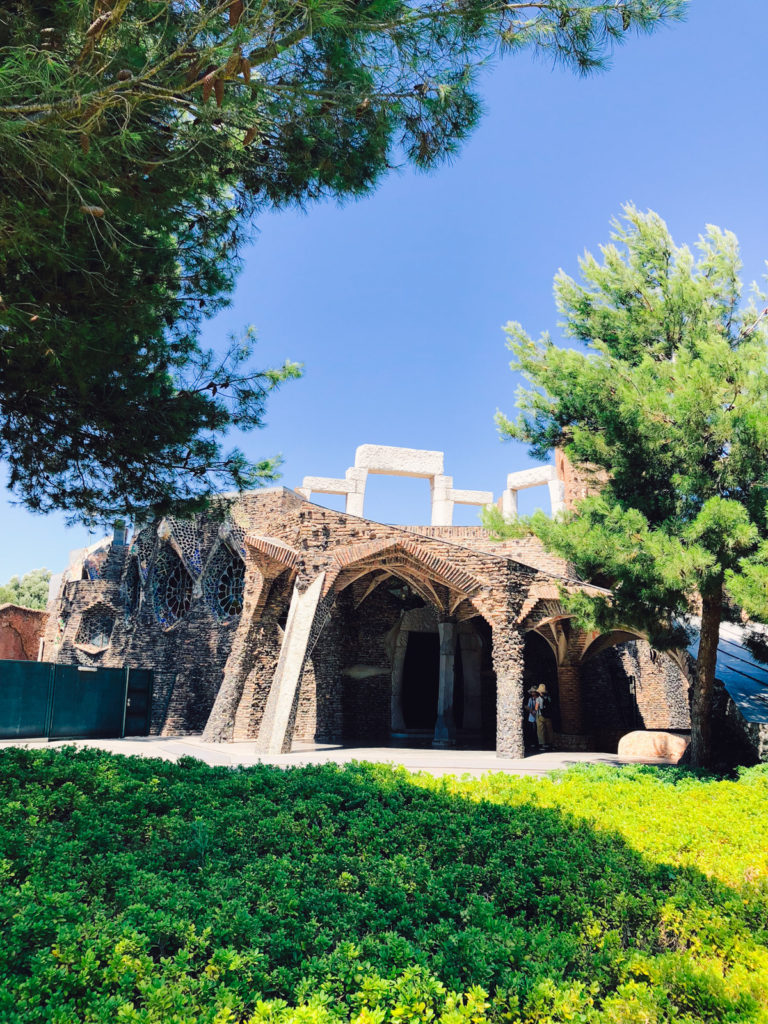 This is another awesome day trip from Barcelona. Its a bit easier to get to than Montserrat and a bit closer too. It is a small colony designed by Gaudí, that is very charming and tranquil. You'll feel peaceful and at ease while visiting, for sure. Plan on brining your own water and snacks, as they hardly sell anything there.
You don't have to buy tickets ahead of time, you can buy them there easily and without long lines. They also have audio tours you can get for a few euros, totally recommended.
Be sure to go in Gaudís Crypt (the church), it's structure is beautiful and very unique!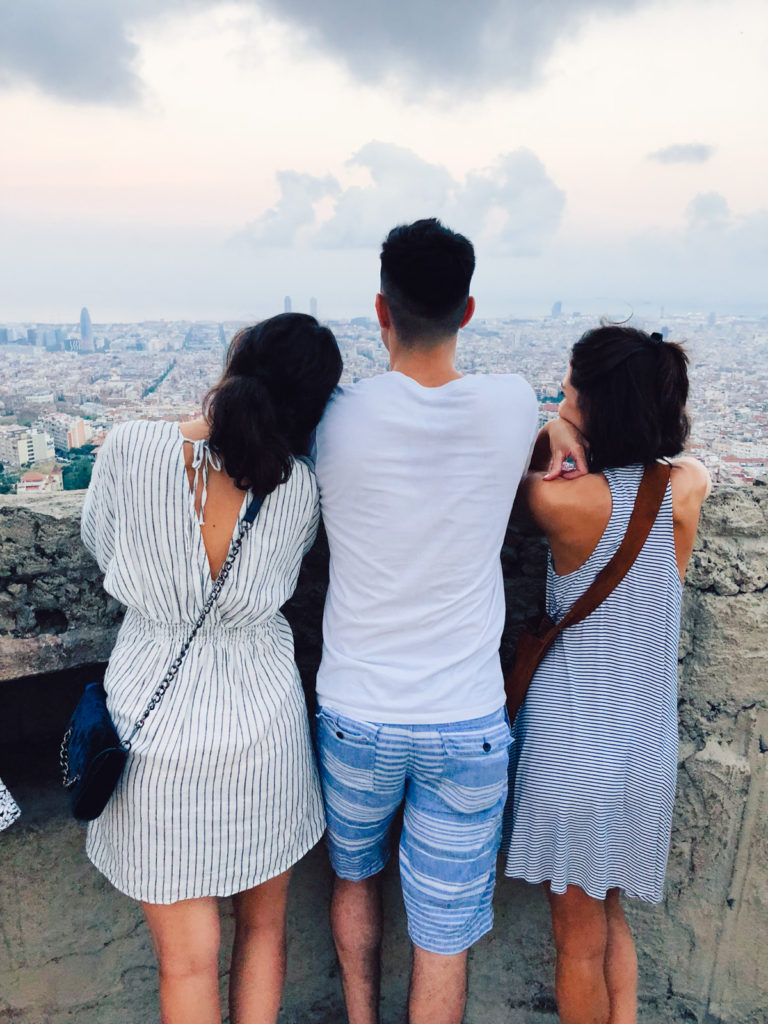 This is something you cannot miss. Period.
It's a steep climb and it can be very hot in the summer. I recommend you do what we did, and climb to it an hour or two before the sunset, so that the temperature is a bit cooler and so that you can catch beautiful sunset views from the top. We went up there after a nice dinner, so we welcomed the exercise and were happy for challenging physical activity.
Be sure to bring a large bottle of water with you, you'll be happy you did, and also your phone or a camera to snap gorgeous pictures of yourself with that view.
This activity is 100% free, so perfect for traveling within a budget!
If you're traveling solo, especially as a woman, I wouldn't recommend going in the afternoon/night. Go up when it's still light; it's safer that way.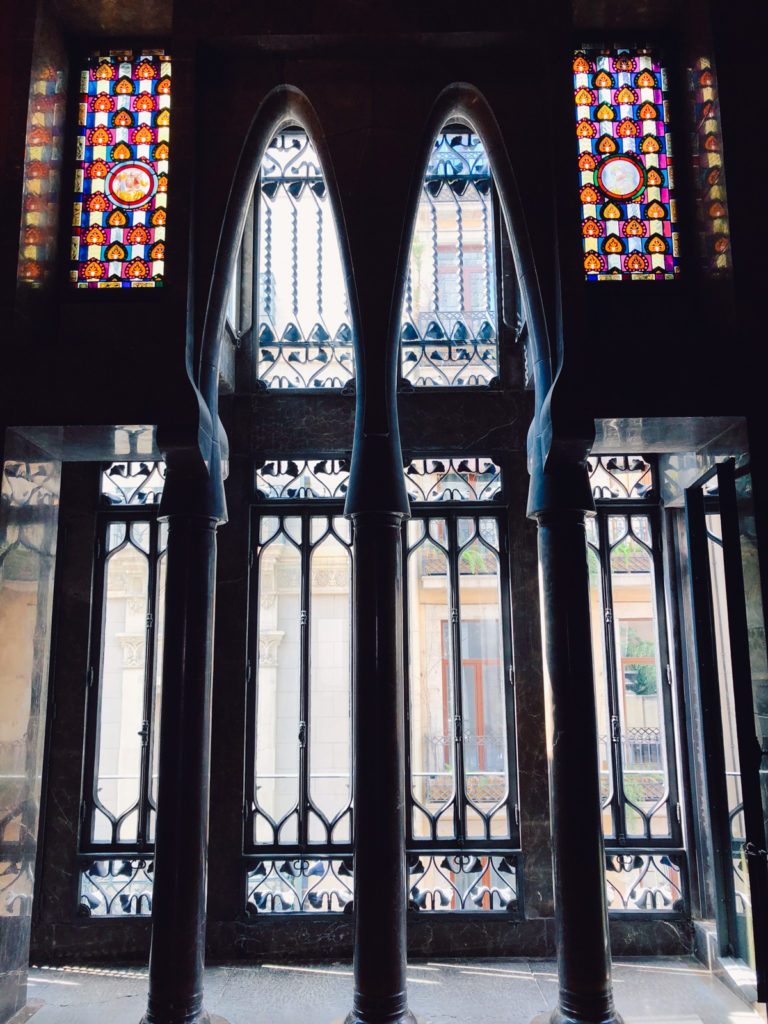 This is another Gaudí masterpiece. Constructed for the Güell family, where they actually decided. You can go in and see how they lived, where they dined, what their rooms looked like and how the wealthy lived in the old Barcelona days.
It's super cool. I loved getting a peek and imagining how it must've felt to live in that small palace back in the way.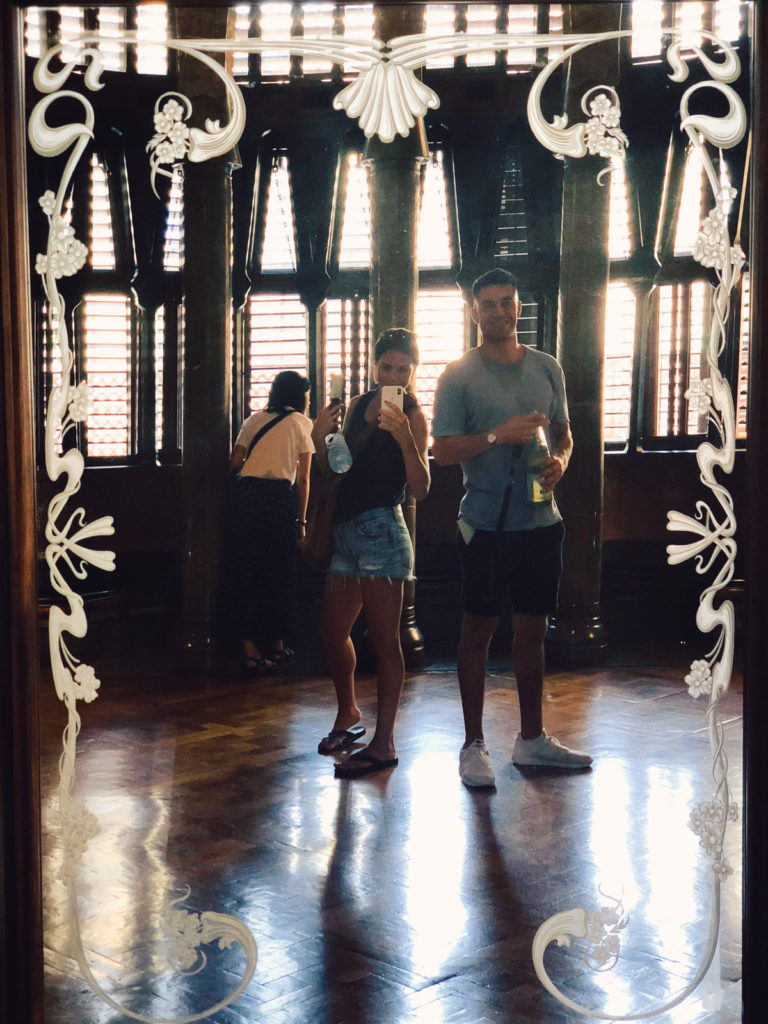 There is no air conditioning inside, so prepare to sweat; might be better to go to this one in the winter or colder months.
You can buy your tickets there, no need to purchase them ahead of time.
5. Playa de Bogatell

We came here twice in the summer. Not only do you have an amazing beach and ocean you can play in, but you have some awesome restaurants and bars you can indulge in after (or while) a hot day in the sun.
Bring a swim suit, towels, sunblock, plenty of water and snacks, and you've got yourself another amazing day of fun that can be very budget friendly! We hopped on a bus from our hotel and got to the beach in about half an hour. If taking a bus, make sure you plan your return ahead of time so you don't miss the last ride back.
We absolutely LOVED Moana Bar and Can Fisher restaurant, both of which are located at this beach (more on those two in my "What I Ate" section below). The bar had a great summer vibe, where you could feel the breeze and listen to some fun tunes. It was a young crowd and the servers were very nice and attentive. You can feel the sand and listen to the waves while there, it's really very close to the ocean!
And hey, since you'll be in the area, perhaps you can go explore Poblenou a bit. It was once the industrial heart of the city, and for a while, kind of forgotten by residents and tourists. However, today, Poblenou is reviving and becoming sort of an art studio and brewery hub. Might be worth the exploration, right?
6. Barrio Gotico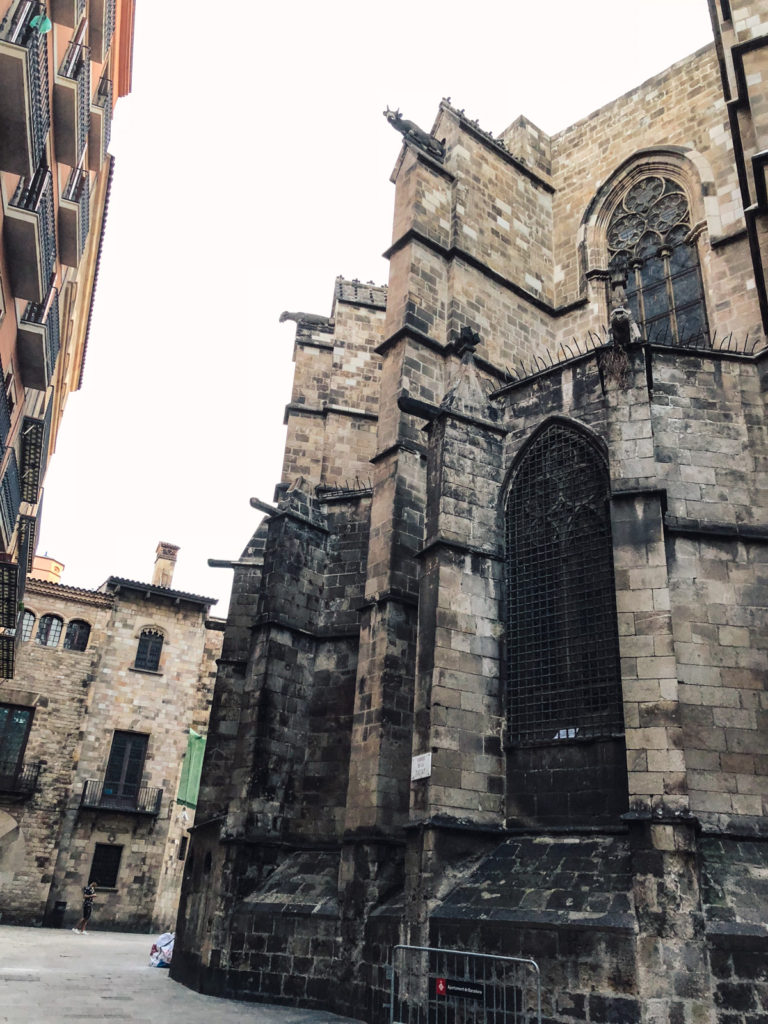 We visited this neighborhood during the winter months, but we went through it quickly since it was a bit colder. However, during the summer we made it a point to hang out here a bit more, go into the small cafes and restaurants and enjoy the cool stone-based architecture. It's such a neat place to enjoy a stroll, grab a coffee and do a little shopping.
I also found a really good waxing business here (haha, yes, I needed a wax) and so I got to actually go up in one of the buildings and experience the gothic architecture from inside as well. That was a neat little experience in itself (apart from the waxing pain lol).
One of my all time favorite spots to visit here is the Basilica of Santa Maria del Mar. I am enamored with this church, especially after reading Cathedral of the Sea by Ildefonso Falcones. Highly recommend listening to it on Audible or getting it in Kindle as a pre-Barcelona trip read (I loved it so much I got both versions, one to listen to when doing mindless work, and one to read to in bed before going to sleep). You'll get so much history from it, and it will paint the perfect Barcelona picture, which will get you extra excited to go and experience the city for yourself.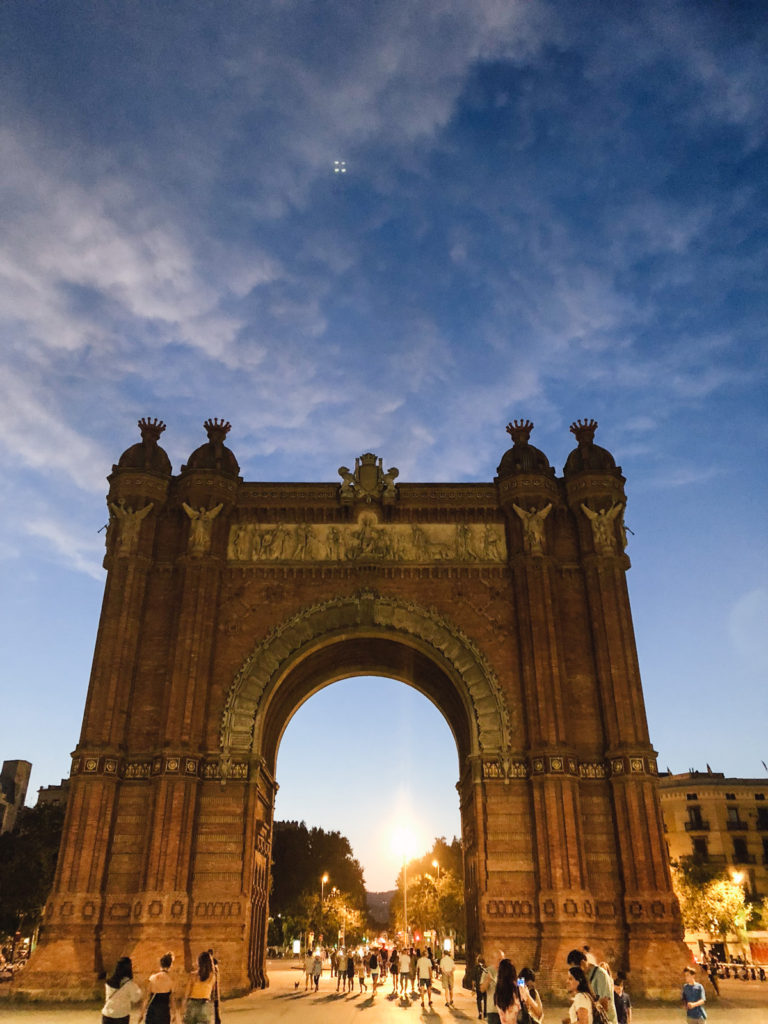 This is not the best picture of Barcelona's Arc de Triomf, but it's one of the very few I took.🤦🏻‍♀️ The good thing about the picture is that it sort of gives you a nice idea of what the vibe of the area is when the sun is going down in the summer months. Its balmy and calm, and very romantic.
You can take a stroll around it with your honey or your loves ones right before grabbing a glass of wine or cava and going to dinner; it'll set a great starting mood for the whole evening. A must see. You can probably get some awesome pictures here for the gram.
Here's a picture of what the Arc looks like in the day: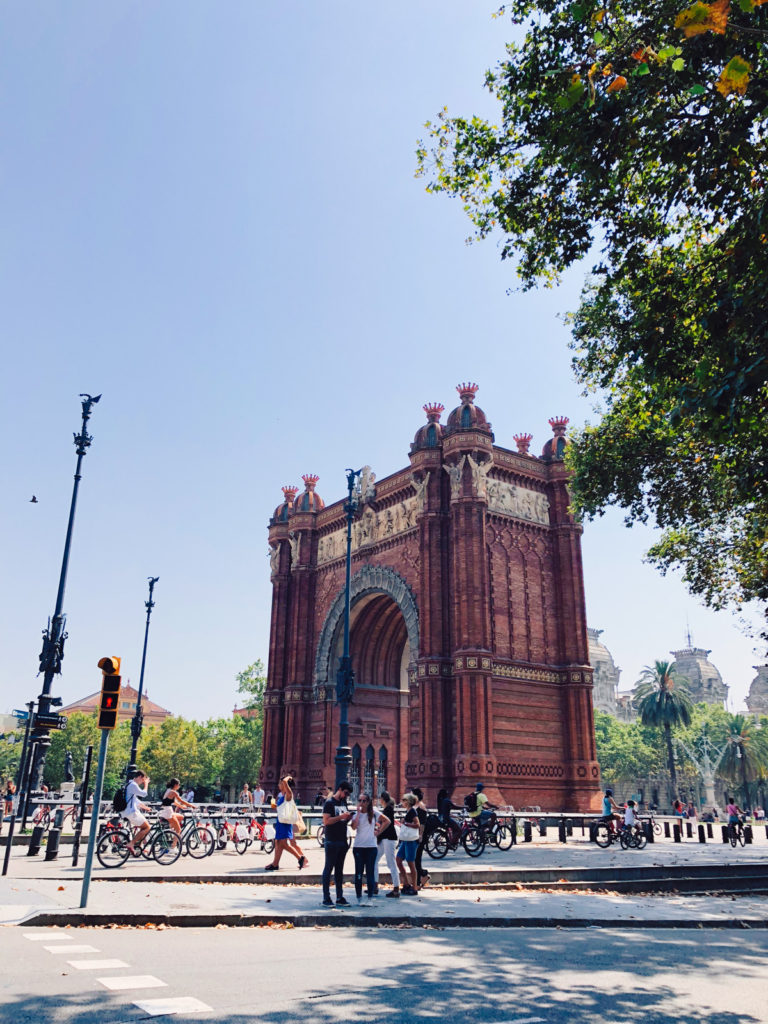 Still gorgeous and grand, approachable but mysterious. Such a pretty sight, isn't it? Not much to do there other than stare. So you can make it a quick stop in between activities.
8. Parc Güell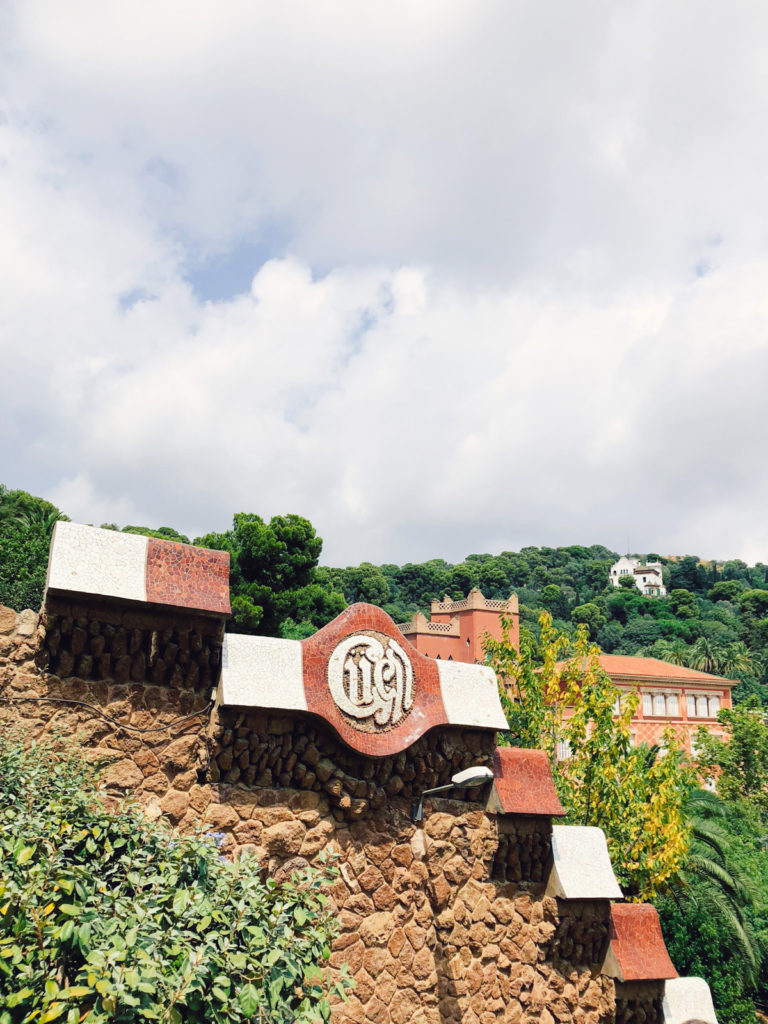 Even though I went to Gaudís Park Güell in the winter, I had to come back and experience it in the summer. It was one of my favorite places in Barcelona, so I had to check it out again and experience it in a different light.
The crowds were way heavier and we couldn't really find tickets to go in, so we checked out the park and walked the surrounding areas. It was still beautiful, but VERY hot, humid, crowded and loud.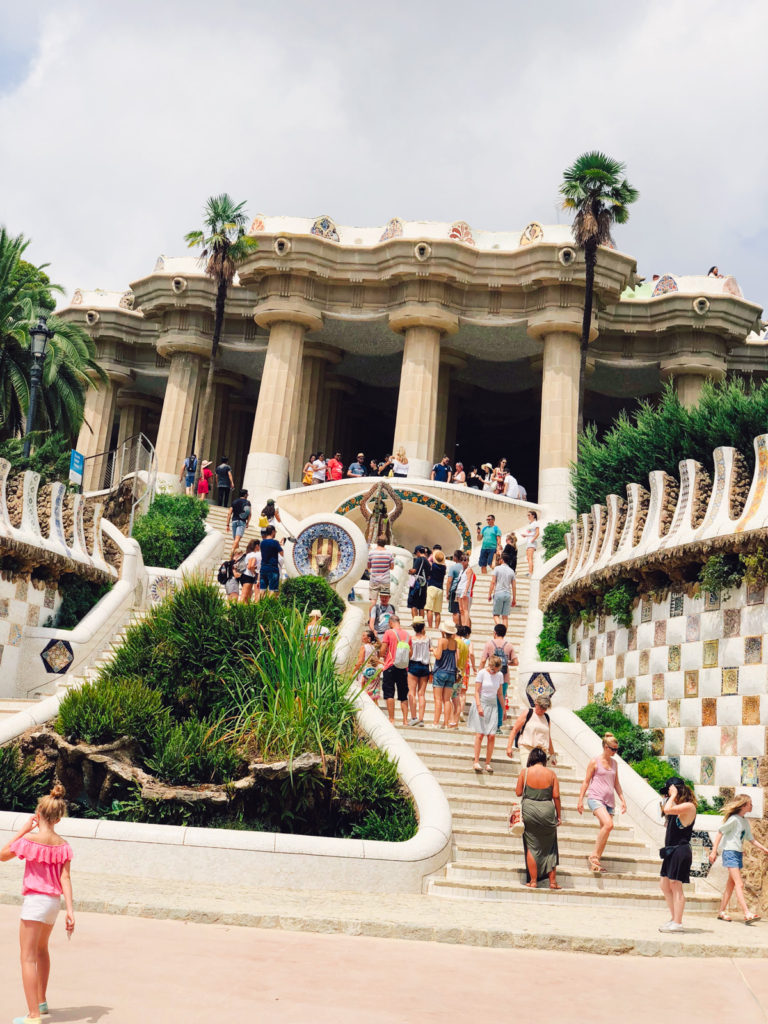 I would 100% recommend you visit Park Güell in winter if you have the choice. but you must go. Such unique architecture and colors. You'll love it.
---
WHAT I ATE
Right after landing, my brother picked me up from the airport, took my to check in to the hotel and drop off my bags, and then brought me out to dinner to this small yet hopping place.
We got there a bit early, so we didn't have too much trouble finding a table, but I hear it gets really crowded and its impossible to find a table without a reservation during peak hours. So if you're planning to dine here, call ahead!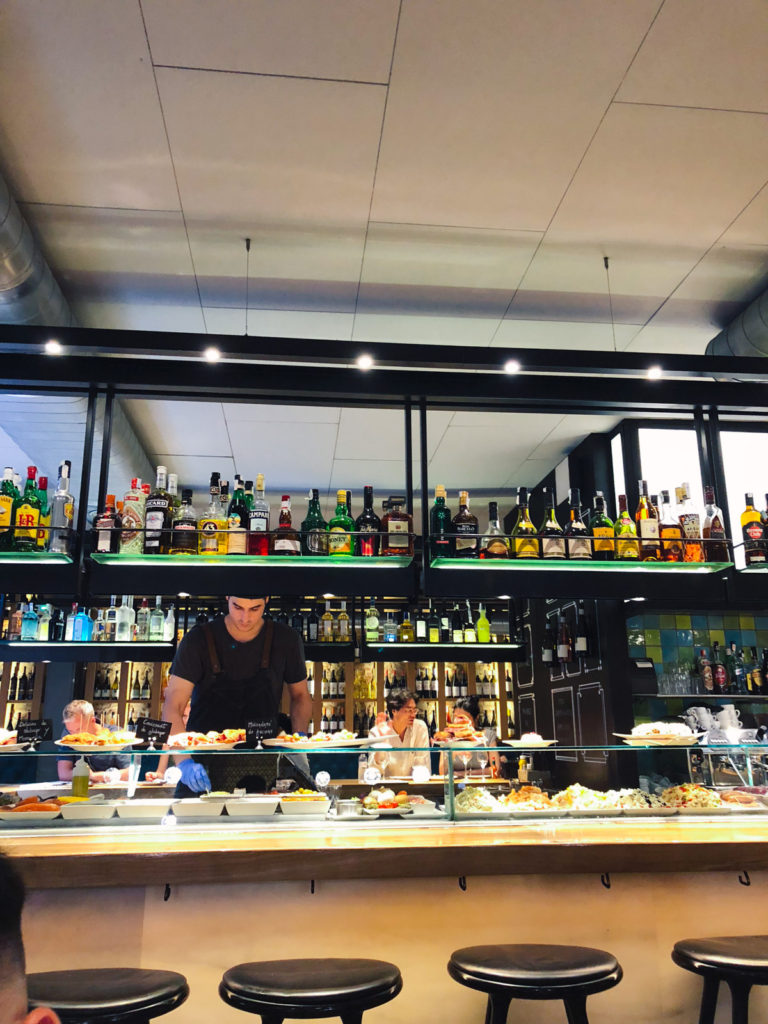 Great drinks, nice decoration, friendly and willing staff and delicious food. Can't go wrong.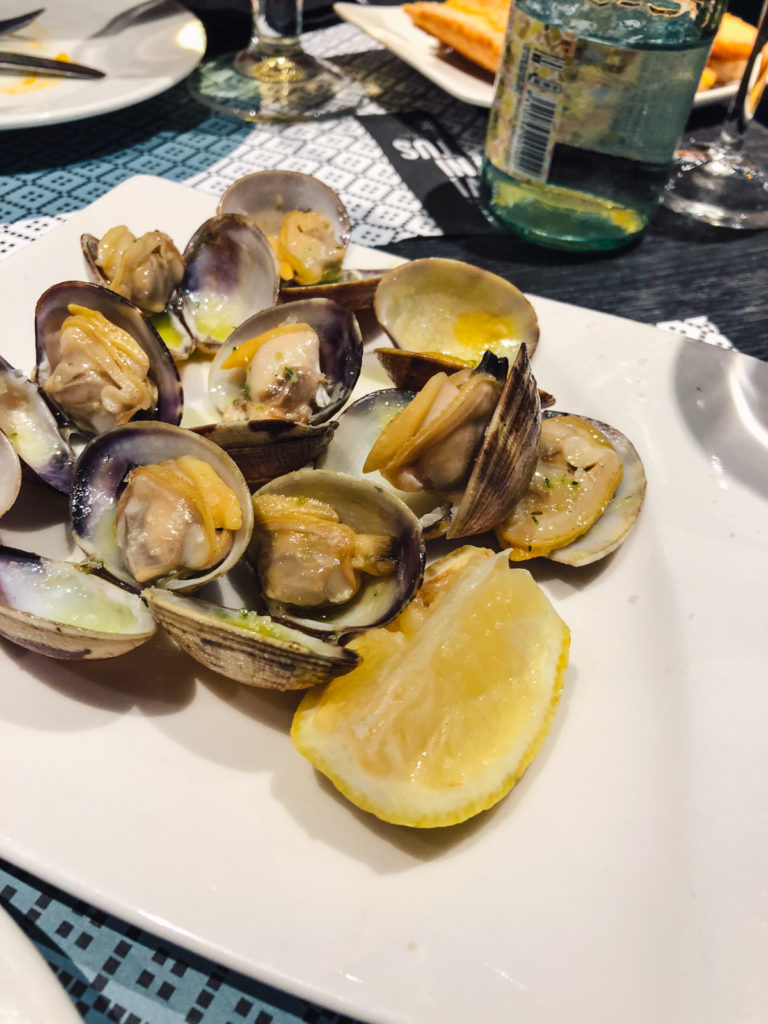 2. La Trini
I don't have a photo for this restaurant (can't believe I didn't take one!), but its a cute place that I'd recommend if you find yourself in the Gràcia area. It's located on the side of a cobble stone pedestrian street, where there's a really nice hippie and chill vibe going on.
We went there in the late afternoon (right before the sun set) and there were musicians playing on the streets, cute little mom and pop shops open, and great little cafes here and there where you can grab a quick drink.
Ask for a table in the very back; it's a nice vibe. We got various salads and patatas bravas.
3. Negro – Rojo
We had so much fun here! We went there for my little sister's birthday (she was studying abroad there for the summer) and we had both her friend's and my brother's friends meet us there, so it was a large and fun group of young people!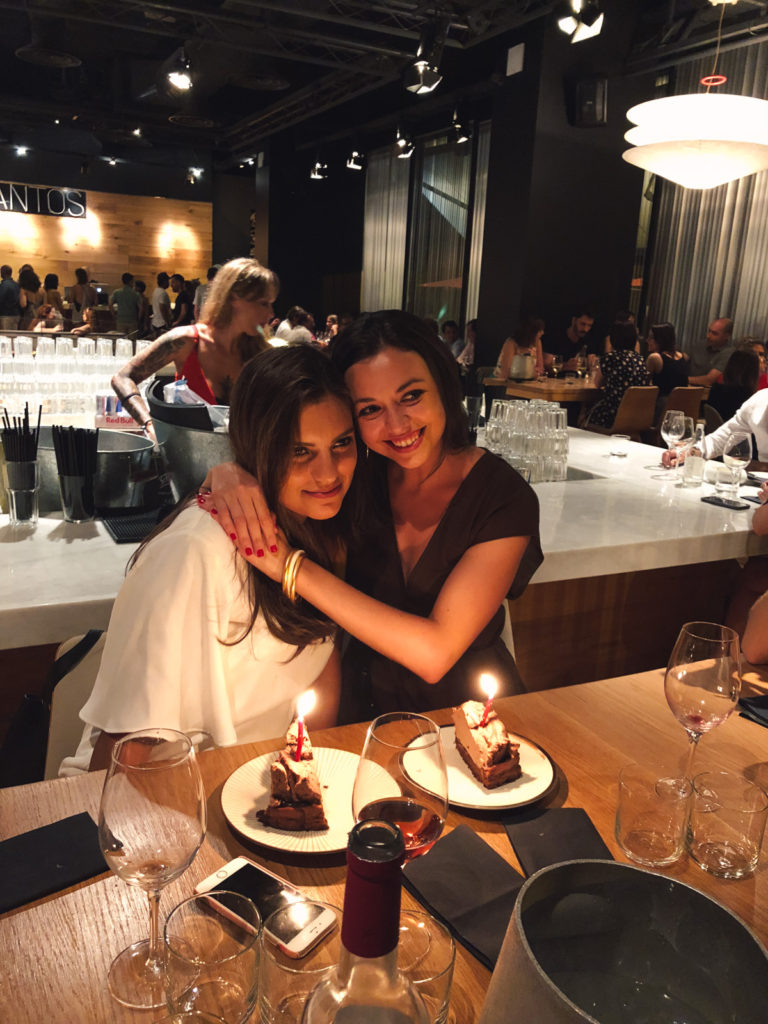 We ate, drank and danced, as the place turns into somewhat of a night club after dinner hours. Highly recommend it, the food was good, but the music and the dancing was even better.
4. Alsur Cafe
This was my second time in this breakfast/brunch spot. We stumbled upon it with my husband during our winter Barcelona vacation right after the gym, and we absolutely loved the vibe and the food. So of course I had to go back again for more.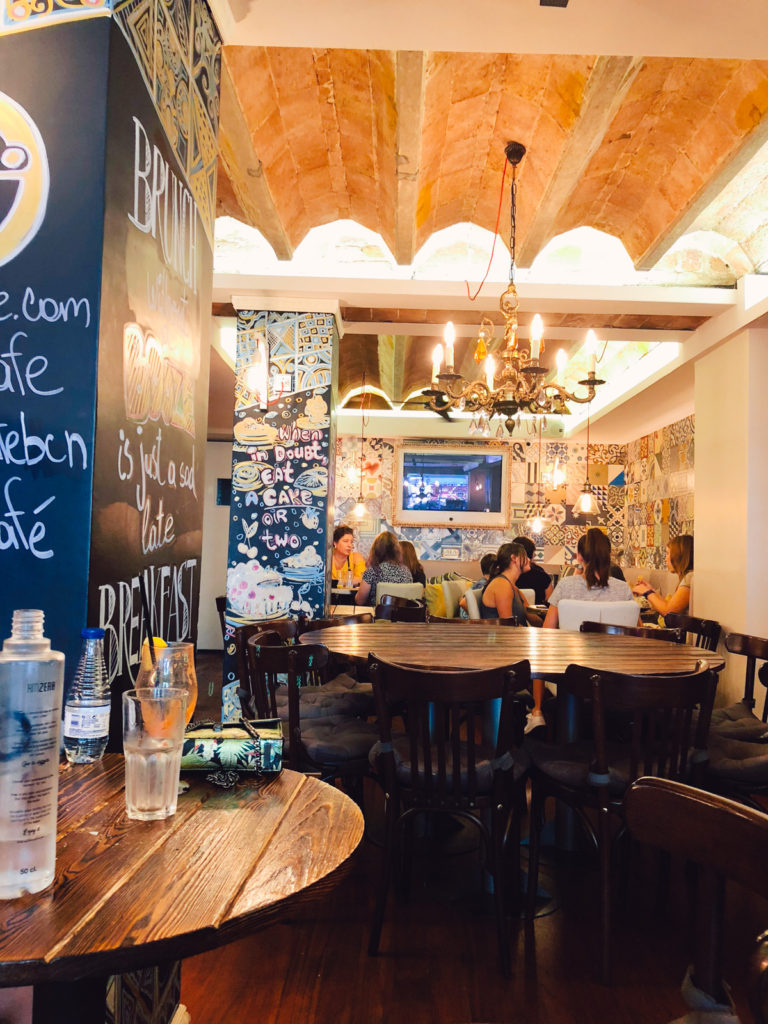 Its cozy, its welcoming and chill, they serve brunch food until later hours (unlike many places in Barcelona) and the food is spot on every time.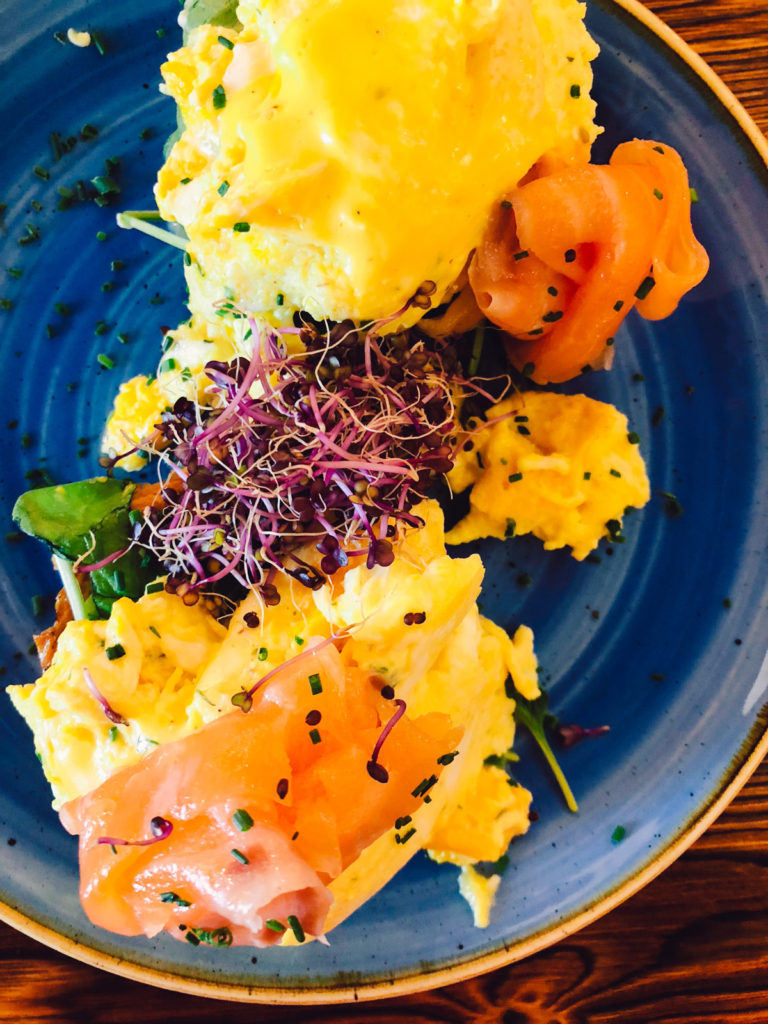 I ordered the above dish on both occasions and both were equally fantastic. Eggs, Salmon, toasted has browns…yes, yes please.
Okay, how cute is this place though!? The setting, the vibe, the music, the location…can't beat it. The drinks and the food was alright, but the vibe is superb.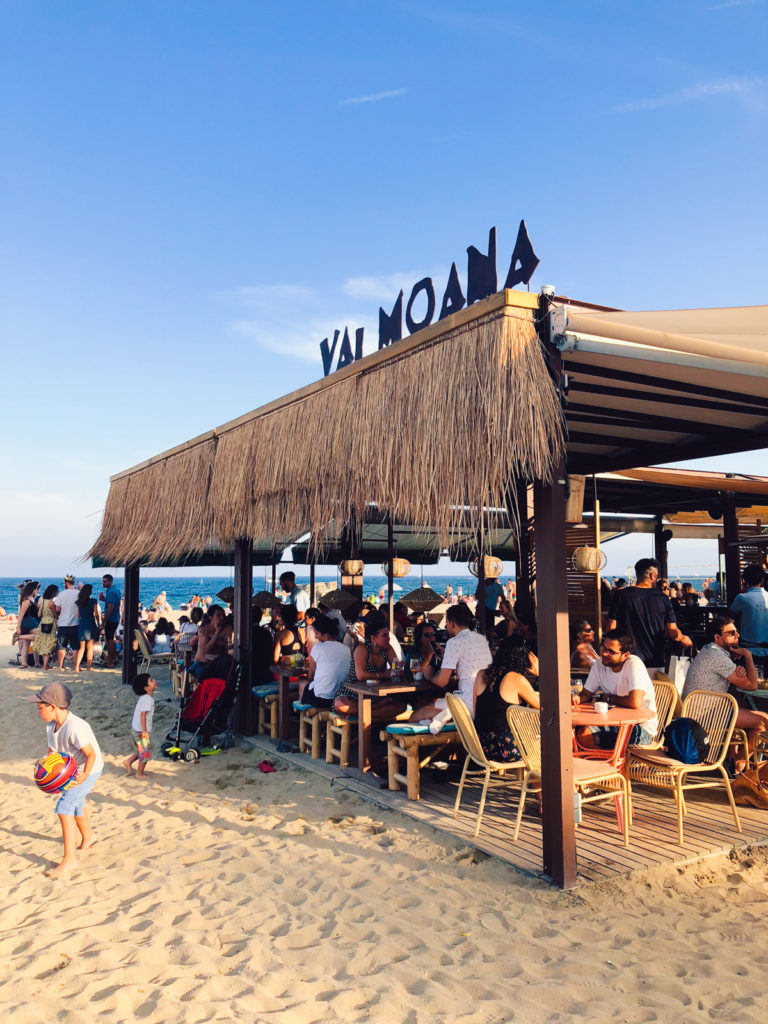 We got a few snacks and drinks prior to a dinner reservation we had closely at another restaurant, so we weren't super bummed about this place not being amazing taste-wise, but we had a fun time hanging by the beach, enjoying good music with a breeze.
There were people chilling out around in beach chairs and such, which makes made me think of this a great go-to while or at the end of a successful day at the beach with friends or family.
6. Can Fisher
Oh mama. My favorite restaurant in Barcelona. Love the ambiance, love the drinks, love the appetizers, love the salads, love the pan con tomate, LOVE THEIR PAELLA!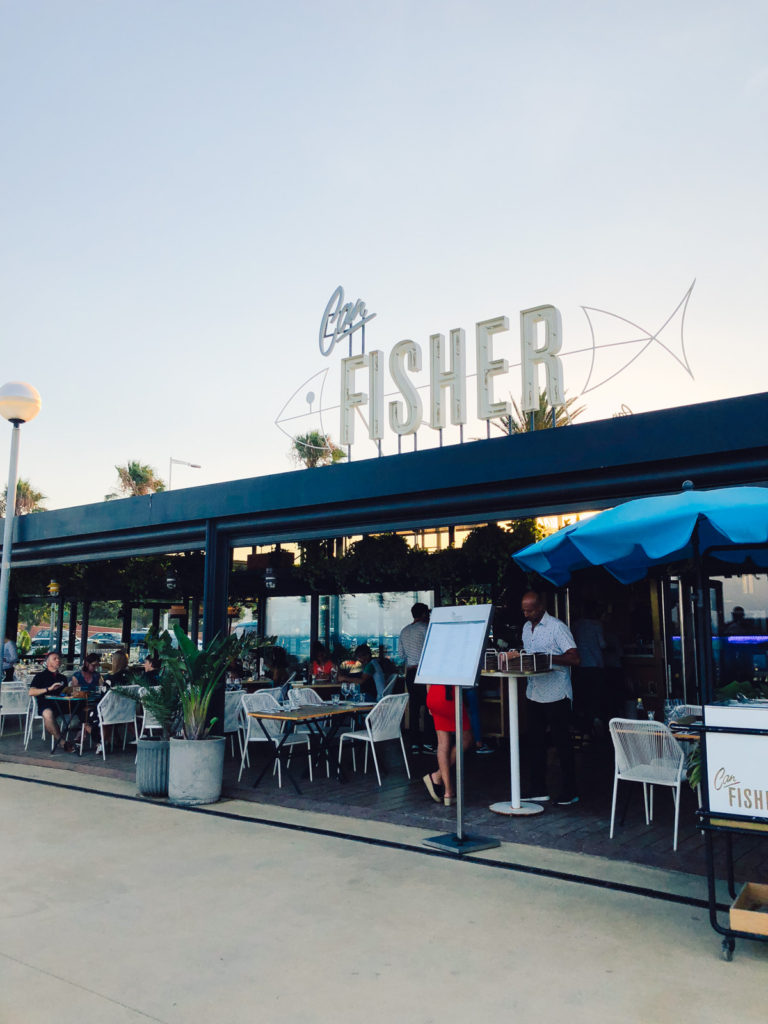 And whole heck those views.
Picture it with me: breezy, warm night, smooth Spanish guitar playing in the background, salty air, waves crashing on the horizon, you can smell and taste the salt from the sea…you're drinking a bold red, and you're eating fresh sea food paella. Amazing. Incredible.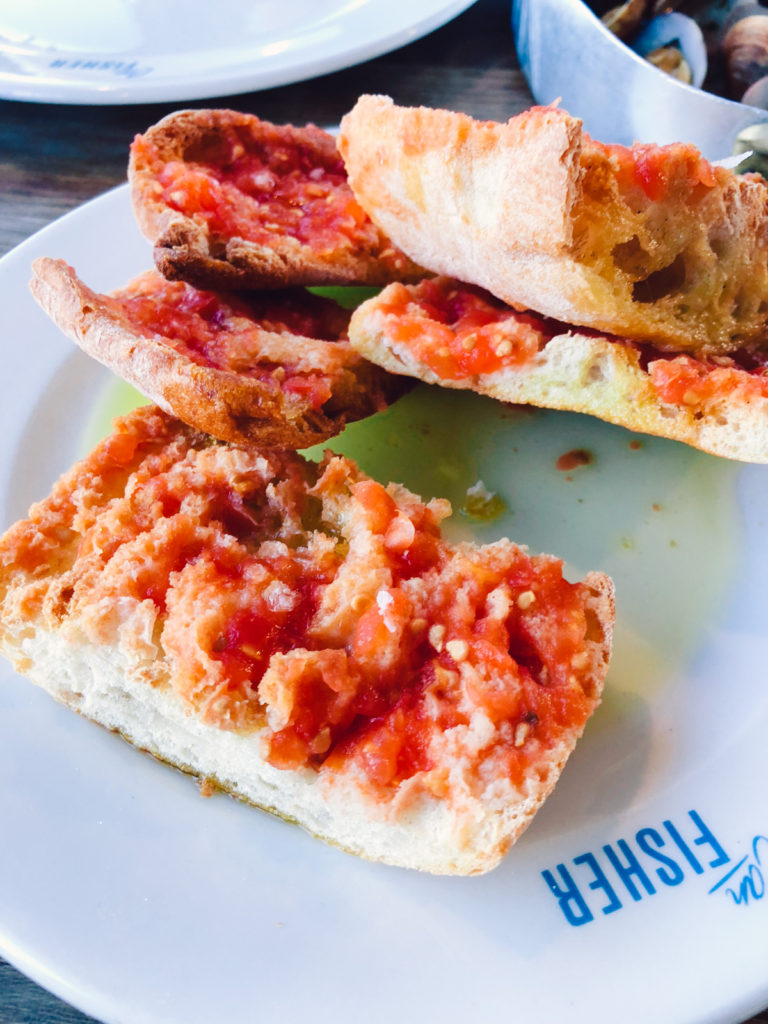 Just go there. Make reservations, and ask to be seated outside. You'll want that outside ocean-feeling experience.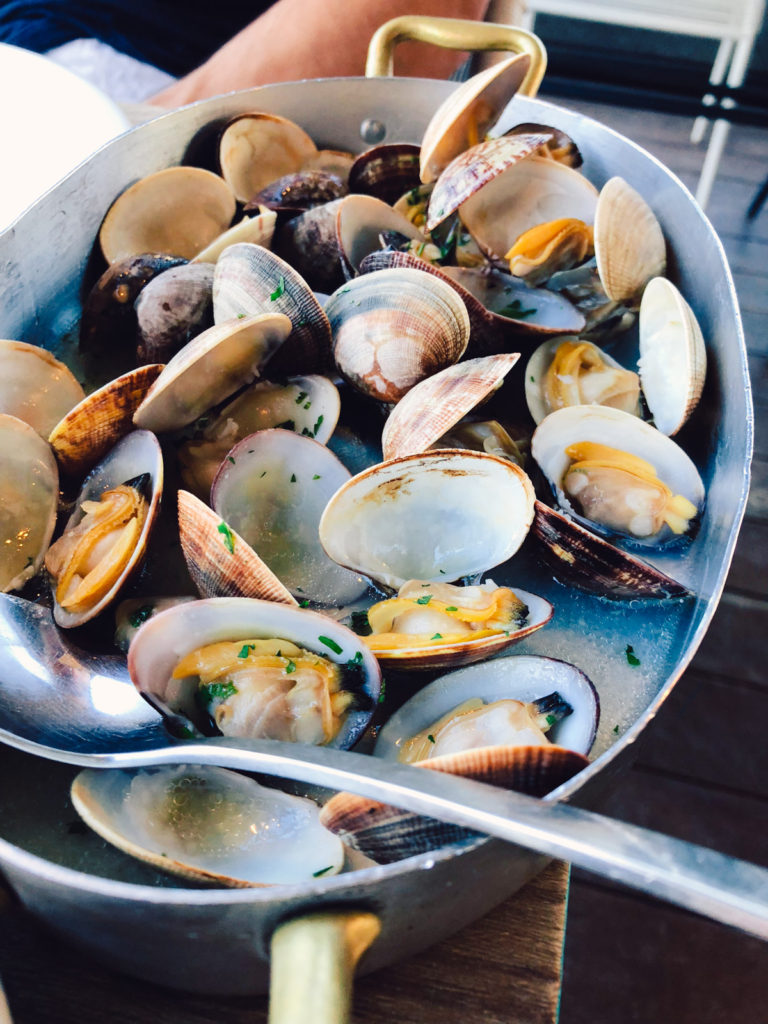 We went here once in the winter, and twice this summer. During our summer visit, we enjoyed the pan con tomate, clams, baked in sea salt white fish, and black rice paella. It was all perfect, finger-licking-good.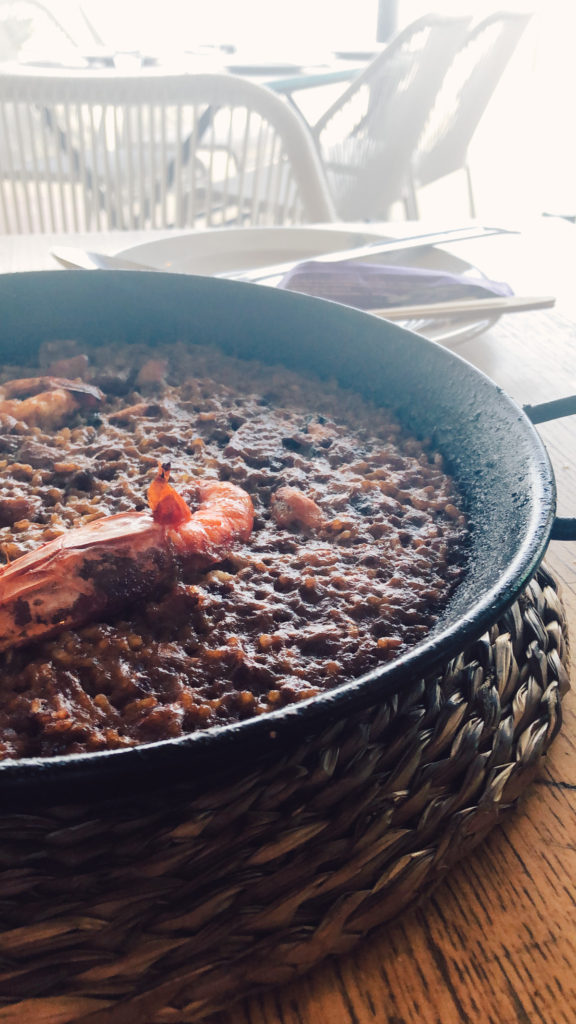 Aww, this cute place. I found it because I was craving breakfast or brunch at around 2pm, since I was fasting and had just gotten out of the gym (so was literally HUNGRY AS HECK) and I didn't want to repeat Alsur cafe again, wanting something new.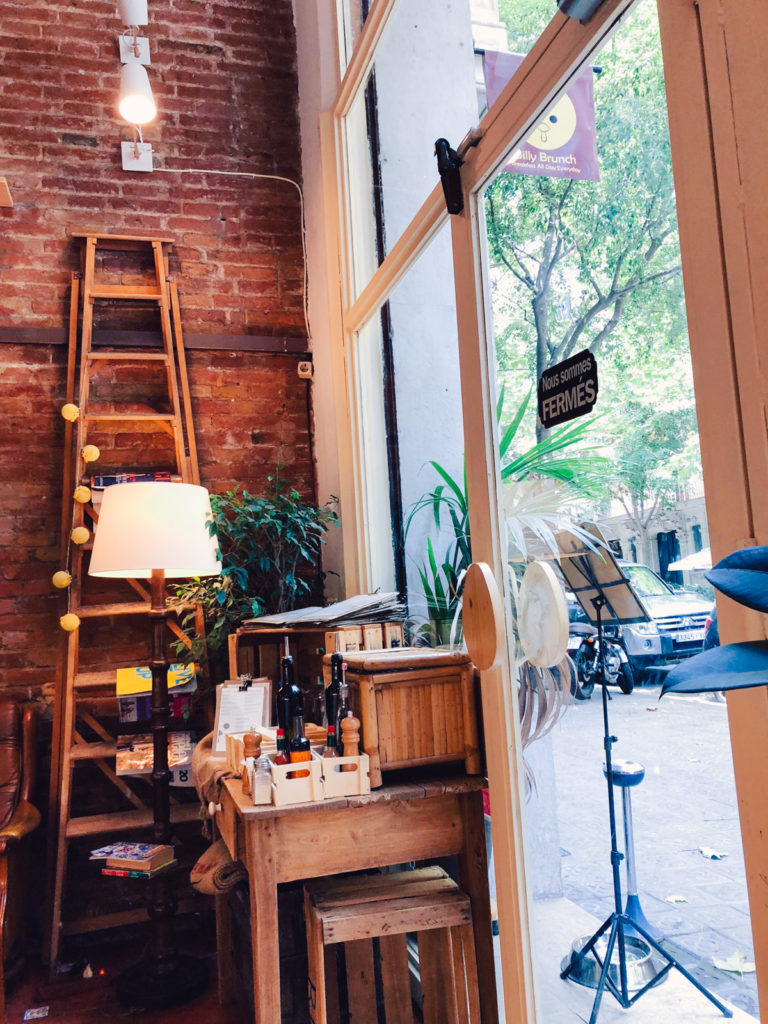 I Google mapped it, looking for brunch places around my hotel, and came across this one. A 10 minute walk and awesome reviews. So I went for it. Since it was not breakfast or brunch or lunch time anymore, and it was also like a Tuesday, there was hardly anyone there and the service was super fast.
My food was perfection. Light, flavorful and filling. The coffee was on point as well, which is a must with breakfast food. Totally recommend.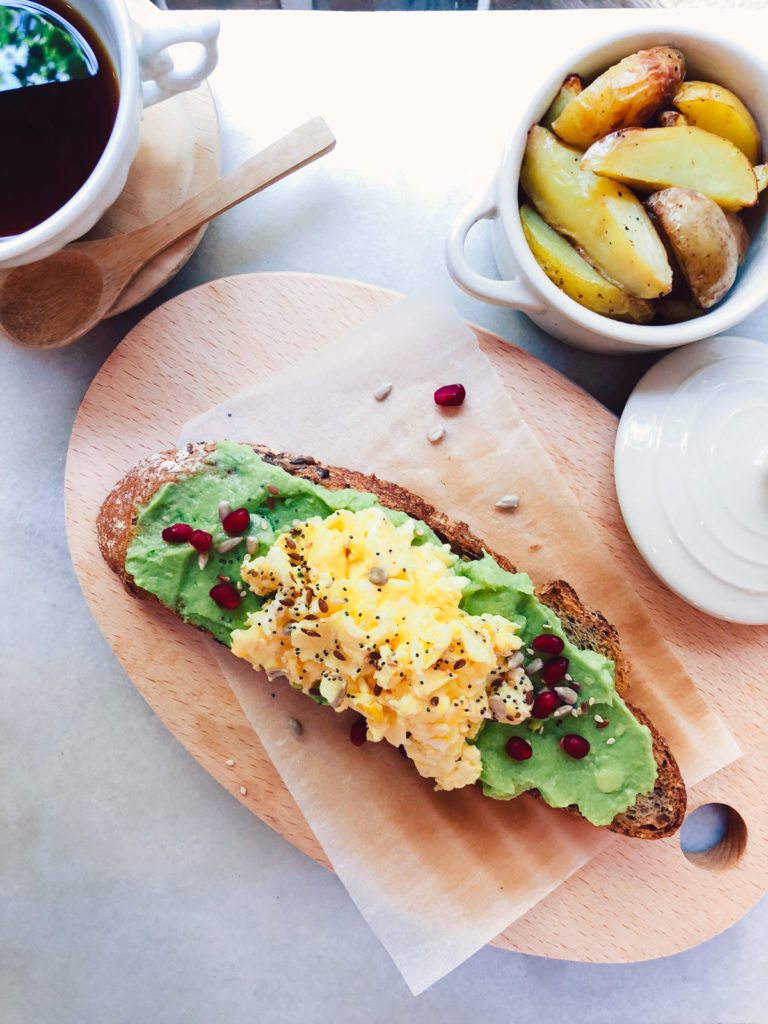 And such good presentation. Loved all the dinnerware and glassware they used.
8. La Flauta II
Another repeat for us. We have loved this place every single time we go. My brother, who lives in Barcelona, knew about this place because he lived right next to it during his first year in barcelona.
He decided to try it out one afternoon, early on, and he was VERY impressed. When we came to visit in winter (and in Summer) he took us there and it was here we fell in love with Catalan food.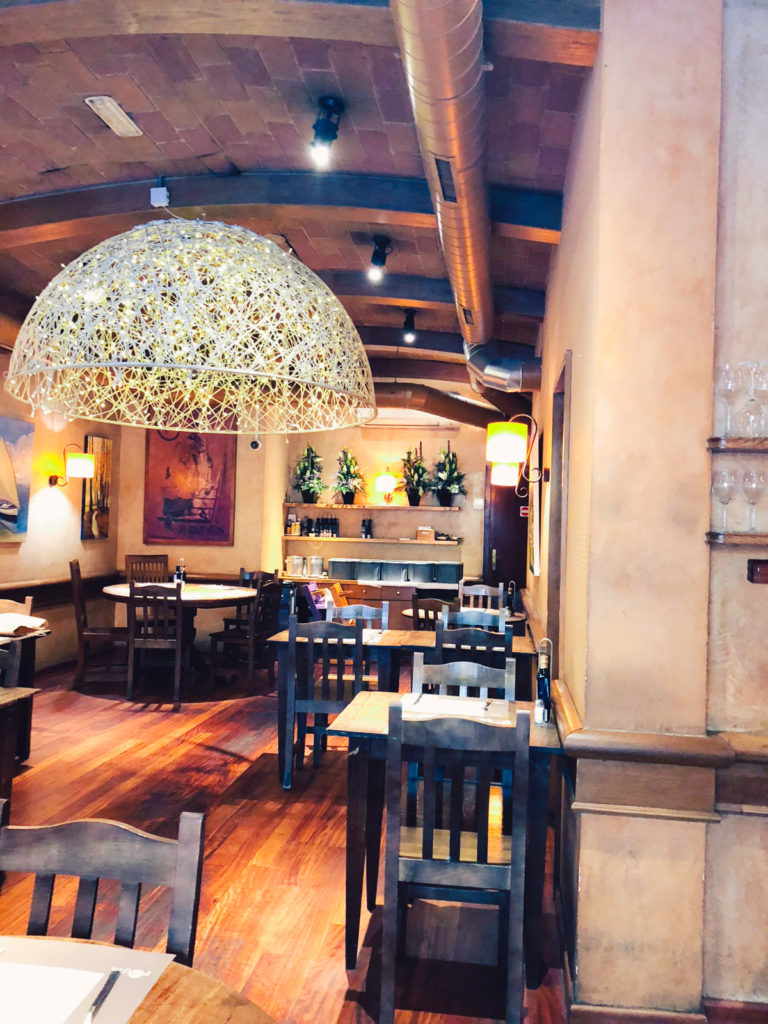 From the patatas bravas, to the huevos cabreados, to the tapas and the grilled fresh fish of the day. Todo delicioso!
My sister was obsessed with this place, so she took my bother, her friend and I here after dinner on one of the nights we were all still together. My sister and her friend took off after a while to go explore Europe after she was done with her summer course, so we took advantage of the nights we were all still in beautiful Barcelona.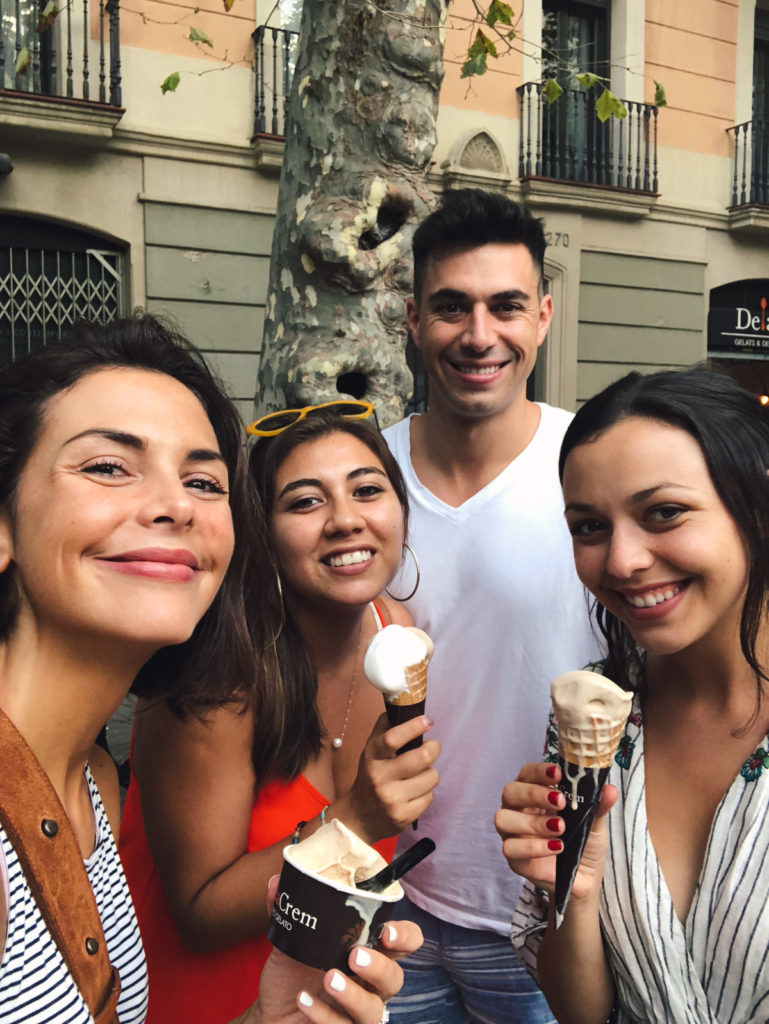 The ice cream was superb. And people knew it too, because there was a big line of people waiting to order their gelato. Definitely give this a go. Especially on a HOT night. You'll love every second of your treat.
10. El Nacional
This is such a cool place. You cannot leave Barcelona without checking it out. Think of it like a high end food court area, where you walk in and you have both drink and food options that fit a variety of cravings.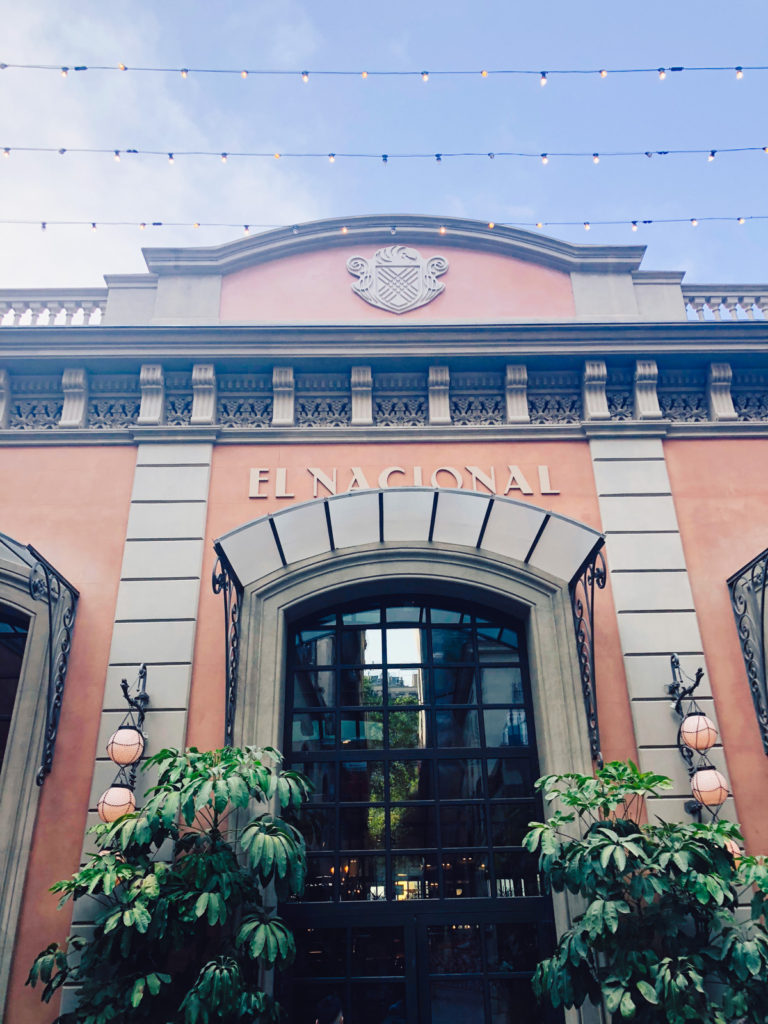 They have a few bars you can sit at to enjoy food and drinks, they have a few dessert islands you wan simply walk to and order your treat, and full on sit-down restaurants where you and your party can enjoy both drinks and dinner combined.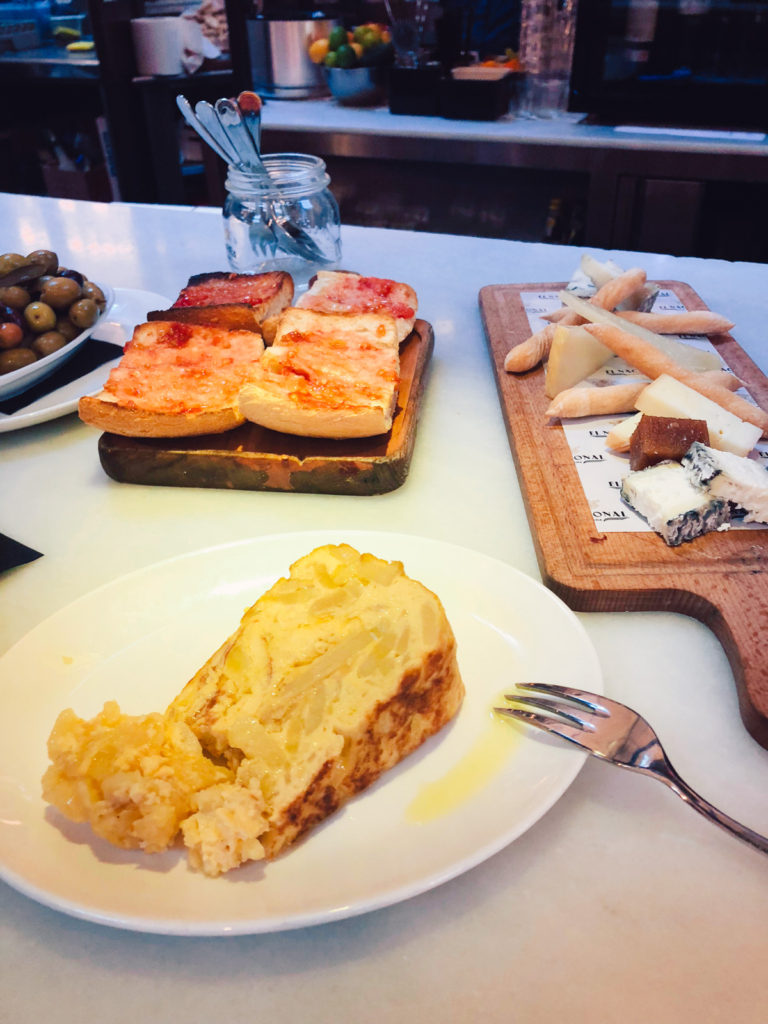 They have mainly Spanish food, but when is Spain, that's pretty much all a foreigner wants! And know that all is delicious. Seriously, check it out!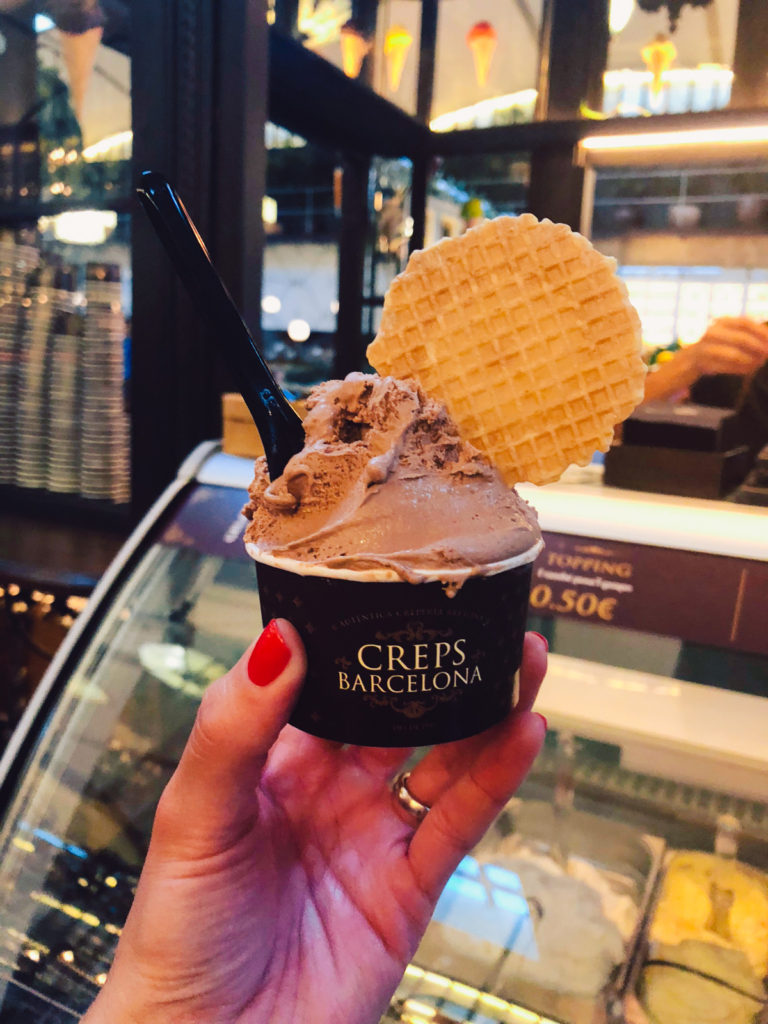 11. Els 4Gats
Did you know that Picasso painted the cover of this restaurants menu? I guess he loved this place and came here often to meet his other influential artist friends back in the day. How cool is that!?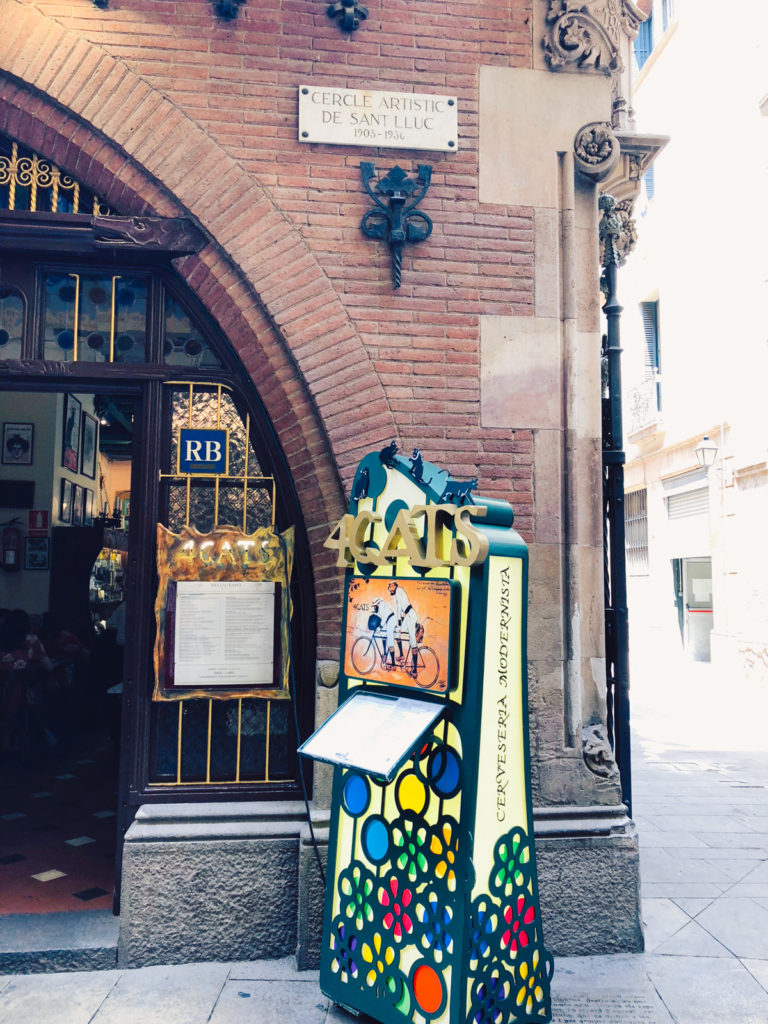 It's also my brother's all time favorite restaurant in Barcelona; he likes to come here often for lunch, as they have a daily lunch menu that comes with wine, an appetizer, entree, lunch and coffee all for about 25 euros. The menu changes every day, so you get something different yet delicious every time you come.
We came here for New Years Eve for dinner during our winter vacation and it was amazing. From the music to the food to the drinks to the ambiance to the history of this place…we absolutely loved it.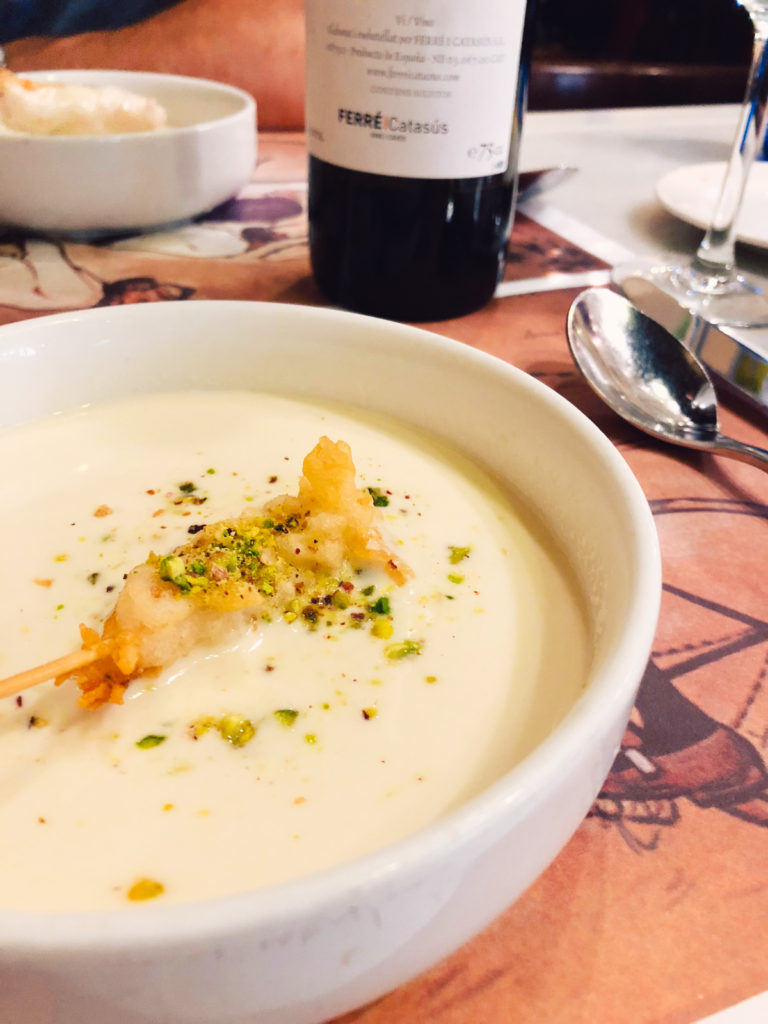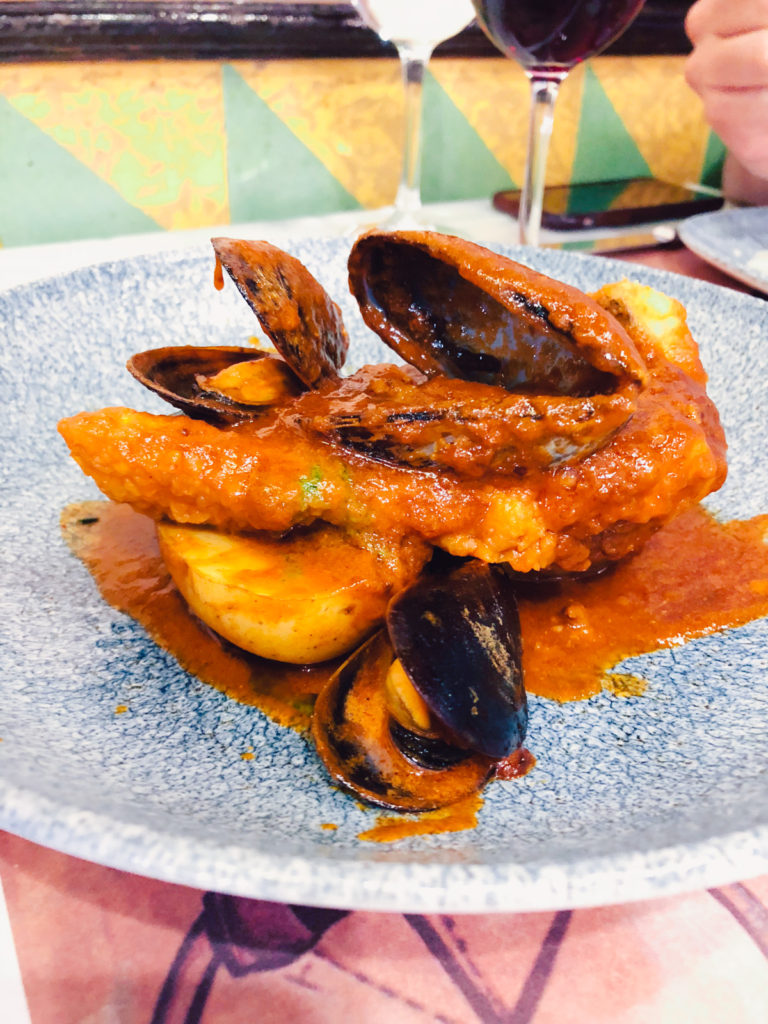 12. Chok
Located in the heart of the Gothic Quarter, this cute place has all of the delicious things. Not kidding when I say that I wanted it all.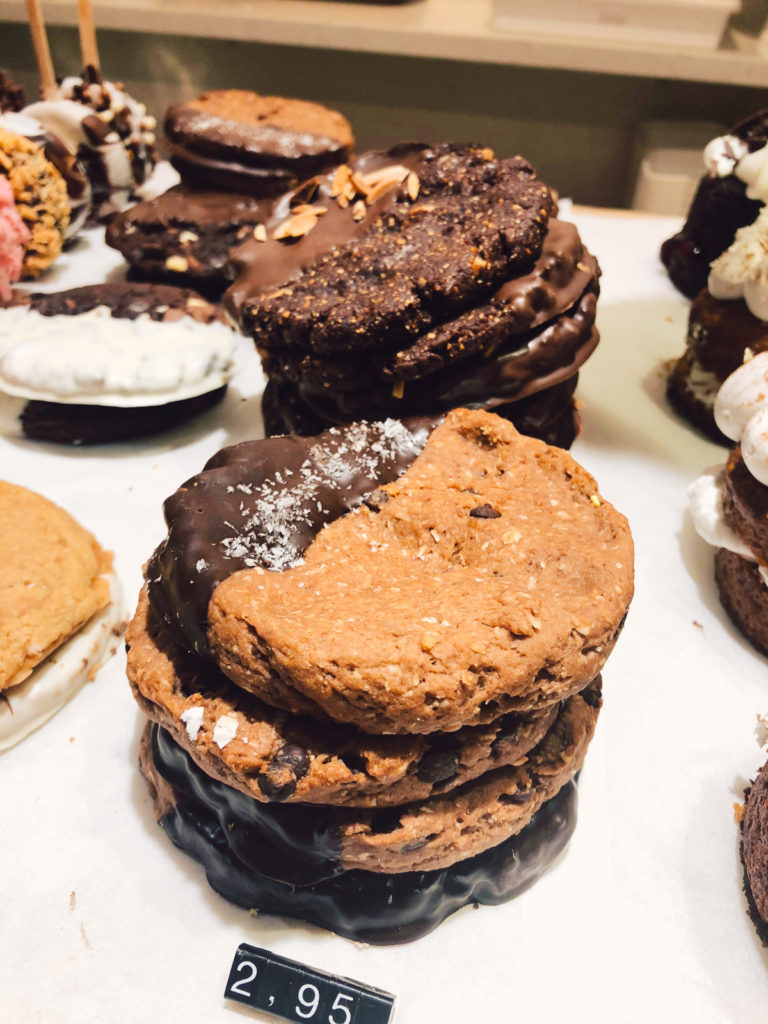 From cookies with amazing ingredients, to funky krönuts to mouthwatering truffles…they all captivate your senses as soon as you want in the store. I mean, just look at all this and tell me your mouth is not salivating as we speak! Holy heck.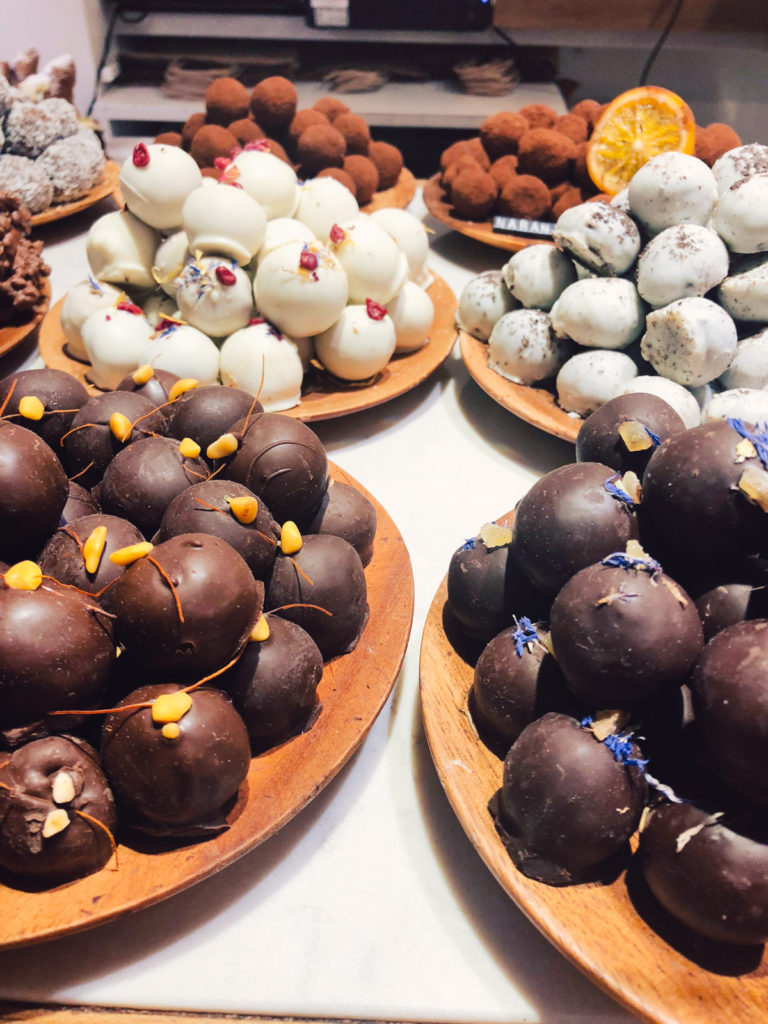 Very friendly staff, too!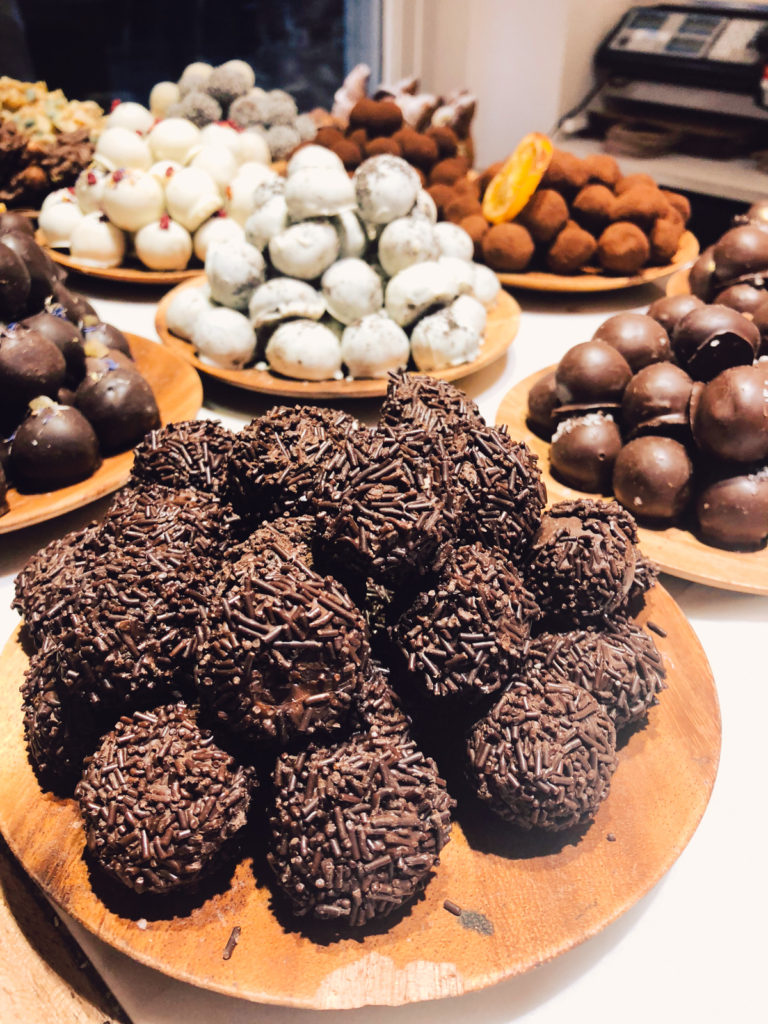 13. San Pedrito
Inspired to come here by a fellow food blogger, Gimme Some Oven, who moved to Barcelona in the past year and has been talking about all of her favorite spots around the city both via her blog and her Instagram. This is one of her top Mexican restaurants in the city, and she loves Mexican food, so I had to give it a go.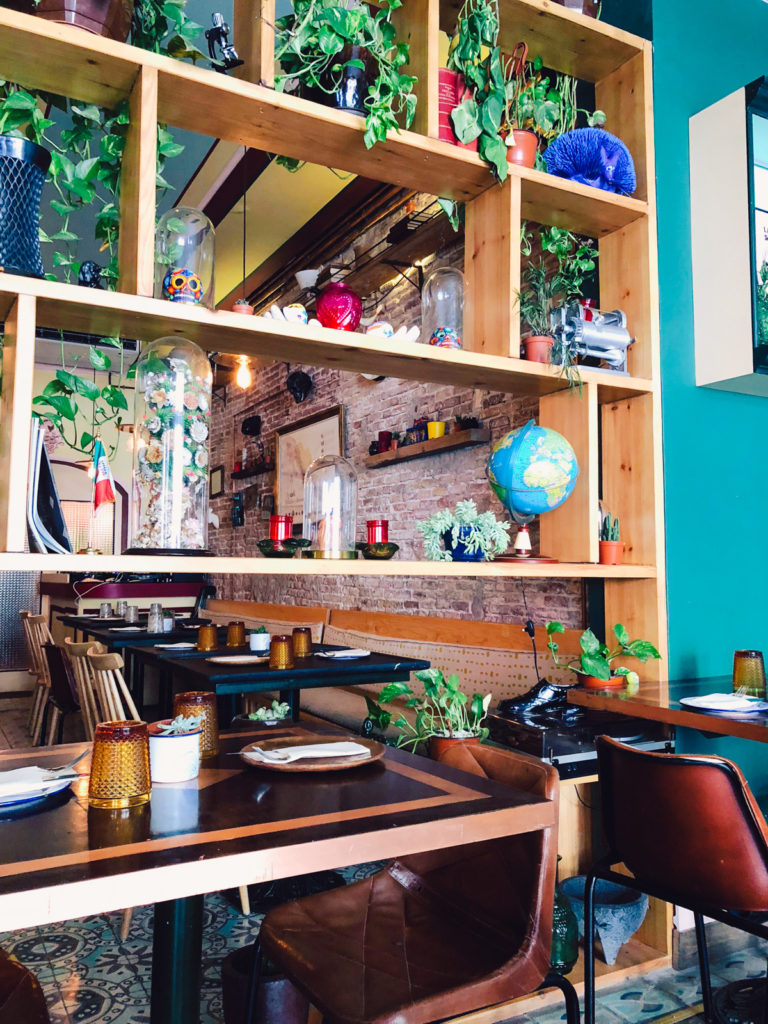 We loved the spot, super quaint and well decorated. We got there early, as soon as they opened, so we got a table right away and service was on top of it.
Drinks were yummy, but food could've been a bit better IMHO. Maybe we are too spoiled with good Mexican food here in the US…?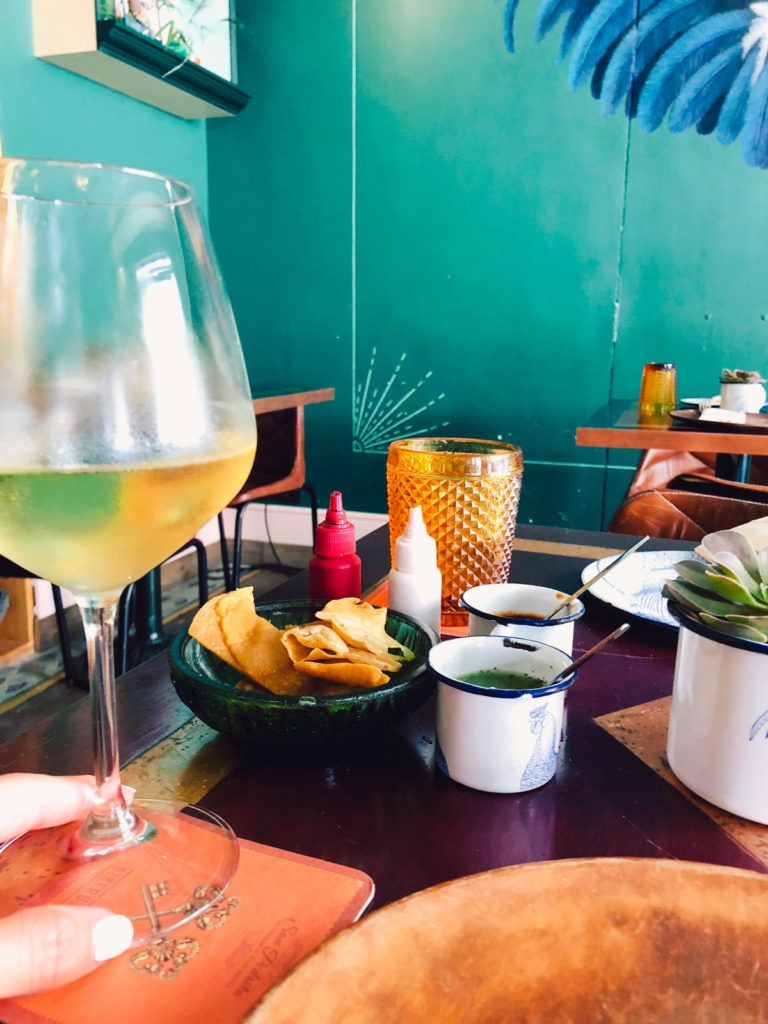 Chips and salsa were good (but scarce), the appetizer was amazing, but the ceviche was not very flavorful and it looked/tasted like it was rushed in the kitchen (shrimp felt raw).
All in all, a cute place to enjoy something other than Spanish food. I'd go again for drinks and apps only.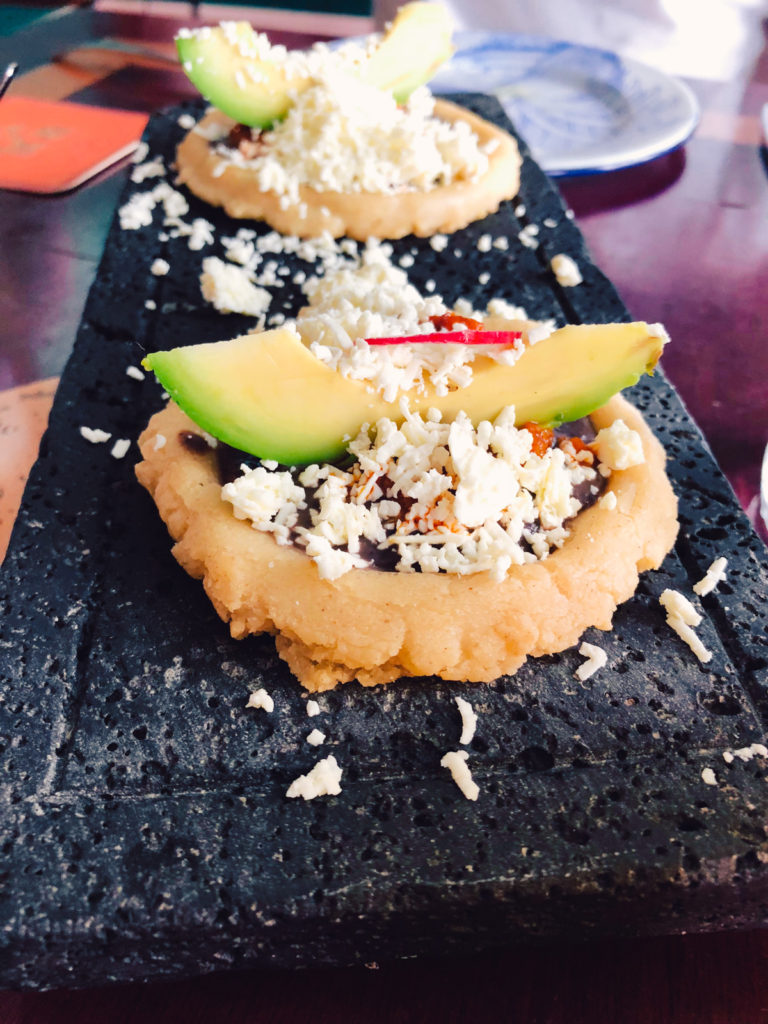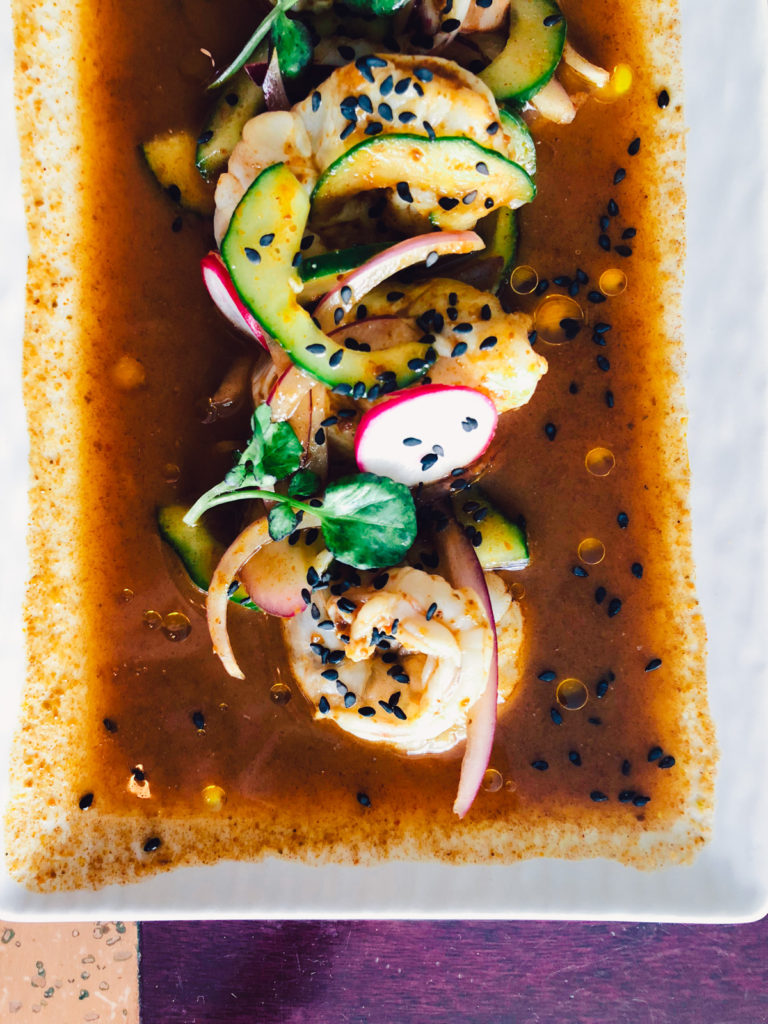 14. Flax & Kale
Last, but not least, this delicious, healthy and dietary-restriction friendly little gem.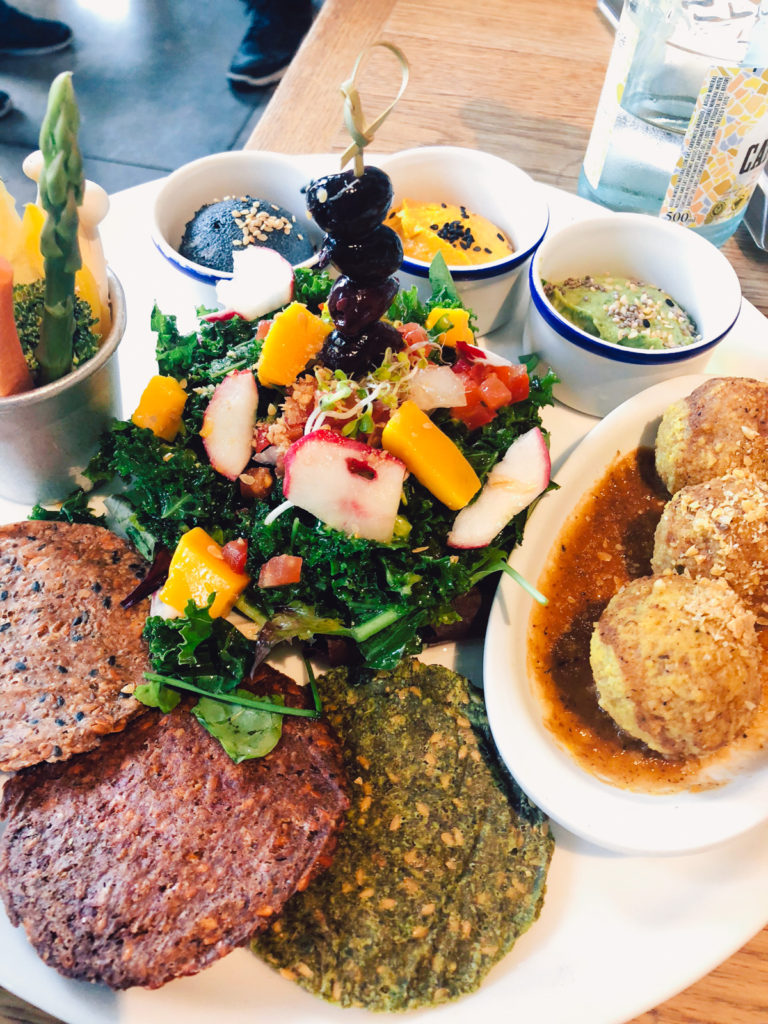 It has three different locations in Barcelona, one of which is a to-go / cafe one where you can pick up their signatures from the refrigerator and get them to go for day trips and such.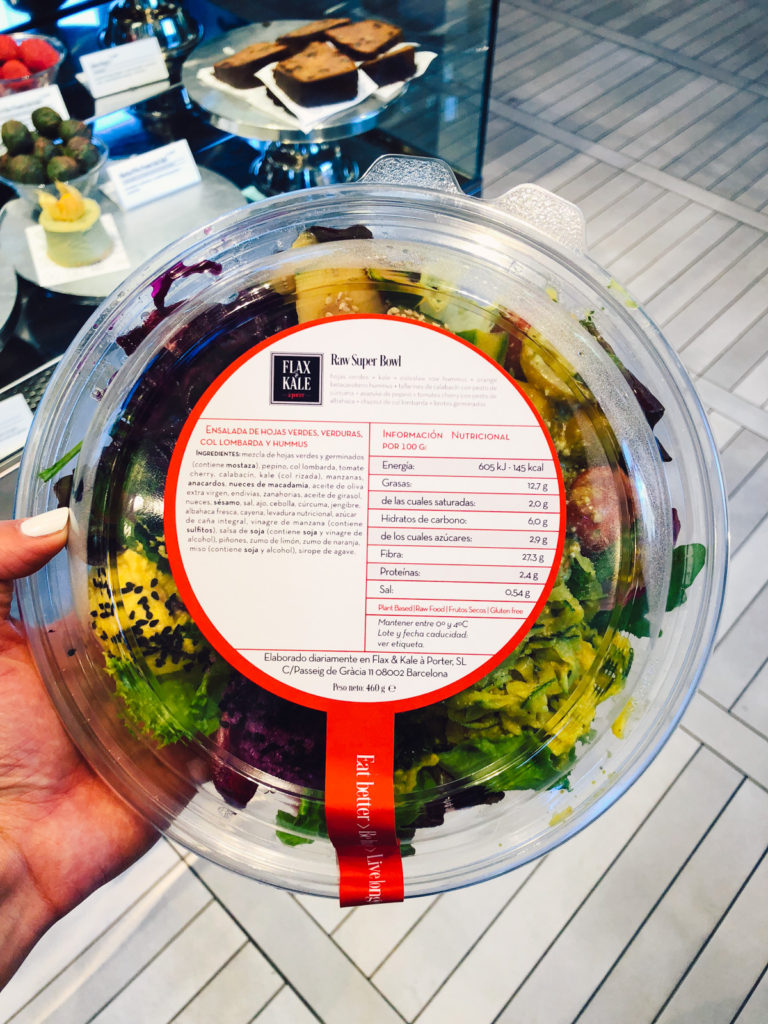 They also have a sit down area for you to enjoy one of their plant-based desserts with coffee, if you're looking for that.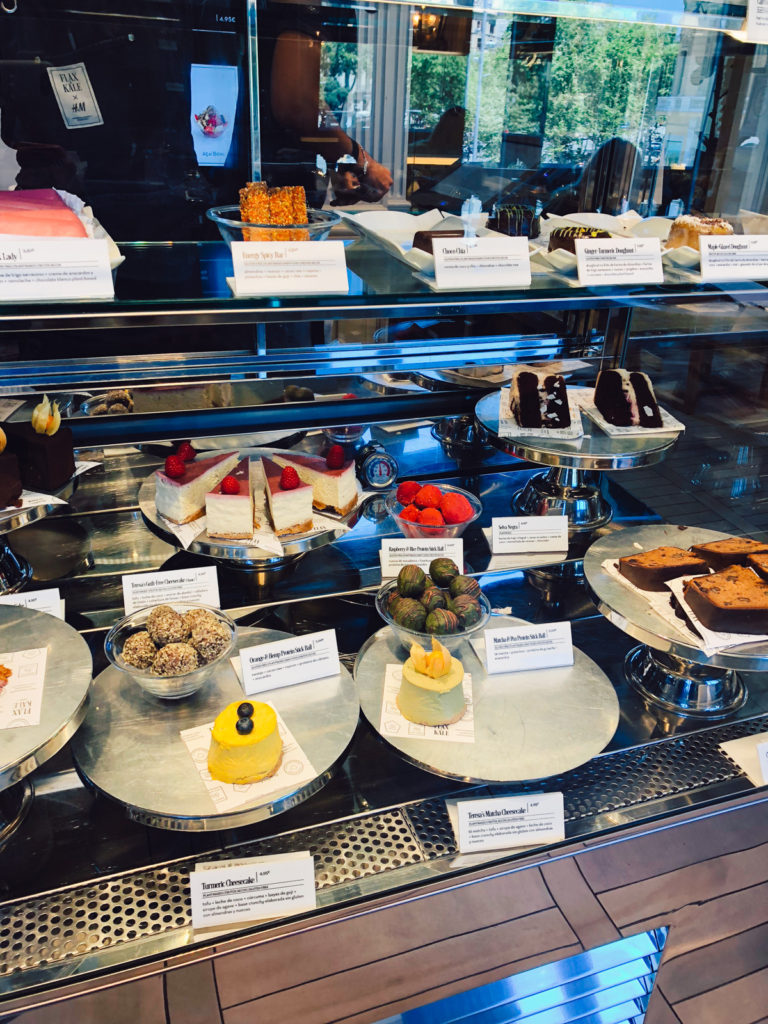 I went to the to-go cafe to get a few goodies for one of our day trips (I think we were headed to Montserrat that day), and then we also went to one of their bigger restaurants to get a full meal for dinner on a different day.
It was all delicious. From their plant-based lasagna, to their salads, to their appetizers, to their acaí bowls. So good! Highly recommend!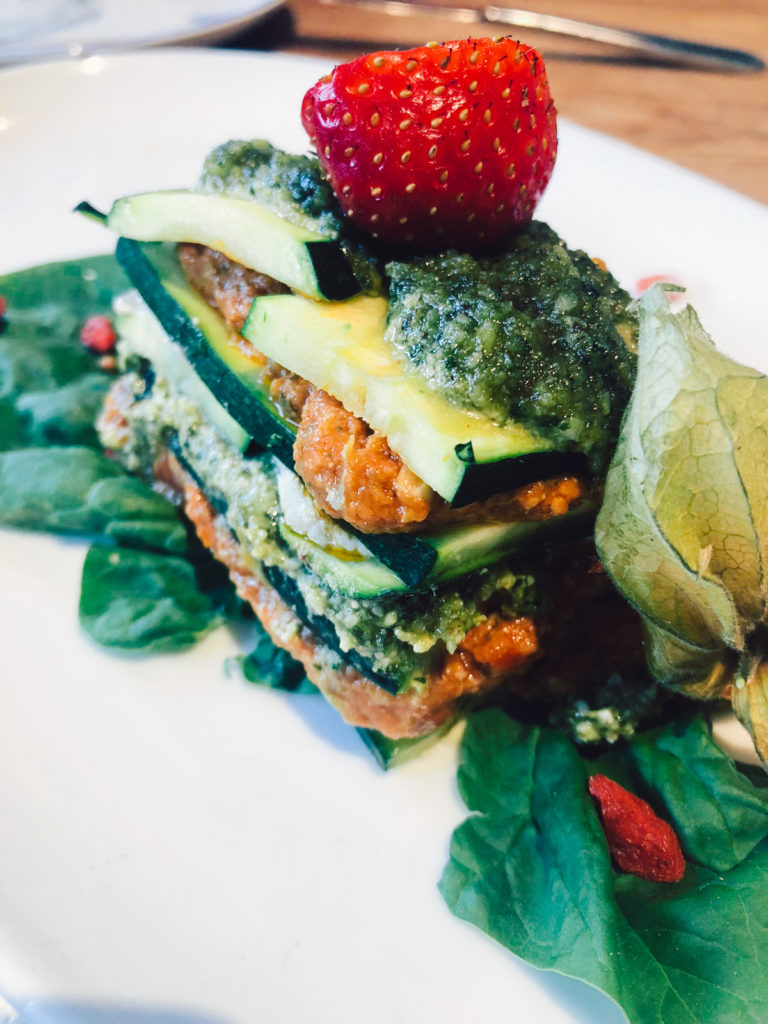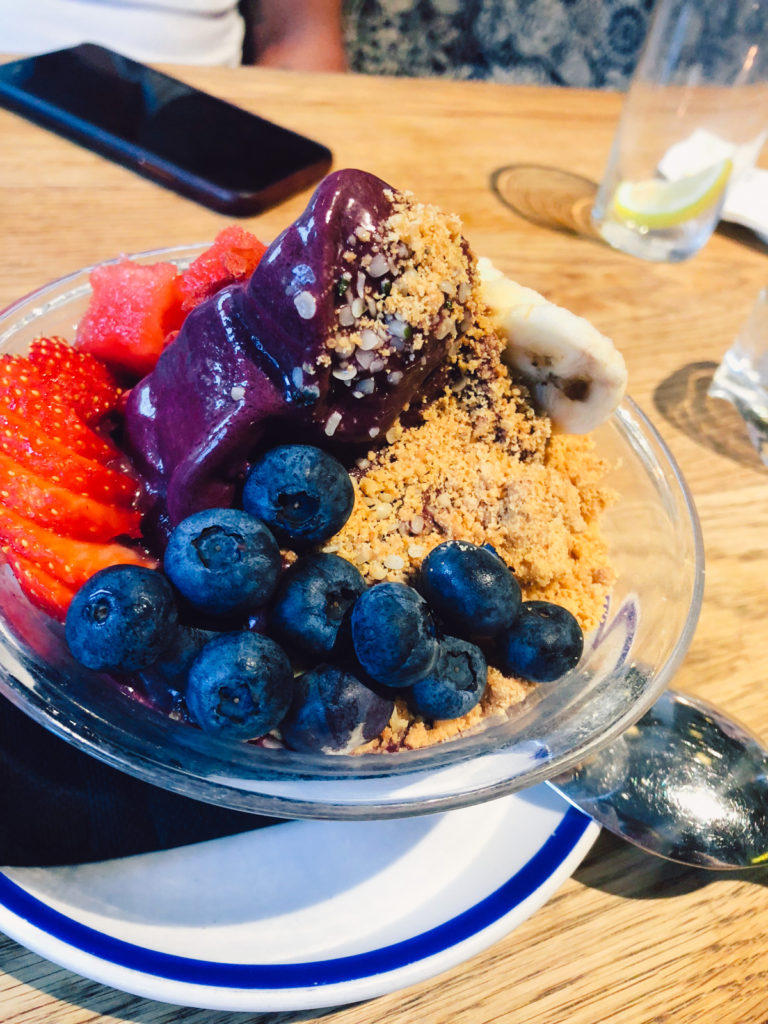 ---
Excited for you to see and explore this beautiful city! If you have any questions please leave a comment below and I'll be sure to respond right away.
If you liked this guide, be sure to check out my Barcelona in the Winter Guide, as well as our other adventures in Italy and Greece!
PIN ME!