Our second Italian stop in our 11 day Italy trip was Florence.
We were sad to leave Venice, since we loved it so very much, but we were very excited to explore other regions of the country.
While in the train from Venice to Florence, we could already see the difference in the landscape and lifestyle between the two locations; the landscape was sort of a "foreshadow" of what was to come.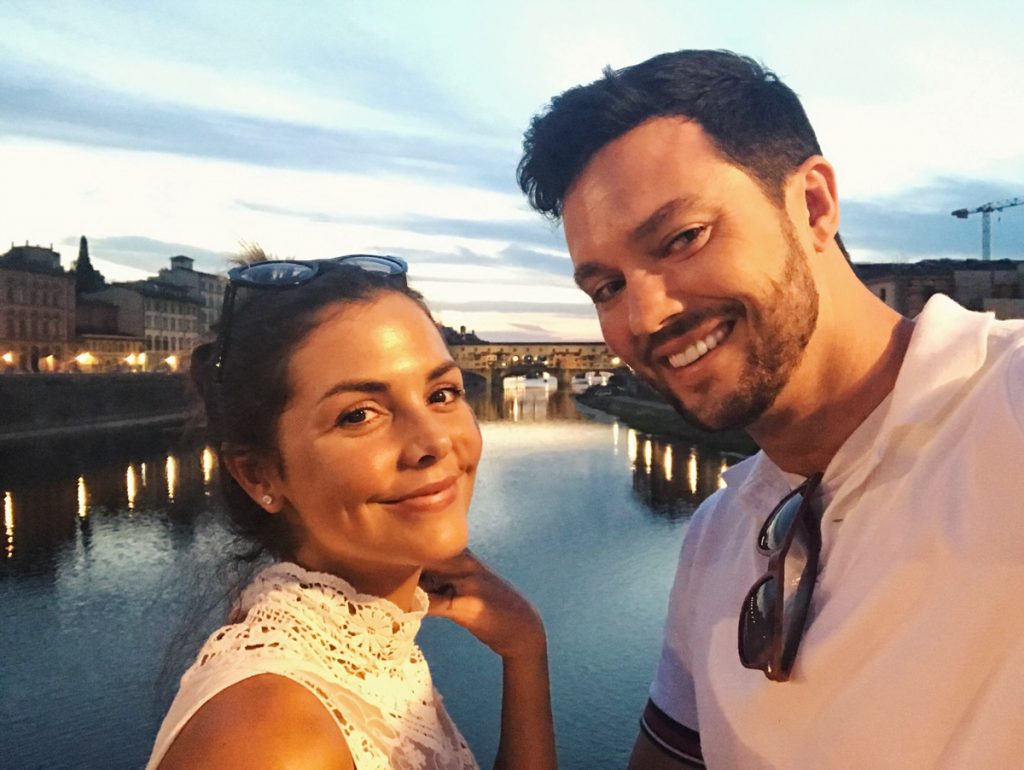 TRANSPORTATION
We took TrenItalia from Stazione di Venezia Santa Lucia to Firenze S.M. Novella. The entire train ride was a little over 2 hours, so not long at all, and the ride was extremely pleasant. In the train we got free prosecco and snacks, and we watched the movie Casanova, which was perfect because the movie was based in Venice and we loved seeing all we had learned about displayed on the flick.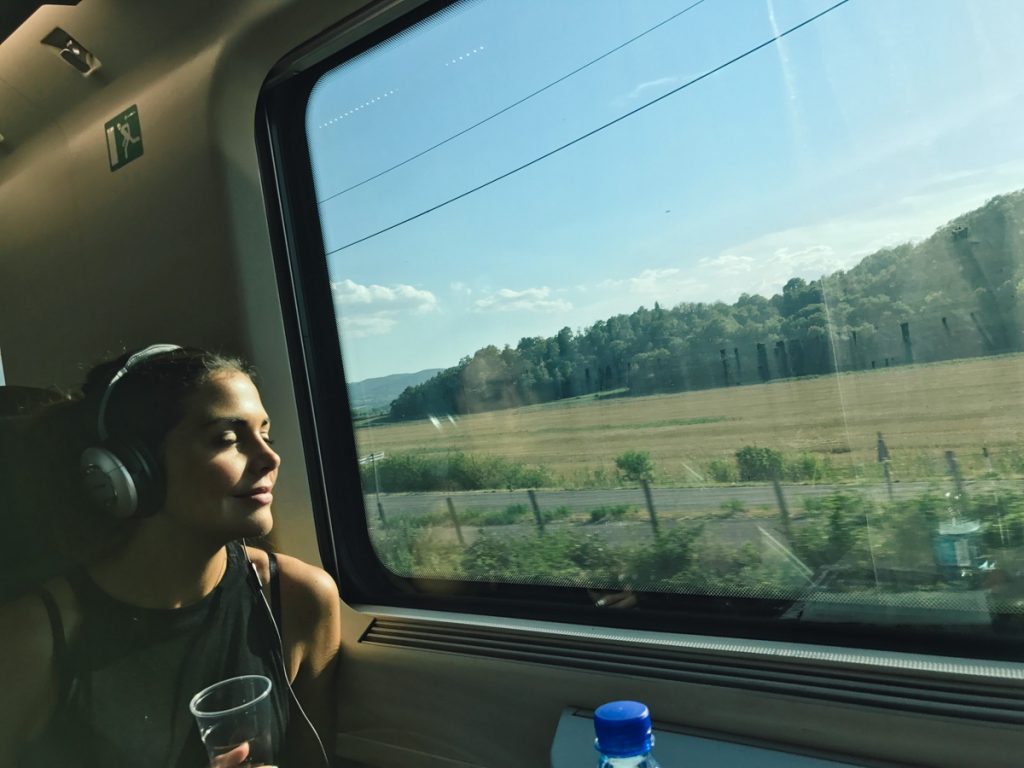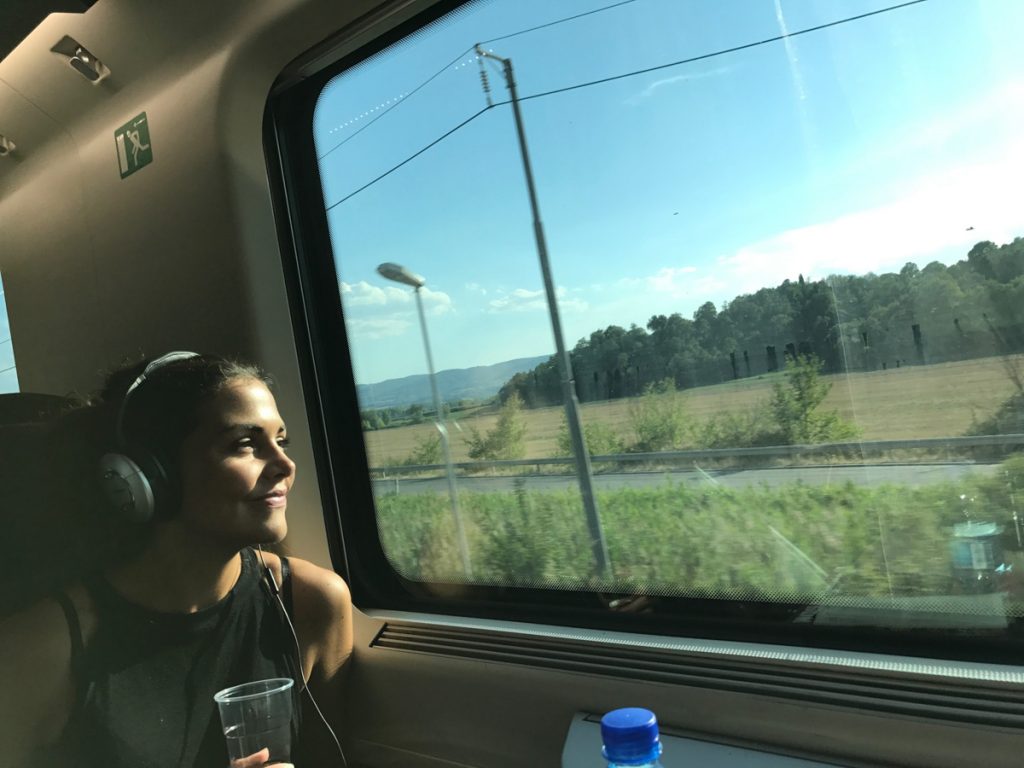 Once at the train station, we took a cab to our hotel. Our hotel was DREAMY. A big villa close to Piazzale Michelangelo, which overlooked the entire city. Our hotel had literally the best view in all of Florence. We were so blessed to have been able to have the view we had every morning and every night; it felt as if we were part of a real life Italian romantic movie.
While in Florence, we basically used the hotel's shuttle to get back and forth from the hotel to the heart of Florence, and then just walked.
We walked all around; Florence is not that big of a city, so we were able to manage just fine. Plus, this way, we walked off all of the gelato we enjoyed (which Florence is known for) and all of the delicious Tuscan food we ate.
I think we took a cab once or twice, but that was it. Be prepared to have cash in your pocket, for things like cabs and such, while touring around. It's always a good idea.
HOTEL
We stayed at Villa La Vedetta, a 5-star hotel.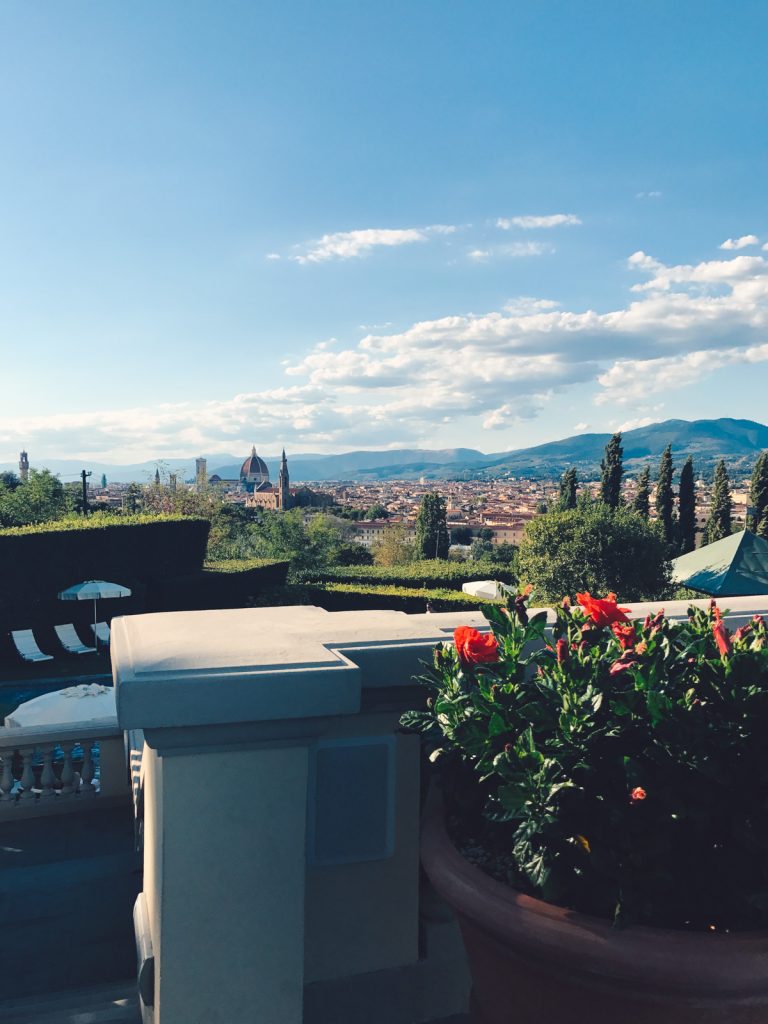 It's a beautiful villa, close to Piazzale Michelangelo, which overlooks all of Florence. If you like quiet, serene, classic and elegant, this is a good hotel for you.
It's located only 5 minutes away (driving) from the center of Florence, and they offer a complementary shuttle that can take you to and from, which operates every hour on the spot.
The beauty of this hotel is that it has the best view of Florence, which you can enjoy from the comfort of your bedroom window or from their main deck area where they serve breakfast.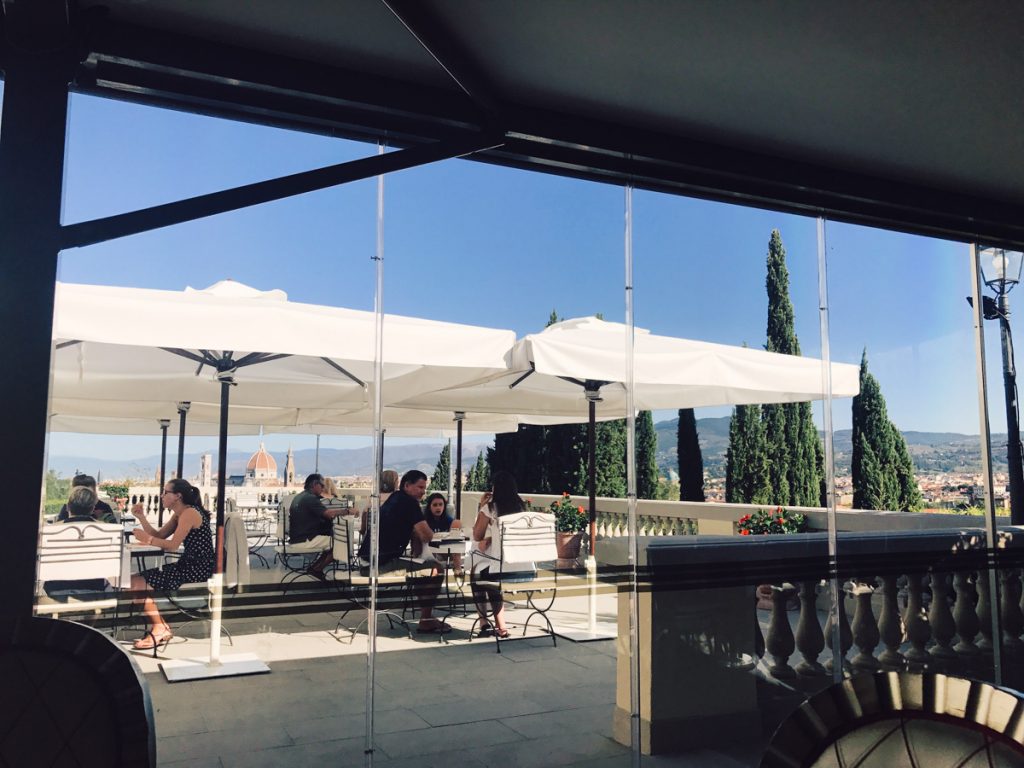 It was amazing to wake up, open the shutters and get that gorgeous fresh Florence view every morning simply by opening our window.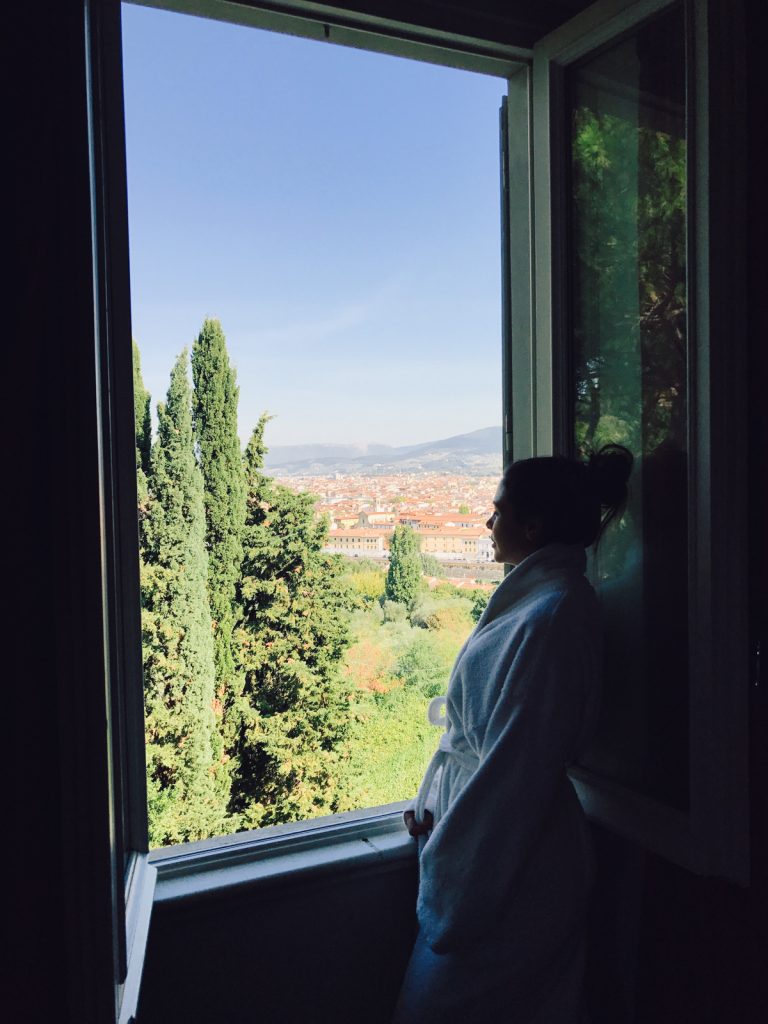 It's really quiet too, so we were able to sleep in and feel completely relaxed.
The hotel offers a great little oasis, with gorgeous gardens and it's own pool. A perfect place to relax and/or play with your family. We also enjoyed their classy restaurants (for breakfast and lunch) and took advantage of it's location to get some nice, long walks around the area.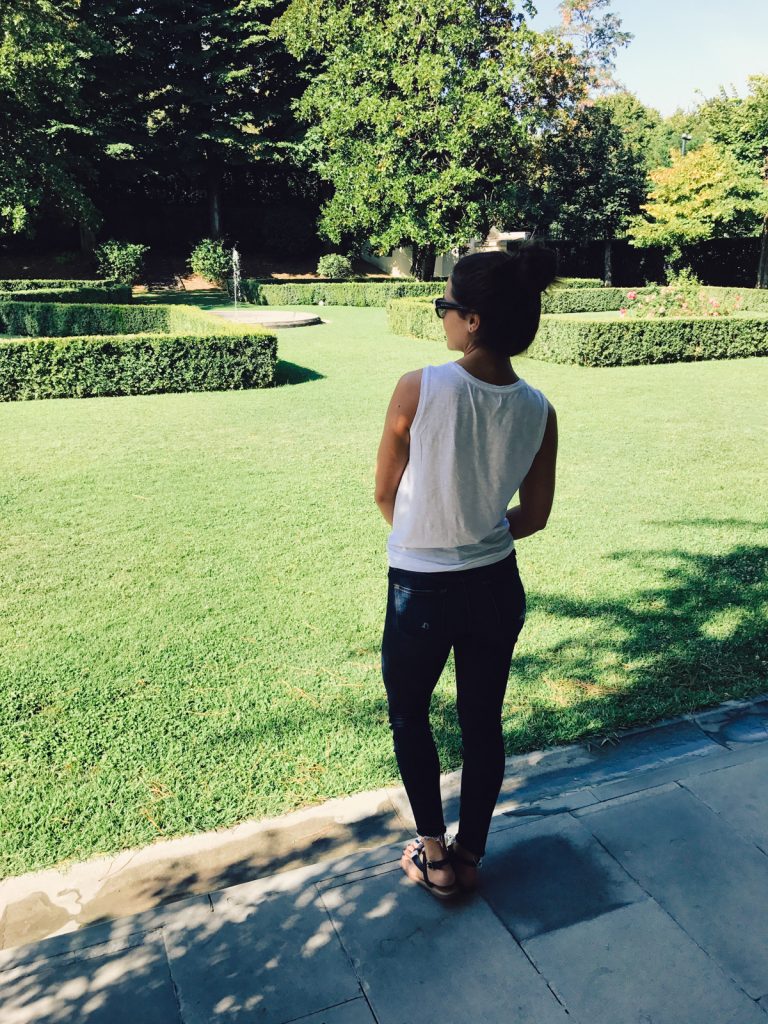 The staff was extremely helpful and they tried to make our stay as magical as possible; helping us book the best restaurants and a fabulous wine tour in Tuscany.
SIGHTS
We re-read the Florence part of our Best of Italy by Rick Steve book, to remind ourselves of all of the places we knew we wanted to visit while in Florence (recommended by Rick Steve).
This was a great thing to do, as it allowed us divide our time well to be able to tackle most of the places we wanted to see without the stress.
What we visited:
Paizzale Michelangelo
This is one of the first places we visited in Florence, since it was so close to our hotel. It's a large plaza that has a panoramic view of Florence. The square was dedicated to Michelangelo, and has bronze copies of some of his marble works: the David and the Medici Chapel of San Lorenzo.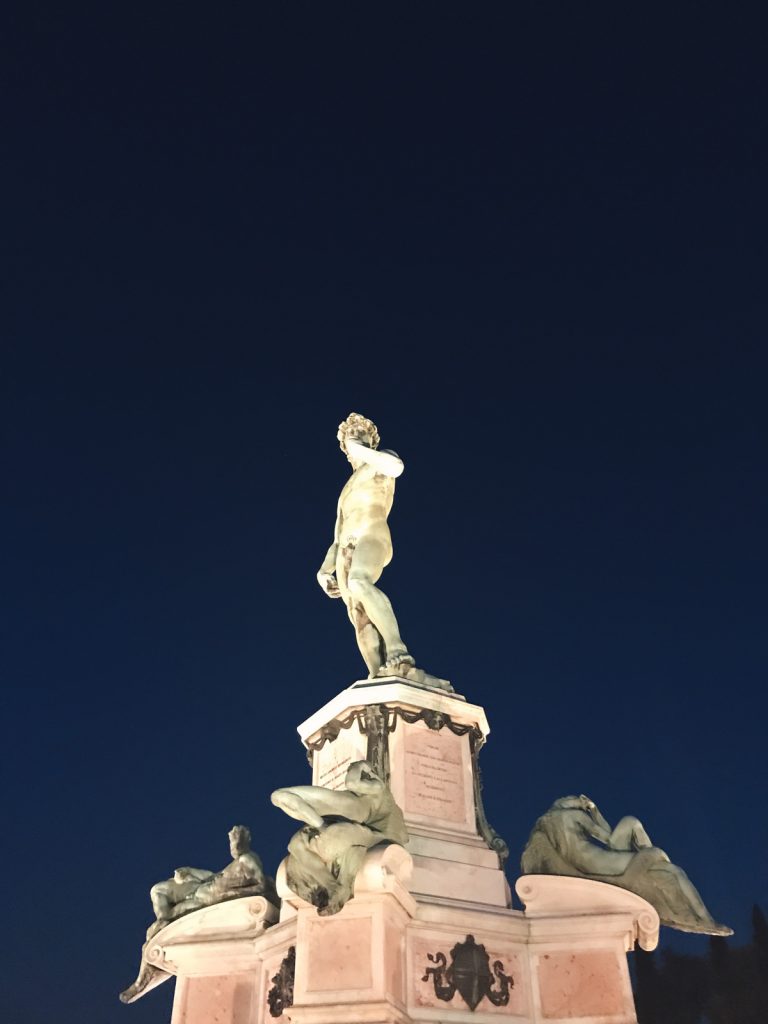 They sell food and drinks there too, and I personally think it's a romantic place to go with your honey and enjoy the view. Especially at night. This is free; doesn't cost anything.
Ponte Vecchio
This bridge has been standing since Roman times. And while Rome "fell", Florence didn't, which allowed this bridge to remain a bustling trade center along the river.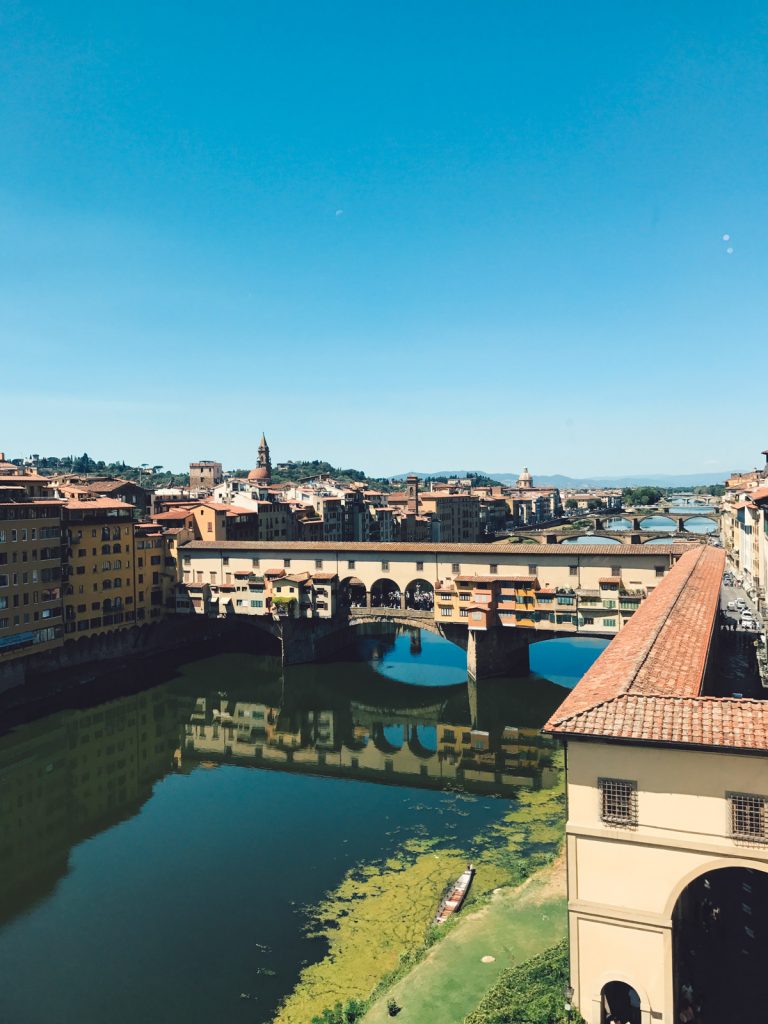 Right before the sun sets, get yourself and your honey a gelato, find a quiet spot near the bridge by the river and spend some quality time together staring at this romantic sight. This is free; doesn't cost anything.
Duomo
We went to the Duomo twice. Once, on our first afternoon in Florence, to grab some gelato and sit outside on the plaza that surrounds it (where no traffic is allowed, by the way) to admire it's beauty from outside. And a second time, on our very last day in Florence, where we bought tickets through a tour guide that took a group of 10 of us up to experience the Duomo's Dome from within.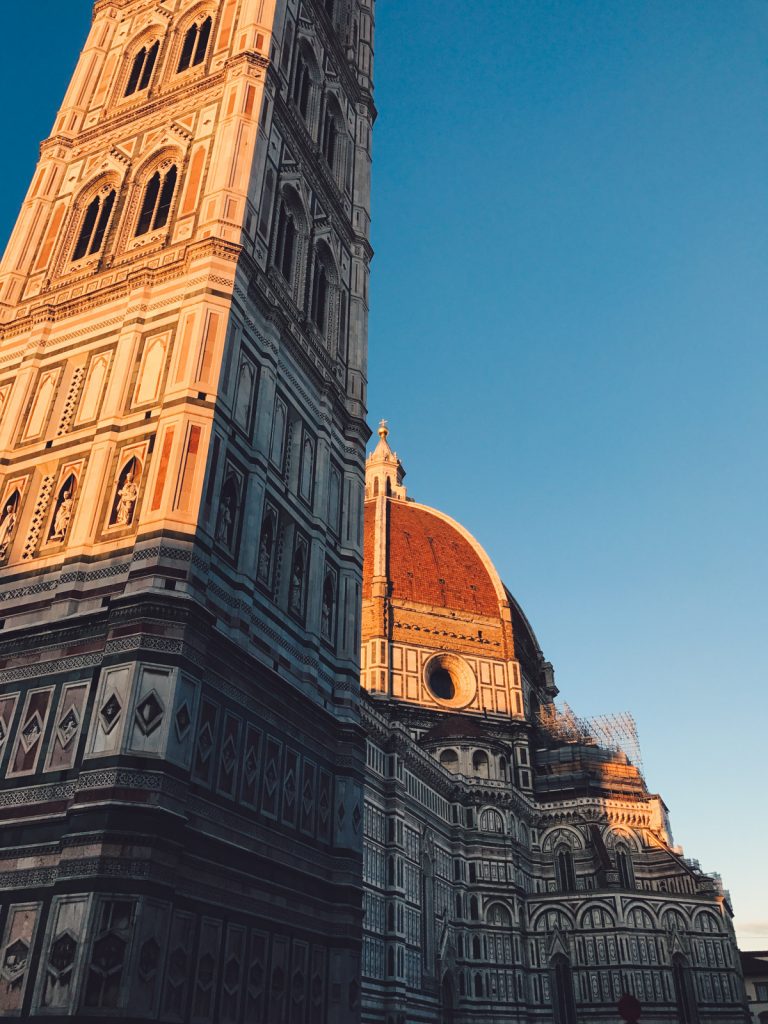 Buying tickets through this tour guide was a bit expensive, but totally worth it, as we did not have to schedule a time to go in (like you normally have to do) and didn't have to wait in line. We were tight on time, and couldn't leave Florence before experiencing the Duomo, so we were happy to splurge a bit and get that taken care of. We found our tour guide outside the Duomo itself, and the company he works with turned out to be very professional and organized.
The Duomo has the third-largest nave in Christendom, and it's outside facade is covered in gorgeous white, green and pink Tuscan marble. It's definitely a sight to see, and in my husband's opinion, it's what makes the Florence view when you're looking at the city from afar.
The best part of the experience is climbing the duomo's dome, which gives you a peek inside the cathedral, allows you to take a peek at the techniques used for building such a massive dome (the "dome-within-the-dome" construction that Brunelleschi came up with) as you're climbing up, and takes you to the very top of the dome, where you get amazing 360 degree views of Florence.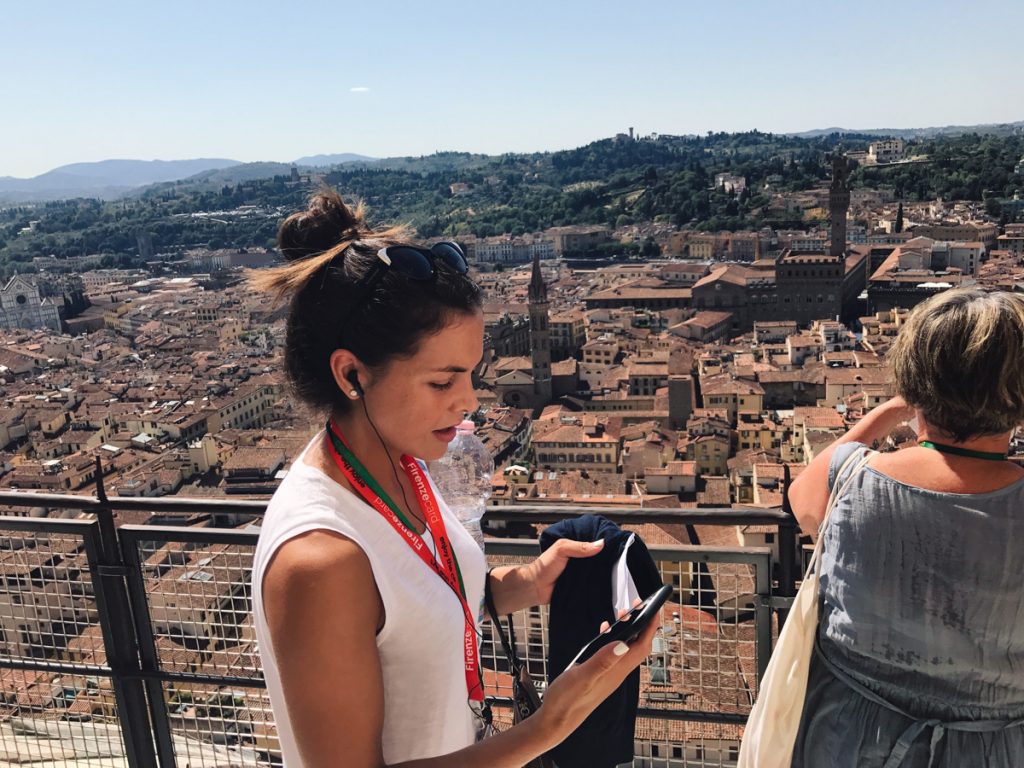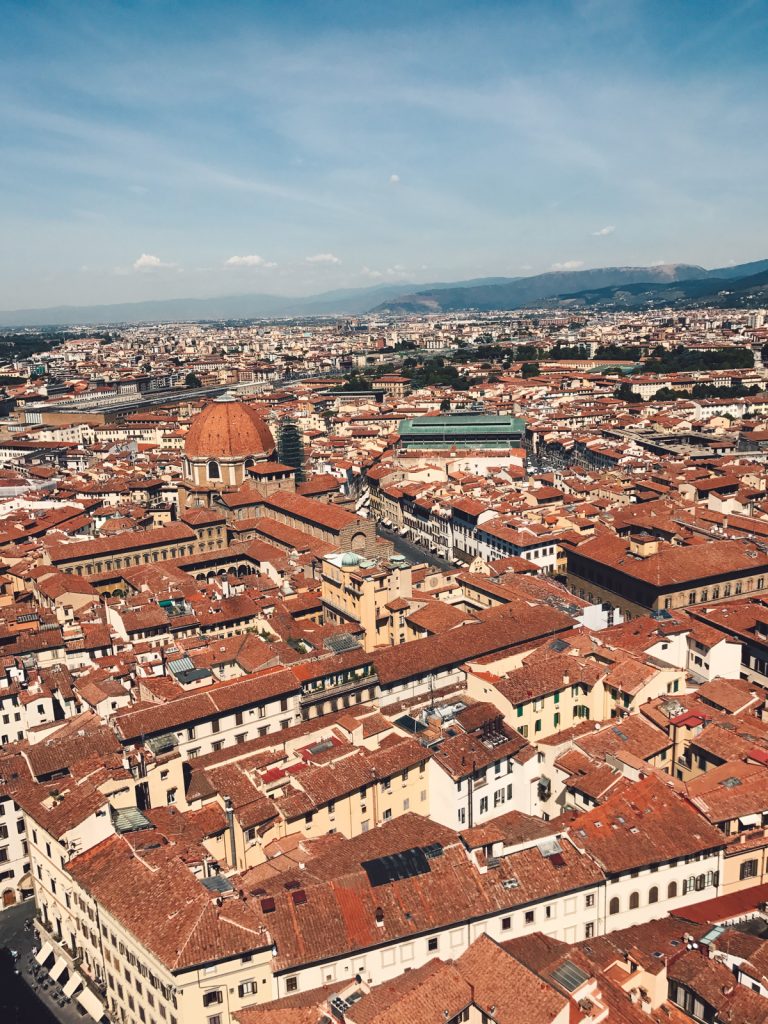 Pitti Palace
This place is huge. It's a sight to see because: it's a palace, has a gorgeous interior and exterior, has the second best collection of paintings in Florence, has gorgeous gardens, and has a few museums inside.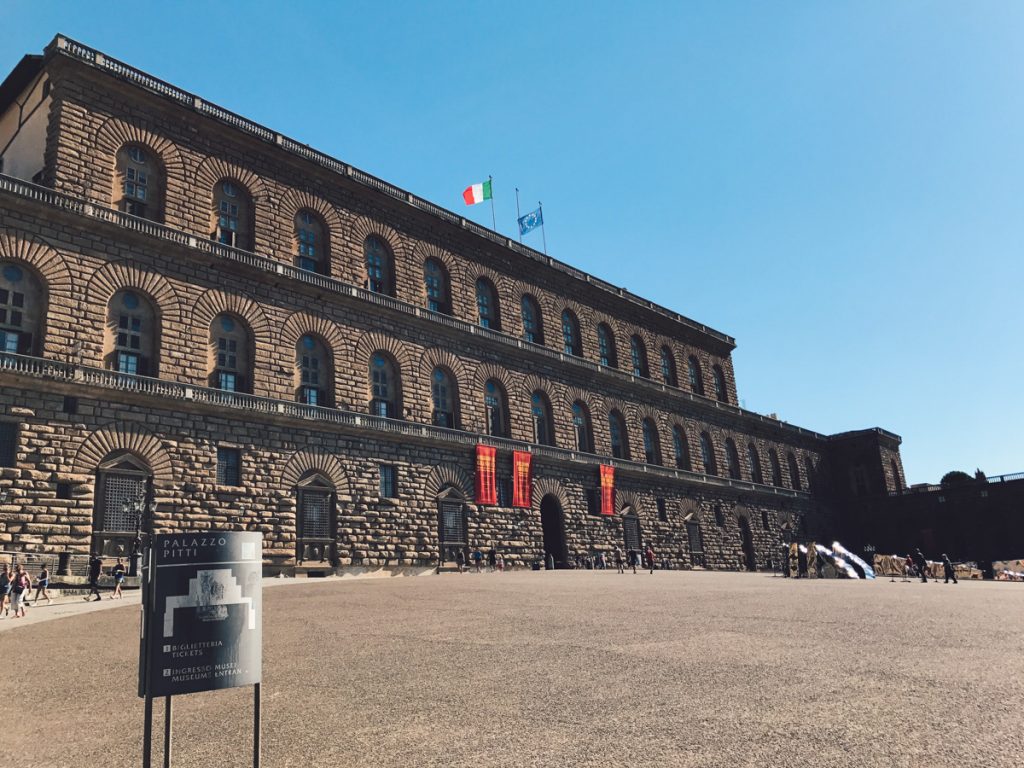 In it's Palatine Gallery you'll walk through one palatial room after another, and you'll see great works of art on the walls. You can also visit the royal apartments, 14 to be exact which is where the Pitt's rulers lived in the 18th & 19th centuries. Super cool to see.
The cost was €13 per ticket.
Accademia
This is where the David is. Wow, the David. Simply dreamy. Probably one of my favorite pieces of art I saw in Italy. They built the Accademia around the David, so that the space in which it was displayed would do the piece justice.
We could not stop staring at this majestic, big (very big, HUGE) depiction of one of our Bible heroes; with my husband, we studied David not too long ago, so knowing about his life and his stories, definitely made his sculpture that much more interesting to us.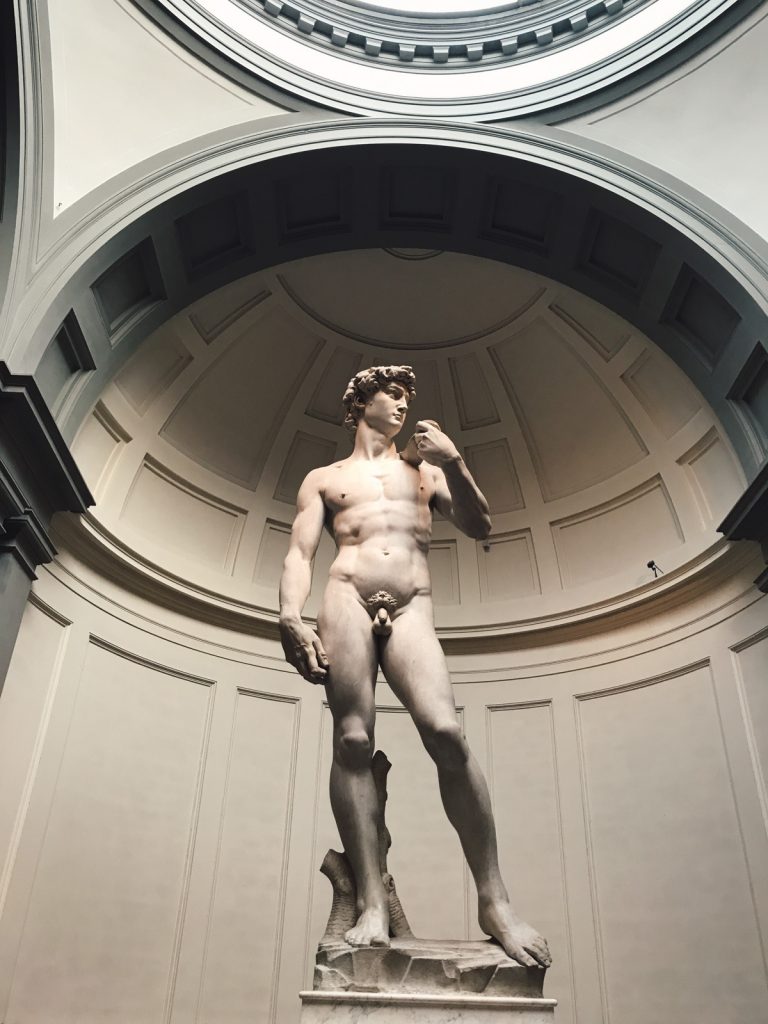 That is pretty much all we saw there, and we spent the majority of our Accademia time with Michelangelo's David. It wasn't very crowded and so it was pretty easy to go in and move around.
The cost was €12.50 per ticket.
Uffizi Gallery
This was art galore. The biggest collection of Italian paintings anywhere in the world, featuring art by Leonardo, Raphael, Titian, Michelangelo, Giotto Caravaggio and Botticelli (yes, his glorious Birth of Venus is there). Only 600 people are allowed at a time so there's usually a long wait; the cost per person is €12.50.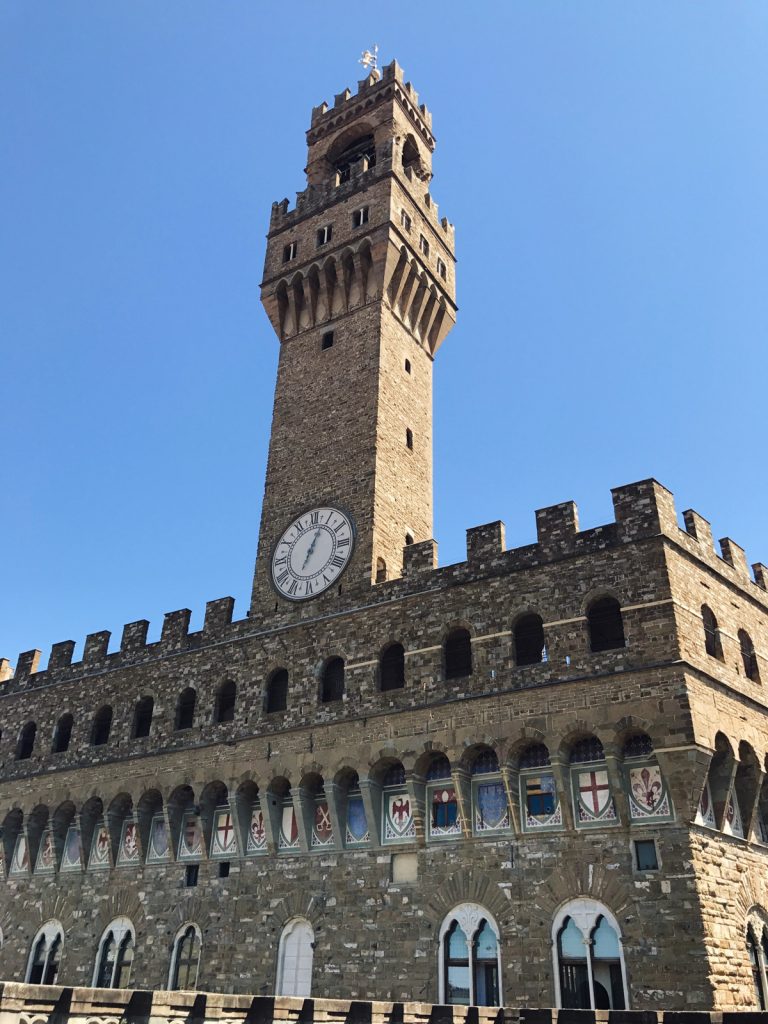 We probably spent a good 3 hours there, going room to room, trying to take all that beautiful art in. We also got an audio tour each, which explained most of the works to you, at your own pace.
Important: get a Firenze Card! This €72 pass will get you a 72 hour access (starting from the first entrance) to 72 museums! With the card you can enjoy priority access to museums with no need to make reservation. We used it to get in to all of the sights mentioned above.
EATS
The food in Florence is very different than the food we experienced in Venice. In Venice you find a lot of sea food (since it is right by the sea), risotto and polenta, whereas in Florence you find a lot of steak and seasonal ingredients (whatever is the most tasty and fresh during that particular time of year).
In general, Tuscan food (Florence is in the Tuscan region) is very simple and abundant with local produce, mellow cheeses and grilled meats (since it is inland). It is also said to have the best gelato in all Italy, so be sure to keep this in mind on your next visit.
Our favorite Florence restaurants:
Cucina Torcicoda – lunch. We went to have lunch at this delightful restaurant for my husband's birthday. It was recommended to us as one of the best pizza places in Florence by one of the locals we spoke to. It was literally the best pizza of my life. No joke. Everything about the pizza we ordered was perfect: it's crust thickness and consistency, the flavor combinations, the toppings-to-crust ratio, everything. 100% recommend this place (especially if you like pizza; but they do have a full menu as well if you want something else).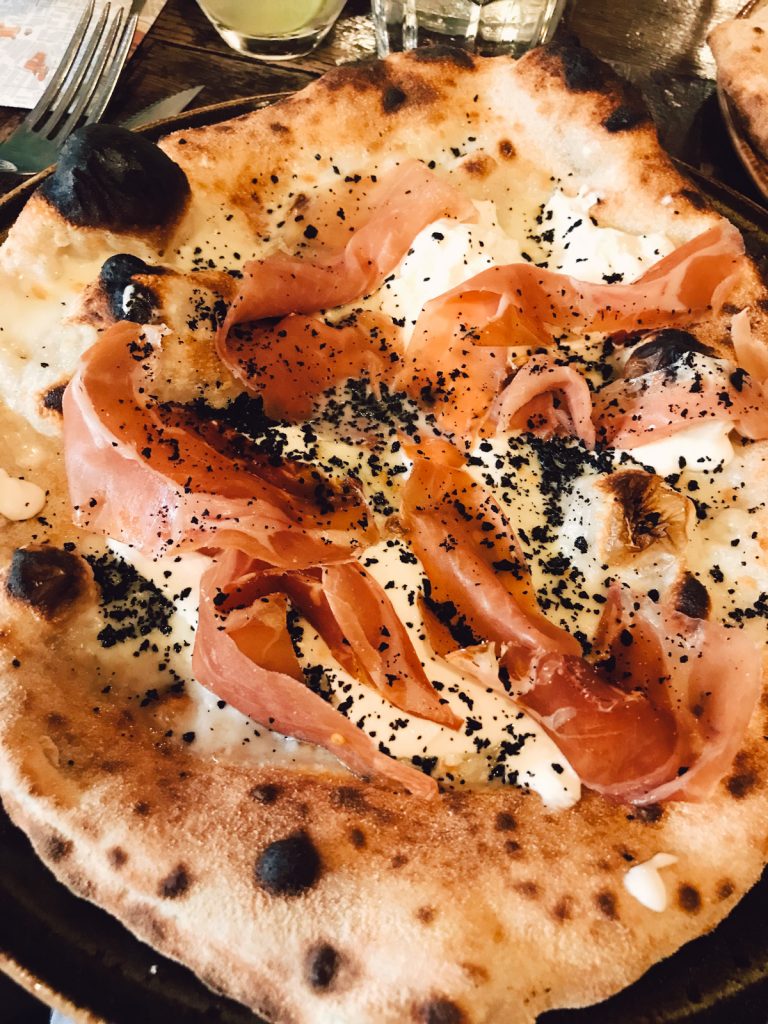 Enoteca Fuori Porta – lunch. Cute and quiet enoteca with an awesome patio to enjoy a light lunch and wine outside. We came across this place as we were walking from our hotel to the center of Florence, and it looked like a really serene and yummy place to enjoy lunch. We took a risk, sat down and ordered some food and wine. I got a greek salad (best I ever had, seriously amazing) and a delicious honey-walnut-brie crostini.. Simple food, but incredibly tasty. A nice spot to enjoy food and recharge.
The bastions of St. Nicholas Trattoria & Pizzeria – lunch. Another good looking place we stumbled upon as we walked to city center form our hotel. This place is right across the street from Enoteca Fuori Porta. We ordered some delicious (and extremely affordable – €10 for a full bottle) house wine and a yummy tuscan salad. Quiet, calm and awesome service.
Acqua al Due – dinner. This place was recommended to me by my sister (who lived in Florence for 6 months) and by a friend (who also lived in Florence for about 1 year). We went there because they both raved about it and told us it's a restaurant we simply can't skip. The food was great; we enjoyed their house wine, a sampling of their appetizers, a sampling of their salads and a sampling of their pasta dishes.  The restaurant's atmosphere was cozy and their service was wonderful. Usually crowded, so be sure to make reservations.
Relais Villa l'Olmo – dinner. We had the pleasure of visiting this lovely wine estate to enjoy a one-of-a-kind dinner, and we were able to do that because of a wine tour we took on one of our last days in Florence (read more about wine tour below). The dinner we had here was very family style, because of our tour, so we had a bunch of delicious salads and pasta dishes to choose from…as well as amazing appetizers and wines to start. They didn't serve us dessert, but I saw that they did offer dessert on their regular menu, so I ordered a tiramisu. Their tiramisu? IN-CREDIBLE. Nothing like it.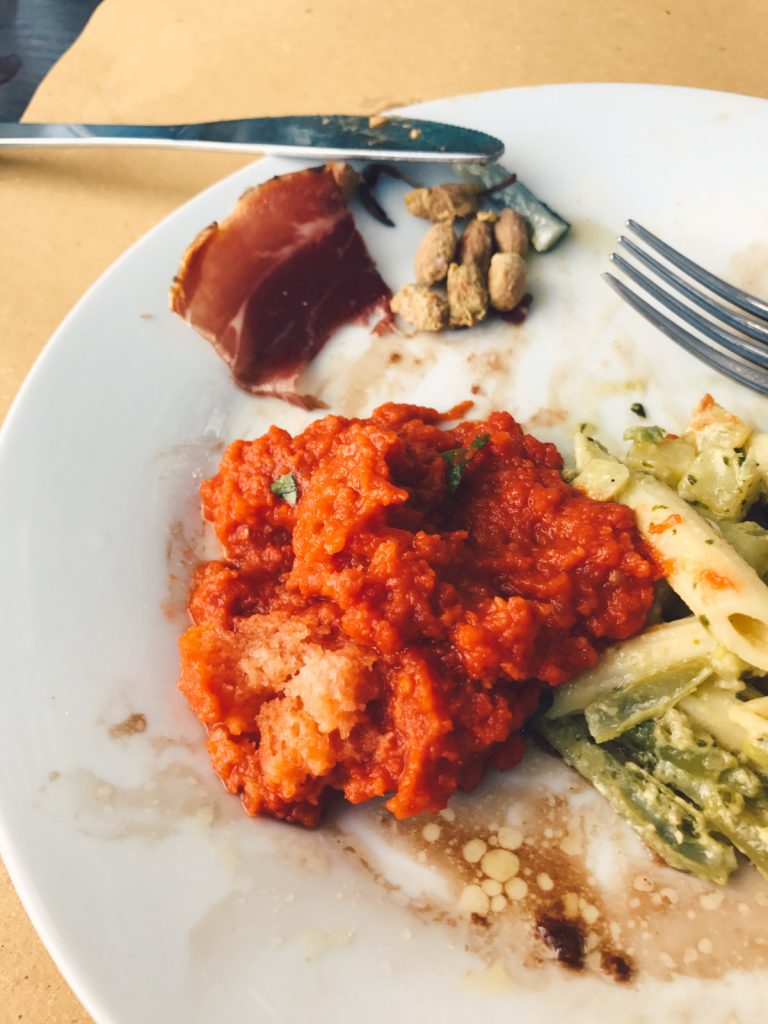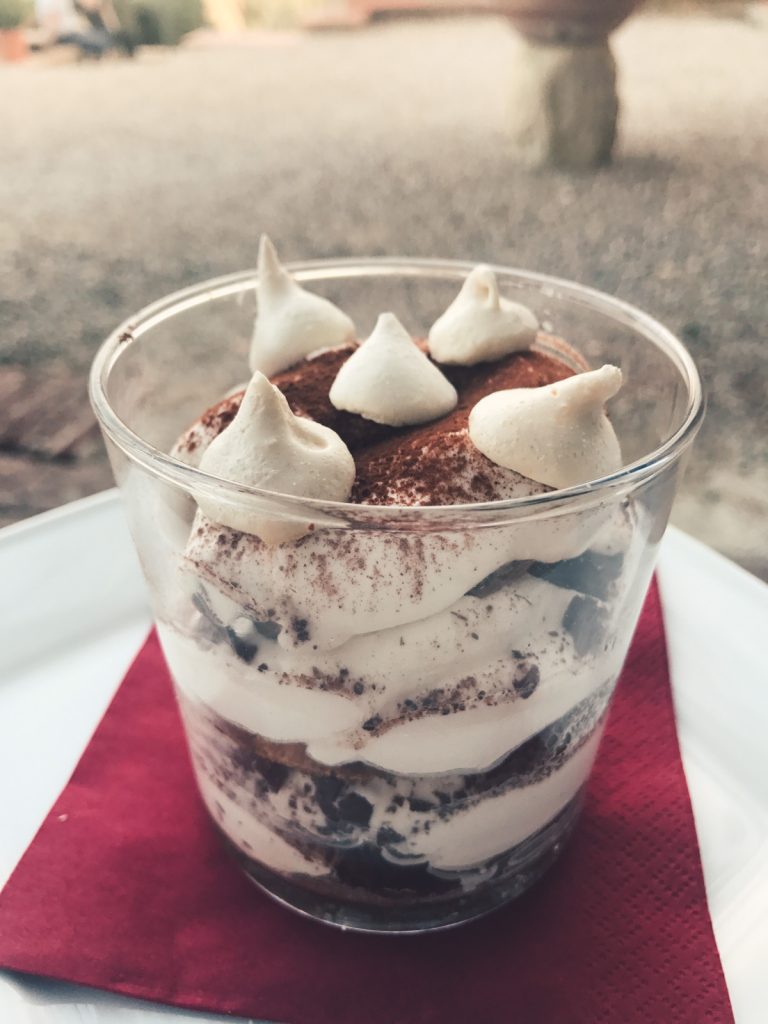 La Carraia – gelateria. Probably our favorite gelaterias in Florence, and Florence is known for their gelato, so that tells you a lot. We tried bacio and pistaccio. Simply amazing; so creamy and delicious.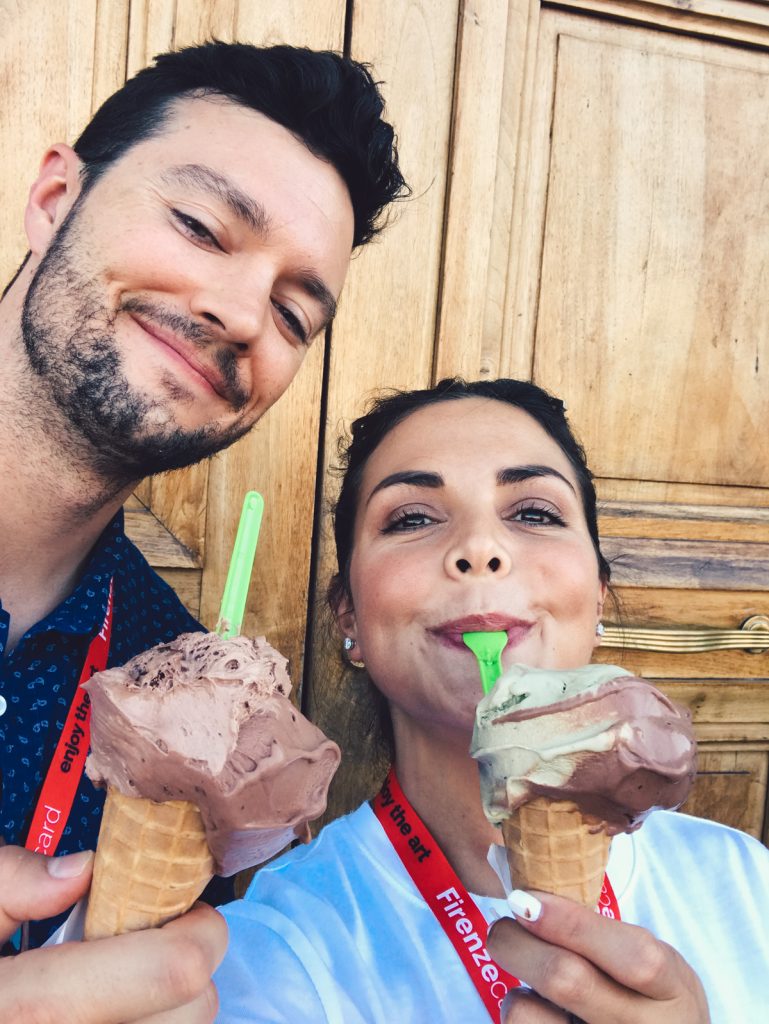 Tuscany Wine tour:
We booked this wine tour with the help of our hotel's staff; they recommended it and they arranged it for us. A Tuscany wine tour is something we knew we for sure wanted to do while in Tuscany, because of my love for wine and my love for the Tuscan scenery. We basically told the concierge what we were looking for and they found the perfect tour for us.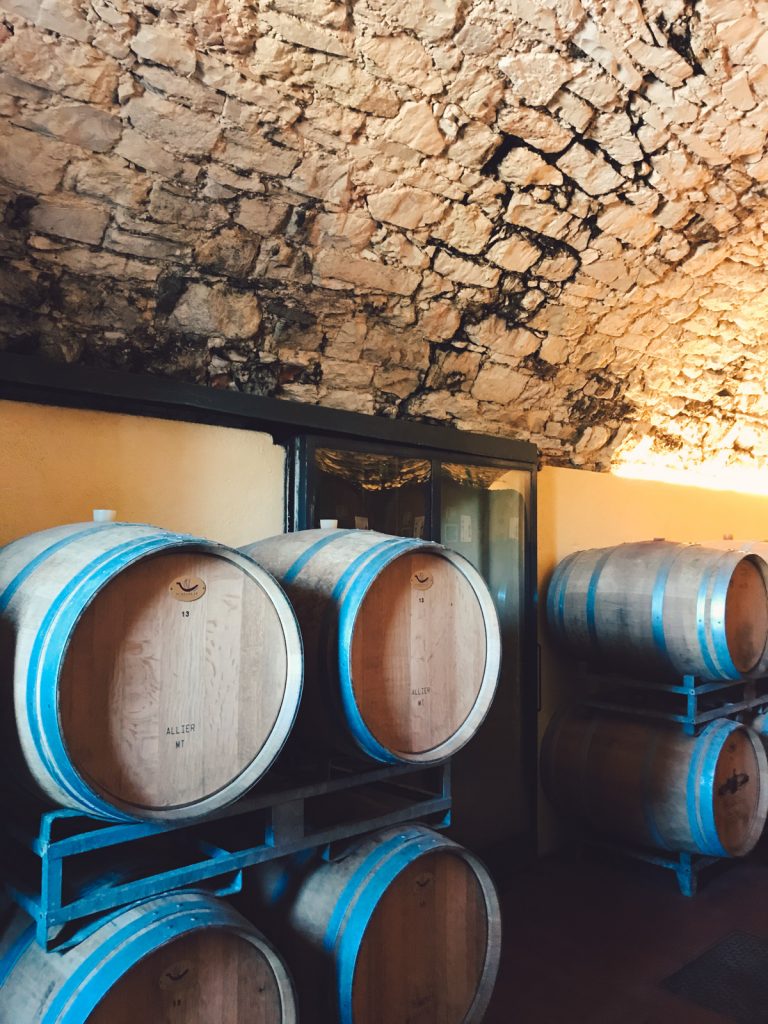 The wine tour we took is called: Florence Town's (small-group) Tuscany Wine Trail.
It was €129 per person, and it was money well spent. The wine tour started at like 3pm and lasted until 9pm. We met at a central point in Florence with the tour guide and the rest of the group, the tour guide directed us to the van, we hopped on the van and on we went to explore the Tuscan countryside.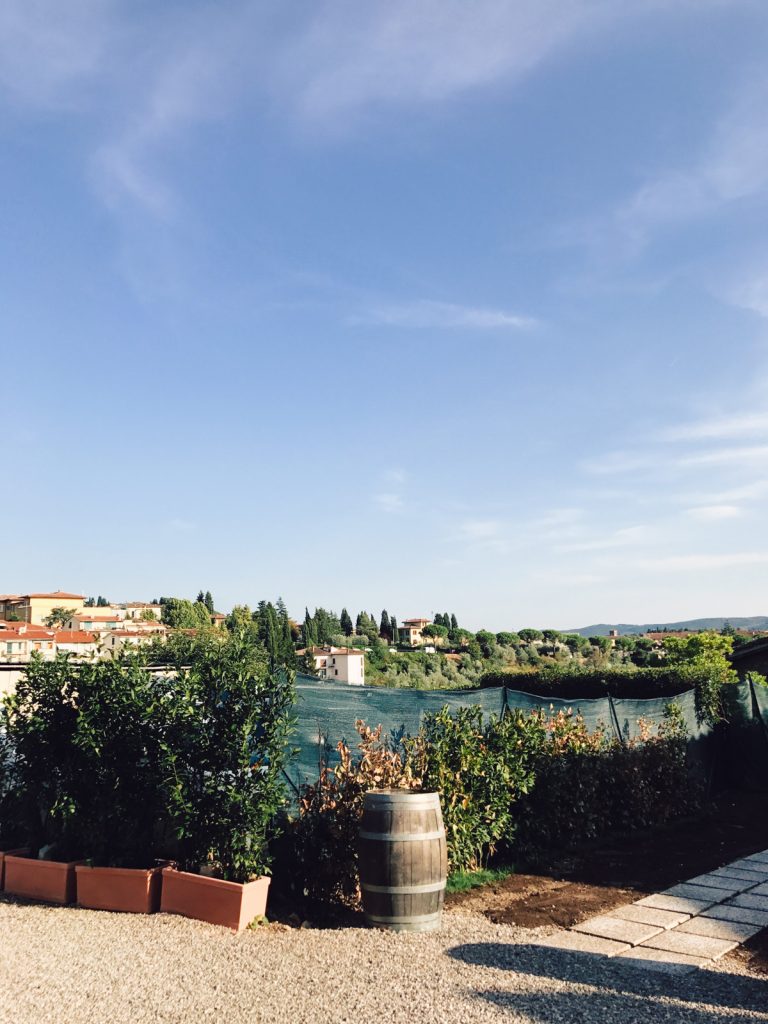 Definitely recommend it! The only con of the whole tour was that the van that took us from winery to winery did not have AC, which was sort of tough, since it was the middle of summer.
We stopped at 3 wine estates:
Every one of them was unique and beautiful. And all of their wines were to die for. We ordered a few Chianti Classico bottles to be shipped back home to us, so that we could enjoy a little bit of Italy in the comfort of our own home and remember our trip with every sip.
Florence was so much fun. It's a vibrant city that inspires freedom, creativity and romance, and we felt so blessed to have been able it enjoy it! Our favorite parts were the architecture, the views, and the pizza and wine. Three days here was too short, but given the duration of our trip, we really couldn't extend it any further if we wanted to see other parts of Italy. But we know we'll be back for more someday.
Be sure to check out where we went next: Rome!
---
PIN ME!