Venice is a dream: a city full of history, extremely unique and beautifully constructed. A true work of art. If you haven't yet been there, you must go! You will not regret it.
We went on a trip to Italy for 11 days and our first stop in Italy was Venice.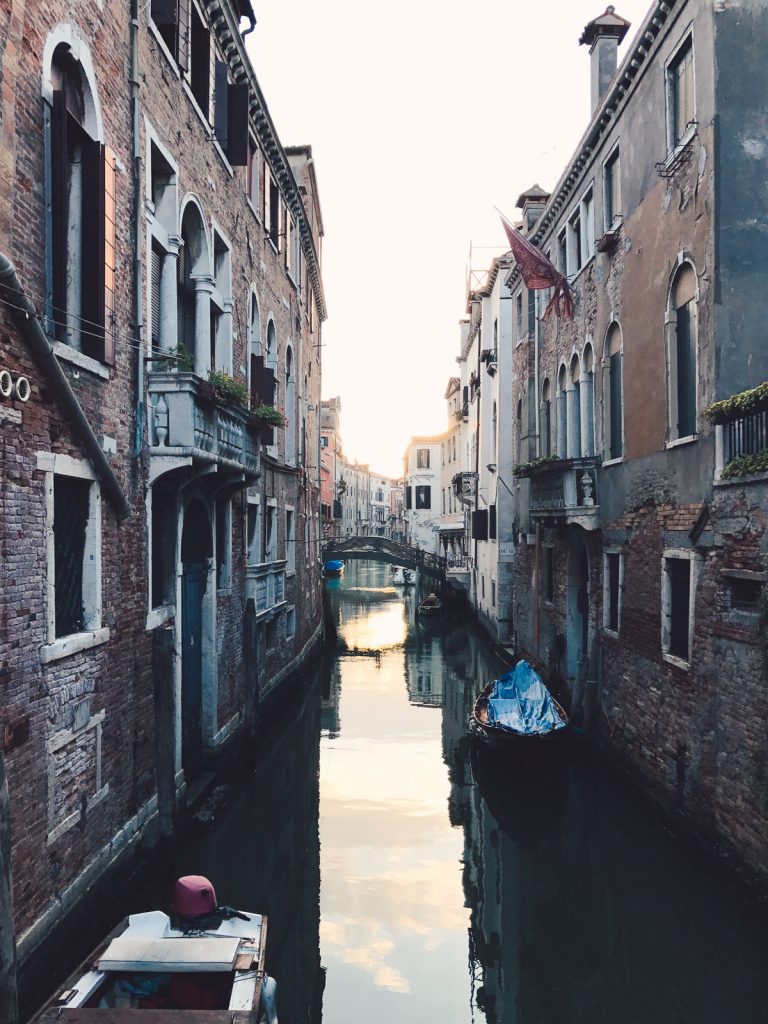 As soon as we arrived to the Venice airport, we could feel the humidity that only places close to the ocean give out. And it was that humidity alone, that got us STATIC for all that was to come in this new-to-us land.
TRANSPORTATION
We had no idea what kind of transportation we'd need to get from the airport to our hotel (hotel was located in St Mark Square), seeing as though Uber does not exist in Italy and there are no actual cars in Venice.
So once we had our bags with us, we approached the closest information center and asked where we could go for water taxis. They directed us to a mini transportation hub and after telling them where we needed to go, they recommended a few options.
We took the Alilaguna boat from the airport to the St Mark Square area stop, which was only a two minute walk to our hotel. The photo below was taken from the Alilaguna boat, and it was pretty much our first sight of Venice.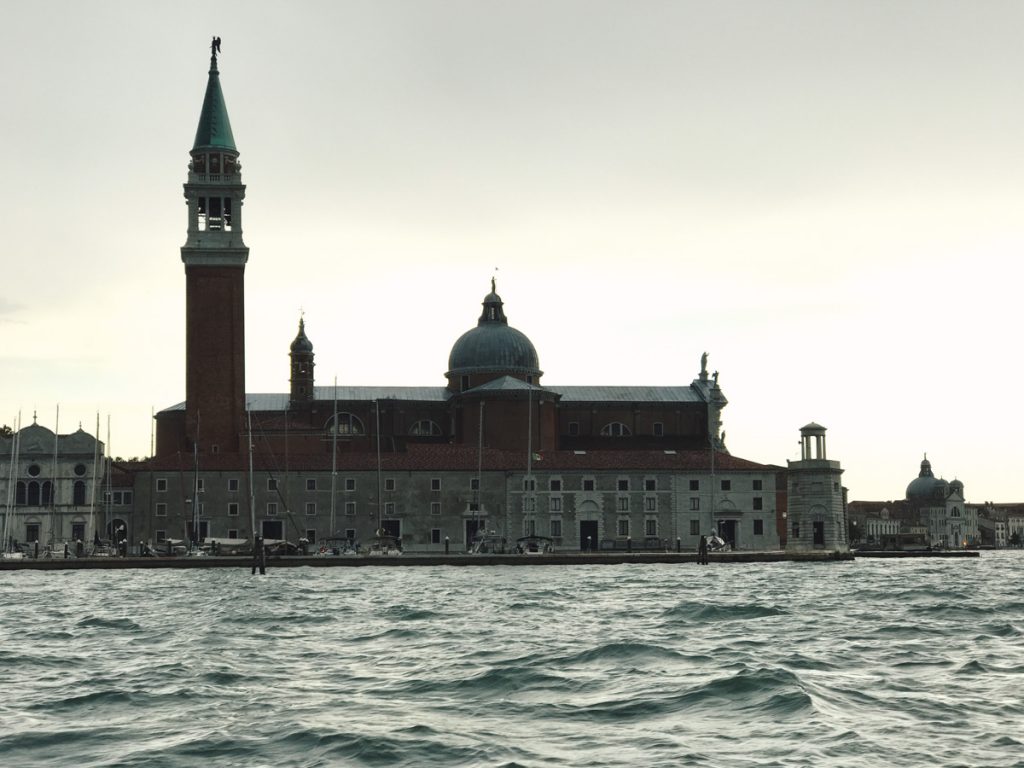 Here's all the transportation we took while in Venice:
Alilaguna airport boat. This is what we took from the airport to our hotel. It's not a taxi, as private taxis were about €150 per ride, but it was also not the ATVO coach, which would've taken forever to arrive to our hotel with all the stops it makes. The Alilaguna was a convenient "group boat" that had only a few stops before our hotel.
Walking. We walked everywhere! It felt so great to tour around by foot. We experienced a lot this way, and got "lost" in Venice's cute back streets. There is so much to see by foot and so much to take in. With Google Maps available in our phones, it's so easy to navigate by foot.
Vaporetto. This is the most common form of transportation for all of those who work, live and tour Venice. It goes all around the island of Venice, and also to nearby islands, like Murano and Lido. It's affordable and convenient. We took the Vaporetto whenever we needed to go far distances. It felt really safe and it was extremely well run.
Water Taxi. We only took a water taxi once, when we were headed back from our hotel to the airport to catch our flight to our next Italian destination. We took a taxi instead of taking the Alilaguna or the Vaporetto, because it was a very hot day, we were a bit tired and we had a lot of bags with us. Our hotel's concierge called a taxi and fixed the rate for us, so we knew to trust the taxi.
Gondola. We only took a gondola once, at the very end of our trip, literally two hours before we needed to head to the airport. I recommend taking a gondola ride at night, after a nice meal and perhaps with a bottle of wine, because it makes for a more romantic scene. Also, be sure to get your own gondola; even though it's more expensive, it's  private and allows for you to customize your ride as you wish (music, history lessons, etc.).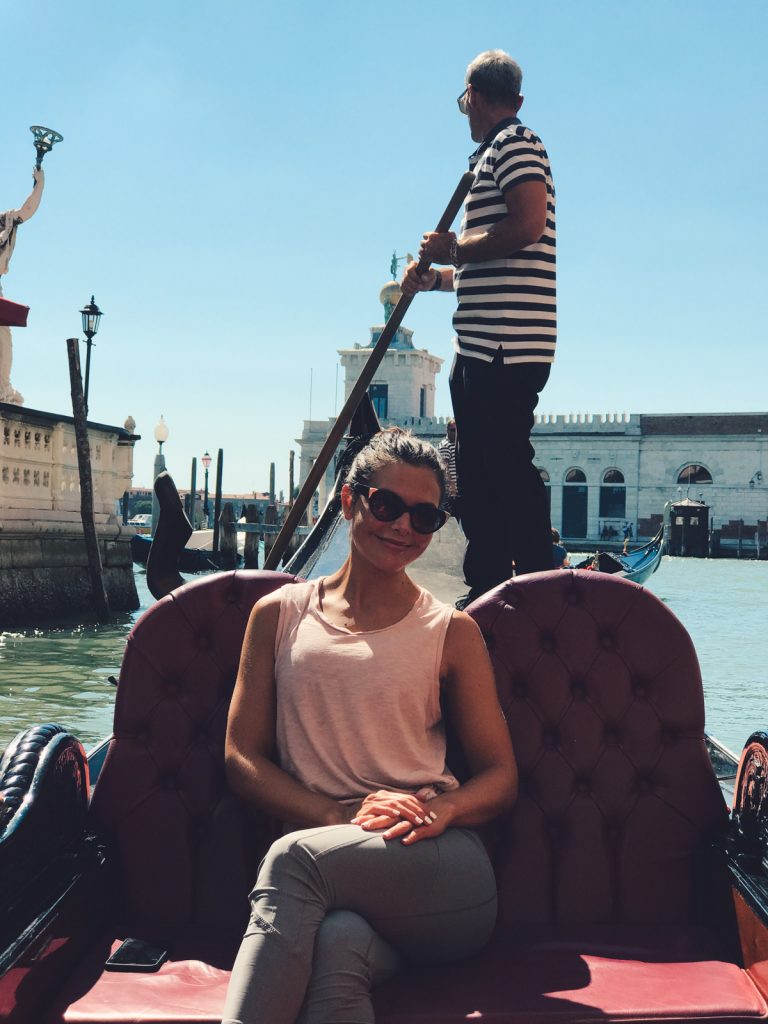 HOTEL
We stayed at the Bauer Il Palazzo, a 5-star hotel.
It's a gorgeous and classy hotel, right next to a gondola stop by the water. From our room we could hear the gondoliers signing in the morning on the water. DREAMY. Breakfast came with our room and it was literally the best hotel breakfast I've had in a long time. Their buffet was excellent; lot's to chose from and very fresh.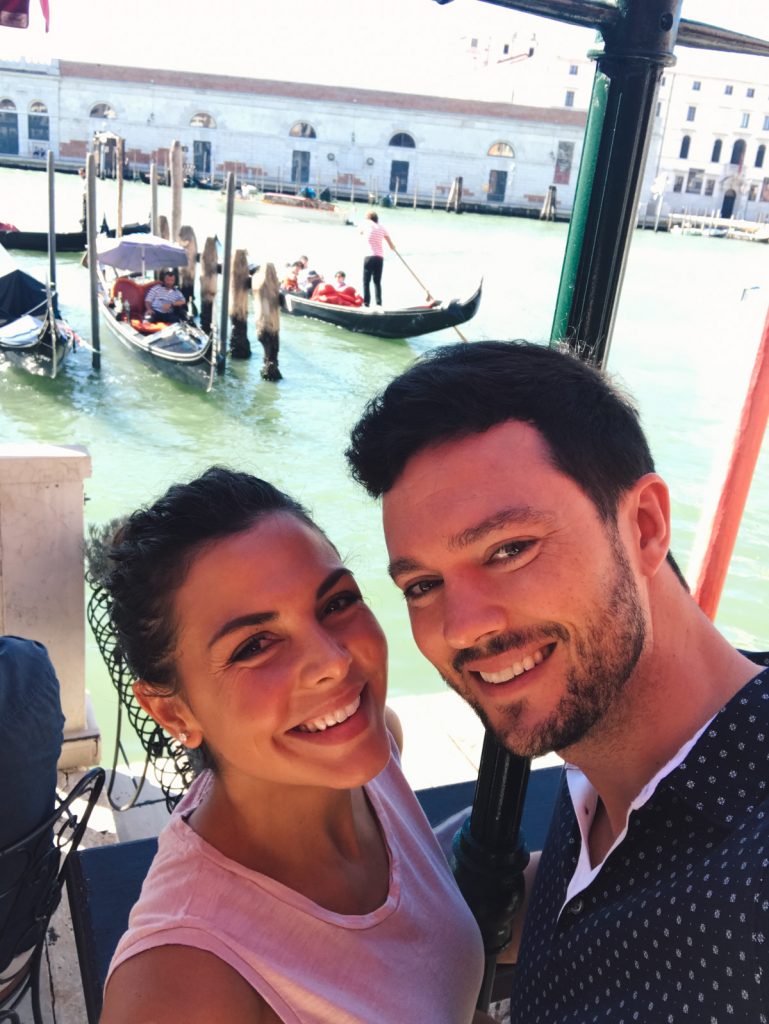 The Bauer Il Palazzo hotel was perfectly located, close to St Mark's Square, but far enough to where it felt private and you could not hear a lot of noise.
This is a 5 star hotel and it shows. Our room had classic Venetian decor and a very "European" feel to it. The bathrooms had amazing toiletries (some made the old venetian style, like the merchants used to sell them back in the day) and came with bathrobes and slippers (which are a MUST for me at hotels).
Also it was the only hotel in Italy, from the hotels we stayed in, that had a decent gym! Oh, and can't forget to tell you: the view? AMAZING.
On our first morning there, which was coincidentally my birthday, we woke up at 4am since we were so jet lagged, and ran to St Mark Square to watch the sunrise. It was one of the best experiences of my life. The Square had not one person when we arrived and it was beautifully quiet, peaceful and grand. I highly recommend this experience!
SIGHTS
Our stay in Venice was our longest stay from all the stops we had during our trip. We had 4 full days in this beautiful city and we did a lot.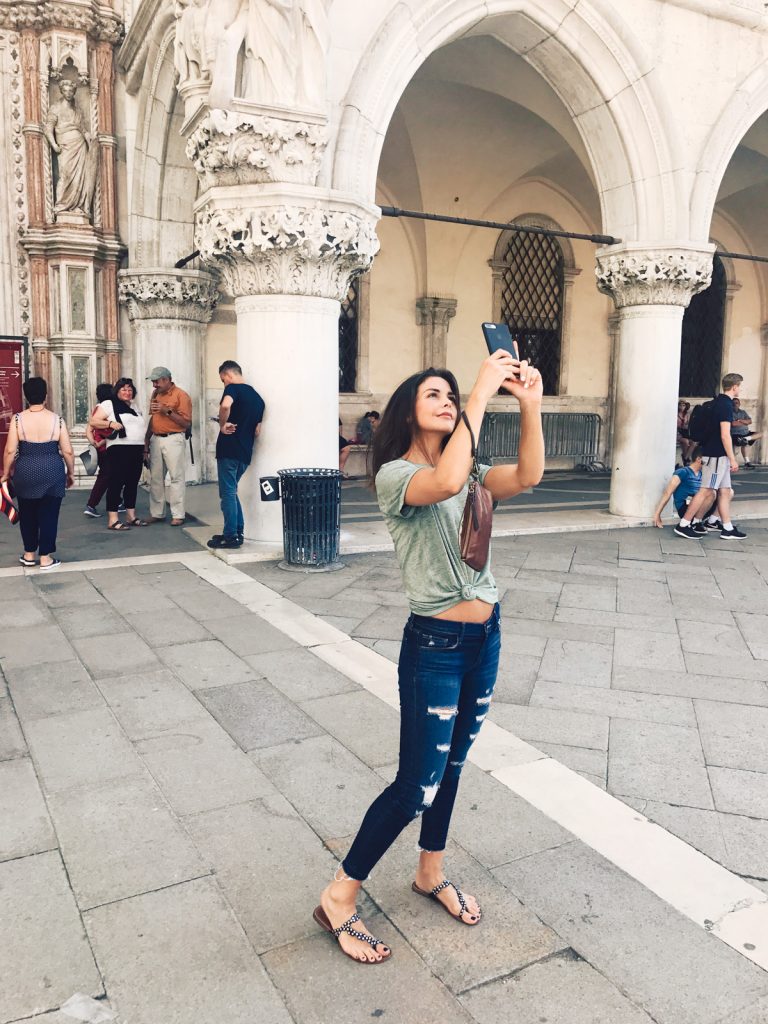 We mostly walked and "got lost" in the streets of Venice. Getting lost is a term that a lot of travelers refer to as what happens to you when you're visiting Venice.
All the little passageways, streets and bridges, through which you roam, can get tricky and confusing to navigate.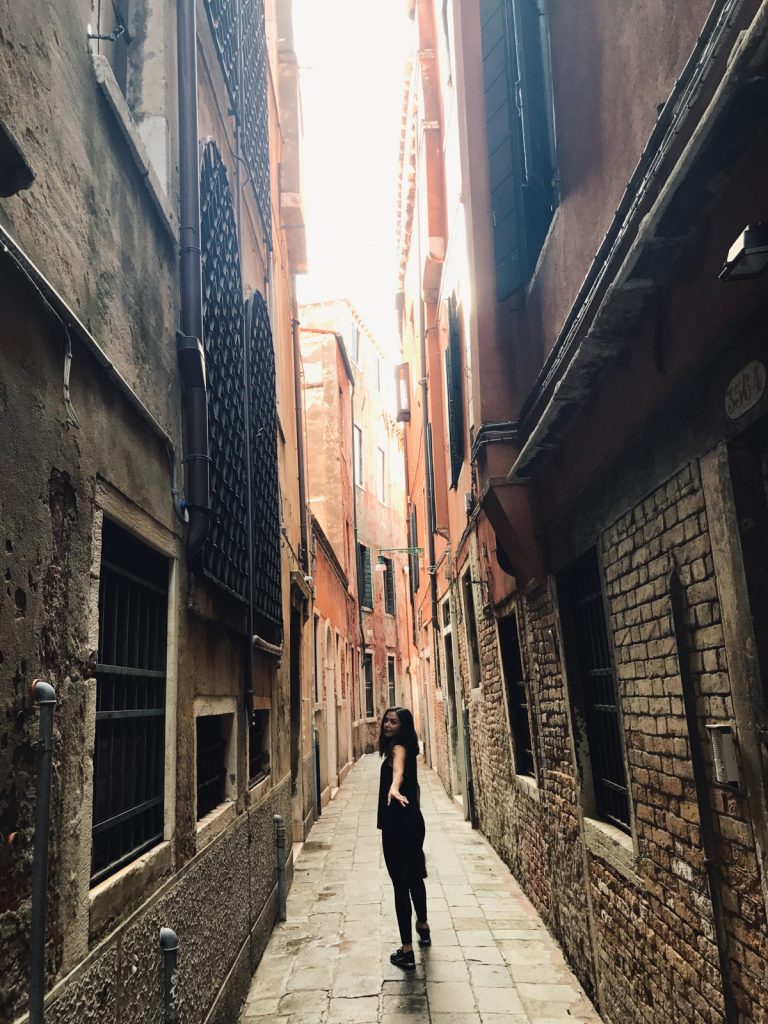 Now, getting lost must've been what happened to visitors back in the day, when smart phones were not in the picture. With Google Maps, we felt we knew exactly where we were and where we were going at all times.
It was wonderful to put comfy shoes on, and hop out of the hotel after breakfast, to explore every Venice corner. The weather at the time of year we visited (August) was perfect; it was hot, but the days were sunny and the skies were blue, which allowed us to see everything perfectly clear.
What we visited:
Grand Canal
The Grand Canal is sort of the main "street" on the island, so this is something you won't miss even if you tried.
If you hop on a Vaporetto, starting at the train station (Ferrovia), you'll be able to tour around the whole island and see palaces, churches and museums from the water. If you want, you can hop on and off at every stop to explore a bit further, until you reach the San Marco Square stop. This is a must to see Venice at a high level!
St Marks Square (Piazza San Marco)
This one is one of my personal favorites. Maybe because it was only a few steps away from out hotel, which made it super convenient for us? However, I feel like the main reason we loved it was due to all the beauty within.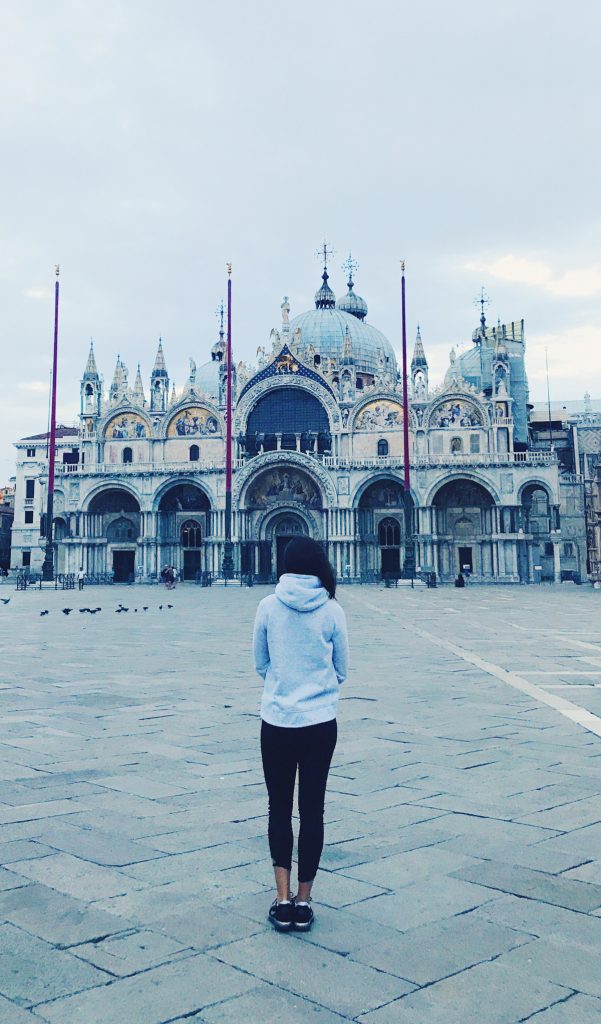 While at the square, cover the following:
Saint Mark's Basilica (Basilica di San Marco)

Built in the 11th century
The most gorgeous basilica I've seen in my life
Where the body of Saint Mark is actually buried!
Entry is free, but you can skip the line if you reserve online (

€

2)
To avoid lines: go early (9am) or late (6pm)
Attire: must cover shoulders and knees
Doge's Palace (Palazzo Ducale)

Home of the ruling duke
Most powerful half-acre in Europe for 400 years
Wallpapered with masterpieces by Veronese and Tintoretto

€18 combo-ticket includes Correr Museum

To avoid lines: buy combo ticket at Correr Museum across the square, then go straight to Doge's Palace turnstile, entering at the pre-paid tickets entrance.
Correr Museum

Great place to get an easy overview of Venetian art and history
Quiet place to go for when the piazza is too crowded and/or hot

€18 combo-ticket includes Doge's Palace
San Marco Campanile

Best view in Venice! (especially at sunset)
Replaced old tower that crumbled in 1902 (1,000 years after being built)
To avoid lines: go early (9am) or late (6pm)
Bridge of Sighs

Bridge that connects the Doge's Palace with the prison.
It's name's history: supposedly a condemned man would be led through the bridge to the prison, take one last look at glorious Venice, and sigh.
Pretty cool to walk through.
You can get there through the Doge's Palace.
Accademia
This is Venice's top museum. It's full of highlights from the Venetian Renaissance era. €9 and free every 1st Sunday of the month. Least crowded on late afternoons after 5pm, and on Wednesdays, Thursdays and Sunday mornings.
Rialto Bridge
This is one of the most famous bridges in the world! And for good reason, because it's absolutely gorgeous; it's grandiose, yet delicate. It's a thick bridge that crosses the grand canal, which has shops along the way, and a nice market that surrounds the bridge (where I personally got some amazing spices that I am still enjoying; been adding them to my zoodles and using them for rubs…totally recommend you get some!)
Peggy Guggenheim Collection
This is not a must, but something both my husband and I really enjoyed. It's a cute palazzo turned into a museum, which is owned by Peggy Guggenheim, hence the name. You'll see art from some of the best: Picasso, Dali, Pollock. It feels like a home, because it's a warmer space and it's very welcoming, but it's definitely a place to see art, as it has some really unique pieces that are worth the stare!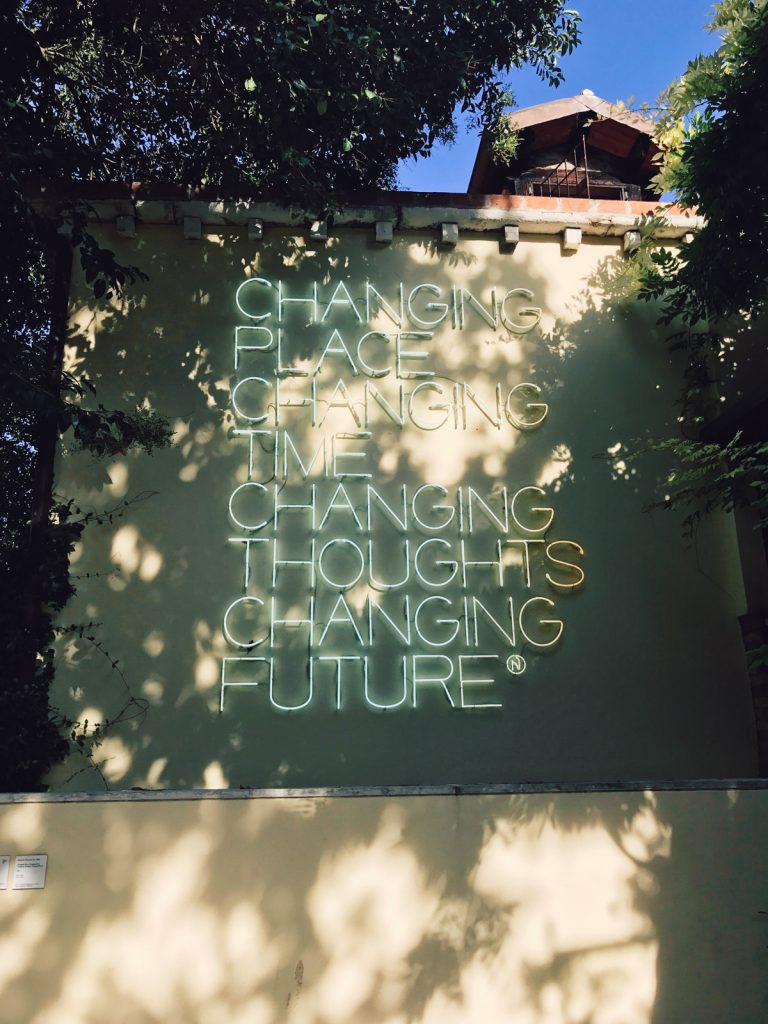 Frari Church
We were surprised at how little foot traffic this place had. We were able to get in and out no problem and it felt like we had an attraction all to ourselves. It is a gem and it is definitely worth stopping by, especially if you don't love crowds. Here you can see great Renaissance art, from some of the masters, such as Donatello, Bellini and Titian. And the cool thing is that the art is displayed in the place it was made for: a church.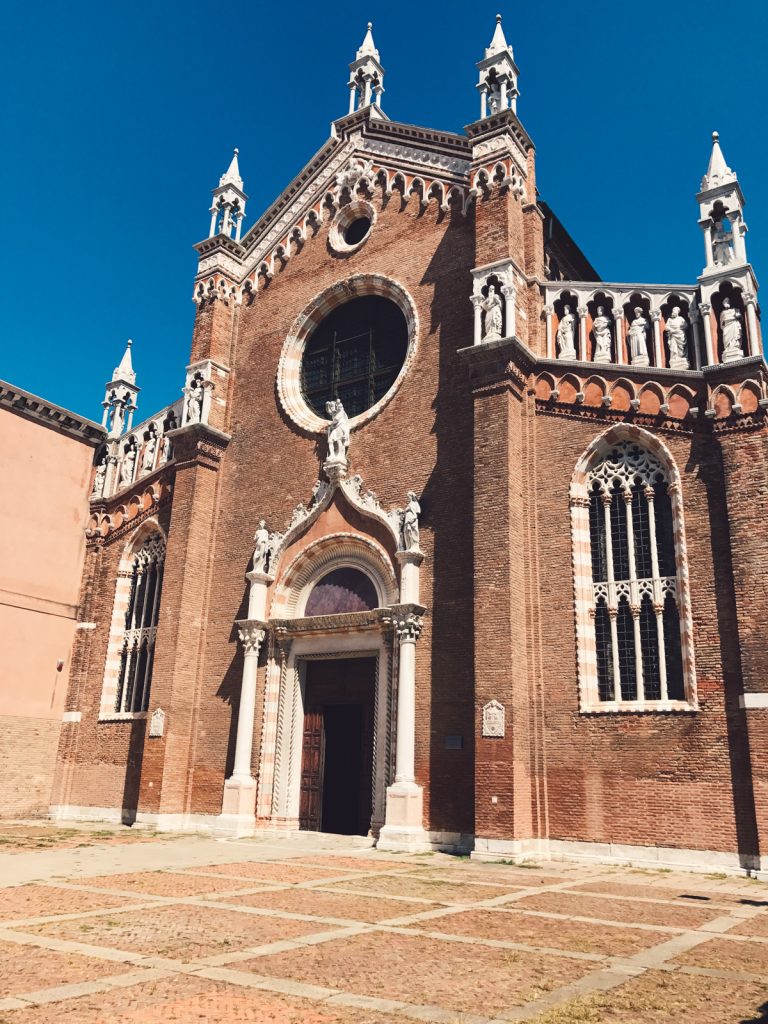 EATS
For breakfast we only ate at our hotel (Bauer Palazzo), since their breakfast buffet was included in our stay and it was one of the most delicious breakfast buffets we've had; their cheese, bread, coffee, eggs and fruit were outstanding.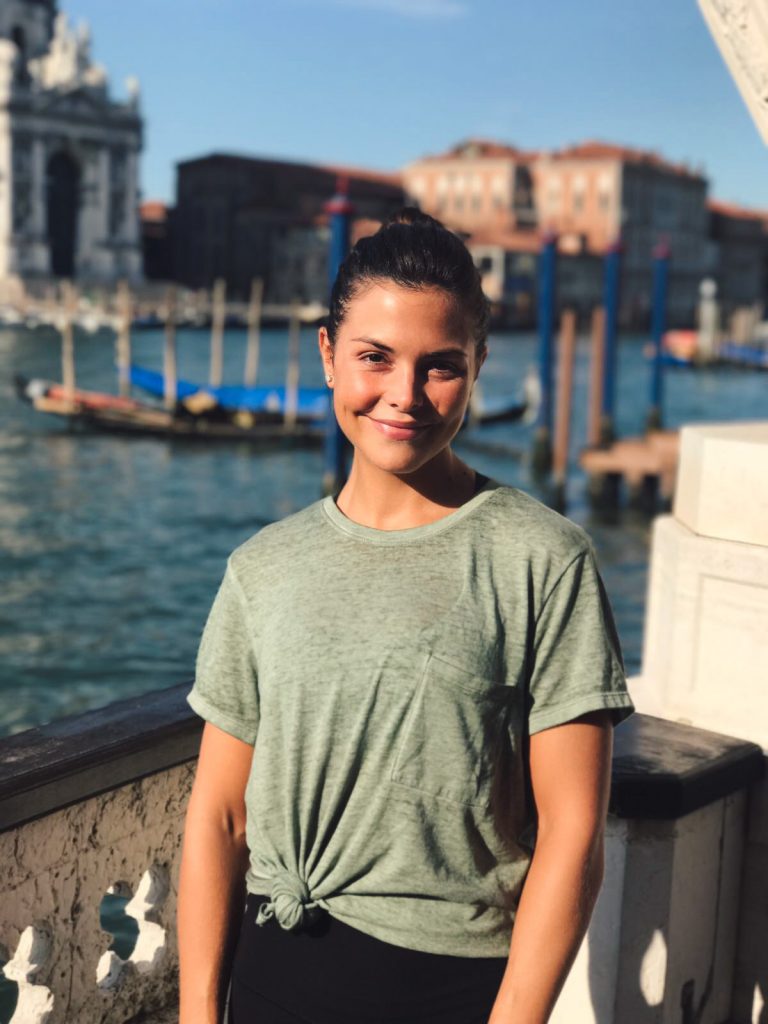 But for lunch and for dinner, we ventured out. Venice was one of my favorite places to eat in all Italy, because their fish was fresh and their side dishes were light. I love eating meals that satiate my palate, but that don't leave me feeling too heavy, and Venice definitely delivered.
Our favorite Venice restaurants:
Chat Qui Rit – Lunch and wine. We went here for my birthday at around 3pm for some wine and tapas. It was a super quaint space, very cozy and friendly. We ordered great wine, a delicious cheeseboard and split a light pasta dish. A fun little spot for apps and drinks that is quiet and welcoming.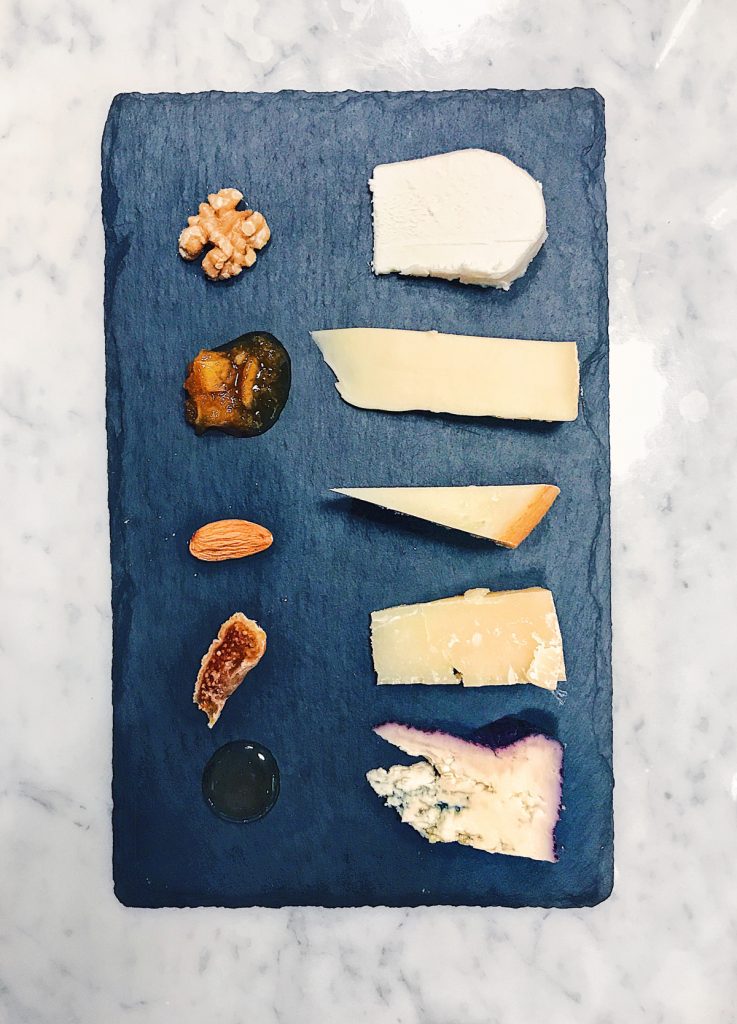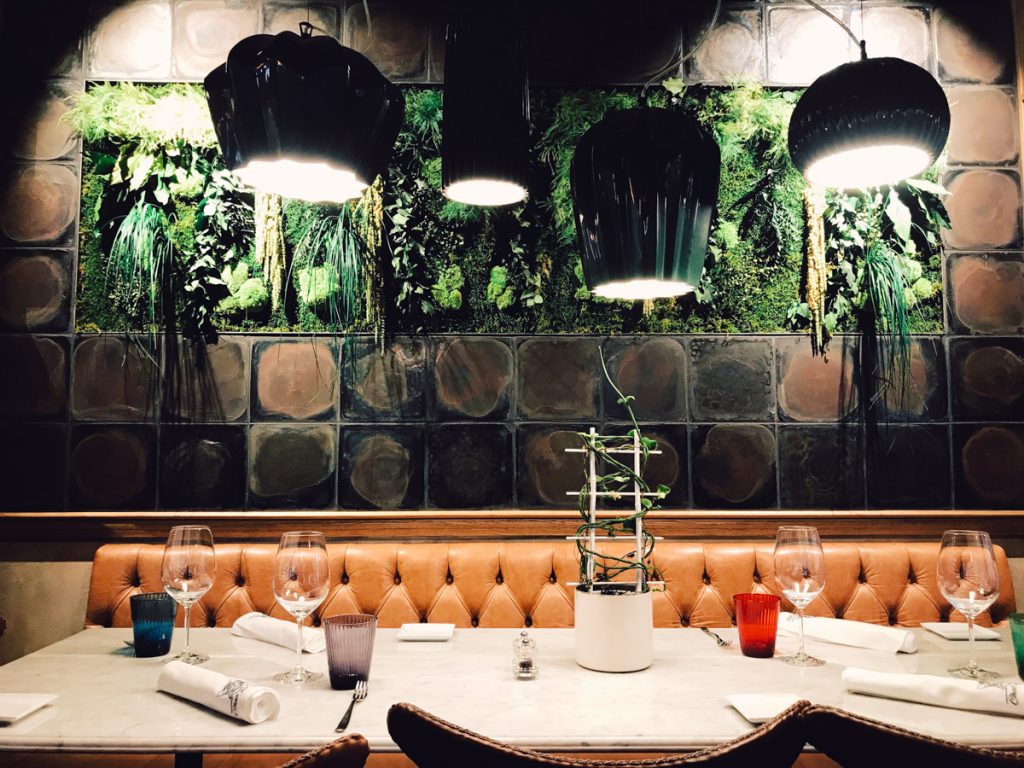 I Rusteghi – Lunch and wine. We went there for lunch after a lot of museum visits. We were the only ones there and got amazing service! We ate the freshest and most delicious caprese salad we've ever tried, along with a great Italian cheese board. We paired our food up with wine from the area, and we were in heaven.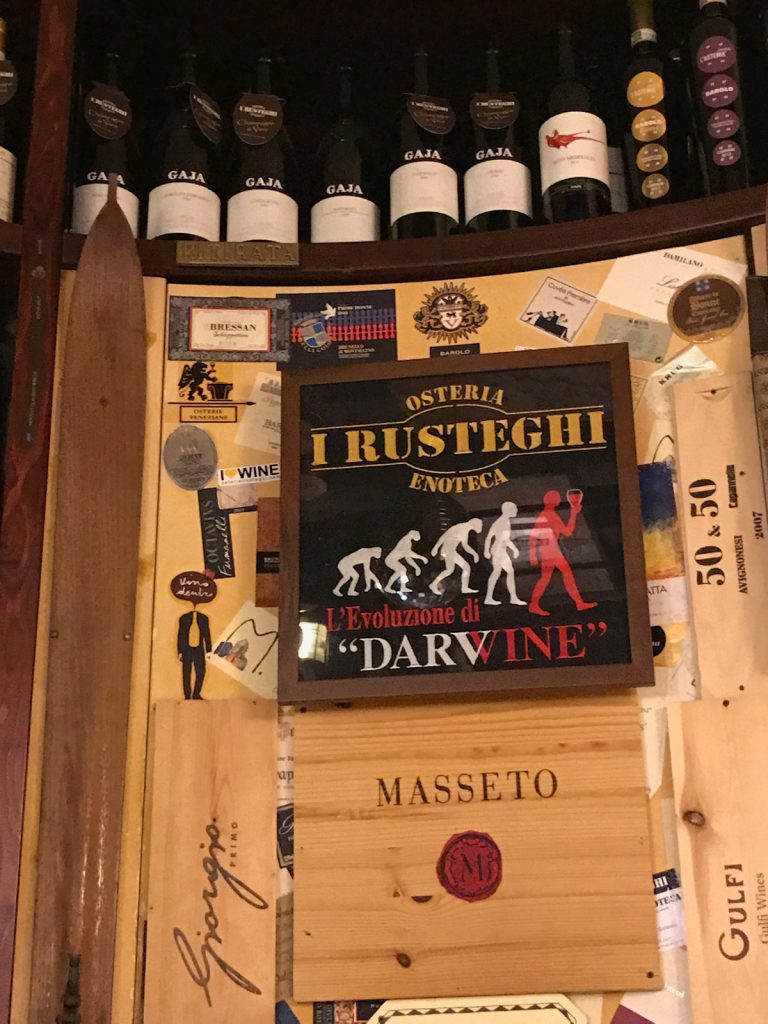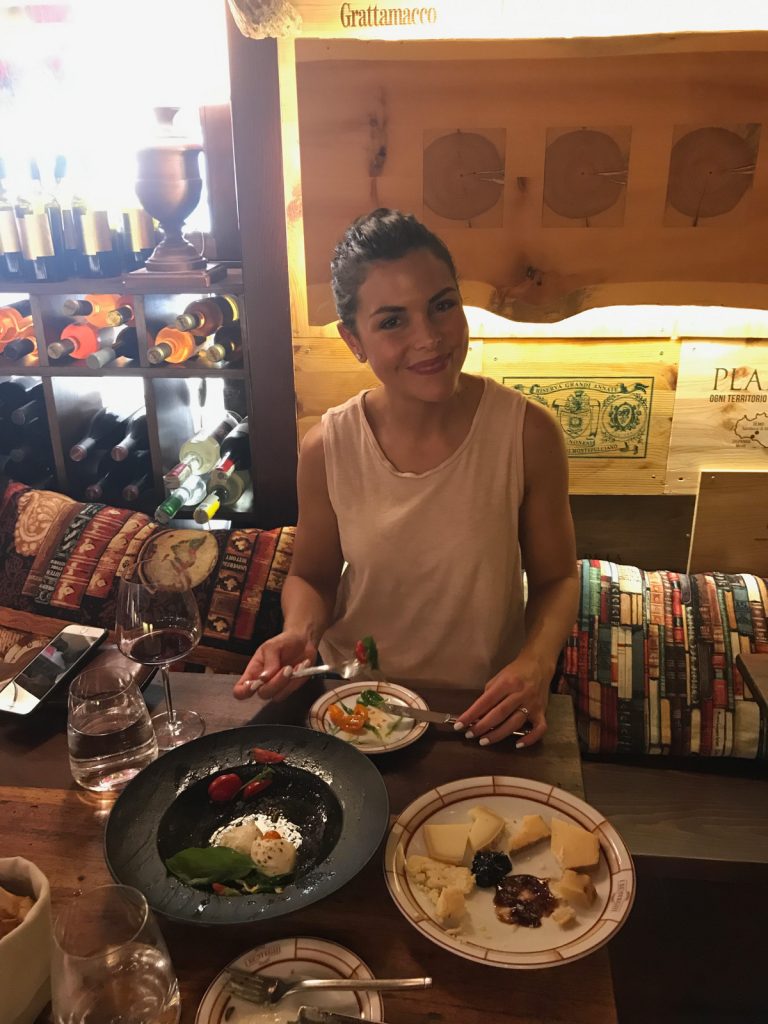 Ristorante Lineadombra – Dinner. A quiet setting that is very romantic and right by the water. The restaurant serves upscale Venetian food and offers a great wine list. We enjoyed wine, cheese, house made pasta and a salt-naked whole fish.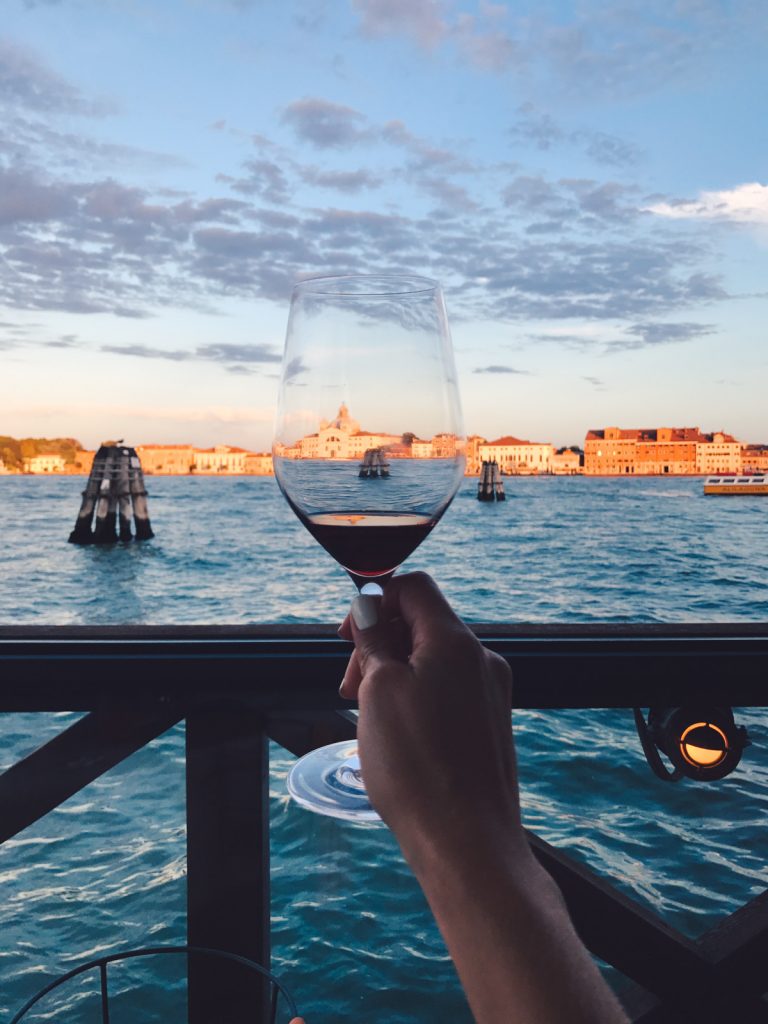 Ristorante Al Conte Pescaor – Dinner. Cute little place, tucked in a quiet corner. Service was fabulous, very attentive. We enjoyed wine, caprese salads and a vegetable risotto.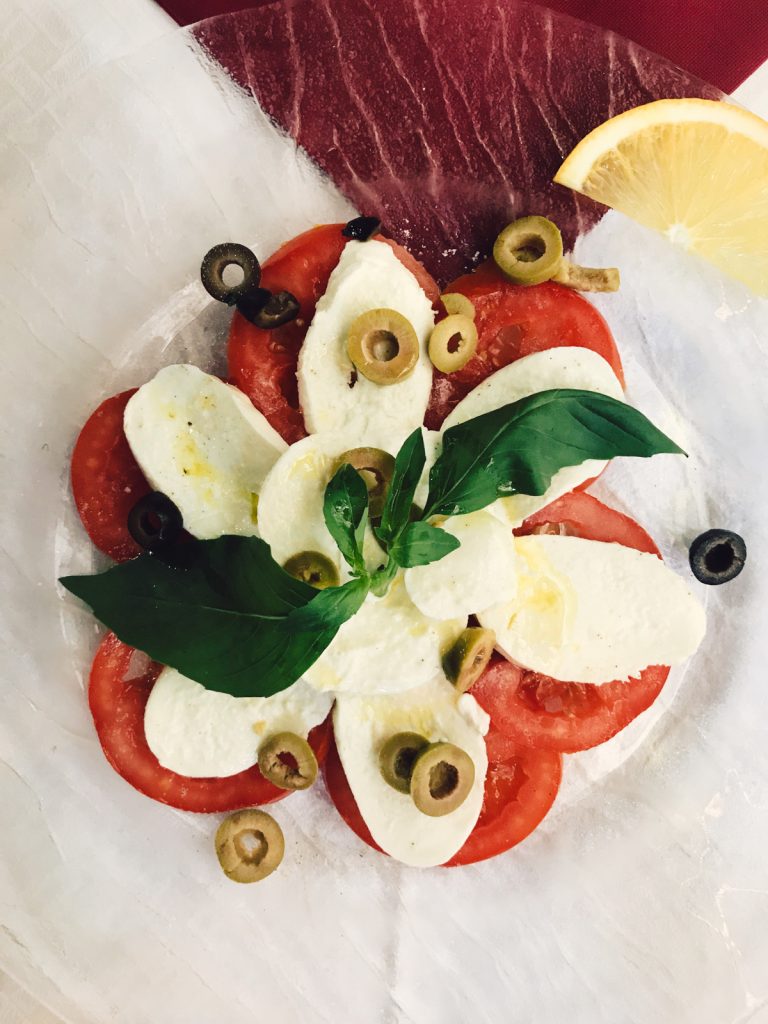 Antico Martini – Dinner. We went here for dinner to celebrate my birthday. It was recommended by our hotel's concierge. I tasted the best gnocchi (ricotta zucchini gnocchi) I've had in my life here, so if you're into gnocchi, you must try this place. The branzino was fresh and outstanding too, and the ginger carrots paired with my entree were out of this world. An amazing dining experience.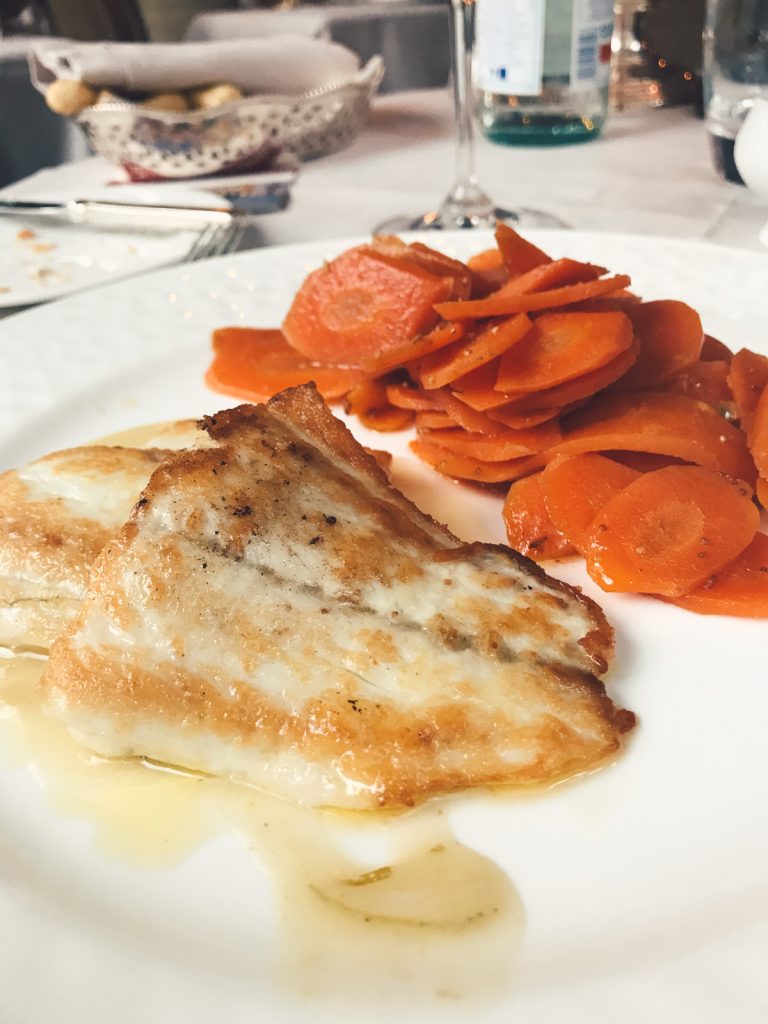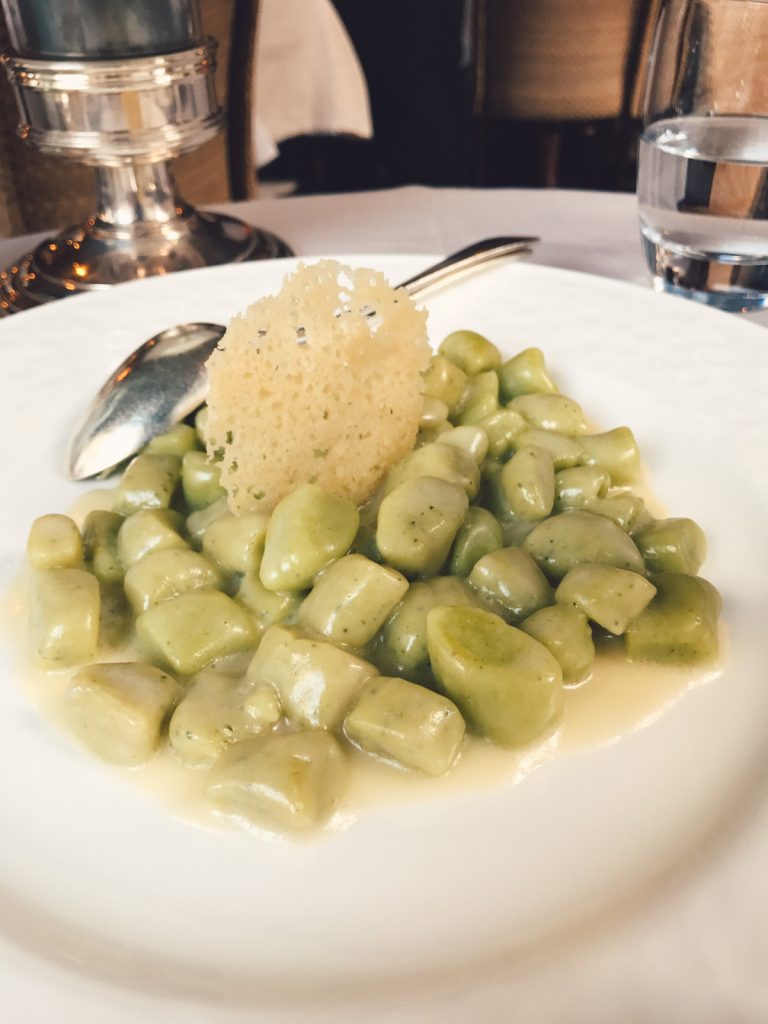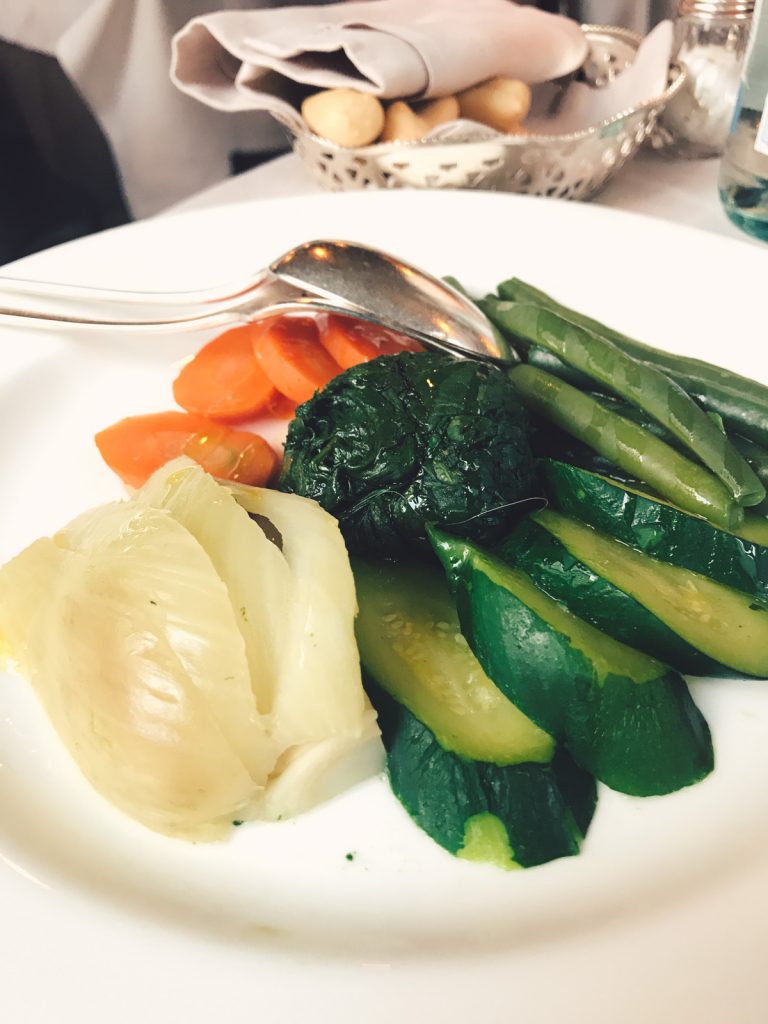 Suso – Gelateria. Hands down the BEST gelato we had in all Italy. You're going to have to trust me on this one! Their gelato is sweet and creamy and everything Italian gelato should be. They usually have a line, so it can be a bit of a wait (worth it!).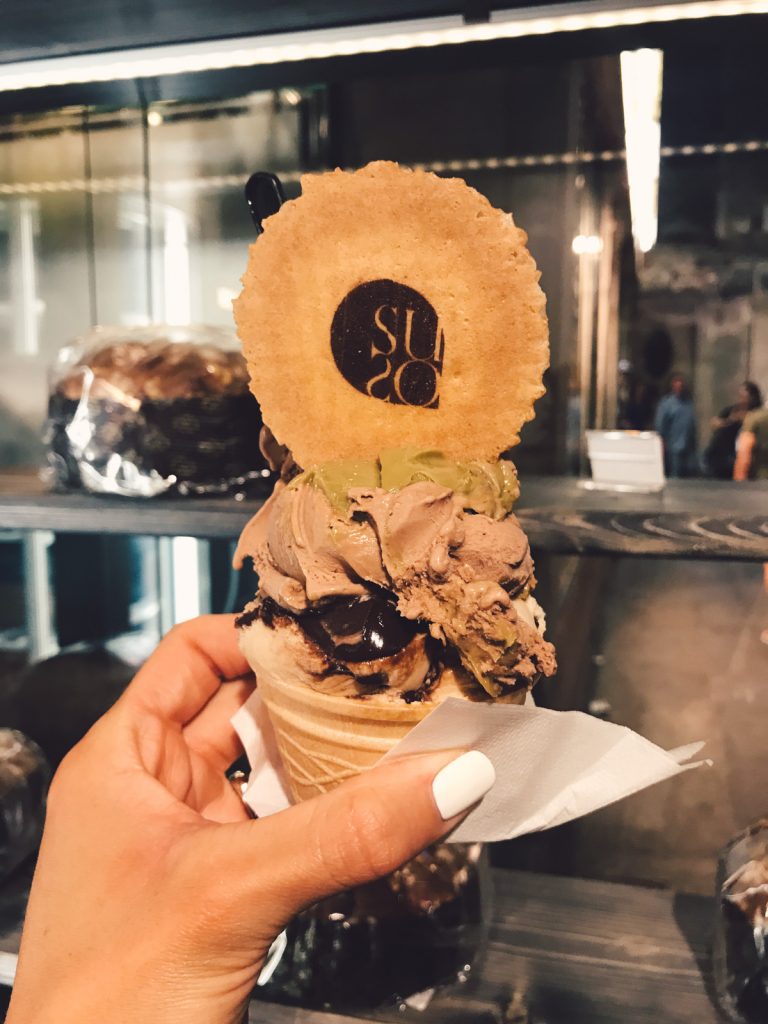 Caffe Florian – Coffee and drinks. This little gem is located on the Piazza San Marco, and it is a great spot to go to at night after dinner to grab coffee and drinks. They have a lovely band playing live music outside and the ambiance is wonderful.
Venice captured our hearts completely. It was the first city we visited in Italy, (and the first city I visited in Europe), so Venice will forever be special to us. It's also a place that is unlike any other place on Earth: a city built around water, where people use boats for transportation, where palazzos exist instead of buildings and where some of the greatest works of art reside.
Be sure to check out where we went next: Florence!
---
PIN ME!