Our third Italian stop in our 11 day Italy trip was Rome.
At this point, we were two for two on our trip: blown away by our two Italian stops (Venice and Florence), each unique and wonderful in its own way. We felt like we had still more to exploring left to do in Florence, so we were bummed to leave, but we were definitely excited for ROME! The capital of Italy and a major history hub.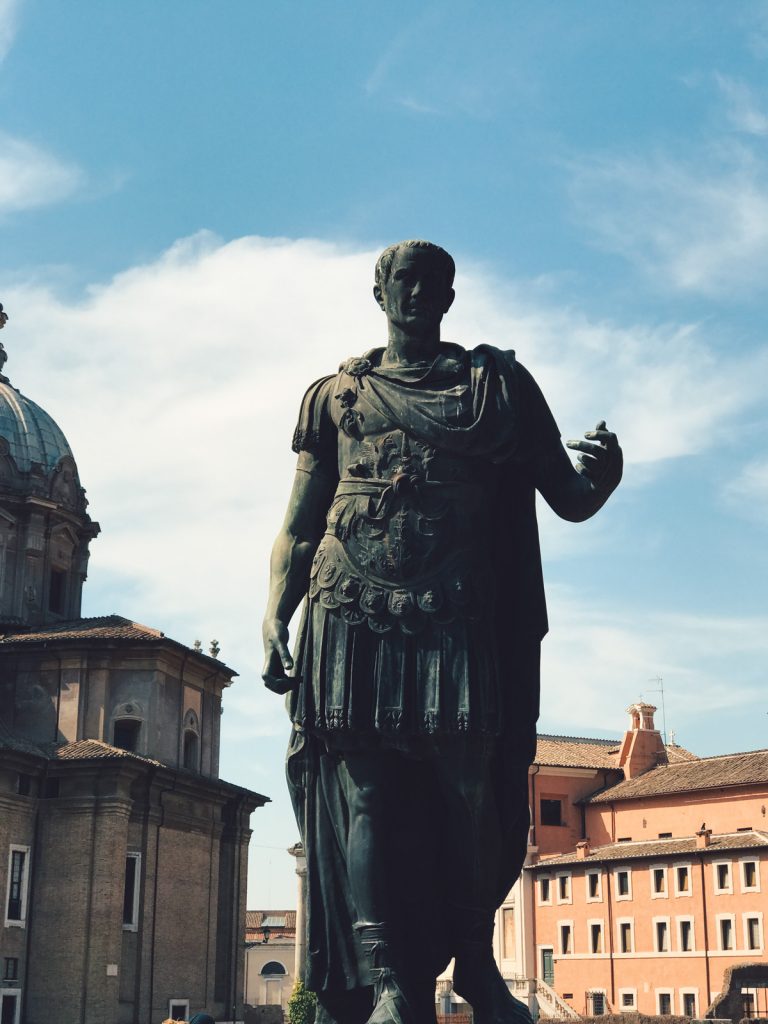 TRANSPORTATION
We took TrenItalia from Firenze S.M. Novella to Roma Termini. The entire train ride was about 1 hour and thirty minutes, so even shorter than the train ride from Venice to Florence, and again, the ride was wonderful. We had prosecco and snacks and watched part of another Italian based movie: Eat Pray Love. It was lovely.
Once at Rome's train station, we took a cab to our hotel. And then, while in Rome, which was only 2 days total, we did a lot of walking to get from one point to the other and took a few cab rides when the distances were too far away (like from our hotel to the meeting place of full day tour of Rome we took).
Hotel
We stayed at Hotel Indigo Rome – St. George, a 5-star hotel.
The first thing I noticed when we walked in to our hotel, was the smell. It smelled like a spa; clean, welcoming, soothing and captivating.
The place was a bit dark and cold feeling, but as soon as you talked to the people at the front desk, you realized the place was actually warm. The staff was really friendly and nice, and did what they could to make you feel at home. They took us to our room, and it was a bit on the small side (like most spaces in Europe), but every bit elegant and first class. A very comfortable room, and the beds were glorious.
The hotel is known for their spa, so the room amenities (like bathroom soaps and shampoos) smelled great and felt really nice.
The hotel had a tiny gym, which we used one of the mornings; we took with us some exercise bands we had brought from home, and used their limited equipment to supplement those for our workout. The small gym did the trick! We were able to get a good workout in and it felt great.
The hotel offered a breakfast buffet, which was not included with our hotel rate, but we went for it anyway because of convenience. To our surprise, it was delicious.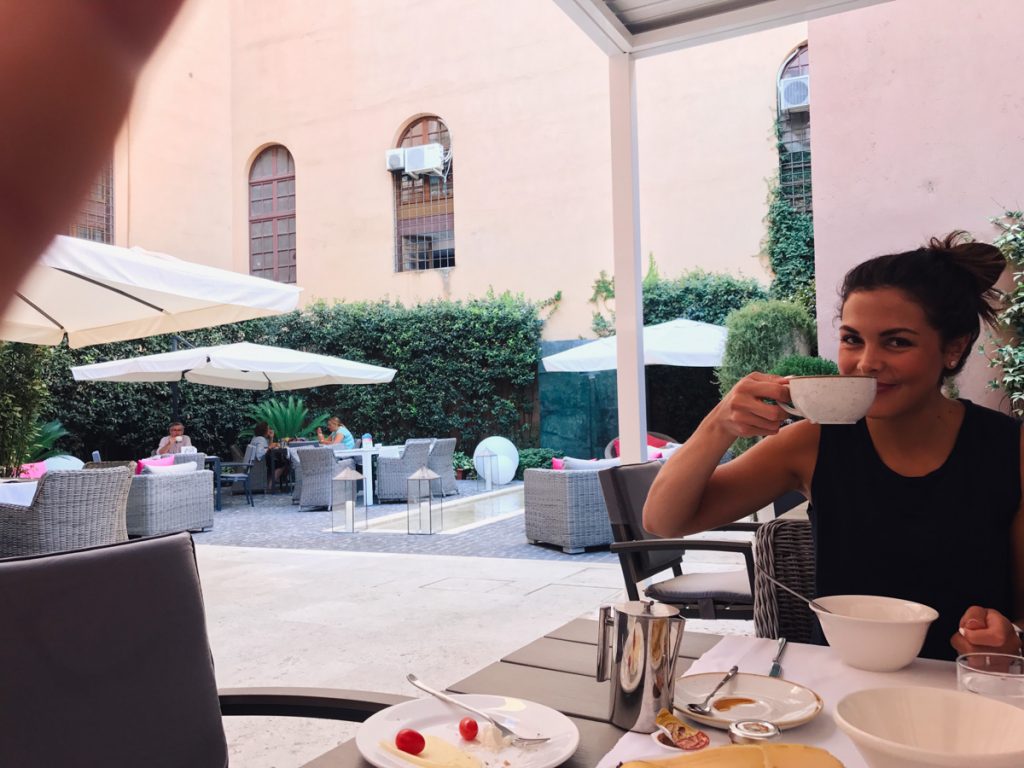 I must say, Europeans really know how to do breakfast buffets at hotels. Every hotel we had been to, including this one, had amazing breakfast buffets. So many options, so fresh, so filling. And the coffee was great!
Hotel Indigo was well located. This allowed for a quick cab ride to wherever we needed to go: dinner, tours, etc.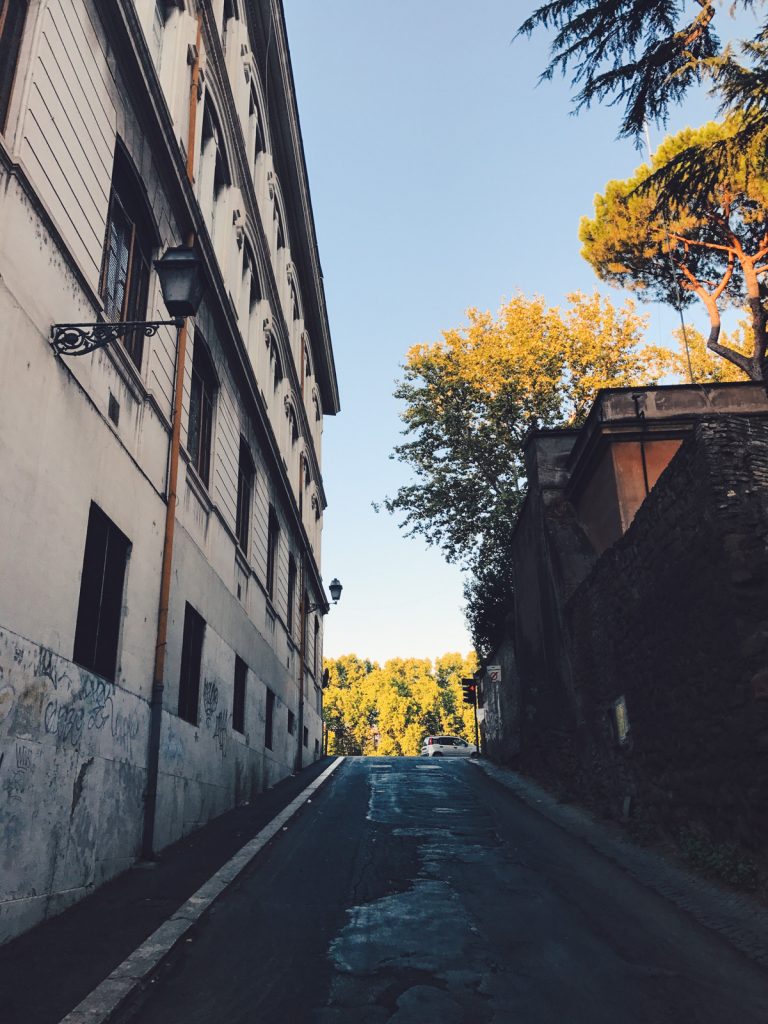 Sights
Just like in Venice and Florence, we did quite a bit of walking in Rome. We didn't have as much time in Rome as we did in Venice and Florence, but we packed our days with tours and sightseeing, so we can see and experience as much as possible of what Rome had to offer.
The night we got there we went out to dinner, and once we came back to our room, we re-read the Rome part of our Best of Italy by Rick Steve book, to remind ourselves of the top places we knew we wanted to visit. This was important, as it allowed us to jump on a computer, and look for the Rome tour that best suited our needs. We booked the tour online for the next day. This tour was a really long tour (7.5 hours) and very comprehensive, showing us as much as possible of Rome all in one day.
The tour was called: Walks of Italy – Rome in a Day.
Our tour guide was really great. He was funny and seemed like he loved the American culture, so we felt really welcome and comfortable. He was also really knowledgeable and kept us all on schedule, which is hard to do, considering there was so much to see and explain.
The tour also came with free entrances to all sights (and no waiting in line!), a free gelato tasting (yum!), transportation from one place to the next when the sights were too far from each other, and a 1 hour and 15 min lunch break.
What we visited (with the tour):
Colosseum
This 2,000 year-old-stadium is one of Rome's (and Europe's) most recognizable landmarks. It was built at the peak of the Roman empire, around A.D. 80, for public spectacles and gladiator contests. The Romans built this 150 feet high amphitheater, so they could share the "fun sport" with as many people possible.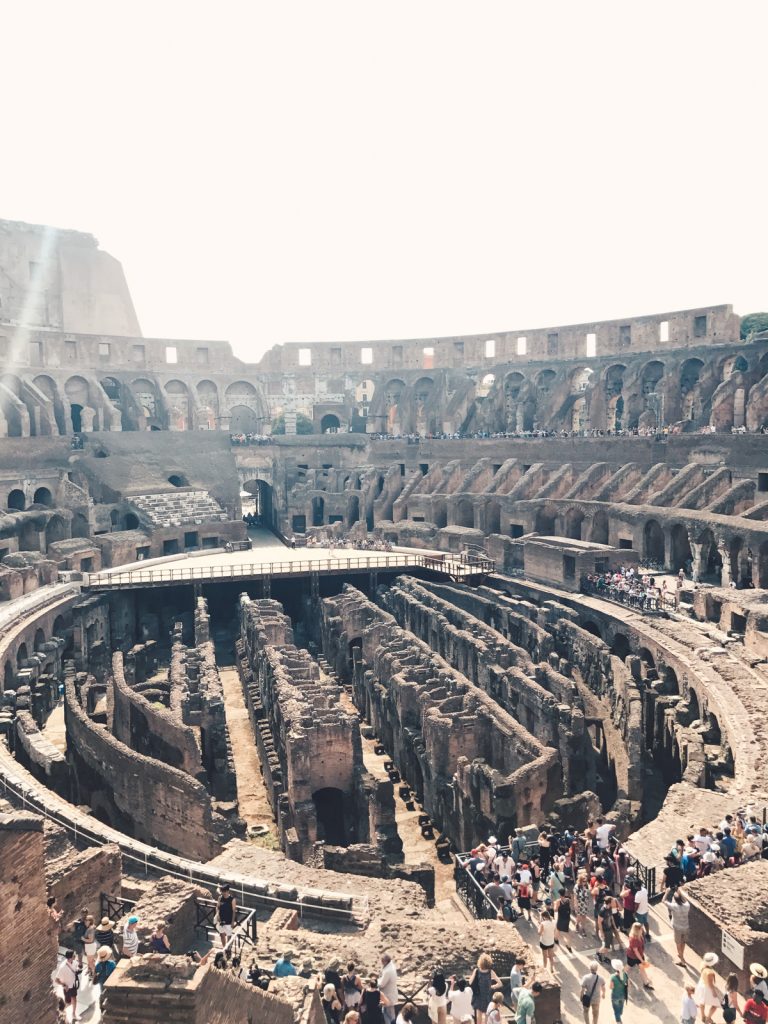 Since the Romans were better engineers than artists, the building was more functional than beautiful, and even though its essential structure is Roman, you can find a lot of Greek influence in the facade (columns). Only a third of the original Colosseum remains, as an earthquake destroyed some of it and most was crated off to build other buildings during the Renaissance.
It's a monumental sight, and it's something I recommend everyone visit at least once. If you go in the summer, like we did, be prepared to sweat; make sure you bring a large bottle of water with you and a hat to keep the sun off your eyes.
View of Arch of Constantine
This arch stands between the Colosseum and the Roman Forum, and it is free and always open. This beautiful sight to see, which is very well preserved, commemorates the acceptance of Christianity by the Roman empire.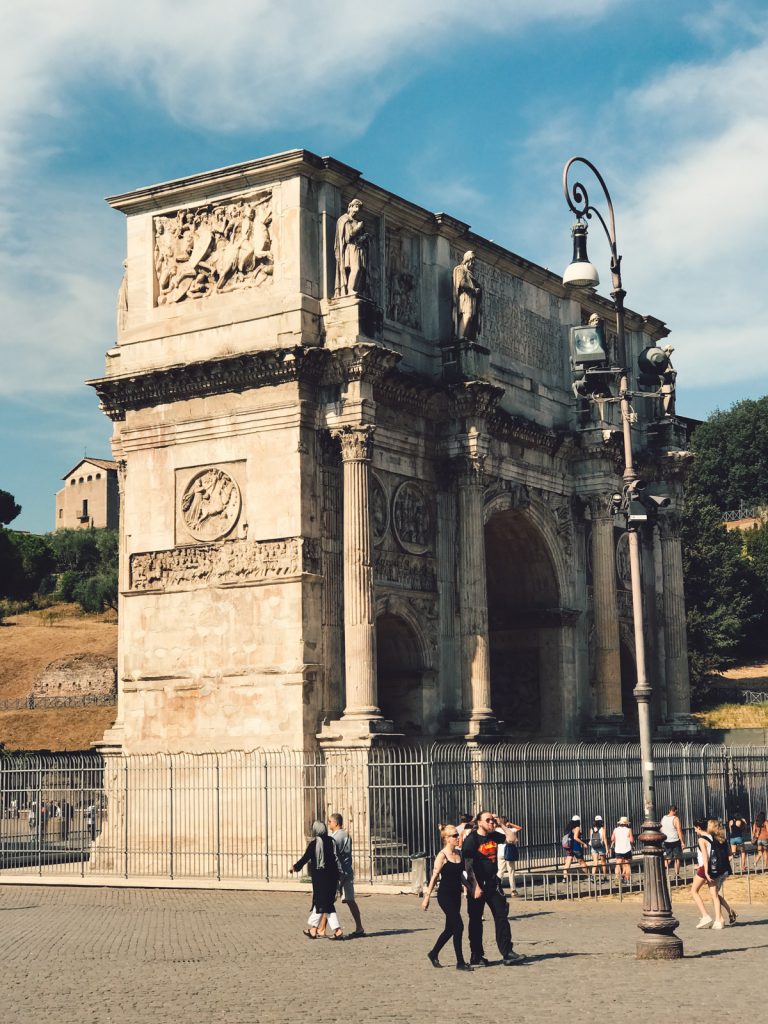 Emperor Constantine had a vision he would win under the sing of the cross; then, Constantine actually defeated his rival Maxentious in AD. 312 to become to sole emperor of the Roman empire, and legalized Christianity soon after.
View of Roman Forum
We didn't actually tour around within the Roman Forum, but we got to take a good look at it (from a few different angles) from the outside. The Roman Forum is probably one of the most (if not the most) important pieces of real estate in the whole Western civilization, as a lot of important decisions and events took place here. It is ancient Rome's birthplace and civic center, and the common ground in between Rome's famous seven hills.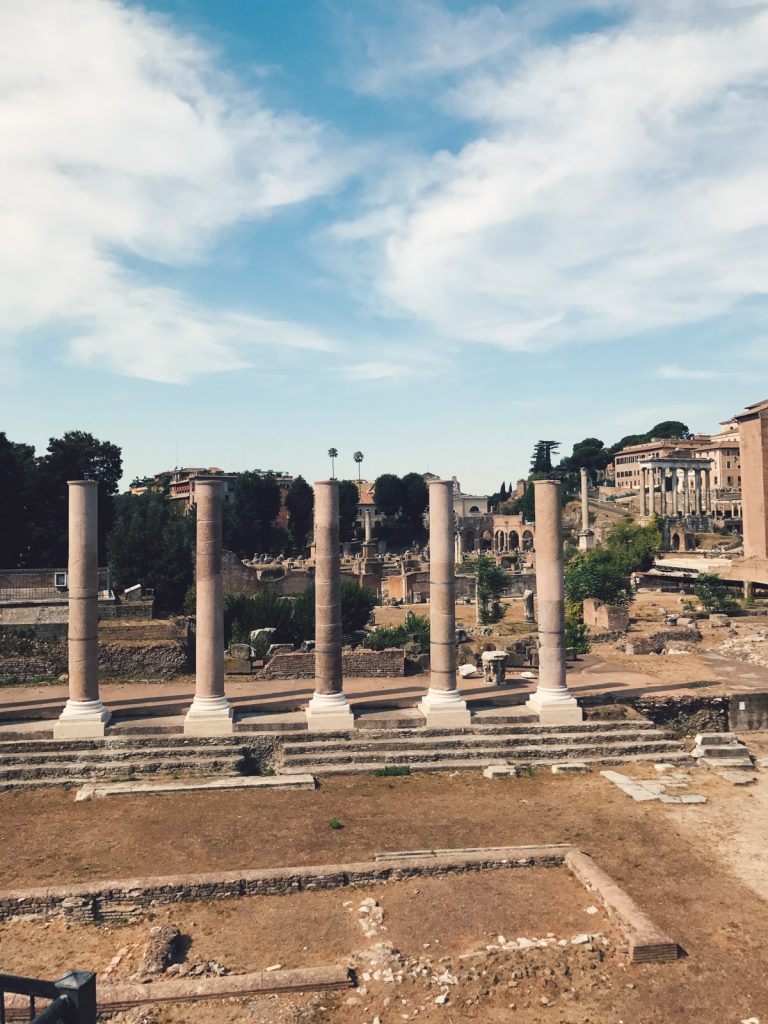 Inside it, you can find: the Arch of Titus, the Forum's Main Square, the Temple of Antoninus Pious & Faustina, the Temple of Castor & Pollux, the temple of Saturn, the Temple of Julius Caesar, among others.
Trevi Fountain
Make a wish! This fountain is just dreamy. Just like you picture it would be; and it is way more majestic than the replica you see in Las Vegas (we go to Vegas a lot, hence my point of reference haha).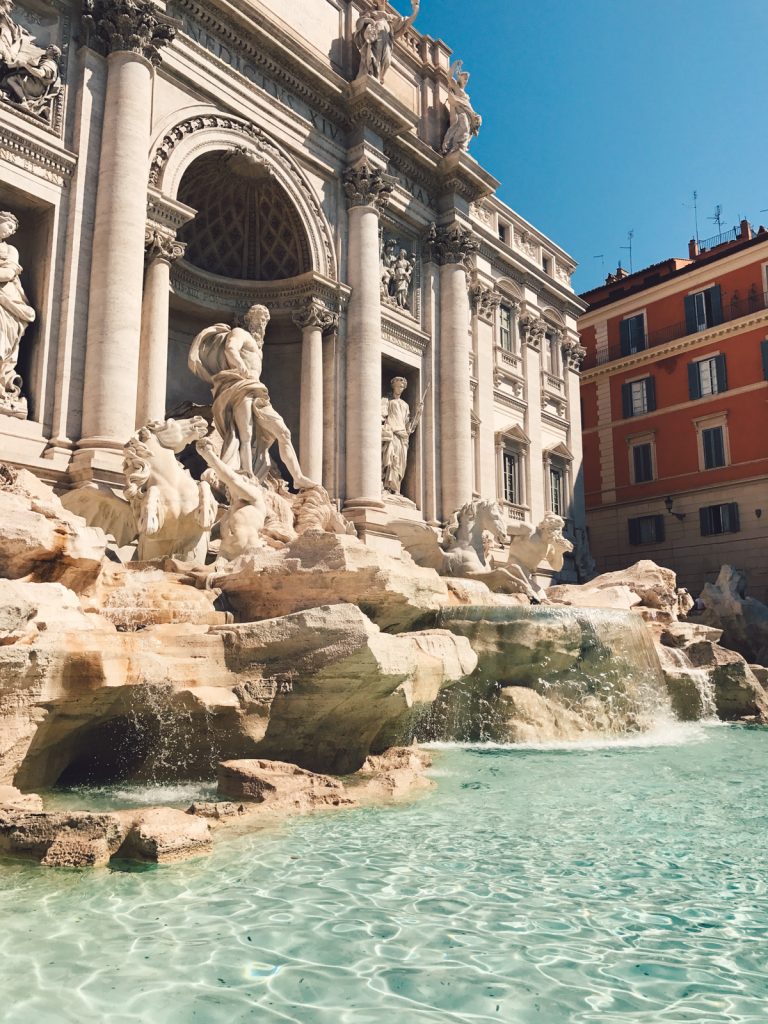 We were given about 10 minutes, by our tour guide, to stay here and enjoy it. We took pictures, threw a coin in to make a wish and enjoyed the atmosphere. A must see!
Vatican Museums
Oh man, this place. It has it's own air, I swear. As soon as you walk in the Vatican City, you feel different. Probably because you're walking on the world's smallest county (with its own postal system, armed guards, helipad, mini train station and radio station) and one of the world's holiest places. Among many sights within the Vatican City, you'll find St. Peter's Basilica and Vatican Museums, which are the two that we visited.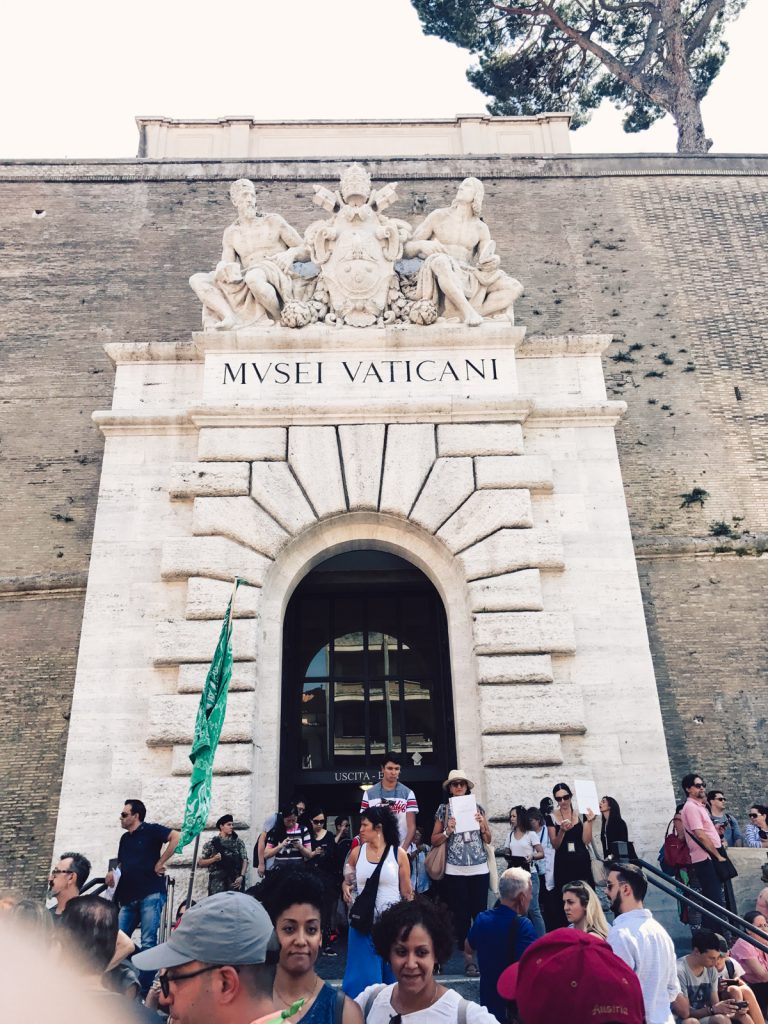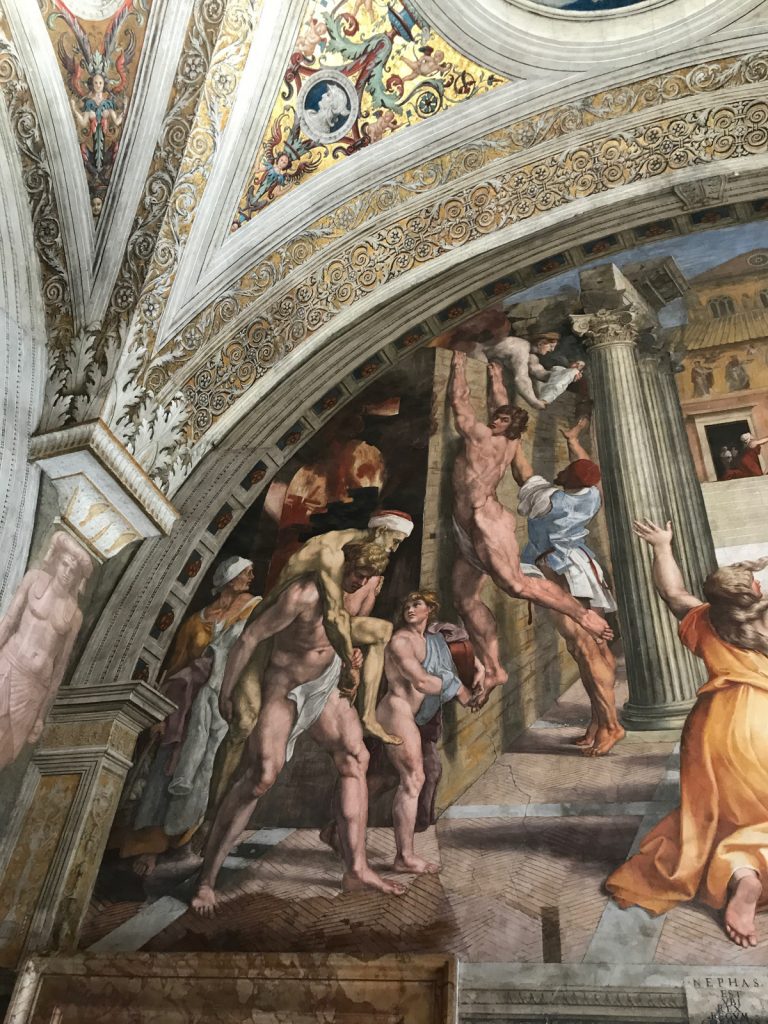 The Vatican Museums contain four miles of displays, making it Europe's top three or four houses of art. There is so much to see, and I would definitely recommend a guide to help you see  the most important pieces and explain what they are to you. Plus, a guided tour will allow you to skip the lines, getting you right in!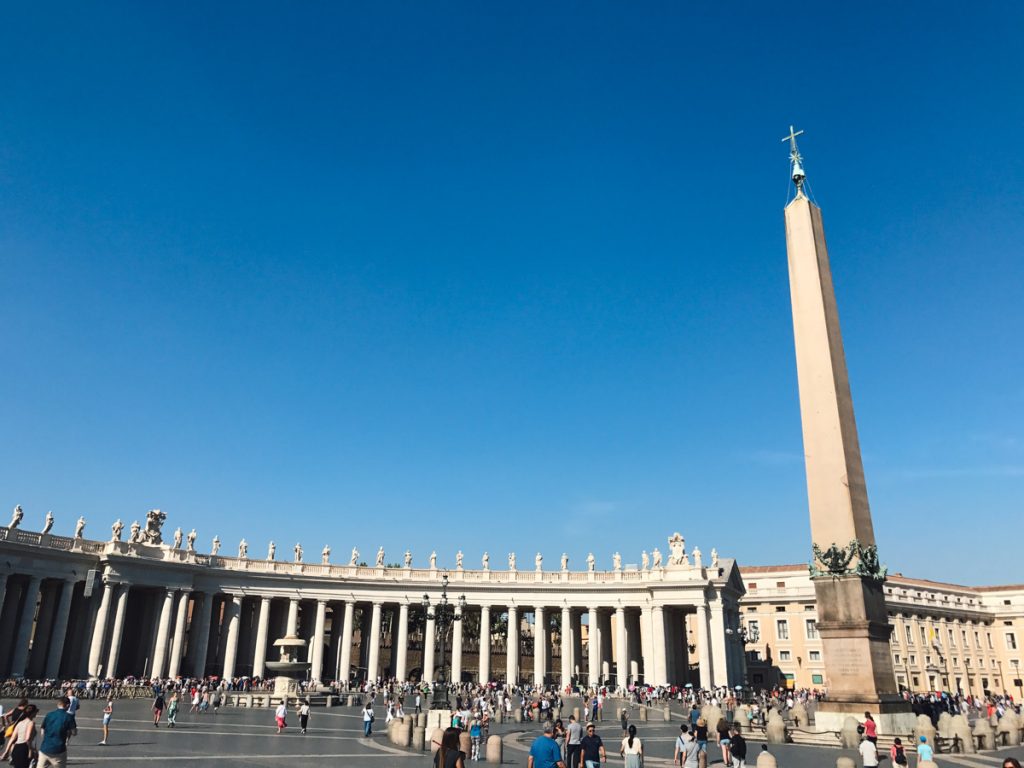 Pantheon
This dome temple was built two millennia ago (yes, two millennia!) and it was probably one of the most influential art buildings. It served as a model for the Florence cathedral dome (which launched the Renaissance) and for St. Peter's (which capped the Renaissance off). Roman engineering can be appreciated here as well, as it's circular design is mathematically perfect.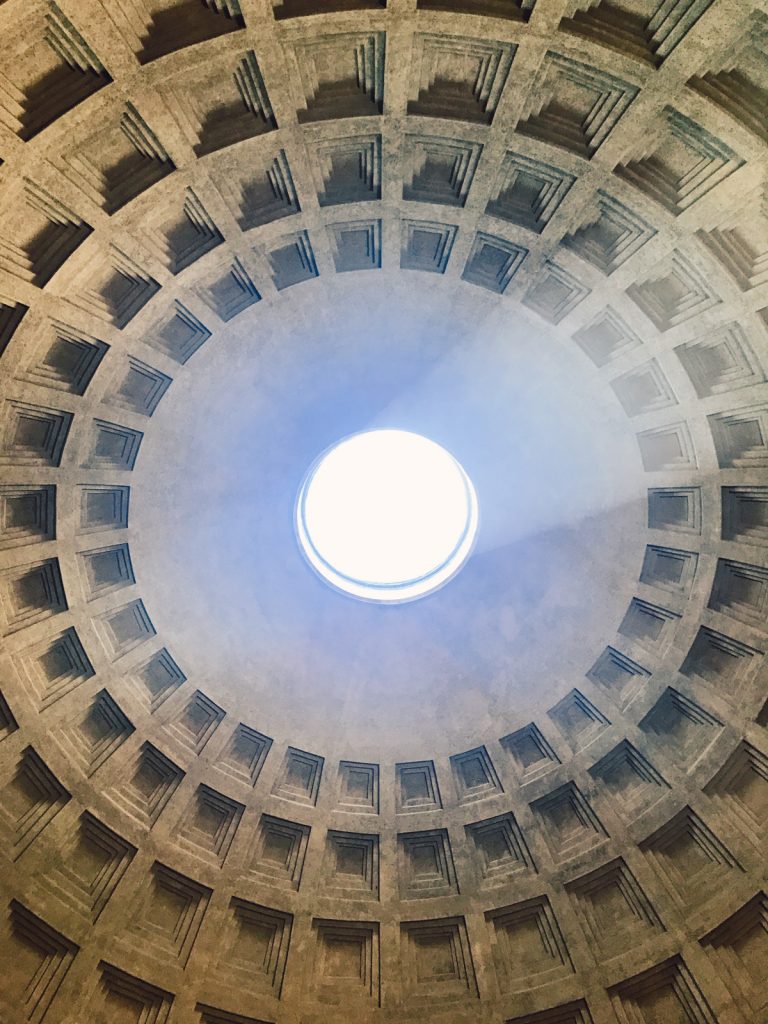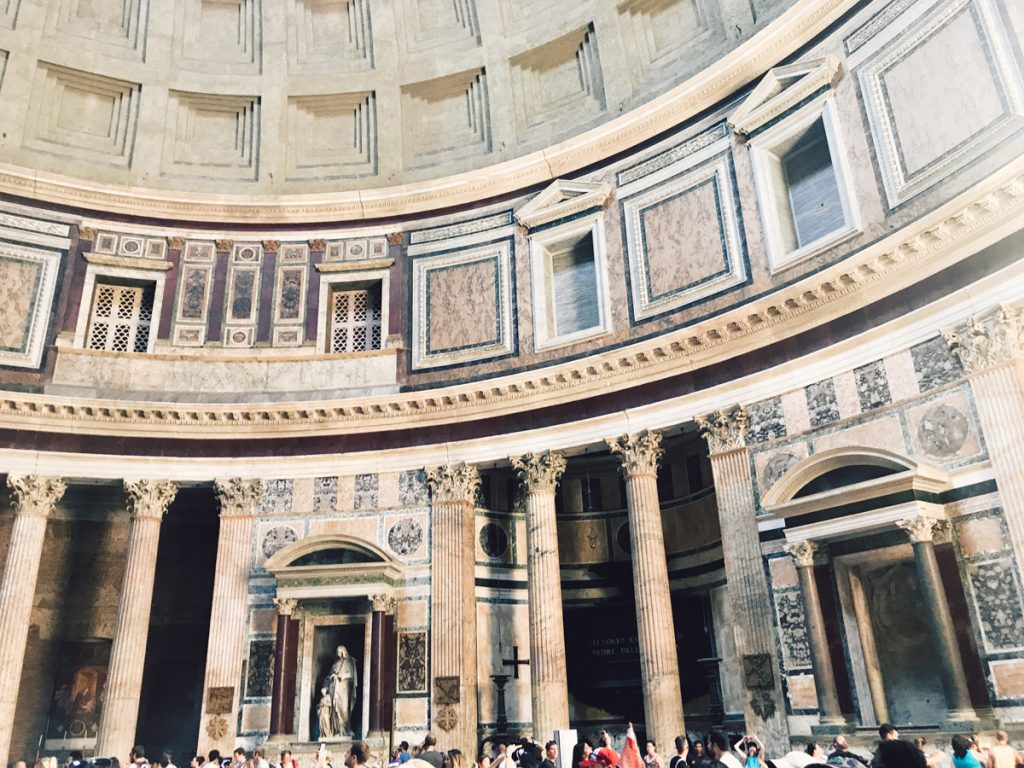 Inside you can find decorative statues and many famous people's tombs, like Raphael's for example. It is a gorgeous temple, made with beautiful material. Make sure you're covering your shoulders and knees, as otherwise you will not be allowed in.
Sistine Chapel
This was one of our highlights in Rome. We entered it after our tour through the Vatican Museums, and we were wow'ed. So majestic and impressive. Before going in, our tour guide gave us a quick lesson (with charts and cheat-sheets, so awesome) so that we could be prepared to observe it all and know the history behind it. Also, tip: you can't really speak once inside, you have to be super quiet, so learn prior and then observe away! Did you know the Sistine Chapel is the Pope's personal chapel and where a new Pope is elected?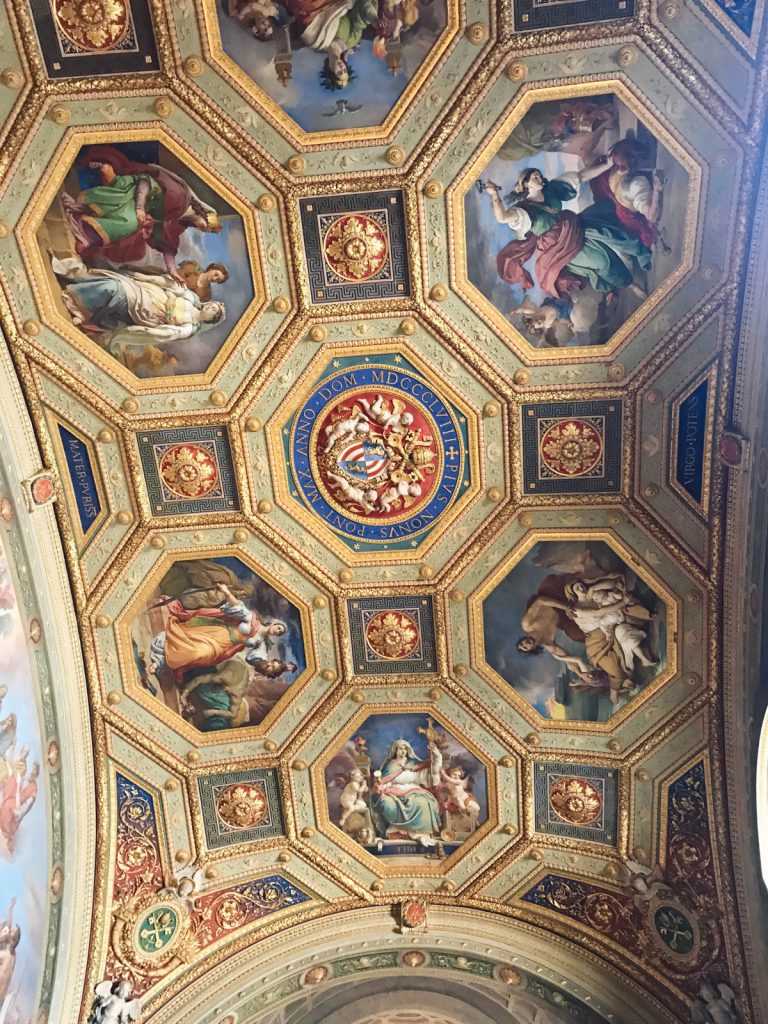 St. Peter's Basilica
After the Sistine Chapel, we visited St. Peter's Basilica. There's a handy shortcut from the Sistine Chapel directly to the Basilica, which saves you a good 30 minutes of walking; the shortcut is exclusive for authorized guides and tour groups, so if you take the tour we did through Walks of Italy, this will apply to you too!
St. Peter's Basilica is the richest and grandest church on Earth; that just says it all. It's a beauty to behold, inside and out.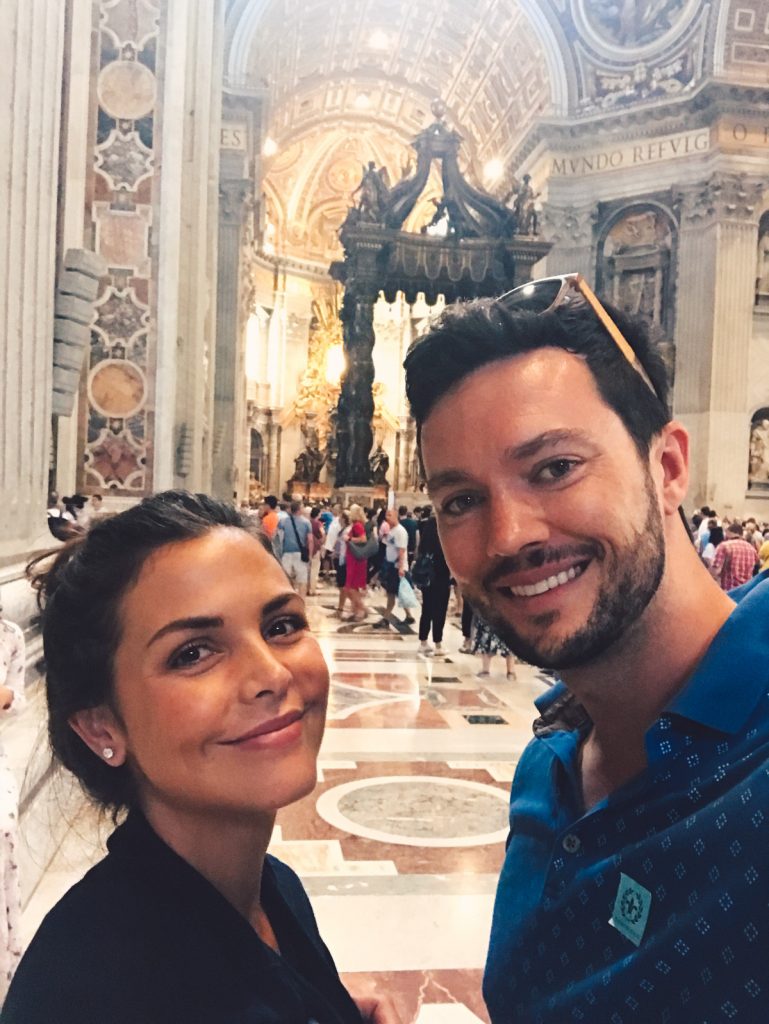 IMPORTANT: All of the sights mentioned above were experienced via a tour. It was an amazing tour, and I highly recommend you take it. makes your sightseeing so much smoother and you learn a lot more.
Eats
The food in Rome is somewhat similar to the food we experienced in Florence. At least in the sense that it is in-land, so it offers a lot of steaks and heavier dishes than in coastal areas. You'll find delicious bruschettas, prosciutto e melone, fried snacks and spaghetti a la carbonara. Also, a ton of delicious gelato options.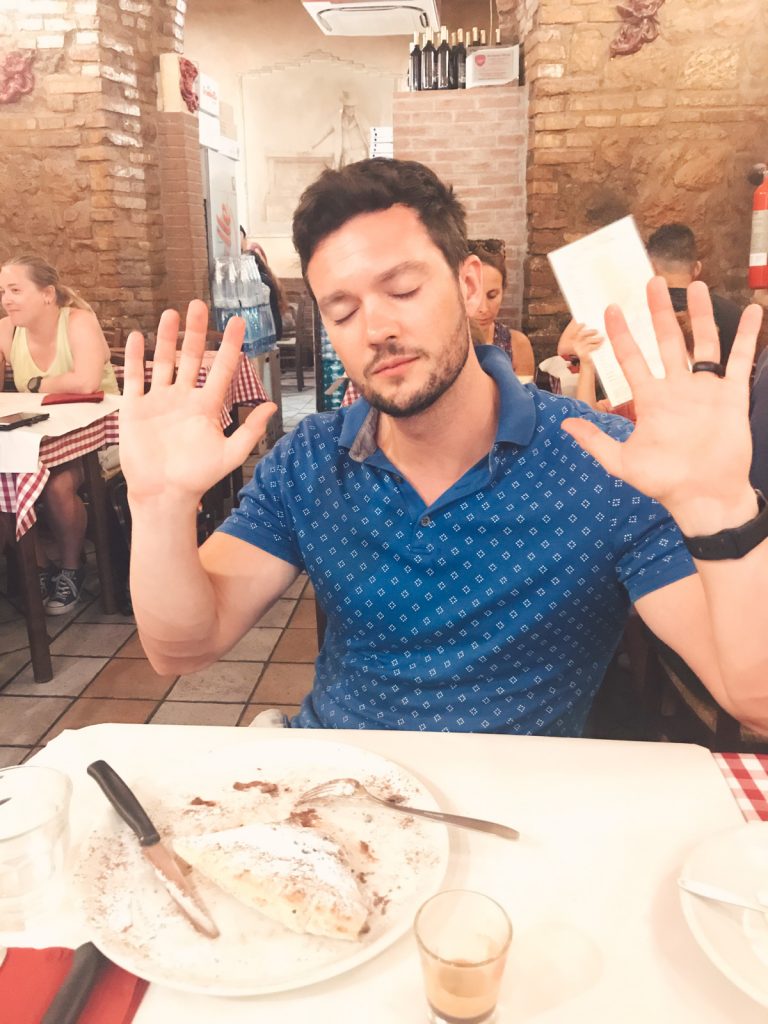 In general, Roman food is pretty homestyle; food didn't come out from emperor's and people's kitchens, it came out of commoners' kitchens. Therefore a lot of the food is simple, fresh and seasonal. Which explains why there's a fondness for tripe, brain and pigs' feet (note: I did not eat this, as I am not fond of organs nor feet haha).
We were only on Rome for two nights, so we did not get a lot of time to explore the food scene too much. However, below you'll find a list of the few restaurants we really enjoyed and would recommend for you to go!
Our favorite Rome restaurants:
Enoteca "Cul de Sac" – wine shop / lunch. This place was recommended to us by our tour guide; he told us that he personally goes over there whenever he's feeling like enjoying good wine and good apps to go along with his wine. We trusted him and went in. It was great! They had a very large wine list and delicious food. The service was super friendly and we felt very welcome. Their baba ghanoush and cheese boards were both fantastic! Definitely recommend this place.
Dar Poeta – pizza and dessert. This place was recommended by my sister, and she told us we could not leave Rome without stopping there, so we did. And we were SO GLAD we did. They are famous for their pizza and calzones, so we ordered a pizza to share (the crust so good, and the ingredients so fresh!) and a Nutella calzone (which was to die for!). Very affordable wine as well.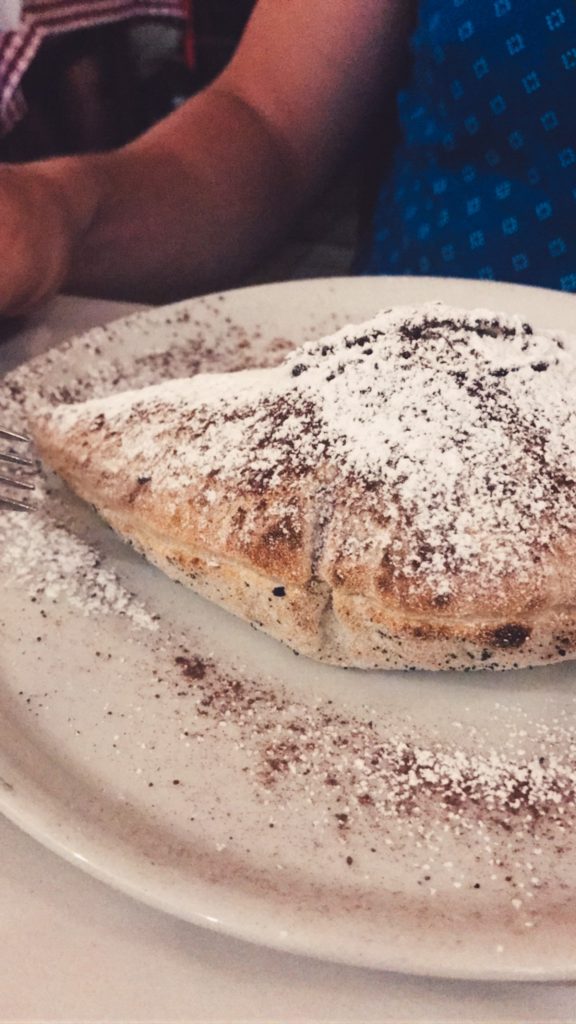 Gelato di Roma – gelateria. Best gelato in town, recommended by our tour guide. They have a ton of delicious flavors, so you have a lot to chose from. They offer different kinds of desserts and sweets too, so if you're feeling like you're all gelato-ed out and in need something different, this place has got you covered.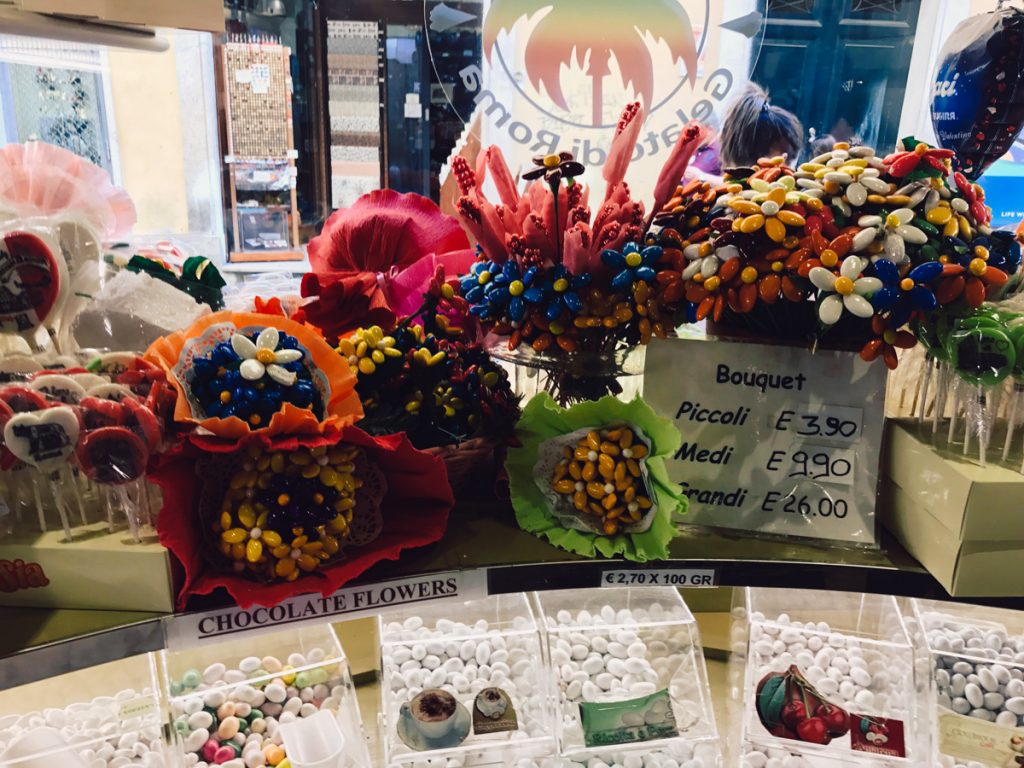 Rome was everything we thought it would be: influential, traditional, old, inspiring, beautiful…delicious. Even though it's the capital of Italy, it was not as busy and intense as I've seen other capitals to be. It was very pleasant and tranquil, and the people were very kind and willing. I identified myself a lot with this city, since I grew up in a capital city too (Quito), and it reminded me a lot of the environment and pace I was used to in Ecuador.
The oldness of it sort of felt soothing to the soul. I'm telling you, Rome is a must.
Be sure to check out where we went next: Positano!
---
PIN ME!