In this day and age, it's tough to be able to get two weeks off in a row from work and to set enough money aside to splurge on travel. And when we do make the decision to put that time and money aside, we want to make sure every second and penny counts.
I have spent a lot of time researching and comparing itineraries, recommended schedules, lodging, dining and activities, in order to craft the best Greek vacation possible within a specific time frame and budget. And because I collected a lot of good information, I wanted to share my findings and my actual travel experience with those interested in going.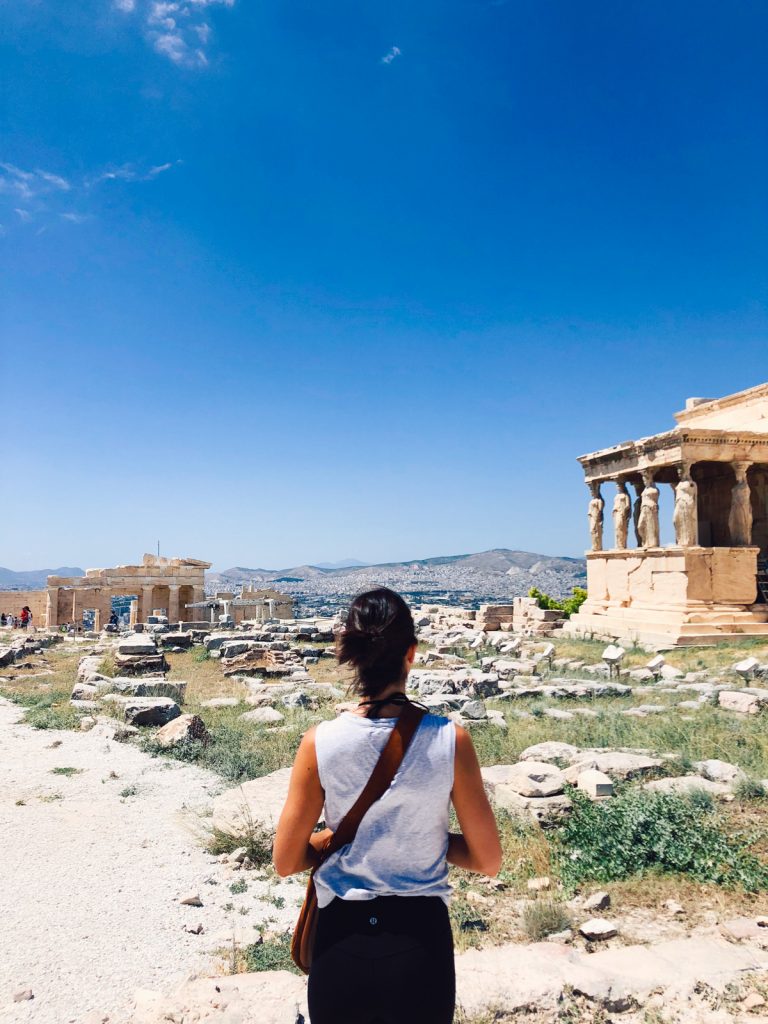 Just like my Tour Italy in 10 Days guide, this guide was created to help you plan that ideal vacation. In case you decide to set that time and money aside to travel abroad sometime soon. Because, you know what? Traveling is worth that. It's worth taking that time off and putting that money aside. Traveling is something you won't ever regret doing.
I have learned that a good trip can be extremely beneficial, both mentally and spiritually, because when done well, one gets to:
Learn about history and geography
Grow as a person by being exposed to other cultures and points of view
Expand our understanding of the world and of the human race
So let's dive in and take a look at what I found to be useful when preparing for Greece.
This guide will cover:
How to prepare
What to pack
Transportation logistics
Itineraries for: Athens (2 nights), Santorini (3 nights) & Mykonos (3 nights)
There is so much to share; let's get started!
---
1. How to Prepare
Request time off work
This is a no brainer. No time off work-ey, no time for play-ey.
If you're your own boss, determine which days make more sense for you to leave on a trip without stressing about deadlines and commitments. If you have a boss, make sure you speak to him/her to figure out which dates make most sense for you to leave the office. Plan ahead and leave everything taken care of, so that you're worry-free while on vacation.
In our case, our vacation time highly relied on my husband's work. He has a virtual reality startup and it's crucial for him to direct employee's work on the daily. To plan for our trip, he made sure he communicated his intention to leave for 10 days and left a bunch of stuff taken care of prior to leaving.
Determine what kind of traveler you are
Here is where everyone is different. Some people like to be structured and organized when they travel, and some people like to play it by ear and see where their adventure takes them.
Find out what kind of traveler you are and what kind of experience you want. Do you want to see as much as you can in the limited amount of time you have in that country? Or do you want to be a free spirit, spend time talking to the locals and go from there? There is no right or wrong, so pick according to your liking.
For us, we like structure. We feel that with structure we are able to take full advantage of the limited time we have abroad to see all we want to see. Especially in a country like Greece, where you need to hop from one island to the next.
Get recommendations from friends & family
Do you have friends or family members who have been to the country you're wanting to visit? If so, take them out for a coffee date to learn from them as much as possible. Ask them questions and let them give your smart recommendations.

If you don't have people close to you who have been to the country you're wanting to visit, no biggie! Find blog posts (like this one!) that can help guide you. Bloggers are great and unbiased resources that have a lot to share.
For us, we had my brother and sister who have been to Greece before. They both recommended to stop at Athens first, and then to jump to two to three islands after that. There are over 2,000 islands in Greece, so choosing just two was a challenge!
Learn about the country
There is nothing better than building up the anticipation to travel to a place. It gets you extra excited about the location and it makes you appreciate your trip that much more.
A great way to do this is by learning as much as possible about the place, about its people and its history. Study up on the main attractions and the cool events that are coming up. Heck, watch fun movies filmed in the cities/towns you plan on visiting, so you can get a feel for what awaits!
Once we had a good idea of the stops we wanted to take, we went online to see what good travel sites had comprehensive information on Greece.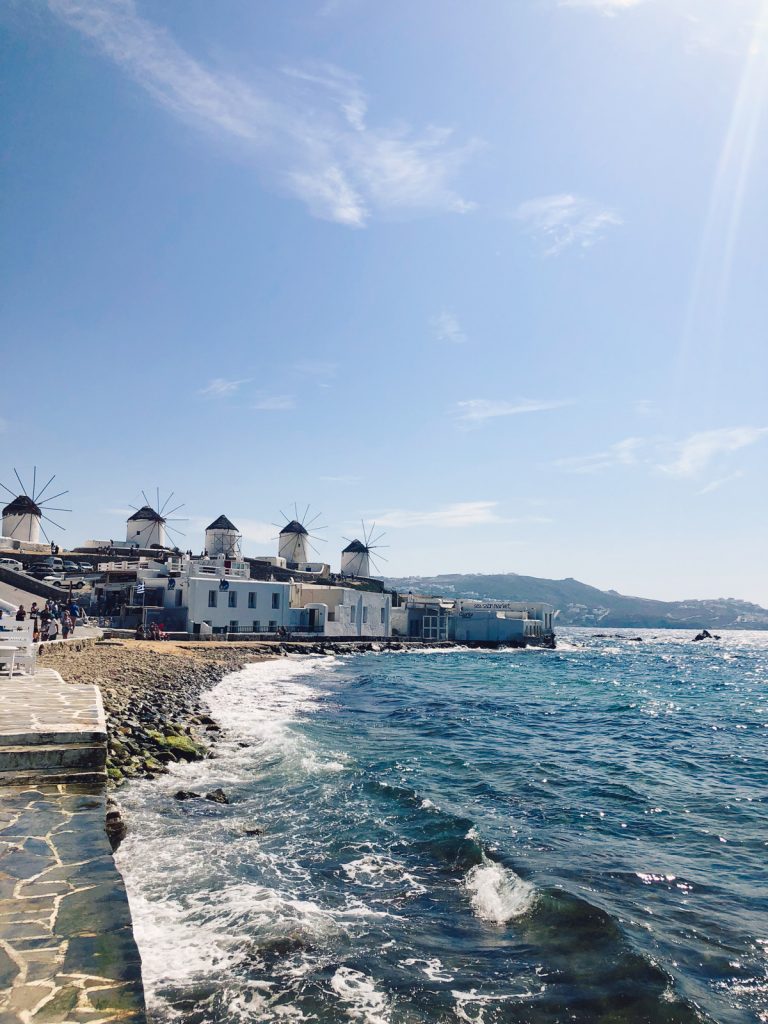 The travel websites that we ended up using the most were:
These also have awesome forums (Lonely PLanet's Greece forum / Rick Steve's Greece forum), with a ton of topics regarding the mainland and islands, so be sure to explore these a bit as well. You may get a lot of answers to your questions there.
My husband and I also watched a few movies filmed in Greece prior to our trip, to get extra excited: Mamma Mia! The Movie, Bourne Identity, Captain Corelli's Mandolin.
Book flights, hotels & ferries in advance
This is a crucial step, because without these, your trip would obviously never happen. You need a flight to get there, you need places to stay and you need to figure out how to go from one place to the next.
By booking your trip two to three months ahead, you'll have access to better rates and a wider selection. Here is where organization and structure come in handy, as nailing down your trip's itinerary is an important step in completing bookings in advance.
Since we were set on Athens, Santorini and Mykonos, I began looking into flight and hotel options. Nailing down how long you want to stay at each location is important for this step as well; you'll need this to know how many hotel nights to book at each location and how much time you'll have available in each place to prioritize sightseeing.
Deciding how long you're going to be at each city/island is also important so that you can figure out your transportation needs.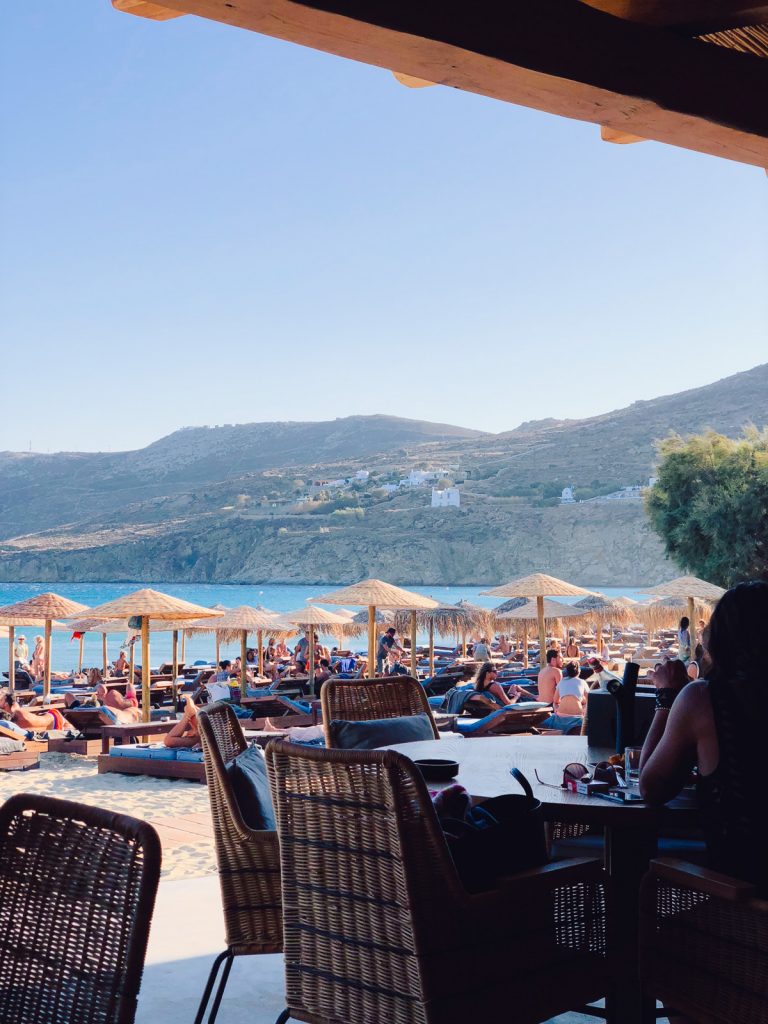 We figured out that a combination of flights and ferries would be our best option to travel in Greece, so we booked our flights and ferries in advance. We booked our flights through Aegean Air and our ferry rides through SeaJets  (we got premium ferry seats, because the price difference wasn't much, and the seats were much more comfortable and spacious).
---
2. What To Pack
Travel Essentials
There are three little things that you must bring with you on your purse or backpack and guard like gold, as without these you'd be stranded.
These are:
Valid Passport (and visa, if applicable)
Credit Card(s)
Cash
When traveling internationally your passport is crucial, and when traveling to places that require a visa, your visa is crucial too. It's important to make sure these two are not expired, as you don't want to run into any surprises at the airport.
Credit cards are important as all hotels require a credit card to keep on file during your stay, and you'll also need it to pay for tours, food, etc.
Cash is important, because there are quite a few places and transportation services that simply don't take credit cards. Plus, cash is also great to have on hand for tipping.
Consider the weather
Once you know all the places where you'll be stopping, do these two things:
Check the 10-day weather forecast
Check the annual weather averages
The first will let you know what the forecast looks like for the next few days, which is great because you want to pack about three to four days prior to your trip. Not before, because you may have to use some of the things you put in your bag before you take off, and not too much after, because it could add unnecessary stress before your trip.
The second will give you a great overall idea of what the cities' weather averages are, and allow you to prepare for those days for which the 10-day weather forecast doesn't show.
Packing based on the weather is ideal, as you'll bring clothes and accessories that will allow for a more comfortable stay.
Consider activities
Another thing I like to do is pack based on the activities we'll be doing. You want to be equipped for all the fun things you'll be a part of, and be well dressed for the occasion.
Ask yourself questions like:
Will I be walking and touring around?
Will I go swimming?
Will I workout?
Will I go on fancy dates?
Then, based on your predictions, bring clothes and accessories to match those activities.
Consider the culture
There are places in the world that have cultures very different than our own. A lot of times, culture (or religious believes) dictate the way people dress. Make sure you do a quick online search before your trip, to learn a little more about the culture you're going to be visiting.
If you plan on visiting churches, sanctuaries or any other sacred places, there's usually a dress code you'll have to adhere to in order to get in. Find out what those are and plan on packing an outfit that respects those customs.
Consider fashion
This is not a crucial piece of the puzzle, but it can sometimes make our travel experiences that much better. Especially for us girls, since, for the most part, we like to feel pretty everywhere we go. If you want to feel extra special on a date night while on your trip, be sure to pack cute clothes that make you feel just that: special!
And since it's never a good feeling to feel overdressed or underdressed in a situation, do a quick search and figure out what people are wearing in the cities you plan on visiting. You'll find that fashion bloggers love to share their outfits while on vacation, so there are a ton of great resources out there that can show us what's "in" and what's not.
Consider electronics 
Electronics are super essential in our modern world. Most of us need our:
Phones
Noise cancelling head phones (essential for movie watching)
Tablets (essential for movie watching & reading) 
Laptops (for work, in case you have deliverables) 
Before you leave on your vacation, make sure you pack all of the electronics you think you'll need.
Important: remember to pack each device's charger & to request international internet access to your provider (this is HUGE, especially if you want Google Maps to guide you and if you want to access apps that can give you restaurant ratings).
Also, if you're traveling to a foreign land, where electric sockets are different from America's, be sure to buy an adapter in order to be able to charge your stuff. Amazon sells some great ones; this is the adapter I used in our trip.
We traveled to Greece with just our carry-ons. We each took a backpack as our personal item and a small carry-on with all of our clothes and toiletries. It was amazing. Best thing we could've done.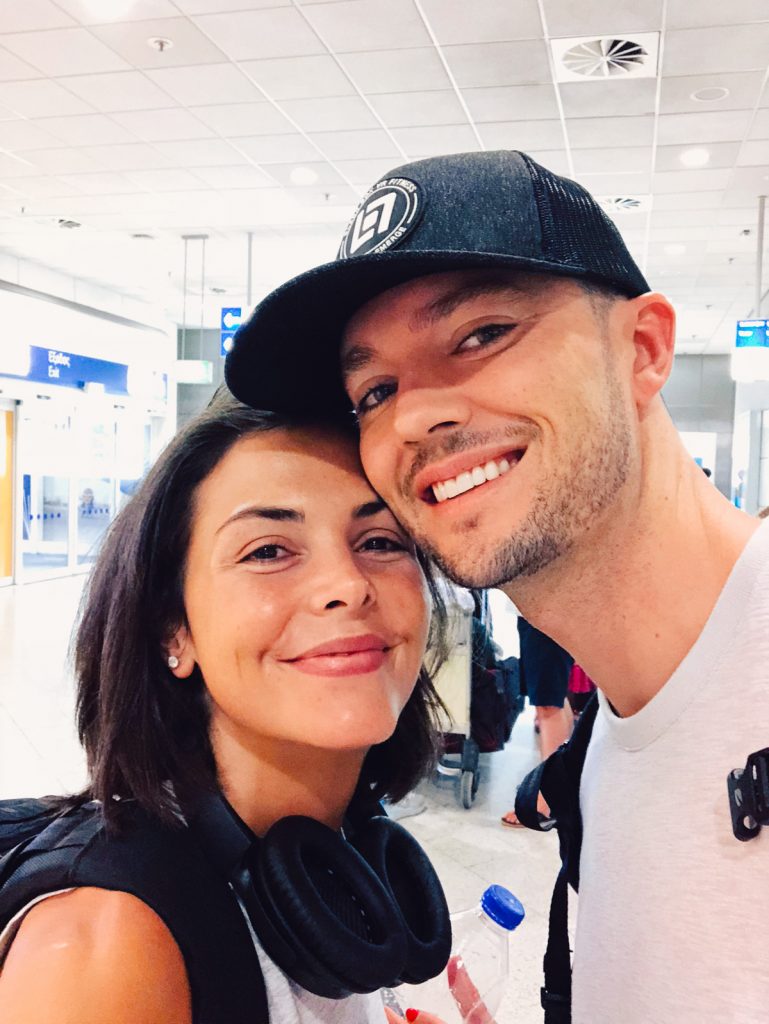 In fact, we loved traveling light so much, that we sold all of our luggage and only kept our carry-ons for ALL future travel.
---
3. Where To Go
Now we're at the fun part of my travel guide. Where I share with you all of our Greece stops, where we stayed, how we travelled from place to place, what we did and where we ate.
Here's how our 10-day Greece trip was broken down:
Arrive in Athens
Day 1 – Athens
Day 2 – Athens
Day 3 – Athens to Santorini
Day 4 – Santorini
Day 5 – Santorini
Day 6 – Santorini to Mykonos
Day 7 – Mykonos
Day 8 – Mykonos
Day 9 – Mykonos to Athens
Day 10 – Athens to USA
You guys ready to be taken on a journey to Greece? Here we go!
---
My husband and I arrived separately to Athens, he was coming from the US and I from Spain, but we met at the airport and started our Greece adventure together from there.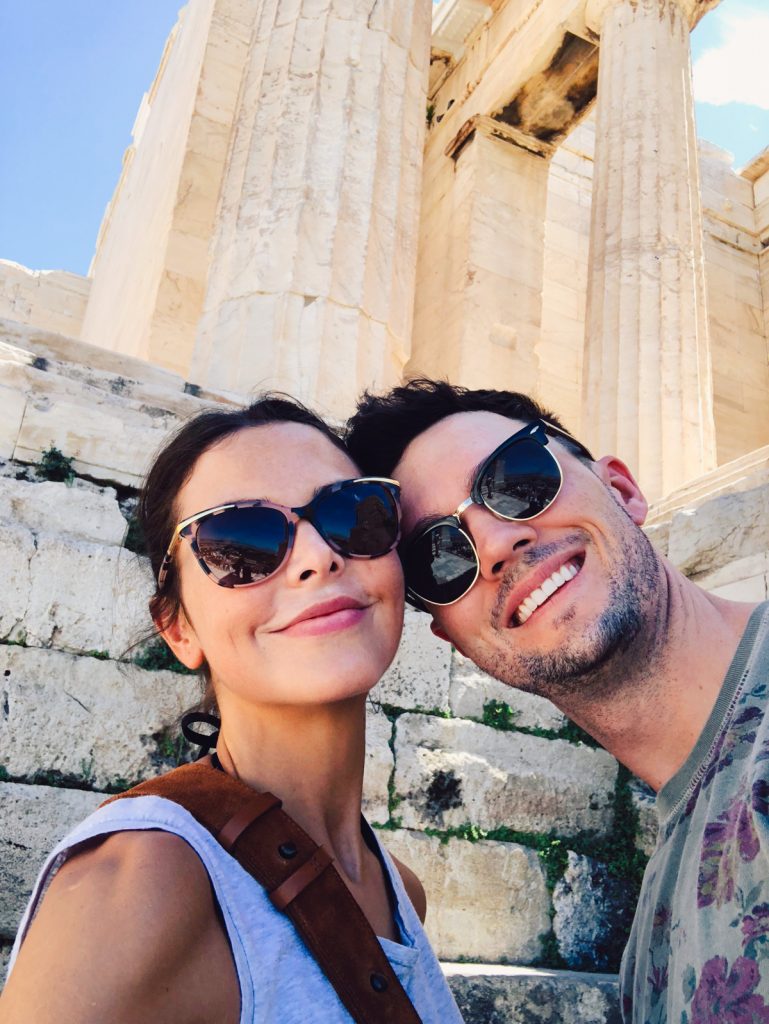 And to be honest, while we were in the cab going from the airport to the hotel, we both were a bit shocked by how dirty and ill kept the city looked. You could tell the city was thousands of years old, and you could also tell the recent crisis affected it.
However, when we arrived to the area we were staying at, things looked a lot more quaint and comfortable. Our hotel had an awesome view to the Acropolis and had amazing little restaurants nearby.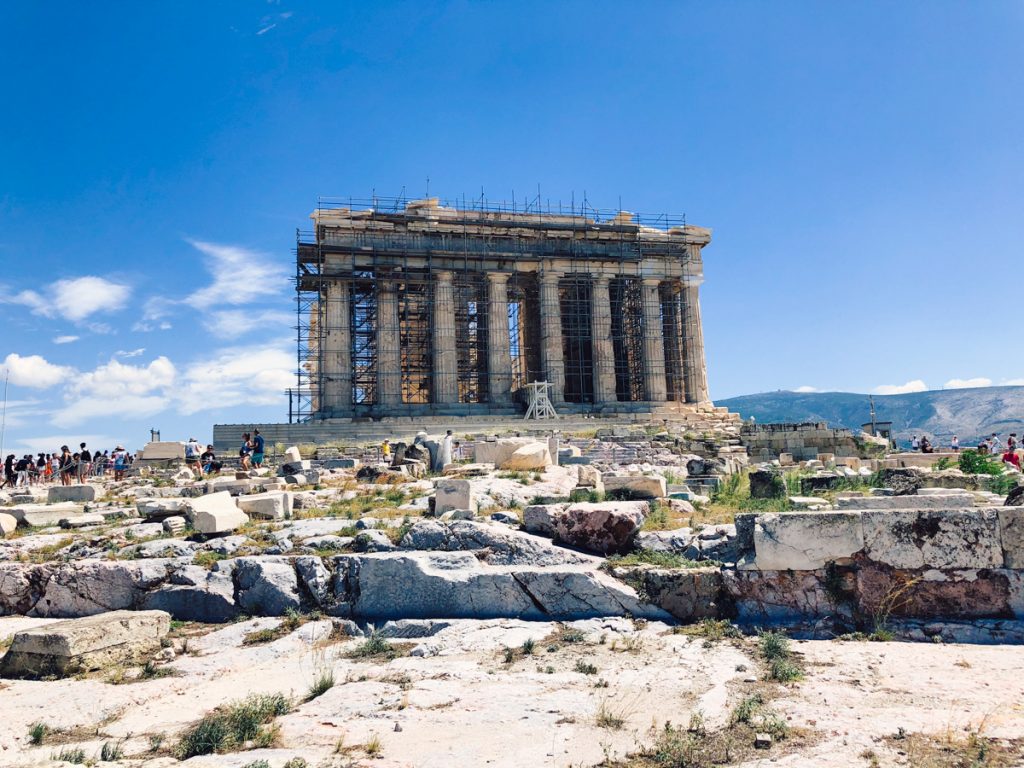 It was walkable distance to all the places we wanted to visit, which made our stay in Athens extra speciall.
You can read all about where we stayed, what we did and what we ate in my Athens guide!
Our next stop in Greece was Santorini. Our plane left mid day from Athens and it was a quick flight away (less than an hour). We got picked up by a transfer our hotel had organized for us in advance, so it was easy and painless.
The ride from the hotel to Oia, the area where we were staying, was about 40 minutes.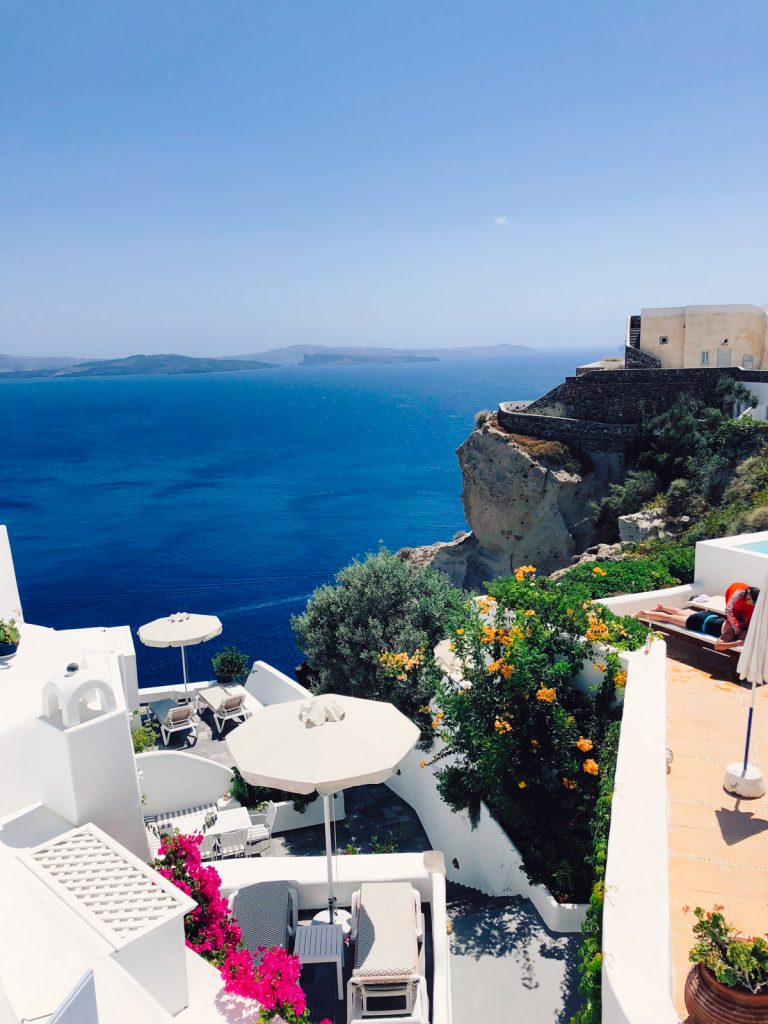 Just like in Athens, our first impression of the island from the taxi ride wasn't the best; it looked a bit dry and lifeless. But as we approached the area where we were staying, things definitely turned around and there was beauty all around.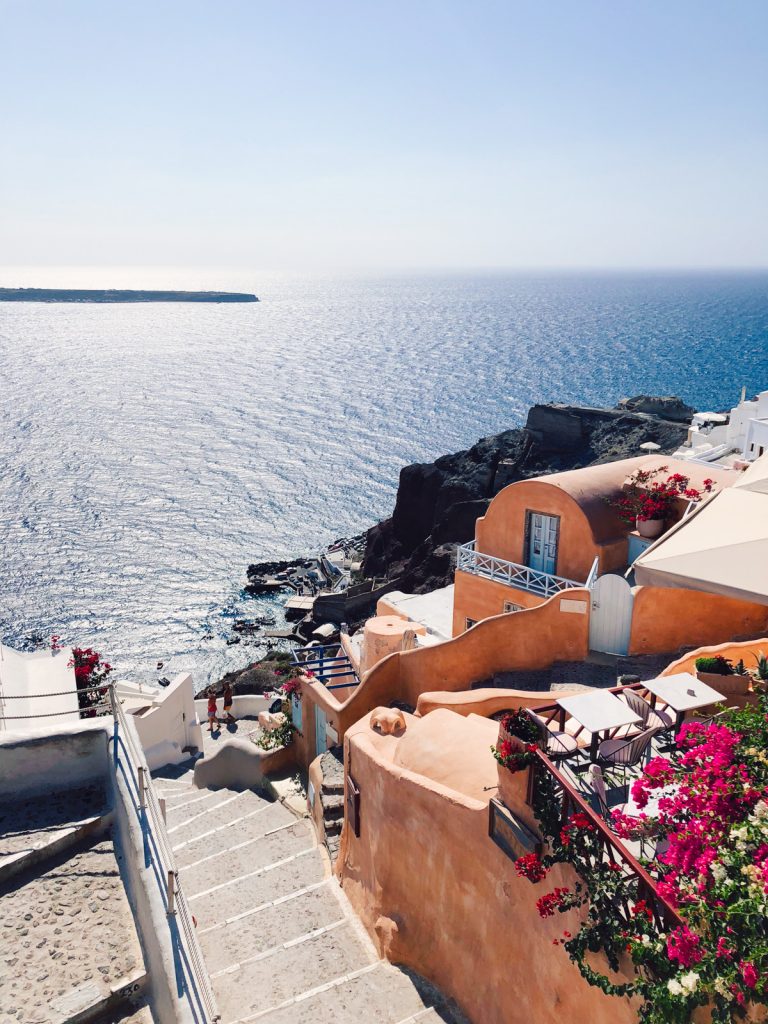 We spent the majority of our time in gorgeous Oia, which is where you catch the sunsets and can see whitewashed walls with blue domes everywhere you look.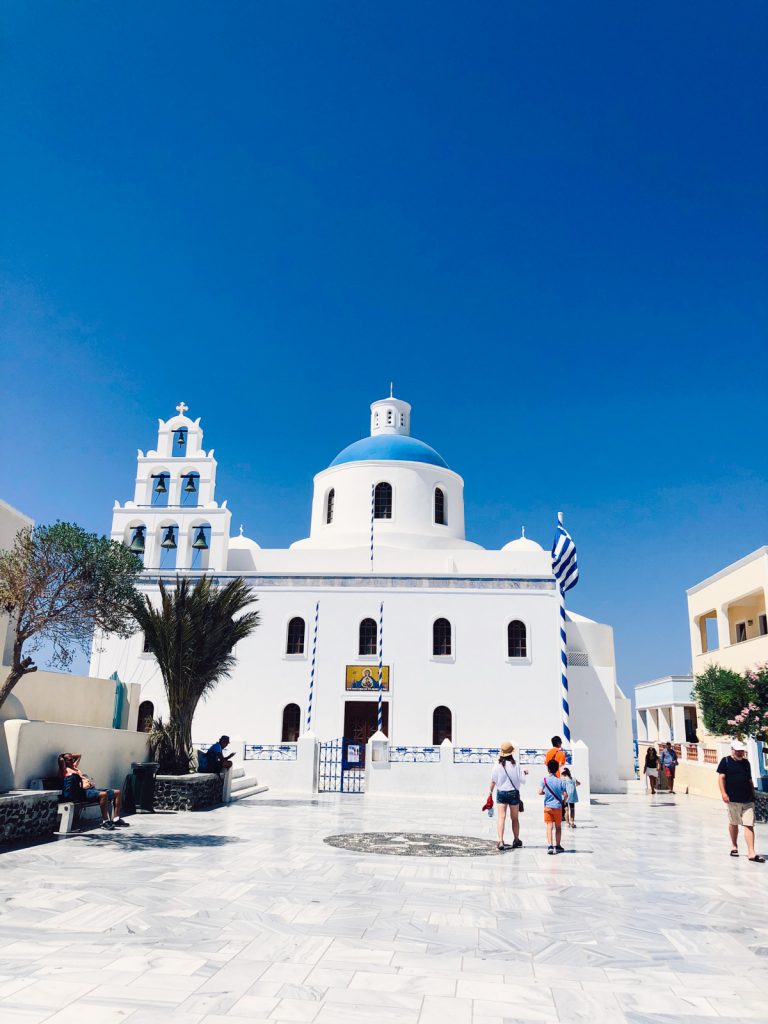 You can read all about where we stayed, what we did and what we ate in my Santorini guide.
Our next stop in Greece was Mykonos. This was our third and final stop before returning home.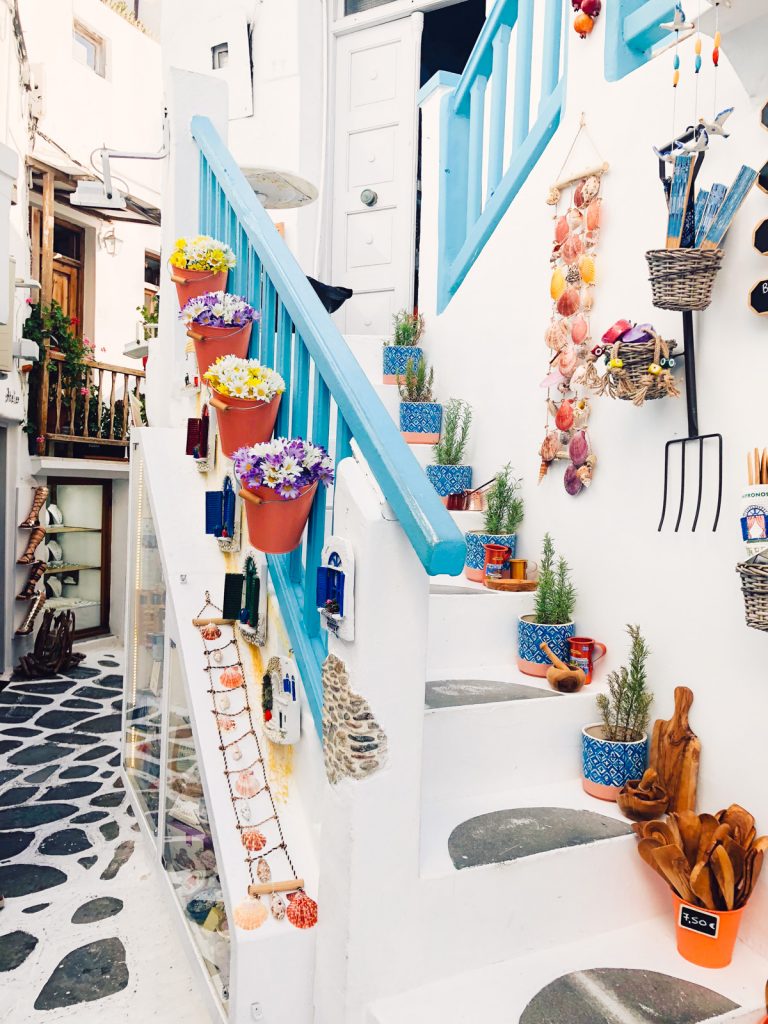 We got there by ferry, as there were direct flights from Santorini to Mykonos. The ferry was extremely comfortable and it was a relatively short ride, about 2 hours.
A quick word of warning about ferries: the boarding process was a bit of a headache; know that ferries are usually a bit delayed that there is little boarding order/guidance. Also, be sure to pack light when taking a ferry, as you do not want to haul luggage from side to side when it's hot and crowded.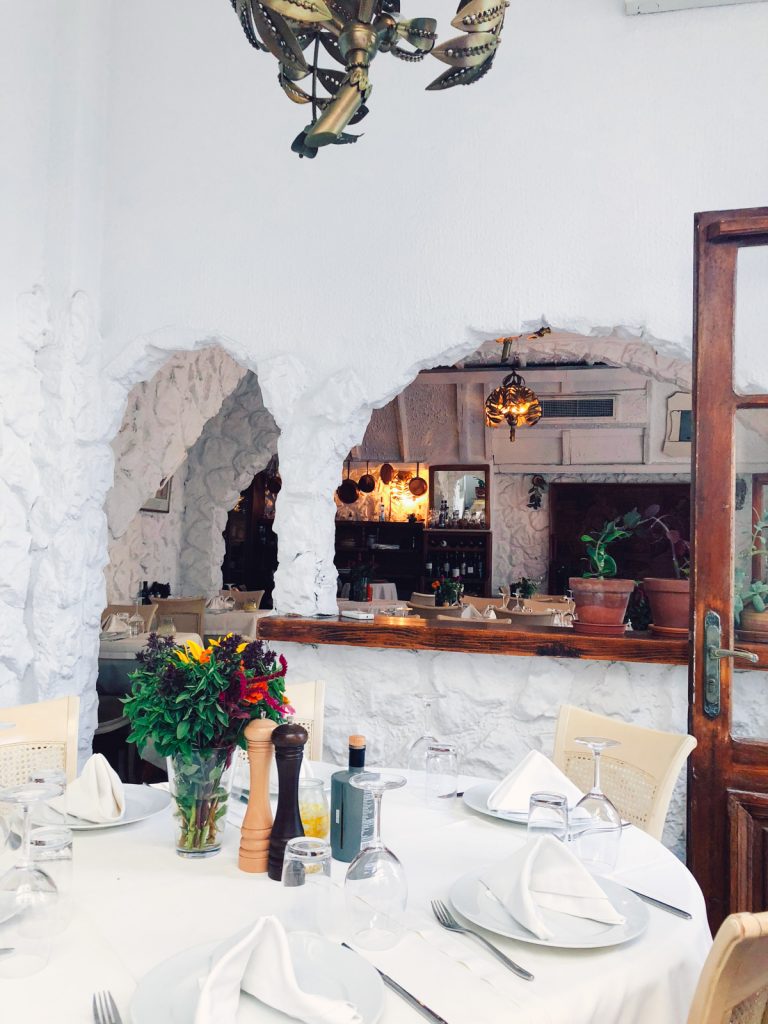 Once we arrived in Mykonos, we were able to find a cab (one of the 30 taxis in the whole island) to take us to our hotel. The hotel was about 30 minutes away from the port.
The area where we stayed at was peaceful and super close to the beach, which was great because we were able to go to the ocean any time of day.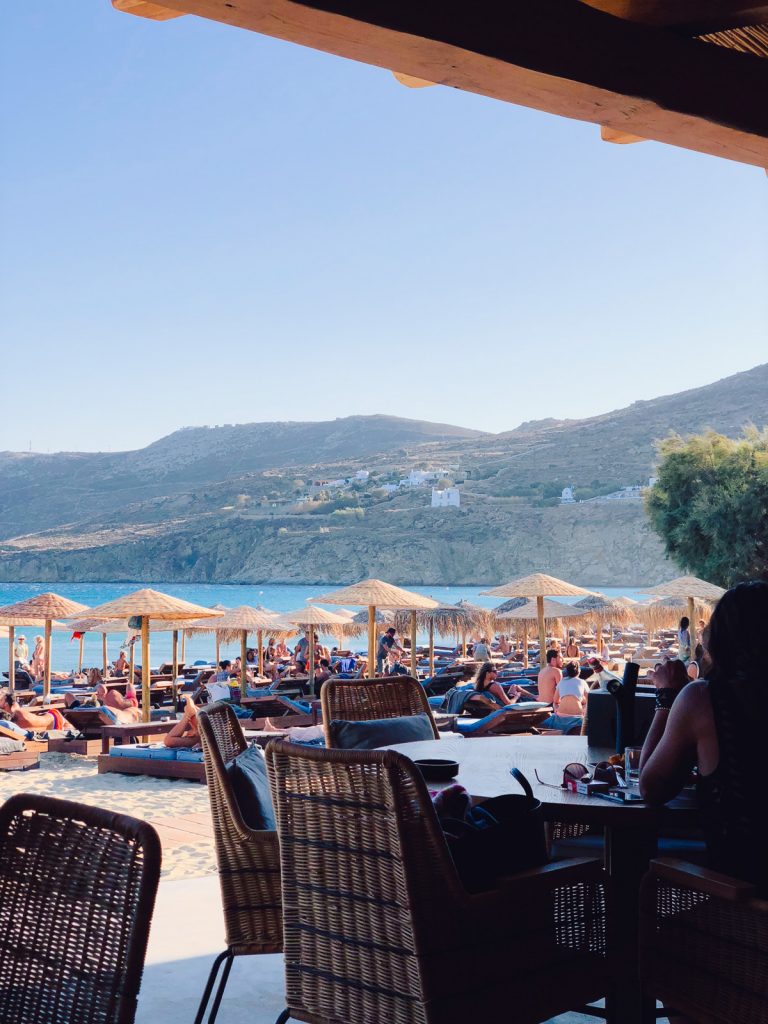 Mykonos is a very fun and upbeat island, where you can find a lot of things to do and see. You can read all about where we stayed, what we did and what we ate in my Mykonos guide.
---
PIN ME!