I know these Gluten-Free Dark Chocolate Rice Krispies are not 100% Paleo, so don't get all Paleo police on me, right away – the thing is, I made these for my husband, and they are just TOO GOOD not to share. These Gluten Free Dark Chocolate Rice Krispies are, as the name says, are gluten free and also dairy free; they contain rice, which is the only thing that makes them non-Paleo. If you're not intolerant to rice, I definitely recommend you try these.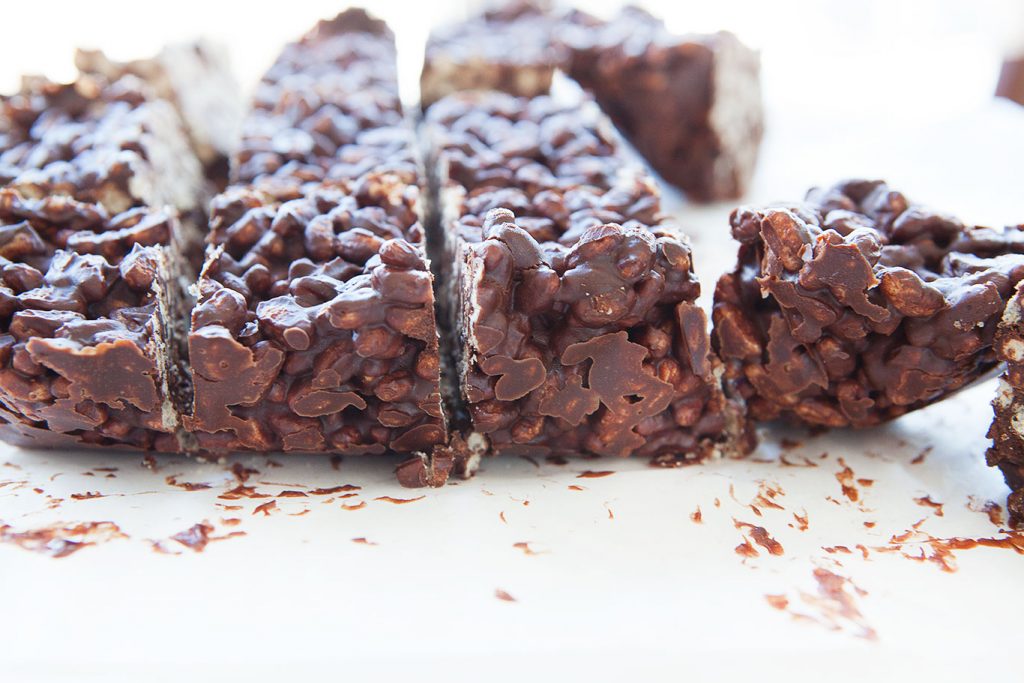 Gluten-Free Dark Chocolate Rice Krispies have become one of my favorite treats this Spring because they are:
Packed with chocolate (this alone is enough for me; chocolate? Sold!)
Nice and crunchy
Treats that last a long time in the freezer
Great frozen (and great room temperature too!) 
Super fast and easy to make
So, like, pretty much the perfect treat.
These Gluten-Free Dark Chocolate Rice Krispies were created mainly because my husband has a deep love for rice krispies. I discovered this love of his when one of our friends brought a fresh batch of rice krispies to our home for a Grammy's party we were hosting, and frick, he went to town on those as soon as she placed them on the counter. And, to be honest, so did I. So did I. Just thinking about those makes me salivate.
However, lately we've been craving chocolate like mad men. So I decided to give the traditional rice krispie recipe a nice little twist by making it chocolate based. And so I did. I pulled out my favorite raw cacao powder from the pantry, grabbed my all time favorite rice cereal, a few other fun ingredients, put some fun music on, and started mixing away.
They literally took me two seconds to prepare, and then I simply placed the baking dish in the freezer for about twenty minutes for them to harden. After that, I was left with pure treat magic. Magic, I tell you!
I wanted to eat them right away, but since Preston is such a fan of rice krispies, I decided to wait until he got home from work. Guilt would've gotten me for a week, haha. I mean, they ARE his favorite. When he got home, I took the pan out of the freezer, took the rice krispies out of the pan by lifting from two sides of the parchment paper, and then sliced the treat into twelve bars.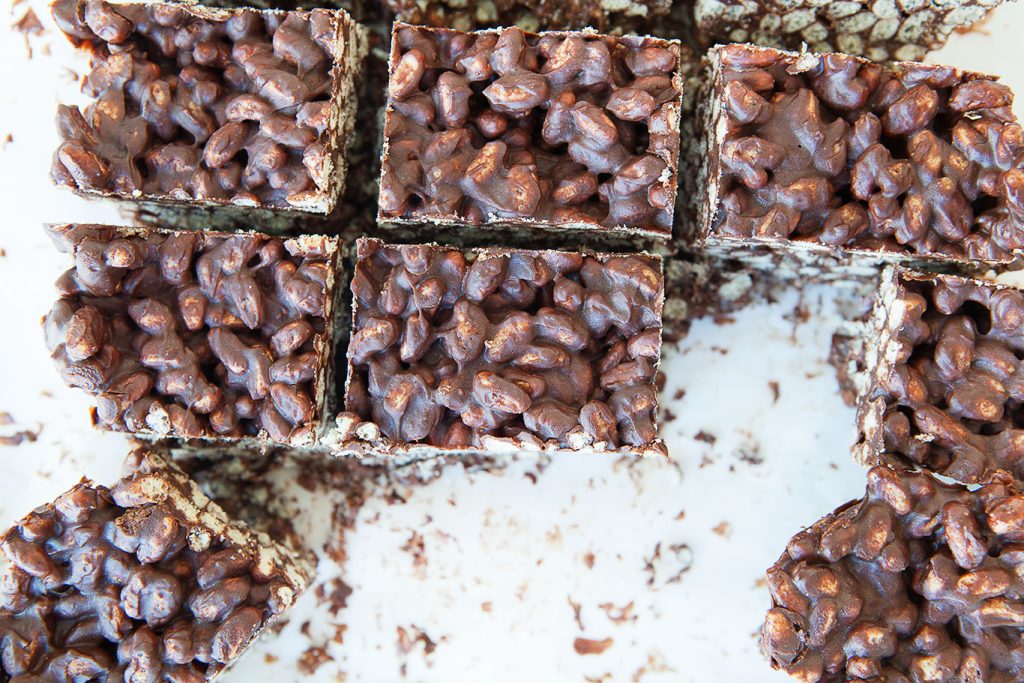 Each bar was decently sized, so I only ate one, but Preston had two. It was so cute to watch him eat his treats; I love how much he enjoys sweets. It gives me life. I seriously LOVE feeding him treats. Is that weird? I actually love feeding ANYONE treats. Always have…since high school.
I remember when my friends would come over for sleepovers, and after watching a few movies, we would would make our way to the kitchen with the appetite of a lion. Then, I would start pulling out all sorts of ingredients from the pantry to put together one master dessert creation for all of us.
There is this vivid memory I have when I started pulling out Oreos (before, I had no gluten intolerance, so Oreos were not yet on my black list), peanut butter, and Nutella. And my friends and I opened up each Oreo, added a heaping tablespoon of both peanut putter and Nutella on one side of the cookie, and then closed the Oreo right back up. Holy cow, these were a hit. It was probably around 11pm when we ate those too, so the absolute worst time for that freaking food bomb, but we were as happy as a clam.
These girls and I all grew up together, as our school went from k-12, so we knew each other since we were tiny little humans. They are in Ecuador still, and so is my whole family, so Pres and I take at least one trip down there every year to go visit them. Anyway, not that my Oreo creation was actually baking or anything, but I've always loved making treats for people. It's no wonder I do what I do!
I have a few other bomb diggity treat recipes that are gluten free (but not strict Paleo), like a few granolas and cakes. I've shared some of my granola recipes on the blog already (here and here), and I may just share a few gluten-free cake recipes with you soon. For those of you who are strictly Paleo, you can just ignore those recipe posts, but for those of you that can tolerate a few (non-Paleo) gluten-free ingredients, definitely check 'em out. It could be fun to try some of those gluten-free goodies and bring a little variety to your Paleo life!
Hope you love these Gluten Free Dark Chocolate Rice Krispies. Enjoy them cold and with a nice, cold glass of non-dairy milk.
XO

Gluten-Free Dark Chocolate Rice Krispies
These Gluten-Free Dark Chocolate Rice Krispies are delicious and can be made in less than 15 minutes! This treat lasts a long time in the freezer too!
Instructions
Line 8x8" baking dish with parchment paper, and set aside.
Place all ingredients (except brown rice cereal) in mixing bowl and use a spatula to mix well, until there are no lumps in the chocolate.
Add in brown rice cereal and mix until chocolate covers all cereal.
Transfer mixture to baking dish, spreading mixture evenly.
Freeze for 15 minutes. Remove from freezer, slice and enjoy!
Nutrition Information
Serving size:
1 bar --
Calories:
258
Fat:
16 g.
Carbohydrates:
27 g.
Sodium:
55 mg.
Fiber:
2 g.
Protein:
5 g.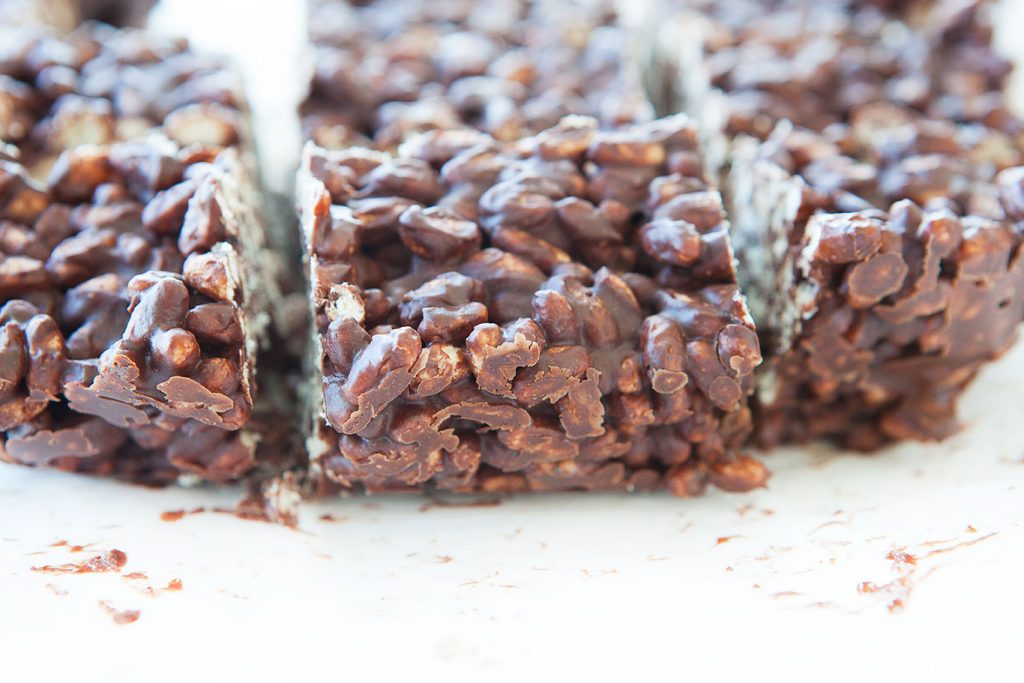 Other Paleo dark chocolate recipes you'll love: