Our fourth Italian stop in our 11 day Italy trip was Positano.
We had just visited Rome, where we did a lot of walking, learning and sightseeing. And at this point, we were craving something a little bit more laid back and calm.
Positano is a gorgeous southern coastal town located in the Amalfi Coast, and it's a place where romance dreams truly do come true.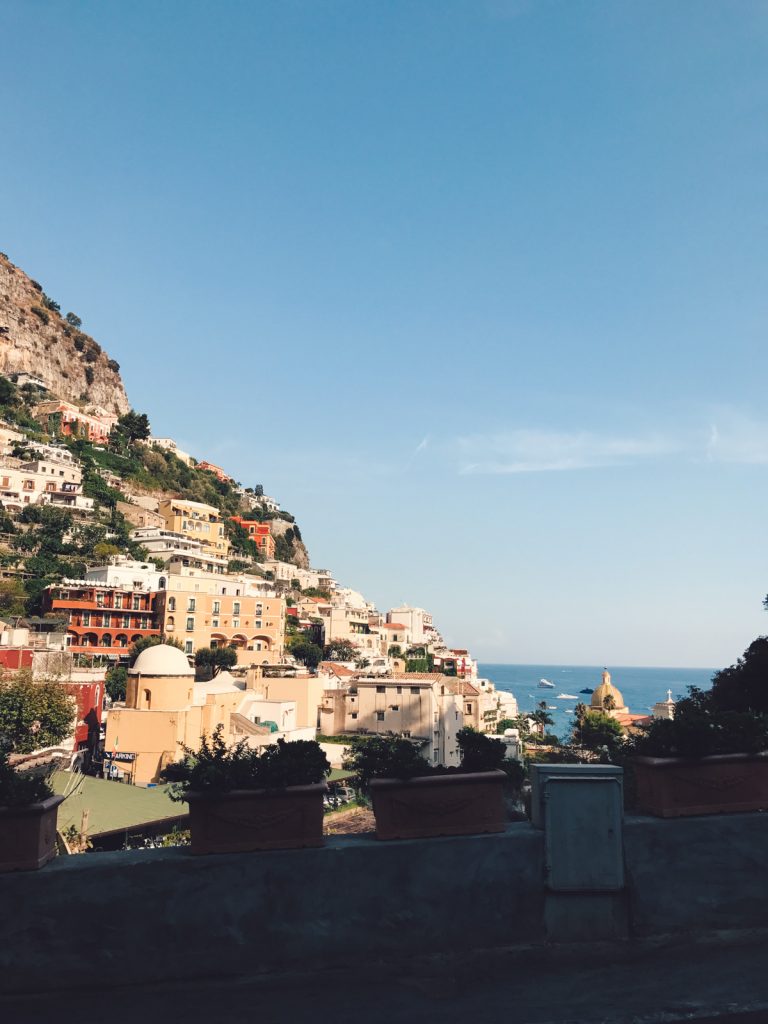 If you're looking for picturesque, peaceful and beautiful, Positano is for you. Glistening waters, warm sunshine and mediterranean style architecture on cliffs…ahh, it is breathtaking and definitely worth the splurge!
Transportation
We took TrenItalia from Roma Termini to Naples Central Station. The entire train ride was about 1 hour and ten minutes, so a relatively short ride. And the ride was very smooth and peaceful. Again, we enjoyed prosecco and snacks and chatted about our experiences so far.
Once at Naple's train station, we went directly to a travel information (customer services) desk and asked for them to recommend a good taxi company that could take us to Positano. They helped us schedule a fixed price ride with a good quality taxi car, and off we went to one of the most beautiful places on earth: the Amalfi Coast.
Once in Positano, we mainly used the free shuttle the hotel offered to get from the hotel to restaurants and shops. Other than that, I think we took a cab once, since we were running late to a dinner reservation and did not have time to wait for the shuttle to take us (as the hotel's shuttle only ran every hour or so).
We also did a lot of walking and stair climbing (Positano is packed with stairs…since the town is built on cliffs, that's kind of expected). But walking was always welcome as not only did it serve as our daily cardio, but it gave us a chance to slow down and really observe the details.
And since our Italy trip ended here, at Positano, we asked the hotel to book us a taxi to take us back to Naples (from where our plane departed). The concierge was able to get us a taxi ride with a pre-fixed cost for our own peace of mind and to avoid any crazy rates due to unexpected traffic. The taxi drive was about 1 hour and a half.
Hotel
We stayed at Le Agavi Hotel, a 5-star hotel. It is built into a cliff and overlooks the bay of Positano. It's decorated simply, but it is extremely comfortable and almost every corner of the hotel has a gorgeous view (even from the shower!).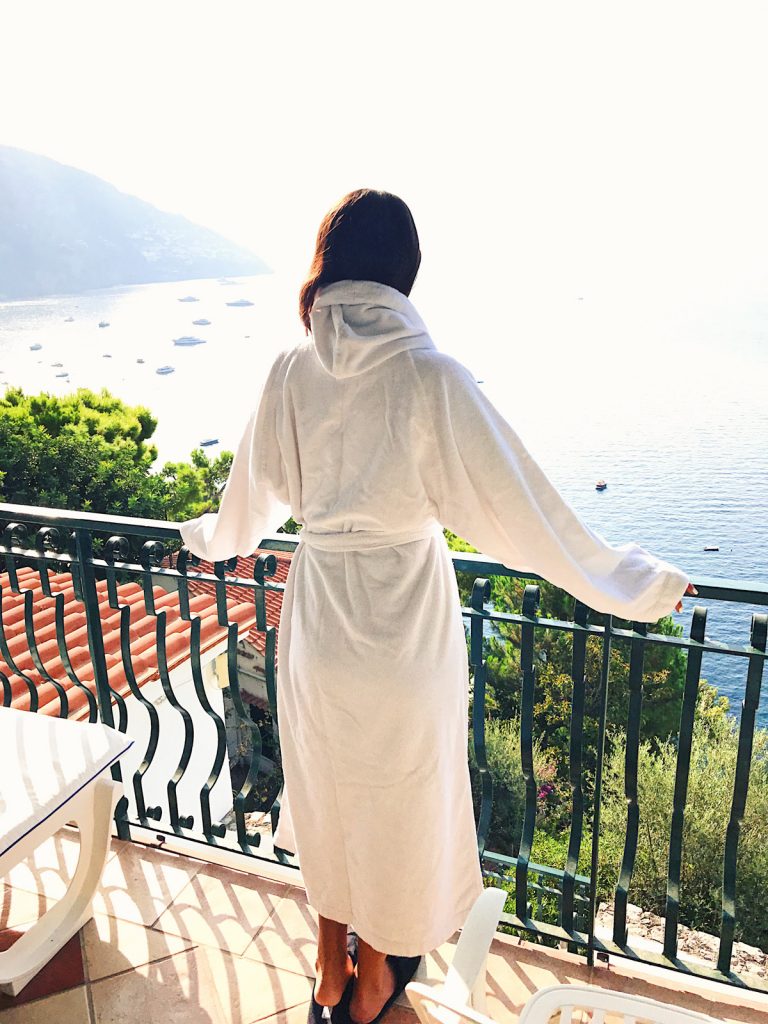 We loved their breakfast buffet; it had a great selection (gluten free options too) and all their food was extremely fresh tasting. The view form the breakfast room  pretty incredible as well; an amazing day to start your day.
They offer a complementary shuttle service, which drives you to the center of Positano ( a 5 minute drive), where all the cute shops and restaurants are at. We used this service twice a day, it was very convenient and saved us quite a bit of cash.
Our favorite part was their pool. The pool area is very serene, and if you go early enough, you'll have to all to yourself. They serve amazing drinks and apps in the pool too, so you can spend all day under the sun too, if you're looking for a day of total relaxation. Again, the view from the pool is amazing and the sun chairs are super wide and comfortable. We'd spend all morning here, shower and get ready for dinner in the evening.
It felt like a romantic and relaxing getaway for sure.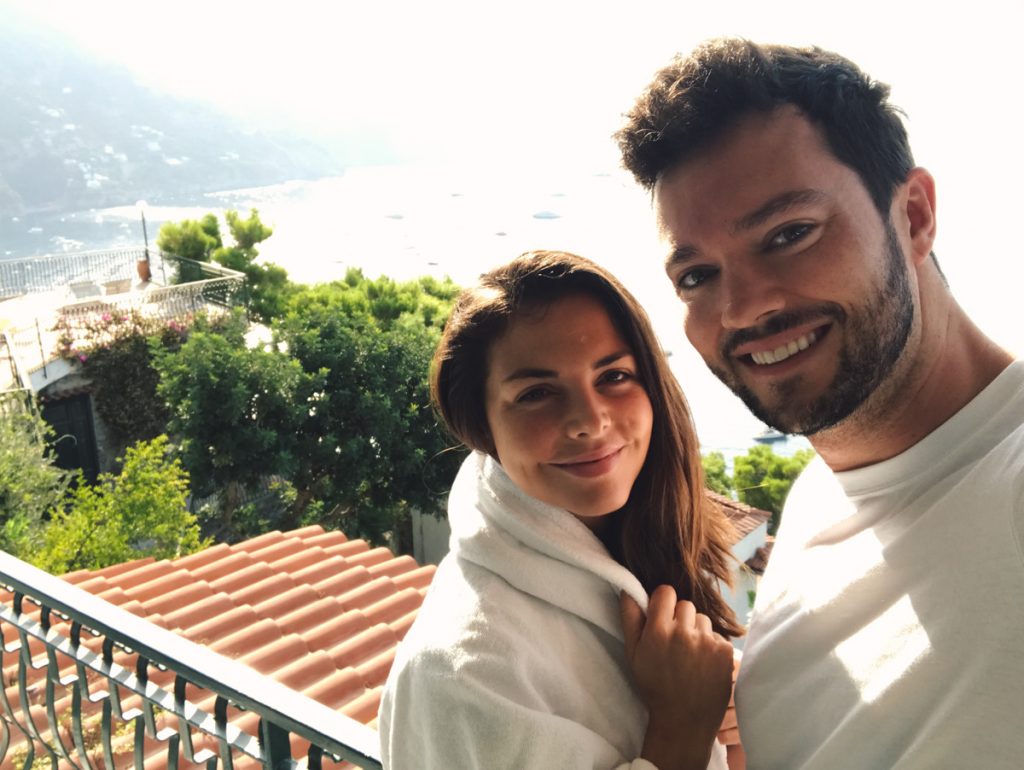 This hotel did not have a gym, so we used our exercise bands in the room and worked out from the room. Yup, we got creative! The hotel room was extremely spacious, so we had no problem getting our heart rate up and getting our muscles pumped in this space.
Oh, and did I mention that this is the ONLY hotel in Positano that has a private funicular train? It is this funicular train that what takes you up and down the cliff, from the lobby area to your room, to the pool and to the beach. Super interesting to ride; it was a whole new experience for us.
Sights
This is the only stop in Italy where we did not do a lot of sightseeing. We mainly chilled in our hotel during the day, and walked around in Positano in the afternoon/night. We shopped in their cute ceramic shops and hopped from one delicious restaurant to the next.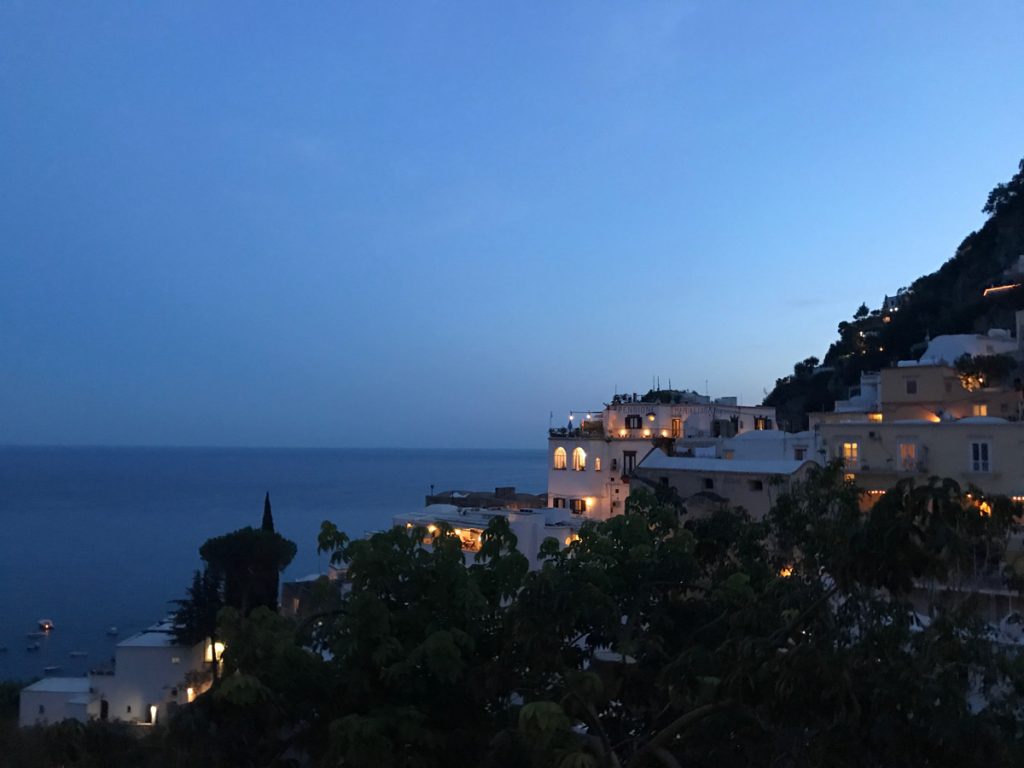 Positano is a place where the living is easy, and we decided to do just that on our last days in Italy: leave easy. Like a good Italian.
Save Positano for last, as you'll absolutely love a few laid back days after all the crazy walking and touring you've done in the bigger cities.
Eats
Positano's food is very light and it offers an amazing selection of fresh seafood and vegetables.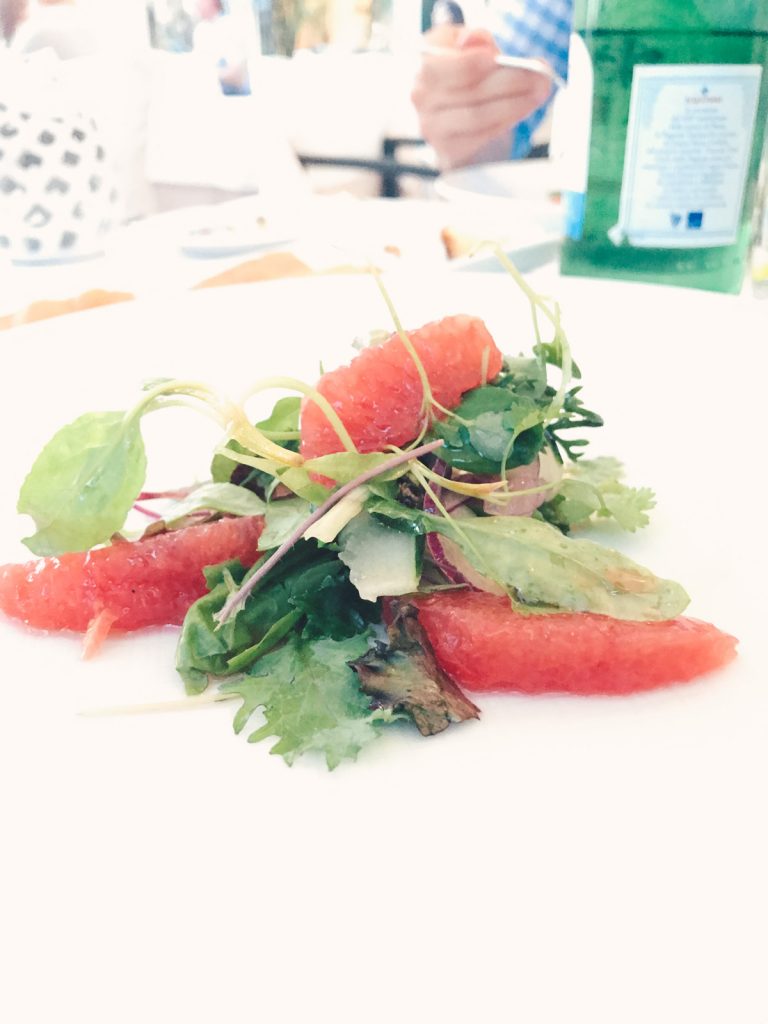 In the summer we were able to enjoy lots of seasonal produce, such as: zucchinis, tomatoes, peppers, eggplants, basil and cucumbers.
Lemons are a huge staple in this gorgeous coastal town; they not only make it to many of their seafood dishes as an important ingredient, but they are the star of the show in their very famous limoncello drink (which is served almost everywhere in the Amalfi Coast). Lemons also make an appearance in Positano's art; a lot of their ceramics have cute little lemons painted on them, and we were sure to bring some home with us to remember our stay!
Even though we stayed at our hotel for every breakfast and mid day snacks by the pool (think caprese salads and such), we tried some great Positano restaurants we fell in love with both for lunch and dinner. Find them below!
Our favorite Positano restaurants:
Casa e Bottega – lunch. We came here twice. It was THAT good. Also, it didn't hurt that the restaurant itself was adorable and totally welcoming. If you're into healthy and fresh eating, you'll love this place. They offer delicious smoothies and juices, all made on-demand with all the fresh produce they display on baskets. We ordered zucchini noodles with burrata cheese and tomatoes as our main meal. It was to die for. Never in my life had I tasted something so fresh, simple and good.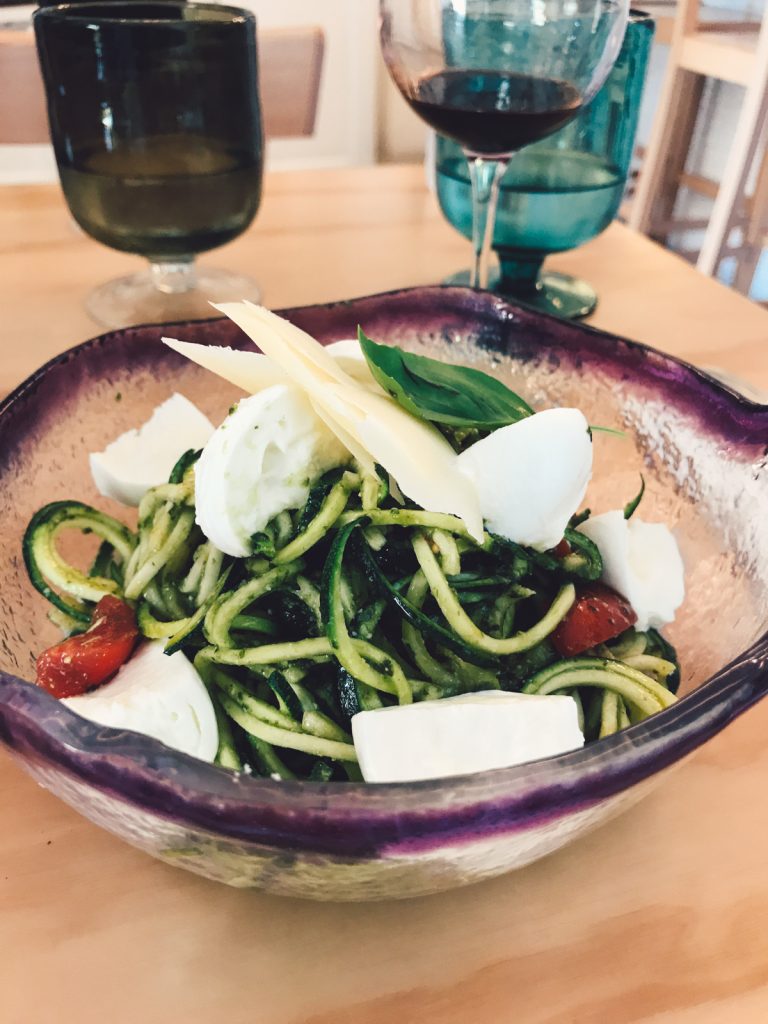 Ristorante Saraceno D'Oro  – dinner. Our first dinner in Positano was here. It was recommended to us by our concierge, as a nice place to enjoy good seafood, pasta or pizza. The place was right off the windy/thin streets that go through Positano, and they have a few tables outside that actually almost touch the street itself. I would personally recommend to get a table inside, to prevent smelling the slight pollution from the passing cars and to avoid feeling like you're going to be ran over. My husband ordered a pizza, which he loved, and I got sea bass and ravioli. It was a delightful meal and wonderful wine. Service was top notch.
Next 2 – dinner. This was another great recommendation from our concierge. It was a bit more fancy and elegant than our first dinner. This restaurant is owned by the same lady that opened Casa e Bottega, and so we knew that it was going to be good before we even got there. The atmosphere was gorgeous and peaceful, and the service was fantastic. Very attentive and willing staff. We drank good wine and enjoyed an appetizer (Flowers Stuffed with Ricotta, Pumpkin and Zucchini), salad (Pink Grapefruit, Cucumber and Red Onion salad), pasta (Ravioli with Ricotta Cheese, Rustic Tomato Sauce, Aubergine and Rocket) and fish (Swordfish, Puttanesca, Cherry Tomatoes and String Beans).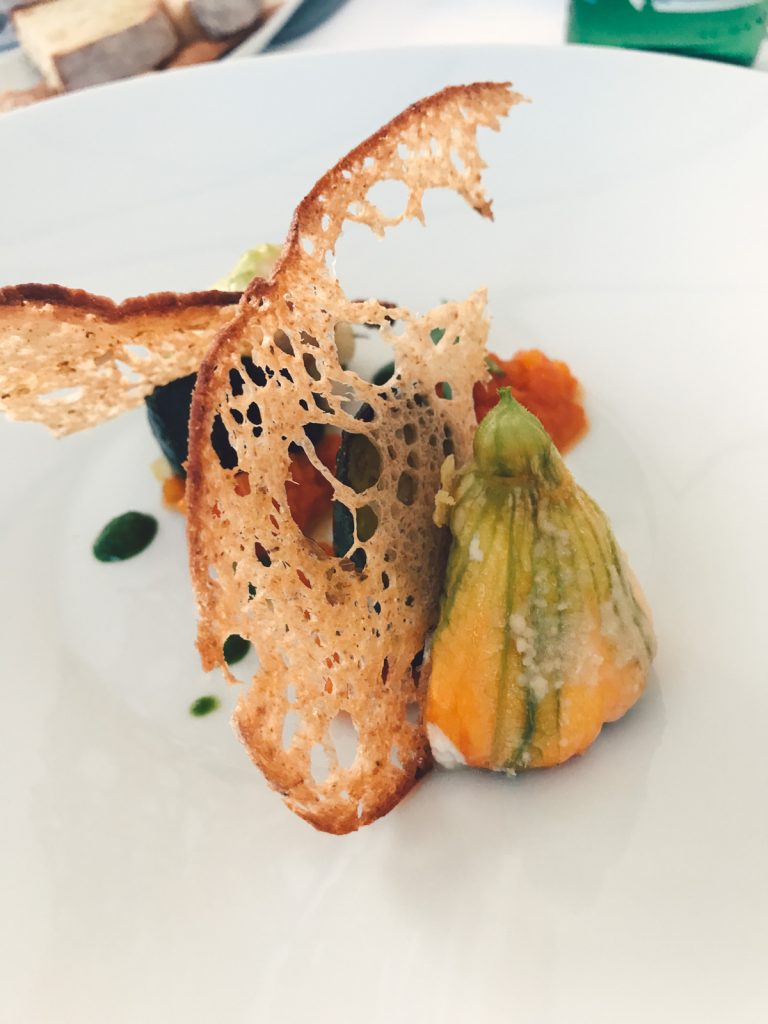 Positano is a honeymooners paradise. It's the best place to relax, sleep well, eat well, tan, shop, walk and get some good photos. We absolutely adored it, and were so grateful to it after a few killer days of non-stop exploration in Venice, Florence and Rome. There is something absolutely glorious about Positano, and I think it's got to do with the town being built on cliffs and having that shiny glossy ocean winking at you everywhere you go. Come here ready to be pampered and to feel rejuvenated. It is heavenly.
After this gorgeous seaside stay, we went back home, first stopping in Naples and taking a flight from there to the states.
If you liked this guide, be sure to check out our other Italy adventures in Venice, Florence and Rome!
---
PIN ME!